The Best Cake Delivery Services in Penang
Cakes are the centerfold of every single party. They represent the togetherness and celebration brought on by a party as it's shared by hosts and guests alike.
Save yourself the time and effort of going to that bakeshop and take advantage of the best cake delivery services in Penang! Read on to find out how.
The Best Cake Delivery Services in Penang
If you're looking for the best cake delivery services in Penang then you're in luck! Keep on reading to ensure your party's cake is one that guests talk about for months to come.
1. SK Homemade Cakes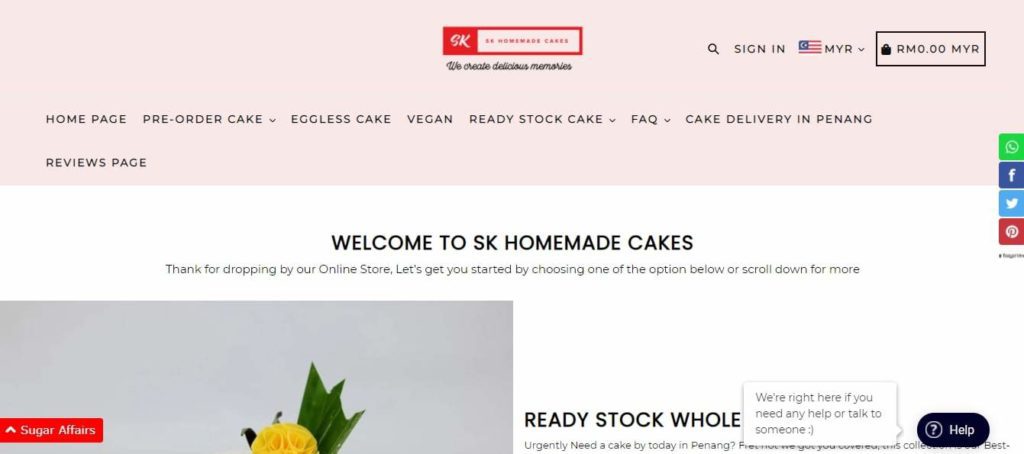 PRODUCTS
Cheesecakes, Eggless cakes, Vegan cakes, Gluten-free cakes, Ice cream cakes, Cookies, Pastries, etc.
WEBSITE
https://www.skhomemadecakes.com.my/
ADDRESS
6, Jalan Merbau, Tanjung Tokong, 11200 Tanjung Bungah, Pulau Pinang, Malaysia
CONTACT DETAILS
+60 11-1171 0357
OPERATING HOURS
Mon-Sat
10:00 am – 7:00 pm

Sun
10:00 am – 1:00 pm
When it comes to healthy cakes, SK Homemade Cakes is the one to go to in Penang. They have all sorts of delicious cakes on stock and ones that you can preorder beforehand.
For those who have specific dietary restrictions, you'll be glad to know they also offer eggless cakes, vegan cakes, and gluten-free cakes. They also sell cake slices, pastries, mille crepes, cookies, soft cakes, classic cakes, and ice cream cakes.
A few of their cakes for preorder are their Chocolate Oreo Ice Cream Cake (RM 105), Cookies and Cream Cake (RM85), and their Eggless Vegetarian Carrot Walnut Cake (RM 90).
For their ready stock cakes are their Almond Praline Tiramisu (RM 88), Pandan Durian Cake (RM 98), and their Apple Blueberry Cheesecake (RM60).
Their bakers only use pork-free and Halal ingredients so you don't have to worry about that. Also, a great thing about SK Homemade Cakes is they've partnered with Hoolah for payment schemes.
You can pay for your order in up to 3 months of interest-free installments. It's totally easy to set up at the website checkout with any credit or debit card.
Halal ingredients
Offers vegan/vegetarian cakes
Offers eggless cakes
Flexible payment scheme with Hoolah available
Does not offer cash on delivery
Does not make animated/3D cakes
Customer Reviews
Here are a few reviews left by lovers of SK Homemade Cakes:
"Ordered eggless golden peach cheesecake. Delicious. Team also did very well to deliver for a last minute purchase with personalised notes. Even dropped a call before delivery. Very well organised" -Will
"I am from KL bought this cake to a friend in Penang. She hardly enjoy cakes but this cake so extraordinary that she ate almost all of it. I will repeat buy and if I have chance to travel to Penang, I will buy for myself. Cake decor was nice for birthday." -Li
2. Purple Monkey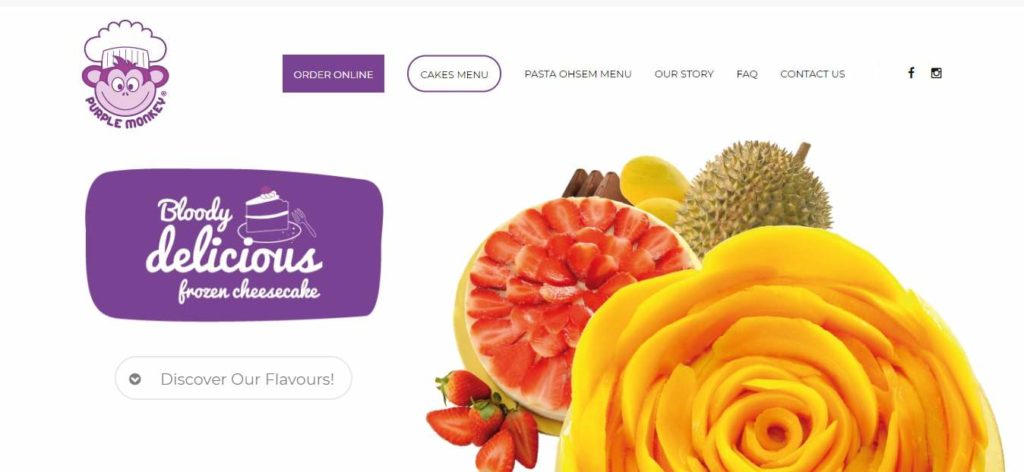 PRODUCTS
Cheesecakes
WEBSITE
https://www.purplemonkey.com.my/
ADDRESS
30, Jln 21/19, Sea Park, 46300 Petaling Jaya, Selangor, Malaysia
CONTACT DETAILS
+60 17-260 4781
OPERATING HOURS
Daily
10:30 am – 9:30 pm
Purple Monkey is known as the go-to place for one of the best cheesecakes in Malaysia. While it's not in Penang, they deliver right to the doors of Penang residents daily.
They only make cheesecakes but, based on reviews, they make them real good. They have 15 flavors, such as salted caramel, sinful mango, cookie addict, matcha green tea, strawberry hills, to name a few.
Moreover, they have Little Flower Power at RM 157, Flower Power at RM 190, Fruit Garden at RM230 which are beautifully crafted to look like gardens, which is probably obvious from their names!
They also offer "Mini Monkeys" which are basically just smaller versions of their cheesecakes, which you can buy in convenient bundles.
Same-day orders aren't accepted because these are made-to-order cakes so it would be best to order a day or two before the actual event. When it comes to storage, it can last pretty well in your freezer for up to two weeks.
They also offer pasta dishes, meals, and finger food like fries and bolognese beef or chicken. You can request no meat, chicken, beef, or seafood for your pasta dishes.
Wide range of flavors
Beautifully crafted designs
Bundles available for Mini Monkeys
Offers meals
Only offers cheesecakes
No same-day delivery
Customer Reviews
Purple Monkey lovers have these to say about their awesome cheesecakes:
"Prompt delivery. Great customer service. You've been very responsive. Mini cakes taste delicious and yummy, like ice cream. Thank you seller." -Josephine
"cake is awesome , and team is friendly and helpful, also have affordable discount" -Nicholas
3. Oven & Chalice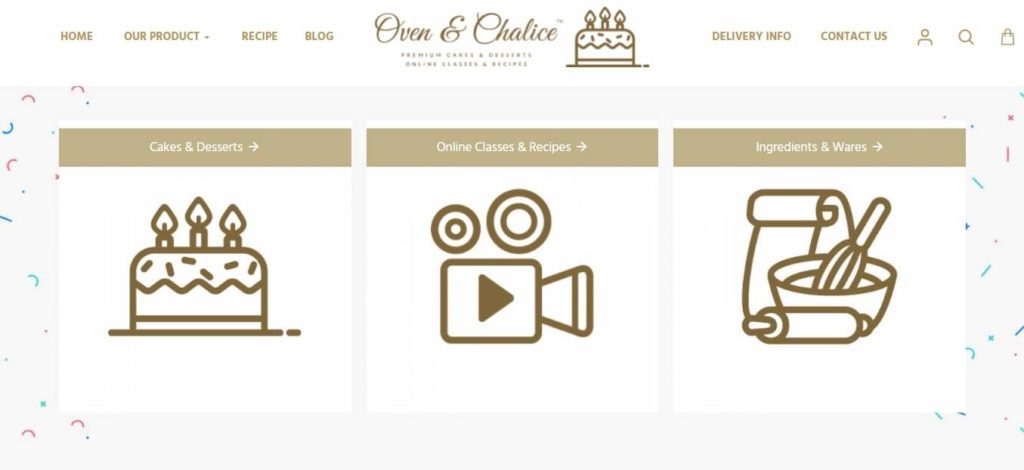 | | |
| --- | --- |
| PRODUCTS | Premium customized cakes |
| WEBSITE | https://www.ovenandchalice.com/ |
| ADDRESS | 1-3-1 BL Business Centre Air Itam, 11500 George Town, Pulau Pinang, Malaysia |
| CONTACT DETAILS | +60 4-824 3935 |
| OPERATING HOURS | Open 24/7 |
Located in Pulau Pinang, Oven & Chalice provides all its client with only premium customized cakes.
Oven & Chalice specializes in themed premium cakes that come in all sorts of shapes and sizes. These include bombshell pinatas, hearts, circles, mini-cakes, and squares.
Their kids-themed cakes are great, too. Some of the designs they've made include Paw Patrol, Lego, Harry Potter, and much more.
For a special pop of elegance to your cakes, they also do velvet or mirror glazed goating. Speaking of pops, they also make cake pops, which are cake lollipops, that aren't too bad to have at a party either.
To make your special day even more special, they also offer beautifully crafted bouquets starting at RM 28. Note that the delivery ranges from free to RM 55 depending on your location in Penang.
If you're interested in learning the ins and outs of baking cakes, you should also consider checking out their classes and workshops.
Wide range of premium cakes
Great for kids themed cakes
Offers customized bouquets to match your cake
Expensive cakes
No same-day orders
Customer Reviews
Here are some reviews left by Oven & Chalice clients:
"Seller replied promptly with courtesy and delivered on time. Cake quality is absolutely same as photo, taste good for Belgium chocolate not too sweet for our liking. Order with them, comes with membership benefits for future orders. Highly recommend . Plus, they have good quality of plates and fork for us to celebrate and have the cake at our convenience" -Tasnim
"Bought a cake from Oven & Chalice for the first time.The cake is well-made and delicious its sweetness is ok as well." -Qi
4. Swens Homemade Cakes
PRODUCTS
Sugar paste cakes, Sugar print cakes, 3D cakes, Themed cakes, Customized cakes
WEBSITE
https://www.swenshomemadecake.com/
ADDRESS
60T, Jalan Matang Kucing, Kampung Pisang, 11500 Ayer Itam, Pulau Pinang, Malaysia
CONTACT DETAILS
+60 12-426 2298
OPERATING HOURS
Mon-Fri
9:00 am – 7:00 pm

Sat
12:00 pm – 6:00 pm
Artistic and chic are the words Swens Homemade Cakes uses to describe the cakes they create for their clients.
Since their establishment in 2008, they've strived to provide their clients with high-quality cakes that look just as good as they taste. And based on numerous customer reviews, they've succeeded in that area.
They offer cakes for all sorts of occasions be it weddings, anniversaries, birthdays, or even just small get-togethers.
A few of their cakes are their Top Strawberry Mix Fruit Cake (RM140), Strawberry Mousse Cake (RM130), Black Forest Fruit Cake (RM110), and Chocolate Cake (RM90).
You can also have your very own customized cake. All you have to do is fill out your order form on the Swens Homemade Cakes website and they'll work closely with you to give you the cake of your dreams.
Wide range of ready-made cakes
Offers high-quality 3D cakes
Offers customized cakes
Closed on Sundays
No same-day orders
Customer Reviews
Check out these reviews left by satisfied clients of Swens Homemade Cakes:
"We ordered a design birthday cake for our grandma and she loves it! Design was exactly what we want and their chocolate cake never disappoint us. Cake is not too sweet yet delicious at the same time. Outlook and taste both 5/5.More order to come in future 😉" -Low
"My all time favourite ❤️ they will provide the professional advise when discussing the cake design, and the cakes never fail to surprise me! My recent favourite is their durian cake! Must try 😋" -Natalie
5. Cake Together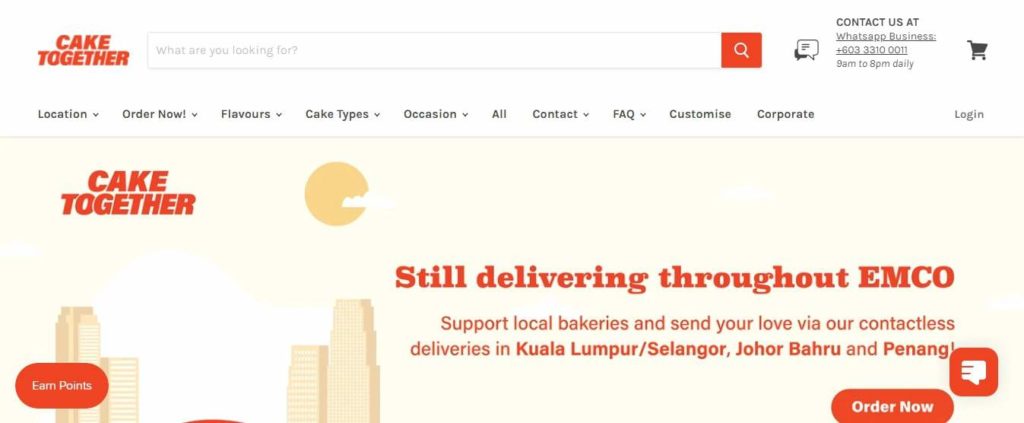 PRODUCTS
Classic cakes, Gluten-free cakes, Vegan cakes, Cheesecakes, etc.
WEBSITE
https://caketogether.com/
ADDRESS
A-3-3, Sunway GEO Avenue, Jalan Lagoon Selatan, Bandar Sunway, 47500, Selangor
CONTACT DETAILS
+603 3310 0011
OPERATING HOURS
Daily
9:00 am – 8:00 pm
Cake Together is a cake shop in Selangor that delivers delicious cakes to Penang daily.
A few of their best cakes are their Belgium Chocolate Cake (RM 78), Heavenly Unicorn (RM 83), Blueberry Lemon Cake (RM 100), and their Black Sesame Peanut Butter Basque Burnt Cheesecake (RM 120).
They also have gluten-free cakes like their Durian King Ice Cream Cake and vegan options like their Vegan Raspberry Chocolate Cake.
They have over 1,800 cakes available on their site made by around 200 talented bakers. Supporting Cake Together means supporting these local bakers!
Check out their website to see the ready-made cakes they can deliver right to your doorstep in just 4 hours. These are perfect for those random cravings or dire cake moments.
All the ingredients used to bake their cakes are Halal-certified. However, they do have a few alcoholic cakes on their menu, so be sure to double-check the product details in their listings if you'd prefer to avoid them.
Wide range of flavors
Delivers to Penang daily
Halal ingredients used
No vegetarian cake options
Pretty far from Penang; delivery may take a while
Customer Reviews
Here are reviews left by Charles and Debbie who are happy customers of Cake Together:
"I think this is the 4th cake I bought from Cake Together and bought this latest one for myself, I love konnyaku jelly! What caught me by surprised is how beautiful this cake is! I am an artist myself but can't stop appreciating the beauty of this cake. After cutting it, even the section presents itself differently. Besides, it is delicious and my family love it so much! Thank you and I hope I get to order this cake again for my friends and family if they love konnyaku jelly haha" -Charles
"I bought this cake for my family in Malaysia. Perfect for those who are not in Malaysia – reliable and delivery was on time. Cake is as advertise. Respond from my family: Topping & cream taste great. Size is perfect! Not too big and not too small! Inside is yummy and moist, not too sweet, excellent taste. Family love it. Will order again." -Debbie
FAQs about Cake Delivery Services in Penang
---
Whether it's a chocolate mousse cake, an ice cream cake, or a strawberry cake, we're sure you can find exactly what it is you're looking for with this list of the best cake delivery services in Penang.
We'd love to hear all about how your party was brightened up by a delightful cake, so please don't hesitate to let us know which cake delivery service you went with!
Whatever occasion you're celebrating, you can make it even more special with flowers! For this, check out our list of the best flower delivery in Penang!