10 Sites for the Best Rooms for Rent in Malaysia
Featured Image Source: Deborah Cortelazzi via Unsplash
For house hunters, finding the perfect room to welcome "adulting", start over in a new place, or build a family might be overwhelming. Thankfully, in this day and age, there are sites that lead people to the best rooms for rent in Malaysia in just a tap of a finger.
Whether you're looking for the best room for rent in Kuala Lumpur, Johor Bahru, Penang, or anywhere else in the country (sometimes even anywhere in the world), these sites are sure to lead you to the best rooms for rent in Malaysia.
1.  LiveIn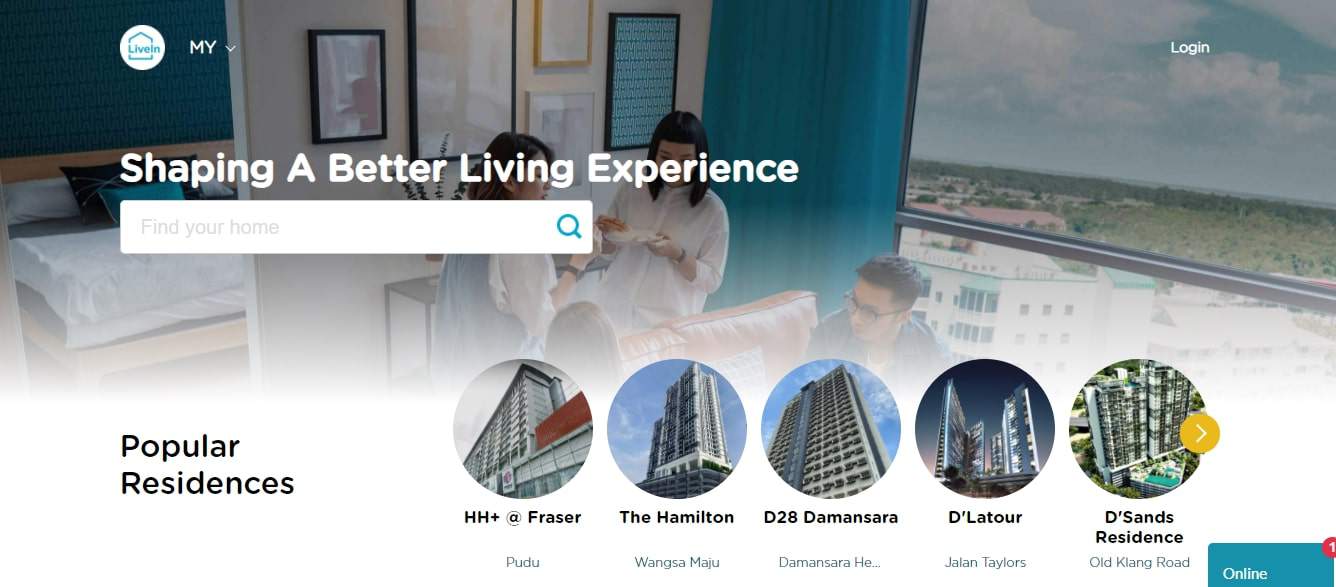 LiveIn introduces an easy and safe way to find the best rooms for rent in Malaysia that tick all your living preferences.
Whether you need a private or a shared room, you will be sure to find one that is modern yet full of character at LiveIn. Not only that, they guarantee that rooms are fully furnished, with community services accessible 24/7 already covered by your monthly rent.
To give you the best room for rent in Malaysia, LiveIn provides regular housekeeping, high-speed wifi, amenities, accessibility, and a dedicated community manager to help address your concerns.
They always have rooms to suggest near the locations you need to be close to, may it be schools or attractions. For instance, if you're looking for the best rooms for rent in Kuala Lumpur, it'd be sure to show you hundreds of options.
To book a room, simply scroll through their listings, get advice from their booking representatives for the availability of your room options, book a viewing, visit, and make your decision. It's as easy as that!
Highlights
Easy and safe
Fully furnished with 24/7 community services
Rooms at various locations in Malaysia
Customer Reviews
One of their satisfied clients shared:
"Very trustworthy portal to get an apartment as a student. They provided advice when choosing an apartment as well."
2.  iBilik

BEST FOR:
Wide selection
PRODUCTS:
https://ibilik.my/
WEBSITE:
https://ibilik.my/
ADDRESS:
GFG TECH SDN. BHD. ( 1423861V )
65 JALAN RAJA BOT
KAWASAN 18
41400 KLANG
SELANGOR, MALAYSIA
CONTACT DETAILS:
+603-33592234
OPERATING HOURS:
Office Hours
Monday to Friday 8.30 am to 6.30 pm
Saturday 8:30 to 1:00 pm
Time in Malaysia (GMT+8)
Closed on Sunday and Public Holiday
From its humble beginnings, iBilik has grown to be Malaysia's top, largest website for rooms, homestays, and short-term rentals. It has built itself such an excellent reputation among house hunters that it is now servicing neighboring Singapore, Indonesia, Brunei, and the Philippines.
In Malaysia alone, it has over 100,000 listings. A wide selection of the best rooms for rent in Kuala Lumpur, Ampang, Cheras, Penang, and more can be seen on their website.
Whether you're looking to stay for a few days, weeks, or months, you will be sure to find the highest-quality accommodation here, at a low cost.
Their process is easy and convenient as booking is fully online. Payment options are also fast and safe for your convenience.
Highlights
Malaysia's top and largest website catering home rentals
Services other Southeast Asian countries
Over 100,000 listings in Malaysia
Various locations in Malaysia
Short- or long-term stay
Low cost
Fully online booking
Fast, safe payment options
3.  Anyplace

Global citizen's perfect companion in finding the best room for rent in Malaysia is most certainly Anyplace. Designed for wandering souls, it offers flexible rent arrangements and enables a comfortable lifestyle anywhere on the planet you choose to live.
They understand that people need to move out of their comfort zones to truly live and so they enable a fluid way of life.
There are no long-term leases, perpetual screening processes, or scary landlords. All transactions are done online, including payments.
There's also no need to worry about furniture or wifi as all-rooms come fully-furnished and with wifi access. Some even have housekeeping services.
With Anyplace, you only need yourself, your passport, and a bag of clothes and you're ready to take on the world.
Highlights
Perfect for global citizens
No long-term leases, tiring screening processes, and landlords
Online transactions and payment
Fully-furnished with wifi
4.  SPEEDHOME

BEST FOR:
Non-discriminating
PRODUCTS:
https://speedhome.com/
WEBSITE:
https://speedhome.com/
ADDRESS:
A-G-23, Eve Suite,

Jalan PJU 1A/41,

Ara Damansara, 47301

Petaling Jaya, Selangor

CONTACT DETAILS:
 +6018 7777 650;

+603 7491 0088;
When it comes to people trying to find a place to call their own, SPEEDHOME does not discriminate. This makes this site one of the greatest for finding the best room for rent in Malaysia.
SPEEDHOME promises no discrimination. People of any race, gender, or belief are welcome at the homes seen in their listings. With zero-deposit rental, financial circumstances are also not a barrier to a comfortable place to live.
True to its name, SPEEDHOME enables people to find the best room for rent in Malaysia quickly, safely, and easily, with contactless viewing.
With over 89,000 zero-deposit homes to choose from, it's no doubt their record time for a successfully rented property is just at 12 hours and 58 minutes!
Highlights
No racial, gender, or religious discrimination
Zero deposit
Quick, safe, and easy
Over 89,000 properties listed
Customer Reviews
Adele, who was satisfied with SPEEDHOME, shared:
""With Zero Deposit, I was able to rent my home without borrowing from my friends and family! I rented my new house, dealing direct with landlord. It was fast and easy without scams."
5.  Mudah

The biggest marketplace in the country has it all, even the best rooms for rent in Malaysia.
In 2020, Mudah has 23,730 rooms for you to choose from. You can select from listings from private entities and companies, depending on what you're comfortable with.
To make your search easier, you can customise your settings to only rooms that are half- or fully-furnished or situated near the LRT/KTM or a specific school. With an easy click of a button foreigners can even be guided to rooms that are perfect for expats.
Highlights
Biggest marketplace in Malaysia
23,730 rooms to choose from
Private- or company-owned rooms
Customised search
6. Land+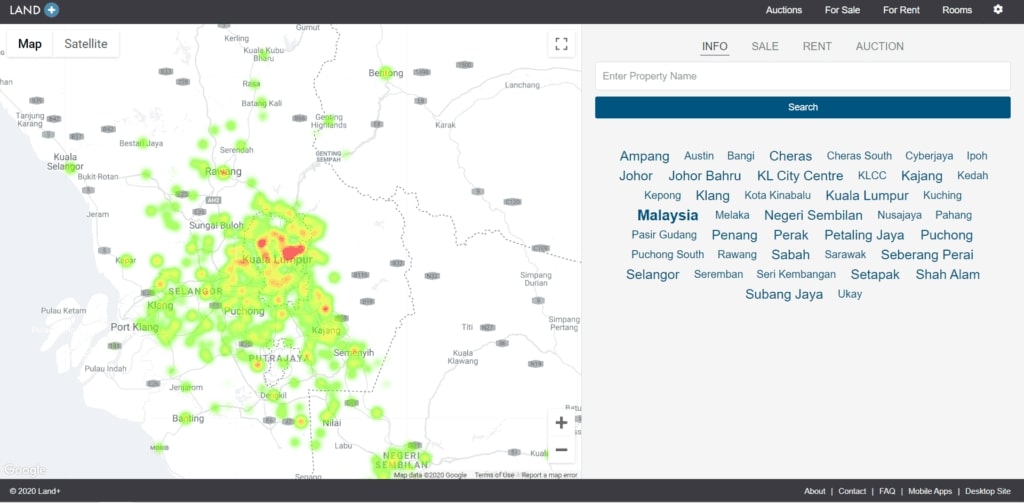 Land+ is the latest real estate search engine for Malaysia. Their goal is to expand across Asia to become the No.1 real estate search engine in the world.
Their advanced search technology is powered by state-of-the-art artificial intelligence and machine learning algorithms.
Highlights
A wide range of choices
Offers amazing prices
7. Durian Property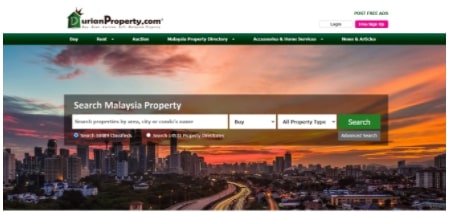 Durian Property is equipped with over 20 years of experience from online advertising and mobile messaging solutions in various industries. They vow to help clients in having to purchase a home with ease. 
At Durian Property, leading the right buyer to the right property is the top priority.
Highlights
Zero registration and membership fees

500,000 property listings

20 years of experience
8. Room4Rent Malaysia

Room4Rent Malaysia is a free online platform for property listing (rent, sharing or sale) all across 14 states in Malaysia – Kuala Lumpur, Selangor, Penang, Johor, Sabah, Sarawak, Malacca, Perak, Pahang, Kedah, Kelantan, Terengganu, Negeri Sembilan, Perlis, Labuan and Putrajaya.
Whether you're looking for a room rental, sale, or sharing, they can offer up various properties across the country.
Highlights
Various listings
Properties across the state
9. Roomz.Asia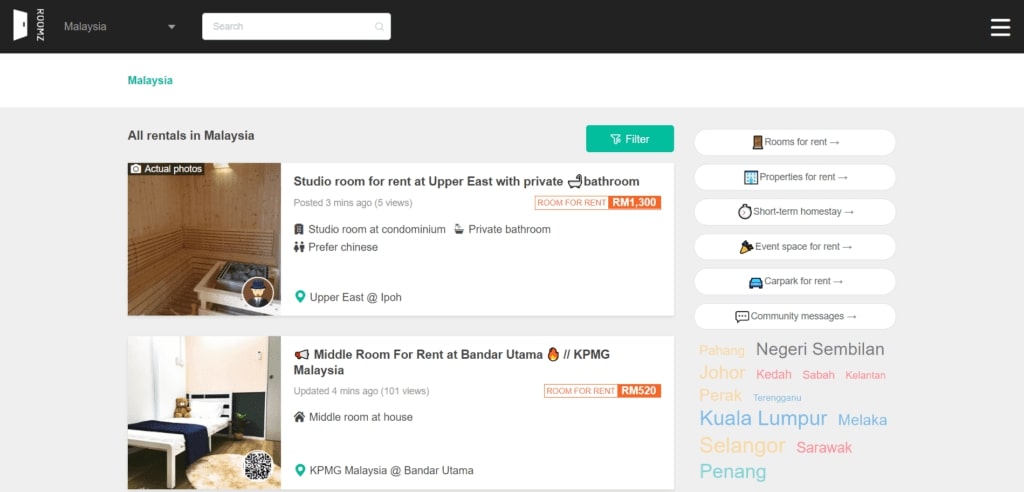 Whether you're looking for a single or balcony room, My Rooms Asia Sdn Bhd will surely have a listing for you.
They have the most complete property rental website in Malaysia. With hundreds of new listings added daily, whether you want to rent a room or an entire apartment condo unit, you can always find the most relevant rental information with just few clicks.
Highlights
Short term rentals are available
Wide range of prices
10. komune living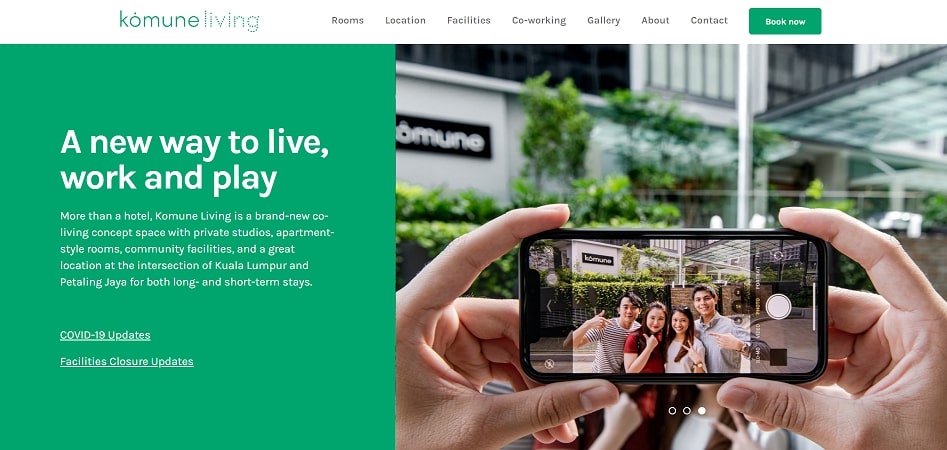 The world is changing in exciting ways, and so is the way of living. All about community and convenience, Komune Living is all about the future of living.
Move in for months, or stay a few nights, Komune Living is your home as long as you need. More than a stay, discover a lifestyle where you can live, work and play with a sense of community when you want it and privacy when you need it.
Highlights
All about creating communities that lift you up to where you want to be
Embraces change and new ways to live
Offers an ew way of hassle-free, value-smart co-living and accommodation with a focus on comfort, convenience and community
The search for the best room for rent in Malaysia doesn't seem so difficult now, does it? We're certain that with one of these sites, you'd be able to find your new home soon.
Looking for a company to help you move to the best room for rent in Kuala Lumpur instead? Here's our list of the best movers in Kuala Lumpur.