The 7 Best Rooftop Bars in Malaysia
Spend the evening sipping drinks and taking in the view at the best rooftop bars in Malaysia because you can! These are great places to go if you're hanging out with your friends, looking to meet other people, or just going out for a nightcap.
Even if you're not a fan of drinks, these offer gastronomic food choices that can make your tummy happy. So, let's take a look at them!
1.  Luna Bar

| | |
| --- | --- |
| BEST FOR  | A 360 view of Kuala Lumpur |
| PRODUCTS | Menu |
| WEBSITE | Luna Bar |
| ADDRESS | Pacific Regency Hotel Suites, Menara Pan Global, Jalan Punchak, off Jalan P Ramlee, Kuala Lumpur |
| CONTACT DETAILS | +603 2332 7777 |
| OPERATING HOURS | Monday – Thursday & Sunday 11:00 – 01:00, Friday & Saturday 11:00 – 03:00 |
Luna is conveniently located at the Pacific Regency Hotel Suites in the heart of KL. Also part of the view here is the pool area that just takes it to a whole new level.
34 floors from the ground stands one of the city's famous nightclubs. It's divided into two areas: the al fresco lounge with the swimming pool and a long bar, and the top deck that's an indoor restaurant overlooking the pool.
Highlights
   Stunning view from the KH Tower
Customer Reviews
One of Luna's patrons says this about the bar:
"The best part is definitely the view of Kuala Lumpur and the lighting. I like open places so the fact that the bar is open air is a great point. I also like that the location is near to the twin towers and KL tower, so it's easy if you want to go there too from here."
Another one says this:
"Roof top bar with swimming pool. seating is around the pool and also few cabanas are available .special offers for in-house guests. back drop of twin towers at night is amazing."
2.  Mai bar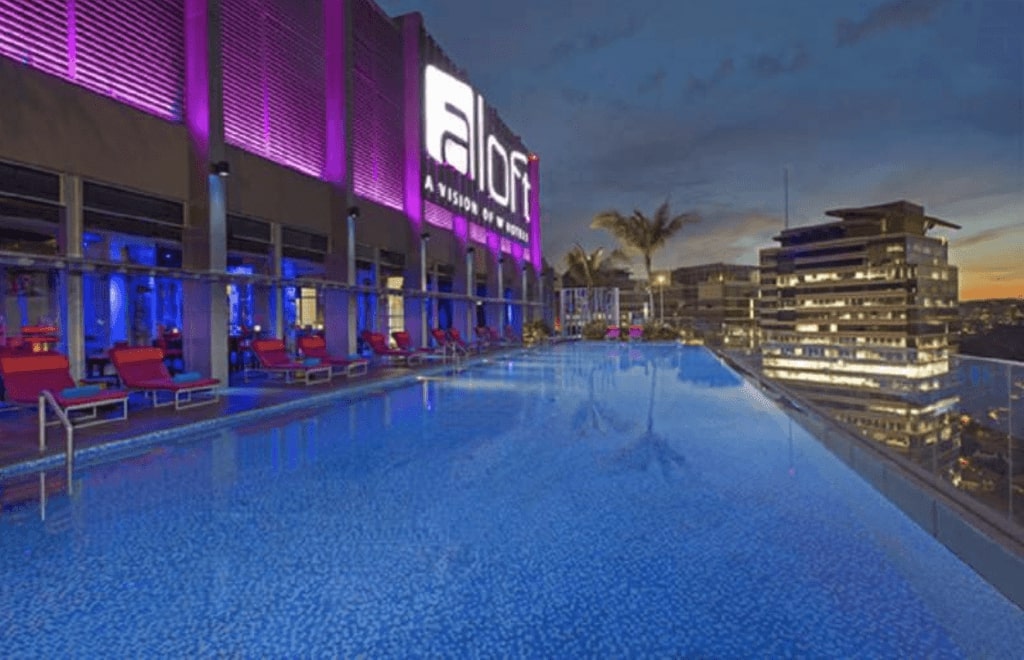 | | |
| --- | --- |
| BEST FOR  | The Tiki Theme |
| PRODUCTS | Menu |
| WEBSITE | Mai Bar |
| ADDRESS | Aloft Kuala Lumpur Sentral, Jalan Stesen Sentral |
| CONTACT DETAILS | +603 2723 1188 |
| OPERATING HOURS | Monday – Thursday 12:00 – 00:00, Friday & Saturday 12:00 – 02:00, Sunday 12:00 – 00:00 |
Aloft Kuala Lumpur Sentral houses Mai Bar on its 30th floor. It's a wide poolside rooftop bar that offers cocktails with great music in the background.
It's one of the best places to watch the sunset, especially since the happy hour promos last from 17:00-21:00. Cheap drinks + stunning view just make the perfect pair to end a long day at work!
Life-sized Tiki totems can be seen throughout the bar too. Since this is a theme bar, people even sometimes show up in costume.
Highlights
Carefully selected beverage list with infused classic and modern cocktails.
Customer Reviews
Here are a few thoughts from a Mia patron:
"The bar, on top of the Aloft hotel, is in a super position behind the sun deck and infinity pool and has great views, although my legs felt quite wobbly for the whole visit…."
And another one:
"Great bar , with good atmosphere. Table in and outside . Lovely large pool great drink menu . They also do snack . Great sake based cocktails were excellent."
3.  The Roof @ First Avenue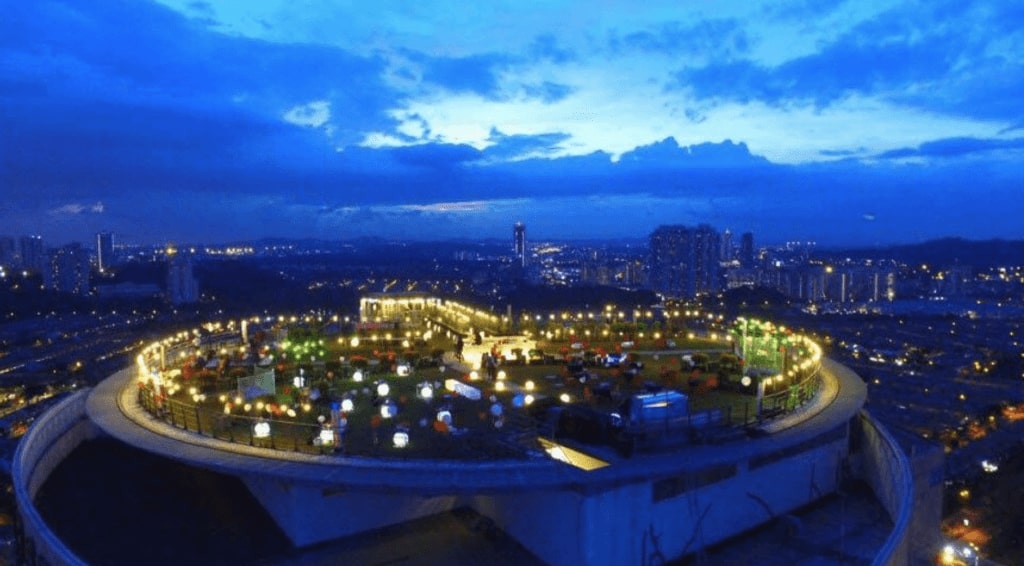 | | |
| --- | --- |
| BEST FOR  | The food court setting |
| PRODUCTS | Menus |
| WEBSITE | The Roof |
| ADDRESS | The Roof, 1 First Avenue, Bandar Utama, 47800 Petaling Jaya, Selangor, Malaysia |
| CONTACT DETAILS | +6012 323 5841 |
| OPERATING HOURS | Daily 18:00 – 02:00 |
Next to One Utama, a popular mall in Klang Valley, is First Avenue and its rooftop food hub. The 4,645sqm space houses 5 different venues: Play Club, Score Bar, Signature by The Hill, Malt & Leaf, and Stratosphere.
Play Club is an awesome dance venue that hosts all-night parties in Petaling Jaya. The crowd is young, energetic, and active, everyone's ready to mingle and have fun to the beat of Hiphop and EDM!
The Score Bar at The Roof is the sporting bar of your dreams. Live events are being played on their projector screens, it feels like you're in a mini-stadium, and you can play pool and darts with other patrons!
Malt & Leaf is a classy lounge for whisky and cigars with more than 150 international single malts and cigars. This venue gives off the impression of an old gentleman's club, and it's full of locals and expats in Petaling Jaya on a usual day.
Signature by The Hill offers amazing sights of the city with a stellar menu that complements the view. The made-to-order Signature Wagyu Burger here is to die for!
Stratosphere is known as Asia's first grassy helipad bar. It's a chill environment offering an awesome view of the skyline that you can't find anywhere else in Malaysia!
Highlights
Different restaurant choices
Rooftop cinema
Customer Reviews
Here's a review of a patron of this location:
"Great place for hangout, romantic dinners or other special occasions. However, the food is a little too expensive."
And here's another one:
"Celebrated my wedding anniversary here. Nice fine dine place with great view. A bit pricey but worth it I guess..the food was just nice. It was a special day for us so, everything felt right and great."
4.  Atmosphere 360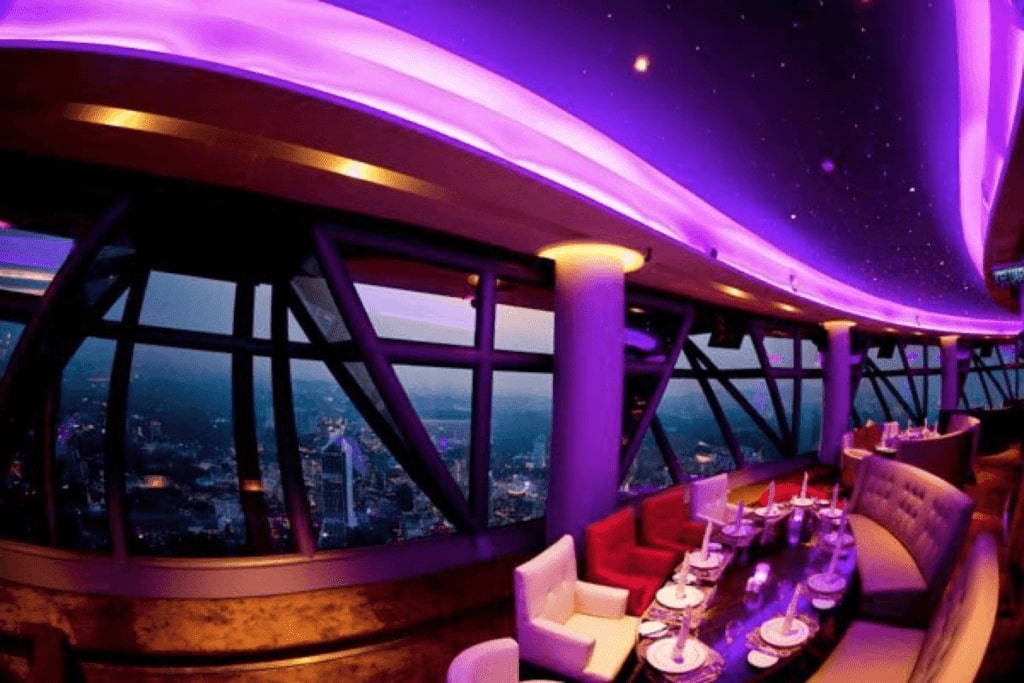 | | |
| --- | --- |
| BEST FOR  | The revolving view |
| PRODUCTS | Menu |
| WEBSITE | Atmosphere 360 |
| ADDRESS | TH 02, Menara Kuala Lumpur, No. 2, Jalan Punchak Off Jalan P. Ramlee, 50250 Kuala Lumpur |
| CONTACT DETAILS | +603 2020 2121 |
| OPERATING HOURS | 11:30 – 23:00 |
Atmosphere 360 has the highest view at 276m from the ground. The viewing deck of the KL Tower is 100m higher than the Petronas Twin Towers, Atmosphere 360 is one floor above—on the Tower Head's upper floor.
It's also known as the revolving restaurant at Menara; but you'll barely notice the movement until you realize you're beside different things at a time—one moment the grand piano, and the other, you're at the buffet.
Highlights
Revolving view of Kuala Lumpur serving as a magnificent backdrop with your drinks and meal.
Customer Reviews
Here's a review from an Atmosphere 360 patron:
"One of a unique kind of revolving restaurant experience. We had our anniversary lunch here and it was awesome. It almost takes an hour of rotation to reach the same point. Food was delicious. Views are great and can see around without any hustle n bustle crowd in the observation deck. They even give a free cake for anniversaries and birthdays. Would definitely recommend."
And another one:
"One among the most important things to do, for a foodie, in Kuala Lumpur is to book yourself a High Tea Experience and we did.exactly that by choosing Atmosphere 360 for two.reasons:"
5.  Heli Lounge Bar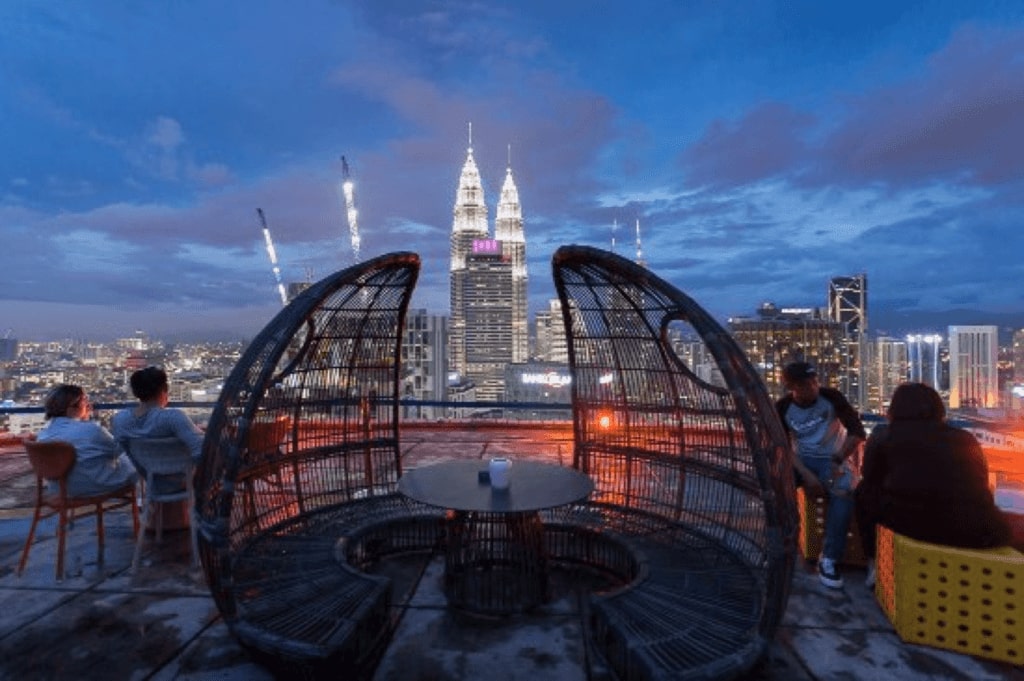 | | |
| --- | --- |
| BEST FOR  | Open air dining |
| PRODUCTS | Heli Lounge Bar |
| WEBSITE | Heli Lounge Facebook |
| ADDRESS | 34th Floor, Menara KH, Jalan Sultan Ismail, KL |
| CONTACT DETAILS | +603 2110 5034 or +6012 317 0925 |
| OPERATING HOURS | 18:00 – 24:00 Monday – Wednesday; 18:00 – 02:00 Thursday; 18:00 – 03:00 Friday & Saturday |
This helicopter pad transformed into a bar is one of the most awesome places in KL. Its aeronautic-themed lounge made of a Boeing 737's side panel and 747 turbine DJ console gives off a feeling that you're in airspace.
If you're wondering, Heli Bar is still an up-and-running helipad in the daytime before it converts to a bar at night. Because not everyone knows this little secret, you'll feel like you're in a super exclusive club when you're on the dancefloor!
Highlights
Open air dining concept at the rooftop with Kuala Lumpur's skyline as the view
Customer Reviews
Here's a review from a Heli Lounge Bar patron:
"Still a special place to go. Go up about 1/2 to 1 hour before sunset. Check the forecast for rain. You can reserve a table. There are different rules later in the evening so 6.30 pm is perfect. Use the monorail if you need public transport it is right there at Raja Chulan."
And another one:
"This bar is a 'must-see' in KL!
Lovely cocktails with a stunning view of the petronas towers and the rest of Kuala Lumpur! Great photo ops!
The entry to KL City Center's Viewing Deck is complimentary
And
Apart from being taller than Petronas, and giving an Aerial view of the #KualaLumpur city it rotates, thus giving every table a chance to enjoy the entire aerial view of the entire city.
But what came as a bonus was the amazing spread and quality. In all, it worked wonderfully well, and to our surprise, it was inexpensive.
Attendants are helpful and happy."
6.  Marini's on 57
| | |
| --- | --- |
| BEST FOR  | Chill area, not crowded. |
| PRODUCTS | Menu |
| WEBSITE | Marinis |
| ADDRESS | Level 57, Menara 3 Petronas, Persiaran KLCC, Kuala Lumpur |
| CONTACT DETAILS | +603 2386 6030 or +6017 688 0167 |
| OPERATING HOURS | Monday – Thursday 15:00 – 01:30, Friday & Saturday 15:00 – 03:00 & Sunday 17:00 – 01:30 |
This exclusive Italian ristorante at the 57th floor of the Petronas tower is located in the KL city centre. It's got a bar and lounge that not everyone gets to enter, so don't pass up the chance if you ever get it!
Paintings of Rosalba Mangiona can be seen hanging on the walls; large windows and the glass roof provide patrons a unique view of KL only to be seen from this vantage point.
It's definitely one of best rooftop bars in Malaysia!
Highlights
Customer Reviews
Here's a review from a Marini's customer:
"Excellent views, very welcoming and top notch service, cool location and interior design in the late afternoon it can be a little warm bcs of the glass design (also on the top) Had some nice meat dishes and enjoyed the wine selection too.
Its not a cheap place but a must visit when in KL
Once you finish the food you can switch over to the bar area and enjoy some cool cocktails and music by a DJ or go to the cigar lounge"
And another one:
"Marini 57 is a must visit for all who visit KL. The food, service, & views at this restaurant are amoung the best we have experienced. Request a window table for a captivating view of KL at night. Walk out to the rooftop bar and snap Spectacular pictures of Petronas Towers. The money spend is what you would expect for this experience"
7.  The Attic Bar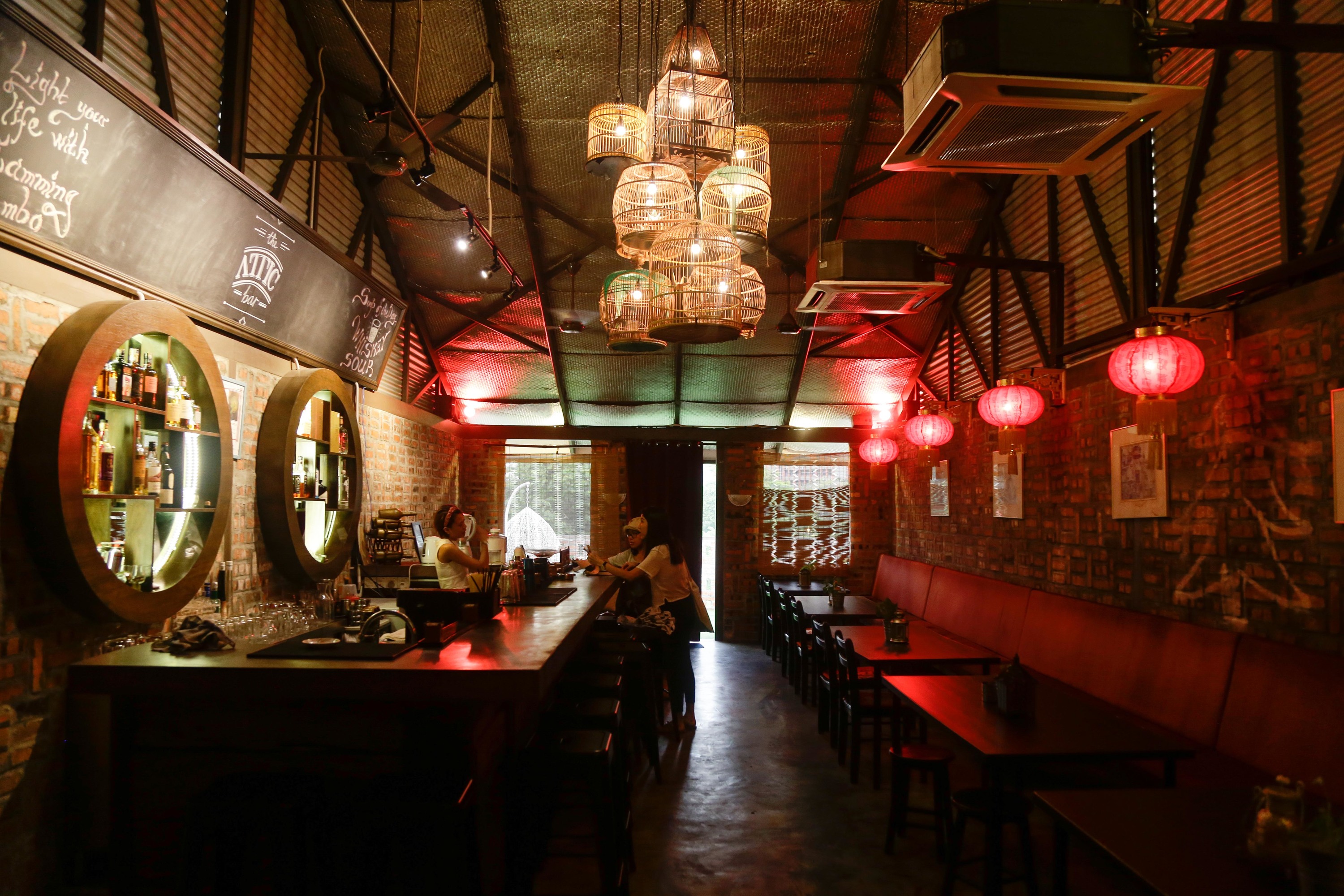 BEST FOR 
Speakeasy concept
PRODUCTS
Menu
WEBSITE
The Attic Bar
ADDRESS
3rd Floor, 15 Jalan Balai Polis
Kuala Lumpur, Malaysia
CONTACT DETAILS
Tel: +6012-3938627 | Email: [email protected]
OPERATING HOURS
6pm to 1am from Sunday to Thursday
6pm to 2am on Friday and Saturday
The Attic Bar is one of Kuala Lumpur's hidden gems, both literally and figuratively. While you may have to go through a treasure hunt to visit it for the first time, you'll find that the search is worth it due to how amazing your experience will be.
The atmosphere, for one, is highly sought after considering how relaxed it is — perfect for chill hangouts with friends or that special someone. But what makes the Attic Bar a true winner is their menu: A great mix of relatively inexpensive cocktails and other beverages that you can accompany with Asian cuisine.
Highlights
Affordable drinks
Great food menu
Chill ambiance
Customer Reviews
Here's a review from one of the Attic Bar's patrons:
"Very very nice ambiance with very affordable prices on their drinks especially bottles compared to other bars. The services there are super friendly and nice. It's a great place to lay back with the great view of the kl city with some drinks. Music is not too loud to the point u can't talk with friends but it's not too soft where have to struggle to hear the music. House genre on weekends. Went there too late and couldn't get to try the food."
And another one:
"Great service and friendly bartenders! Decent cocktails and you get what you paid for. The food oh my god amazing! Asian cuisine is my jam and it's great that a cocktail bar having a local cuisines and you should go for the deep fried baby crab and the petai chicken. Overall great place to be. Make friends with the staff and it's hard to find this kind of hospitality in kl"
Now you've seen the best rooftop bars in Malaysia, you're all ready for your next night out! You may even run into us the next time you visit one of these!
But if you choose to stay in, you can also check out the best food delivery in Malaysia! These are the services we ourselves use when we want great food brought right to our doors.
*Images sourced from venue websites.