The 5 Best Protein Powders in Kuala Lumpur
You may have heard the athletes, weightlifters, and gym-goers talk about their pre-workout shakes and if you're wondering what it is, don't worry! These are not some magical potions that make them stronger and leaner—they're just talking about protein powders.
These are nutritional supplements that help the body keep up with intense physical activities like working out and sports training. Even if protein is found in our everyday food, there's a huge chance that you might not be getting the amount your body needs.
So if you're looking for additional support, keep on reading to find the best protein powders in Kuala Lumpur!
The Best Protein Powders in Kuala Lumpur
Now that you have decided to become a stronger and better version of yourself, it's time to take the extra mile, or should we say: the extra protein supply?
These protein powders may have the same objective but their key ingredients have a lot of variation and this article will help you choose the best for you.
1.   True Nutrition – Whey Protein Concentrate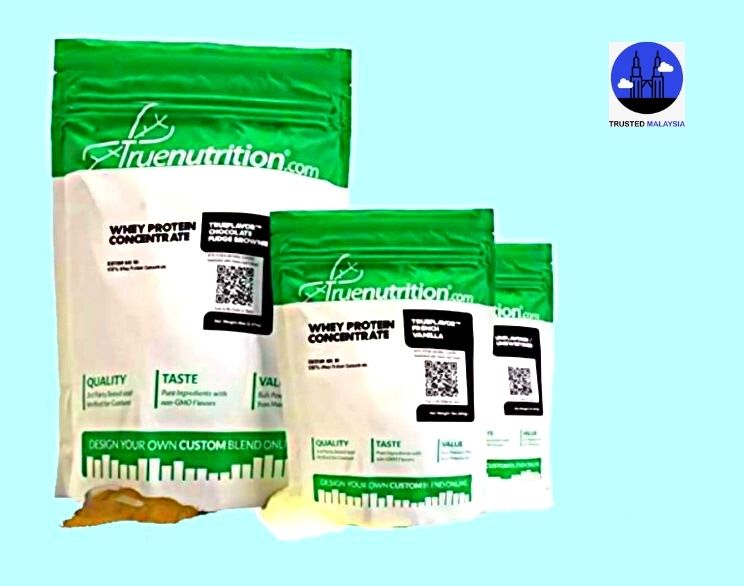 Price: RM163.00
| | |
| --- | --- |
| Nutritional Facts Per Serving | Serving Size: 1 Scoop (30g) |
| Total Fat | 2g |
| Cholesterol | 75mg |
| Sodium | 10mg |
| Total Carbohydrate | 2,0g |
| Protein | 24.0g |
We're starting this list with True Nutrition Whey Protein Concentrate which you can pre-order from Lazada.
Being high in protein intake, it has all the essential amino acids the body needs for muscle growth and recovery. Amino acids are the building blocks of protein nutrients in the body that also controls the balance between muscle reduction and gain.
The total fat, cholesterol, and total carbohydrate contents have significantly lower intake so if you're aiming to also burn excess fats, this formula may work for you. Additionally, it contains sodium that is both an electrolyte and mineral that are important to ensure proper nerves and muscle function.
True Nutrition says that Whey Protein Concentrate is a byproduct of cheese that has gone through a cold-water microfiltration system—the main reason for its high protein content and low-fat content. This makes it a good option for a post-workout shake or smoothie.
To take, mix 1 scoop in 8-12oz of liquid of your choice so it could be water, juice, or milk. We recommend that you put frozen fruits and berries in if you're going to drink it as a smoothie for added flavour.
Concentrated protein for maximum intake
Tested by a third-party laboratory to ensure quality
Great texture
Not available in different flavours
Available only for pre-order
Customer Reviews
Check out this review left by a previous customer:
"What's not to love…? Great selection of supplements, customization options (add-ins & flavours), conscientious packaging options, and all at price I can deal with. Cheers, y'all!" -Anon
2.   BSN Syntha-6 Ultra Premium Protein Matrix
Price: RM174.00
| | |
| --- | --- |
| Nutritional Facts Per Serving | Serving Size: 1 Scoop (47g) |
| Calories | 200g |
| Total Fat | 6g |
| Cholesterol | 55mg |
| Sodium | 180mg |
| Total Carbohydrates | 15g |
| Total Sugar | 5g |
| Protein | 22g |
| Calcium | 200mg |
| Potassium | 180mg |
| Phosphorus | 120mg |
| Magnesium | 20mg |
Now here's something to satisfy your taste buds because BSN Syntha-6 Ultra Premium Protein Powder lets you choose from its 5 different flavours. It is a blend of protein from 6 sources, namely Micellar Casein, Calcium Cassienate, Egg Albumin, Milk protein isolate, whey protein concentrate, and whey protein isolate—talk about variation!
It has a bit lower protein intake than our first one but pretty high in other contents like calories, sodium, and cholesterol. We recommended this to anyone who wants to gain some weight and build their muscles simultaneously.
You might also enjoy the fact that Syntha-6 Ultra Premium Protein Powder gives the body other necessary minerals like calcium, potassium, phosphorus, and magnesium. These nutrients are needed to improve bodily function so if you need a little push to get moving, you may find this helpful.
Their available flavours are chocolate milkshake, vanilla ice cream, strawberry milkshake, chocolate peanut butter, and cookies & cream. It can be taken at any time of the day as a protein shake or a smoothie.
Wide variety of flavours
Contains other nutrients
Multiple protein sources
Not concentrated protein content
Might induce weight gain
Customer Reviews
Here's what customers say about Syntha-6 Ultra Premium Protein Powder:
"Love the taste! Also great amount too! This protein wasn't chalky at all. Filled me up and gave me the energy I needed!" -Beauty
"I got this Syntha-6 Strawberry protein shake free to try from bzz agent and I loved it. The taste was amazing. It has the perfect amount of protein for a person like me who had gastric bypass surgery I need protein in everything I take in. This is perfect for breakfast or lunch it keeps me full for hours and is easy to make. Absolutely love it." -Sam
3.   MYVEGAN Pea Protein Isolate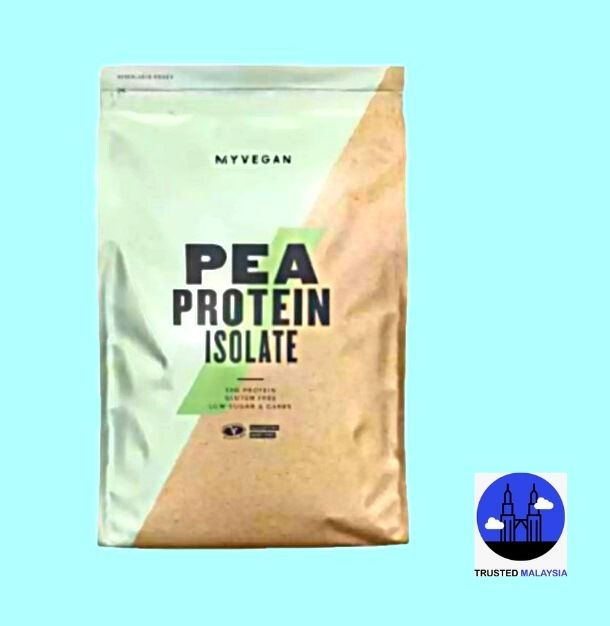 Price: RM49.00 – RM174.71
| | |
| --- | --- |
| Nutritional Facts Per Serving | Serving Size: 1 scoop (30g) |
| Energy | 487 kJ/116kcal |
| Fat | 1.7g |
| Saturated fat | 0.3g |
| Carbohydrate | 0.8g |
| Protein | 24g |
| Salt | 0.57g |
For vegans and plant-based enthusiasts, you might wanna take a look at our Pea Protein Isolate from MYVEGAN!
Pea protein is one of the most common protein sources for people who are keeping away from meat and dairy products. Even without those, pea protein is a complete protein that contains all the amino acids essential for muscle building and repair.
Proteins sourced from peas are generally powerful and safe to add to your healthy daily routine. Whether you're building muscles, maintaining it, or just want to make sure that you're taking in organic protein, Pea Powder Isolate may be the one you're looking for.
This source of protein also contains fewer calories so you don't need to worry about gaining excess fats even when you're bulking up. Plant-based proteins also increase fibre intake which helps achieve and maintain a healthy weight.
You can add 1 scoop (30g) pea protein powder in 300-400ml water of plant-based milk and drink 30-60 minutes post-workout. Other ways to enjoy this is by adding a scoop to your morning oats, pancakes, or baking recipes.
Recommended for vegans
Plant-based ingredients
Contains fibre
Pea protein can be high in sodium
Purines in pea can increase uric acid
Customer Reviews
Our fellow plant-based lover has something to say about this pea protein:
"Easy on the stomach and a great protein source, it's also value for money. I'd reccomend the strawberry for your typical easy shake (I go with unsweetened almond milk) and the chocolate is great for your baking or overnight oats!" -Wes
4.   Optimum Nutrition Gold Standard 100% Casein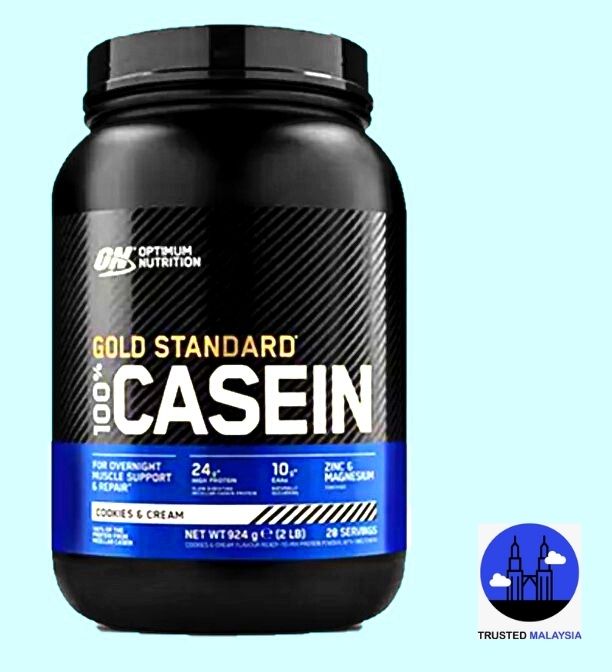 Price: RM142.90
| | |
| --- | --- |
| Nutritional Facts Per Serving | Serving Size: 1 Heaping Scoop (34g) |
| Calories | 120 |
| Calories from fat | 10 |
| Total Fat | 1g |
| Saturated Fat | .5g |
| Trans Fat | 0g |
| Cholesterol | 15mg |
| Sodium | 280mg |
| Total Carbohydrate | 3g |
| Dietary Fiber | 1g |
| Sugars | 1g |
| Protein | 24g |
Another popular source of nutrients for protein powder is casein and we found this Optimum Nutrition Gold Standard 100% Casein. If you didn't know, casein is a slow-digesting protein that helps boost muscle growth and quick recovery after exercise.
Unlike faster-digesting protein sources, casein stays longer in the stomach, taking its time to break down amino acids into subcomponents. This helps ensure the full absorption of nutrients you can potentially have from protein powders.
Casein protein is consumed in-between meals and before bed, when our stomach is not occupied digesting our other food intakes. Due to this, casein protein powders help maintain satiety if you are cutting down snacks.
To use this, you can blend one scoop of Gold Standard 100% Casein with 10-12 oz with a beverage of your choice. If you're craving flavour, we recommend mixing this with your favourite juice.
Aids in high protein absorption
Aids as appetite suppressant
Not recommended for those bulking up
Complaints about bloated feeling
5.   Radiant Natural Soya Protein Powder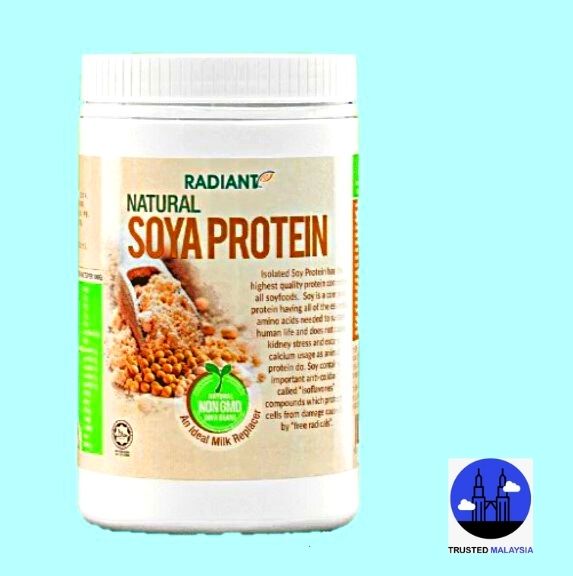 Price: RM21.30
| | |
| --- | --- |
| Nutritional Facts Per Serving | Serving Size: 1 to 2 tablespoon (14g) |
| Protein | 88.1g |
| Total Fat (Triglycerides) | 3.3g |
| Saturated fat | 0.9g |
| Polyunsaturated fat | 1.7g |
| Monounsaturated fat | 0.7g |
| Trans fatty acid | Less than 0.5g |
| Cholesterol | 0mg |
| Total Carbohydrate (by difference) | Less than 1g |
| Sugars | Less than 1g |
| Dietary Fiber | Less than 1g |
| Soluble FIber | Less than 1g |
| Insoluble Fiber | Less than 1g |
| Calcium | 140mg |
| Iron | 16mg |
| Phosphorous | 780mg |
| Potassium | 110mg |
| Sodium | 1100mg |
| Zinc | 4mg |
| Folic Acid | 200mcg |
Radiant Natural Soya Protein Powder is another plant-based and vegan-safe protein powder on our list. Soy is known to be a great source of organic protein with fewer carbohydrates and more cardiovascular benefits like lowering blood pressure.
This is great if you are looking for a cholesterol-free protein powder with minimal saturated fats, which means you are getting as much protein as your body needs. If you take a look at the nutritional facts, this Soya Protein Powder also contains mineral nutrients to supply the body.
Incorporating this into your daily supplement does not only help you build and strengthen muscle mass but also increases bone density. That's right, soy protein is highly beneficial if you're building for the long-term!
You can drink this Soya Protein Powder by dissolving one to two tablespoons with warm water or mix it with other beverages as a smoothie. You can also try topping this into soups, coffee, or your breakfast cereal.
Organic protein source
Contains fibre
Halal-certified
May not be the most effective protein for muscles building
Not recommended for high-intensity exercise
Things to Consider Before Buying Protein Powders
Your current diet and lifestyle
When you're following a specific regimen, you can easily identify your target amount of protein every day. This way, you will also know if you need added protein supplements or your real food sources are enough to supply essential nutrients to your body.
Effects on your body
Are you bulking up or you're currently trimming down some weight?
Added protein intake can provide muscle growth during a bulking period while minimizing fat gain but if you are on a caloric deficit diet, taking enough protein maintains your muscle mass while you lose body fat.
Types of protein powders
There are protein powders made from eggs and byproducts of milk like whey, casein, and of course, egg protein. However, if you are leaning more on plant-based ingredients you can have pea, rice, hemp, soy protein.
Other ingredients in the powder
Aside from the main source of protein used in each product, other ingredients you also find are added sugars, artificial flavouring, thickeners, vitamins, and minerals. So if you're particular about these, it's important to take a closer look at the contents before making a purchase.
FAQs about Protein Powder in Kuala Lumpur
---
We hope this article helped you understand how each type of protein powder can help you. It's all about knowing what your body needs, and expanding your options when choosing the right protein powder for you.
Once you've found one from our list that gave you significant results, we'd love to hear from you! Send us a message if you have other recommendations that you want us to check out.
If you're looking for other muscle-building supplements, you might wanna check out the best mass gainers in Malaysia!