The 6 Best Collagen Drinks in Malaysia
Collagen drinks have a lot of amazing benefits both for your beauty and your health. If you're reading this article, you probably already know this and are looking for the best collagen drinks in Malaysia to add to your shopping carts.
So, come on now! Let's read all about these collagen drinks and let's find the one that's right for you.
The Best Collagen Drinks in Malaysia
Collagen drinks are one of the most popular collagen supplements on the market due to how easy they are to find. But how do you know you're drinking the right one?
We put together this list of the best collagen drinks in Malaysia to help you with this issue you may be facing. Keep on scrolling to see that list now!
1. Lennox Firm Up+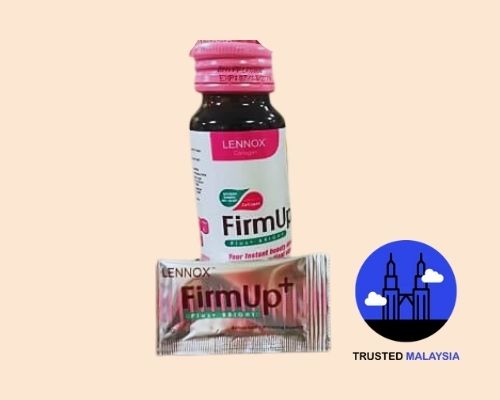 Price: RM 69.80
| | |
| --- | --- |
| INGREDIENTS | Grape seed extract, Aqueous marine collagen, Vitamine C, Vitamin E, Coenzyme Q10 |
| FLAVOR/S | Sweet berry taste |
| SIZE/S | 50ml per bottle |
Lennox's Firm Up+ is an all-natural collagen drink that's 100% water-soluble due to the aqueous marine collagen used making it easy to digest.
It's best for those who are looking to firm up their skin and make it radiant. It's said to prevent the appearance of varicose veins, cellulite, scars, bruises, wrinkles, and other skin issues that we know you'd rather not have.
This collagen drink promotes both skin renewal and the synthesis of collagen which also helps keep your bones strong. It also promotes white and fair skin while protecting your skin from UV sun rays.
It has a sweet berry taste but, according to reviews, there's a slight bitterness to it. However, it's not that overpowering.
Each package comes with 20 50ml bottles. The recommended dosage for this specific collagen drink is 1 bottle every night for the first 10 days.
After the first 10 days, take 1 bottle every 2-3 days. It's best to intake this at night before you go to bed.
Note that it's made of all-natural ingredients so slight sedimentation may occur in some bottles. We recommend keeping it in a cool place like your refrigerator and shaking it well before drinking.
Easy to digest
Uses all-natural ingredients
Helps prevent appearance of various skin issues
Sedimentation may occur
May have a slightly bitter taste
Bottle isn't convenient to carry around
Customer Reviews
Here are some reviews left by their satisfied customers:
"Items arrived in a great condition. Thanks seller, I'm so happy" -s*****s
"Barang dah sampai! Sukaa sangatt 😍😍 Semua barang mencukupi. Thankyou seller 😘 cepat jaa ship barang. Jnt pun cepat buat kerja. Dua hari ja barang dah sampai." -fatin_1998
"Received in good condition and wrap it well. Thank you seller" -e*****n
2. Toujours Advanced Fruit Extract and Collagen Drink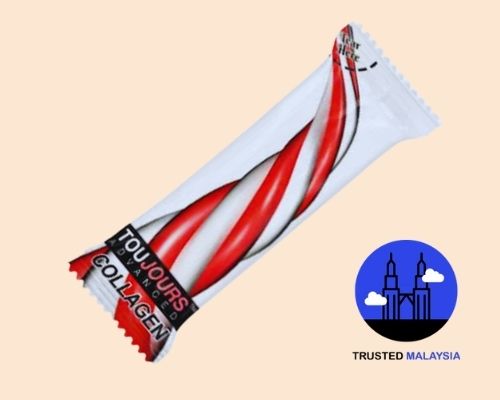 Price: RM 199
| | |
| --- | --- |
| INGREDIENTS | Sweetener (Fructose & Sucralose) contains permitted flavorings and preservatives, RO water, Dates, açai berry extract, Vitamin C, Blueberry extract, Strawberry, Contains thickening agent and stabilizers as permitted food conditioner, Pomegranates, Honey, Fish Collagen, Lemon powder, Apple juice powder, Juice powder, |
| FLAVOR/S | Fruity |
| SIZE/S | 20ml per sachet |
If you're looking for a supplementary collagen drink that's easy to consume, Toujours Advanced Fruits Extracts with Collagen Drinks is a great choice.
The cod collagen in it primarily promotes healthy glowing skin and stronger bones, while the pomegranate, honey, and dates provide additional nutritional benefits. Some of these include antioxidation, prevention against heart disease, and help against digestive issues.
Now, we like that it's packed in neat little sachets because that makes it easy to bring around with you and drink anywhere. Each package comes with 30 pieces of 20ml sachets.
If it's your first time drinking this Toujours supplement, it's recommended that you check if it's suitable for you before sticking with it. To test this, drink one sachet in the morning every 2 days for 6 consecutive days.
Once you can tell that there are no adverse side effects, you can continue drinking it daily. Now, if you're drinking this for intensive skin problems, you can take this twice a day — once in the morning and once before bed.
It's recommended that you store this drink at temperatures below 30 degrees Celsius.
Guaranteed Halal
Suitable for diabetics
Convenient packaging
Provides wide range of health benefits
May cause adverse allergic reactions
Contains additives such as preservatives
Customer Reviews
Let's read the reviews on Toujours advanced fruit extract and collagen drink left by their pleased customers:
"Received in good condition. MFG date 24/5/2021.EXP date 23/5/2023.Shipping time can be improved." -r*****8
"I received my parcel in a good condition. Fast delivery! I bought this when they are having sales, it is worth it ✨ I love it.♥️" -kirinshah
"I had an allergy and I think i can tolerate with this product . The effect is quite impressive . I hv been tried this things before and i want to continue consuming it ." -n*****_
3. Kordels La Beaute French Collagen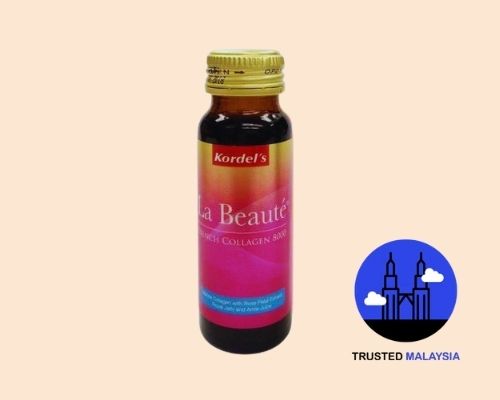 Price: RM 106.80
| | |
| --- | --- |
| INGREDIENTS | Japanese royal jelly, American amlamax, Peptan hydrolyzed collagen from France, Japanese rose petal extract |
| FLAVOR/S | Fruity |
| SIZE/S | 50ml per bottle |
The Kordel's La Beauté® French Collagen is a bottled beauty formula that contains an exclusive blend of four patented extracts. These are the marine collagen from France, royal jelly and rose petal extract from Japan, and amla juice from the USA.
As you can probably tell, these premium ingredients mixed with marine collagen are designed to make your sign smooth, seem poreless, and make it easier to apply makeup. Marine collagen is known for making your skin firm and hydrated while reducing any wrinkles you may currently have.
The Japanese royal jelly is responsible for making your skin radiant and helps with the production of collagen in your body. The rose petal extract aids in the whitening and brightening of your skin.
Finally, the American Amlamax helps with skin pigmentation issues such as sunspots, freckles, and age spots. That makes it hit four birds with one bottle which is why we really recommend this collagen drink.
Each order of this package comes with 20 pieces of 50ml bottles. This will last you roughly 3 weeks if taken as recommended.
The recommended dosage for this collagen drink is 1 bottle a day for the first 7 days. After this, drink 1 bottle every other day only.
All-natural ingredients
Helps with skin whitening
Helps with skin pigmentation
Made with premium ingredients
Relatively pricey
Bottle isn't convenient to carry around
Customer Reviews
Take a look at the reviews left by their happy customers:
"Well packaging, item was received in good condition. Bought with seller voucher & promotion price." -w*****w
"Good product quality,good value for money,fast delivery,excellent service by seller" -agnes2128
"Variation: 2 x 10 bottles. Fast delivery. Good value for money. Bubble wrapped on all items. Comes with one free gift" -jamietehshiojun
4. Nano Japan Jewel Collagen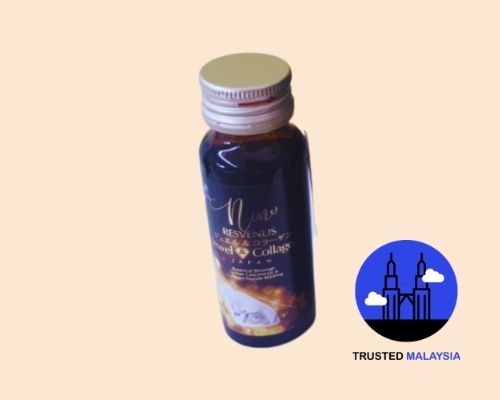 Price: RM 116.00
| | |
| --- | --- |
| Ingredients | 8,000mg TYPE IV Collagen, Premium royal jelly, Ubiquinol CoQ10, Hyaluron, Phytoceramide, Vitamin C, Lychee seed extract, Sakura extract |
| Flavor/s | Fruity |
| Size/s | 50ml per bottle |
Nano Japan Jewel Collagen is a premium collagen drink that features 8 active ingredients and 8,000 mg of salmon collagen. Salmon collagen is known to produce active collagen protein that works well with your joints and skin by maintaining their firmness and strength.
Now, some of the other ingredients include Ubiquinol CoQ10, lychee seed extract, sakura extract, and premium royal jelly. These ingredients are known for their great health and beauty benefits such as prevention of heart disease, tightening of the skin, protection against UV rays, modulation of blood sugar, and more.
Now, this collagen drink is a bit pricier than the others. For its price, you only get 10 50ml bottles.
The recommended dosage for this is 1 bottle every other day. However, if you're taking it for intensive skin care and protection, you can intake 1 bottle a day.
Be sure to keep this collagen drink refrigerated and shake it well before you drink it. By the way, if you're allergic to salmon, we suggest you skip this option because, as mentioned above, the collagen in this is derived from salmon.
Uses premium ingredients
Helps modulate blood sugar
Contains 8 active ingredients
Relatively pricey
May cause adverse allergic reactions
Bottle isn't convenient to carry around
Customer Reviews
Here are some of the reviews left by there contented customers:
"eceived the parcel in good condition.. Have consume 2 botol on alternate day.. Taste wise a bit sweet" – alia
"Second times to purchase, my skin more moisture compare to last time. Even indoor outdoor. Really love it!" -Jays***
"Received in 2 days, well packaged. 2024 expiry Responsive seller" -A***
5. Kinohimitsu Collagen Beauty Drink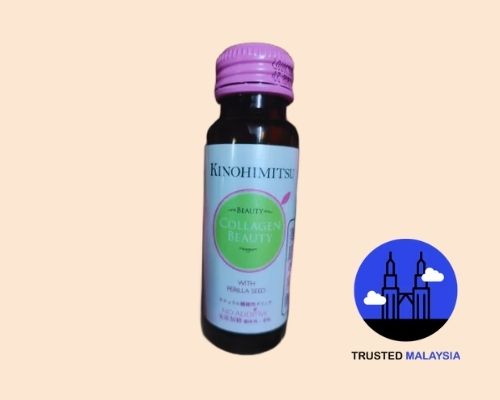 Price: RM 22.00
| | |
| --- | --- |
| Ingredients | Fructose, Apple condensed juice, Marine collagen, Royal jelly, Peach juice, Green papaya condensed juice, Pueraria Mirifica root extract, Vitamin C, B-creatine |
| Flavor/s | Lychee |
| Size/s | 50ml per bottle |
For younger-looking skin all over your body, Kinohimitsu Collagen Beauty Drink is a collagen drink you should try out.
This collage drink claims to promote smooth and firm skin on your face, bust, neck, and even your bum! This is thanks to its high concentration of 2500 mg of collagen per serving that works quickly and effectively.
It keeps your skin hydrated by locking in skin cells moisture for up to 20 hours and helping your skin produce more collagen and elastin. It also helps your scars heal faster and bring your skin back to life.
Their use of malic acids and vitamin C helps lighten skin pigmentation. A little note we have for you is to keep this collagen drink chilled and shake it well before drinking.
Every order of this comes with 4 50ml bottles. We like how this gives a shorter "trial" for those who are trying the product out for the first time and aren't sure if they'd like to commit to the usual 10 or 20 bottles.
The recommended intake of this collagen drink is 1 bottle a day for the first 6 days. After this, it's recommended you drink one bottle once every 2 days only.
Easily digestible
Helps with skin pigmentation
Order quantity is ideal for first-time users
May cause adverse allergic reactions
Bottle isn't convenient to carry around
Customer Reviews
Take a look at the reviews left by their satisfied customers:
"Order on 25th July received on 30th July. Consider quite fast delivery period. Items received in good condition similar to the posted. Good packaging inside a box as usual repeated purchases and they have long expiry date." -s*****9
"dah minum..sedap dan sy mmg minum produk ni sy sukaa 😍😍😍 inshaallah repeat lagi nanti" -zatydiaries
"Received the product in good shape and delivery within delivery timeframe. Good value for money when bought during sale." -sjha88
6. Kitsui Generation 3 Colla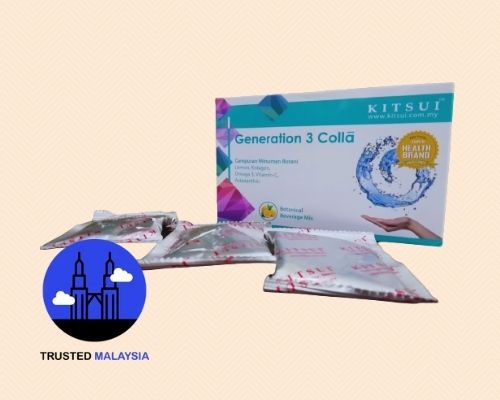 Price: RM 38.80
Ingredients
Lemon-high in antioxidants
Collagen-Solves dry skin problems
Omega 3-Stimulates collagen formation in the skin
Vitamin-C-Heals and Removes acne scars
Astaxanthin-Slows down the aging process
Flavor/s
Kolagen
Omega 3
Lemon
Size/s
5000mg
Experiencing skin issues? Well, you are in luck because we introduce to you Kitsui Generation 3 Colla.
This product can solve the problem of dry skin, fine lines, wrinkles, aging skin, and blackheads. Additionally, what makes this even more promising is that it cal also help those who want to get rid of their dull skin.
With this, your skin will gain back its ability to stretch again!
Kitsui Generation 3 Colla is powdered collagen. therefore, you must mix it into 150mL of water, shake, and drink immediately.
Here are a few benefits of this product, solves the problem of uneven skin tone, resolves fine wrinkles. get rid of acne scars, slows down the aging process, and moisturizes the skin.
Dissolves quickly
Affordable
Not suitable for those who have Seafood allergies
Customer Reviews
Take a look at the reviews left by their satisfied customers:
"First time buying kitsui generation 2 colla product, almost a year to consume in 2014-2015, mmg best, then stop for a moment, now try generation 3 is still the best, u should try… the best even though I'm 33 years old this year, still people remember my age is 26 years old… tp nk pretty disciplined yes! Tqsm kitsuibeauty! ❤"
"Alhamdulillah, kitsui is suitable for me. My skin is even brighter and not dull anymore after consuming whitenin bb, korean white and g3. Thank you kitsui"
"Generation 3 colla products are indeed the best. Alhamdulillah, nmpk skin is glowing gituuu. Reasonable price and very good quality. Love u KITSUI 🙂"
Things to Consider Before Buying Collagen Drinks in Malaysia
1. Reason for Use
While collagen is used for keeping your skin in good condition by maintaining and renewing it, it also keeps your bones and joints pretty strong. However, some collagen drinks alter their mixtures to suit one or the other more so be sure to check which part of your body the collagen drink targets more and choose accordingly.
The different types of collagen are Type I & Type III (best for skin health), Type II (best for cartilages), and Type V &Type X (best for fiber development).
2. Ingredients
The kinds of collagen used in your collagen drink are very important because you could be allergic to it or, again, it could quite possibly not be the best for the results you're after. Keep in mind the different types of collage.
Now, there are also additional ingredients in your collagen drink that contribute to a wide range of different health and beauty benefits. You can check these in the ingredient sections and choose the one that interested you the most or that you feel you need the most.
3. Price
Of course, you also have to take into consideration the price of the collagen drink you're purchasing. This is something you'll be probably be incorporating into your diet and shopping cart for a long time so you want to make sure you'll be able to sustain your purchase of it.
From the get-go, make sure you choose one that fits your budget.
4. Frequency of Intake
This goes hand-in-hand with the price. Some collagen drinks require you to take it once a day, some twice a day, and some once every few days.
The more you drink, the more often you need to restock. This, of course, means you'll be ordering and spending much more often.
Also, consider the fact that you may be a forgetful person and forget to take the recommended dosage if it's more than once a day. This could affect the effectiveness of the collagen drink.
FAQs about Collagen Drinks
---
Now, with everything that's been said, we hope you learned a thing or two about collagen supplements thanks to this article. We also hope that this list of the best collagen drinks in Malaysia helped you find exactly what you're looking for.
After you've started taking your collagen drink and your results start showing, please don't hesitate to reach out to us and tell us all about your experience with your chosen drink! We'd absolutely love to hear all about it.
In case you're looking for something to help boost your immune system as well, check out our article on the best multivitamins in Malaysia.