The 6 Best Projectors in Malaysia for 2020
Ever wanted a home entertainment system where you can plug in your portable devices and watch movies on a bigger screen? Well, the best projectors in Malaysia are here to make sure you get just that.
The best projectors in Malaysia can supersize your videos and viewing to near-theatre levels. You can use them for presentations, movie nights, and a bevy of other things.
In any case, we'll talk about how to choose a projector before we list our top choices this year. If you think you already know how to pick one, though, feel free to jump straight to the list!
Find the Pro in Projectors: How to Pick One
If you're watching an HD movie at your place or giving a presentation at work, you'd want a projector that handles media flawlessly so you won't get headaches while watching.
We're here to present ideas on how to choose the right projector for you, and which ones you should get, if you can't seem to decide!
For Home Entertainment
Your 50" HDTV is no match for a good-quality home entertainment projector.
With superior quality imagery, you can watch a sports game and see everything happening on the field without any fuss. They're perfect for video games as well, especially the high-frame-rate ones that your TV's graphics can't give justice to.
These items focus on high contrast and image quality for the best output. They're used mostly in environments like movie theaters where lights can be controlled.
If you're mostly going to use one at home in an enclosed room, these products are the way to go!
For Business
If you're mostly going to use a projector in the office, school, or workplace, a business/multimedia/data projector is a great option for you!
These projectors are often brighter than those for home entertainment. This is the reason they're great for conference rooms, classrooms, or just about any room with lighting and windows.
They're designed to provide images, graphs, presentation slides—static images, more than movies and other multimedia. But that doesn't mean you can't use them for all these!
For Going Places
Pocket projectors, also known as Pico projectors, are powerful, compact little gadgets that can share media with a small group of people. You can take them with you almost everywhere!
If you travel a lot, or have off-site meetings, you can conveniently store these in your bag and surprise everyone with a meeting. (LOL, kidding, please don't do that.)
And if you want to play games, or watch movies but don't have a screen nearby, a pico projector will do you good!
The Best Projectors in Malaysia
If you know what purpose you'll have for your projector, it's easier to find the one. Read on to get the best options for each type!
1.   Sony VPL-HW45ES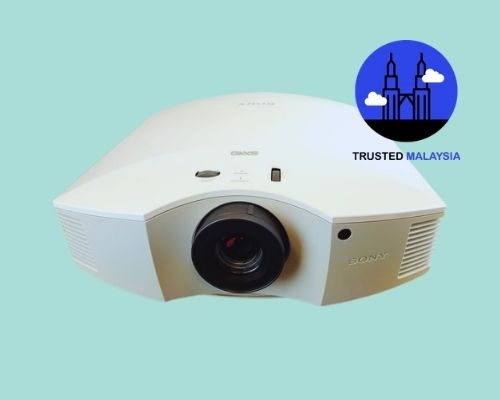 Price: 7,388.00RM
For: Home entertainment
Sitting beside strangers, overpriced popcorn, having to follow movie schedules—these are the things you can do without if you watch a movie at home. With this Sony projector, it's possible to get the movie theatre experience right in your living room.
Sony's Reality Creation feature makes sure that you get sharp, crisp, Full HD graphics just like the movies. They also offer a Bright TV and Bright Cinema mode for accurate imagery and adaptability.
Perhaps the best of all its features is the Motionflow, allowing you to watch fast action in low blur. Be it action movies, racing, football, video games, you'll get everything in full HD.
It's easily one of the best projectors in Malaysia!
Highlights
Full HD 3D
Bright TV, Bright Cinema modes
Customer Reviews
A Lazada customer shared her thoughts on the product:
"The best home theater projector so far i use. Happy with this unit. recommend it.."
And another one said this to indicate her happiness with the projector:
"Great 3D with awesome video quality. LOVE IT"
2.   Viewsonic PJD77220HD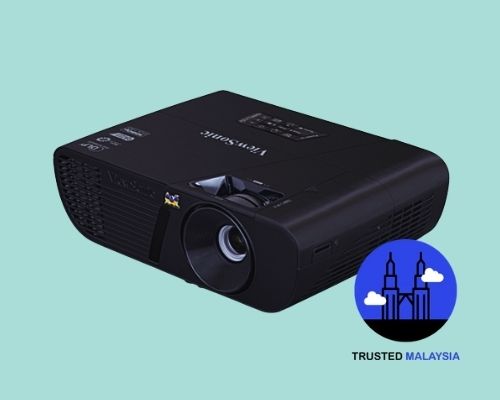 Price: 3,599
For: Home entertainment
ViewSonic offers its SuperColor™ 6-Segment Color Wheel RGBCYW feat here to emphasise brightness for accurate imagery. It also has brightness settings like Dynamic Mode or Movie Mode.
With Full HD 1080p resolution, movies, presentations, games, and other media come out bright, clear, and flawless to viewers. ViewSonic also comes with a price… that's lower than most of its competitors!
Highlights
Full HD resolution, 3D
Low lamp replacement cost
Customer Reviews
A buyer said this about ViewSonic's projector:
"One of the best purchases I've made on this website. First, amazing service from the seller. I ordered the item on thursday afternoon. By afternoon, the item was already on its way. The projector itself is one of the best projectors I've used . The noise made by the projector is a bit loud, especially in a quiet room, but nothing that will ruin your experience. And the most important detail, the quality of the video projection, which is superb. I recommend this to anyone who doesn't mind shelling out some money for a quality machine such as this one."
And another one said this:
"Very good pic quality and volume."
3.   Epson EB-945H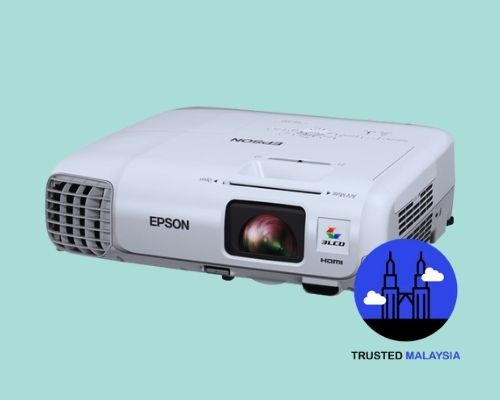 Price: 3,599RM
For: Business
If you're in a company where time is valued more than anything, you definitely don't want to waste 15 minutes setting up a computer before the beginning of a presentation.
Good thing the EB-945H has a wireless feature to sync from your devices. With the Epson iProjection app, you can connect phones, laptops, tablets, and other smart devices to this projector.
You can even use your phone as a remote!
It also comes with a 16W speaker, 1.6x zoom lens, and Multi-PC projection that can display up to four screens at the same time. These are perfect for conference calls, joint presentations, and even just for taking notes!
Highlights
Multi-PC projection
iProjection app compatibility
4.   Xiaomi Mijia Laser Projector 150"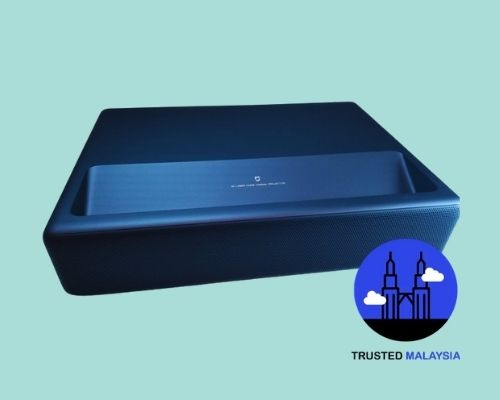 Price: 6,699RM
For: Home and travel
Xiaomi devices have been taking the world by storm, and their projectors are definitely no exception. This projector gives awesome colours, great contrast, and luminescent images that will make the people in your office swoon over your presentation.
Although not necessarily a pocket projector, the Mijia Laser Projector is quite portable and convenient to bring around.
Full HD and 4k resolutions are also supported. And get this: there are built-in Dolby speakers so if you want to watch a movie at work during downtime, this is also perfect for that!
Highlights
150 inches for the maximum display
Dolby sound system
Customer Reviews
Here is a review of this product from Amazon:
"…the Xiaomi laser projector is an exciting device. A projector that not only offers a fantastic picture quality, but also removes all that annoying work that normally comes with the purchase of a traditional projector. In addition to the sleek design, you also get decent audio quality and great connectivity in a small form factor. The annoying flaws with the operating system can easily be fixed with another device, but you need to decide for yourself if you can overlook the long boot time and the noise of the fans. Compared to any other ultra-short-throw projector, this product is probably the best deal out there."
5.   Philips Picopix Projector PPX4350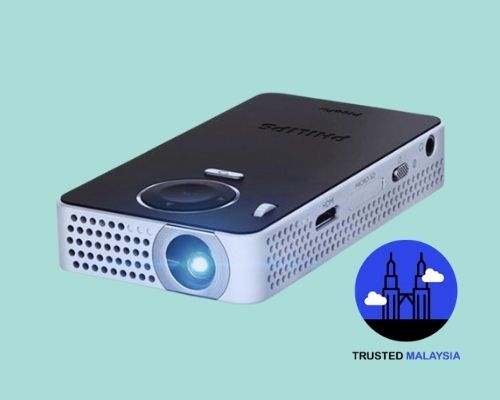 Price: 1,999RM
For: Travel
When you have a 114g projector in your bag every day, the possibilities are endless. HDMI and USB support with an SD card slot also give you a lot of options for media sources.
It also supports screen mirroring through a Wi-Fi dongle! You can share photos from your phone or other smart devices without any cables necessary!
Highlights
Multiple media source options
Ultra-lightweight
6.   Sony MP-CL1A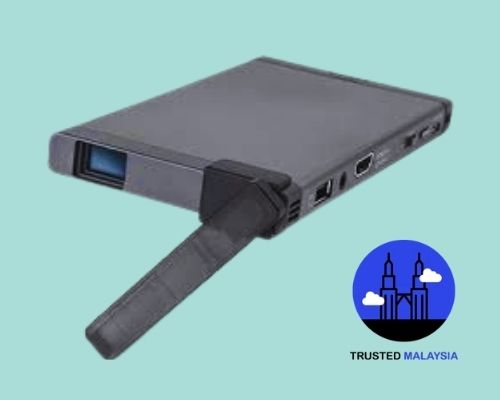 Price: 1,799RM
For: Travel
The MP-CL1A is an all-around powerful little gizmo that can fit in your pocket! Projector + power bank in one very handy device? This is it!
With its built-in Bluetooth, Wi-Fi, USB and HDMI/MHL support and connections, you've got all sorts of media sources to choose from! More than that, it's also rechargeable so you don't need outlets nearby to use it!
It's the best projector in Malaysia for your pocket!
Highlights
Built-in Wi-Fi and Bluetooth
120" display at 12ft distance
Customer Reviews
An Amazon customer says this about the MP-CL1A:
"This is a great projector when it comes to portability, what i mean is not just travelling, if you need a 100+ video in your bedroom, basement, etc…
The video quality is definitely good for the price. The features i like the most are Bluetooth audio & battery life (2+~hours).
Connect to any MHL device & you will have all the required apps like Netflix & youtube, which i use the most. The output from this tiny projector is so good. I am absolutely in love with this product and i hope it survives several years.
I always wanted to get a projector, but i dont want to just restrict the projection to one place. So i gave a lot of thought and bought this. i am really happy now.. Even the screen mirroring feature is too good, but you wont be using that much if you have a MHL device. Finally if you are looking for a complete wireless option, go for this one…"
Another one says this:
"I like being outdoors and like watching sports, this is a must. Picture is clear and crisp. You can go bigger picture size the farther away you put it but the quality does go down. Tried both Android and IPhone on it, highly recommend it for Android because Iphones limit what you can view on it. I use my old Samsung and can view Amazon prime movies, HBO Go, and other streaming apps. Love that you can connect a speaker via Bluetooth for bigger sound. Recommend for those who like being outdoors."
Now that you've seen the best projectors in Malaysia, you can check out the best laptops in Malaysia to use your projector on! Don't be afraid to leave us a note if you have something to say about these projectors either!
*Images sourced from Lazada and product websites.