The 5 Best Walkie Talkies in Malaysia in 2020
Are you thinking what we're thinking? With smartphones dominating as the world's communication medium, what do we need the best walkie-talkies in Malaysia for?
Well, there's a reason these old school devices are still in the market in this day and age.
For one, they're great for areas without phone signals. They're also used by campers and construction workers for talking on and off site.
Anyway, we'll talk about the best walkie talkies in Malaysia this year. But before that, we'll take you through some quick tips on how to pick one, so you can better choose one from our list.
How to Choose a Walkie Talkie
Walkie talkies are generally classified in two: business and consumer radios.
For business, these are the units used by military personnel, police forces, security agents, and those working in construction. For consumers, these are the ones usually used for camping, hiking, vacations, festivals or talking to your girlfriend next door.
Like any other guide, we're here to point you in the right direction!
WTF: What Are The Talkies For?
If you're getting walkie-talkies for business, we prefer the frequencies to be either UHF (ultra-high frequency) or VHF (very high frequency.)
UHF radio signals penetrate better, they're great for campus, or city use where people have obstructions between them.
VHF radios are better in spaces which are wide open. They work great outdoors, like golf courses, lakes or grasslands.
Consumer category frequencies are usually GMRS or FRS. GMRS needs special licensing in some countries, FRS doesn't.
The downside is that FRS radios aren't as awesome in penetrating obstacles nor in range capacity. If you're just going out on a trip out to the woods, the FRS is a good choice for you.
Distancia, Mi Amigo.
One of the main factors in choosing a walkie-talkie is the distance it can cover. If you're expecting your devices to be far apart, use Google Maps to check the distance and get a product that can cover that with clear reception.
Walk the Talk: The Best Walkie Talkies in Malaysia
Now that you already have an idea of which walkie-talkie is right for you, we're here to narrow down your options. Listed below are some of the best walkie-talkie options in the local scene:
1.   Xiaomi Original Mijia Smart Walkie Talkie 1S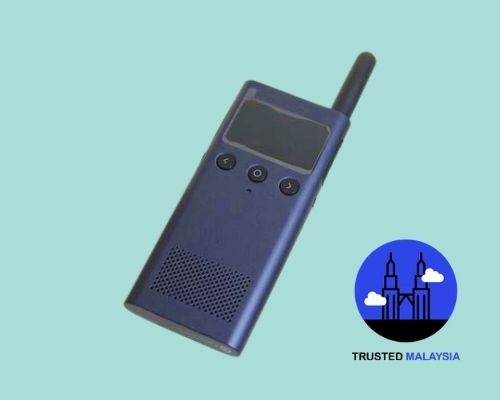 Price: 155RM
Newly upgraded walkie talkies are now integrated with phone features that make using them more convenient than before. The Mijia was designed for large groups at once—Xiaomi's Team Talk feature makes sure of this without complicated frequency setups.
With FM radio, built-in Bluetooth, GPS sharing, an LCD, long battery life, and a maximum range of 10km, the Mijia sure is a new breed of walkie talkie that you don't get to see every day.
Highlights
10KM range
Built-in bluetooth
Customer Reviews:
A customer has this to say about the Mijia Walkie Talkie 1S:
"This is a high quality, well made walkie talkie. Feels very good in the hand and is comfortable to hold. Good range and intuitive controls. Works very well with the Mi PTT app, and various walkie talkies. This is a sleek, well designed product. I am going to buy another."
And one other person says this:
"This is great and stylish walkie talkie. To unlock full potential, you need to pair it on your phone and access extended settings from the app."
2.   Motorola Consumer Walkie Talkie TLKR T80 Extreme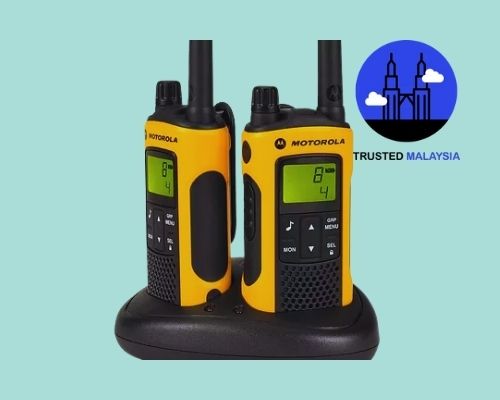 Price: 599RM
If you're in need of a handy talkie that's got your back in any situation, the TLKR T80 is probably the right choice for you.
It's splash-proof, perfect for wet and rainy conditions or coast guard operations at sea. This device was designed for extreme situations not every competitor can take.
With an up-to-10km range, high-powered LED torch light, lit LCD screen, headset connectors, and NIMH batteries, TLKR T80 is one of the most durable and robust products to date.
Highlights
Customer Reviews:
Here's an Amazon review of this product:
"If you assume they will do what you expect them to do you are about right. Good, solid reliable radios I would happily take on a trek. They are what they appear to be. Excellent range. The "speak" button is a little hard to find and press for my elderly mother – I wish it was more obvious – but it wasn't designed as an intercom for the elderly. The batteries only last for a couple of years of regular use and are expensive to replace – but I felt I got good value out of mine. Batteries last about a day provided they are recharged for a few hours (there's no quick charge option unfortunately). Its few minor faults are outweighed by its basic top to bottom quality. Even the case and accessories are well made. An easy five stars."
And another one:
"Excellent for use in our workplace, clear, used over short distances on an 8 acre site with no problems. Seem robust enough, even with some of the gorillas that work here!"
3.   QNIGLO Q-168 2 Piece 3-5KM 22 FRS and GMRS UHF Radio for Child Walkie-Talkie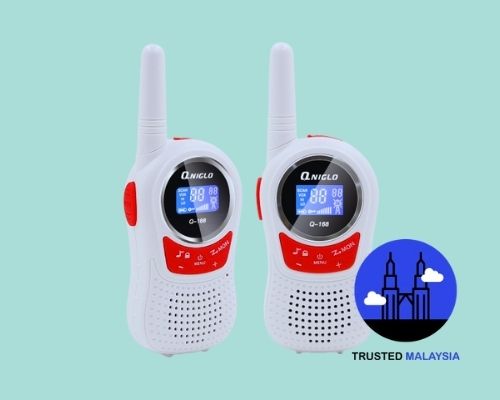 Price: 82RM
Add It To Your Lazada Cart Now.
If you're going on a field trip or expedition with your kids and you want to know where they are without being intrusive, this walkie talkie offers the best of both worlds.
The device is lightweight, and it's got an interface that's easy for kids to navigate. The bright colours the sets come in also add to their kiddie appeal!
It has a range of up to 3kms in urban areas, and as a parent, you really shouldn't let your kid go any farther. It receives no signals from other users, so you don't have to worry about your kids talking to strangers!
Highlights
16-hour use, with automatic power saving
Channel lock, perfect for kids
Customer Reviews
Here are a few thoughts from buyers of the Q-168:
"My kids love the walkie talkies, makes my life easier because I know longer have to yell for them to do something I just make it into a mission and they seem to get the job done!!! Didn't have any issues with it so far, would suggest a friend to buy it."
And here's what another customer has to say:
"These are perfect for my very active 5 yearold. Great range, and easy to use. The flashlight has been a great feature!"
4.   Radiotone RT4 4G LTE Zello Wi-Fi PTT Walkie Talkie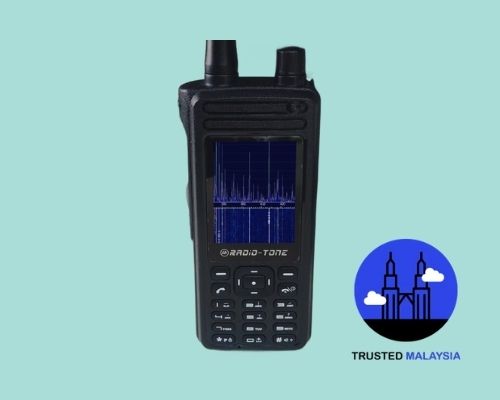 Price: 930RM
Bet you didn't know you can surf the web with a walkie talkie, no? Zello, the company behind the Radiotone RT4 has made it possible.
The RT4 is the lovechild of an Android phone and a walkie talkie. With 4G and Wi-Fi functions, dual SIM card slots, and a touchscreen, it looks like an old school cell phone but with all-new features.
It also boasts an impressive standby time of 96 hours, so you can take it on a long trip if you're expecting no cell coverage.
Highlights
1 year warranty
USB and Bluetooth
Android 6.0 OS
Customer Reviews:
An RT4 user says this about the product:
"I rarely write a detailed review, mostly just a few words but in this case I feel that spending time on writing this review is warranted. First off, I would buy another one of these without delay. The network radio idea is great in concept and there is no 3.5 mm ear plug jack for this device. The device does have Bluetooth but I have not used it yet. I also have not bought a PTT external micrphone or desktop charger. Since I live in California, I decided to use Freedompop as the SIM card/data provider. I bought the SIM card for .99 from Best Buy. Setting up the device to use Zello, TeamSpeak, Echolink is really straight forward. Making calls from the device other than the PTT is a little old school, imagine using a two-way radio like you would use a brick phone to make calls, the audio for telephone calls sounds sort of tin-can but works. When using the device as a network radio, the volume is super clear and loud. The fact that I was able to import my Google contact and calendars is very useful. Zello has been really fun to use as well. I set up a Zello channel in which I am streaming the local PD channel into it through my radio scanner and a amazon fire that I have laying around. This is a pretty neat set up as I can listen to this semi-private feed when out in the streets and even downstairs from the scanner. The device that I received came installed with Android 6. There is a standard micro USB to charge the unit on the bottom of the radio. I found that the unit has a battery lasting length of several days including significant monitor time and make some telephone calls. The bottom line, I have used this daily for several weeks and I am happy with the unit."
And here's a review from another customer:
"The RT4 is built like a tank. Very sturdy and hefty. The battery life is amazing at 4600mah. Easily lasts all day. Nice tactile feel to the buttons and the vol knob is snug. The display & popup keyboard may be on the small side, but it also helps preserve battery life. Overall it is a quality handheld and looks great as well."
5.   Baofeng UV82 Plus Walkie Talkie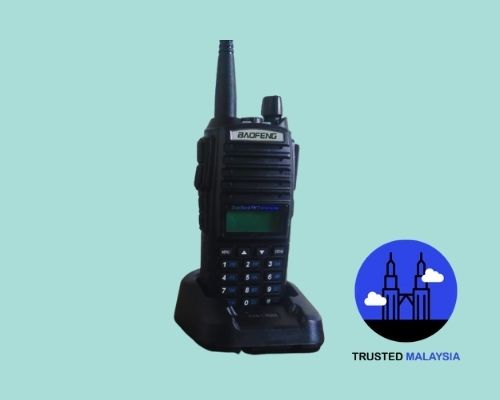 Price: 68RM
It's no wonder BaoFeng's products get high reviews on Lazada. For good features at reasonable prices, their walkie talkies are great for all-around use, even for kids!
The LED flashlight, FM radio, 10km range, and usual walkie talkie features are all worth the very low price compared to competitors. This makes it the top choice for casual users who don't regularly need walkie talkies.
Highlights
Customer Reviews
A Lazada customer said this about the UV82:
"Terbaik… Brg sampai dgn sempurna…sbb cod…d galakan cod kerana penghantaran lbh baik…Dan harap penjual menjaga perkhidmatan jualan dengan elok kerana nak repeat order byk kali lg…cuma test xsampai 10km pun…apapun berpuas hati la.. 5 star"
And another one said this:
"Bought 3 unit already tested around 1-2km with building and other obstacle no problem very clear reception…."
Now that you've seen the best walkie talkies in Malaysia, you can go get the right products for you! You can also check out the best wireless earphones in Malaysia here to go with your talkies!
*Images are sourced from Lazada and product websites