The 5 Best Solar Panels in Malaysia for the Eco-friendly Home
Changing your lifestyle to adapt to the climate crisis? There's no better way to start than to power your own home with the best solar panels in Malaysia!
Did you know that in 2018, less than 4 percent of the total power capacity in Malaysia was powered by renewables? It's 2020 and we mostly still use gas, coal, oil, and hydropower to keep our gadgets charged.
Good thing solar panels are now readily available—it's now possible to turn the sun's power into ours!
To help you out with that, we'll show you how to choose the best solar panels first. Afterwards, we'll go over the best solar panels in Malaysia.
How to Choose the Best Solar Panels in Malaysia
Choosing solar panels is fairly easy. A lot of companies have ways of calculating how many panels you need and what kind your panels should be, depending on your electricity bill.
Nonetheless, we'd like to help you choose, not all based on technical performance, but on practical considerations too!
Price Tag
To be completely honest, the price tag is one of the biggest factors when checking out solar panels, or even deciding to make a switch.
Cost is based on wattage, size, quality of materials, brand name, and durability—sometimes even warranty periods and certifications.
And although we associate price with quality, it doesn't always mean that the better product is the more expensive one. Go for solar panels that can cost you less in the long term.
Durability
In the websites of the brands we'll be discussing later on, you will find information on the material used in making these panels. You can check them out if you have preferences.
Go for solid make, and buy from manufacturers with a good reputation.
The warranty for solar panels can be a good indicator of durability, the average is at 25 years. Manufacturers place confidence in the products they make, and a long warranty period means they're almost sure it won't break down on you.
If they don't offer a long warranty period, it's mostly a telltale sign that their product isn't durable and they don't want to take responsibility for it—that's why these products are cheaper.
Energy Efficiency
The efficiency of a solar panel is measured by how much sunlight is received by the panel and generated into electricity. Usually, the more efficient solar panels are more expensive.
A word of warning though: you should assess your power consumption when choosing the right one.
You don't want to end up getting piles of solar panels when you only need a few; nor do you want to get panels that won't be able to cover your needs.
Like we said earlier, there are now ways to calculate how many panels you'll need to power your home. Sometimes it's done through site visits to get more accurate values.
The Best Solar Panels in Malaysia
Now that you know what to look for, it's time to introduce you to the best solar panels in Malaysia! We'll discuss them by brand, because the brands are pretty much consistent across their products.
1.   Hanwha Q-Cells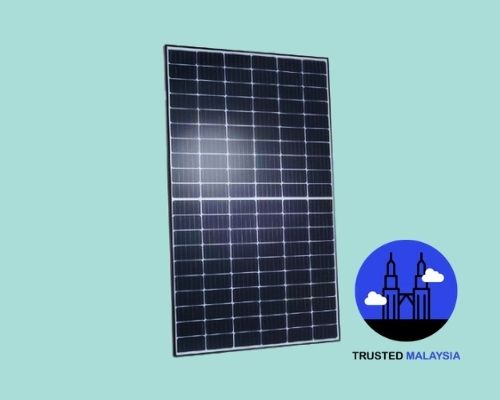 Price is based on product type and consumer requirements.
Learn More From The Hanwha Brochure.
Hanwha, a Korean company, started out in the chemical industry. It grew to be one of the most productive alternative energy developers and infrastructure constructors both in Korea and the rest of the world.
Though most of Hanwha's attention is on national and commercial projects, they make solar panels and inverters accessible for domestic use.
For example, Hanwha Q Cells have been continuously voted for as the best solar panels available because of their superior quality.
One of Hanwha's research and development centres is in Cyberjaya. This means that their products are also directed at the Malaysian market and climate.
Highlights
Rigid quality control
25-year warranty (at 85% performance)
Customer Reviews
Here is what a Hanwha customer says about his purchase:
"Seem to be a good balance between cost, performance and durability. Long product warranty."
And another one says this:
"The panels are performing better than expected. Solar generation is far exceeding the written estimation of performance. We have had a lot of dust due to building in a new development area as well as dust from fires and haze but yet the panels keep performing. Highly recommended."
2.   Canadian Solar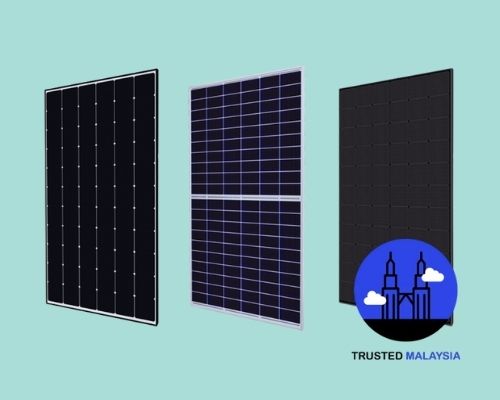 Price is based on product type and consumer requirements.
Check Out Their Residential Products Here.
Just like most products out in the market, Canadian Solar's panels appeal to particular kinds of people. In particular, they're producing panels that don't exactly have super strength but can beat the others in stamina.
The KuModule line prefers reliability over maximum efficiency. You might not get as much power, but your maintenance costs are lower and your system will last much longer.
Highlights
25 years linear power output warranty
Enhanced reliability
Customer Reviews
Here are a few words from a Canadian Solar customer:
"They offered a 10 years limited warranty and a production guaranty of more than 97% in the first year which is pretty amazing."
And this is from another:
"We started the bid process with MN Solar around Labor Day and the entire system was installed, up and running by early December. We had a great experience – efficient communication, organized paperwork on BaseCamp, and installation over about 2-3 days. We used the Canadian Solar black panels – they look really nice on a black shingled roof and blend in pretty well. Everything is tracked and monitored thru the SolarEdge phone app – reports daily energy production by each individual panel and overall system. Very pleased thus far!"
3.   JA Solar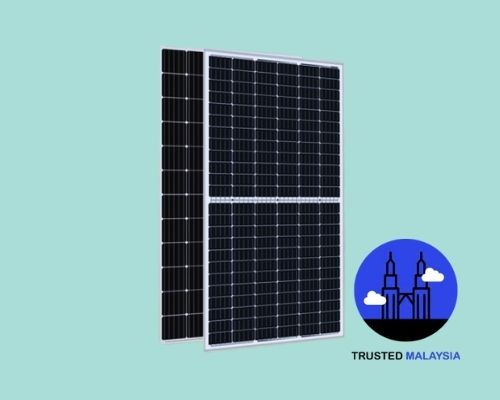 Price is based on product type and consumer requirements.
Check Out JA Solar's Products Here.
In 2018, JA Solar was named the fourth largest manufacturer of solar panels in the world. They claim that their panels are the best selling monocrystalline panels in the world.
Also worth noting is that JA's products have efficiency rates at a maximum of 18.04%, while the leading brand is at 21%.
If you have a roof that's spacious, go for JA. They're cost-efficient, if your roof can accommodate them, because they're at a more reasonable price than most others.
If not, it would be better to make the most of your power production through an even more efficient product.
Highlights:
3%~15%more energy generation
30-year linear power output warranty
Customer Reviews
Here's a review from a JA Solar product user:
"I have 22 panels on the roof designed to get sun at all times in the day. These 290w panels have worked flawlessly. Even in winter we are self-sufficient during much of the day (assuming there is enough sun!)"
And here's another one:
"They are working very well and cutting our power bill down considerably each year we have had it.."
4.   AUO / BenQ Solar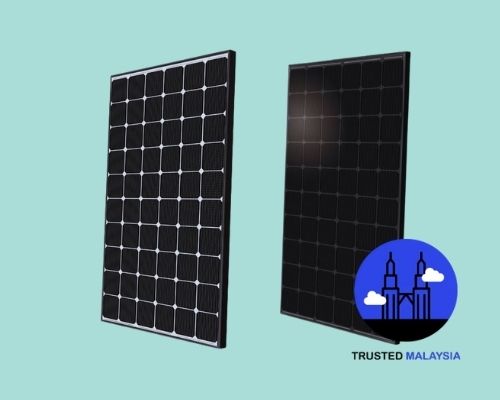 Price is based on product type and consumer requirements.
Here's A List Of Their Products.
Taiwan's leading solar panel brand offers affordable items that perform better than other manufacturers' products. AUO's solar panels are purportedly at an efficiency rate of 20.6%, which is a high bar for other brands to reach.
AUO also offers products targeted at residential communities, so these items are aesthetically pleasing and won't be bothersome to install!
Highlights
Humidity 85%, temperature 85°C, and 1,000-hour prolonged testing time
15-year product warranty, 25 years at 80% performance warranty.
Customer Reviews
A BenQ customer has a few thoughts about the product:
"They work great, and have had no problems with the output."
And another one says this:
"Black on black modules were very attractive for our roof"
5.   GCL Solar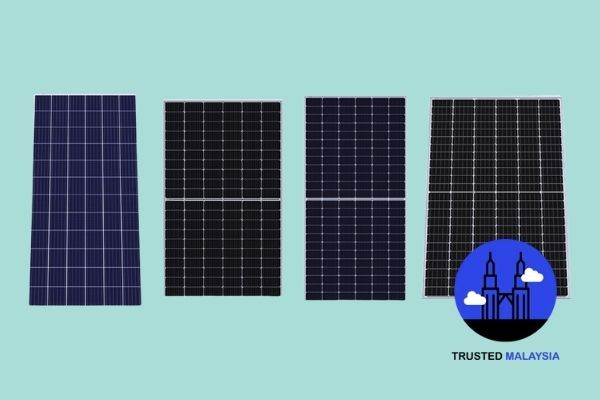 Price is based on product type and consumer requirements.
Check Out GCL's Products Here.
The Hong Kong brand GCL is most famous for their products having 2.5mm thick panes of glass to ensure durability and a longer lifespan.
Their competitors offer only 25 years of warranty, but GCL's panels are covered for 30 years! That's five more years of peace of mind for a fraction of the price!
More than just the panels themselves, GCL also offers a management system that you can access via apps on your devices to ensure that everything is working in optimal condition.
Highlights:
Flexible apps for full control
30-year warranty
Customer Reviews
Here's a review from a GCL user:
"well constructed, easily installed, very cost effective."
And another one:
"panels are performing well"
Now you've seen the 5 best solar panel brands in Malaysia, you can decide which ones to get for powering your household.
You can use these to power so many of your home appliances… and on that note, give our lineups of the best home appliances in Malaysia a look if you haven't yet.
For example, check out the best coffee makers in Malaysia! These amazing coffee machines will have you feeling like you're in a premium cafe right in your own home.
*Images are sourced from brand websites.