The 10 Best Nursing Homes in Penang
Photo credit: Shutterstock
Looking for an excellent nursing home for your loved ones? Luckily for you, we've run up a list of the best nursing homes in Penang today.
There are a lot of advantages that come with living in a nursing home. Not only do your elderly loved ones get 24 hour assistance, but you don't have to worry about their meals, safety, socialisation, housekeeping, and the like.
With those benefits in mind, check out our list below for the best nursing homes in Penang, and you might just find your loved ones' second home.
1.  Aspire Nursing Home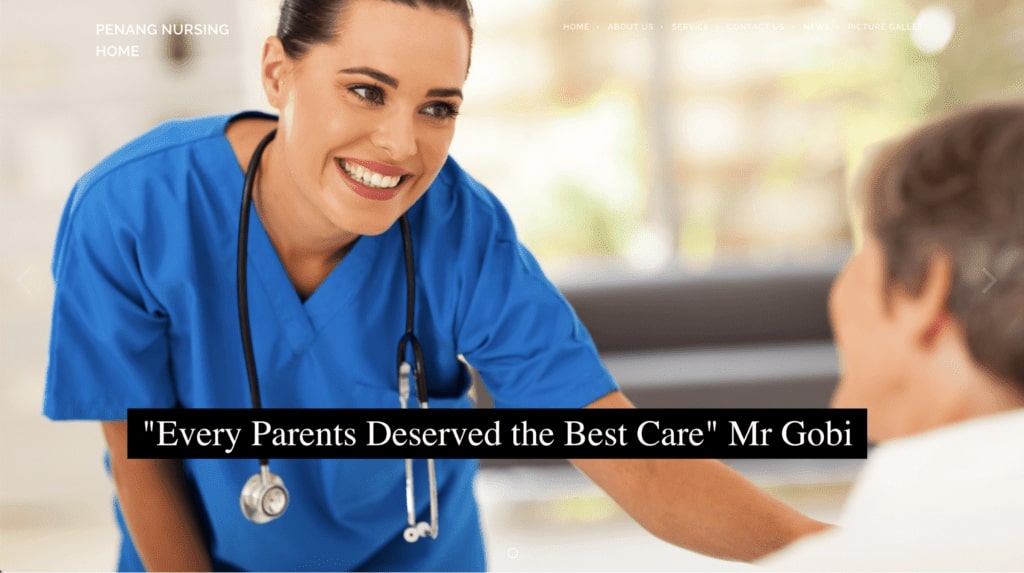 Aspire Nursing Home is run by Mr Gobi together with his compassionate staff. They cater to patients who are terminally ill, senior citizens, stroke patients, bedridden, handicapped, or sick.
They continue to devote themselves to providing quality standards for care and security, all within a safe environment, as they focus on attending to the needs of each of their patients.
As one of the best nursing homes in Penang, Aspire Nursing Home also promises to assist, inform, and guide not only their patients but also their families as well. That's why you can trust them to care for your loved ones as though they were their own relatives.
Highlights
24-hour monitoring
Daycare and daily dressing
Medication and treatment
2.  Ocean Care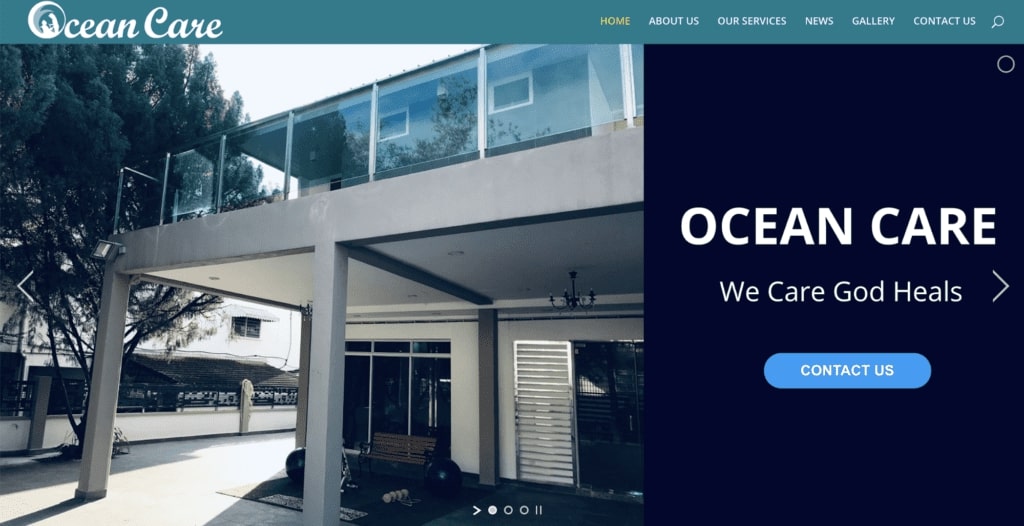 Ocean Care is a retirement home catering to patients who would like to stay for the long term, those who are staying for short-term rehabilitation purposes, and those who need daycare.
They are also a private and exclusive space for those who want to relax and recover, and they offer quality care to the young, adults, and senior citizens.
With the help of nursing aides and skilled staff who are available 24 hours a day, Ocean Care is recognised as one of the best nursing homes in Penang. You can trust them to see to your elderly loved ones.
Highlights
Dementia and Alzheimer's care
Palliative care
Respite and holiday care
Customer Reviews 
Ocean Care is commended by their patients for their kind and caring staff, clean and comfortable place, and private and exclusive accommodation.
Some customers left a review: 
"Friendly staff and  very helpful.Thank you sister vg for all the help and guidance.. We appreciate your genuine care and wish you good luck.." 
"Calm cozy and newly renovated.Very nice accomodations and clean.thank you"
3. JIN JIA NURSING HOME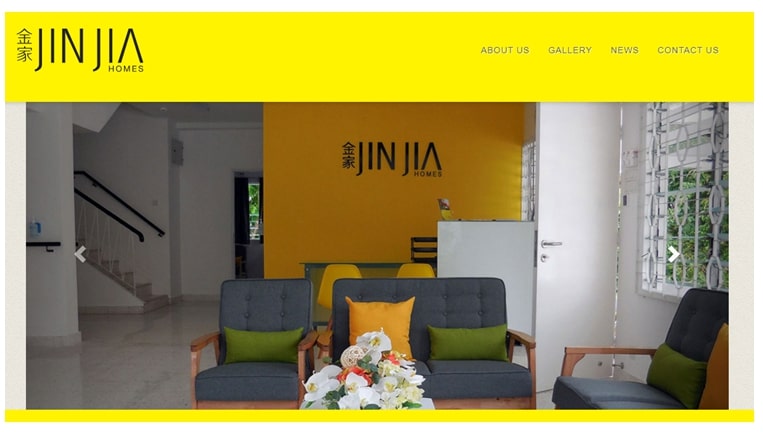 BEST FOR 
Professional Nursing Care Management, Great Foods, Safe and Comfortable Environment.
PRODUCTS
https://jinjia.com.my/about-us
WEBSITE
https://jinjia.com.my/
ADDRESS
No 10 & 12, Jalan Bunga Bakawali, 11200 Tanjung Bungah Penang Malaysia.
CONTACT DETAILS
Tel: +60 16-302 1307, +60 4-899 2535
Email:

[email protected]

OPERATING HOURS
Mon to Sun: 9:00 am – 7:00 pm
Jin Jia Nursing Home is a well-known Penang Nursing Home, situated in a bright, spacious, and specifically adapted house located in a quiet residential street in the Tanjung Tokong area. They offer long term, short term, and daily care to the elderly in friendly, relaxed, and clean surroundings. Besides that, they also cater for Rehabilitation Care/ Postoperative Care and Palliative Care.
Care is supervised by a team of Professionally Qualified Nurses and assistance can be given to the elderly when eating, walking, and bathing. Your loved one can enjoy a comfortable, safe home-like environment with daily In-house entertainment such as card games, light group exercise, board games, and Astro Channel entertainment, nutritious home-cooked meals, and a choice of air-conditioned or fan rooms. They care for their residents. They cater to their favourite taste.
Highlights
24-hours Qualified Nursing Care
Wound Care Management
Special Home-cooked meals
Clean and comfortable environment
Appropriate safety features and fully licensed
Customer Reviews 
Jin Jia Homes is recommended by their patients for their professional and caring staff, clean and spacious environment, great home-cooked meals, and 24-hours of monitoring.
Some review left by the customers:
"The caring by the nurses was indeed very professional with genuine sincerity and patience, not forgetting the friendly management staff running the nursing home who also go on their rounds checking in on the home residents and seeing to their needs too. Clean spacious and friendly nurses who are always a "press button" call at any time. Food was of quality standard, which was cooked by the very experienced cook herself. It's a well-managed nursing home and the fees are reasonable. It's not just any ordinary nursing home but a truly caring comfortable homely nursing home that caters to all walks of life. Thanks for everything"
"They have very professional and caring staff. The place is clean and very cheery. The staff kept me updated on my mother's condition from time to time. Really appreciate all they had done for my mother."
"I would like to add that my mother's stay at Jin Jia Homes has been very comfortable and welcoming from the start. The nurses, under the leadership of the Nurse Manager, have been very professional, helpful, and caring. Many thanks to them for attending to us during the tenure of my mother's stay – never failing to answer our after-hours calls. We would also like to accord our thanks to the helper, lady chef, and management team."
4.  De Folka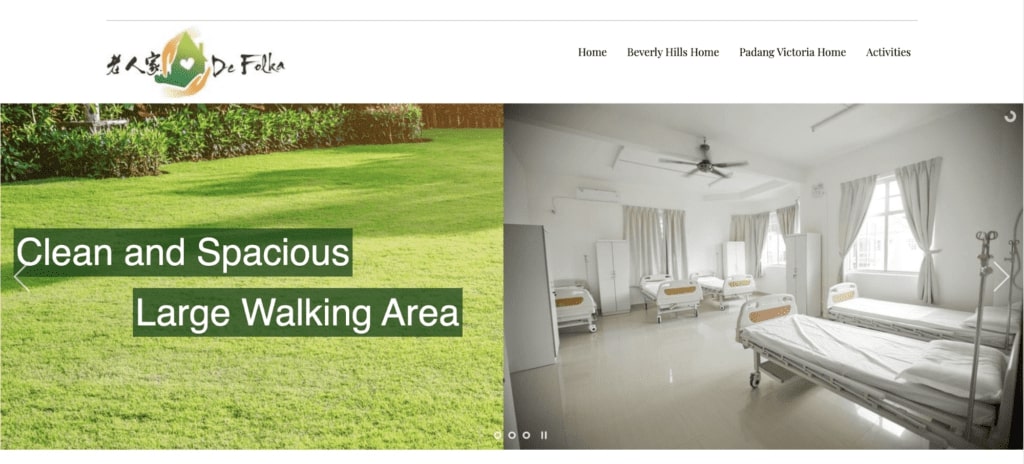 BEST FOR 
Providing comprehensive care with full boarding services
PRODUCTS
Resident care, continuing care, life care, independent living, assisted living
WEBSITE
https://defolka.com/
ADDRESS
8 Jalan Padang Victoria, 10400 Penang Malaysia Georgetown, 10400 George Town, Pulau Pinang, Malaysia
CONTACT DETAILS
Tel: +60 12-473 3401

 

Email: [email protected]

OPERATING HOURS
Mon to Fri: 11:00am-8:00pm
De Folka is a nursing home with full-fledged facilities, 24-hour care, and the promise to take care of their residents.
They train their caregivers to offer comfort, care, medicine reminder, bathing, assistance in meals, and even basic hygienic care.
As one of the best nursing homes in Penang, De Folka continues to devote themselves to giving each of their residents the moral and loving support they deserve. That's how you know you can leave your loved ones in their hands.
Highlights
Health care
Meal preparations
24/7 support
5.  Golden Peacock Nursing Home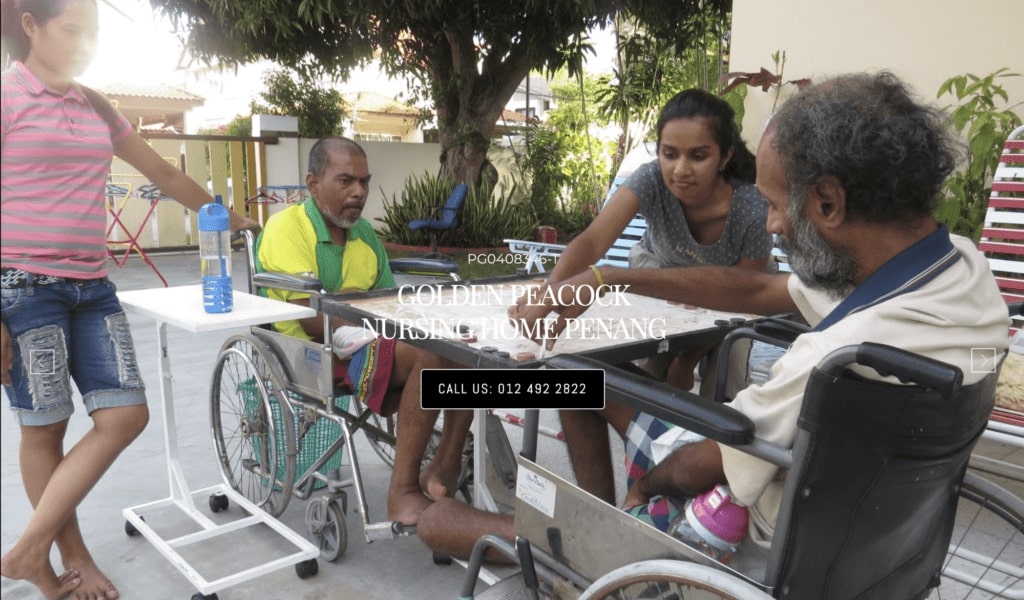 Golden Peacock Nursing Home offers patients a comfortable and friendly environment and exclusive healthcare services.
With the help of licensed and experienced nurses, they also offer medical treatment for patients who need professional support. They look after those who are bedridden, who have had a stroke, or who suffer from physical disabilities.
As one of the best nursing homes in Penang, Golden Peacock isn't just a nursing home either. It's a home away from home devoted to giving the best possible care.
Highlights
Elegant and comfortable private rooms
Spacious and comfortable environment
6. V Care Nursing & Healthcare Centre SDN BHD

Photo credit: VCare Nursing Service website
V Care Nursing & Healthcare Centre SDN BHD is a new nursing home that was founded in early August, 2016. They strive to improve the quality of lives and the rate of their recoveries as well as maintain their patients' social well-being.
Approach them today to learn more about how they can be there to take care of elders and provide comfort for older people.
Highlights
Basic and well equipped nursing room for patients
In-house physiotherapy services
7. Keepers Nursing & Caregiving Sdn. Bhd.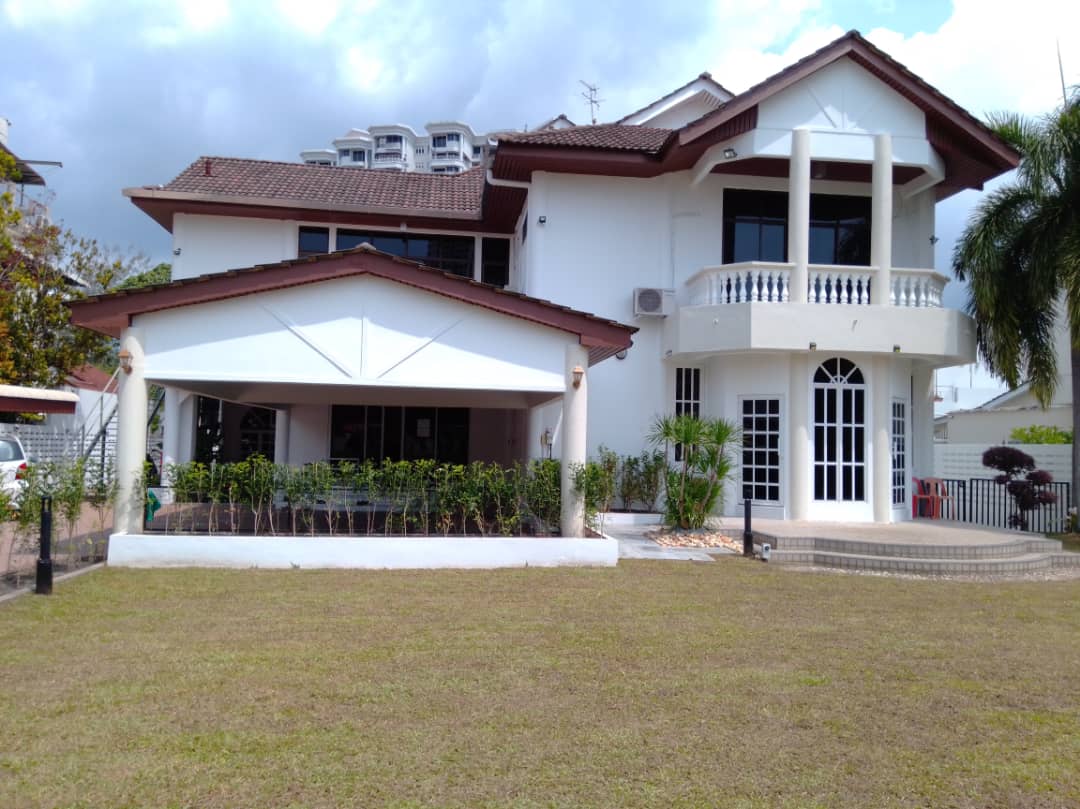 Photo credit: Keepers Nursing & Caregiving Sdn. Bhd. website
BEST FOR 
Private nursing and caregiving at home.
Nursing home and dementia care
PRODUCTS
Private nursing, specialise care nursing home & dementia care centre
WEBSITE
https://myknc.com.my/
ADDRESS
7, Lorong Abbas 1, Tanjung Tokong, 11200 Tanjung Bungah, Pulau Pinang, Malaysia

 

Tanjung Tokong. 3S, Lorong Pantai Molek, Tanjung Tokong, Pulau Pinang

CONTACT DETAILS
Contact Number: 012-4255695, 016-4197419, 016-7749025, 017-5247998

 

Email: [email protected]

OPERATING HOURS
Monday – Friday
9am – 5pmSaturday, Sunday
9am – 12pmPublic Holidays
Closed
Keepers nursing & caregiving sdn bhd aims to provide assistance to patients and also their carer. They send nurses and carer to client's home. clients may send their loved one for live in service in their two nursing home.
Turn to them for specialised care nursing home in Tanjung bunga and dementia care centre at Tanjung Tokong. 3S, Lorong Pantai Molek, Tanjung Tokong, Pulau Pinang.
Highlights
Can help in transporation
Pill Potting and Medication Refill
8. Jasper Lodge Minden Heights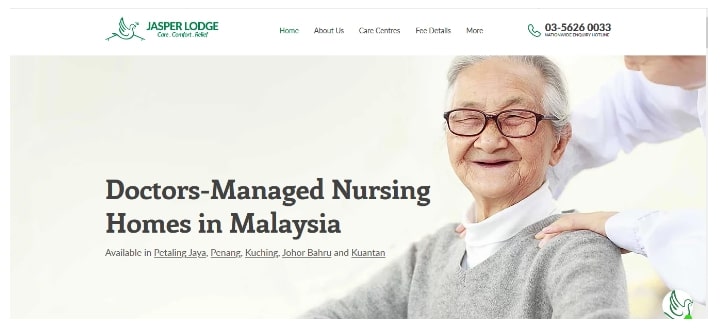 | | |
| --- | --- |
| BEST FOR  | Nursing homes |
| PRODUCTS | Nursing, Assisted Living, Palliative Care, Dementia Care, Medical Care, Parkinson's Care, Health Monitoring, Rehabilitation, Respite Care |
| WEBSITE | https://www.jasperlodge.com.my/ |
| ADDRESS | 12, Cangkat Minden Jalan 12, Minden Heights, 11700 Gelugor, Pulau Pinang |
| CONTACT DETAILS | Tel: 03-7876 0435 |
| OPERATING HOURS | Monday – Sunday: 10:00 am – 9:00 pm |
Jasper Lodge Minden Heights is a nursing home based in Penang, Malaysia, that provides a tranquil environment for seniors to reside and recover.
Their services include 24/7 care for clients and specific care services based on client needs, as well as regular inclusive meals and accommodation. Seniors are also encouraged to stay active with daily activities conducted in the nursing home.
Highlights
A warm and friendly environment for residents
Respectful and sensitive treatment
24/7 care
Customer Reviews 
Here's a review from one of Jasper Lodge Minden Heights' clients:
"We want you to know how much we appreciate the way you have cared for my late grandma. Thank you for your excellent service."
Here's another one:
"We wish to extend our sincere gratitude to Jasper Lodge, Minden Heights for taking care of our mom these past 3 months. The staff have been instrumental in helping our mom cope with her recovery following her hip replacement surgery. Their professional and kind approach with mom also gave me & my siblings much peace knowing that our mom is in good & gentle hands during our absence."
9. Angsana Home
BEST FOR 
Rehabilitation, Nursing Home, and Elderly Care Home
PRODUCTS
Medical consultation, Respite care, Rehabilitation, Foreign retirees and elderly with children overseas, and Residential and Nursing care
WEBSITE
https://www.angsanahomes.org/
ADDRESS
3, Solok Bungah Pudak Tanjung Bungah. 11200, Penang
CONTACT DETAILS
60146990312 |

[email protected]

OPERATING HOURS
Contact the phone number or email mentioned for more information.
Angsana Home is a rehabilitation, nursing and elder care home established by a UK nursing home doctor who decided to return to her hometown in Penang. This elderly care home is guided by their three morals namely: Autonomy (respecting the wishes of the elderly), Compassion, and Respect .
Angsana Home is more than just an elderly care. They conduct activities that will help the mind and body to relax, they provide regular reviews and check-ups from their doctors, and they have gardens and spacious for daily walks.
Highlights
Provides regular doctor reviews and health checkups
Offers in-home physiotherapy
Trained caretakers and well-trained nurses
10. Clearwater Care Centre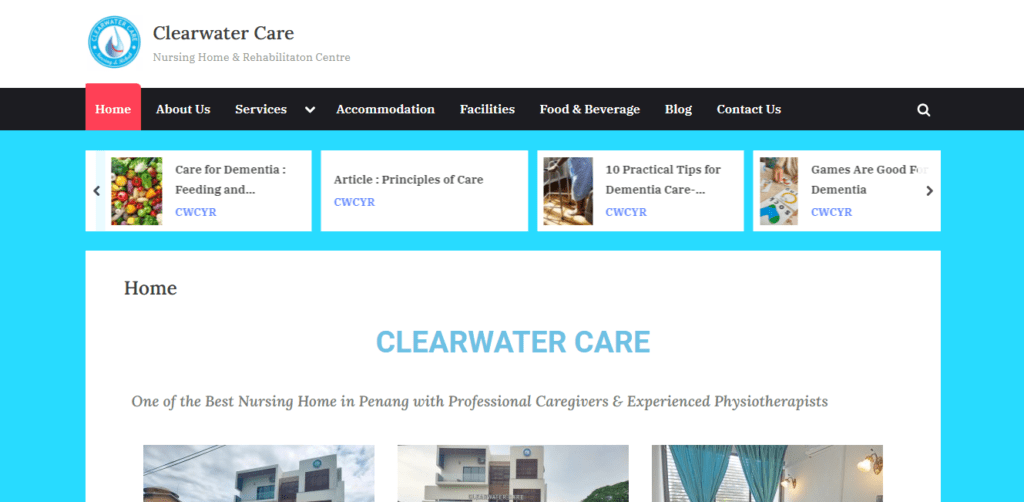 BEST FOR
Nursing and Elderly Care
PRODUCTS
Skilled Nursing & Assisted Living, Physiotherapy & Rehabilitation Program, Specific Care Plan & Treatment, Companionship & Recreational Activities
WEBSITE
https://www.clearwatercare.com.my/
ADDRESS
116a, Jalan York, 10450 George Town, Pulau Pinang, Malaysia
CONTACT DETAILS
Hotline: 04-218 9000
Campus : 017-483 4051 / 012-512 2032
Email:

[email protected]

OPERATING HOURS
24/7
The Clearwater Care Centre is a health facility that specializes in nursing and rehabilitation services especially for seniors but also for those who are in need of the said services. Housed in a luxury home-like facility, the centre makes sure that its environment is filled with love and care for every patient it will care for.
They also offer personalized nursing care for their patients and make it a point that each service they offer is equipped by only the latest equipment and modern facilities.
As the facility is owned and operated by professionals, the staff understands the basic psychological needs of a patient such as esteem, belongingness, and physical needs as well.
We recommend this centre as it is operated by a team of professional caregivers who are commonly known as the Clearwater Care Lovers. This is a team of qualified, trained, and accredited State Registered Nurses, Medical Assistants, Physiotherapists and Nursing Aides.
Highlights
Highly accredited professionals
Home-like environment and facilities
Outstanding patient accommodation and services
For those struggling to take care of their loved ones because of other priorities, we hope the list above will help you decide which nursing home will best take care of their needs.
Were you able to find the perfect nursing home in this list? Leave your comments down below and let us know how it went. We'd love to hear from you!
In addition, if you would like a worry-free transport service to help you transport your loved ones to these nursing homes, check out our list of the best car rental services in Penang! Some even come with chauffeuring services for added convenience.