The 8 Best Movers in Penang
Photo credit: Shutterstock
By Amber Yeoh
If you're planning to move to a new home or you've been relocated because of work, hiring the best movers in Penang seems like a good idea. It can save you time and effort trying to figure out the move all by yourself.
To help you with it, we've actually come up with a list of professional movers based on their range and costs, location handling, and customer reviews.
So to get you started on laying out your future moving plans, check out our list of the best movers in Penang below.
1.  Mover Compared
Finding a moving company that you can count on to transport all your items from one location to another can be difficult. At Mover Compared, they can help you get in contact with one with just a few clicks.
Deciding to pack up and move is never an easy decision. You have to consider numerous variables, including where you would move to, the different establishment in the area you'll be transferring to, and lastly, the moving company you'll want to use.
Mover Compared can provide you with a list of companies that meet the needs of your residential and commercial move. They have helped over one million clients, so it is inevitable that you find the perfect company with their help!
Rest easy knowing that they make sure that all the companies they partner with are highly reliable.
Highlights
Get matched to up to 6 movers in just 2 minutes
Find the right mover for you by comparing multiple options
230+ mover companies
Customer Reviews
Here's what some people have to say about them:
"We are always looking for the best value for our money. Very efficient and easy to use. It was just a matter of picking the quote request that suited us best! Smooth and excellent service. Thank you!" – A Gosbell
"I was looking for the best price for moving our furniture to our new apartment. movercompared.com helped us find the best quotes in just a couple of minutes!" – Peter Wilson
2.  Yes Movers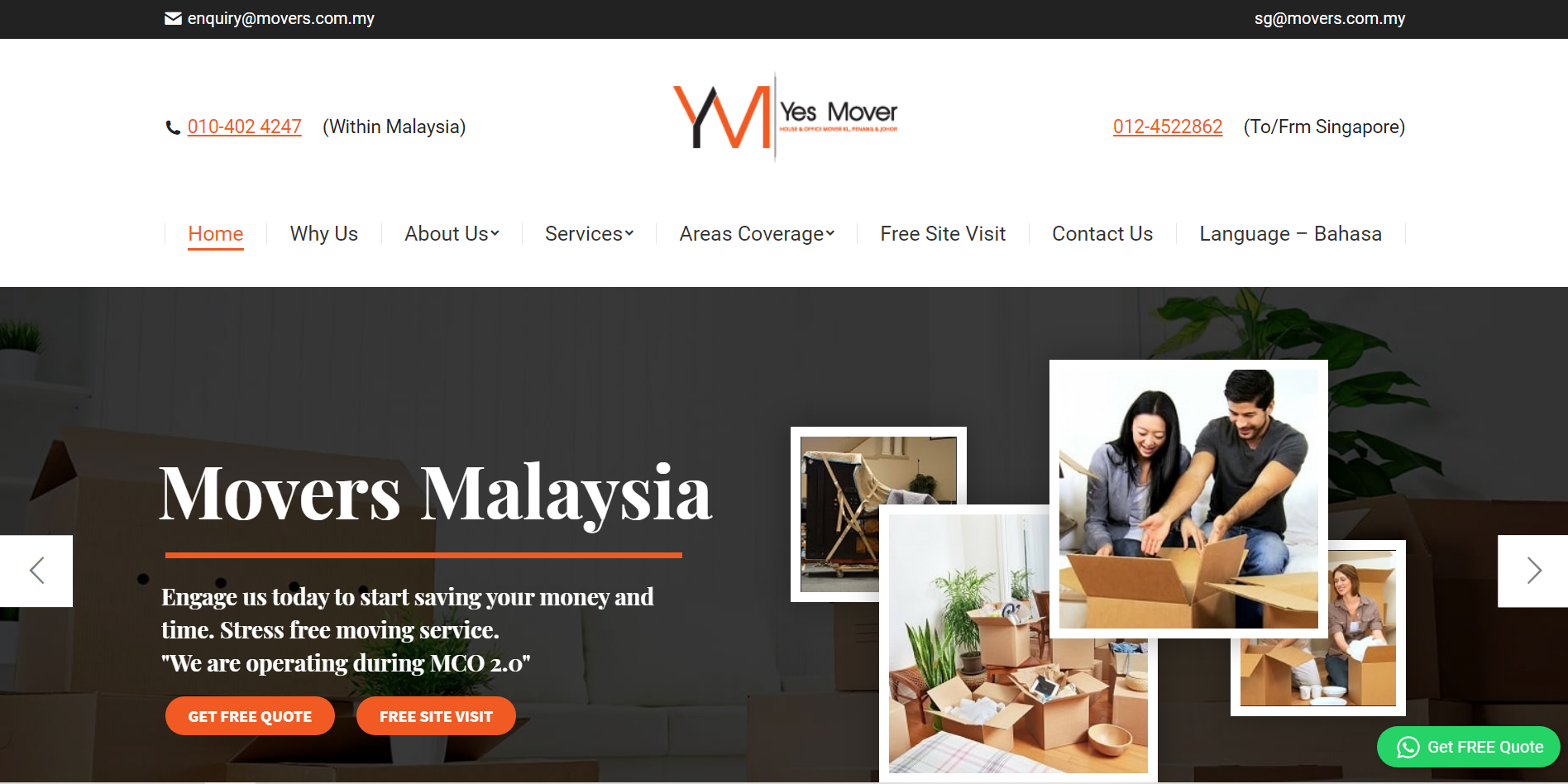 | | |
| --- | --- |
| BEST FOR  | Moving Partner |
| PRODUCTS | Residential and commercial relocation |
| WEBSITE | https://www.movers.com.my/ |
| ADDRESS | Malaysia |
| CONTACT DETAILS | 010-402 4247 |
| OPERATING HOURS | 24/7 website |
At Yes Movers, they have a team of professionals that follow a tried and trusted process to be able to move your items from one location to another. They have a wide range of experience in the field, most of them being move consultants, lifters and movers, expert packers, and truck load drivers.
When you choose their company to help you in your next relocation, you can be sure that your items are in good hands. Each package will be delivered to your new doorstep in the exact condition you sent it in.
Highlights
Free quote
Worry-free moving services
3.  My Movers
My Movers is an international moving company that provides services including international & domestic moves, warehousing, storage, freight, forwarding, shipping, logistics, and office moves.
They have also been offering a full range of professional solutions, handling household and personal goods for the past 10 years.
My Movers is an independent service provider that's one of the best movers in Penang because they're devoted to giving you customised moving methods to meet your needs and ensure a productive service.
Highlights
House relocation
Forwarding
Shipping
Air freight
Customer Reviews
My Movers is recommended by their customers for a smooth experience, efficient process, and professional staff.
One client shared a review and wrote:
"Competitively priced,  very professional team who came on time and brought sufficient (9!) personnel for the move. Entire 2 bedroom flat was empty within 1.5 hours (granted we moved the big items only and smaller items were prepacked into boxes)! Moving has never been so stress free! Have had bad experiences in the past. Never knew moving can be so fuss free! Thank you so much!"
4.  Grow Pack Movers
Grow Pack Movers offers relocation, transport, and door-to-door services. They also provide packing & unpacking and loading & unloading solutions with the help of their well-trained workers.
They're focused on international & domestic moving, exhibition handling, storage & freight, forwarding, land transportation, distribution, machinery moving, and marine insurance.
With their ability to provide packaging materials and wooden casings, Grow Pack Movers continues to prove that they truly have it all. This is part of what makes them one of the best movers in Penang.
Highlights
Household goods
Machine move
Office relocations
Customer Reviews
Grow Pack Movers is highly commended by their customers for the quality of their services. One client shared a review and wrote:
"No cutting corners with your stuff. They really pack it nicely before moving."
5.  Asian Tigers Group
PRODUCTS
Moving and relocation services
WEBSITE
https://www.asiantigersgroup.com/
ADDRESS
#1-05 & 1-06, Choo Plaza, 41 Lorong Abu Siti, 10400 Penang, Malaysia
CONTACT DETAILS
Tel: +60 4-226 3292
OPERATING HOURS
Mon to Fri: 9:00am-5:00pm

Sat: 9:00am-1:00pm
Asian Tigers Group is widely known for their personalised approach at providing moving and relocation services in order to meet the needs of their clients.
Since being founded in 1998, the company has been on a mission to dedicate themselves to helping each family relocate in search for a better life.
Since then, Asian Tigers Group has successfully expanded by putting up several branches in 14 major Asian commercial centers.
This is just one of the ways they've become one of the best movers in Penang: their expansion has given them massive reach throughout the region, making them a very convenient option for many who need to move to or from the area.
Highlights
Fine arts logistics
Commercial freight solutions
Business relocation
6.  Lorry Malaysia
| | |
| --- | --- |
| PRODUCTS | Moving house, moving office, sending goods |
| WEBSITE | http://lorrymalaysia.com/ |
| ADDRESS | 184, Jalan Gurdwara, 10300 George Town, Pulau Pinang, Malaysia |
| CONTACT DETAILS | Tel: +60 13-200 0721 |
| OPERATING HOURS | Mon to Sun: 8:00am-8:00pm |
Lorry Malaysia produces affordable rental trucks for moving homes across Malaysia. They also provide office and freight transfer services.
The company is able to present 1-ton, 3-ton, and 5-ton rental trucks, depending on the needs of their clients and amount of goods that require moving.
Today, they are without a doubt some of the best movers in Penang for their reliable rates, lack of hidden costs, and professional workers who offer quality services.
Highlights
Packing & wrapping
Open and install furniture
Sell boxes for packing
7.  GPS Home Movers
GPS Home Movers is your one-stop moving solutions provider for anyone in need of good-quality and budget-friendly moving services.
They are currently run by a group of expert moving specialists who are capable of assisting you through the process of moving from start to finish.
GPS Home Movers is a licensed and insured company that's known as one of the best movers in Penang. That's partly because they have such a wide range of moving solutions that are guaranteed to meet your needs and help you cut back on costs.
Highlights
Household moves
Commercial moves
Packing and storage services
Customer Reviews
GPS Home Movers is best known for providing excellent service, handling things professionally, and providing superb work, giving their customers a great moving experience.
Some clients shared their reviews and wrote:
"Very professional mover. They will pack thouroughly all your item and handle it properly. They keep asking what else need to collect and ensure all their work done completely. Recommended service."
"Superb shifters and easy-go workers, so all your stuffs will be handled safely and delivered damage-free guaranteed."
8. Santa Fe Relocation Services Sdn Bhd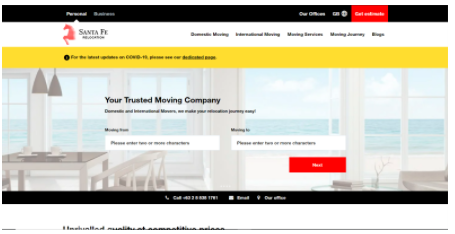 PRODUCTS
https://www.santaferelo.com/en/moving-services/
WEBSITE
https://www.santaferelo.com/en/
ADDRESS

No. 6, 1st Floor, Jalan Pemaju U1/21, Seksyen U1, Hicom Glenmarie Industrial Park, 40150, Shah Alam, Selangor, Malaysia

CONTACT DETAILS

+603 5569 1856

OPERATING HOURS

Monday: 9:00 AM – 5:30 PM

Tuesday: 9:00 AM – 5:30 PM

Wednesday: 9:00 AM – 5:30 PM

Thursday: 9:00 AM – 5:30 PM

Friday: 9:00 AM – 5:00 PM

Saturday: CLOSED

Sunday: CLOSED
Santa Fe Relocation Services is one of the most well known movers, may it be locally or internationally, for their convenient and effective service. They make sure that you will have a hassle-free journey through personalized services which you can tailor based on your need.
For every step you need to take, from moving, immigration to departure and destination services, they ensure quality service that you can certainly rely on. Santa Fe Relocation Services, with their all around service, will surely make your life easy.
Highlights
Along with their standard comprehensive moving package, they also offer bespoke options like pet relocation, vehicle shipping, departure support and etc.

They support domestic and international relocation.
Customer Reviews
Here's a review from one of Santa Fe Relocation Services Sdn Bhd's clients:
"Always outstanding
I always used Santa Fe relocating across different countries and continents. Every time they provide excellent service! Their crew is absolutely professional, accurate and very well organized. This time my situation is even more complicated not only for the Covid-19 and the newborn Brexit rules between EU and UK, but also because my starting point was from 2 different countries (Italy and UK) and the final destination for the vessel is a third country (UAE)
They did an amazing and outstanding job!
Now I can relax and wait for "my home"…"
Here's another one:
"Very happy with the service and promptness I received from Santa Fe Relocation. My goods arrived on time and in good condition. I couldn't have wished for a smoother relocation."
Hiring professionals like these allows you to save time and effort from going over everything alone and on your own. Give serious thought to using them if you don't want to put yourself through too much trouble for your next relocation!
If you insist on doing your entire move or some parts of it by yourself, though, you'll likely need some serious R&R afterwards. Just in case that happens — or just in case you still feel a need for rest after the mental exhaustion of relocation — check out our list of the best massage places in Penang to give your body some well-deserved rest and relaxation!