7 Firms for the Best Minimalist Interior Design in Malaysia
Featured Image Source: 刘 强 via Unsplash
Minimalist interior design offers a clean and uncluttered finish that can make any room look modern, stylish, and elegant. But if you want the best results, you need the best minimalist interior design firm in Malaysia.
For this reason, we've compiled everything you need to know about minimalist interior design firms and what they offer. From price ranges to custom services, this article has everything you need for your next residential or commercial project.
We've also included a few tips to help you pick the best design firm for your needs. So keep reading and discover how you can achieve the best minimalist interior design in Malaysia.
Things to Consider for a Minimalist Interior Design in Malaysia
There are a few design firms that offer the best minimalist interior design in Malaysia. But before you pick any of them, there are a couple of things you should know.
Range of services offered
Design firms provide interior design services for both residential and commercial spaces. Their services generally cover everything you need from architectural requirements to space planning.
Though furniture selection is a standard service, some companies can create custom furniture for a more personalized interior. Furthermore, some companies even offer full-on construction services.
Different types of renovation
If you want to prepare your budget correctly, you should know about the three types of interior design renovations.
You will need this type of renovation if you own a bare unit or property. This service includes designing the kitchen, storage compartments, plaster ceilings, and lighting.
Similar to the core renovation, designer renovations offer more functional and stylistic elements to your unit. For example, you can include custom compartments, TV cabinets, a home office design, kitchen islands, and more.
This renovation includes the basics as well as everything else you need to have a functional and livable space. This includes stylistic furniture selections like high-quality curtains, comfortable sofas, and designer coffee tables to name a few.
Price range for your project
Finally, your budget is the most important part of your interior design project. After all, you can only go as far as you can afford.
Luckily, most firms can meet you halfway and provide beautiful designs that match your budget. You can also use this general budget list as a guide for your project.
| | |
| --- | --- |
| CORE RENOVATION | RM80 – RM100 per square foot |
| DESIGNER RENOVATION | RM100 – RM150 per square foot |
| TURN-KEY RENOVATION | RM150 – RM180 per square foot |
Best Minimalist Interior Design in Malaysia
With the right know-how, finding the best interior design firm in Malaysia is a walk in the park. And now that you know what to look for, it's time to pick the best design firm for you.
With our list of the best minimalist interior design in Malaysia, you'll have the interior of your dreams in no time.
1. ATAP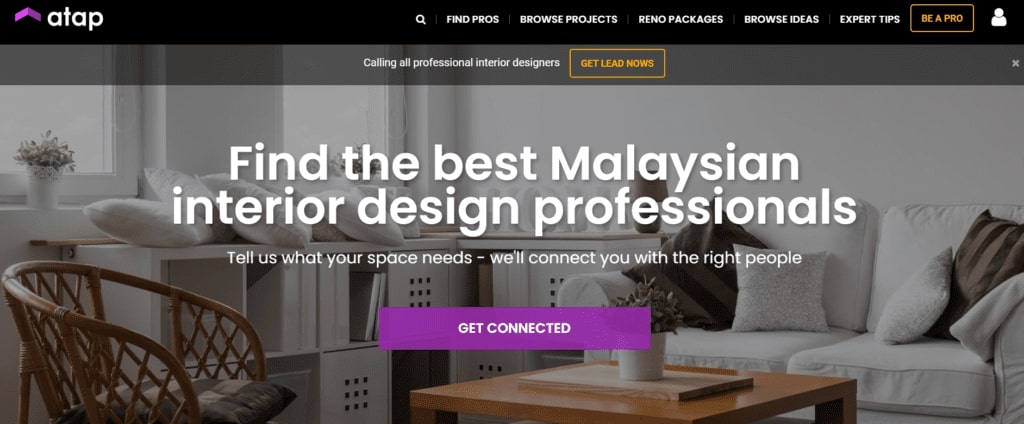 | | |
| --- | --- |
| WEBSITES | Website |
| SERVICES | Interior design and renovation consultation service |
| STYLES | Minimalistic, Classic, Contemporary, Modern |
| PRICE RANGE | Depends on the chosen interior designer |
| OFFICE HOURS | 24/7 online operations |
| ADDRESS | Malaysia |
| CONTACT INFORMATION | Visit their website |
Achieving a minimalist design for your residential or commercial space is no easy feat. At ATAP, they can help you with an interior designer who can help create the vision you have in mind.
They take into account various things during the initial assessment, including your property type, size, and location is as well as your budget and preferred interior style. By narrowing down their search depending on the information you've provided them with, all you now have to do is pick the professional whom you think would best meets you needs.
Furthermore, their directory only consists of people whom they are confident can delivery quality services.
Offers free quotes
Wide range of interior designers to pick from
Prompt services
Does not specify by when they will reach out to you after the intial assessment
2. Qanvast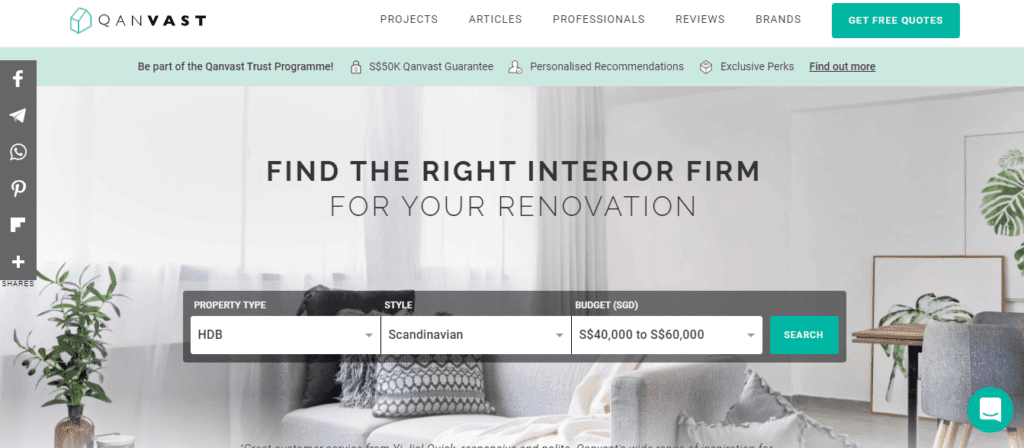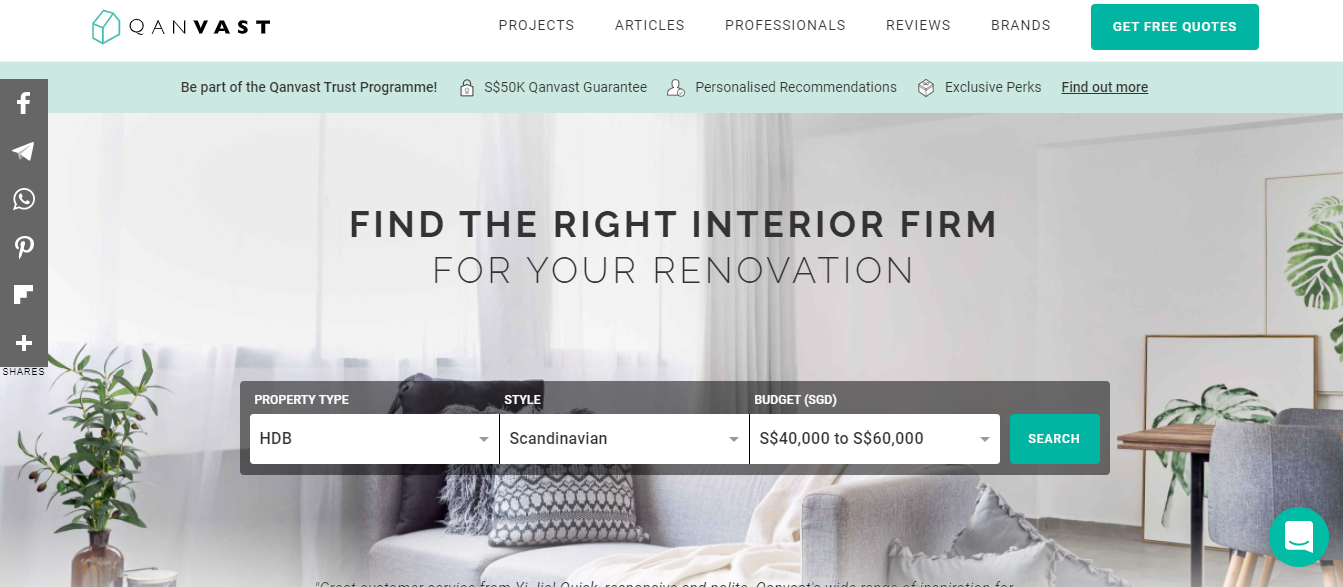 | | |
| --- | --- |
| WEBSITE | https://qanvast.com/sg |
| SERVICES | Interior Design Firms |
| STYLES | Minimalistic, Traditional, Modern, Eclectic, Contemporary, Modern, and more. |
| PRICE RANGE | Depends on the company |
| OFFICE HOURS | Contact for details |
| ADDRESS | Malaysia |
| CONTACT INFORMATION | [email protected] |
Qanvast is a go-to platform for homeowners to browse home ideas, find a local interior firm, and read blogs about budgeting, decorating, and more by other homeowners.
We definitely recommend visiting their website when in need of interior design services since you can choose from their wide range of designers that suits you the best. Unlike other websites, if you request a non-obligatory quote from them, they will help and guide you through your renovation process.
What's unique about them is that homeowners who engage a recommended interior designer following a quote request, are eligible for the Qanvast Guarantee, which protects up to S$50,000 of your renovation deposits. Unfortunately, this is only available in Singapore and Malaysia.
With four simple, easy steps, you will be able to find the best design firm for you!
Offers a lot of interior design firms
Wide price range
Has blogs that can help homeowners
Operating hours are unavailable
Customer Review
Here are some testimonials of their previous clients:
"Qanvast was a great help in sourcing for design ideas and designers. We really love the app as it has good concepts that are relevant and it's easy to use."
"Instead of browsing renovation magazines, Qanvast helped us shortlist designs and interior designers."
3. Amaze Design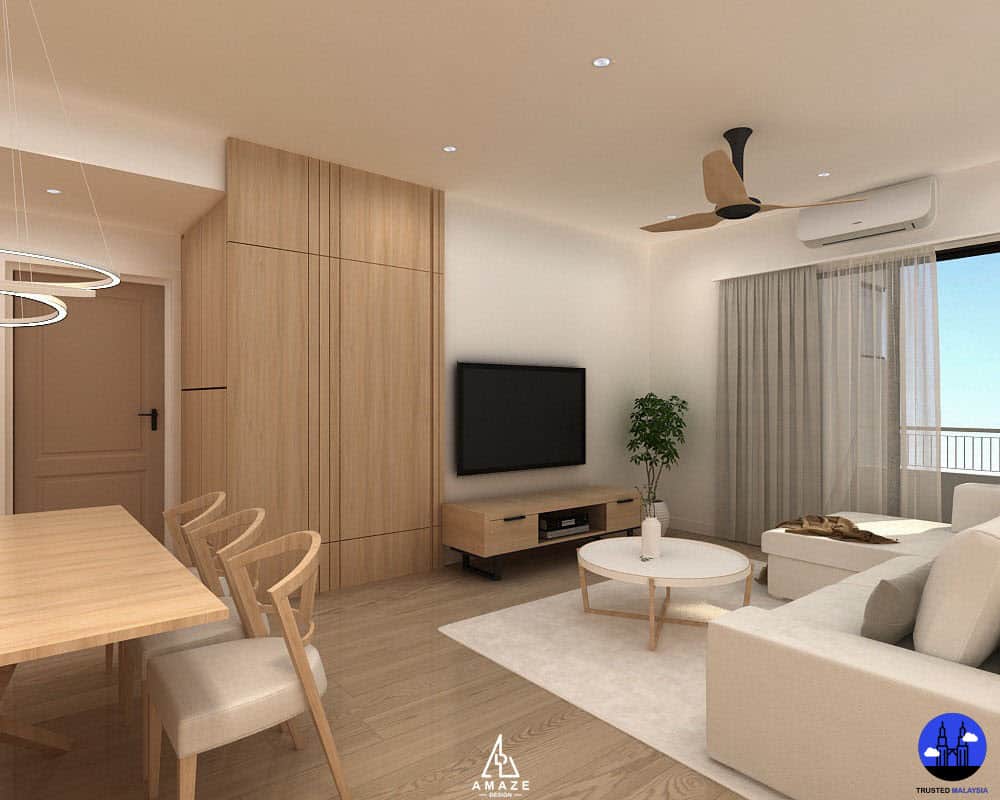 WEBSITES
amazedesign.com.my, Facebook
SERVICES
Interior design, architectural services, carpentry
STYLES
Minimalistic, Classic, Contemporary, Modern
PRICE RANGE
RM50,000 – RM1,500,000
OFFICE HOURS
Monday – Friday: 9:00AM – 6:00PM
Saturday – Sunday: Closed
ADDRESS
A-09-09, Pinnacle PJ, Jalan 51A/223, Lorong Utara C, Seksyen 51A, 46200 Petaling Jaya, Selangor, Malaysia
CONTACT INFORMATION
Email:

[email protected]


Contact Number: +6018-222 2052, +6037-932 3899
Are you looking for a one-stop-shop for your planning, interior design, and renovation needs? If so, Amaze Design (AD) could be the company for you.
They provide minimalist interior design for residential and business spaces. If you have a condominium unit, they offer amazing luxury condo designs that can represent your elegant lifestyle.
Their style revolves around minimalist and modern concepts that work great for condos, townhouses, offices, and living rooms. With their client-centric approach, they'll make sure to accommodate your request and budget.
Aside from interior design, they also provide architectural services like carpentry and plumbing. With their modern designs and comprehensive services, AD has everything you need to create your dream space.
Free quote
Extensive catalogue of projects with budget estimates
Closed on weekends
Does not specify the range of their services
Customer Review
Here's what one of their clients, Jess Mei, had to say about their services:
"This was our first time hiring a designer. The outcome truly exceeded our expectations. Our designer is really good at his job! They are so helpful, detailed orientated and takes their time in research, suggestions and ideas!! Will definitely use your services again for next house."
4. PHOENIX BIQQ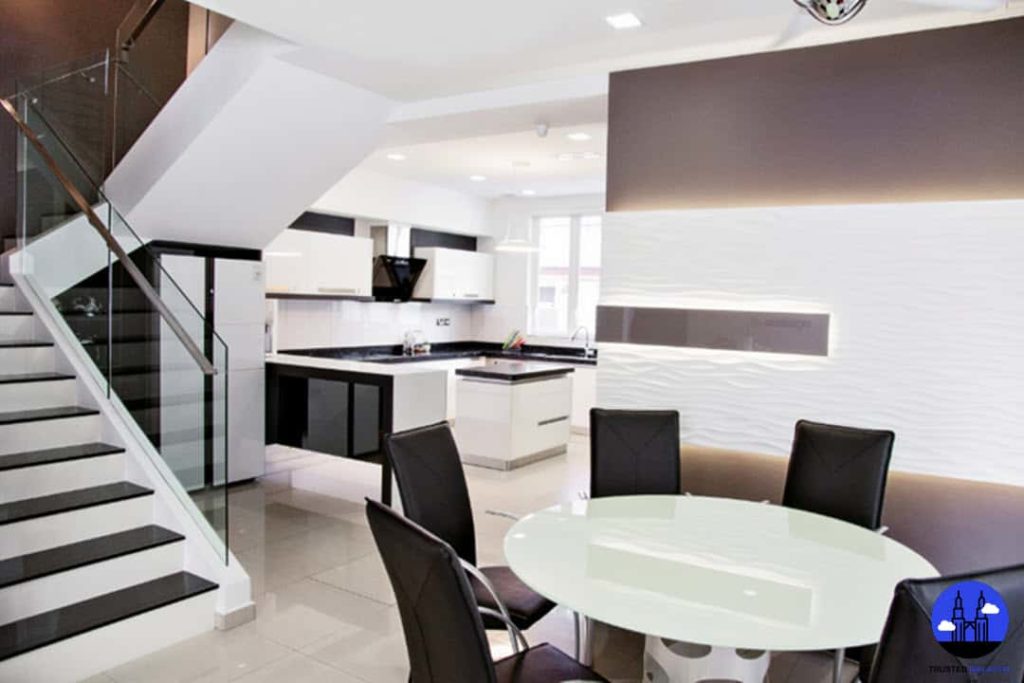 WEBSITES
phoenixbiqq.com, Facebook
SERVICES
Commercial, residential, retail shop interior design
STYLES
Modern, mInimalistic, traditional, contemporary, Scandinavian
PRICE RANGE
RM30,000 – RM1,000,000
OFFICE HOURS
Monday – Saturday: 9:00AM – 6:30PM
Sunday: Closed
ADDRESS
AL 31B & D, Kampung Baru Sg Buloh, 47000 Sg Buloh, Selangor, Malaysia
CONTACT INFORMATION
Email:

[email protected]


Contact Number: +6036-157 7146, +6036-157 7146, +6012-634 1393 (Mr. Yap)
If you're planning to renovate your home, office, or shop, you should contact Phoenix BIQQ. This company offers extensive services that will help you achieve a stylish minimalist interior for your space.
Their services cover everything you need like interior design, consultations, construction, renovation, and refurbishment. They also have experienced teams of project managers, creative directors, and one-site supervisors to assist you through the whole process.
Finally, this full-service design firm also provides branding and marketing services to help you maximize your commercial space. With years of experience, Phoenix BIQQ can give you the luxurious interior that your residential space deserves.
Provides branding and marketing strategies
Open on Saturdays
Does not offer quotes on their website
Does not show the price range on their website
5. Josh Thompson Interiors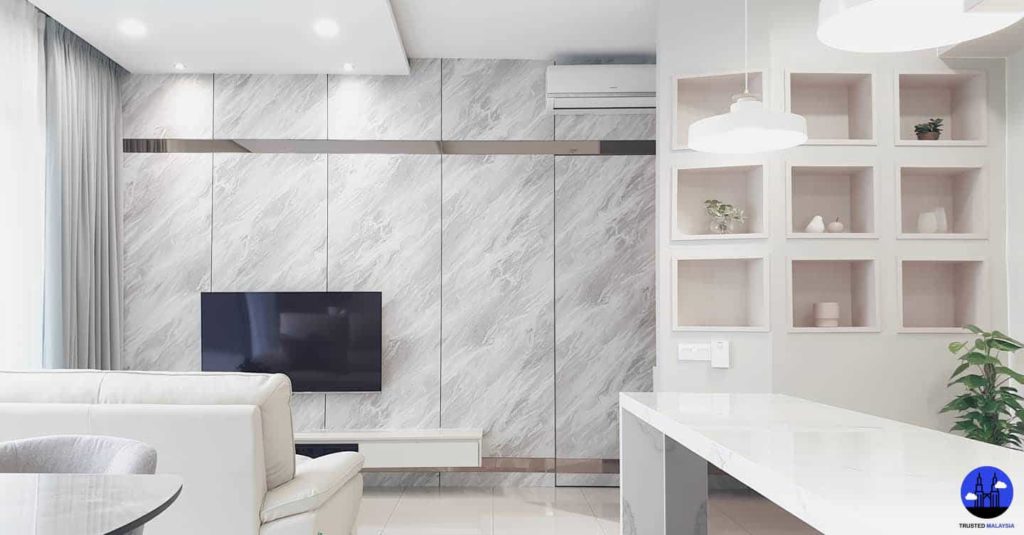 WEBSITE
joshthompsoninteriors.com, Facebook
SERVICES
Interior design, property staging, interior styling, brand design
STYLE
Minimalistic, contemporary, modern
PRICE RANGE
RM150,000 – RM500,000
OFFICE HOURS
Monday – Friday: 9:00AM – 6:00PM
Saturday – Sunday: Closed
ADDRESS
No. 87, Jalan SS2/24, 47300 Petaling Jaya, Selangor, Malaysia
CONTACT INFORMATION
Email:

[email protected]


Contact Number: +6012-361 8055, +6016-227 5755
Do you want to add style and value to your property? If so, you need everything that Josh Thompson Interiors has to offer.
This company specializes in adding a modern and minimalist style to your residential or rental spaces. With their expertise, you can modernize your space and increase its market value.
They treat every project differently which means that you'll get a personalized design that compliments your location. With their focus on functional aesthetics, you can expect a stylish yet comfortable space that fits your budget.
From living space to working environments, Josh Thompson Interiors can turn any room into a functional and luxurious space.
Free consultation
Provides interior and brand design services
Closed on weekends
Does not show budget estimates of their projects
Customer Review
One of their customers, Kenny Yong, left this detailed review:
"We engaged Josh Thompson Interiors as we were attracted to their simplistic/minimalist design. It is our (my wife & I) first home and they brought to life the vision we had in mind. Working with them was a breeze and they responded to our requests within context as you can imagine being a first time home owner, you will have a lot in mind and they helped conceptualise as well as reminded us on what's practical versus aesthetics. The outcome was a balance between function and design, unlike the many firms out there with inflated cost focusing on design with no practical function other than nice photos. Recommended."
6. Blaine Robert Design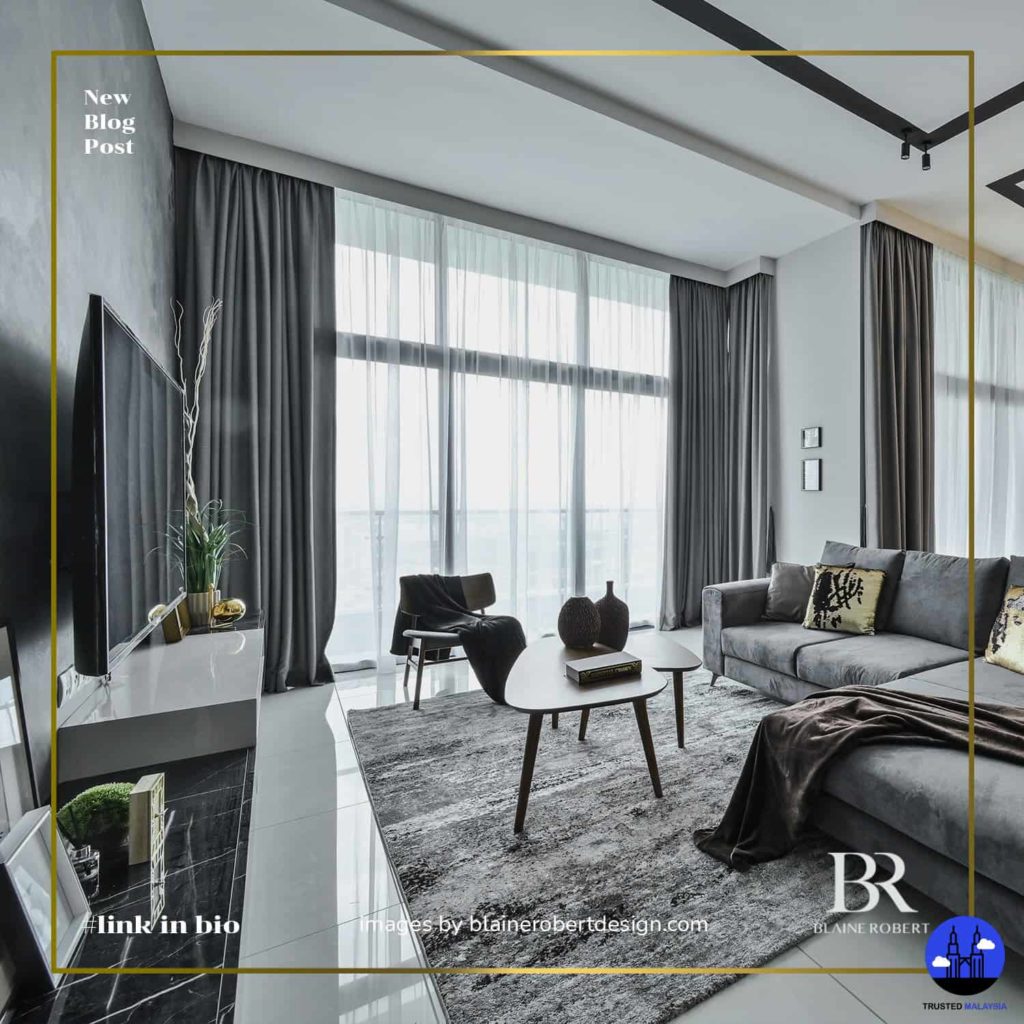 WEBSITE
blainerobertdesign.com, Facebook
SERVICES
Interior design, space planning, custom furniture
STYLES
Minimalistic, contemporary, industrial, Scandinavian
PRICE RANGE
RM100,000 – RM2,000,000
OFFICE HOURS
Monday – Friday: 9:00AM – 6:00PM
Saturday – Sunday: Closed
ADDRESS
22-1, Jalan Doraisamy 50300 Kuala Lumpur, Malaysia
CONTACT INFORMATION
Email:

[email protected]


Contact Number: 603.2202.7252
Established in 2014, Blain Robert Design has grown to provide signature designs to large projects throughout Malaysia. This company specializes in luxurious interior designs for residential and commercial establishments.
They have a well-organized workflow from requirements, proposals, execution, and handover. This means that they can identify potential issues early on and ensure that the final output exceeds expectations.
Though their projects are personalized for each client, their designs revolve around minimalistic, Scandinavian, and industrial concepts. All of which guarantees a clean and classy finish to your living room, bedroom, or office space.
They even offer custom-designed furniture that can match perfectly with your minimalist interior. If you want top-quality results, Blaind Robert Design can give you space that embodies a modern-minimalist lifestyle.
Free interior design consultation
Furniture customization services available
Rates are unavailable online
Customer Review
One of their clients, Abdul Malek, left this review:
"The design concept we were looking at was simple modernist with a touch of scandinavian ambiance. Thorough researched and screening done before finally engaging the Designer. The design process stage was a breeze and well collaborated whilst the renovation Project outcome was as anticipated with commendable high standard of workmanship. We are truly delighted with the house and would highly recommend our designer to any prospective clients."
7. Wuuu Studio
WEBSITE
dhemistrycreativelab.com, Facebook
SERVICES
Residential and commercial interior design
STYLE
Minimalistic, Scandinavian, contemporary
PRICE RANGE
RM200,000 and above
OFFICE HOURS
Open 24 hours
ADDRESS
2-2-1, Jalan Setia Prima E U13/E, Setia Alam, 41700 Shah Alam, Selangor, Malaysia
CONTACT INFORMATION
Email:

[email protected]


Contact Number: +6017-373 6129
If you want a minimalist home, you'll need a company that practices a minimalist approach, like Wuuu Studio. Wuuu Studio is a minimalist design studio that specializes in creating innovative and functional designs.
They find creative solutions to enhance every aspect of your space, whether it be your home or office. They also provide amazing minimalist designs for retail shops that can help your business look and feel modern.
As a company studio that started in 2019, Wuuu Studio has years of experience in the minimalist interior design business. So if you love minimalistic, Scandinavian, and contemporary styles, you should give this studio a call.
Open 24 hours
Specialize in minimalist design style
Limited service details on their website
Only offers interior design services
Customer Review
One of their customer, Rosalind Lee, left this review:
"If you are modern, minimalist, contemporary lover, look no further because Dom is who you are looking for. I believe that there are three important elements an ID should have, DESIGN, TECHNICAL and ATTITUDE. I must say that Dom has met all of them. DESIGN – His design reflects great amount of thought process and incorporation of Client's needs and lifestyle.
TECHNICAL – A design can have the wow effect however if the end product different, absolutely defeated the purpose of having and ID. Dom constantly expose himself to new technology and in the market and technical knowledge. He does not say NO to innovation. ATTITUDE – Dom is very hands on, patience, flexible and responsive. He engages the client and make the decision making process easier. Definitely not those ID who only appears when come to payment collection. He made the renovation process enjoyable."
FAQs About the Best Minimalist Interior Design in Malaysia
---
With our list, getting the best minimalist interior design in Malaysia should be easier for you. After all, you now have a rough idea of how much you'll need and what style you want to get.
If you want us to review another interior design firm, please send us a message, and we'll check out your recommendation as soon as possible.
Furthermore, if you have bigger renovation plans at hand, you might want to check out some of our other articles. For example, you should read about the best architects in Malaysia for your next project.