6 Best Cleaning Services in Penang for Homes and Offices
Featured Image Source: CDC via Unsplash
Do you have a house, office, or building that needs cleaning? Don't worry because we've prepared a list of the best cleaning services in Penang for you.
From home services to large-scale cleaning, we've picked the cleaning companies that have everything you need. We've written down their profiles, services, and contact details so you can easily reach them whenever you need to.
We've also included some pricing references and decision-making tips to simplify your search. In other words, everything you need to find the right cleaning services in Penang is in this article.
How Much Cleaning Services in Penang Cost
Leading cleaning services in Penang can have different prices according to their packages and specialist. However, we've prepared a reference price list to give you an idea of how much cleaning services typically cost.
| | |
| --- | --- |
| Hourly maid services | RM15 per hour or more |
| House cleaning packages | RM60 or more, depending on the package |
| Domestic Maid Services | RM1,000 a month or more |
How to Pick the Best Cleaning Services in Penang
If you want the best results, you need to pick cleaning services that suit your specific needs. To do this, you should know the scope of your needs and the type of cleaning services you can get.
To help you choose, we've prepared a few guidelines that you can use. Whether you manage a large facility or just need house cleaning, these tips will help you pick the right services.
Identify the areas that need cleaning
What parts of your house need cleaning? If you can identify the amount of help you need, you can identify the cleaning services to get.
For example, if you have a lot of laundries that needs cleaning, you need a company that includes laundry services. On the other hand, larger facilities may require more cleaning personnel and special services.
Put simply, different companies offer a wide list of services that you can choose from. By knowing what you need, you can easily pick out the type of cleaning services for the job.
Review the company's cleaning services
Most cleaning services in Penang offer different types of service arrangements. For example, you can get one-time cleaning, monthly routine visits, or even weekly cleaning.
It all depends on the type of services you need and the cleaning services that you go to. To keep things simple, you can ask your service provider about the time of arrangements that they offer.
If you want something specific, you can also try to negotiate and see if they can accommodate your ideal schedule. As an added tip, frequent cleaning arrangements are generally cheaper than one-time services.
Inspect the quality of their work
Finally, you should always inspect the area as soon as the cleaning is finished. You want to have the cleaner by your side to make sure that everything is good and nothing is missed.
By inspecting the area right away, you can ask the cleaner to redo any spot that requires more cleaning. After all, you won't have this opportunity if the cleaner has already left.
If you're not at home during the services, you should make sure to check your place as soon as you can. It's always best practice to inform the cleaning company of any issues within 24 hours.
Best Cleaning Services in Penang
With the right help, you can clean up any area with ease and efficiency. That's why it's important to know the best cleaning services in Penang who can do the job for you.
Luckily, we've listed some of the best service providers who can clean homes, lawns, and buildings. If you're ready for a cleaner space, here are the leading cleaning services in Penang that you should consider.
1. DN Cleaning & Services
WEBSITE
dngroup.com.my, Facebook
SERVICES
Hotel, construction, restaurant, shopping mall, factory, entertainment establishment cleaning
OFFICE HOURS
Monday – Friday: 9:30AM – 6:30PM
Saturday: 9:30AM – 1:00PM Sunday: Closed
ADDRESS
Ideal Avenue, 1-3-18, Medan Kampung Relau 1, Relau, 11900, Bayan Lepas, Penang, Malaysia
CONTACT INFORMATION
Email:

[email protected]


Contact Number: +604-643 3222, +6010-222 9912
Do you own a big business like a restaurant, hotel, or factory? If so, DN Cleaning & Services is the right company for you.
As one of the leading cleaning services in Penang, this company understands what each of their clients needs. They even provide staffing services such as waiters, landscapers, construction workers, and more.
If you manage a restaurant or club, they can provide attendants, housekeeping, general cleaning, and even kitchen helpers. They also provide extensive cleaning services for large facilities like factories, hospitals, and malls.
From toiletry supply to vacuum machines, DN Cleaning & Services has the tools and manpower to keep your business area spotless.
Offers cleaning services for diverse establishments
Staffing services available
Specializes in cleaning services for large-scale establishments
No services for private residences
No online quotation
2. PN Hourly Maid Service
WEBSITE
pnhourlymaid.com, Facebook
SERVICES
Homestay cleaning, house cleaning, office cleaning, move/in-out cleaning, laundry and ironing, kitchen utensil cleaning
PRICE
RM15 per hour, RM60 (4-hour package)
OFFICE HOURS
Monday – Sunday: 8:00AM – 6:00PM
CONTACT INFORMATION
Email:

[email protected]


Contact Number: +6014-904 4542
If you're looking for house cleaning services, PN Hourly Maid Services should be your first choice. They offer affordable hourly maid services for home and office cleaning.
They offer complete house cleaning services like sweeping, mopping, car park cleaning, window wiping, furniture dusting, toilet cleaning, and laundry. Their services are applicable for apartments, rental spaces, and offices anywhere in Penang.
They also provide cleaning services if you're moving out or moving into a new place. You can even ask them to thoroughly scrub your porch or balcony floor which are places that get extra dirty.
If you're looking for general cleaning services at affordable hourly rates, this is the company for you. You can visit their Facebook page or contact them directly for their services.
Free quotation
Payments after services
Cheap hourly rates
Includes laundry services
Requires at least 1-day pre-booking
Limited to general house cleaning services
Customer Review
One of their customers, Joanne Ooi, left this review:
"Send cleaners as arranged and honored an extra hour due to his cancellation earlier. Both cleaners did a good job tirelessly for 5 hour straight! Thank you! Hope to see you all again"
Another customer named Jaime Tan wrote:
"Thanks to Mr Peter & his maid Ika. She done a great job fast and clean. able to fulfill my needs in time. Great service and good pricing. Highly recommended"
3. CleanNeat Cleaning Services
WEBSITE
cleaneat.com.my
SERVICES
Contract, commercial, construction, lawn maintenance, sanitizing, and disinfection services
OFFICE HOURS
Monday – Friday: 9:00AM – 6:00PM
Saturday: 10:00AM – 1:00PM
Sunday: Closed
ADDRESS
1st Floor, 2495,Jalan Sultan Azlan Shah, Kampung Gelugor, 11700 Gelugor, Penang, Malaysia
CONTACT INFORMATION
Email:

[email protected]

,

[email protected]


Contact Number: +6012-447 7715, +604-658 5168
If you manage large facilities that need a lot of cleaning, CleanNeat Cleaning Services has the solutions for you. They offer extensive cleaning services for corporate offices, showrooms, factories, schools, and condominiums.
If you want long-term support, they have contractual cleaning services so you can keep your area spotless all year round. They also do commercial services and use advanced cleaning equipment on work areas, lounges, and lobbies.
If you've just gone through a renovation, they have construction and remodelling cleaning services to tidy up the space. They also provide lawn maintenance such as mowing and fertilization to keep your outdoor areas as tidy as possible.
From building-window cleaning to disinfecting services, CleanNeat has the expertise to make your place as spotless as ever. You can visit their website or call their office for inquiries.
Ideal for large-scale facilities
Offers contractual arrangements
Provides building window cleaning
Not ideal for house cleaning
No maid services
Customer Review
One of their clients, Areca Hotel, wrote this review:
"They are amazing and pay a lot of attention to details. I recommend them to anyone interested to get their place so clean."
Another client, ARUP, left this comment:
"I'm super lucky to have engaged with them on monthly contract basis and will go ahead with them for many years ahead."
4. Clean King
WEBSITE
penangcleaningservice.com
SERVICES
Post-renovation cleaning, commercial cleaning, house cleaning
OFFICE HOURS
Monday – Friday: 9:00AM – 6:00PM
Saturday – Sunday: Closed
ADDRESS
Sinaran Solution Sdn Bhd, 349-E Hilir Pemancar, Gelugor, 11700 Penang, Malaysia
CONTACT INFORMATION
Email:

[email protected]


Contact Number: +6016-419 9186
No time for spring cleaning? Clean King offers part-time maid cleaning services to help tidy up your place.
They provide instant house cleaning without the need for contract arrangements. This means that you can have your place cleaned whenever you need it without paying any monthly fees.
They also provide extensive cleaning services for commercial establishments like offices, restaurants, factories, and events. They deploy cleaning teams according to the scale of your needs and can even provide professional carpet cleaning.
If you're tired of cleaning up after home or office renovations, Clean King also provides specialized post-renovation services to remove debris, stains, and any odours that can linger after your renovation.
Whether it's for your home or your business, Clean King can cater to your specific needs. You can contact them online for consultations and bookings.
Online booking and quotation
Specializes in post-renovation cleaning
Provides event cleaning services
Provides one-time house cleaning services
Contract cleaning services available
No list of commercial cleaning equipment
No list of house-cleaning services
5. WnJ Services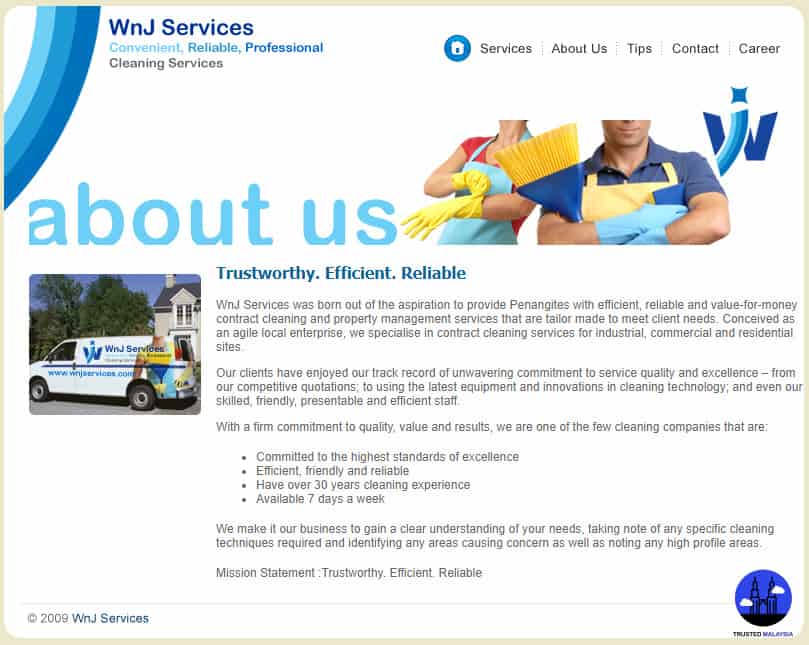 WEBSITE
http://www.wnjservices.com/aboutus.php
SERVICES
Commercial and residential cleaning services
PRICE
RM15 per hour, RM5 (Transportation Fee)
ADDRESS
WnJ Services Sdn Bhd, 15, Pahang Road, 10400, Penang, Malaysia
CONTACT INFORMATION
Email:

[email protected]


Contact Number: +604-227 2407, +604-227 2349 (Fax)
From general cleaning to tidying up your office, WnJ Services can do it all for you. They provide comprehensive cleaning services for both commercial and residential establishments.
If you need your house cleaned, you can get a minimum of 4-hour all-around cleaning services. This includes vacuuming, laundry, bathroom cleaning, dusting, carpet cleaning, basic handyman services, post-renovation cleaning, garden maintenance, and more.
For commercial spaces, they provide cleaning services for office units, retail outlets, factories, schools, clinics, hospitals, showrooms, and more. You can also request to hire specific cleaners that have already cleaned your house or office.
With their wide list of services and well-trained cleaners, WnJ Services can make your place look great in no time.
Sunday cleaning services available
Wide list of residential cleaning services
Can provide over 15 cleaners if necessary
Only cash payments for residential cleaning
No building window cleaning
No detailed list of their commercial cleaning services
Customer Review
One of their customers, Sarah Wong, left this comment:
"WnJ Services is truly a company that delivers what it promises. They turned my grimy floors into a shiny, pool of reflection. My family and I are truly happy with the end result and I am thankful to WnJ Services for providing such a detailed job with great customer service."
6. Uni Hygiene
WEBSITE
https://unihygiene.com.my/
SERVICES
Factory, window, and industrial cleaning services
PRICE
Contact for more details
ADDRESS
No.1, Lintang Beringin 11960 Batu Maung, Pulau Pinang Malaysia
CONTACT INFORMATION
Hotline
1-300-88-3135
Whatsapp
016-2080135
016-2275135 (Careline)
Email
[email protected]
[email protected]
Uni Hygiene is a company that provides professional cleaning services, washroom hygiene services, landscaping, hygiene products, and F&B services.
They focus on your priorities and preferences and integrate them with their methodology in ensuring the best in class delivery of all their services.
For more than a decade, they gained various experiences as well as learned different related scientific and technical researches that they could apply in each cleaning project.
They teach the information that they learn in their competency programs in ensuring that all their staffs are competent in the delivery of all their services.
Their staff is made up of competent and dedicated individuals
Uses quality cleaning products
List of prices is unavailable one
FAQs About the Best Cleaning Services in Penang
---
With the best cleaning services in Penang, you can finally make your house or building look brand new. All you have to do now is pick the right services, sit back, and enjoy the rest of your day.
If you found this article helpful, you can share your thoughts by sending us a message. You can even suggest other cleaning services that you think should be on our list.
Do you have leaky pipes that need fixing? If you need plumbing installations or pipe repairs, you should contact the best plumbers in Penang for the job.