The 5 Best Medical Cards in Malaysia
We can't control when a loved one falls sick or gets injured but we can make sure that if that happens, we're going to be backed up by an insurance plan. This is why having a medical card is one of the best things you can do for yourself and your family.
A medical card is a card that your insurance provider gives you along with your medical plan. As long as the type of treatment you're seeking in that particular hospital is covered by your policy, this card allows you to receive the medical treatment you need at a reduced cost.
Now, you may have a ton of questions concerning this. So, here's everything you need to know about medical cards as well as a list of best medical cards in Malaysia starting with costings!
Factors That Affect the Cost of Medical Cards
Medical cards cost differently no matter where you are. This is because medical insurance providers offer a lot of different benefits from each other.
What we can tell you though is that the payment we make for our medical cards are what we call premiums. These are paid monthly and the exact amount is dependent on these five factors:
Family medical history
If there are any specific illnesses or health issues that run in your family like heart disease or cancer then your premium is probably going to be higher than most. This is because it increases the rate of you having the disease yourself.
Pre-existing medical condition
If you have a pre-existing medical condition, you have to let your medical insurance provider know. This is because some providers don't cover all types of illnesses or don't take on those with pre-existing cases so either way, it'd be best to look for another one.
Gender
Apparently, according to years of medical research, women are more prone to doctor visits, taking medication, and chronic diseases. This causes a few premiums to be dependent on one's gender.
Age
This is probably one of the most defining factors in determining one's premium. Generally, those who are older (especially senior citizens) are at a higher risk of developing illnesses or diseases so their premiums are much higher than those who are younger.
Profession
People's professions are taken into account in this decision not because of financial standings but because of the probability of exposure to hazardous environments. While regular office workers may not be exposed to construction sites or substances that could get them sick, construction workers regularly do.
So those who work in more hazardous environments regularly tend to pay more in premium because of the higher risk of getting life-threatening illnesses.
There could be more factors that each company uses to determine the premium cost but these are the general ones here in Malaysia. Now, let's go onto the medical cards!
The Best Medical Cards in Malaysia
There's never going to be a day when we won't think health is the most important thing out there. People will always be needing healthcare so we know that will never be a shortage of medical cards.
This can be overwhelming which is why you need help trimming down the options! Here are our top recommendations for the best medical cards in Malaysia:
1. AIA A-Plus Health Medical Card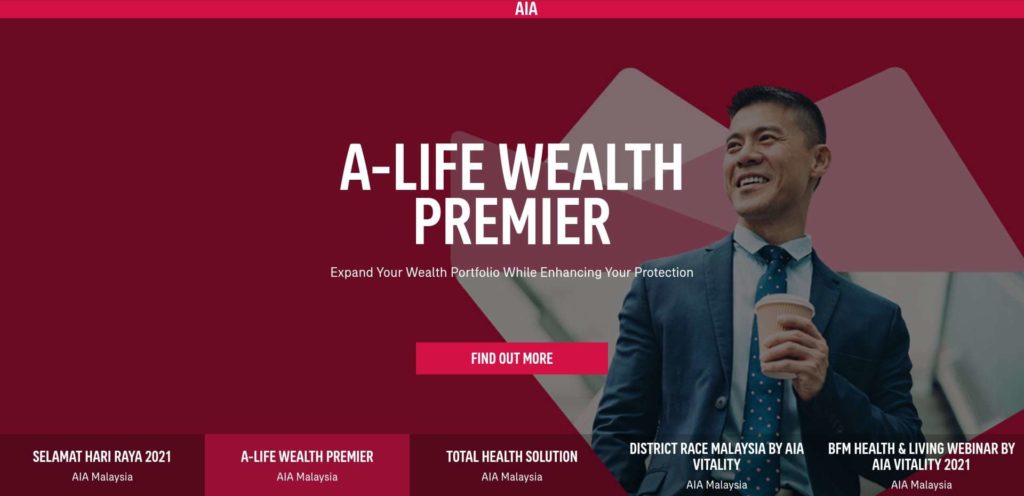 The AIA A-Plus Health Medical Card provides comprehensive medical coverage for all of its clients. This includes coverage for recovery treatments and any equipment that's medical-related.
They provide reimbursements no matter where they are in the world as long as they haven't been residing outside of Malaysia for over 90 days unless it's in Singapore and Brunei.
Purchasing A-Plus Health and signing up as an AIA Vitality member gets you Health Rewards which is put into your Health Wallet which provides benefits. Additionally, each policy year you don't make a claim, a reward amount is credited to your Wallet.
These benefits include the waiving of the deductible amount for hospital admission, having your room and board limit upgraded, and having the amount in your Health Wallet grow annually without paying any additional premium.
A-Plus Health also reimburses you for health checks and vaccinations. This is because they want to help you identify any early signs of health issues to prevent them from worsening over time.
Basically, A-Plus Health rewards you for being healthy. This isn't unique but not every insurance provider does this so it would be nice to have those rewards in your back pocket.
Note that AIA A-Plus Health also doesn't have a lifetime limit.
To use your medical card at any AIA panel hospital, all you need to do is swipe it for convenient admission. You will only be expected to download and fill up the claims form when you're much better.
For help, you can also contact the AIA customer care hotline. Your claim status may be viewed via SMS or by checking online at AIA @MyService.
Online application available
Reimburses for health checks and vaccinations
Rewards are given for each policy year you don't make a claim
Can't be used at non-panel hospitals
2. Takaful myClick MediCare Medical Card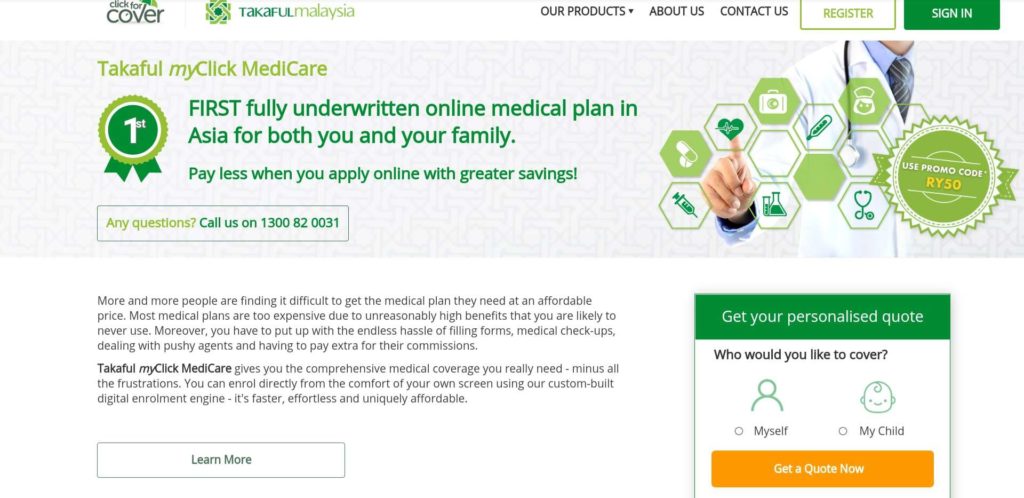 The Takaful myClick MediCare Medical Card is the first-ever fully underwritten online medical plan in Asia.
One of the best things about Takaful is they provide 24/7 online applications with instant approval. They offer 3 different plans with low prices along with personalized online health assessments.
Those 3 plans are the Bronze, Silver, and Gold plans. The plans offer an annual coverage of up to RM 100,000. There isn't a lifetime limit and the coverage will have an affordable annual contribution.
Regardless of the plan you choose, you can expect to get full coverage on in-patient and out-patient treatments and no co-payment even when you upgrade your Room and Board accommodation.
Additionally, all patients 85 years old and below won't have a lifetime limit cap on their medical cards.
They offer worldwide coverage. In case you ever need medical treatment in another country, you will have access to specialised care however the coverage will be subject to reasonable charges in Malaysia.
When you get admitted to any of their 98 panel hospitals, all you have to do is present your e-medical card and sign the hospital's medical form. For non-panel hospitals, it's a bit more work.
Fill out the claim form, get the itemized medical bills and medical report, and submit these documents to any Takaful Malaysia branch. From there, all you need to do is wait for the Takaful to update you on your claim's status.
If ever you get admitted to any Malaysian government hospital, you won't have to pay a single Ringgit.
Here are a few general events you aren't allowed to make claims for pre-existing conditions, injuries from war, unlawful activities, hazardous sports, and illnesses that occurred during the first 30 days of coverage.
Online applications
No lifetime limit
Free treatments at Malaysian government hospitals
Can be used at non-panel hospitals
Maximum age is 85 years old
No online submission of claim forms
3. Prudential PRUValue Med Medical Card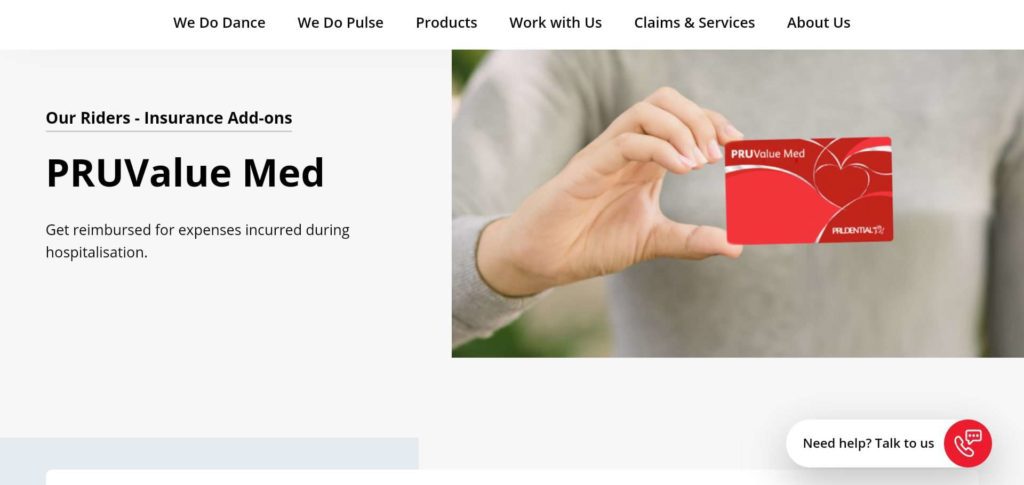 Prudential PRUValue Med medical card is a medical insurance rider that you may attach to a basic life insurance plan. They allow you to choose your preferred level of coverage in terms of deductibles, room and board, and co-insurance.
This rider reimburses reasonable and customary medical/surgical expenses brought on by the treatment. You can customize this plan to grant you an extension to your existing medical coverage through their deductible options which range from RM 20,000 to RM 100,000.
A few extra benefits they have are 11 maternity complications benefits, outpatient convenience for cancer and kidney treatments, and daycare benefits. These aren't really offered by most medical cards so that's a great thing to consider
This card has no annual and no lifetime limit since it's a rider. It's meant to add more coverage rather than take on the coverage as a whole.
At any panel hospital, all you have to do is present your Prudential medical card at the admission and sign a Declaration & Authorization form. You may be required to make a deposit for non-medical charges but any remaining balance will be returned to you as you're discharged.
At non-panel hospitals, you just need to contact Prudential's customer service to inform them of your situation and then submit your claim and any necessary supporting documents to any Prudential branch.
Guaranteed renewal
No annual limit
No lifetime limit
Can be used at non-panel hospitals
No online application
Not a stand-alone medical card; rider medical card
4. Etiqa Elite Takaful Medical Plus Medical Card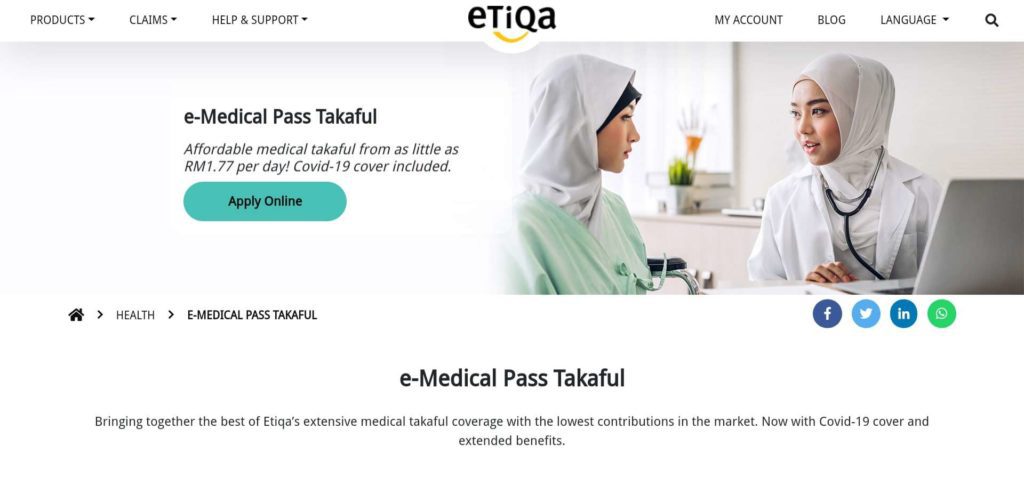 The Etiqa Elite Takaful Medical Plus Medical Card seeks to be an online affordable medical insurance for Malaysians.
They offer premiums as low as RM 1.77 a day. We think this is great for those who really want to provide medical insurance for themselves or their families but have a lot of financial constraints.
This Etiqa medical card is the only medical insurance provider in this list that's specifically stated that they cover COVID-19-related issues. This includes reimbursement claims on the hospitalisations and potential side effects of the vaccine.
They provide cashless hospital admission for a smoother experience. In the heat of hospital admission, it's pretty good that you don't have to think about bringing out cash.
Registering with them is quite easy. All you have to do is answer 3 health-related questions and you'll get instant approval.
For emergency accidental outpatient treatments, they don't include it in the annual limit so there's no cap on the coverage!
The first way you could file a claim is by going to their website and filling in their Online Claim Form. The second way is to download the General Claim form and fill it up then email it to them or send it to the address listed above.
Regardless of the way you choose to do it, here is the following information you'll be needing:
Your policy information
Details about the incident, date, damage, location, hospital details, etc.
Supporting documents, preferably in soft copy
A statement about the incident
Any bank or credit card statement that shows proof of payment for the claim
Guaranteed renewal
Online application
Affordable premiums
Complicated claim submissions
Maximum renewal age is 65 years old
5. ManuLife ManuHealth Elite Medical Card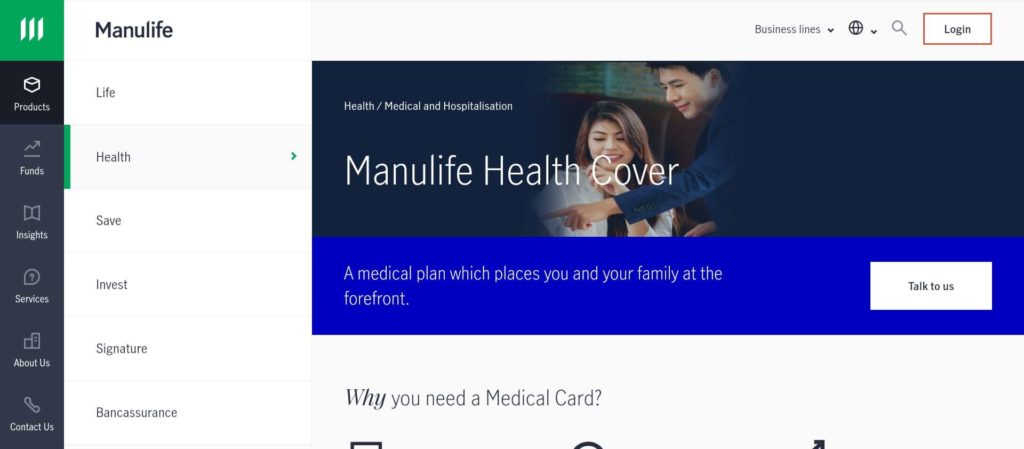 The ManuLife ManuHealth Elite Medical Card provides you with comprehensive whole life coverage up until the age of 99. They include pre-hospitalisation and post-hospitalisation charges, surgical expenses, intensive care services, and outpatient benefits.
They have 4 deductible options: RM 0, RM 10,000, RM 30,000, and RM 50,000. You are free to choose any based on your needs.
They don't have a lifetime limit and they have an annual limit of up to RM 2.2million. To add to this, they don't have a cap on the length of a client's stay in the hospital or ICU so patients don't feel rushed to get better.
In case you get admitted to a hospital outside of the country, you can still make a claim with this Manulife medical card. This will only be permissible, however, if you've been in the country less than 90 days.
They also provide a family coverage option which gives you medical coverage for you, your spouse, and up to 5 of your children.
All you have to do at panel hospitals is provide your medical card and enjoy a seamless transaction that will help you focus on your treatment.
No lifetime limit
Family coverage plan available
Guaranteed renewal
Must be at least 30 days old to qualify
No online application
FAQs about Medical Card in Malaysia
---
Choosing a medical insurance provider for you and your family isn't a difficult thing as long as you know what you're looking for. That's why we're so happy you read this article with us!
If you have any thoughts on these medical cards or would like us to review one you've been using, please don't hesitate to send us a message!
Now, that's what we have on the best medical cards in Malaysia. In case you're in need of a good cardiologist, check out our article on the best cardiologists in Malaysia!