The 5 Best Protein Bars in Malaysia
Protein bars are a great way to make sure that you get different kinds of nutrients like carbs, vitamins, and minerals while snacking.
Of course, if you're trying to stay healthy while snacking, you're going to want to make sure that the food you're eating is the best there is which is why we put together this article for you.
Each protein bar provides different benefits to you so read on to learn all about the best protein bars in Malaysia and which ones you should be getting!
Best Protein Bars in Malaysia
Stocking up your pantry with the right snacks is one of the most important things to do for the week. Sometimes we can be so busy that we eat just anything which is why we really need to stock up on these protein bars and stay healthy!
1. Garden of Life Organic Sport Protein Bar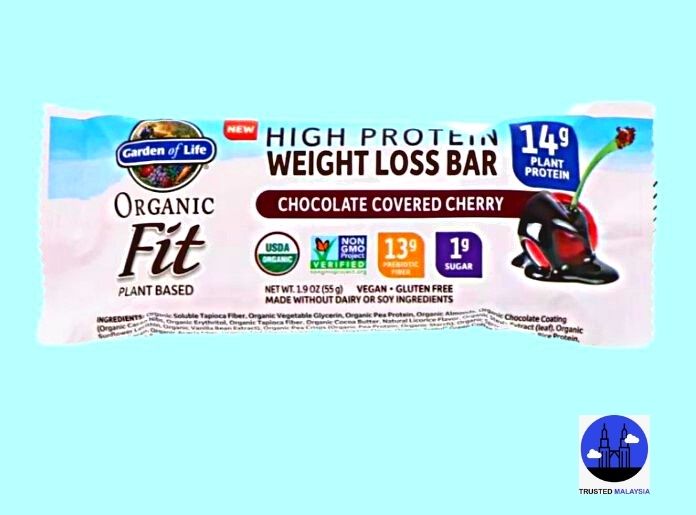 PRICE: RM179.90 PER BOX
| | |
| --- | --- |
| Nutritional Facts | Per serving 57g |
| Calories | 290 |
| Total Fat | 10g |
| Protein | 20g |
| Total Carbohydrates | 33g |
| Fiber | 9g |
When it comes to protein bars, it's important to make sure that you don't settle for just anything because there are so many options out there. For example, if you're a vegan and you want an all-organic bar, you should try out The Garden of Life Organic Sport Protein Bar.
Its aim is to help repair your muscles through the use of multi-sourced plant proteins like brown rice and peas. They also make use of organic Svetol Green Coffee Bean Extract and organic Ashwagandha which help burn fat and stave off cravings.
Also, every bar is non-GMO project verified, made without dairy or soy, and has a low glycemic index.
Their flavours are Sea Salt Caramel, Peanut Butter Chocolate, Chocolate Almond Brownie, Chocolate Coconut Almond, Chocolate Covered Cherry, and Chocolate Fudge. Most companies have around 2-3 flavours so it's nice to see such a wide variety.
No soy or dairy
Fully organic
Only available for pre-order
High caloric content
2. MuscleMaxx Protein Bar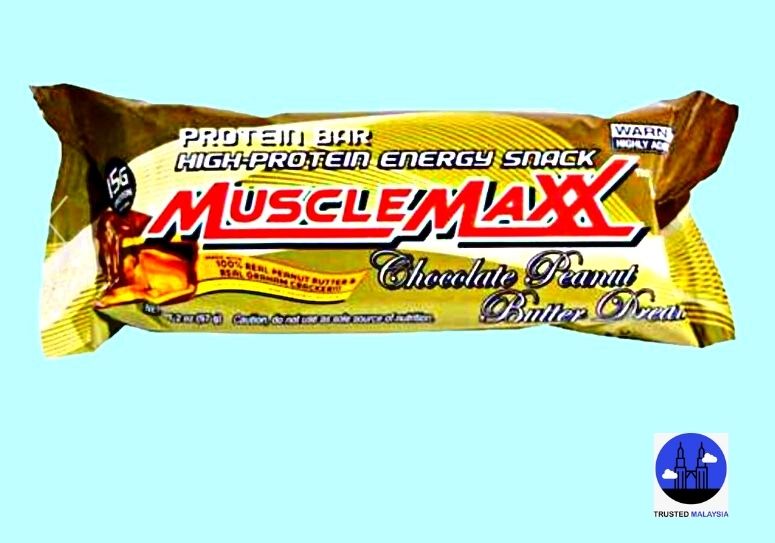 PRICE: RM 102.90
| | |
| --- | --- |
| Nutritional Facts | Per serving 57g |
| Calories | 308 |
| Total Fat | 16g |
| Protein | 15g |
| Total Carbohydrates | 25g |
| Fiber | 2g |
If your goal is to bulk up, MuscleMaxx Protein Bar is one of the best protein bars on the market. Their use of 100% Whey Protein Isolate promotes muscle and strength gain and helps you get that muscular body you're trying out for.
The brand, MuscleMaxx, is already known for its workout supplements and is a trusted brand in the protein community. However, the protein bar itself doesn't have a lot of reviews but it definitely is a good bar to munch on when you need to.
We can't stress this enough but if you're looking to slim down, this is not the protein bar for you. It has a lot of ingredients (particularly its graham cracker base) that cause major weight gain especially if you don't work out.
Also, if you have any soy or peanut allergies, we don't recommend you stocking up on this as it contains the mentioned ingredients.
This protein bar also comes in 3 flavours: Chocolate Peanut Butter, White Chocolate, and Chocolate Peanut Butter.
Great for bulking up
Good fat percentage
High carb content
Only available for pre-order
3. Barebells Protein Bars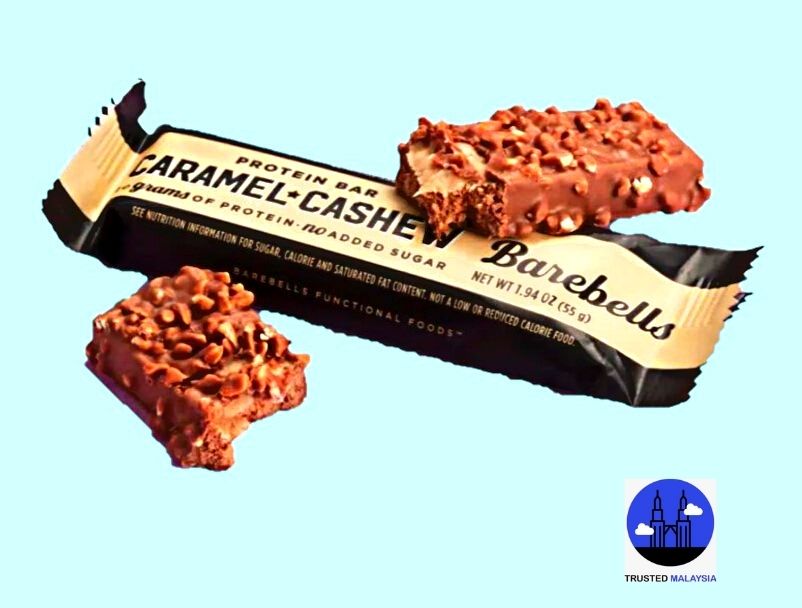 PRICE: RM 135
| | |
| --- | --- |
| Nutritional Facts | Per serving 55g |
| Calories | 199 |
| Total Fat | 8.3g |
| Protein | 20g |
| Total Carbohydrates | 14g |
| Fiber | 4.3g |
Barebells Protein Bar is one of the bars on this list with the best ratio of calories, fat, fiber, and protein. Anyone who takes time to study protein bar nutritional facts can see it clearly.
This makes it ideal for anyone whether you want to bulk up or slim down. All you have to do is pair it with the right amount of diet and exercise and you won't have to worry about it getting in the way.
Also, we think you'd also really appreciate the fact that they're Halal-certified. You can be certain that the protein bar you're snacking on doesn't go against any of your beliefs.
In addition to this, they also have 7 flavours. However, in the link we have for purchasing them here in Malaysia, only 3 flavours are available at the moment.
If you decide to order Barebells Protein Bars, make sure that as soon as you receive you store them in your fridge!
Halal-certified
High in protein
No GMO
Needs to be stored in the fridge
4. MYPROTEIN Layered Protein Bar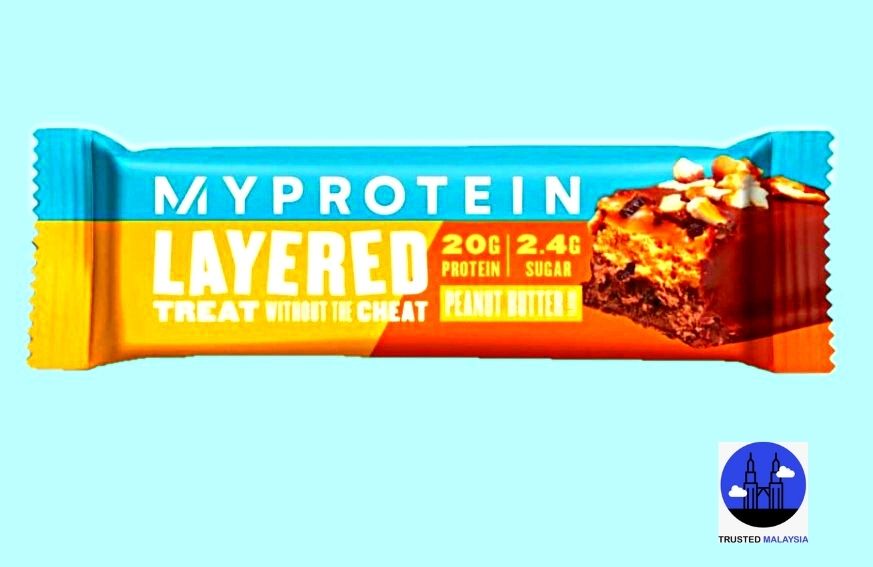 PRICE: RM 126
| | |
| --- | --- |
| Nutritional Facts | Per serving 60g |
| Calories | 219 |
| Total Fat | 7.8g |
| Protein | 20g |
| Total Carbohydrates | 16g |
| Fiber | 14g |
MYPROTEIN Layered Protein Bar is ideal for boosting up a bit after every workout. For those who are trying to gain more muscle, we recommend pairing it up with one of MYPROTEIN's Whey supplements to get the maximum effect.
Their six layers consist of protein crispies, chocolate coatings, and caramel to give you the energy boost you need after that workout. It's also perfect for balancing out your blood sugar levels in between busy days.
However, there have been a lot of reviews online stating how the taste of these protein bars isn't exactly ideal, but those are from the ones who tried out the Cookies and Cream flavour. We recommend trying out the more popular Chocolate Brownie flavour if you want to be on the safer side!
They're pretty high in fiber, which helps support your muscles and aids in post-workout recovery. As you can tell, this definitely means that people who want to lose weight or keep their current weight probably shouldn't be eating these too regularly.
High in fiber
High in carbs
Affordable
Not ideal for slimming down
Customer Reviews
"I'm blown away by how good these Chocolate Mocha Layered Protein Bars. It's even more incredible when you look at the Nutritional Facts and see how good they are for you…and they're vegan too! Please do yourself a favor and give these a try…especially during one of the many sales MYPROTEIN runs. Amazing value for money and great taste. You can't go wrong!" -Brian
"This protein bar is more on the chewy side due to the middle layer and is pretty sweet. I personally enjoy it microwaved for 10 sec as it's easier to chew and the flavours taste better!" -Annie
5. BSN Protein Crisp Bar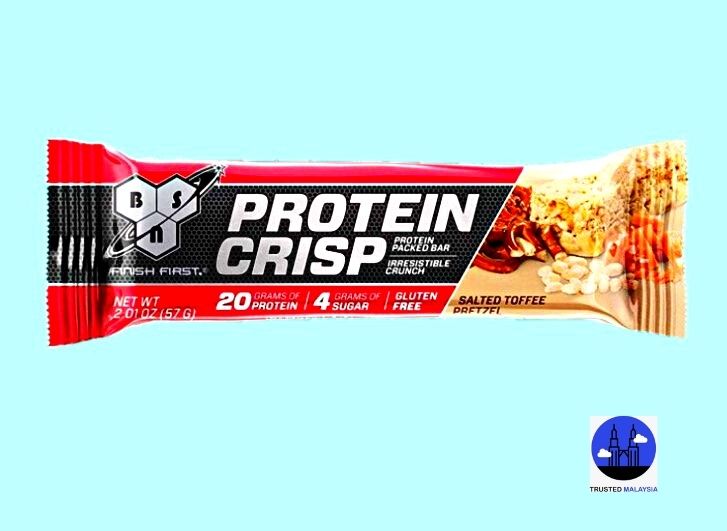 PRICE: RM 334
| | |
| --- | --- |
| Nutritional Facts | Per serving 56g |
| Calories | 230 |
| Total Fat | 6g |
| Protein | 20g |
| Total Carbohydrates | 23g |
| Sodium | 15mg |
| Cholesterol | 160mg |
The clamour for gluten-free everything is on the top of a lot of health-buffs minds the past few years. If you're one of them, you'll be happy to know that BSN Protein Crisp Bar is a gluten-free protein bar.
The online reviews on the taste and texture are pretty mixed. Some have commented that it's perfect and not chalky at all like most protein bars, while others have commented about how it leaves a weird taste and feeling on the mouth.
One recommended that the best way to eat this was while downing it with some water because, while it tastes weird, he swears by its help.
One thing for certain, though, is if you're someone with a milk, soy, or almond allergy, then we suggest scrolling back up and picking a different protein bar.
They have a total of 7 flavours, too. There's Mint Choco Chip, Chocolate Crunch, Vanilla Marshmallow, Peanut Butter Crunch, Strawberry Crunch, Salted Toffee Pretzel, and Birthday Cake Remix.
Gluten-free
High in protein
Contains soy and almonds
Pretty pricey
Customer Reviews
"Texture was the biggest thing I was interested in finding out and it was actually really good. The BSN Protein Crisp Bar had some crunch to it but it was more of a Rice Crispy type of crunch versus a hard texture crunch. For a "crispy" type of protein bar, they were very soft and at no point did I feel like I was chewing rocks or cardboard." -Weik Fitness
"They taste absolutely amazing."– Muscle and Fitness Supplement Review
FAQs about Protein Bars
---
No matter what body you're trying to build, protein bars can be a great addition to your diet. As long as you keep it as just an addition, not a replacement for a good diet and regular exercise!
Let us know if you tried out any of these protein bars! We'd love to hear from you and adjust our reviews accordingly.
Also, if you one day find it in your time to invest a bit more time and effort into your diet, you might want to check out our list of the best culinary schools in Malaysia!