14 Best Maid Agencies in Malaysia
Photo credit: Shutterstock
People living in Malaysia are constantly living fast-paced lives, focusing on work and other priorities, that for a second they've almost forgotten about their lives back home. With the assistance of the best maid agencies in Malaysia, workers and helpers strive to fill in the gaps and help sustain their employer's needs.
These kind and considerate people work hard to take care of our children, cook our meals, clean our houses, all the while making sure everything is in good shape.
Below is a list of the renowned best maid agencies in Malaysia, catering to each individual's needs and preferences, in order to maintain a happy home.
1. Innovedge Maid Agency
BEST FOR 
Awarded by the Philippine Embassy as the top 3 maid agency in Malaysia in 2019
PRODUCTS
List of services
WEBSITE
http://www.innovedge.com.my/
ADDRESS
F-2-9, Neo Damansara, Jalan PJU 8/1, Damansara Perdana, 47820 Petaling Jaya, Selangor, Malaysia
CONTACT DETAILS
+60 3-7727 4928
OPERATING HOURS
Monday to Friday – 9:30am – 6:00pm
Saturday – 9:30am – 1:30pm
Sunday – Closed
Innovedge Maid Agency is a maid agency that offers the recruitment of skilled and well-disciplined maids.
According to the agency, their reputation and the capabilities of their maids work hand-in-hand. In addition, training, family background, and experience are the main focus of Innovedge.
Having a long term relationship with the client is Innovedge Maid Agency's goal, which is what makes them one of the best maid agencies in Malaysia.
Highlights
Licensed agency
Experienced in maid and work recruitment
Legal, trained, and medically fit maids and workers
Customer Reviews
Innovedge Maid Agency not only takes care of their clients, but they're proven to take care of their workers as well.
A maid who works for Innovedge wrote a review on Google:
"I just want to share my experience . Even if I am new here in Malaysia, just to cheer up my fellow maids. Last Jan. 1, 2020 I fell down and fainted in the toilet while cleaning at the house of my employer. I really don't know what happened, I just woke up in the hospital. The hospital told me, it was my agency Innovedge who called the ambulance and took me to the hospital and I stayed in the emergency until I was discharged the next day on Jan. 2, 2020. I am very thankful to my agency because they took care of me until I recovered. They also took me to a Chinese doctor that really help me to fully recover my strength. My agency still give me chance to work despite what happened to me because I do not want to go home without money. I have 4 children and I want to help my family and reach my dreams. Thank you so much to Mam Christie and to my agency for the opportunity you gave me. Also to all the staff for taking care of me and to all motivations. God bless!"
On the other hand, satisfied clients left their reviews on Google as well:
"I have been engaging Innovedge for the past 5 years and just received my 3rd maid from the agency. Innovedge has a large database of maids and being able to provide biodata and interview videos made it much easier for me to make my selection. My agent, Stella, has been very helpful and I am very happy with the quality of maids provided."
"I have been a long time customer for Innovedge. Recently I was just looking at their website to get a new maid because my current maid is going back after working for 4 years for me. So far Innovedge has provided their service to me very well. For my current maid, initially she has some homesick but after I send her to Innovedge for some counselling, the problem was solved and she work for my family for almost 4 years now! By chance I came across some of the reviews for innovedge and I am surprised to see some of them are very negative. I think some employers just like to put all blames to the agency for anything with their maid and I think that is really not very reasonable. We paid the agency to get us a maid (they did their job!) but employers also should play some role to educate and manage the maid because she stay and work with us and not with the agency! I strongly recommend Innovedge to anyone who wants to get a maid because they are reliable and professional."
2. Global Ace Maid Agency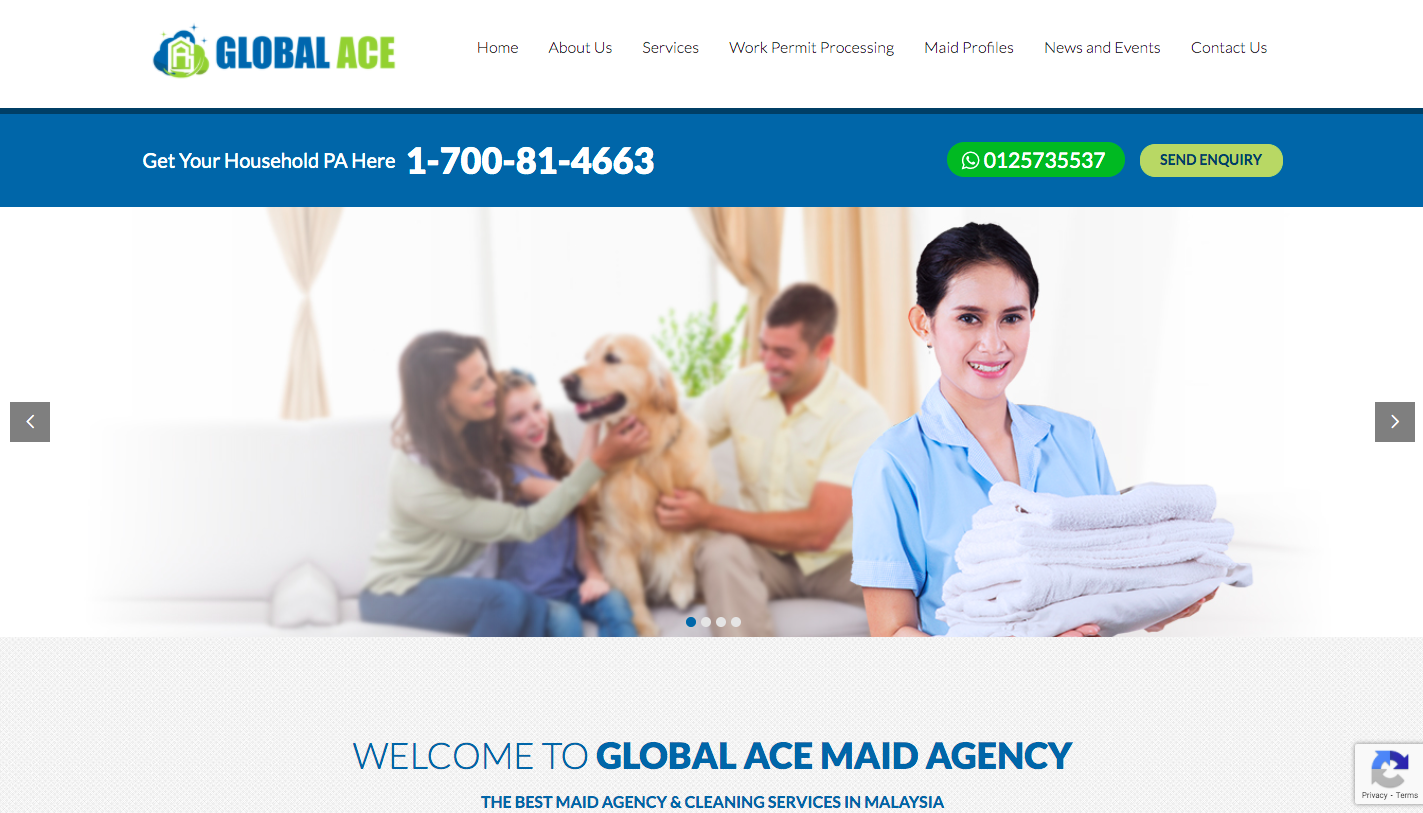 BEST FOR 
Maids from the Philippines and Indonesia
SERVICES

Contract Domestic Helpers

Temporary Maid Services

Cleaning Services

Direct hiring of your own foreign domestic helper to work in Malaysia

Application & Cancellation of Work Permits 

Salary Remittance

Purchasing of Insurance / Registration of SOCSO 

Arrangement of Medical Check-up (FOMEMA) 

Passports  Renewal

Home Leave Processing for Embassy Endorsement 

Booking & Purchasing of Airline Tickets

Transportation Services for Domestic Helpers

Lodging/Accommodation of Domestic Helpers

WEBSITE
https://www.globalace.com.my/
ADDRESS

No.63A, Jalan SS21/60, Damansara Utama, 47400 Petaling Jaya, Selangor

CONTACT DETAILS
Headquarters: 1-700-81-4663
Whatsapp: (012) 573 5537 & (012) 577 5537
Email:

[email protected]



Puchong Branch: (012) 357 5537

KL Branch: (012) 257 5537
OPERATING HOURS
Monday to Friday: 10:00am – 7:00pm


Saturday: 10:00am – 3:00pm
Global Ace is an employment agency that aims to provide residents of Malaysia with quality domestic helpers. Likewise, residents can contact the agency if they need regular or one time cleaning services (only available for PJ area). 
Global Ace is registered with the Human Resources Ministry and the Immigration Department, and they provide well trained Indonesian and Filipino domestic helpers. They help to facilitate the entire process of hiring the domestic helpers of your choice – where you can conduct interviews from the comfort of your own home or you may at your convenience, (choice)  to interview at the agency's headquarter or its branches as well. 
Besides, the agency can also assist you with application or cancellation of work permits, purchasing of insurance, registration of SOCSO, salary remittance, to book online tickets for your helper, and etc.
What we like best about this agency is the variety of their services that suit different needs of clients – from full-time domestic maids (2 years contract), temporary maids that can be hired on a weekly or monthly basis to hourly cleaning services. 
Global Ace offers its services all across Malaysia, although they primarily focus on houses located around Selangor and Kuala Lumpur. With fast processing times, their professional services have earned them a solid reputation as one of the top local agencies. 
So whether you want a full-time domestic helper, a temporary live-in maid, a weekly cleaning service or a one-time cleaner, Global Ace has got it covered. They can provide you an extra pair of helpful hands with all of your household chores to enable you to focus on other responsibilities.
Highlights
Hires only from Indonesia and the Philippines
Can coordinate entire immigration and work permit process
Offers part-time and regular cleaning services
Registered with

Human Resources Ministry and the Immigration Departments
Customer Reviews
Let's take a look at what their clients have to say:
"I have taken 2 Indonesian domestic helpers in the course of 4 years. Now the 3rd for another 2 years. All have completed their contracts. Global Ace Agency is very professional and dealing with difficult situations. They provide counselling to helpers and motivate them to work well. As a customer, I felt supported any time even after sales services…Highly recommended for domestic helper provider." – Nicole Chin
"Sally and her staffs are attentive and helpful! I got my first helper from them and she had worked 4.5 years with us!" – Hongyin Yew
"I've taken 3 maids from this agency over 4 years and 2 of them are still with me. Am very glad to say they provide quality maids, that even the maids themselves say this agent treat them very good. Management is helpful and very efficient with reminders, on medical check-up renewals, etc. !" – Esther Chang]
3. APL Maid Agency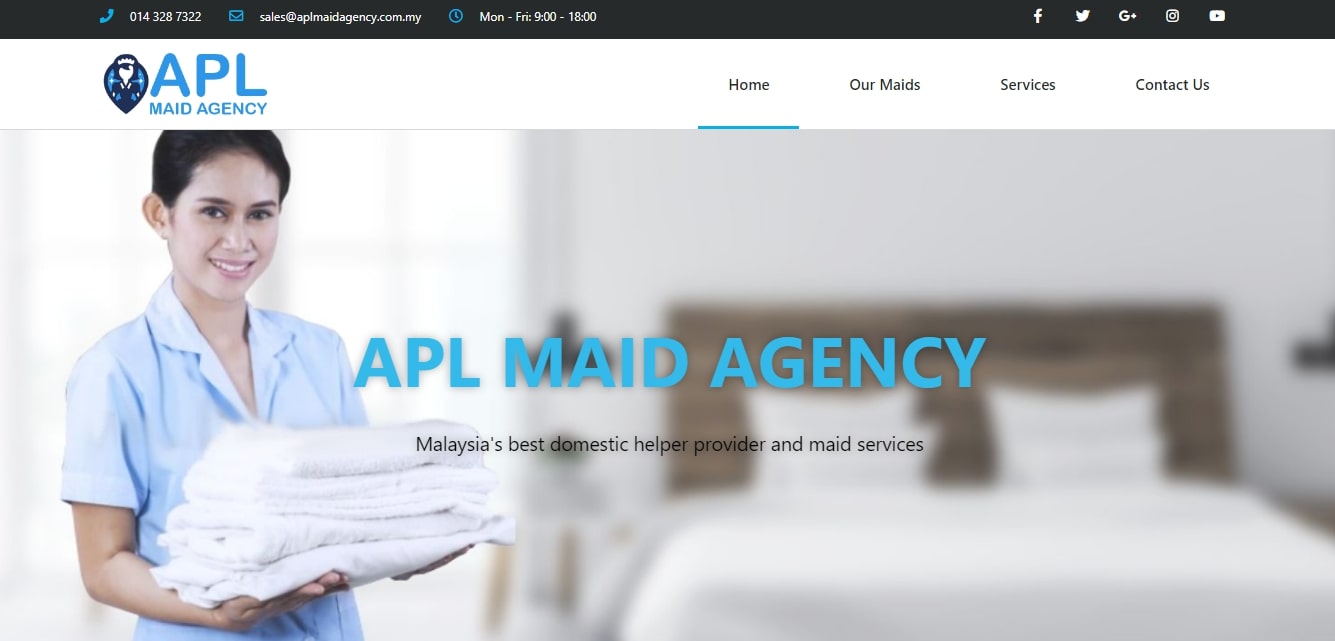 APL Maid Agency is a provider of both maid services and domestic helpers all across the country that have both complete requirements and a comprehensive skillset prior to employment.
We think that their approach toward employing individuals as domestic helpers is both thorough and humane in the sense that they do not only ensure that the individual is suited for the job but also that the work environment is suited for working as well.
Another thing we find notable is their anti-run away guarantee wherein should the event arise within 3 months then clients can easily get a maid replacement in a timely fashion.
Clients can easily view and access the list of domestic helpers for employment readily at their website so to help them better assess which one is best suited for their homes.
Overall, with their vast complementing services such as work permit renewal, immigration clearance, dispatch, and medical check-up in place, we highly recommend this agency for both employers and individuals looking for a company that can properly advertise them.
Highlights
Anti-Run Away Guarantee
Responsive feedback
Contactless inquiries available
4.  Tazia Maid Agency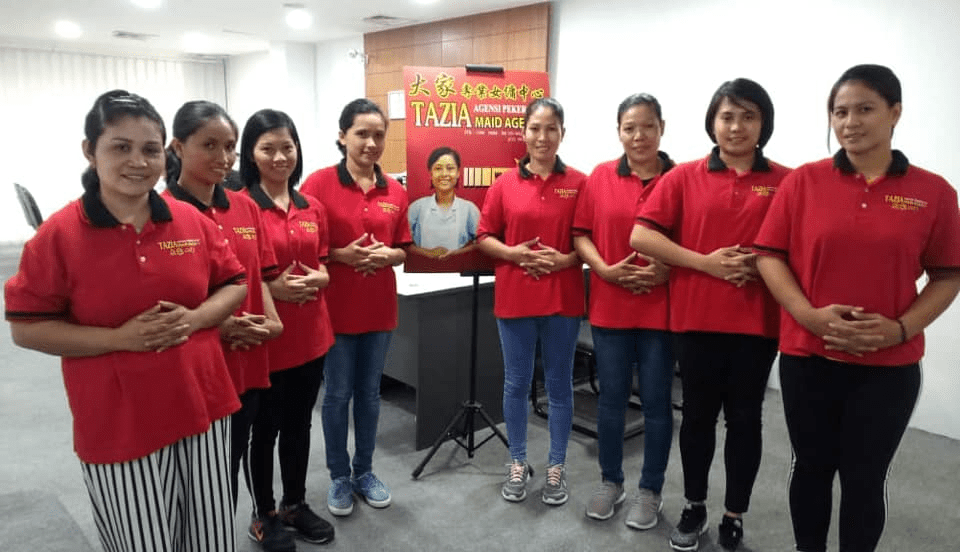 BEST FOR 
25 years in the industry
PRODUCTS
List of services
WEBSITE
https://taziamaid.com.my/
ADDRESS
45-1, Jalan Puteri 2/1, Bandar Puteri, 47100 Puchong, Selangor, Malaysia
CONTACT DETAILS
Tel: 03-80622777 / 03-80513436

E-mail: [email protected]

OPERATING HOURS
Monday to Friday – 8:30am – 7:00pm
Saturday – 8:30am – 3:00pm
Sunday and public holidays – Closed
Tazia Maid Agency began as a small maid agency in Kuala Lumpur. They focus on housemaid application and training.
Back then, the agency's main goal was to fix the problem that the customers experienced regarding maid employment.
After figuring out what worked best to maintain coordination and collaboration between the employer and their maids, Tazia Maid Agency successfully expanded towards the north and south of Malaysia.
Now, Tazia Maid Agency can proudly say that they've been in the industry for 25 years, proving that they're one of the best maid agencies in Malaysia.
Highlights
Has more than 30 employees
Free counseling services for 24 months
Government-approved licenses
Customer Reviews
For Tazia Maid Agency, customer satisfaction is truly important, in order to keep the trust of their clients intact.
Customers who reviewed the agency on Google stated that Tazia Maid Agency is a proper company with hardworking staff.
Tazia Maid Agency provides professional service, which keeps their customers satisfied and safe in the comfort of their homes.
5.  Agensi Pekerjaan Venture Provision (APVP)
BEST FOR 
A professionally managed licensed recruitment agency
PRODUCTS
List of services
WEBSITE
https://www.maidstation.com/
ADDRESS
No.16, Jalan Kuchai Maju 1, Off Jalan Kuchai Lama, 58200 Kuala Lumpur
CONTACT DETAILS
Tel: 03-7984 2688

E-mail: [email protected]

OPERATING HOURS
Monday to Friday –  9:00am – 6:00pm
Saturday – 9:00am – 3:00pm
Sunday – Closed
Agensi Pekerjaan Venture Provision (APVP) is a certified and licensed maid agency. They provide well-trained workers to suit the needs of the customers.
With years of knowledge in offering house maid service, APVP is easily named as one of the best maid agencies in Malaysia.
Recognized for having recruited over thousands of foreign maids, APVP is also known for offering honest, dependable, and quality service.
Highlights
Maid and cleaning
Skype interview
0% downpayment installment
Customer Reviews
Agensi Pekerjaan Venture Provision (APVP) highly considers the satisfaction of their customers.
The agency conditions their services to meet the needs of the clients.
One customer posted a review on an online forum:
"My auntie applied a Indo housemaid at Kuchai Lama – Agensi Pekerjaan Venture Provision Sdn Bhd, the package price is reasonable and the service they giving is great. Because of last time experience, I told my auntie to look CAREFULLY about the T&C. The sales staff are kind and patience, explain one by one to us. 
The Indo maid is doing a great job in our house. Even the sales is done, but they also will follow up see whether customer facing any issue. We are happy and satisfy the services."
Another customer wrote his testimonial and said:
"I am very impressed with your services especially your Miss Sheyline. She is a very responsible, concerned & helpful staff who even entertained our calls on Sundays. Your maid which you sent to us was working very well after counselled & we have decided to hire another one immediately. My family are very pleased & will recommend our families & friends to take their future maids from you."
6.  YDS Maid Agency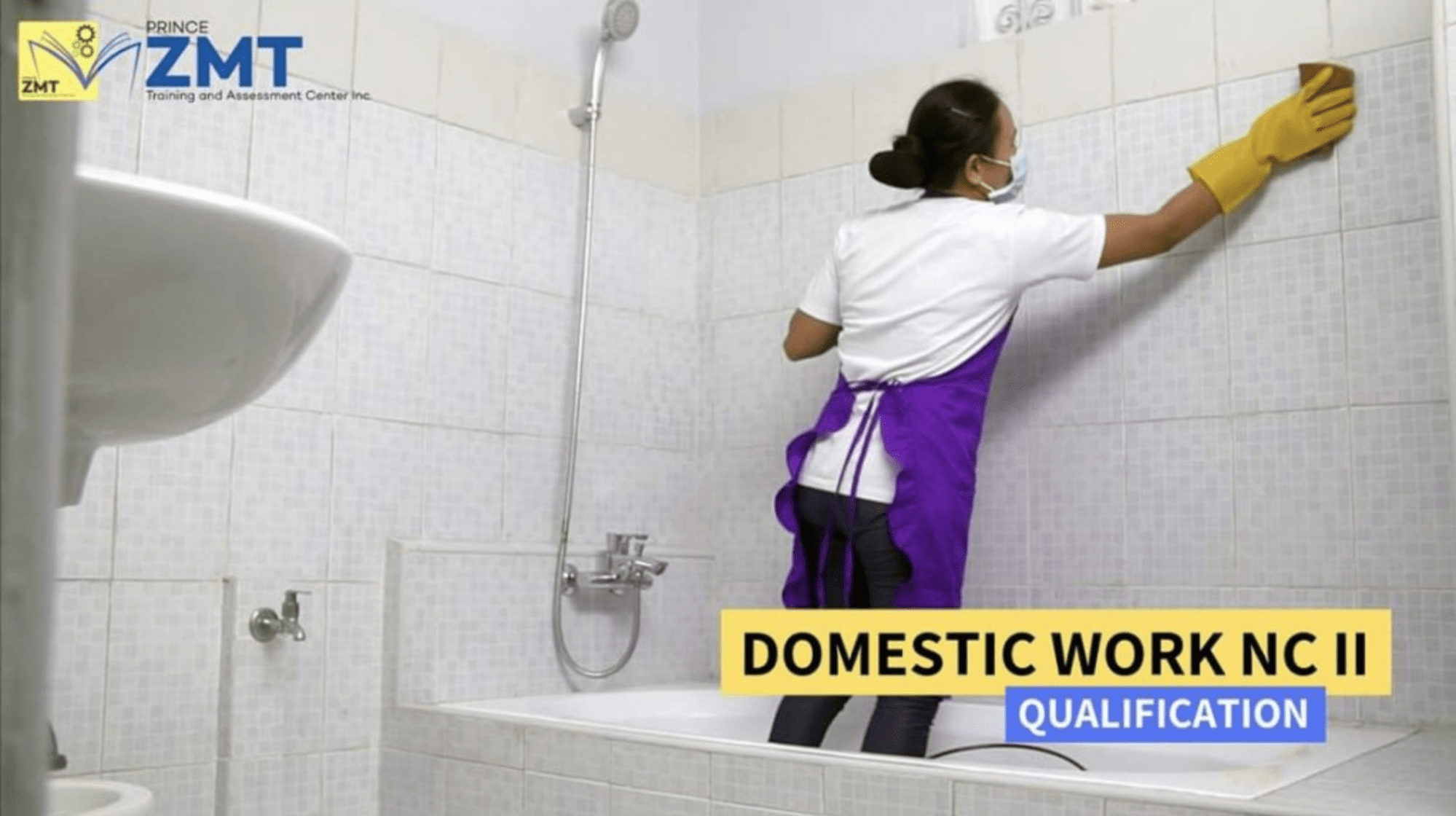 BEST FOR 
Careful selection of housemaids through screening and training
PRODUCTS
List of services
WEBSITE
https://www.ydsmaidagency.com.my/
ADDRESS
No 33-3, Jalan PJU 5/20E, The Strand Kota Damansara, 47810, Petaling Jaya, Selangor.
CONTACT DETAILS
Tel: 1300 88 9322, 03-6142 9322
OPERATING HOURS
Monday to Saturday – 9:00am – 6:00pm
Sunday – Closed
YDS Maid Agency claims to be the most trusted agency for how they handle the transactions between their clients.
YDS recruits maids from the Philippines professionally, manages an overseas training centre, and holds free counseling for 2 years.
The agency handpicks the maids through thorough interviews, and focuses highly on employer-employee relationships to maintain an excellent relationship.
Highlights
Established training centre in the Philippines
Hassle-free way of balance settlements
Low deposit rates
Customer Reviews
YDS is a maid agency that places importance on the confidentiality of the agreement between each customer. This is just one of the reasons to prove they're one of the best maid agencies in Malaysia.
One impressed customer on Google wrote:
"Thanks for the excellent maid… the processing was very fast and deposit is RM500 only… i read the review below and worried but the reviews below is completely a fake story just they wanted to destroy the agency name. I was very satisfied with overall process of the maid application and till the delivery. However is not easy to sell human being how good the agency are but it still a luck on getting a good house maid…
they also explained about the review below issue with all the letter and emails from the employer who wrote bad review. They just wanted to threaten the agency by not paying salary for the maid. This agency fought till end to get back the passport and the salary of the maid. My salute to this agency."
7.  DG Maid Agency
BEST FOR 
Reputable maid agency in Malaysia
PRODUCTS
Maid recruitment, training centre
WEBSITE
https://www.dgmaidagency.com.my/
ADDRESS
Jalan Prima Saujana 2/d 43000 Kajang, Malaysia
CONTACT DETAILS
Tel: +60125383365 / +60387406041

E-mail: [email protected]

OPERATING HOURS
Monday to Friday – 9:00am – 5:00pm
Saturday – 9:00am – 2:00pm
Sunday – Closed
DG Maid Agency claims to be the fastest and most affordable maid agency in Malaysia. They hire employees coming from Philippines, Indonesia, and Sri Lanka.
The agency makes sure to hire qualified employees by having them go through in-depth training in order to guarantee the highest level of duties achieved.
DG Maid Agency strives to have their workers improve their skills, attitude, and overall productivity.
That's why they're a reliable maid agency and one of the best maid agencies in Malaysia.
Highlights
15 years of experience
Careful selection of candidates
24 months free counseling
8.  E-Job Maid Agency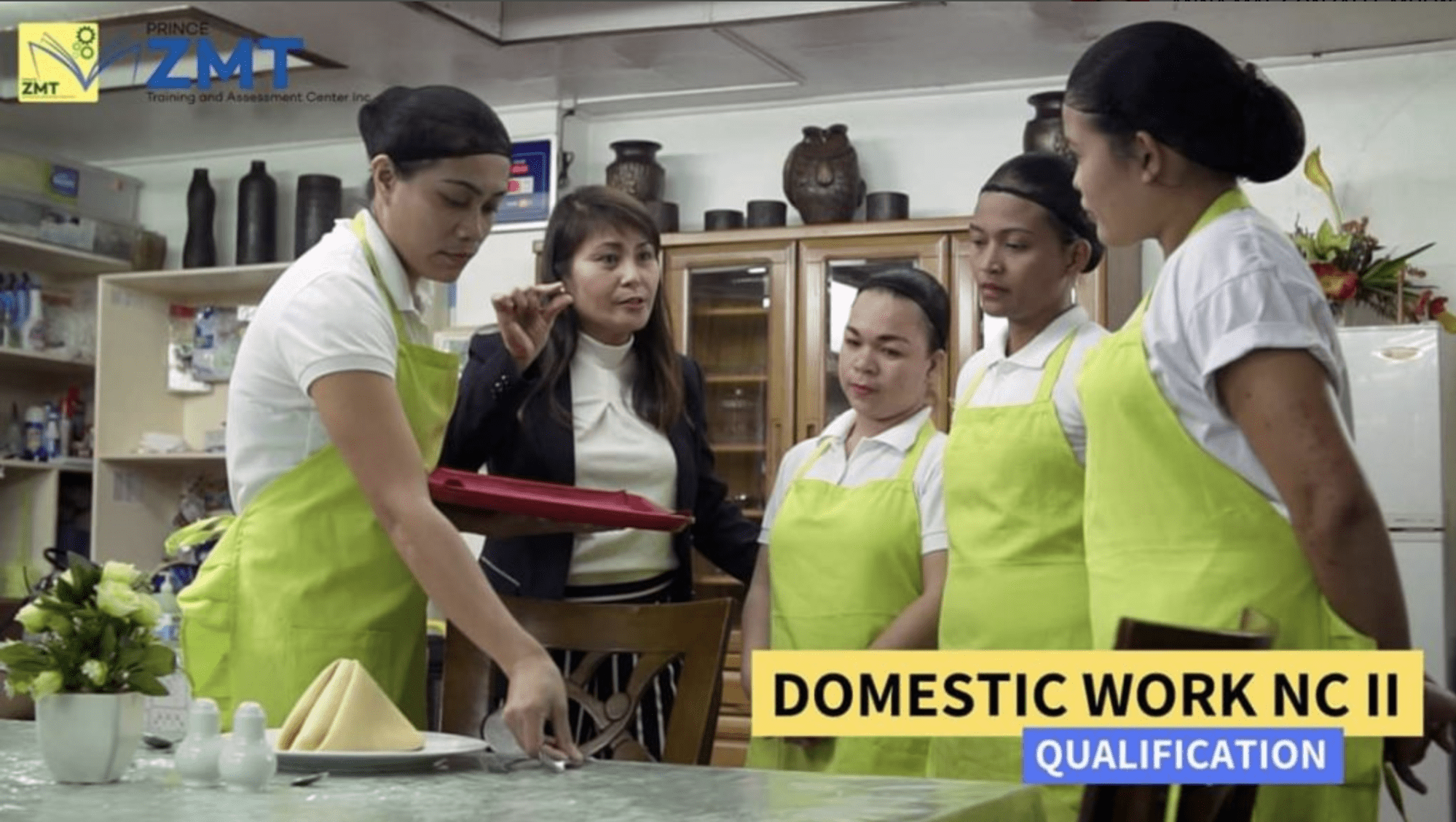 BEST FOR 
Offering well-trained and highly experienced Filipino maids
PRODUCTS
List of services
WEBSITE
https://www.maid-agency.com.my/
ADDRESS
No 56-3, Jalan OP 1/5, Off Jalan Puchong, Pusat Perdagangan One Puchong, 47160 Puchong, Selangor, Malaysia.
CONTACT DETAILS
Tel: 1300 88 2728, 03-8075 7757

E-mail: [email protected]

OPERATING HOURS
Monday to Saturday – 10:00am – 7:00pm
Sunday – Closed
E-Job Maid Agency is the leading maid agency in Puchong, offering the best domestic helpers in Malaysia and worldwide.
They are devoted to produce the most trustworthy and reliable helpers with proven track records to their clients. This makes E-Job Maid Agency one of the best maid agencies in Malaysia.
In order to build a safe and sure home, the agency's workers are chosen and trained well before they are assigned to clients.
Whether you need a nanny, caregiver, or housemaid, E-Job Maid Agency has what it takes to provide it all and at an affordable rate.
Highlights
Maids undergo strict training at Household Training Centre (TESDA NCII) in the Philippines
Experienced team of recruitment and training personnel
English language training programme for workers
9.  Proskills Maid Agency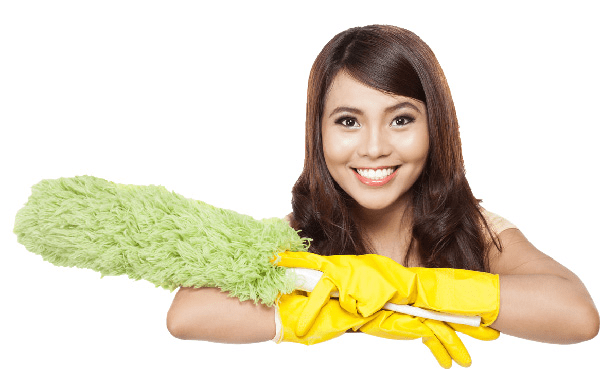 BEST FOR 
Specializes in providing quality foreign domestic helpers
PRODUCTS
List of services
WEBSITE
https://www.proskillsmaidagency.com/
ADDRESS
5-3, Jalan Merpati, Usj Tanamera, 47650 Subang Jaya, Selangor, Malaysia
CONTACT DETAILS
Tel: +60 3-5191 5855

E-mail: [email protected]

OPERATING HOURS
Monday to Friday – 8:30am – 5:30pm
Saturday – 8:30am – 12:30pm
Sunday – Closed
Proskills Maid Agency is a leading private recruitment agency, proving to be one of the best maid agencies in Malaysia.
Managed by a group of professional employees, they've had over 20 years of experience in the industry.
Proskills Maid Agency specializes in placing both skilled and unskilled workers in Malaysia as well as overseas.
They provide foreign domestic helpers from all over Asia—Philippines, Indonesia, Cambodia, and Sri Lanka.
Highlights
Private employment agency
Licensed by the Department of Labor in Peninsular Malaysia
Nationwide placement capabilities
Customer Reviews
Clients say that Proskills Maid Agency focuses on acquiring the most fitting candidates for their customers in order for both parties to benefit.
Through the idea that individual people have individual needs, Proskills Maid Agency carefully matches the employees with their employers.
Clients reviewed Proskills Maid Agency online and wrote:
"They provide best quality maids and excellent service. Highly recommended."
"Good maid agency took the time to understand my requirements and found suitable domestic helper to match against my needs"
"I am very happy with the services provided by Proskills Maid Agency. Their maid are well trained & mannered. For sure will recommended to my friends."
10.  AP Fomas Maid Agency
BEST FOR 
Highly skilled domestic workers
PRODUCTS
http://apfomasmaid.com/our-services/
WEBSITE
http://apfomasmaid.com/
ADDRESS
53-A, Jalan Harmonium 33/1, Taman Desa Tebrau, 81100 Johor Bahru, Johor.
CONTACT DETAILS
+607-351 8333 / +607-352 8222
OPERATING HOURS
Monday – Friday (9:30am – 6:30pm)

Saturday (9:30am – 3:00pm)
AP Fomas is one of the most trusted agencies in all of Malaysia, especially when it comes to recruiting and training domestic helpers from countries like the Philippines and Cambodia.
The staff's attention to detail is particularly noteworthy. It's one of the main driving forces of the entire company, allowing them to operate in such a way that is both efficient and effective. Their training results in domestic workers that are highly skilled in all matters related to the job description, from mere household chores, to cooking great meals, and even professional care services.
Another bonus with AP Fomas is that they treat their recruits as well as they treat their clients, with every helper having access to insurance.
11.  Princeton Agency
BEST FOR 

Maid Services

PRODUCTS

Domestic Maid Services, Foreign Worker Services, Consultation Application

WEBSITE
http://princeton.my/
ADDRESS
13A-3 Block C, Megan Avenue No 12, Jalan Yap Kwan Seng 50450 Kuala Lumpur
CONTACT DETAILS
HQ contact
1. 012 – 2921043
2. 016 – 6666997
OPERATING HOURS

Weekdays, 9AM – 6PM
Agenski Pekerjaan Princeton has over 24 years of experience. They are a professional organization that provides excellent cleaning services.
Their vision is to grow beyond their goals and quickly respond on their clients' needs. They want to be the most reliable maid company agency in Malaysia
 with great passion and professionalism.
Highlights
Largest maid agency in Malaysia

Reasonable fees

Has their own training center
Customer Reviews
Here's a review from one of Princeton Agency's clients:
"Good service attitude. The professional information about the maid and the follow-up service are very good. It will remind the update of the work permit of the maid." – Jamie Tan
12. Ryuji

BEST FOR 
Foreign Housemaid/Butler/Worker Service
PRODUCTS
Recruitment and Placement Service
Direct Hiring
Visa/Permit Extension
Passport Renewal
Employer Services
WEBSITE
https://www.ryujijob.com/
ADDRESS
A-G-03, Glomac Galleria, Jalan 26A/70A, Desa Sri Hartamas, 50480 Kuala Lumpur, Malaysia.
CONTACT DETAILS

[email protected]


603 6201 1186
OPERATING HOURS
Monday – Saturday
9:00 AM – 6:00 PMSunday
1:00 PM – 5:00 PM
Agensi Pekerjaan Ryuji Sdn Bhd was established on the 9th April 2001 and specializes in providing Foreign Manpower Consultancy Services to the clients in Malaysia. Workers are recruited from all over the world – Indonesia, Philippines, Cambodia, Pakistan, Myanmar, Thailand, Nepal, Vietnam.
The firm's goal is to provide much needed manpower to various industries and to assist employers search for suitable workers at the most cost-efficient method. All legal, licensed, and above-board so that both customer and worker can rest easy doing what they want to do.
Highlights
Recruitment and Placement Service
Reliable Housemaid/Labour Services
Direct Hiring
Quality Service at a Cost-Effective Price
Customer Reviews
Here's a review from one of Ryuji's clients:
"good agency and there taking care of all the applicants here, giving me a good employer. and Ryuji.is the best Agency. Much good also the there treating the applicant as family members. Thank Ryuji Agency" – Rowena Villarin
13. Pinkcollar Employment Agency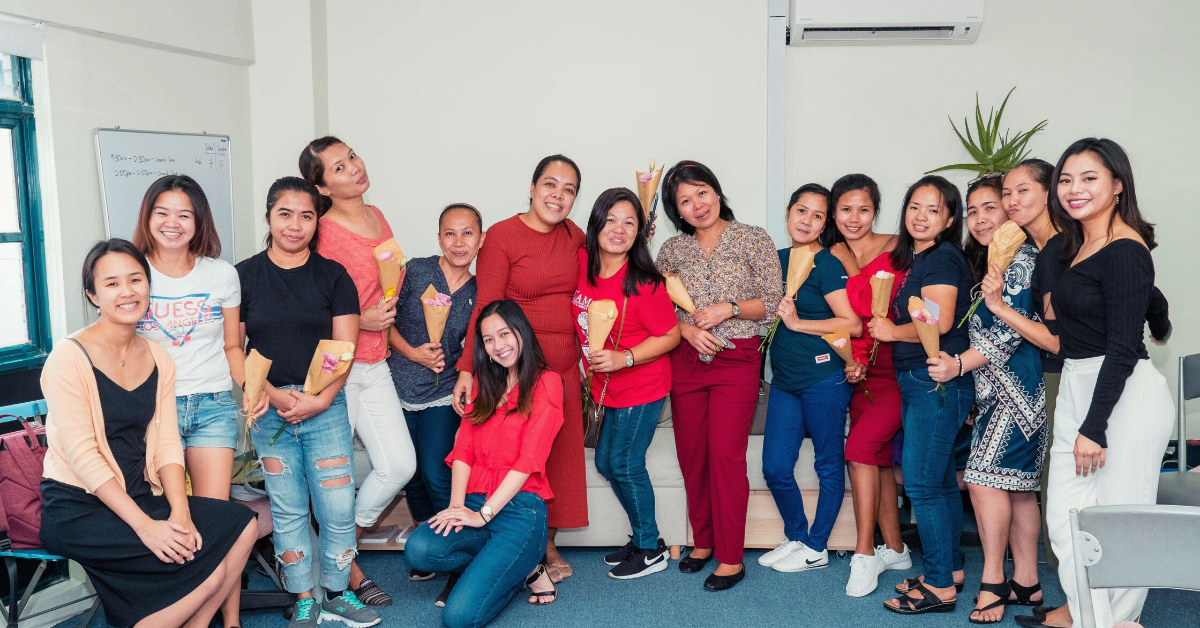 BEST FOR 
Providing transparent and professional services to hire foreign domestic helpers that employers can trust, with ethical worker sourcing and hiring practices
PRODUCTS
Full Placement Service, Direct Hire Service, Contract Renewal, Work Permit Renewal, Check Out Memo, Passport Extension & Renewal, Special Pass
WEBSITE
http://hirepinkcollar.com/
ADDRESS
B2-3A-3, Publika, 1, Jalan Dutamas 1, Solaris Dutamas, 50480 Kuala Lumpur
CONTACT DETAILS
Telephone (Office):
+603-4065 2884 (Primary)
+603-6413 4285 (Secondary)

WhatsApp: +60167140486 (WhatsApp Only)
E-mail: [email protected]

OPERATING HOURS
Monday to Thursday – 10:00am – 5:00pm
Thursday to Sunday – Closed(Covid-19 Hours)
Since November 2017, Pinkcollar has set out to do one thing: help employers hire great foreign domestic helpers, and workers gain access to safe and dignified jobs in Malaysia.
Pinkcollar Employment Agency launched as a licensed agency in July 2019. We provide a first-of-its-kind hiring solution for employers looking for a better way to hire great Filipino domestic helpers!
Highlights
Ethical Worker Sourcing & Responsible Matching to Employers – Good matches minimise the risks of hiring for customers, who enjoy a 100% guarantee of worker placement or a full refund
Efficient and Professional Customer Service – They handle visa and employment paperwork efficiently for our clients to shorten waiting times with consistent updates along the way
Strong Pre-Departure Training for Workers – We provide effective and holistic pre-departure training to workers that covers hard work skills that are specific to Malaysian households and soft skills such as professionalism, effective communication, financial and family management to help workers perform well and stably in their jobs abroad
Customer Reviews 
Some customers left their reviews:
"Pinkcollar Agency provided very reliable and professional service. They did very well in finding good matches in terms of work requirements, experience and skill set. The employee's resumes sent to us were very comprehensive and made the choosing process easier.
They also provided good guidelines on how to carry out an interviews, arrival checklist and guidance on immigration related procedures. There were a lot of information provided to us throughout which gave us further reassurance on this hiring process.
We are very satisfied with our helper. Overall, their services are definitely value for money. Highly recommended to anyone looking to employ foreign domestic workers in Malaysia."
Here's another one:
"Amidst the recent increase in cases of runaway domestic helpers, my wife and I struggled with the sense of futility and skepticism to how our interest as employers would be protected. After all, we invested financial and emotional trust on a two-year contract, which could abruptly leave us, with two toddlers, feeling at loss and betrayed.
The Pinkcollar Team, however, restored our faith with their vision to provide a recruitment service emphasising on both employer and employee experience. They think long term. They take the recruitment process, including matching and selection, very seriously. Instead of trying to close the deal as soon as possible, they ensure that both parties meet each others' expectations and needs. They provide the employers ample support and guidance through out the application process.
What sets Pinkcollar apart from other agencies I've engaged in is that their professionalism and empathy to customer needs are nothing less than impressive and reassuring.
Lastly, here's a big shout out to Zenna, who is responsible for embarking my family on a happy and grateful relationship with our helper, who joined us 2 weeks ago. Thank you! ???"
14. Kawasama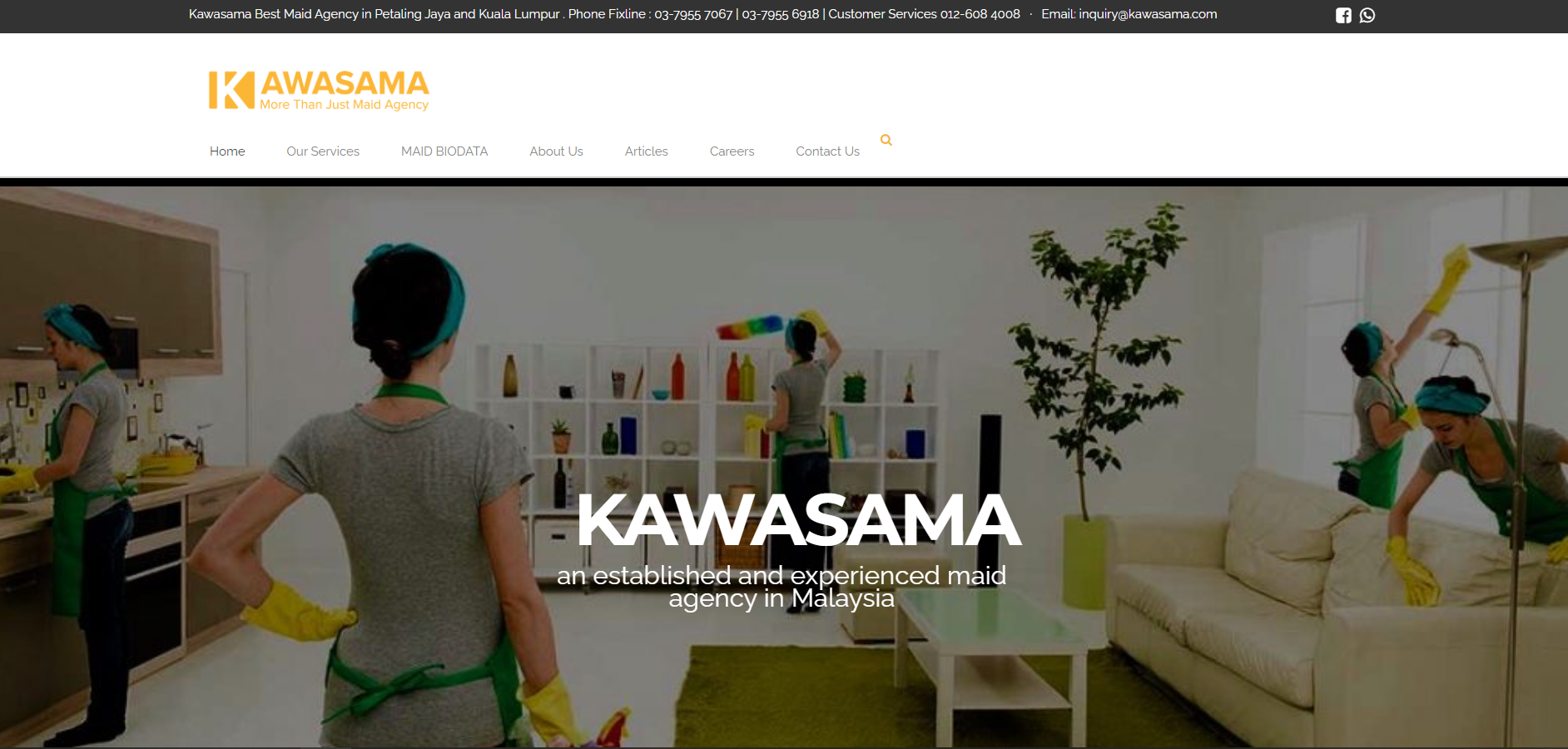 SERVICES 

Hiring of domestic helper/housemaid from source country 

Hiring of the foreign worker from source country

Professionally training and quality maid

Counselling and retraining services

Cancellation of maid/worker permit

Rehiring worker application

Medical check-up (FOMEMA)

Renewal of passport / Visa / Contract

Transfer maid document

Booking and purchases air ticket

Airport Transfer 

Arrangement for the insurance scheme for workers/maids

WEBSITE

https://kawasama.com

 

ADDRESS

AG-4, Happy Mansion, Jalan 17/13, Seksyen 17, 46400 Petaling Jaya, Selangor, Malaysia

CONTACT DETAILS

+60 12-608 4008

OPERATING HOURS

Monday – Friday, 9:30 AM – 5 PM
If you're looking for one of the largest maid agencies in Malaysia, then look no further way from Kawasama. They are reputable and skilled with a variety of services that genuinely cares for all employers and domestic helpers.
The employment of domestic assistants, counseling, retraining, transfer of maid paperwork, maid training, and medical exams are just a few of the numerous services on their long list. 
With the support of the rigorous maid selection procedure, we enjoyed how they provide free counseling and retraining services. As a result, the rate of runaway maids is significantly reduced. Additionally, businesses and employees alike can use their services to resolve any problems related to contract or visa renewals and insurance arrangements.
We highly recommend Kawasama for their incredible love for their employer and employees alike. They have great reviews and caring staff that would love to be in service for you.
Highlights
Strict maid selection process

Great customer support

Low runaway maid rate
Customer Reviews
Nice and Conducive
"Amazing quality service by Lily Tan, very attentive & professional. Recommended some clients to her also for her great service!!👍👍🏆🏆💐💐 "- Peter Phang
Friendly and Highly Professional
"This is my second engagement with the Agency. Truly good experience with the caring staff. Most important of all is the hassle free arrangemnet in engaging a house helper/maid.Keep up the good work with a special mention to Emily. Thank you so much." – Mook Foong Lee
Housekeeping is a truly demanding and laborious job. That's why in order for these skilled workers to take care of our homes, we in turn, need to take care of them too.
If you've found the perfect employee for you, leave your comments down below and let us know how it went. We'd love to hear from you!
While we're on the topic of cleaning, why don't you check out our list of the best cleaning services in Malaysia for more helpful ideas for your lovely home.