The 8 Best Personal Loans in Malaysia
By Yusuf bin Rahman
No matter how much we budget our finances, we may still experience a shortage every now and then. When we get into such financial crises, we may need the help of the best personal loans in Malaysia.
When applying for personal loans, it pays to read all the specifications, conditions, and terms stipulated so that you don't get a shock when you start paying for your monthly payments.
But before you fill out any kind of form for loan application, we have a run-down of some of the things you need to look into when applying for a loan.
Secured vs. Unsecured Loans
Secured loans mean that you need collateral like your house, car, fixed deposit, unit trust or other assets you may have. Moreover, a guarantor is required whether you have assets or none.
On the other hand, unsecured loans do not need any collateral or guarantor.
How does conventional loan differ from Islamic loan?
Simply put, a conventional loan means that a lending company or bank profits from the interest rate applied to your loan. Plus, if your payment is overdue, your interest will be compounded.
An Islamic loan, on the other hand, follows the Shariah contract of financing wherein you're charged a profit rate on the total of your financing amount. And, even if your payment is overdue, you won't get compounded interest.
What does with Takaful coverage and without Takaful coverage mean?
A Takaful coverage is optional in most cases. If your loan comes with a Takaful coverage, all your unpaid balance in the event of your death or permanent disability automatically become settled.
If your loan does not have a Takaful coverage, the borrower or beneficiary is still held liable to pay the unpaid balance in the event of your death or permanent disability.
The Sources of the Best Personal Loans in Malaysia
With that, let's take a look at some of the best personal loans that you can turn to when it becomes difficult to make ends meet.
1. Co-op Bank Pertama
PRODUCT
i-Sustainable Private Financing
FEATURES
● Approval duration: 3 working days

● Minimum loan amount: RM5,000.00

● Maximum loan amount: RM200,000.00

● Profit rate: 3.65%

● Financing period: Maximum of 10 years

● Eligibility: RM2,000.00 gross/month, permanent civil servant only

● Takaful: Yes

WEBSITE
https://www.cbp.com.my/
ADDRESS
Click here for the address of all branches.
CONTACT DETAILS
Click here for the contact details of all branches.
Grounded on the concept of Murabahah (Tawarruq), Co-op Bank Pertama is an option you can turn to during a financial crisis.
Aside from the maximum financing amount of up to RM200,000.00, we also like the interest rate. You can get one as low as 3.65% for a maximum financing period of 10 years.
As long as your paperwork is complete, your personal loan can be processed and approved in just three working days.
However, you need to make sure that you're able to pay your monthly payment, as you will incur a 1% per annum on the total monthly payment in arrears.
Do take note also the Co-op Bank Pertama requires a guarantor if you do not meet the financial requirements, but collateral is not needed for the financing.
2. Bank Rakyat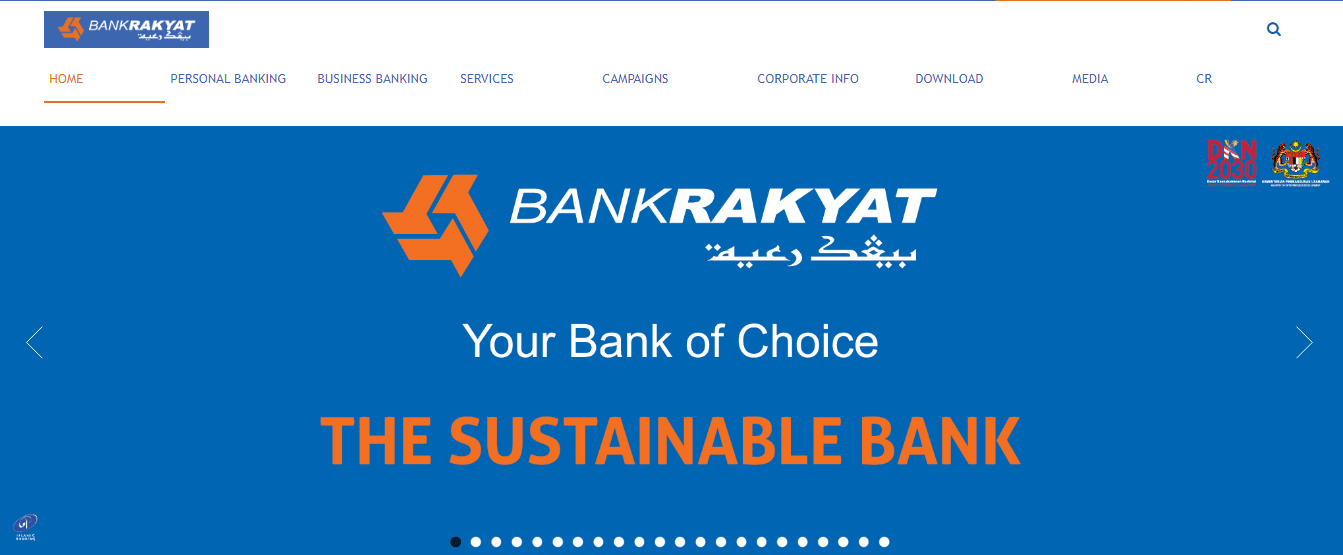 PRODUCT
Personal Financing- i Public Sector, i Private Sector, i for Pensioner, and i Debt Consolidation
FEATURES
● Financing up to RM200,000.00

● Fixed or floating rate

● Takaful: optional

● Approval: 3-business days

● Minimum loan tenure: 1 year

● Maximum loan tenure: 10 years

WEBSITE
https://www.bankrakyat.com.my/
ADDRESS
Menara 1, Menara Kembar Bank Rakyat, No.33, Jalan Rakyat, KL Sentral Kuala Lumpur, Malaysia 50470
CONTACT DETAILS
Click here for customer service contact details.

+60 1-300-80-5454

OPERATING HOURS
8:30 AM – 5:30 PM
Established names in the world of finance like Bank Rakyat sit well with us as we know that their finances are stable.
Bank Rakyat gives to us Personal Financing products for various needs. Grounded again on the concept of Tawarruq, Bank Rakyat offers easy loan features to make our financial lives simpler.
It offers four kinds of Personal Financing products, but we'll focus only on the Personal Financing-i Public and i Private.
What we like about the Personal Financing-i Public is that aside from the maximum amount of RM200,000.00 available for loan, you won't need any guarantor compared to Co-op Bank Pertama.
Takaful coverage is also optional. However, you can get either a fixed or floating option.
On the other hand, Personal Financing-i Private has only up to RM150,000.00 loanable amount with a financial tenure of five or ten years. But you won't need any guarantor, and Takaful coverage is optional.
3. AmBank Group
PRODUCT
Personal Financing
FEATURES
● Based on the Shariah concept of Bai' Inah

● No guarantor

● No collateral required

● No advance installments required

● Rebate on early settlement

● Takaful coverage

WEBSITE
https://www.ambankgroup.com/eng/Pages/home.aspx
CONTACT DETAILS
Click here to send feedback.
With 43 years of rendering financial service to us Malaysians, AmBank Group is another financial institution we can turn to for our personal loan needs.
In times we get stripped of cash to pay our bills and other expenses, AmBank Group gives to us Personal Financing-i.
We like that the profit rate is fixed for this personal loan. If you're a civil servant, you get the profit rate of 4.35% per annum, whereas if you're in the private sector, you get 6.90% per annum.
Another feature that we like is that there is takaful coverage and no collateral is required when you make a loan.
4. Public Islamic Bank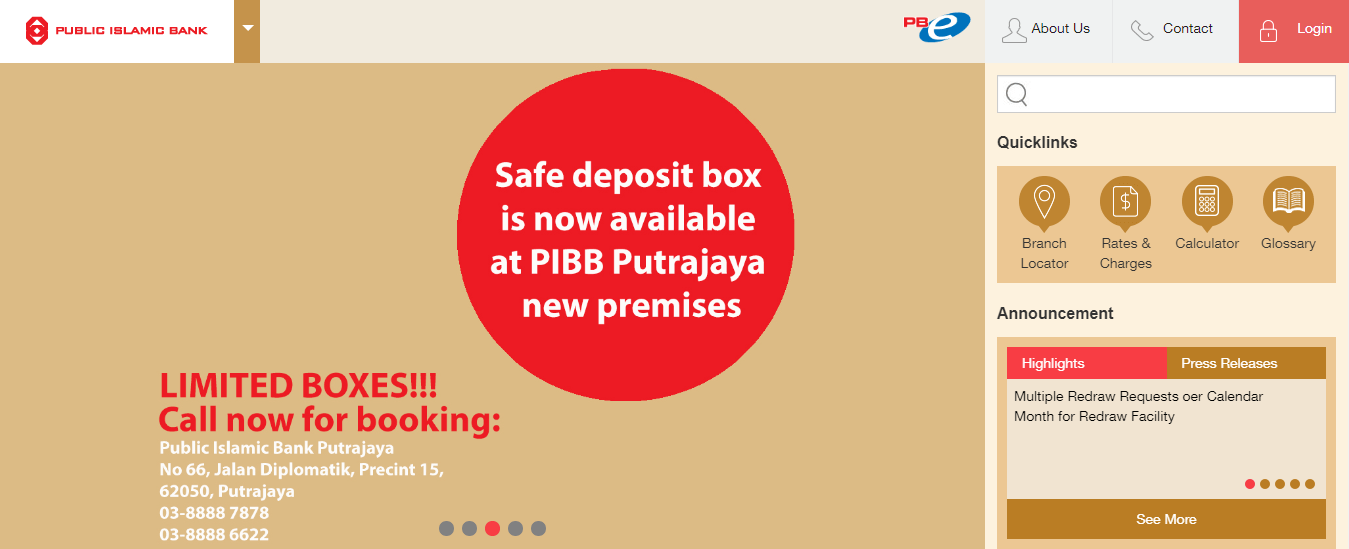 PRODUCT
Plus BAE Personal Financing-i
FEATURES
● Open to all existing House/ Term Financing-i or Cash Line Facility-i customers

● Attractive margin of financing

● Payment period up to 10 years

● Fast cash from RM10,000 to RM150,000

● Optional Group Takaful coverage

WEBSITE
https://www.publicislamicbank.com.my/Personal-Banking/Personal-Banking
CONTACT DETAILS
Click here for the contact details.
OPERATING HOURS
Click here for the operating hours.
If you have a good financial record, the Plus BAE Personal Financing-i may just be the personal loan you're looking for.
As with other options, if your records are good, you won't even need a guarantor nor a collateral to make a loan. Plus Takaful coverage is optional.
The only downside we see with this personal loan is that it can take a week or two before your loan application can be approved.
5. HSBC
HSBC is another financial institution that gives a fairly reasonable personal loan.
The HSBC Amanah Personal Financing-i is based on the concept of Commodity Murabahah. We also like that this personal loan is available for all those who are eligible, whether Muslim or not.
We also like that the bank's profit rate depends on the loan amount you applied for. With a maximum amount of RM150,000.00, you can also get fast approval within three banking days.
6. MayBank
MayBank understands that when you apply for a loan, you want it processed and approved right away. This is why MayBank gets our thumbs-up.
For one, MayBank has fixed monthly installments at interest rates that depend on your loan amount. Furthermore, you don't need any guarantor or collateral, so that's another worry off your head.
Aside from the fast approval you'll get for your loan, you'll also get personal care insurance. So the MayBank loan is a winner for us.
7. East Plate Sdn Bhd
PRODUCT
East Plate's Home Loan Option
FEATURES
● Offers option for refinance

● Adjustable terms and rates

● Financial advice available

WEBSITE
https://www.eastplate.com.my/home-loan/
CONTACT DETAILS
Click here for contact details
East Plate is a financial consultancy firm that first specialised in helping clients avail business and home loans. Recently, they have included education loans into the mix as well.
They have earned their spot on this list through the great customer service they provide to all of their clients. Their team of experts take an individualised approach, and ensures that you and many others acquire the home loan that you need based on the terms and rates that you can safely pay for in the coming years.
Their guarantee for success? Every member of their team works on a commission-basis — a great force that drives each of them to go above and beyond for their client base.
8. iPinjaman Peribadi
PRODUCT
Credit Leasing Directory
FEATURES
● End-user can search for companies based on location

● Compare companies by loan offers and user reviews

● Completely free to use and to apply directly to the selected company

WEBSITE
https://ipinjamanperibadi.com.my/
CONTACT DETAILS
iPinjaman Peribadi makes it fast, safe, and easy for end-users to find Licensed Money Lenders nearby. All companies listed on iPinjaman Peribadi are verified and licensed under KPKT, which makes it safe to apply compared to other online directories in the market.
They have grown a strong community of users through their website, blog, social media, and email newsletters. You can browse their Facebook page for all the latest news, contest, and events. You can also join their Awas Scam Malaysia group, which shares the latest information on scams in Malaysia so you can keep yourself protected.
Find your best personal loan now at iPinjaman Peribadi.
At any rate, these are the most reliable providers of personal loans in Malaysia. Even if you choose one of these, though, make sure to read the fine print and ask about whatever is not clear for you.
Have you already taken out a loan with any of the personal loan companies on this list? Please share with us your experience in the comments below. We'd love to hear from you.