12 Best Law Firms in Malaysia for Your Legal Concerns
Featured Image Source: Ruthson Zimmerman via Unsplash
Struggling with legal affairs could be detrimental to your health or your firm's overall performance. Thankfully, the best law firms in Malaysia are here to help you get through any legal endeavor quickly and successfully.
Below is a list we have compiled of the best law firms in Malaysia, to save you from the hassle of researching which law firm is the best for you. Check them out when you need help dealing with the law or the courts.
1. Michael Tie & Co
Michael Tie & Co aims to provide the right advice based on their client's situations. They have been in service since the year 2016.
People prefer them because they have a team of well-experienced and professional lawyers. One of the members is Michael Tie, the managing partner of MTC, a lawyer that specializes in family law, estate planning law, property law, commercial law, and civil litigation.
Based on their previous clients, they represent individuals and perform services that involve drafting powers of attorney, advising and making the trust & will arrangement, and negotiating the terms of the contract. This means that they work with their clients seriously and always let them know the details of the situation.
Over the years, they have built a reputation as one of the most trusted firms in Malaysia.
Highlights
Affordable prices for individuals and corporate
Thorough 360-degree legal advice around the subject
2. Jerald Gomez & Associates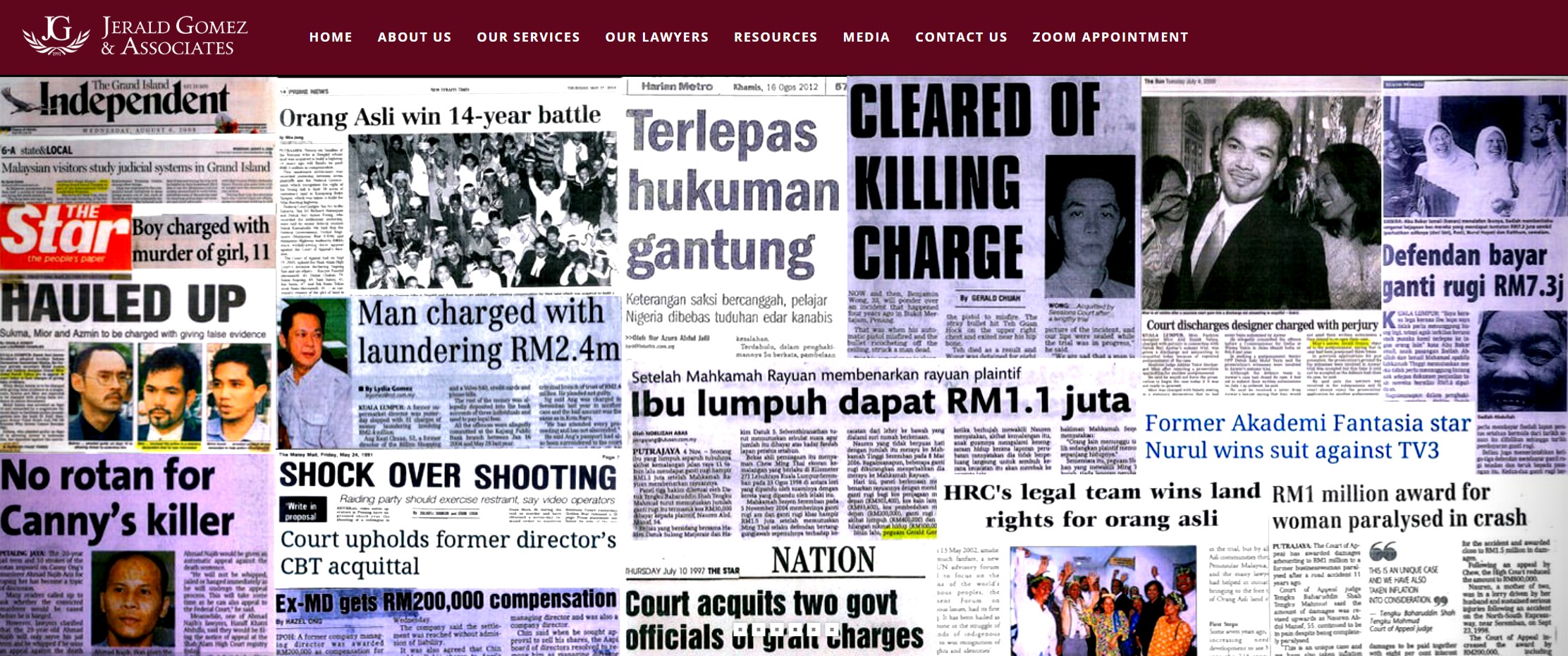 BEST FOR
General & Civil Litigation, Criminal Law
SERVICES 
General & civil litigation, criminal litigation, employment & labor,
family law, intellectual property, international & domestic arbitration, probate &
administration, and property & conveyancing (domestic & international), banking
& finance
WEBSITE

jeraldgomez.com

ADDRESS

Penthouse D2-U6 Solaris Dutamas,

 

1 Jalan Dutamas 1,

50480 Kuala Lumpur.

CONTACT DETAILS

Tel: +603 6207 9999

 

Fax: +603 6207 9888

OPERATING HOURS
8:30am to 5:30pm, Monday to Friday
If you're looking for one of the most preferred law firms in Malaysia, then look no further away from Jerald Gomez & Associates. They have been serving clients throughout Malaysia, Southeast Asia, Hong Kong, India, China, Japan, the United Kingdom, Australia, and the United States since 1991.
Their clients have a wide range of family, community, and commercial interests in Malaysia and abroad, and many have been with them for many years, passing on to the second and third generation of family and company leaders.
We like their belief that if a matter is important to their client, it is important to them as well, and they will use all of their resources to structure an outcome that is in their client's best interests, whether through negotiation, discussion, mediation, arbitration, brainstorm sessions, round table conferences, or litigation.
Furthermore, they are effective and fearless lawyers both in and out of court and they give back to the community by representing difficult and complex cases against the government for the underdog. They also give lectures, seminars and training to junior lawyers, senior police officers, government and judicial officers, covering a wide range of areas from constitutional law, domestic violence and family law, land law, police powers and remand proceedings, civil procedure, human rights at the national and international level.
Highlights
Experienced and highly qualified lawyers
Solution-oriented
Practises multidisciplinary areas of the law
Practises in both Malaysian and Australian jurisdictions
One-stop centre
No hidden charges
Customer Reviews
"Dear Dato' Jerald Gomez, may God see you though this "trial" as you stand in the fore front, questioning the police. Thank you for being a bright light during this inquiry shining into our husband and father's seemingly dark situation. Thank you for the immensely detailed research done in preparation for this inquiry. We are truly mesmerized by your questioning to the police." – Susanna Koh and Family
"Thank you very much Mr. David Peter for winning the case for me. You are a great lawyer. I highly recommend this law firm, very efficient and reasonable fees" – Avo Yeo
3. Chambers of S Sakthi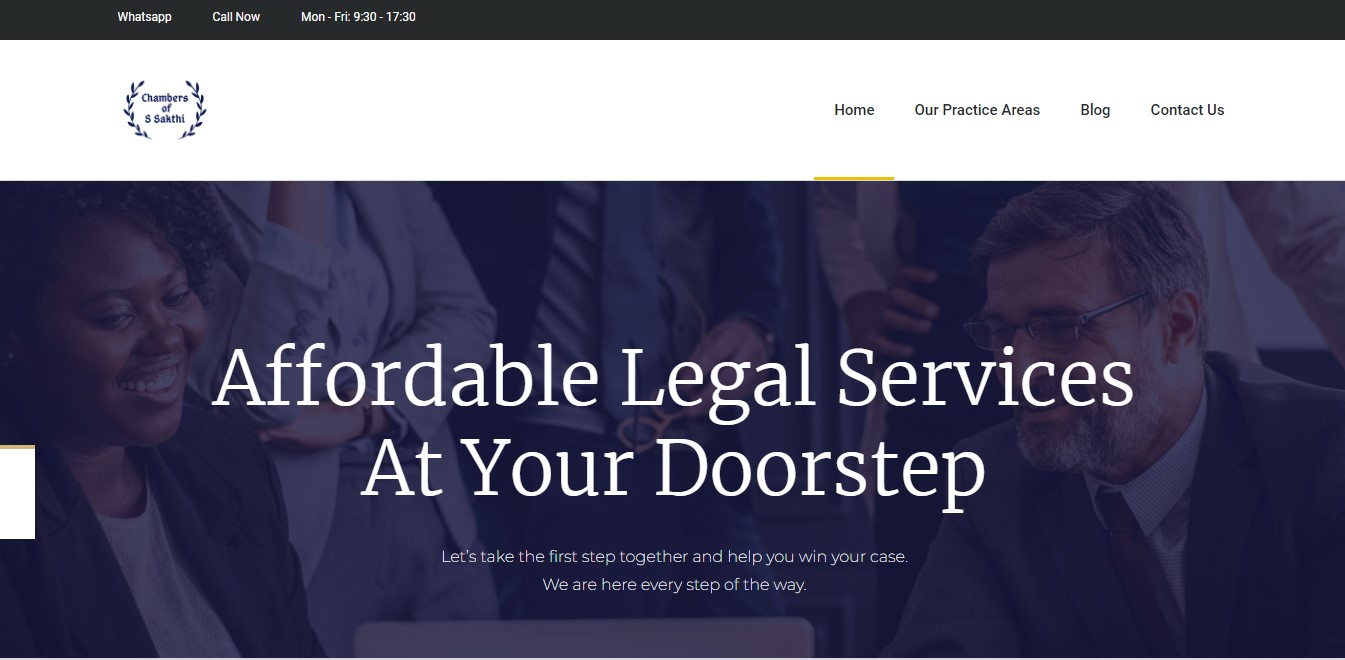 If you are looking for lawyers who are very hands on different kinds of cases, you are in luck because Chambers of S Sakthi may be the right law firm for you.
We placed them as number one because they are one of the few firms who truly has expertise in numerous areas, Believe us when we tell you that they currently have 14 practice areas, and one more is coming soon!
Aside from this, we prefer them because they do not have any hidden charges. They may not have flat rates on their website, but do not worry as they are very straightforward when charging.
What makes them stand out from their competitors is their speed in responding to people who need their help. They are easily reachable via WhatsApp which means you can get a reply within the same day!
While they offer free quote over phone and through WhatsApp on quick assessment, a more complicated case needs a comprehensive paid consultation with extensive assessment.
Highlights
Consultation can be scheduled face-to-face or via Zoom
Extensive range of practice areas
Free quote
Will return your query within 24 hours
4.  Rahmat Lim & Partners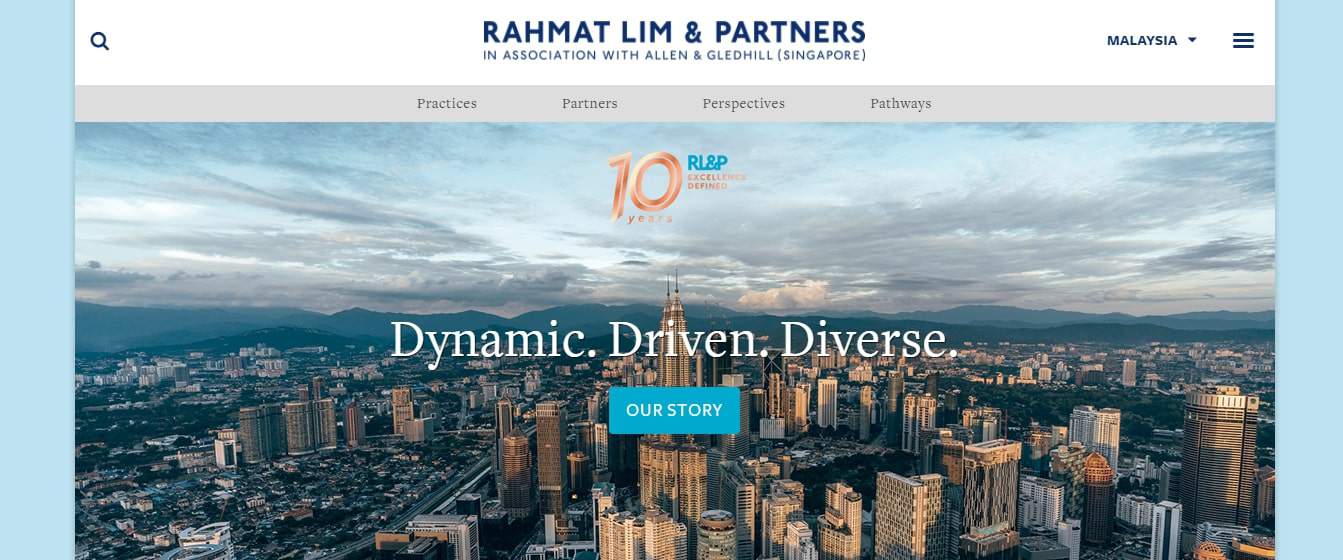 Rahmat Lim & Partners has become one of the largest corporate law firms in Malaysia with over 90 lawyers in Kuala Lumpur. Their rapid growth, they say, is thanks to their clients' faith and trust in them.
But while they have certainly achieved great heights, they remain relentless in their mission to advise with insight, skill, and integrity.
This best law firm in Malaysia comprehends that today's legal issues are complex and multifaceted. As such, they work in multidisciplinary teams to address their clients' situations and provide legal counsel seamlessly and successfully.
They provide service for a wide range of practice areas in Malaysia and abroad, with each specialized team composed of multi-awarded legal practitioners.
Highlights
One of the largest corporate law firms in Malaysia
90 lawyers in Kuala Lumpur
Work in multidisciplinary teams
Wide range of practice areas
Multi-awarded legal practitioners
5.  Skrine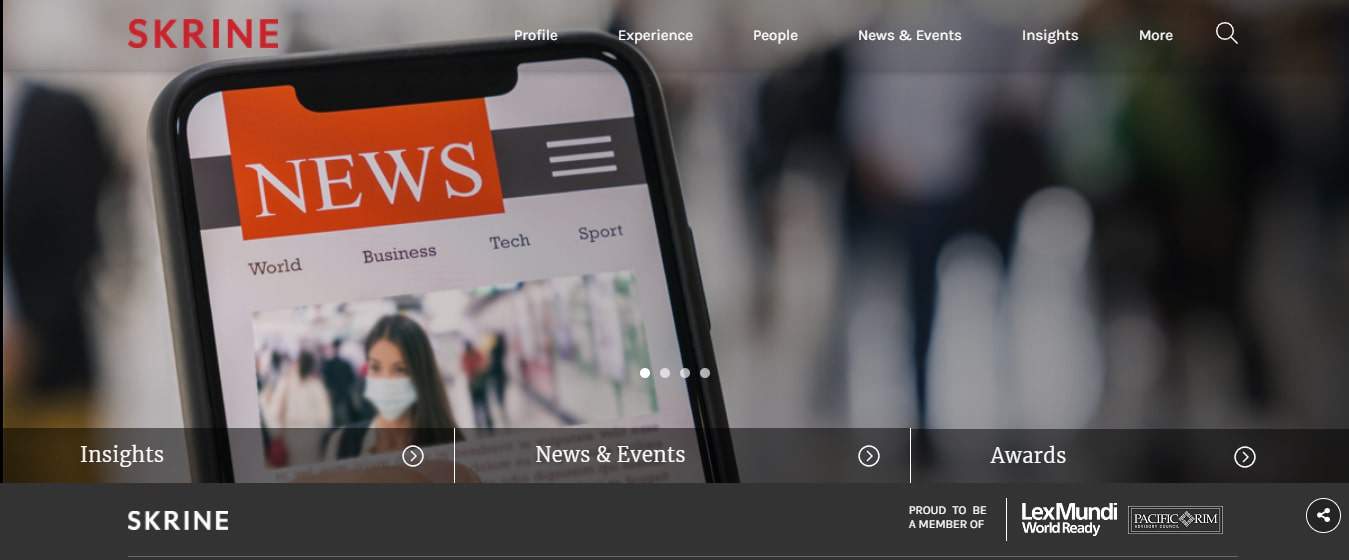 Skrine's dedication to giving its clients the highest-quality service is the firm's secret to success and what keeps them relevant in a fast-paced society.
This best law firm in Malaysia has a ceaseless pursuit for new knowledge. They exchange knowledge amongst themselves and use that to come up with the best legal solutions for their diverse clientele.
While embracing developments in law, service, and technology, they uphold their principles, history, and long-standing traditions of service. They address cases in their wide-range of practice areas with experience and an open-minded and global outlook.
This intricate balance enables this best law firm in Malaysia to provide their clients top-notch legal counsel and has gained them impressive rankings in prestigious legal directories.
Highlights
Highest quality service
Ceaseless pursuit for knowledge
Wide range of practice areas
High rankings in legal directories
Recognized lawyers
6.  Zaid Ibrahim & Co.

One of the best law firms in Malaysia, Zaid Ibrahim & Co., is the founding firm of the highly-acclaimed ZICO Law network. It is a full-service firm with more than 170 lawyers who are dedicated to devising novel and practical solutions according to each client's needs.
While the firm has had deep local roots since its founding in 1987, it also thrives internationally. It has an impressive track record of local and international clientele in diverse and complex legal undertakings.
In their years of legal practice, they have shown a deep understanding of their clients' needs that has helped them provide commercially-driven solutions. They have developed long-term working relationships with many of their clients.
Further proving their dedication in rendering the best service to a diverse clientele, the lawyers of this best law firm in Malaysia are well-versed in English, Malay, Mandarin and Vietnamese. The firm also has 4 locations in Malaysia.
Highlights
Founding firm of the ZICO network
Novel and practical legal solutions
Local and international clientele
Wide range of practice areas
Commercially-driven solutions
Multilingual team
Four locations in Malaysia
7. Jeffrey & Co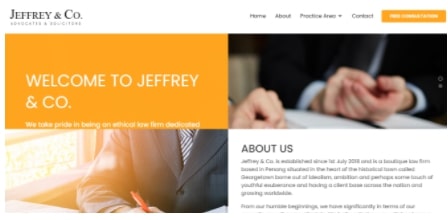 Jeffrey & Co is a boutique law firm based in Penang. They have been in the industry since 2018.
It is their top priority to consistently live up to the standards of their clients. Hence, they always strive to provide top of the line legal services.
Highlights
Expert legal services

Expert lawyers

Highly recommended
8. Azmi & Associates Advocates & Solicitors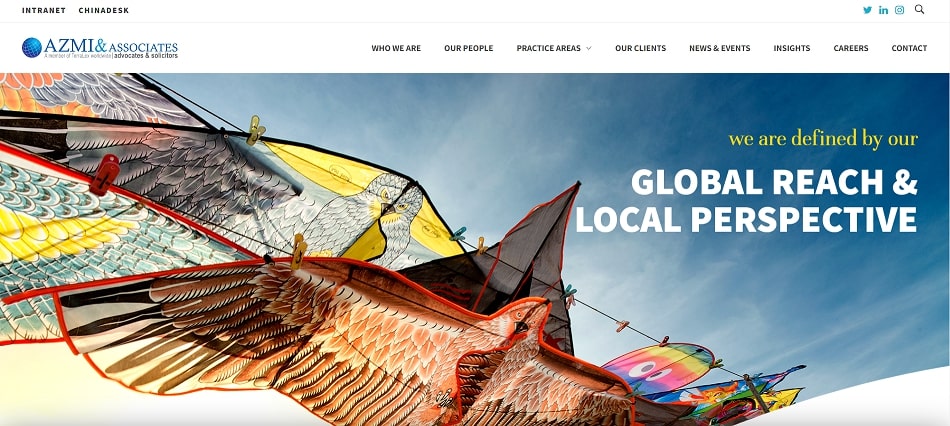 Azmi & Associates Advocates & Solicitors progressively strives to be a world-class corporate and commercial law firm, providing integrated, innovative and comprehensive solutions globally by synergising human capital, technology and best practices.
Their team is diverse, multi-lingual, internationally trained with a modern outlook and proactive approach.
They also take pride in being one of the select few law firms of Malaysia to have an active Chinadesk managed by Mandarin proficient lawyers.
Two decades of experience within the legal industry, a wide network base and a diverse workforce, enable them to provide seamless delivery of services to our clients around the globe.
Highlights
Integrated and innovative client-centric solutions

Wide-range of practice areas

Extensive global linkages

Technology driven

Cost-effective services

Innovative and responsive team
9. Shang & Co.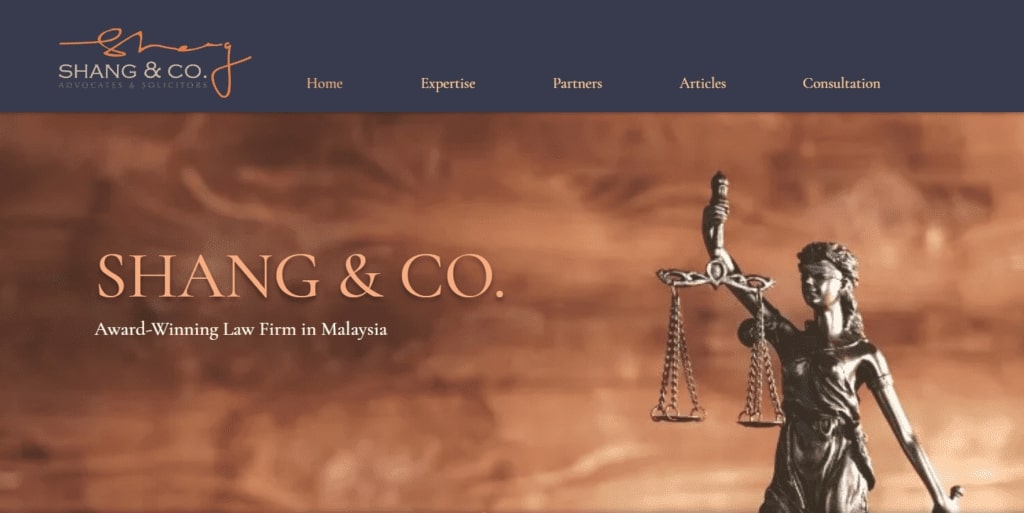 Established in the year 2011, Shang & Co. is a top award-winning law firm in Kuala Lumpur, Malaysia. Their lawyers have extensive experience in advising and representing individual, private and corporate clients for matters relating to divorce, employment, and commercial among others.
Their extensive dispute resolution experience and in-depth knowledge enable them to deliver strategic and cost-efficient solutions to their clients even in the current fast-changing and challenging environment.
Furthermore, their focus and exclusive experience give them the cutting-edge advantage in advisory, planning and dispute representations.
Highlights
Focus and exclusive practice
Cost-effective solutions
Innovative strategies
Successful precedents
10. EzriLaw Firm
EzriLaw Firm (formerly known as Ezri & Co.) is a diversified legal firm in Malaysia with an aim to step out nationally and gain recognition from the Malaysian community in providing the best legal services. Their vision is to serve the needs of all clients with utmost competency and respect through honest and responsive communications, employing innovative approaches to address legal concerns, problems and opportunities.
Since they started in 1996 until today, EzriLaw Firm has expanded to four branches in Malaysia. They work as one unit utilizing one centralized system including delegation of work process complying with our standard of practice which is accessible from any of our offices.
Highlights
Takes advantage of the advancement in technology to monitor and manage the risks for all of their cases and projects
Various practice areas
Whatever legal undertakings you are facing, surely, one of these best law firms in Malaysia will help you get through them in no time.
Check out our other legal service lists for more tips on where to go for legal counsel, by the way. For instance, are you also looking for a divorce lawyer in Kuala Lumpur or in Johor Bahru? Then check out our list of the best divorce lawyers in Kuala Lumpur or in Johor Bahru!
11. Chung Chambers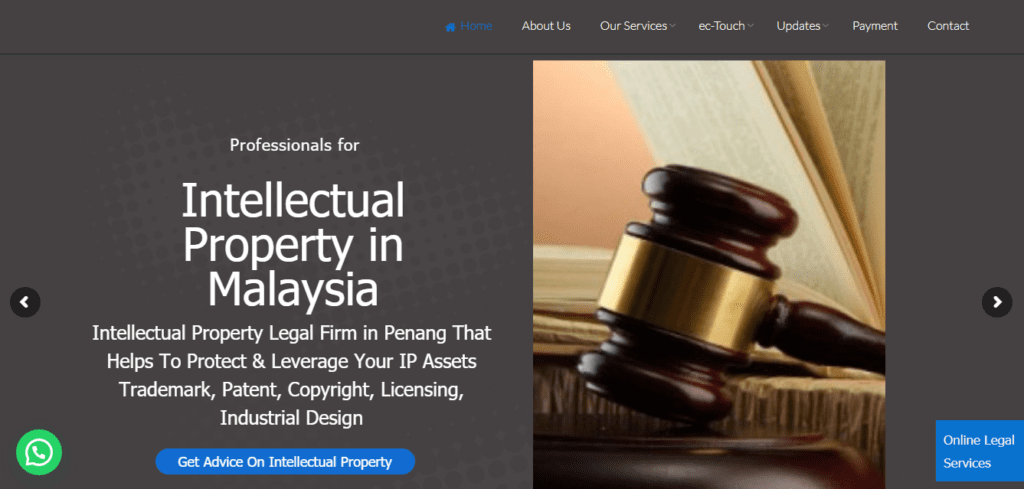 Chung Chambers is a legal firm in Penang, Malaysia that accommodates a wide range of practices but specializes in Intellectual Property and Corporate Legal Advisory. Founded by Ms. Patricia Chung back in 2014, the firm has a team of highly acclaimed practitioners in Patents, Industrial Design, Trademark, Copyrights, Licensing, Franchising to name a few.
The firm aims to provide excellent legal advice to avoid unnecessary court proceedings that may cost the clients a whole lot of money. They also offer free E-Consultations and Webinars to help clients navigate their services and other interrelated information.
In consideration of today's pandemic, they offer a complimentary 30-minute session should a client need a quick consultation regarding a case they are troubled with. With simple steps to follow in order to book an appointment, the firm is also quick to respond should there be any concerns regarding the rescheduling of the said meetings through email.
Priding themselves for having an excellent network of professionals, Chung Chambers is now able to accommodate both local and overseas concerns as they are working closely with other overseas IP attorneys, accredited certification bodies, and venture capital companies among others.
Highlights
Complimentary consultation sessions
Has overseas connections
Affordable and negotiable prices
12. Jeff Leong, Poon, & Wong

From a team of three partners in 1999, Jeff Leong, Poon & Wong has grown to 38 lawyers today.
This best law firm in Malaysia credits their rapid growth to their commitment to client service.
They assure clients the highest-quality service, combining their legal know-how with commercial awareness and a practical, creative approach.
Backing up their team of expert legal practitioners is a comprehensive library and access to international, electronic databases, to assure that they have every means to address their clients' legal concerns.
In the event of complaints or concerns, clients can easily reach their designated supervising partner. This is how this best law firm in Malaysia makes sure that their clients get through their legal endeavors successfully and satisfactorily.
Highlights
Commitment to client service
Legal know-how and creative approach
Expert legal practitioners
Comprehensive library, access to international, electronic databases
Addresses complaints and concerns
13. Wong Beh & Toh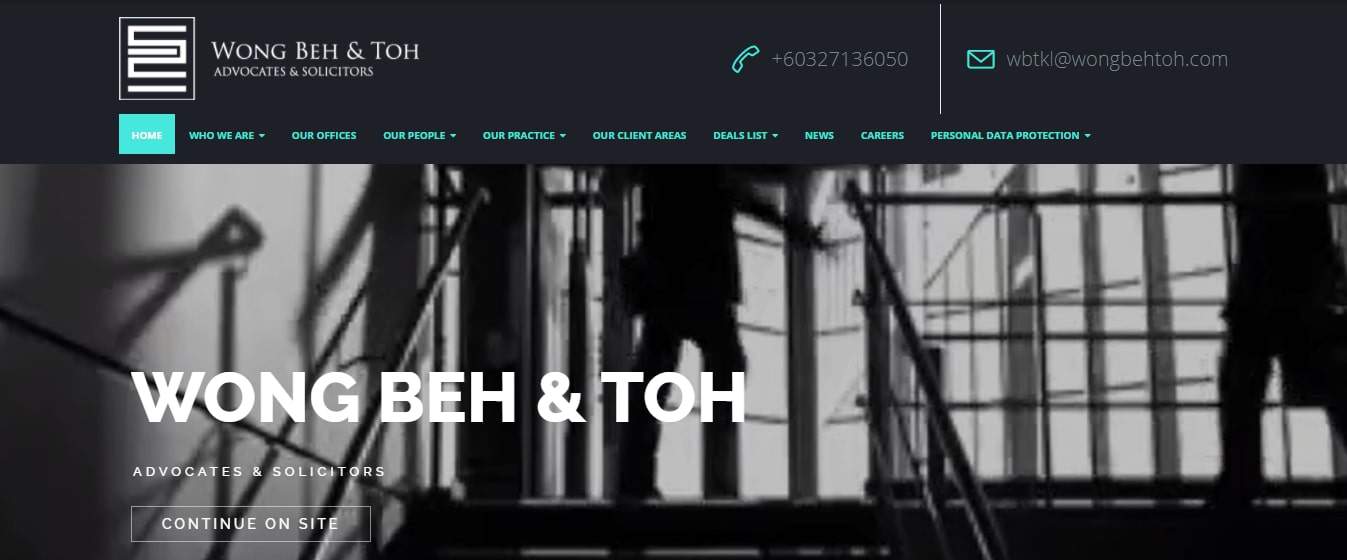 BEST FOR:
Independence, quality and efficiency
PRODUCTS:
https://wongbehtoh.com/our-practice/
WEBSITE:
https://wongbehtoh.com/
ADDRESS:
Peti#30, Level 19, West Block, Wisma Golden Eagle Realty, 142-C Jalan Ampang, 50450 Kuala Lumpur, Malaysia.; or 1st Floor, Nos. 173 & 174, Jalan Kelab Cinta Sayang, Taman Ria Jaya, 08000 Sungai Petani, Kedah, Malaysia.
CONTACT DETAILS:
(Kuala Lumpur) +60327136050;

[email protected]

; (Sungai Petani) +6044429081

[email protected]

OPERATING HOURS:
(Sungai Petani) Mon to Fri 8:30am-5:30pm
A law firm doesn't need to be big in order to perform well. Mid-sized Wong Beh & Toh proves just that. Their tight-knit community of legal professionals helps them maintain quality and efficiency and allows for a better grasp of the clients' needs.
This best law firm in Malaysia excels in handling international cases for Malaysian parties. They are committed to keeping up in a globalised world, especially in meeting their clients' expectations.
Moreover, Wong Beh & Toh also believes that their independence is their edge as they can choose any law firm in the world to work with towards a specific client's goal.
The firm offers legal services in a wide range of practice areas, including commercial, real estate, and joint ventures; foreign direct investment; intellectual property, trusts, charities, and succession; and more.
Highlights
Mid-sized
Maintains quality, efficiency
Better grasp of clients' needs
International cases
Independent
Wide range of practice areas