The 6 Best Litigation Firms in Malaysia
Going through any legal issues can be stressful and scary. Fortunately, you can ask for help and support from the best litigation firms in Malaysia!
To help make it easier for you, we've compiled a list of the best litigation firms in the country. Here, you can check the top-performing ones and see which can help you with your legal situation.
The Best Litigation Firms in Malaysia
We evaluated litigation firms in Malaysia and picked the best ones using the following criteria to ensure a good reputation and proven track record:
1. Michael Tie & Co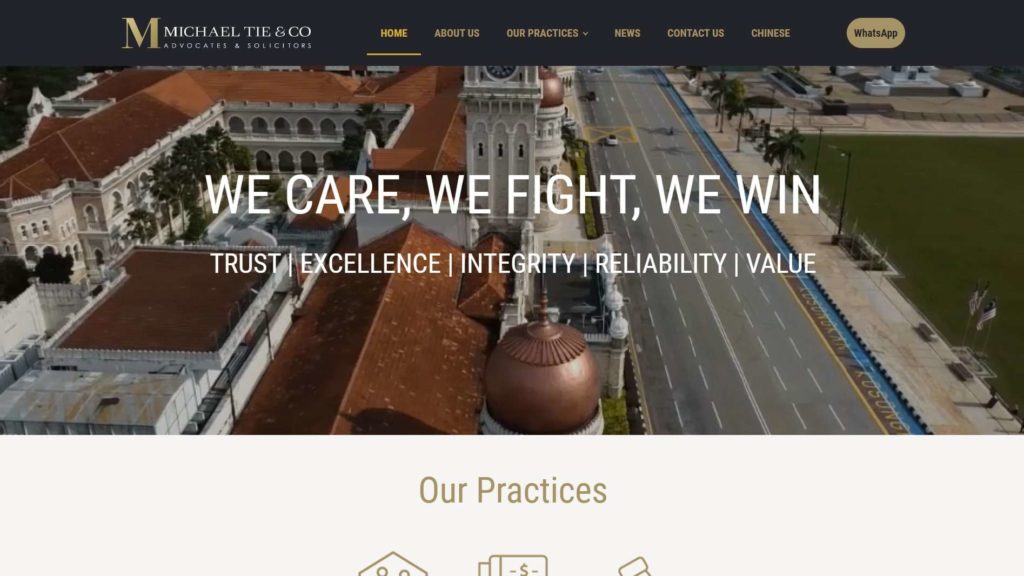 Test
Info
PRACTICE AREAS
Litigation, real estate, family law, estate planning, company law
WEBSITE
https://michaeltieco.com/
ADDRESS
D-09-06, Menara Suezcap 1, Bangsar South, 59200 Kuala Lumpur, Federal Territory of Kuala Lumpur
CONTACT DETAILS
WhatsApp: 019-443-113

Phone: 019-443-1131 (Kuala Lumpur)

Email: [email protected]

OPERATING HOURS
Monday-Friday: 9:00 am-6:30 pm
| | |
| --- | --- |
| Criteria | Ratings |
| Credentials | ★★★★★ (5/5) |
| Areas of Expertise | ★★★★☆ (4/5) |
| Client Service | ★★★★★ (5/5) |
| Professionalism | ★★★★★ (5/5) |
| Communication | ★★★★★ (5/5) |
| Honesty | ★★★★★ (5/5) |
| Rates (A higher score means better value) | ★★★★★ (5/5) |
Michael Tie & Co opened its doors in 2016 to provide Malaysians with affordable legal support. Even though it has only been in the industry for only six years, it has earned a good reputation due to its fantastic track record.
We found it impressive that it offers fixed rates for most of its legal services. For us, this speaks about the law firm's care and consideration for its clients.
Additionally, we found it remarkable that all retainer service plans have out-of-office meetings. We see this as a convenient way for clients to meet with their lawyers on their own time, which is especially great for those on tight schedules.
Moreover, we appreciate how the lawyers are transparent and honest about the billing. They're very patient, too, when explaining the payment process for better understanding.
On top of that, the lawyers can even offer 20% off on civil litigation services. Small and medium-sized businesses will benefit from this because going to court can get pricey.
Aside from those aspects, they're known for being responsive and helpful–two qualities we prioritize when looking for a lawyer. The high level of accommodation is incredible because it shows professionalism and genuine care for clients.
In fact, we found that they have sometimes entertained clients even after work hours. We find this a huge plus in our books because they always keep their clients in the loop.
Furthermore, the lawyers at Michael Tie & Co are expert negotiators. Most people we surveyed were happy with their legal results.
But since it's still a fairly young law firm in Malaysia, some might feel hesitant about hiring them. They also have limited practice areas compared to other law firms in Malaysia.
Nonetheless, Michael & Co has two offices already – in Kuala Lumpur and Penang – which speaks highly about its track record and reliability.
We also think it's worth mentioning that its team is looking to expand to more offices in Malaysia to provide more people with affordable legal services!
Offers affordable legal fees
Provides honest and transparent pricing
Highly responsive lawyers
Has a good track record
Has two offices in Malaysia
Has limited practice areas
Fairly young law firm
Customer Reviews
Always available to clients
"I highly recommend Michael Tie & Co. At any time I need them they are always available to help quickly and a high level of professionalism. I would recommend him to any who need a great friendly lawyer."- Vanice Lee, Google Reviews
Provides a high level of service
"Am sincerely very grateful to the professional, prompt, honest advise from Michael Tie and team of lawyers. Thank you for your patience and taking the time to provide clients, free online consultation to us laymen when we are so stressed up and in need of professional opinion, particularly even on a public holiday. Incredible service." – Amanda Khor, Google Reviews
2. Jerald Gomez & Associates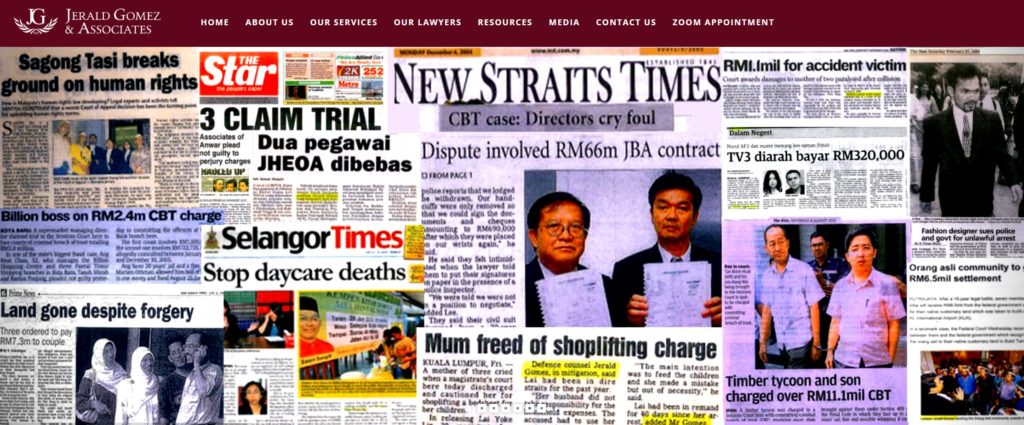 BEST FOR
Civil and Criminal Litigation
SERVICES
General & civil litigation, criminal litigation, employment & labor,
family law, intellectual property, international & domestic arbitration, probate &
administration, and property & conveyancing (domestic & international), banking
& finance
WEBSITE
jeraldgomez.com
ADDRESS
Penthouse D2-U6 Solaris Dutamas, 1 Jalan Dutamas 1, 50480 Kuala Lumpur.
CONTACT DETAILS
Tel: +603 6207 9999
Fax: +603 6207 9888
[email protected]
OPERATING HOURS
8:30am to 5:30pm, Monday to Friday
| | |
| --- | --- |
| Criteria | Ratings |
| Credentials | ★★★★★ (5/5) |
| Areas of Expertise | ★★★★★ (5/5) |
| Client Service | ★★★★★ (5/5) |
| Professionalism | ★★★★★ (5/5) |
| Communication | ★★★★★ (5/5) |
| Honesty | ★★★★★ (5/5) |
| Rates (A higher score means better value) | ★★★★★ (5/5) |
Jerald Gomez & Associates was founded in 1991 and is Malaysia's go-to litigation law company. The firm's partners, attorneys, and support staff have years of expertise helping customers in a variety of situations, including complex corporate, civil and criminal litigation matters. Their strength is in strategy and the ability to identify the various basis of claim or defense from different legal perspectives.
The partners' practice covers both civil and criminal law which makes it a suitable firm for complex litigation which involves various areas in the law. It is a one-stop center to deal with cases involving multiple aspects of the law.
A wide range of advising and litigation work is serviced by the firm's general litigation practice. Corporate disputes, shareholder and joint venture disputes, hostile takeovers, insolvency, corporate recovery, copyright, patent and trademark, equity and trust, claims in contract and tort, commercial disputes, land disputes, fraud and forgery, criminal defence work of prosecutions under the Penal Code, Dangerous Drugs Act (DDA), Capital Markets and Services Act (CMSA), Securities Commission Malaysia Act (SCA), Anti-Money Laundering / Countering Financing of Terrorism (AMLA) as well as the Trade Description Act, Companies Act and various other legal disputes which fall within the scope of the team's portfolio.
They are also known for their advocacy skills in difficult cases involving human rights, land law and criminal cases which have been reported in law journals!
They are recognized in the legal fraternity and have been invited locally and internationally to speak at various conferences and seminars in Australia, Vietnam, USA, London, Beijing as well as Malaysia namely at the Malaysian Bar, Kuala Lumpur Bar, University of Malaya, National University of Malaysia, Royal Malaysian Police, Real Estate and Housing Developers' Association Malaysia, Judicial and Legal Training Institute and many others, covering a wide range of areas from constitutional law, domestic violence and family law, land law, police powers and remand proceedings, civil procedure, human rights etc. at the national and international level.
We like their practice of being solution-oriented, having the client's objective foremost in their minds and they will use all of their resources to structure an outcome that is in their client's best interests, whether through negotiation, discussion, mediation, arbitration, brainstorm sessions, round table conferences, or litigation.
The partners are also directors of public listed companies which make them better equipped to understand the inner workings from both the practical side and the legal. Other governments have recognized their expertise and have appointed the partners to provide legal advice and as an expert witness in Malaysian law by the British government, keynote speaker in Beijing Law Conference, Australian Native Title Conference and Judicial and Legal Services Conference in Vietnam.
They are also appointed into the panel of lawyers of the US Embassy in Malaysia to assist and represent their citizens with any legal dispute in Malaysia. Their first 30 minutes of consultation is free and they only charge legal fees after being appointed.
Highly experienced and qualified senior lawyers
Good complement of young lawyers and staff
Able to handle various areas of the law
Lawyers are called in both jurisdictions (Malaysia / Australia)
They can handle cases involving multiple jurisdictions
They do not give legal advice over the phone
They are brief and to the point
Customer Reviews
"Thank you very much for a wonderful job done. My father appointed the firm to act in our family land matters 20 years ago. The legal battles from the High Court to the Federal Court involved fraud, forgery, negligence, trust, charge, loans, banks and their lawyers. You are a great team of fighters who are very professional and thorough in your work. I have complete 100% trust in the team. My family and I will always use this law firm." – Abu Bakar Ismail
3. Low & Partners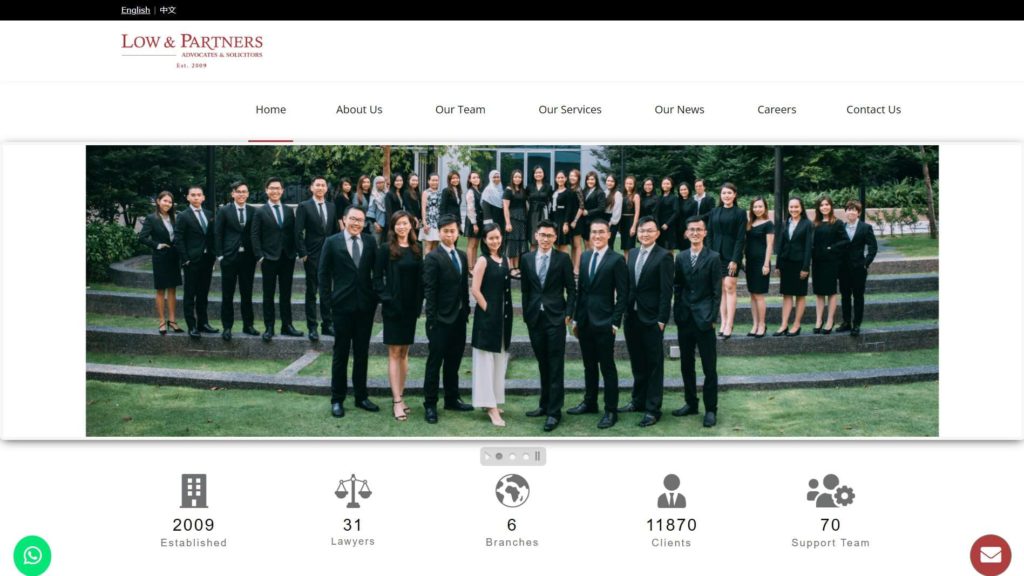 | Test | Info |
| --- | --- |
| PRACTICE AREAS | Civil litigation and dispute resolution, family law, divorce law, employment law, real estate law, finance law, corporate and commercial law, and others |
| WEBSITE | https://www.lowpartners.com/ |
| ADDRESS | 5, Jalan SS 21/23, Damansara Utama, Petaling Jaya, 47400, Selangor |
| CONTACT DETAILS | Phone: +603-7729 5293  |
| OPERATING HOURS | Monday-Friday: 9:00 am-6:00 pm |
| | |
| --- | --- |
| Criteria | Ratings |
| Credentials | ★★★★★ (5/5) |
| Areas of Expertise | ★★★★★ (5/5) |
| Client Service | ★★★★☆ (4/5) |
| Professionalism | ★★★★★ (5/5) |
| Communication | ★★★★☆ (4/5) |
| Honesty | ★★★★★ (5/5) |
| Rates (A higher score means better value) | ★★★★☆ (4/5) |
Next on our list is Low & Partners, a Malaysian law firm that has been around since 2009. One of the things we liked is its wide variety of services, which means clients don't need to hop to other firms for other legal concerns.
Impressively, it now has seven branches in the country. This is worth highlighting because it's convenient for people living in different locations in Malaysia.
Speaking of locations, we appreciate the lawyers providing virtual meetings via Skype, Zoom, or GoToMeeting. It's another convenient option so clients can talk to their lawyers even if they're busy or far away.
Plus, it's not a standard service among Malaysia's litigation firms. The virtual meeting also lets the lawyer and client share files and other documents for better conversation.
Low & Partners got bonus points in our book because the Asian Legal Business (ALB) has recognized their litigation services. As a matter of fact, they were a finalist for the Litigation Law Firm of the Year award!
Conveniently, there are lawyers at the firm that can speak other languages, including Mandarin and Cantonese. Because of this, non-Malaysians can talk to them about legal concerns.
A drawback is the differing views about legal fees. Although some found theirs reasonable, others found it a bit on the pricier side.
To counter this, we believe they can provide more transparent billing details. They can even mention the retainer fee details on the website so clients won't be going in blind.
Offers a wide variety of services
Has many branches across Malaysia
Offers virtual meetings
Has been recognized for its litigation services
Some people found their services pricey
Lack of billing method details
Customer Reviews
Provides a great experience for clients
"Wonderful experience! The lawyers were knowledgeable and responsive. Also, their nationwide law firms' locations are strategic and convenient too!" – Kwee Har, Google Reviews
Great with Malaysian laws
"Very nice and friendly team of lawyers. Thank you for sharing and letting me understand a lot of Malaysian laws. Come on! Y'all are the best!" – Elaine Cyl, Facebook Reviews
4. Lee Saw & Co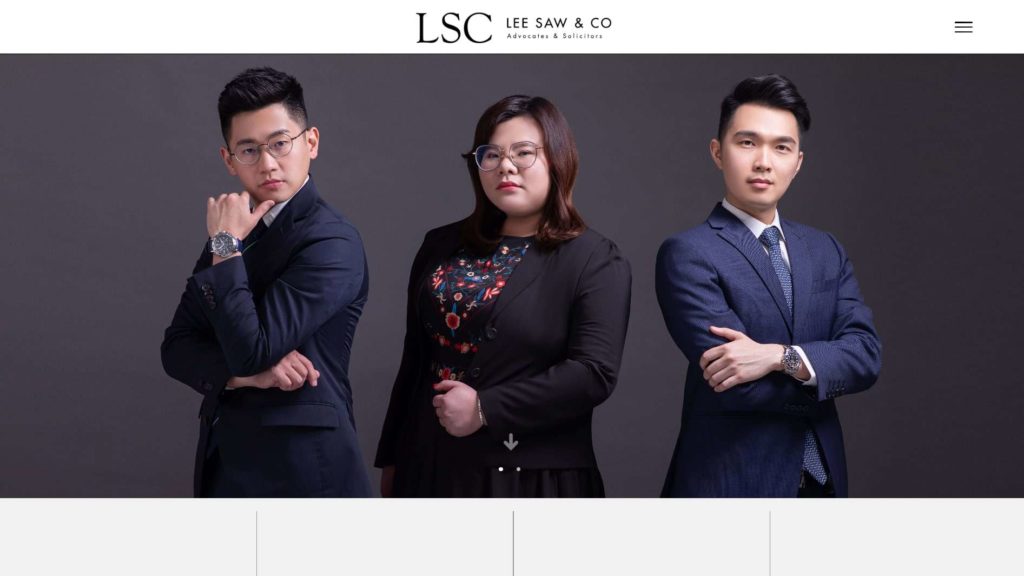 Test
Info
PRACTICE AREAS
Civil litigation, alternative dispute resolution, employment law, construction, family and matrimonial disputes, real estate, and others
WEBSITE
https://www.lsc-legal.com/
ADDRESS
20-01, Menara Flexus, No.92, Jalan Kuching, 51200 Kuala Lumpur
CONTACT DETAILS
Phone: +603 6242 0020

Email: [email protected]

OPERATING HOURS
Monday-Friday: 9:00 am-6:00 pm
| | |
| --- | --- |
| Criteria | Ratings |
| Credentials | ★★★★★ (5/5) |
| Areas of Expertise | ★★★★★ (5/5) |
| Client Service | ★★★★★ (5/5) |
| Professionalism | ★★★★★ (5/5) |
| Communication | ★★★★★ (5/5) |
| Honesty | ★★★★★ (5/5) |
| Rates (A higher score means better value) | ★★★★★ (5/5) |
One of the main aspects we noticed about Lee Saw & Co is its full legal services. It's been around for over ten years with a small team of lawyers but still manages to provide a customised approach to its clients, regardless of the case's complexity.
The wide range of service areas is definitely impressive. Aside from litigation, it also offers family law, real estate law, and corporate and commercial law.
Additionally, the firm's lawyers have earned a lot of experience in civil litigation. Due to this, we believe many clients will feel at ease trusting them and their strategies.
Further, we liked that they can handle different types of lawsuits, from wills to debt recovery. For us, this shows the knowledge and experience they've gained.
They're great mediators and negotiators, too. This is good news for clients who want to avoid going through lengthy (and expensive!) legal disputes.
In fact, several people we corresponded with noted that their lawyers were attentive and listened to their needs and wishes. Still, their lawyers managed to find the best resolution to their legal battles.
It's also worth highlighting the lawyers' ability to respond quickly, even when busy. We find this remarkable because it shows their genuine care for their clients, which is a quality we want in a lawyer.
Since they continue to expand, we just hope they can offer legal services in other areas of Malaysia. Currently, they only have one office, and it would be nice to make their legal services more accessible.
Although many people liked their fair prices and good value for money, we think it's best to include payment information for better transparency, especially for non-Malaysians not aware of the country's legal system.
Great negotiators and mediators
Highly experienced in litigation
Attentive lawyers
No mention of retainer fee information
Has one branch
Customer Reviews
Professional and thorough service
"Lee Saw & Co is a law firm that I can trust in Malaysia. They handle my case in a kind and professional way. Thank you for explaining things thoroughly and for calling me periodically to update me with the case status." – Stacy Koo, Google Reviews
Highly accommodating lawyers
"I would like to thank Mr Felix Law for handling a defamation suit against me in such an efficient and professional manner. I was down with Covid and I could not drop by at his office or even engage myself in a zoom call with him. However, Felix was warm and understanding and he conversed with me on WA. Within an hour, he managed to prepare a perfect draft to respond to the other party's lawyer. I am very impressed with his competency. He is also very experienced in different types of civil cases and I am glad to engage him as my lawyer." – Jazz Y, Google Reviews
5. Chern & Co.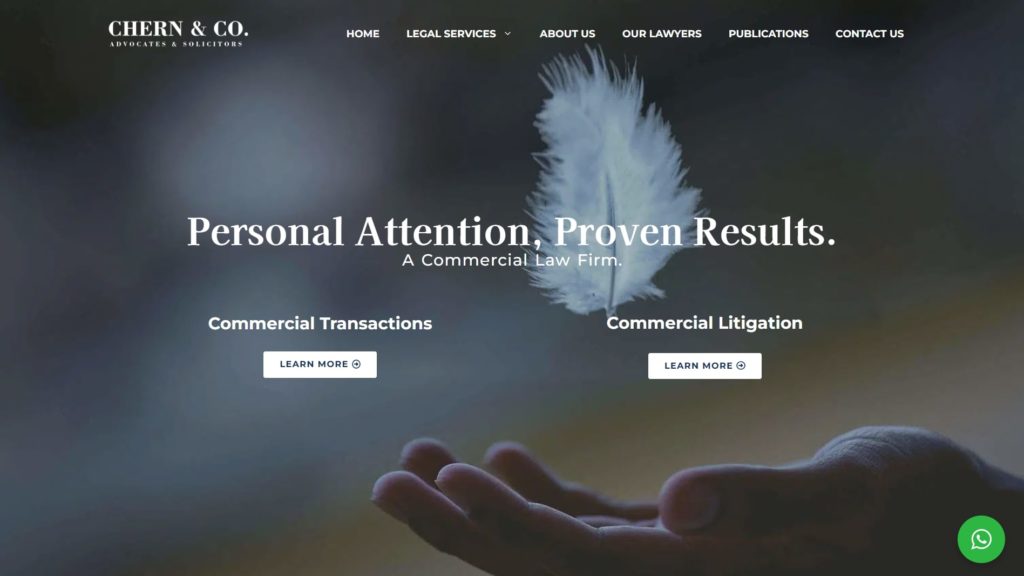 Test
Info
PRACTICE AREAS
Commercial transaction, commercial litigation
WEBSITE
https://www.chernco.com.my/
ADDRESS
Publika, Block C4-U3A-13, No.1, Jalan Dutamas 1, Solaris Dutamas, Mont Kiara, 50480 Kuala Lumpur
CONTACT DETAILS
Phone: +603 6419 9511

WhatsApp: +601133128816

OPERATING HOURS
Monday-Friday: 9:00 am-6:00 pm
| | |
| --- | --- |
| Criteria | Ratings |
| Credentials | ★★★★★ (5/5) |
| Areas of Expertise | ★★★☆☆ (3/5) |
| Client Service | ★★★★★ (5/5) |
| Professionalism | ★★★★★ (5/5) |
| Communication | ★★★★★ (5/5) |
| Honesty | ★★★★★ (5/5) |
| Rates (A higher score means better value) | ★★★★☆ (4/5) |
Chern & Co. is a bit unique compared to other litigation firms on our list. It has a team of commercial lawyers specialising in commercial litigation.
We appreciate that it was specifically established to help Malaysian businesses, from small ones to enterprises. We were also happy to hear that despite a specialised service for each client, the lawyers will still continue to provide the same high standards.
It's worth noting that they offer flat-fee rates. The advantage of this is the affordability it provides, especially in a lengthy litigation suit.
They even have retainer plans paid for every month. This is actually useful for companies that need to retain a lawyer on a regular basis.
In addition to that, the lawyers have been responsive and attentive. Communication is key when working with a lawyer, so constant updates are important to keep clients in the loop.
Moreover, their past clients have even complimented their attentive service. They gave constant support even in stressful situations, which definitely earned them bonus points!
A minor concern we have is the limited services. Currently, they only have two practice areas: commercial transactions and commercial litigation.
Furthermore, it limits its clientele only to businesses. On the bright side, commercial clients will appreciate the firm's expertise in solving disputes
Offers flat rate fees
Has monthly retainer plans
Gives constant updates
Has limited services
Not for individual disputes
Customer Reviews
Transparent and honest service
"I needed someone urgently for court litigation and I found out about Chern & Co. The lawyer, Jonathan, had the courtesy to look immediately to my case and explained the law, outlined in clear language about the steps in the process that where needed to be done. Moreover, their legal fee is very reasonable and transparent which they clearly stated the charges before proceeding the case. I would highly recommend Jonathan to anyone who needs a great litigator." – Yeeyin C., Google Reviews
Provides tons of support
"The lawyer who attended me was Mr. Jonathan, who was friendly & very helpful in guiding us through the process. The experience dealing with him and his preliminary advices was very pleasing & professional (no sugarcoating). Took on several e-meetings via Google Meet and phone calls, Mr. Jonathan was great at attending. Recommended service." – Adam Yusri, Google Reviews
6. Goik, Ramesh & Loo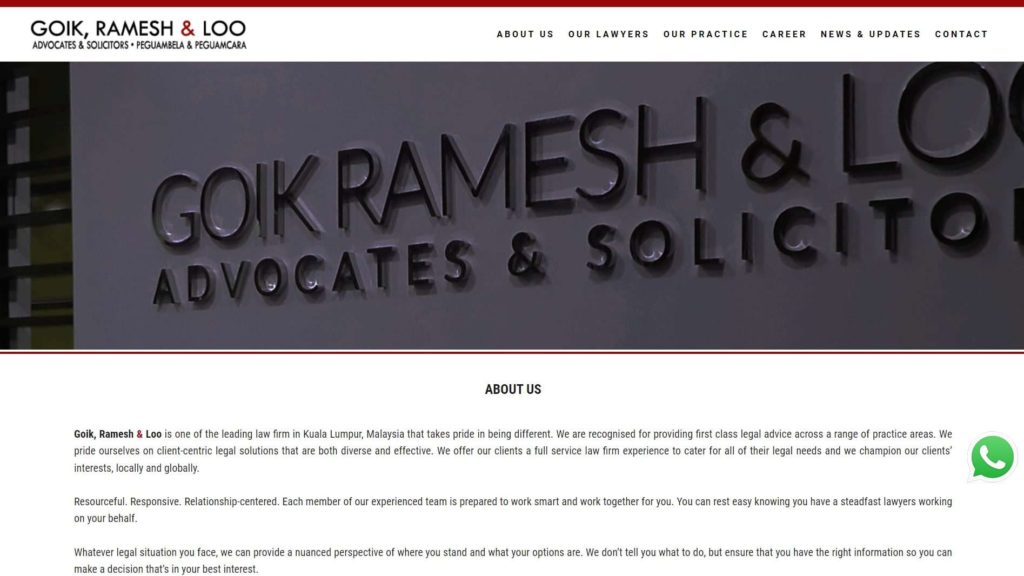 Test
Info
PRACTICE AREAS
Litigation and dispute resolutions, criminal advisory, corporate law, real estate law, family law, banking and finance, intellectual property, private wealth management, and others
WEBSITE
https://grl-lawyers.com/
ADDRESS
Suite N-3-1, Block N, Plaza Damas, 60 Jalan Sri Hartamas 1, Sri Hartamas, 50480 Kuala Lumpur
CONTACT DETAILS
Mobile: +6012-5600058

Phone: +603 – 6211 5888

Email: [email protected]

OPERATING HOURS
Monday-Friday: 9:00 am-5:00 pm
| | |
| --- | --- |
| Criteria | Ratings |
| Credentials | ★★★★★ (5/5) |
| Areas of Expertise | ★★★★★ (5/5) |
| Client Service | ★★★★★ (5/5) |
| Professionalism | ★★★★★ (5/5) |
| Communication | ★★★★★ (5/5) |
| Honesty | ★★★★★ (5/5) |
| Rates (A higher score means better value) | ★★★★☆ (4/5) |
Goik, Ramesh & Loo was originally founded in 2001 as Messrs Ramesh & Loo. In 2018, it joined forces with another Malaysian Law Firm and now has over 100 years of industry experience combined.
One of the aspects we found impressive is that it has worked with several well-known companies. In our opinion, this proves the confidence they've earned from clients throughout the years.
Some of the law firm's clients are ACMAR Group, Selangor Turf Club, and CIMB Bank Berhad. It's our belief that big, successful companies will work with Malaysian law firms with a good track record, so this is an impressive thing.
Another aspect we liked is Goik, Ramesh & Loo's wide range of practice areas. Plus, we were glad that specialises in litigation.
In addition, we were happy to find out that its team of lawyers can work on cross-border conflicts. Not all litigation firms in Malaysia can handle this, so we wanted to mention this.
Furthermore, they've also worked on high-profile cases, which shows the trust they've earned over the years.
We just hope they can mention their payment methods or plans for better transparency, especially for foreign clients who aren't quite familiar with the Malaysian legal system.
Another minor drawback we found is that Goik, Ramesh & Loo only has one law office in Malaysia. Considering it's been around for many years, we think it would be great if they can provide accessible services to other areas.
Has worked on high-profile cases
Has a wide variety of practice areas
Works with big companies in Malaysia
Does cross-border disputes
No mention of billing methods
Has only one office in Malaysia
Customer Reviews
Smooth proceedings
"Extremely great service from lawyer haryati, everything was smooth for the transfer of property title name. Were getting updated status via whatsapp on the current progress. Awesome firm with great lawyers" – Jeyenthrian Cy, Google Reviews
Impressive service
"Good service. Lawyers were polite and helped with my court case very well. Very impressed with the professional service." – Ash Lynx, Google Reviews
FAQs about the Best Litigation Firms in Malaysia
---
Well, that's it for the best litigation firms in Malaysia! Going through lawsuits or anything relating to the legal system can be stressful, so if you need help in other areas, check out our list of the best law firms in Kuala Lumpur and Penang!