The 6 Best Places to Get an Invisalign Treatment in Malaysia
If you've ever been told by your dentist or orthodontist that you need to get braces, they've probably suggested Invisalign to you. These clear alternatives to metal braces have been such a great addition to the dental community that people all over the world have been choosing them over conventional braces.
If you're one of those people, keep on reading to find out the best places to get an Invisalign treatment in Malaysia!
What Factors Affect the Cost of My Invisalign Treatment?
Before we go into the dental clinics that offer Invisalign treatments, we want to talk to you about how much Invisalign treatments tend to cost in Malaysia. Generally speaking, Invisalign treatments tend to cost around RM 15,000 to RM 20,000.
However, this price could be higher change depending on a few factors which are as follows:
1. Dentist
Different dentists charge different rates for a variety of reasons. Some of these reasons could be their level of expertise and their years of experience.
This is why you should request a quote from your dentist to get a more accurate rate. You could ask for this at the initial consultation.
2. Number of Aligners
This is one of the biggest factors in how much your treatment will cost. Every Invisalign treatment requires a minimum of 10 aligners that you should wear regularly and upgrade to at your dentist's recommendation.
Each aligner your given is tighter than the next to ensure maximum alignment for your teeth. Of course, these aligners aren't cheap so the more aligners you have, the most expensive your treatment is.
3. Length of Treatment
This might go without saying but it's important you should know! The longer that your treatment goes on, the more expensive it will cost because you'll be paying for each and every one of your dental checkups.
If you don't wear and upgrade your aligners when you're told to, you may also be needing more aligners to make up for that. So we suggest making sure you keep them on for the recommended 20-22 hours per day.
If you're worried that the treatment will be too expensive, don't worry. Most dentists just ask for a deposit at the beginning of your treatment.
After this, the following payments are given during your check-ups which can be up to 2 months apart. This is done so you don't have to drop a huge amount of money from the get-go.
The Best Places to Get an Invisalign Treatment
Now that that's out of the way, let's find out where the best places to get an Invisalign treatment are!
1. Zenyum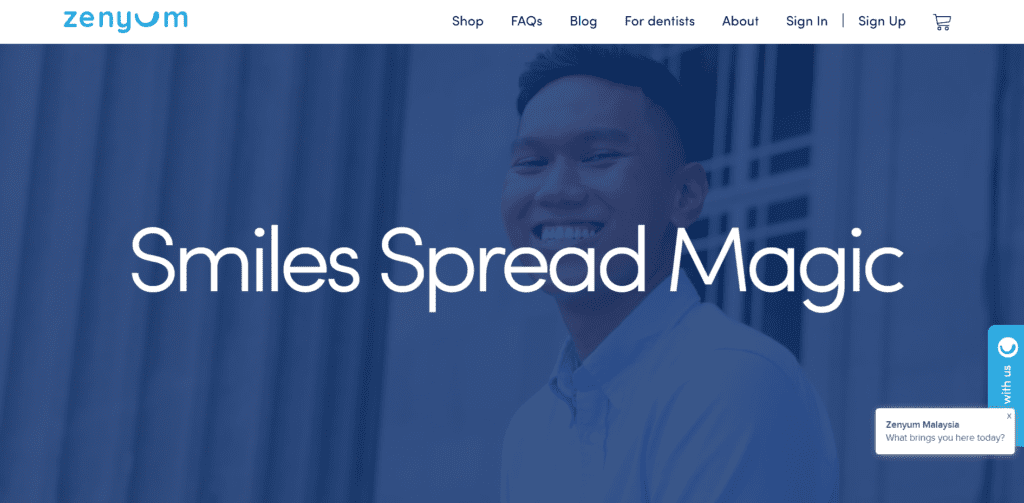 The best thing about using Zenyum invisible braces is that you don't need to visit a clinic very often. This is expected since it's invisible braces, right?
However, with Zenyum, it's even less often than with other invisible braces because you can get your check-ins with your dentist every 10 days through their application.
Now, you should know Zenyum offers two types of invisible braces: Zenyum Clear and Zenyum Clear Plus.
Zenyum Clear is for mild to moderate cases that only involve eight top and bottom teeth so they require minimal to no attachment. This treatment is done for those who also don't require any extractions and lasts from around 3-9 months.
Zenyum Clear Plus, on the other hand, can last up to 8-15 months and is for those whose cases are moderate to complex involving the movement of all teeth. Extractions are done if necessary and there are attachments required on multiple teeth for best results.
What Zenyum does is require you to send in a photo of your teeth and, if they think you're suitable for their braces, they refer you to one of their partner clinics. This initial assessment is free, by the way.
After this, you get the usual assessments and X-Rays done and paid for by you at the clinic. The clinic sends these to Zenyum who then creates a simulation of your new smile for you to see and, four weeks later, they'll be sending over your custom-made invisible braces.
Affordable
Free initial assessment
Refers you to partner clinics
Offers interest-free installments
Most check-ups are done through the Zenyum app
X-rays and other images needed are not included in Zenyum payment
Turnaround times for invisible braces set is quite lengthy
Customer Reviews
If you're wondering whether Zenyum's invisible braces are worth it, check out these reviews left by users of Zenyum and decide for yourself:
"Currently on my last set of Zenyum and been in this journey for almost 4 months. The team at Zenyum, especially Fizah has been making the process so smooth and convenient. For someone who was on braces before, Zenyum aligners are more affordable than other brands. This has been one of my best experiences as a customer ever!" –Ying
"Zenyum was introduced by my friend. I decided to jump right in thanks to the relatively affordable pricing. The whole process has been smooth and the customer service rendered by Kristofer has been awesome. He is friendly and responds immediately to all queries. Thank you!" –Mimi
2. Icon Dental (Kepong Branch)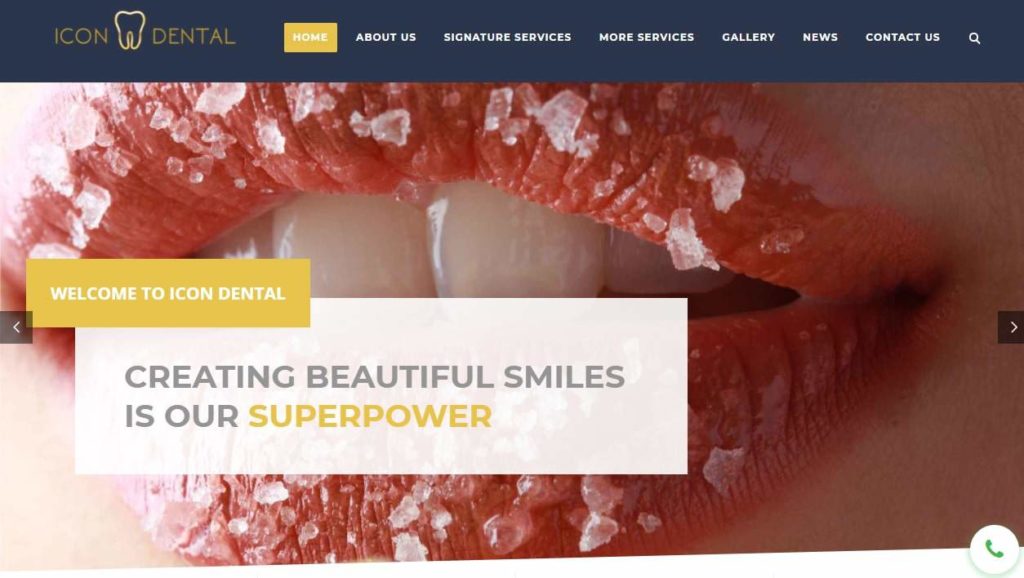 SERVICES
Invisalign treatment, Dental implants, Smile makeover, Gum treatment, General Dentistry, Kids Dentistry, Wisdom tooth removal, Teeth whitening, Veneers, and more
WEBSITE
https://icondental.com.my/
ADDRESS
Primary Branch- Kepong
71, Jalan Rimbunan Raya 1, Laman Rimbunan Batu 61/2, Jln Kepong, 52100 Kuala Lumpur

Secondary Branch- Sri Petaling
No. 8, Ground Floor, Jalan Radin Bagus 1, Bandar Baru Sri Petaling, 57000 Kuala Lumpur
CONTACT DETAILS
Primary Branch- Kepong
+013 240 1300

Secondary Branch- Sri Petaling
+016 216 5216
OPERATING HOURS
Primary Branch- Kepong
Mon-Fri 10:00am-9:00pm
Sat-Sun 10:00am-5:00pm

Secondary Branch- Sri Petaling
Mon-Fri 10:00am-7:00pm
Sat-Sun 10:00am-6:00pm
Icon Dental is a Malaysian dental clinic with two branches in Kuala Lumpur, one in Kepong and one in Sri Petaling. They offer all sorts of braces treatments from conventional braces to ceramic braces, including Damon braces and Invisalign.
Something we really like is that their clinics are equipped with advanced technologies such as a digital 3D X-Ray. This makes it so their patients don't have to go to a third-party office to get their images done.
Since getting a 3D X-Ray done is a vital part of getting your Invisalign aligners ready for you, we think this is a huge plus. A small note we have for you is that not every dental clinic is equipped with its own 3D X-Ray machine so always look out for that if you want a hassle-free consultation.
Now, if you're unsure whether or not you can use Invisalign, Icon Dental offers a free consultation for your first time with them where you can find out. All you have to do is give them a call or book an appointment on their website.
Lastly, their clinics are also all family-friendly and wheelchair accessible while being conveniently located in good parts of the city.
In-house digital 3D X-Ray services
Free consultation
Open on weekends
Online appointment booking available
No mention of Invisalign treatment rates
Discourages walk-in patients
Customer Reviews
Check out some of Icon Dental's customer reviews:
"Highly Recommended. Patient, skillful, caring dentist that I have ever met. 0% painful at all. MUST MUST MUST come if you need dentist. -Chooi
"Dr Chong is very professional and skillful. My 50 years old brother used to have phobia and anxiety towards dentist, but now is well taken care by Dr Chong for periodic scaling and polishing. Dr Chong did extraction, filling, root canal treatment, zirconia crown, and implant for him. Pleasant experience! -Mai
3. Light Dental Clinic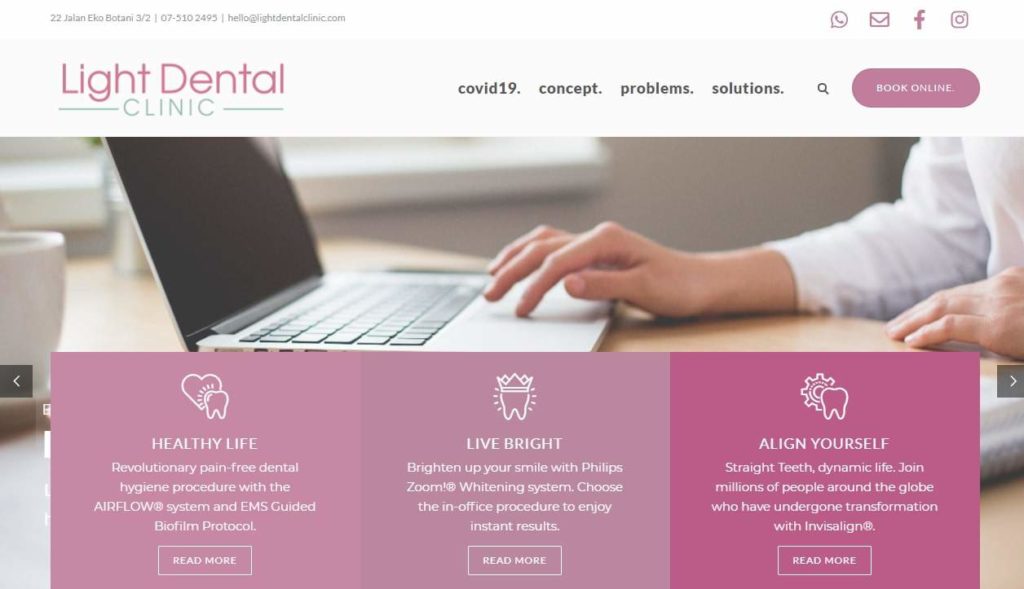 | | |
| --- | --- |
| SERVICES | Invisalign treatment, Endodontics treatment, Customized mouthguard, Cosmetic Veneers, Teeth whitening, Family dentistry, Dental check-up, Restorative dentistry, and more |
| WEBSITE | https://lightdentalclinic.com/ |
| ADDRESS | 22 Jalan Eko Butani 3/2, Taman Eko Butani, 79100 Iskandar Puteri, Johor |
| CONTACT DETAILS | +6013-288-2495 |
| OPERATING HOURS | Mon-Sun 10:00am-6:00pm |
If you're looking to get an Invisalign treatment in Johor, check out Light Dental Clinic.
They provide all the different kinds of Invisalign treatments including Invisalign Lite, Invisalign Express, Invisalign Moderate (Single Arch), Invisalign Moderate (Double Arch), and Invisalign Comprehensive.
After the initial consultation and X-Rays are done, your dentist will recommend one of these treatments. The treatment you'll be receiving will be dependent on how much misalignment there is that needs to be fixed due to the number of aligners needed and the length of the process.
You can book an appointment with them on their website and they'll get into contact with you during their office hours. However, if you need urgent care, just contact them on WhatsApp using the number provided in the table above and they'll do their best to schedule you in for the day.
Light Dental Clinic also offers complimentary refreshments and Wi-Fi in their clinics so, if there are ever appointments before you that run a little longer than anticipated, you can just connect and scroll away on your phone to pass the time.
Comprehensive list of available Invisalign treatments
Provides urgent care
Open on weekends
Offers free refreshments and Wi-Fi
No mention of housing their own X-Ray
Discourages walk-in patients
Does not offer free consultation
Customer Reviews
If you're planning on visiting Light Dental Clinic, you might want to check out some positive feedbacks left by their clients:
"Excellent and very attentive care by doctor Chow. Thank you sincerely 😊and no pain at all for extracting the broken molar tooth!" -Joe
"Good professional service by Dr. Chow. He is explain in detail thus give good advise for problem. Friendly helpful staff in the clinic" -Prabu
4. PrimeCare Dental Clinic Shah Alam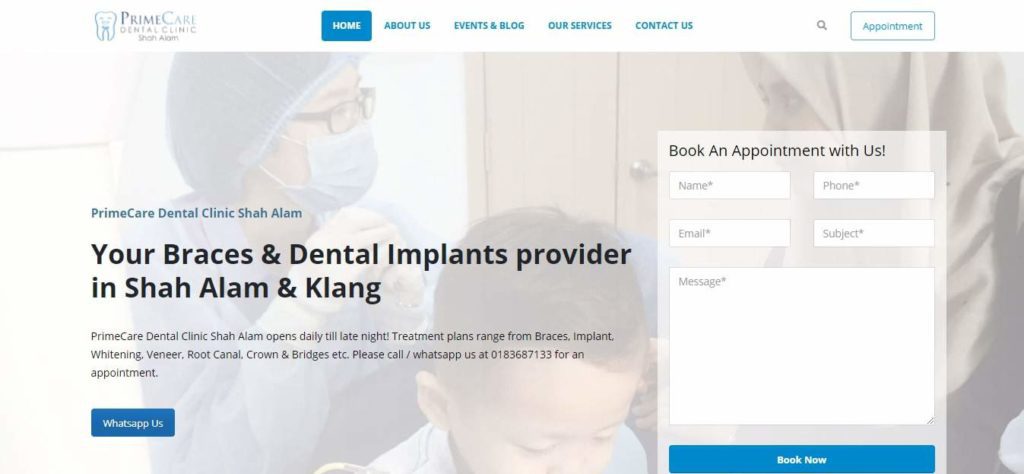 SERVICES
Invisalign treatment, Conventional braces, Composite Veneer, Dentistry for kids, Dental implant, Dental filling, Dental bridges, Dental crown, Teeth whitening, Extraction, and more
WEBSITE
https://primecaredentalsh.my/
ADDRESS
7A, Jalan Melur 2/18, Seksyen 2, 40000 Shah Alam, Selangor, Malaysia
CONTACT DETAILS
+60183687133
OPERATING HOURS
Mon-Fri 10:00am-10:00pm
Sat-Sun 10:00am-6:30pm
For a family-friendly clinic in Selangor, PrimeCare Dental Clinic should be one of your top choices. You can book an appointment with them either on their website or by messaging them on WhatsApp using the number indicated in the table above.
When it comes to providing you with the Invisalign treatment, PrimCare Dental Clinic does its job of providing you with comprehensive care throughout the whole process. This is from the initial consultation all the way up to the retention process with your very own retainers.
The best thing about this clinic is that it's open until late at night on weekdays and it's also open on weekends. So no matter how crazy your schedule at work is, you'll definitely find a time to visit the dentist when you need to.
Now, just a little note, if you're planning on getting your child an Invisalign treatment, you should know that they're only available for kids 11 years old and above.
Family-friendly
Online booking of appointment
Has in-house X-Ray services
Open late on weekdays
Open on weekends
Discourages walk-in appointments
Does not offer free consultations
No mention of Invisalign treatment rates
Customer Reviews
Here are some reviews from recent customers:
"Very satisfied. Dentist asked what I dislike about my teeth and she later explained the treatment I needed as well as the alternative options of treatment. Love her thorough explanation and now i understand better about my dental condition. No pressure, just a genuine opinion from a dentist. The treatment was gently done. Great service. I will definitely come back. Highly recommended! 😊👍👏👏" -Puan
"5/5 Great services! The doctor explains everything that I need to know. She would ask first before doing anything to your teeth so you won't be shocked with the fees. haha and it's good to know especially when you're student" -Aisya
5. Toothdoc Sdn. Bhd.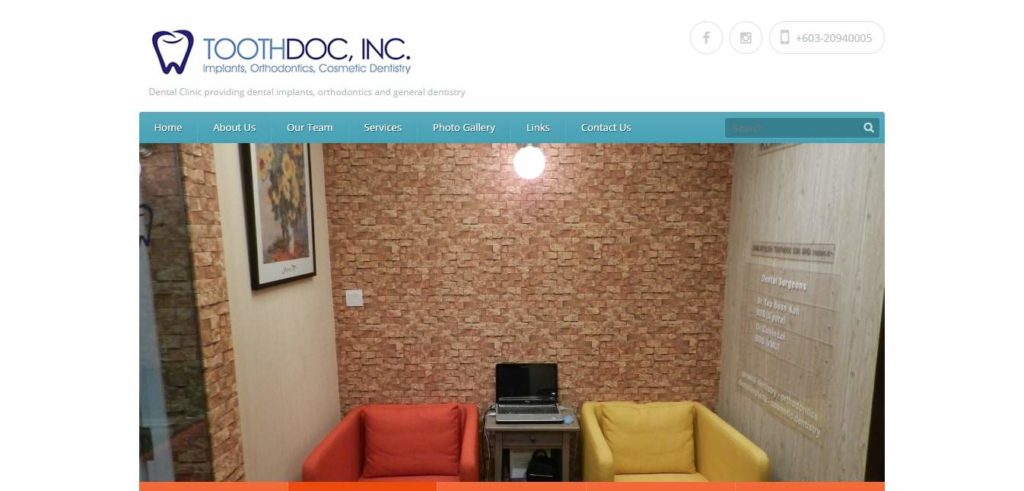 SERVICES
Invisalign treatments, General dentistry, Implants, Zoom teeth whitening, Veneers, Orthodontics
WEBSITE
http://www.yapdental.com/
ADDRESS
Lot 1.02 Level 1, Menara Manulife, Jalan Gelenggang, Damansara Heights, 50490 Kuala Lumpur, Malaysia
CONTACT DETAILS
+603 20940005
OPERATING HOURS
Mon-Fri 9:00am-6:00pm
Sat 9:00am-3:00pm
Since 1987, Toothdoc Sdn Bhd (formerly known as Yap & Associates Dental Surgery) has been serving patients from all parts of Malaysia with their top-notch services.
If you want to learn everything there is to learn about Invisalign, you may go to their Invisalign Open Clinic every Friday from 4:00-6:00 pm. All you have to do is call them in the morning and let them know you're interested.
If you're unsure of whether or not you want to get Invisalign, don't worry. Going to this open clinic doesn't require you to push through since they just want you to learn everything you need to know first.
Their Invisalign treatment plans are as straightforward as every other Invisalign treatment process but the best thing about them is they offer in-house 3D imaging so it's easy to get the digital image of your teeth which makes the process of creating your treatment plan quicker and easier.
Offers in-house 3D imaging
Has an Invisalign Open Clinic
Open on Saturdays
Closed on Sundays
Does not offer online booking
Customer Reviews
Below is a review left by Toothdoc's client, Amy:
"They provided me the information that I need. Will definitely find the time to visit." -Amy
6. Foo & Co Dental Setia Alam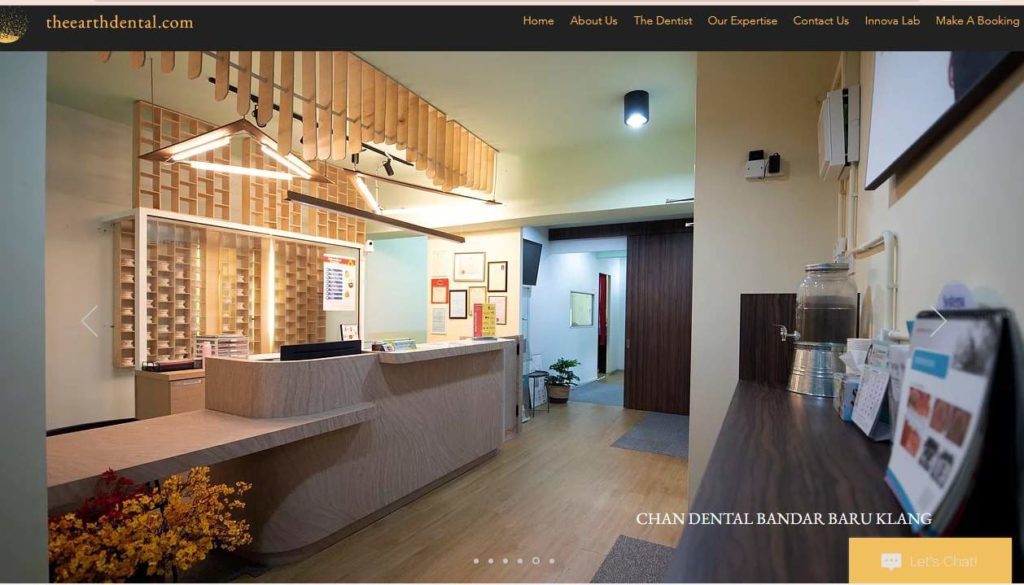 SERVICES
Invisalign treatment, Gum care, Orthodontics, Smile makeover, Restoration, Implant
WEBSITE
https://www.theearthdental.com/
ADDRESS
No 3-1 Jln Setia Dagang U13/AK Setia Alam 40170 Shah Alam
CONTACT DETAILS
03-3359 9232 / 013-288 9232
OPERATING HOURS
Mon-Fri 9:00am- 6:00pm
Sat 9:00am- 5:00pm
Sun 9:00am- 3:00pm
For a highly bespoke dental clinic experience, Foo & Co delivers what you're looking for. Their biggest pride is their Innova Dental Lab that sets them apart from most dental clinics.
This is their very own in-house laboratory where they manufacture their own implants, bridges, crowns, and removable prosthetic restorations. They did this because they wanted to provide their patients with quality products that were affordable and had good turn-around times.
In terms of Invisalign treatments, though, Invisalign aligners are manufactured specifically by Align Technology so Foo & Co merely offers the treatment plans like all other clinics.
They accept payments through all major credit cards like VISA and MasterCard. They also offer flexible payment options to help you pay for your treatment in a way that's easier for you.
And for added convenience, you can set an appointment with them through their website.
Manufactures their own dental attachments
Online appointment booking available
Offers flexible payment options
Accepts all major credit cards
Does not offer free consultations
Discourages walk-in appointments
FAQs about Invisalign Treatments in Malaysia
---
That's all we have for the best places to get an Invisalign treatment! You know, having uneven teeth is a common insecurity for a lot of people while having bulky, metal brackets on one's teeth is another.
That's why the creation of Invisalign as a clear and invisible way to adjust your teeth tackles both of these issues in the best way.
So if you found this article helpful to you, please let us know because we'd love to hear all about it! Also, don't be shy to let us know if you have any dental clinics in mind that provide great Invisalign treatments.
Before you go, it may also interest you to check out our article on clinics for the best orthodontics in Malaysia.