The 4 Best International Money Transfer Services in Malaysia
Wherever money is involved, we have to be careful in making a decision, as we might spend more than necessary and/or get a mediocre service.
One such instance is sending and receiving money internationally. Some services that provide this have higher exchange rates and fees than others, and some are trustworthy whilst others aren't.
So, which one of them should you pick? To put your mind at ease, we've rounded up the best international money transfer services in Malaysia here!
As they are leading names, you have better odds of safe and secure money delivery with them. And preambles aside, let's first look at the cost of these money remittance agencies in the country.
We have here: Wise, Western Union, MoneyGram, WorldRemit, and Xoom.
How Much Do International Money Transfer Services Cost in Malaysia?
We may need to support a family abroad, receive a salary from an international employer, buy from an online seller, amongst other needs.
This is where transferring money either online or through an agent comes in handy. But, aside from the amount you're sending, you know that you'll have to pay extra rates too.
As we said, these are the exchange rate and transfer fee, as well as possible hidden charges of banks or money transfer providers. All of these will vary from one company to another.
Now, there are a few factors that will influence the price, such as the transfer speed, destination country, and the amount you plan to send.
To give you an example: transferring money to Canada by way of Western Union can cost $8 for next-day transfer, but a heftier $12 for express transfer.
But, doing that in the UK will be more expensive at about $15 or $22, depending on whether you opt to send cash online or through an agent branch.
Also, look below for the transfer fee summary of the companies we selected for this list.
| Money Transfer Service | Transfer Fee |
| --- | --- |
| Western Union | From RM5 |
| MoneyGram | Varies depending on the amount and destination country |
| WorldRemit | From USD3.99 |
| Xoom | From USD2.99 |
The Best International Money Transfer Services in Malaysia
Our choices below had been assessed through the following criteria. This ensured that they deserved to be on our list of the best money transfer companies in the country:
With that in mind, we now present to you the top international money transfer services in Malaysia!
1) Western Union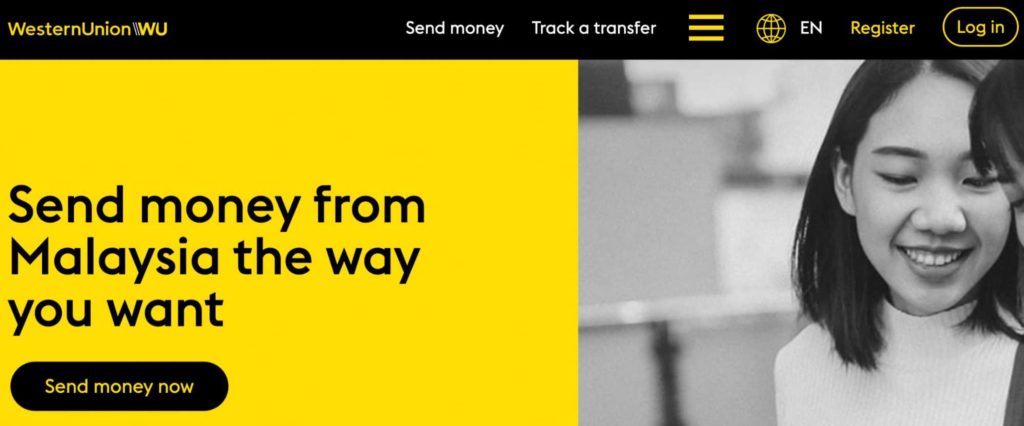 Test
Info
SERVICES
Money transfer

Transfer tracking

TRANSFER FEE
From RM5
WEBSITE
https://www.westernunion.com/my/en/send-money.html
ADDRESS
7001 E. Belleview, Denver, CO 80237 USA
CONTACT DETAILS
Malaysia: 1800 813 399

Outside Malaysia: +852 340 80460

OPERATING HOURS
Monday - Friday: 8:00 AM - 5:00 PM (depending on branch)

Saturday - Sunday: closed
| | |
| --- | --- |
| Criteria | Rating |
| Cost | ★★★★☆ (4/5) |
| ❖ Transfer Fees | ★★★★★ (5/5) |
| ❖ FX Prices | ★★★☆☆ (3/5) |
| Account Setup | ★★★★☆ (4/5) |
| Turnaround | ★★★★★ (5/5) |
| Security | ★★★★★ (5/5) |
| Customer Service | ★★★★☆ (4/5) |
| ❖ Availability | ★★★☆☆ (3/5) |
| ❖ Expertise | ★★★★☆ (4/5) |
| ❖ Friendliness | ★★★★★ (5/5) |
Perhaps before, you may have sent money to a family or friend via Western Union. The advantage of choosing it is its numerous agent locations numbering 525,000+ worldwide.
Another is that with it, you can choose whether to pay bills, send cash through an agent, or from its website or app. This eliminates the need to go out of the house at all, which is advantageous in these current times.
But, unfortunately, some people have experienced the app slowing down or crashing, which had taken up a bit of their valuable time.
Now, the service has a fixed transfer fee of RM5 allowing you to get savings. Furthermore, your receiver doesn't need to pay any agency fee in order to receive the amount you send.
As for the transfer process, it finishes within minutes whilst being encrypted for your peace of mind. Therefore, it should be no problem regardless of the purpose you are sending money out of town.
A differentiating factor is it trades reward points in proportion to the money you transfer. You can redeem your points for a lower transfer fee or other bonus for the next time.
All seems well with Western Union and many people have been generally impressed with their service.
That said, one area that it can still improve on is its customer care, which has received quite a lot of complaints. However, this is expected, considering that they cater to hundreds of thousands of customers a day.
Over 500,000 locations worldwide
Super-fast and encrypted money transfer
No agent fee for the receiver
Has a mobile app
Offers reward points
App can be improved; complaints about app crashes
Complaints about customer service
Customer Reviews
Excellent service every time
"I've been sending money thru western union for how many years and they have an excellent service… I never had any problem from them…. I highly recommend on this company…" -Trustpilot reviewer
Very convenient and secure service
"I use western union at least once a month, sometimes more. It's convenient and very secure. On larger transfers (500-1000) I normally get called by western union representatives checking to see if it's really me sending the money. Again, normally the money is received within 12 hours. I trust them" -Stephen Tuohy
2) MoneyGram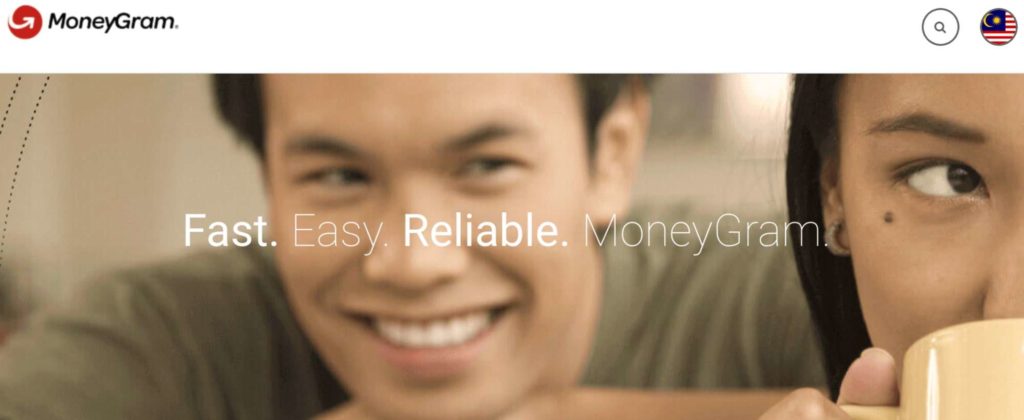 | Test | Info |
| --- | --- |
| SERVICES | Money transfer |
| TRANSFER FEE | Varies based on the amount sent and the country of the receiver |
| WEBSITE | https://moneygram.my/en |
| ADDRESS | 2828 North Harwood Street, Floor 15, Dallas, TX 75201 USA |
| CONTACT DETAILS | 800 817 308 |
| OPERATING HOURS | 24/7 |
| | |
| --- | --- |
| Criteria | Rating |
| Cost | ★★★☆☆ (3/5) |
| ❖ Transfer Fees | ★★★☆☆ (3/5) |
| ❖ FX Prices | ★★★☆☆ (3/5) |
| Account Setup | ★★★★★ (5/5) |
| Turnaround | ★★★☆☆ (3/5) |
| Security | ★★★★☆ (4/5) |
| Customer Service | ★★★★☆ (4/5) |
| ❖ Availability | ★★★☆☆ (3/5) |
| ❖ Expertise | ★★★★☆ (4/5) |
| ❖ Friendliness | ★★★★☆ (4/5) |
Based in Dallas, Texas, MoneyGram has globally assisted clients and financial institutions in money remittance services since 1980.
With it, customers can send money directly to a bank account, mobile wallet, and for cash pickup. These are hassle-free options so they can settle their bills and finances for their needs and wants.
It currently has more than 380,000 locations in over 200 countries. Irrespective of where your loved ones are, they can receive your money through an agent branch or bank account safely.
We regard it as another of the best global payment solution provider out there due to its global reach, reliable app, fraud protection resources, and generous loyalty rewards.
It's generous since, on your second service use, you can get 20% off the transfer fee, and 40% off on your fifth-time use.
It has its negative points as well, however. The first is its transfer fee is variable depending on the country of destination and amount sent, and the second is the service hasn't always been smooth and fast for some clients.
And compared with other money transfer companies, their exchange value and fees are a bit high.
Nevertheless, most people praised MoneyGram for its user-friendly interface, secure app, and flawless service. Also, all the information you need to see about the transaction is presented to you.
Convenient transfer options
More than 380,000 locations
Has a mobile app
Provides fraud protection resources
Gives loyalty rewards
Relatively high fees
Changing transfer rates
Complaints about service and promptness
Customer Reviews
Secure and thorough money transfer
"I really can't think of anything about Moneygram's system that I could change or improve. Lower cost, more discounts…maybe some rewards based on loyalty ;). Service is quick and thorough and never had any problems over almost 20 years of use. Whether in person, online by phone or on your browser, never had a security issue. Keep up the good work!" -WJ Brown
Easy to use and understand
"MoneyGram is very good money transfer company. It's easy to use and understand. It gives you all details about transaction. It's the fastest way to send money to anywhere. Enjoy it." -Trustpilot user
3) WorldRemit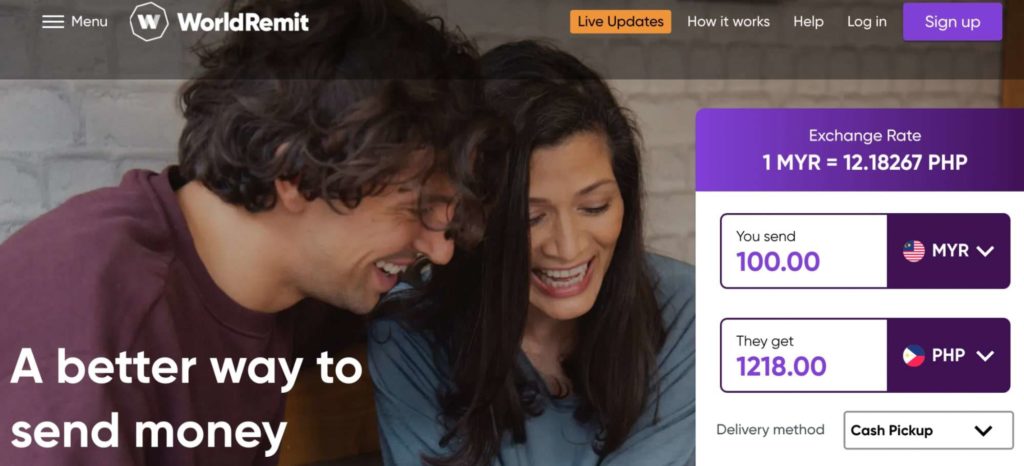 Test
Info
SERVICES
Bank transfer

Cash pickup

Mobile money

Airtime top-up

Home delivery

TRANSFER FEE
From $3.99
WEBSITE
https://www.worldremit.com/en/my
ADDRESS
Suite 2.6, Avenue Business Centre, Block L, Plaza Damas No. 60 Jalan Sri Hartamas 1, 50480 Kuala Lumpur, Malaysia
CONTACT DETAILS
1800 1 320 0210
OPERATING HOURS
24/7
| | |
| --- | --- |
| Criteria | Rating |
| Cost | ★★★★★ (5/5) |
| ❖ Transfer Fees | ★★★★★ (5/5) |
| ❖ FX Prices | ★★★★☆ (4/5) |
| Account Setup | ★★★★★ (5/5) |
| Turnaround | ★★★★☆ (4/5) |
| Security | ★★★★☆ (4/5) |
| Customer Service | ★★★★☆ (4/5) |
| ❖ Availability | ★★★☆☆ (3/5) |
| ❖ Expertise | ★★★★☆ (4/5) |
| ❖ Friendliness | ★★★★☆ (4/5) |
WorldRemit is a P2P money transfer service used by two million people. It's been chosen on this list owing to its unique range of services including airtime top-up and cash delivery.
The former means you can have a longer chat or call with your loved one, besides sending them money. And, for the latter, you can conveniently have the cash delivered right on their front door.
But, on top of that, we picked WorldRemit here for its speedy turnaround. You can arrange for a cash pickup or mobile money in a matter of three minutes, though some branches have currently closed these services in the meantime.
As for bank transfers, they should only take within a day. You can also do this in the comfort of your home or office using your computer or smartphone.
Of course, the transaction is kept secure using industry-grade technology. Hence, the money you transfer will be intact and complete like those of many previous customers.
The transfer fees are a tad higher compared to other service providers. Since there's no flat fee, it can vary based on the sum you are willing to wire out to your receiver.
Apart from that, people compliment WorldRemit for its ease of use and registration, even if it's your first time. Needless to say, it won't take long to complete the signup allowing you to start right away.
By the way, WorldRemit lets you send money from 70 various currencies to over 130 countries. Not as many as the bigger companies, but this should be enough for most people in all social classes.
Fast money transfer
Flexible money transfer choices
Industry-grade security technology
Offers home cash delivery
Has a mobile app
Gives refer-a-friend and first-time discounts
Doesn't take credit cards
Mobile money is unavailable for some branches
Covers fewer countries than other services
Customer Reviews
Smooth experience with WorldRemit
"The experience of remitting funds to my family using World Remit facilities was nothing but a breeze. Your entire set up is structured in a friendly and effective manner. I had absolutely no problem processing registration. The actual transfer of funds was quick and efficient with no hurdles. I also appreciated your constant updates on the remittance process. The delivery of the was done with precision. Finally the whole transaction was high value for money. In the final analysis remitting funds via World Remit is no brainer." -Aaron Ngwenya
Easy and quite affordable to use
"It was a bit slow getting thru the pick up process, I assume it's because it was the first time using. But really easy and quite affordable. I will definitely use this app again." -Scott McFadden
4) Xoom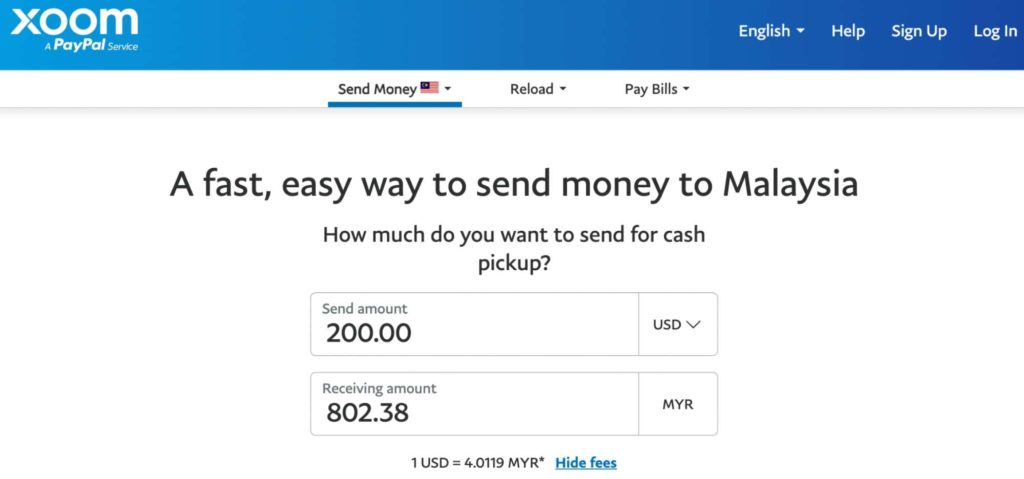 Test
Info
SERVICES
Send money

Pay bills

Cash pickup

Reload phones

TRANSFER FEE
From USD2.99
WEBSITE
https://www.xoom.com/malaysia/send-money
ADDRESS
425 Market Street, 12th Floor, San Francisco, CA 94105 USA
CONTACT DETAILS
(877) 815-1531 (toll-free)

+1 (415) 395-4225

OPERATING HOURS
Monday - Sunday: 9:00 AM - 9:00 PM (Eastern time)

Monday- Sunday: 6:00 AM - 6:00 PM (Pacific time)
| | |
| --- | --- |
| Criteria | Rating |
| Cost | ★★★★☆ (4/5) |
| ❖ Transfer Fees | ★★★★★ (5/5) |
| ❖ FX Prices | ★★★★☆ (4/5) |
| Account Setup | ★★★★☆ (4/5) |
| Turnaround | ★★★★☆ (4/5) |
| Security | ★★★★☆ (4/5) |
| Customer Service | ★★★★★ (5/5) |
| ❖ Availability | ★★★★★ (5/5) |
| ❖ Expertise | ★★★★★ (5/5) |
| ❖ Friendliness | ★★★★★ (5/5) |
You have to 'play' money transfer games to their advantages. For example, if you're looking for the best deal to transfer from a debit or credit card to a bank account, Xoom is the best choice.
Speaking of which, Xoom is a foreign exchange product of PayPal. With PayPal, you can transfer money from bank to bank with great ease and financial advantage.
It has five services on offer, namely, money sending, money receipt, cash pickup, bill payment, and phone reload. These services let you send money to someone in 53 countries in different currencies.
Another feature that impresses us is that Xoom uses the latest encryption standards to protect your money whenever it's transferred.
To back this up, the company gives a money-back guarantee for every transaction. So, if you or your loved one don't get the exact amount of money sent, then they will pay you back in full.
Topping its competitors, it has an English and Spanish CS team to support you if you get into a jam. They also speak other languages like Arabic, Chinese, and Filipino but these people are available only during certain hours.
As good as those may sound, you will need to further verify your personal details for transferring higher amounts. Although this can be a nuisance, it helps to keep the transaction safe and secure.
Also, bear in mind that some cash deliveries can take up to a few days. In other words, you might have to wait longer than if you use a different money transfer service.
All in all, Xoom is another great company for international money transfers. If you plan to often transfer funds by card and want a helpful staff and secure transactions, we suggest picking this one.
Best for card-to-bank transfers
Secure online transactions
Dedicated customer support
Offers money-back guarantee
Some deliveries take up to a few days
Verification is needed for transferring higher sums
Daily, monthly, and semi-annually limits
No rewards or special deals
Customer Reviews
Accurate money transfer with constant updates
"The XOOM money transfer was handled perfectly, fast, accurate, and I was kept informed at every step. Many thanks! I will reccomend XOOM Money Transfer to anyone who needs to send money to other locations…" -Nelson
Great transfer rate
"I am using Xoom for last 7 years, I am satisfied with the service, It's very convenient to use. It give great transfer rate and option to send quick or get more money with economic mode. I am sending money to India and it cover mostly all major banks in India to transfer money." -Consumer Affairs reviewer
FAQs about the Top International Money Transfer Services in Malaysia
---
And those were some of the top international money transfer services in Malaysia! If you have any questions and comments about them, just drop us a line and we'll get back to you.
Have you used any of these services before, feel free to share with us your experience, as we enjoy hearing from all our readers.
Related Articles about International Money Transfer