The 5 Best Humidifiers in Malaysia
In need of a good humidifier in your home? We know it can be a bit overwhelming to choose one online especially with all the options that all guarantee the best air purifying and humidifying for your home.
This is why we prepared a list of the best humidifiers in Malaysia to help you choose without worrying if they actually are the best.
So scroll down to find out all about these products and their features!
The Best Humidifiers in Malaysia
Cold air can cause the air to be dry thus causing your skin to dry up resulting in various skin issues. Take a look at some of these air humidifiers to fix this in your home and who knows, you might end up adding it to your cart!
1. Deerma F500 Air Humidifier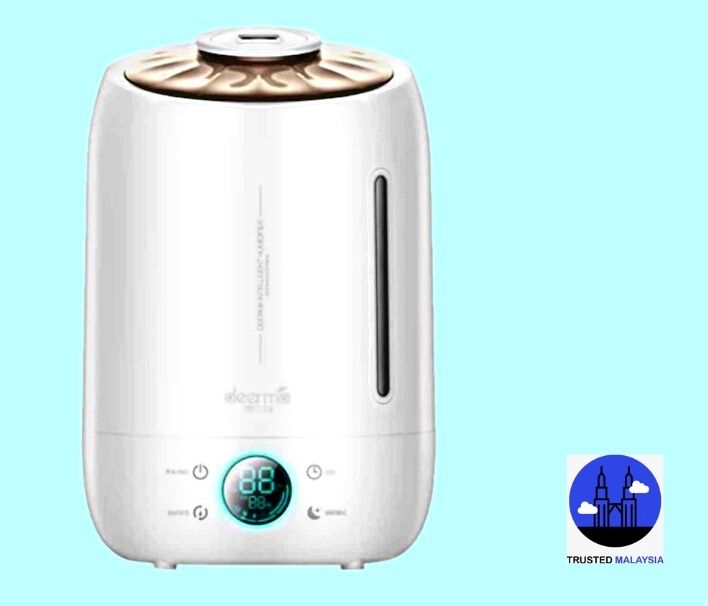 Price: RM 126
| | |
| --- | --- |
| Function | Ultrasonic atomization humidification |
| Tank capacity | 4.1L – 6L |
| Type | Aroma type, Clean type, Constant humidity humidification type |
| Applicable area | 25-30 square meters |
| Product material/s | ABS |
The Deerma F500 Air Humidifier is made of ABS which is a plastic material that's known for its durability and resistance against physical impacts as well as chemical corrosion. This makes it ideal for long-term use with objects such as humidifiers.
An activated carbon filter greets the air that enters the humidifier and the honeycomb hole absorbs all of the dust and impurities in the air of up to 30 square meters. It also has an antibacterial water tank made of silver ion which maintains its cleanliness for a pretty long time so you don't change the water supply often.
One of its features is an LED digital display that shows a room's real-time temperature and humidity as well as the working status of the humidifier. Another feature is its sleep mode which turns the sound and the brightness of the LED display off while entering a constant state of 60% humidity.
There's also a timer that you can set for it to perform scheduled humidification sessions. You can also set it to turn off automatically when you manually turn it on to make sure it doesn't keep on running.
LED display
Large water capacity
Available sleep setting
Available timer settings
Good for up to 30 square meters
Expensive
Only available in white
Customer Reviews
Check out these reviews to find out about these buyers' thoughts on this product:
"Barang dah sampai dengan selamat ,terima kasih, saya suka, barang pon berfungsi dengan sangat baik, lain kali boleh beli lagi, trusted seller" -e*****a
"Wow,Wap yang banyak…ini yang saya mahu..cuma lambat sikit la penghantaran dia maybe preorder kut…⭐️⭐️⭐️⭐️⭐️" -l*****y
2. Kaisite Heavy Fog Portable Air Humidifier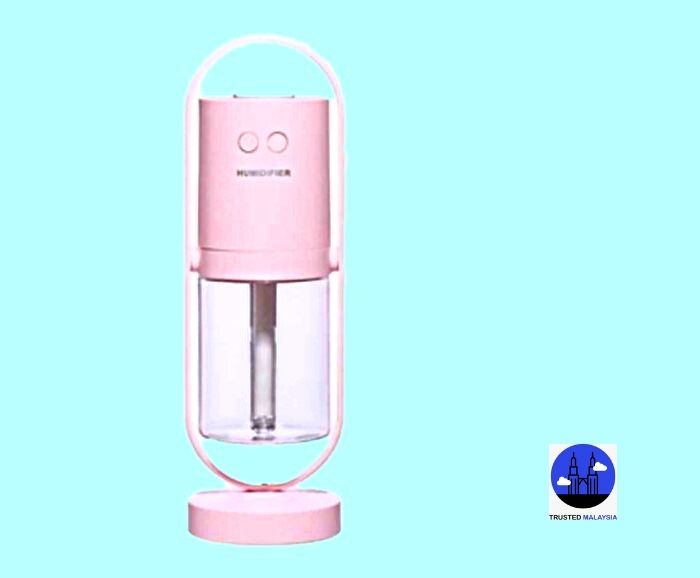 Price: RM 68
| | |
| --- | --- |
| Color/s | Pink, Light blue, Deep blue |
| Size | 213*70*60mm |
| Tank capacity | 200ML |
| Applicable area | <30 square meters |
| Amount of spray | 40 ML/H |
| Product material/s | ABS, PE, PP |
If you're looking for a multifunctional air humidifier that's also pretty cute, Kaisite Heavy Fog Portable Air Humidifier is one you should consider right away.
One of the best features of this humidifier is that it also has a starry sky dream projector and a colorful night light setting that you can use as you drift off into sleep. All this while the humidifier keeps your air clean.
The atomized sheet filters turn the clean water in the humidifier into water molecules which are to thank for it being able to do its job of purifying the air and keeping your skin moisturized. To do this, there are two spray options.
First, there's the 5-hour continuous spray and there's also the 10-hour intermittent spray. It manages to maintain quiet humidification sessions to ensure that it doesn't wake you up in your sleep or startle you in the middle of the day.
However, please note that it's best to be used in rooms or areas that are smaller than 30 square meters for optimal use.
Two spray options
Available in 3 colors
Perfect for smaller spaces
Has sky project/night light setting
Small water capacity
No LED display or timer
Not suitable for big rooms
Customer Reviews
You might want to take a look at this review from Leong, a satisfied buyer of this product:
"First, 5 stars to seller. They sent wrong items from China and after chatting, they sent the correct goods without asking to return. I reordered something from them and they sent together. Great seller and love all the products! Second, the delivery man is so caring. I asked him to throw my parcel as I know the seller will wrap properly, the delivery man sent me a message with a picture and asked me to beware of the rain. so caring. 7 stars experience!" -Leong
3. USB LED Ultrasonic Aroma Humidifier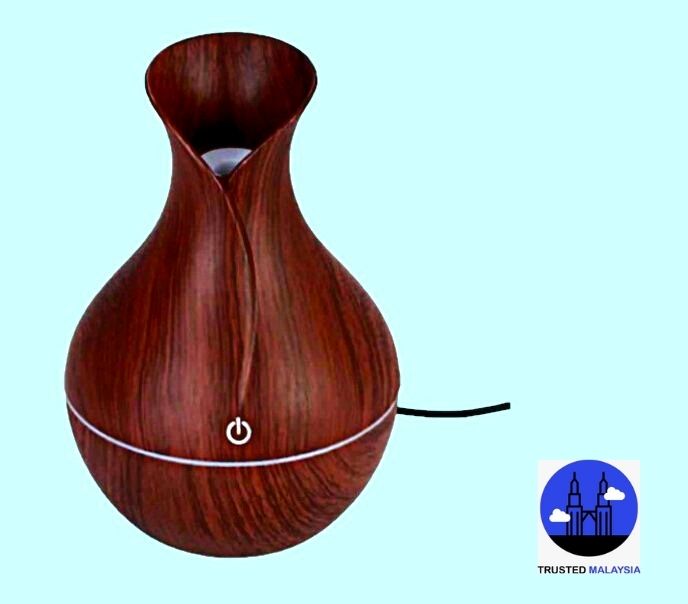 Price: RM 45
| | |
| --- | --- |
| Color/s | Light wood grain, Dark wood grain |
| Size | 95*95*150mm |
| Tank capacity | 130ML |
| Application area | Up to 40 square meters |
| Function | Humidifier |
| Product material/s | ABS, PP |
This USB LED Ultrasonic Aroma Humidifier is a very interesting one to look at and, for us, the aesthetics itself would be enough to buy it. Thankfully, it's also a really good air humidifier that's designed to clear the air of a room efficiently.
There's a timer setting for 2-8 hours which we find really useful so you don't have to manually turn it on or worry about leaving it on for too long. All you really need to do is put a few drops of your essential oils and you're good to go.
For indoor areas such as bedrooms and living rooms, it has an application area of up to 40 square meters which is surprising considering its size. However, due to its small water capacity, that means more frequent water refilling is needed.
Now, it also has color-changing mood lighting which was designed to give your space a more relaxing feel. This is because its ideally used as an aromatherapy diffuser and pairing scent and sight is a very important thing to induce relaxation.
Affordable
Available timer
Available in 2 colors
Wide application area
Has color-changing mood lighting
Small water capacity
Does not display room temperature and humidity
Customer Reviews
Here are positive feedbacks from two of this product buyers who enjoyed the product and service:
"dh smpai,cuma bubble wrap nye tak wrap dgn kemas,habis kotak nye terkeluar dri bubble wrapnya pstu kemek..tpi nasib baik baranganya okey jeee..dan berfungsi dengan baikkk ☺️ cara wrapping kene perbaiki lagi🤗" -fimiepija
"Barang sampai dengan baikk berfungsi dengan baikkk 🏻👍🏻👍🏻👍🏻👍🏻👍🏻👍🏻👍🏻👍🏻👍🏻👍🏻👍🏻👍🏻👍🏻👍🏻👍🏻👍🏻👍🏻👍🏻👍🏻👍🏻👍🏻👍🏻👍🏻👍🏻👍🏻👍🏻👍🏻👍🏻👍🏻👍🏻👍🏻👍🏻👍🏻👍🏻👍🏻👍🏻👍🏻👍🏻👍🏻👍🏻👍🏻👍🏻👍🏻👍🏻" -h*****z
4. ANTI BURN Ultrasonic Humidifier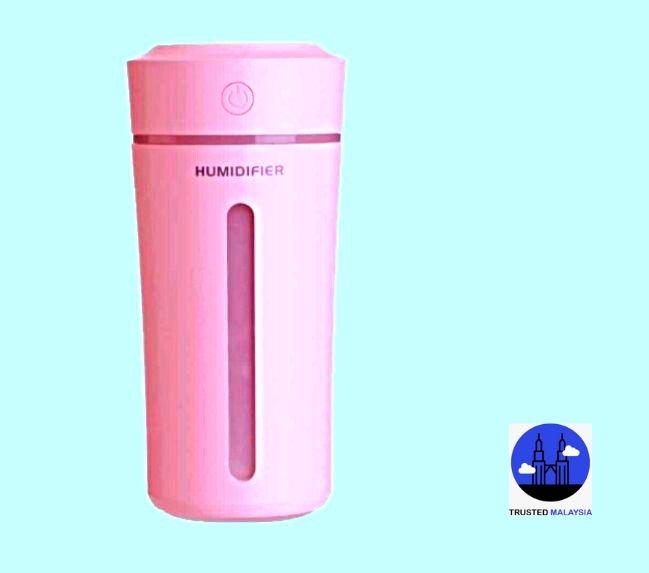 Price: RM 18.95
| | |
| --- | --- |
| Function | Air freshener, purifier |
| Tank Capacity | 270ML |
| Duration | 8 hours |
| Color/s | White, Pink, Blue |
| Product material/s | ABS, PP, Silicone |
The ANTI BURN Ultrasonic Humidifier is a lightweight air humidifier that comes in 3 different colors. We think it's a perfect gift for your loved ones since you can use it anywhere from your bedroom to your car on road trips.
It uses ultrasonic high-frequency atomization that keeps the air around you moist while reducing radiation. It doesn't really mention the application area but, due to its size, we suggest using it for smaller spaces that are 30 square meters or smaller.
Now, there are 2 modes you can use to keep your space humid. These are the continuous mode which runs for 4 hours or the intermittent mode which runs for 8 hours.
The continuous mode runs for just 4 hours before shutting off just so it doesn't waste too many resources but you can always turn it back on if you want to keep on using it. With the intermittent mode, it humidifies every 3 seconds and stops every other 3 seconds until it reaches the 8-hour mark.
It also shuts off automatically as soon as the water in it runs out to prevent any damage to the machinery.
Portable
Affordable
Available night light
Comes in 3 different colors
Auto shuts off when water runs out
Small water capacity
Not suitable for big rooms
Customer Reviews
Below is a review left by a satisfied buyer of this product:
"Barang dah terima..tiada masalah dah try pasang ok sume working..cuma xde pape lampu laa..dia pnya pewangi wife x tekan yg free gift so blum ada pewangi nya..just letak air pastu letak pewangi sket nak try working ke x..ok rekomended 👍" -katoncool
5. Taotronics AH014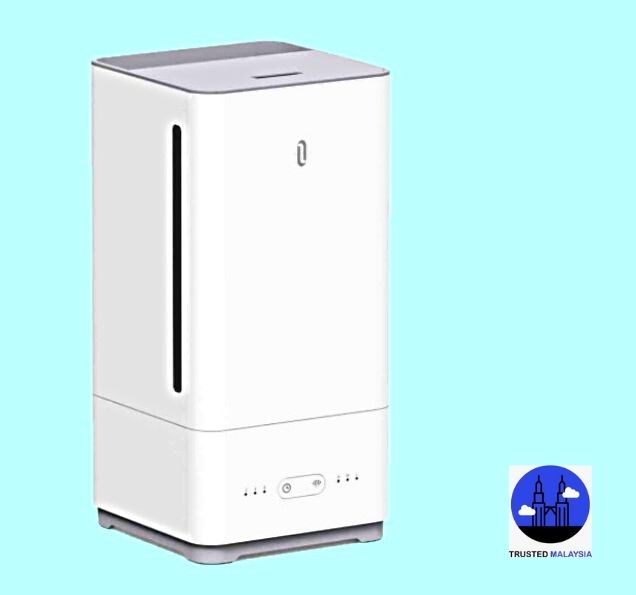 Price: RM 599
| | |
| --- | --- |
| Brand | TaoTronics |
| Working time | 16-40 hours |
| Tank capacity | 5L |
| Application area | Up to 250 square meters |
| Features | Aromatherapy, Purifier |
| Power | 24W |
If you're looking for a heavy-duty air humidifier that has a minimalistic look, we're immediately going to direct you to the Taotronics AH014.
It can run for up to 40 hours and has a fog height of up to 2 feet so it reaches more air space, having a wider range compared to other humidifiers. This is especially true considering the application area of this humidifier can reach up to 250 square meters.
According to users, it manages to keep its noise levels to a minimum regardless of which of the 3 mist levels you select. It has a blue light to let you know that it's on but you can turn it off at night so it doesn't disrupt your sleep.
It also has a feature where it turns off automatically and silently when the water runs out, preventing any damage to the device.
It's pretty easy to refill, too, since it's top filling and has a wide-open design. This also makes it easy to clean.
Long working time
High water capacity
Available in 2 colors
Comes with humidifier cleaning materials
Application area of up to 250 square meters
Expensive
Does not have night light setting
Does not display room temperature or humidity
Customer Reviews
Read on to find out more about this product with the help of these customers' reviews:
"I love this model: big tank, functional timer and great speed controller. The reason I bought this, it can use aroma therapy oil. From my past experience, this is one of the best ultrasonic diffuser + humidifier. You can't go wrong with this model! Recommended! Buy it please!" -Muhamad
"good quality not feel like cheap, worth for money and u only can hear water sound not to loud and not like waterfall sound, can put essential oil that one of option so hope will make room bit cold than before. for the part easy to make preventive maintenance cleaning." -M***
Things to Consider Before Getting a Humidifier in Malaysia
Noise
Humidifiers shouldn't be noisy as they may disturb you from a short nap or distract you from deep concentration. Warm mist and ultrasonic humidifiers are without a doubt, the most silent humidifiers so we suggest you buy that if you want a peaceful and quiet room.
Environment
Not all humidifiers are suitable in some places because of their function and usage. Some humidifiers are best used in warm places and others are best used in cold places.
If you are located in a cold environment, we recommend warm mist humidifiers because they ooze out warm vapors to lift up the temperature in your room. Cold mist humidifiers are best in a warm environment.
Capacity
Before purchasing a humidifier for your room or house, make sure to ask for its capacity so you can determine the maximum coverage of the humidifier in your room. An affordable humidifier typically covers 20-40 square meters.
Budget
Of course, before buying a humidifier, you might want to look for humidifiers that will give you a great experience AND fit your budget.
Humidifiers tend to get pricey especially when you plan to buy one to humidify a large room.
FAQs about Humidifiers in Malaysia
---
We hope this article gave you insight into everything you need to know about the best humidifiers in Malaysia. It can be worrying to think that the air circulating around you and your family isn't as clean as can be so we applaud you for your interest in humidifiers.
If you have any more questions you'd like to ask about this type of device, please feel free to ask away! We'd love to hear from you and answer all your questions.
Now, during humid seasons, we know you're going to need something to help counter the sticky feelings that come with it! As ironic as it is, here we are directing you to our list of the best dehumidifiers in Malaysia for when those seasons come around!