The 5 Best Folding Bikes in Malaysia
Unlike in the past, you can now commute or travel around the city with greater ease with a folding bike. If you need one, here's our list of the best folding bikes in Malaysia!
In this guide, we will discuss each product to help you find the best one with respect to your needs and budget. Also, we included a buying guide and FAQ section after that for you to use.
The Best Folding Bikes in Malaysia
Without further ado, here's our lineup of the best folding bikes in Malaysia!
1) AMIN Folding 26" Mountain Bike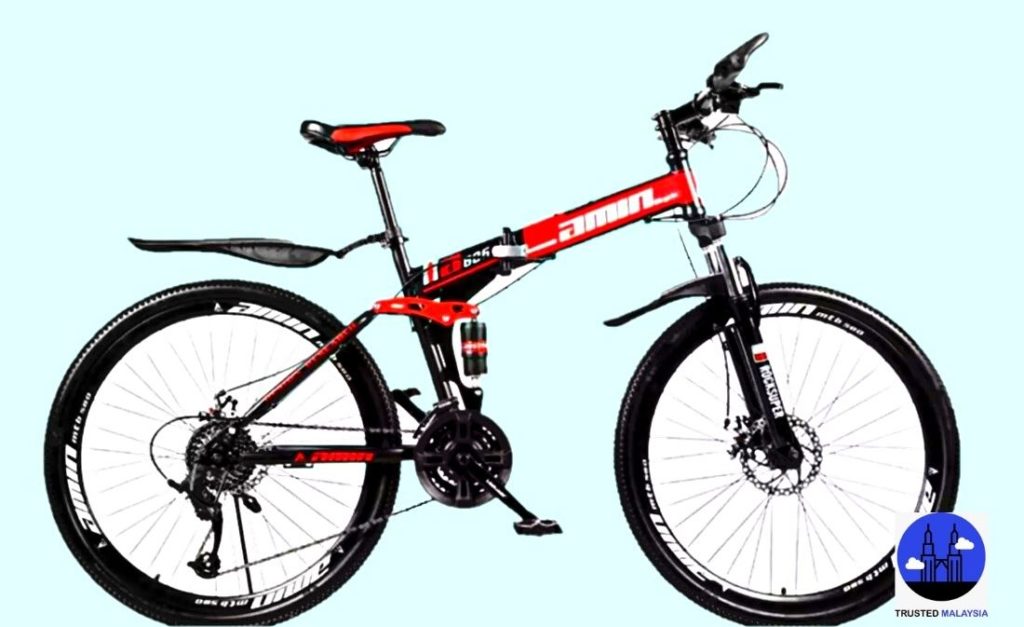 Price: RM319.99
| | |
| --- | --- |
| Frame | Carbon steel |
| No. of gears | 21 |
| Wheel size | 26 inches |
| Colours available | Black/red, black/white, black/yellow, white/blue |
If you often adventure on the trails and need a quality bike for it, this stylish AMIN 26'er folding mountain bike might be for you.
It comes with a 21-speed gear set that allows you to cruise uneven roads and climb hills. At the same time, with a dual shock absorber and anti-slip tyres on this bike, going down steep descents is smooth and controlled.
Its frame is very durable and long-lasting being made of carbon steel. It's also cheaper than bikes that are made of aluminium.
To fold this MTB, you only have to release the clip located on the centre of the frame and carefully go from there.
Our only complaint is that this doesn't have a bottle holder unless you add it on yourself, and the speed and brake need to be assembled. So if you're not familiar with them, you can take them to a bike shop to be set up.
Not only is the Amin bicycle affordable but it's also great value for money and most shoppers were quite satisfied with it, except for the seller's packaging.
Also, you can choose from 4 colours for this bike. Available ones include black/red, black/white, black/yellow, and white/blue, which can match your style and personality.
Sure, it's not as great as other folding bike models out there, but then again, this is a decent-quality, safe, and efficient bike given its solid specifications.
Value for money
Durable carbon steel frame
Dual-suspension bike to absorb shocks
Anti-slip tyres
4 colours available
Does not have a bottle holder
Some might need to take it to a bike shop to be assembled
Customer Reviews
Most buyers acknowledged this bike's nice design and quality as well as the seller's fast delivery. Check out some of their testimonials below:
One Shopee user stated this of the bike:
"The bike is ok, beautiful. It's just that the price isn't the same for this type of bike, the seller shouldn't mix it with other pictures where the price isn't the same … what's important is that the child likes it."
Another satisfied user left this review:
"Item received in good condition. Brake and speed need to be set. If not, you can bring reti to the store. Overall very satisfied. Thanks seller. 5 starsssssssssssssssss."
2) GTE 16" Folding Bike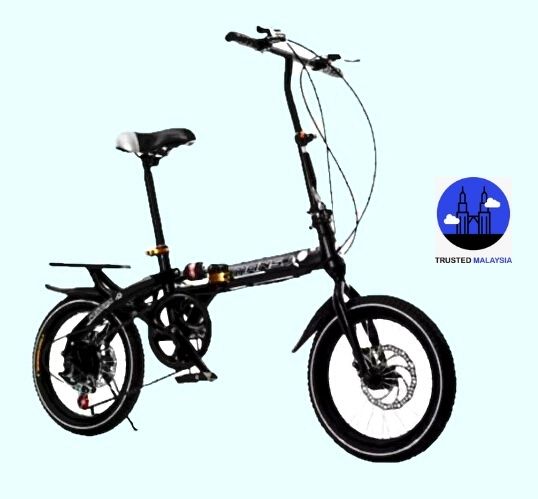 Price: RM271.10
| | |
| --- | --- |
| Frame | Steel |
| No. of gears | 6 |
| Wheel size | 16 inches |
| Dimensions | 130 x 60 x 85 – 110 cm |
| Weight | 16.15 kg |
| Colours available | Black, white |
The GTE 16" Folding Bike is designed for children's use. Clients can verify that this bicycle rides stably, smoothly, and comfortably on roads and bike paths.
The reason for this is that it features a shock absorber, its paddle is soft and adjustable from 85 up to 110 cm high, and the handlebars are anti-slip and the pedals have more surface contact area for the soles.
This folding bike is made of a steel frame that contributes to its hefty weight of 16.15 kg for children. Also, we read some reviews that said the lever and inner tube had some issues but other buyers didn't have them.
The user can shift among 7 different gears to change the bike speed. With front and back aluminium disc brakes, they can also use the brake with ease when riding around the neighbourhood or to a nearby place.
Another highlight of this bicycle is it's incredibly easy to assemble, although it takes a little skill to do so. Also, be aware that this product does not come with a manual.
GTE's children folding bike comes in black, white, and green colours. However, the green variant is currently unavailable with the Lazada seller.
And bonus: you don't have to spend a lot to surprise your kid with this folding bicycle. Because it's cost-effective and highly rated, we chose this as one of the top folding bikes in Malaysia!
Designed for children
Equipped with a shock absorber
Non-slip pedals and handlebars
Aluminium disc brakes
Affordably priced
Easy to assemble
May have durability issues
Heavy for children
Customer Reviews
It received a rating of 4.5/5 stars from many buyers. The majority commended its build quality, excellent price, and that it was comfortable and smooth to ride.
Let's see this review that was submitted by one buyer:
"1. Super impressive delivery service. Bought yesterday, received today.
2. Reasonably good product.
3. No manual given, but easy to assemble (need a little bit of IQ).
4. Better quality tires than the one I bought before (from other seller).
5. The middle "absorber" really does reduce the bumpiness (especially riding through bumps."
Another buyer opined of the bike:
"Overall satisfied with this purchase. Bicycle quality worth for money paid. Easy to assemble since most of the part already assembled only left handle bar, seat and paddle to assemble. Just the draw back is 1 of the brake level is broken after 3 day use. Need to change it."
3) Voice G9 24" Folding Bike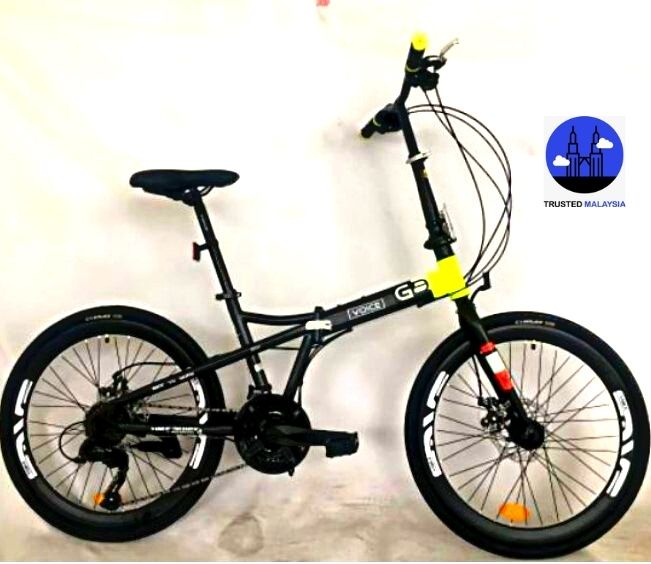 Price: RM646 – RM680
| | |
| --- | --- |
| Frame | High-tension steel |
| No. of gears | 24 |
| Wheel size | 20 |
| Weight | 15.50 kg |
| Colours available | Red/grey, dark blue, grey/red, blue/pink, orange, grey/yellow |
One of the best folding bikes in Malaysia, the Voice G9 is a stylish road bicycle featuring a premium Microshift gear set with 24 different speeds for a smooth commuting experience.
It folds up neat and organised even with its pedals—almost akin to a folded wheelchair but in a cool way. Unlike other bikes, the set already comes 90% assembled with only light work needed including tyres inflation.
It fits riders between 158 and 185 cm tall so can be used by almost everyone, even by women. We also like that its seat is sporty and comfortable, which along with its 20-inch wheels, can make it suitable for long rides and exercise.
Featuring a high-tension steel frame, the Voice G9 is hardy, strong, and long-lasting. It's also impressive that with this material, they managed to produce a bike weighing only 15.50 kg.
Also, the exciting part is that several colour designs are available for this bike. The one pictured is dark blue but there's also red/grey, grey/red, blue/pink, orange, and grey/yellow variants.
As for its drawback, its price is a bit on the premium side compared to most bikes. However, one customer claimed that the efficiency and performance of this bicycle equalled those in the 1K range.
Another thing we don't like about the bike is that it may be hard to adjust its saddle up or down. Given this, we advise that you be careful when doing it so as not to scratch the seat or frame.
Overall, we highly recommend this bicycle for its fantastic style, smooth gear shifting, build quality, and not to mention lifetime warranty.
Smooth ride with the Microshift gear set
Looks very neat when folded
Sporty, comfortable seat
Several variants are available
Comes with a lifetime warranty
Higher price point
A bit hard to adjust the seat up or down
Customer Reviews
Buyers on Lazada gave this product a perfect score. They mostly loved the easy assembly, durability, and smooth handling of this bicycle.
Check out this client testimonial on Lazada:
"delivery within a week after purchase. however delay is from skynet as usual. bike quality is on par with those around 1k. microshift gear is surprisingly not bad and smooth. overall worth it."
Although this is a short comment, it says enough. Ratiga said of the bike:
"Really very happy with the cycle . Worthy buying."
4) TRS Rover 20" Folding Bike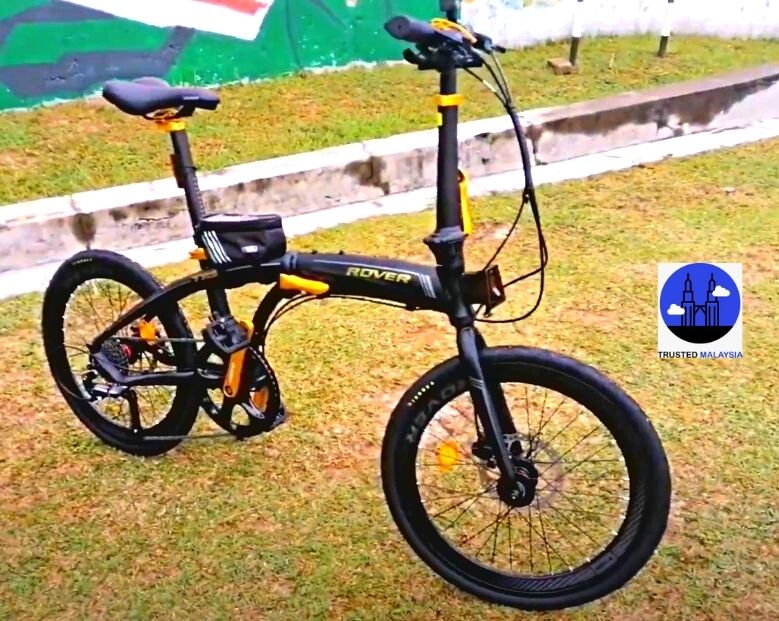 Price: RM1,450
| | |
| --- | --- |
| Frame | Aluminium |
| No. of gears | 9 |
| Wheel size | 20 inches |
| Weight | 13 kg |
| Colours available | Grey/red, black/yellow, black/red |
With a light aluminium frame and 9-speed Shimano Altus gear set, the TRS Rover 20" Folding Bike is designed for daily commutes and leisure runs in the city.
Besides that, it features a Tektro HD-M275N brakeset, giving your bike reliable and excellent braking power.
You can shrink its size with no difficulty by folding it. Thus, it can be parked or stored in your workplace without taking up a lot of space, or also taken with you to places for work purposes.
It is a well-balanced bicycle, offering both great convenience and ample speed versatility. Furthermore, it's durable but not as much as other models that are made of steel or carbon.
While the product doesn't come with a manual, it's fairly easy to set this up, especially for bike enthusiasts. But, some might need to log on to YouTube to learn how or just let an expert do it.
Given its stellar ratings by customers, it's safe to say that its higher-than-normal rate is worth it.
You can use this bike regularly for years and so, you can get good value out of it.
And, as it's available in eye-catching grey/red, black/yellow, and black red, you can pick your poison among them.
Lightweight folding bike
Features a 9-speed Shimano gear set
Effective braking power
Easy to set up
Expensive rates
No manual included
Customer Reviews
This product garnered positive feedback from clients. Most of them said that it had great quality, was stable to ride, and gave value for money.
One reviewer wrote this on Shopee:
"Received in good condition, with minor (very minor) calar but it is acceptable. No manual for remaining assembly but it wasn't difficult tho. Also, still need some tuning and alignment. Overall satisfied. Wud suggest to include manual/guide for future improvement. 👍"
Faizal commended both the product and seller. He wrote:
"Nice packing, worth buying & good price from seller. Seller is very nice & always update about the item especially shipping. Very friendly seller and Feels like dealing face to face at shop. Highly recommended seller 👍🏻👍🏻👍🏻👍🏻👍🏻👍🏻"
5) Tern Link C8 20" Folding Bike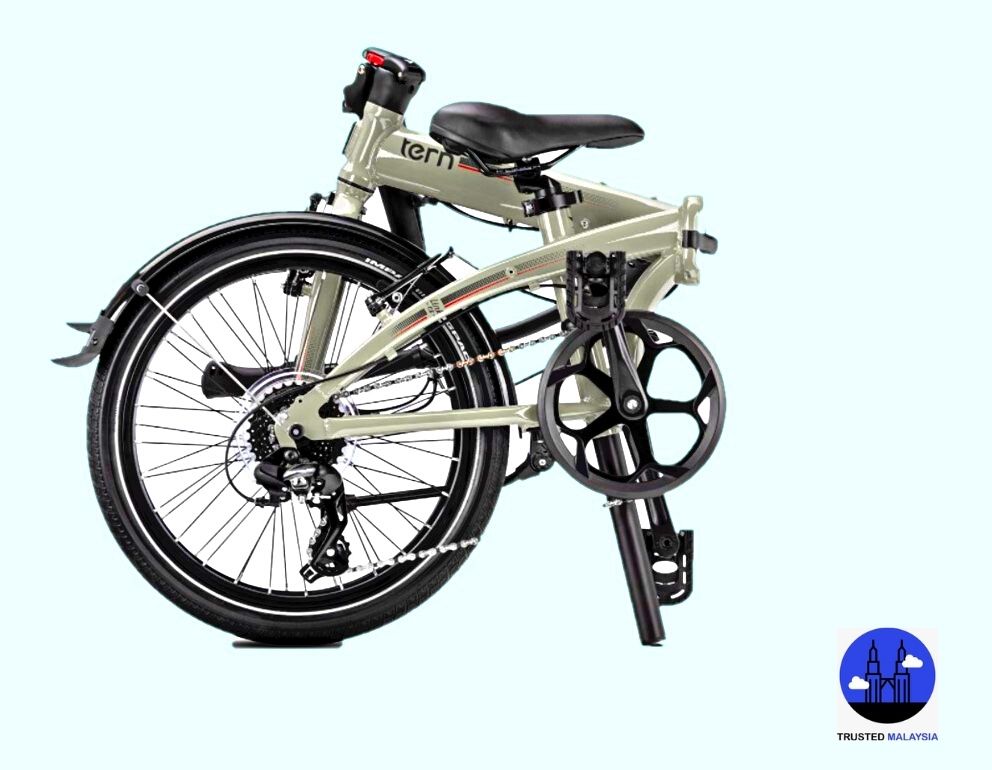 Price: RM2,250
| | |
| --- | --- |
| Frame | Aluminium |
| No. of gears | 8 |
| Wheel size | 20 inches |
| Weight | 12.8 kg |
| Colours available | Black, grey, yellow/silver |
The Tern Link C8 folding bike is ingeniously made using state-of-the-art technology from its stiff handlepost to fast-rolling tyres.
Its design makes the most out of its Shimano 1 x 8 shifter, which enables it to climb hills and speed through the city. Even though its gears are fewer than the others, it can still compete with them.
Its larger 20" wheels and tyres grant the rider comfort even on cracked and old roads. These also contribute to the speed of the bike whether you're heading to near or farther locations.
The folding bike is built with dual front and rear brakes allowing you to go and stop on a free road, crowded street, or amid traffic.
The interesting bit is that you can fold this thing in just ten seconds. And it's very small and compact when folded and won't be undone thanks to the magnets that keep it in place even if it is carried in a hurry or bumps against something.
Moreover, it's extremely light at 12.8 kg owing to its aluminium frame. Therefore, it's easy to store it under your office table or take it with you on the train.
Oh, if you want, you can also modify this bicycle by adding fenders, a back rack, a basket, or integrated rear lighting so you can ride safely and confidently at night.
Having all these excellent specifications and nifty features entail a premium price, but you get what you pay for.
So based on the reasons stated above, the Tern Link C8 foldable bike has earned itself a spot as one of the best folding bikes in Malaysia!
Ultra-lightweight bike
Can climb hills and race through the city
Dual aluminium disc brakes
Small and compact when folded
Comfortable and fast-rolling tyres
Add-on options available
Premium price
Fewer number of gears compared to others
Customer Reviews
People have mostly been satisfied with this speedy and obliging bike. Here are what some of them said:
One buyer on Tern's official website wrote this:
"If your space is limited and you'd rather not awkwardly affix a big, clunky bike to one of your walls, look no further than Tern's Link C8, a roughly 28-pounder that folds into a compact size, so you can discreetly tuck it away."
And another one shared this comment:
"The ride […] is extremely impressive – smooth, comfortable and easy to handle, with eight (!) gears and 20″ wheels."
What to Consider When Buying a Folding Bike
Before buying a folding bike, it's essential to consider the following factors to find the ideal one for you:
1) Gear Set
Gear sets are important since they will determine the speed, performance, and adaptability of your bike.
Since folding bikes are smaller than regular bikes, they typically have fewer gears than regular bikes. While the bike has fewer speed capabilities, you can get around the city fine with it.
Also, this will determine the climbing power of your bicycle. If it has lower gears then it can tackle uphill surfaces, useful if you are to take your folding bike on the trail, for example.
So, always make sure the gear set is of high quality so you can shift smoothly as you ride. Note that there are many types of gear sets and each one has certain advantages and disadvantages.
2) Brakes
Next, you should check the braking system of the folding bike. It should be responsive and effective enough to reduce your speed and stop the bike completely.
You should look for one with front and back mechanical brakes as this provides stronger stopping power when you pull the lever. Not only is this safer, but this gives you more control on the road.
3) Frame
A bike's frame is made of different materials including steel, high-tension steel, aluminium, and carbon.
Steel is the most common material for bike frames. This is durable and long-lasting but weighs heavier than other kinds.
Carbon and high-tension steel are great materials, able to last for many years and withstand scratches and impacts. They are also heavy and cost higher than regular steel.
Whereas aluminium bike frames are significantly lighter. However, they don't have the durability of the aforementioned materials and require more of them just to match them.
By the way, make sure to check the max weight capacity of the bike to see whether it's suitable for you.
4) Wheel Size
Most folding bikes are available in 16 and 20-inch wheel sizes, but you can also find those that have 24, 26, and even 27.5-inch wheels—closer to those of regular bikes.
To know the right wheel size, you have to know what you're using the bike for. For faster and long-distance rides, go for bigger wheels, but for everyday commutes, smaller ones are better since the bike is lighter and more compact when folded.
5) Bike assembly
Foldable bikes are partially assembled when sent to the person after buying them online. It should be at least 90 per cent complete so that less DIY work is needed.
You need to have at least minor knowledge and skill in bike assembly for this. Otherwise, you can ask a family member or a bike technician to assemble the components of your bike.
It's also best if the product comes with instructions or a manual so you can set up the bike with relatively little trouble. So it's great if you can find a seller that provides it.
6) Price
Folding bikes can cost anywhere from RM222 to RM6,000 online. If you have taken into account the factors that we mentioned in this section so far, the price should be no problem.
You should pick a folding bike that has excellent or at least decent quality that's right for your wallet. Plus, getting one with a warranty also helps as that means you can return the product in case it's defective.
FAQs about the Top Folding Bikes in Malaysia
---
And that concludes our top options for folding bikes in Malaysia. If you want a smooth and comfortable ride, then you can't go wrong with the ones we suggested.
Have any comments or questions about our picks? If you have one, please let us know by messaging us and we'll get back to you promptly.
Also, you might be interested in the best car rental companies in Ipoh. This can be a cost-saving way to explore more of the city solo or with your friends.