Best Human Resources Management Software in Malaysia
Thanks to the advancement of technology, people's lives are made easier not just at home but also at work! One department that has greatly benefited from the available tech developments today is Human Resources.
Nowadays, a huge chunk of their workload is assisted by applications or programs called Human Resources Management Software. Several companies offer this type of software in Malaysia but we're here to narrow down only the best.
How We Chose the Best Human Resources Management Software in Malaysia
We've carefully curated this list by grading the companies we've found online based on the following criteria:
1. Rymnet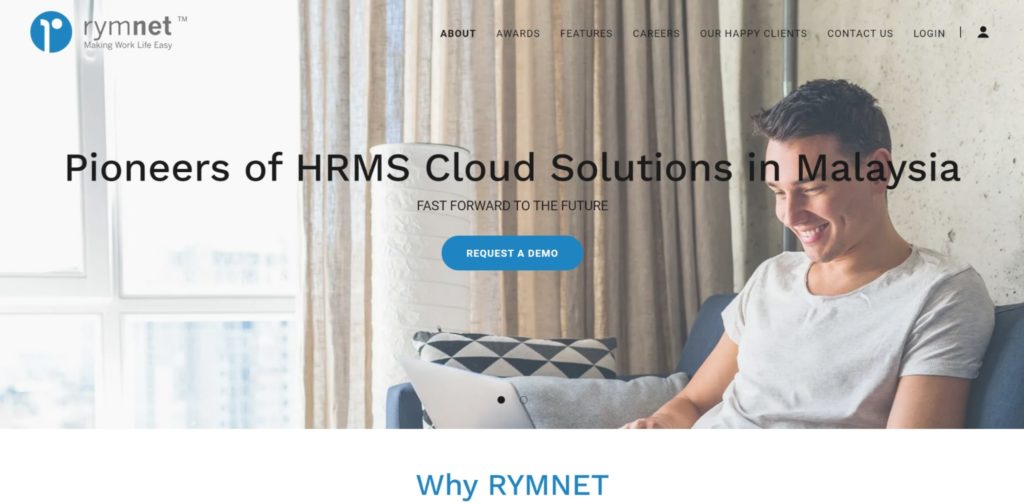 | Test | Info |
| --- | --- |
| PRODUCTS | Payroll, Leave, Claim, Attendance, Recruitment, Performance Appraisal, Training, Learning |
| WEBSITE | https://rymnet.com |
| ADDRESS | 13-7, Block A, Jaya One, Jalan Profesor Diraja Ungku Aziz,, Petaling Jaya, Malaysia |
| CONTACT DETAILS | +60376222546 |
| | |
| --- | --- |
| Criteria | Ratings |
| Features | ★★★★☆ (4/5) |
| Variety | ★★★★★ (5/5) |
| Usefulness | ★★★★★ (5/5) |
| Customer Service | ★★★★★ (5/5) |
| Channels | ★★★★★ (5/5) |
| Responsiveness | ★★★★★ (5/5) |
| User Interface | ★★★★★ (5/5) |
| Design | ★★★★☆ (4/5) |
| Accessibility | ★★★★★ (5/5) |
| Smoothness | ★★★★★ (5/5) |
One of the things we look for in a human resource management software is how complete their suite is. That's why a company that immediately piqued our attention was Rymnet, as they offered a complete package that could greatly help HR teams!
They have a bunch of features, an example would be the BLE Beacon for staff attendance tracker which is suitable for retailers as their staff can check-in within the radius range. But the one that stood out the most for us was the facial recognition attendance system.
Right off the bat, we immediately knew that this was going to be a game changer, especially considering how most companies have remote setups nowadays.
This feature wouldn't only help the human resources team but all employees as well since their time-ins will be much more convenient. Moreover, it will help in preventing dishonesty concerning attendance.
We also appreciated how easy it was to reach them as they had several channels including telephone and email. This made it easy for us to contact them whenever we had an inquiry.
Furthermore, the list of their happy clients isn't something to ignore! Rymnet's software is being used by big names in Malaysia and all over the world such as 7-Eleven, Nando's, Family Mart, KFC and more – impressive, right?
The only thing that we thought Rymnet could improve upon was its interface. We think that the UI could've used some better design elements to make it more user-friendly.
Apart from that, there isn't really a major issue that stands out from this software. It features a robust suite that can make the lives of HR teams way easier.
Variety of useful features
Easy to use
Smart Payroll Tracker
Lacklustre user interface
Customer Reviews
Group People Care Manager of A&W (Malaysia)
"We have managed to maintain our HR headcount at 3 pax to manage payroll from an initial 600 employees to the current 1,000 employees. During this time, 2 other companies were added to the company's portfolio. Processing time has also reduced by about 2-3days from before."—Jennifer Mok
VP, People and Culture of Photobook Worldwide
"I do not hesitate to recommend the Rymnet HRMS to any organization that is looking for a robust and user-friendly system that will allow its HR/People team to manage their deliverables seamlessly." —Karine Mooi
2. peopleHum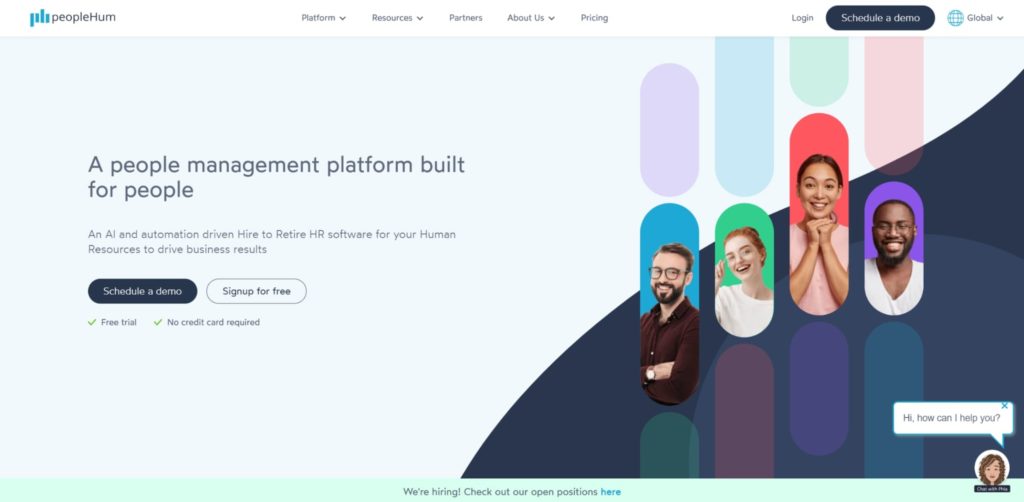 Test
Info
PRODUCTS

Recruitment management system

Performance management

Employee management

HR analytics

WEBSITE
https://www.peoplehum.com
ADDRESS
1074, 24th Main Rd, 1st Sector, HSR Layout, Bengaluru, Karnataka 560102, India
CONTACT DETAILS
| | |
| --- | --- |
| Criteria | Ratings |
| Features | ★★★★☆ (4/5) |
| Variety | ★★★★★ (5/5) |
| Usefulness | ★★★★★ (5/5) |
| Customer Service | ★★★★★ (5/5) |
| Channels | ★★★★★ (5/5) |
| Responsiveness | ★★★★★ (5/5) |
| User Interface | ★★★★☆ (4/5) |
| Design | ★★★★☆ (4/5) |
| Accessibility | ★★★★☆ (4/5) |
| Smoothness | ★★★★★ (5/5) |
If you were to ask us what the most important factor is when looking for an HR management software, our answer would be the design.
One company that excels in this department is peopleHum, and we got a taste of what they had to offer through their free trial.
Several things come to mind when thinking of things to highlight from this software's features. They have everything from managing leaves, payroll, attendance and more in one neat system.
One of our favourite features from them was the automated hiring system. For the longest time, this part of the hiring process was always dreadful but this feature makes it a hundred times faster and easier.
What impressed us even more was that, even with its variety of features, it still managed to remain an organised UI.
PeopleHum is also pretty easy to contact as they have multiple channels, including the chatbot on their website named Phia. Through this bot, we got to learn more about their offerings before we eventually opted for their services.
It's also through this bot that we got to connect with live agents who are extremely helpful in assisting us with our inquiries.
The only thing we didn't like about the software can be found in its attendance monitoring feature. We found it a burden to have to open each day separately, so we hope they can find a solution for this issue.
Wide array of features
Sleek interface
Organised view
Attendance UI could use some tweaking
Customer Reviews
Good HR tool
"Overall a very good HR tool. Regularizing attendance one by one is a nightmare for supervisors thought. Hope PH will allow viewing/approving of the whole month in tabular format in the future so each day doesn't need to be opened separately."—Ali Aslam, Google Reviews
Revolutionary
"peopleHum has been a revolutionary software that I have used. I have used it for more than 2 years now and it has helped me a lot. It is easy to use and has saved us a lot of time. Highly recommend it to everyone." —Aditi Kamble, Google Reviews
3. Rymbee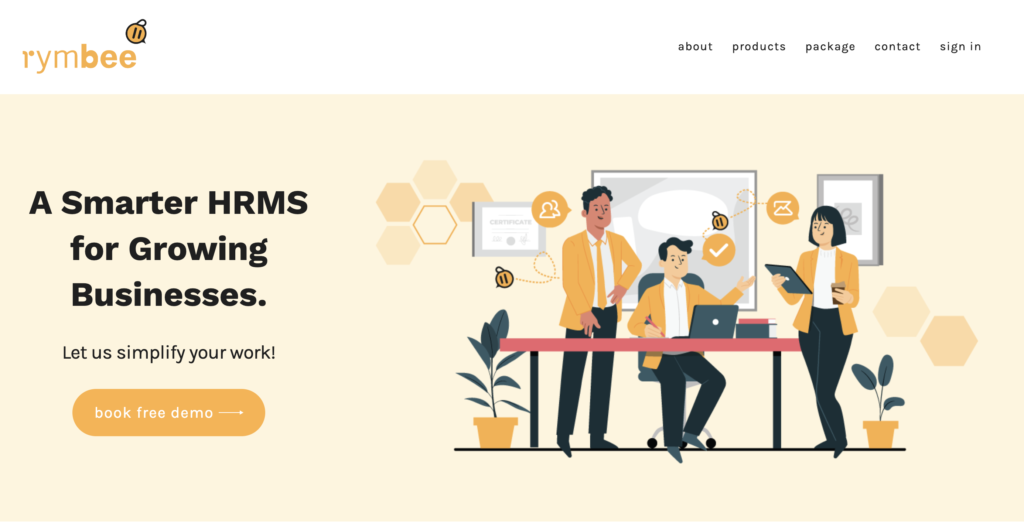 Test
Info
PRODUCTS

Employee Profile

Payroll

Claim

Leave

Time Attendance

WEBSITE
https://rymbee.com/
ADDRESS
Contact for more information
CONTACT DETAILS
| | |
| --- | --- |
| Criteria | Ratings |
| Features | ★★★★☆ (4/5) |
| Variety | ★★★★★ (5/5) |
| Usefulness | ★★★★☆ (4/5) |
| Customer Service | ★★★★★ (5/5) |
| Channels | ★★★★☆ (4/5) |
| Responsiveness | ★★★★☆ (4/5) |
| User Interface | ★★★★☆ (4/5) |
| Design | ★★★★☆ (4/5) |
| Accessibility | ★★★★☆ (4/5) |
| Smoothness | ★★★★★ (5/5) |
Rymbee developed a cloud-based HRMS system in 2023.
But we think you shouldn't be fooled because their system was built by an award-winning HR software provider Rymnet Solutions Sdn Bhd. So you know it's the real deal.
Their company is perfect for SMEs who want to thrive and they help through the digitalization of daily HR operations with HR administration modules, namely Payroll, Leave, Claim and Attendance to improve overall operational efficiency.
What we like about their system is how it's designed to be easy to use since there's no software implementation that's required.
Even if no software is required, it's still able to deliver practical functions and features that all HR users in growing businesses can benefit from.
We like that users don't have to worry much about their data because they're secured in a cloud-based software managed in a Microsoft Azure platform.
It's great for growing businesses in the retail and food and beverage industries due to the attendance and BLE Beacon, which can help track staff attendance accurately. It's also pretty easy to use, so employees and managers won't have a difficult time when introduced to it!
We think it's also very convenient that their system comes with a mobile app that's available on Android and iOS devices—users can access it anytime!
They offer a free demo with their BEE for those interested in getting to know more about their services and products.
Since their company is new, we haven't really found reviews on them online so far. This may be a downside for those who want to know about other businesses' experience with them.
Cloud-based HRMS system built by an award-winning HR software provider
Smart Payroll Tracker
No software implementation and easy to use
New company
No reviews online
No free trial version available
4. Zimyo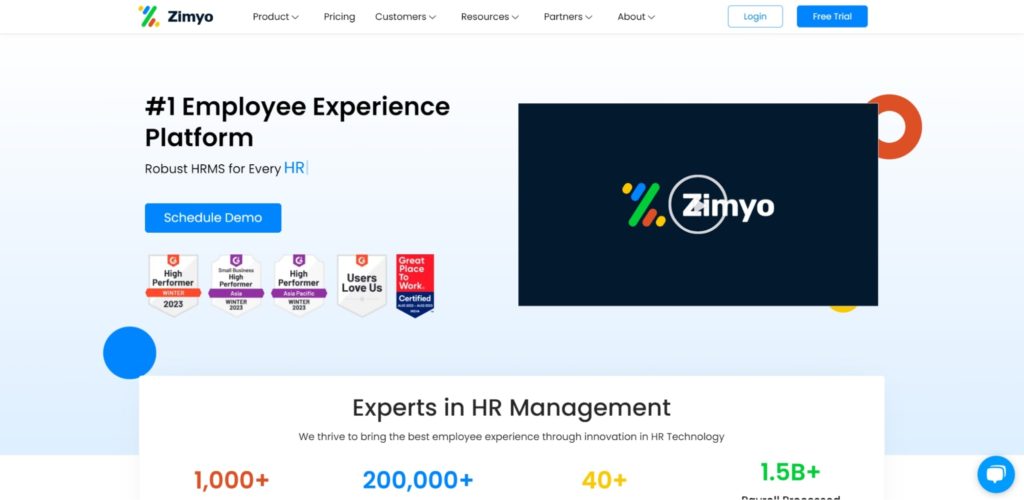 Test
Info
PRODUCTS

Zimyo Benefits

Zimyo Performance

Zimyo Engage

Zimyo Payroll

Zimyo HR

WEBSITE
https://www.zimyo.com
ADDRESS
Rider House, Sector 44, Gurugram, India, Haryana
CONTACT DETAILS
| | |
| --- | --- |
| Criteria | Ratings |
| Features | ★★★★★ (5/5) |
| Variety | ★★★★★ (5/5) |
| Usefulness | ★★★★★ (5/5) |
| Customer Service | ★★★★★ (5/5) |
| Channels | ★★★★★ (5/5) |
| Responsiveness | ★★★★★ (5/5) |
| User Interface | ★★★★★ (5/5) |
| Design | ★★★★★ (5/5) |
| Accessibility | ★★★★☆ (4/5) |
| Smoothness | ★★★★★ (5/5) |
Among the HR management software available in Malaysia today, one that had robust features was Zimyo. After testing this software for a while, we immediately realised how much our lives would've been easier.
From payroll management to benefits, recruiting, performance and more, this company offers everything that an HR team needs. All of these features are packed into one smooth software that's free from bugs, which is an immediate win for us.
According to the HR managers we spoke with, they value interactivity between their employees, as it makes the workplace feel livelier, and this is why we loved Zimyo's "Engage" feature.
Apparently, this feature helped them boost their employees' morale in various ways, including commemorating their valuable milestones and conducting polls.
Furthermore, this feature allowed them to voice out their sentiments about their work and the company itself.
On the downside, one thing that we see rubbing people the wrong way is the somewhat confusing UI. It does feature a sleek design but, sometimes, you'd have to dig deep to find a specific feature you're looking for.
However, with the company's track record of listening to user feedback, we can see them fixing this issue in no time.
Overall, we still recommend using Zimyo for its robust features and cool design. It just needs some more organising in our opinion which is important for software that's packed with different kinds of features.
Robust set of features
Bug-free experience
Cool web design
User interface could use some more organising.
Customer Reviews
Zimyo is an amazing tool
"Overall experience with Zimyo was good, Zimyo is not just an HR tool but also lets you know the events in your company."—Rajeesh N., getapp.com
Zimyo for employee management
"My organization use zimyo for employee management, it is good for clocking in and out and also for finance management and leave management. Reminders are also very useful"—Sidharth J., g2.com
5. altHR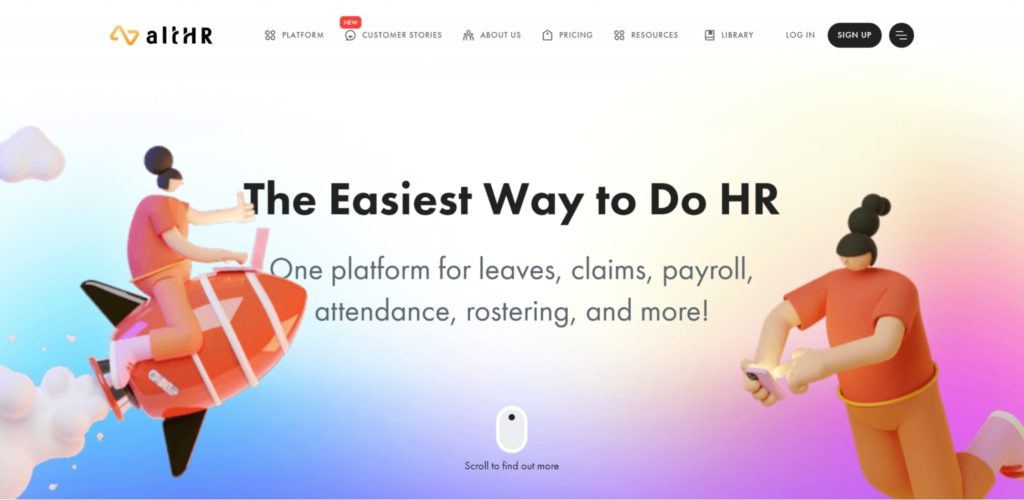 Test
Info
PRODUCTS

Digital workspace, core HR

Employee engagement

WEBSITE
https://althr.my
ADDRESS
CelcomDigi Tower, 6, Persiaran Barat, Seksyen 52 Petaling Jaya, 46200 Petaling Jaya, Selangor, Malaysia
CONTACT DETAILS
| | |
| --- | --- |
| Criteria | Ratings |
| Features | ★★★★☆ (4/5) |
| Variety | ★★★★☆ (4/5) |
| Usefulness | ★★★★★ (5/5) |
| Customer Service | ★★★★★ (5/5) |
| Channels | ★★★★★ (5/5) |
| Responsiveness | ★★★★★ (5/5) |
| User Interface | ★★★★★ (5/5) |
| Design | ★★★★☆ (4/5) |
| Accessibility | ★★★★★ (5/5) |
| Smoothness | ★★★★★ (5/5) |
Among all the things you need to consider when looking for an HR management software, ease of use is the most important. This is especially true when your HR team isn't exactly tech-savvy which was the case for us.
That's why we appreciated how user-friendly altHR was when it first came to our attention. From what we've seen, it's extremely organised, as every feature they offered was separated into its own sections, making navigating simple and easy.
We also want to commend the platform for having a nicely-designed dashboard which isn't only for aesthetic reasons but for utility as well.
It features every tool required to make the lives of the HR team easier, from employee engagement to other core HR needs.
The platform also goes beyond what a typical HR team would do. For instance, it features perks and benefits that are well-loved by the people we spoke with!
One of these perks is the in-app store that comes with the software itself. Here, employees can pay their utility bills and online subscriptions or even purchase gaming credits all in one neat application.
There wasn't anything that really bothered us while checking altHR's software, but if we were to nitpick something, it would be with their pricing.
We didn't like that their payroll system was an optional add-on instead of being included with the base plan which costs an additional fee.
Easy-to-understand interface
Reasonable price packages
Payroll system is an optional add-on
Customer Reviews
User friendly
"The best and most user-friendly HRMS there is out there! altHR has an extensive range of features from time-tracking to leaves to expenses to payroll and so much more. It's very easy and convenient to manage employees (especially during remote work!) with this app and we haven't had a single HR-related issue or complaint since we started using it. 11/10 would recommend for anyone who wants to make HR as easy as it can be!"—Fawzanah Raheem., Google Reviews
Clean user interface
"One of the most decent and user-friendly HR management software that exists out there. It has a clean user interface, and is packed with useful features like rostering, time tracking and payroll. They also have easy to follow guides for using the app and a strong customer support. Highly recommended!"—Munir Rani, Google Reviews
6. HR2eazy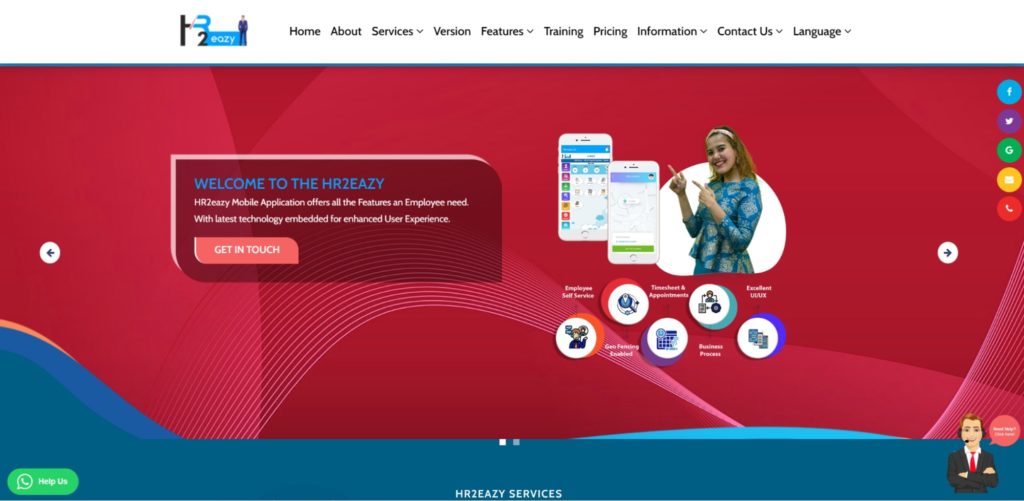 | Test | Info |
| --- | --- |
| PRODUCTS | Payroll, Recruitment, Background screening |
| WEBSITE | https://www.hr2eazy.com |
| ADDRESS | Unit 05-07, Level 5, Tower A, Vertical Business Suite Avenue 3, Bangsar South, 59200 KL Malaysia, Kuala Lumpur, Malaysia |
| CONTACT DETAILS | + 6012 657 2400 |
| | |
| --- | --- |
| Criteria | Ratings |
| Features | ★★★★★ (5/5) |
| Variety | ★★★★★ (5/5) |
| Usefulness | ★★★★★ (5/5) |
| Customer Service | ★★★★☆ (4/5) |
| Channels | ★★★★★ (5/5) |
| Responsiveness | ★★★★☆ (4/5) |
| User Interface | ★★★★★ (5/5) |
| Design | ★★★★☆ (4/5) |
| Accessibility | ★★★★★ (5/5) |
| Smoothness | ★★★★★ (5/5) |
One of the most important tasks for the HR is to make sure that each employee is paid correctly. With that in mind, we think that employers will be thrilled with HR2eazy.
The company claims to offer the best payroll software in Malaysia, and we're glad to see that they have a lot to offer to back this claim up.
For starters, the app is highly customisable which will come in handy as companies can make changes to make it fit their needs better.
With their services, you'll basically leave the payroll processing to them to save yourself from this tedious task. They process payrolls through a secured system which the HR team will also have access to.
They also offer recruitment services which make the process of filtering and hiring new employees faster. It's impressive to see how this feature is in-depth while maintaining an easy-to-use interface.
The software also has a mobile application that can be accessed by the HR staff as well as all the employees in the company. This way, everyone has a mobile copy of everything where they can track their activities from attendance to leaves and more.
In terms of room for improvement, we think that their customer service isn't as good as other companies. Their responses can sometimes be a bit slow which can be a huge problem for other HR teams.
Overall, the application and the overall software itself are still commendable, especially in the payroll processing department.
Mobile app support
Best payroll system
Easy-to-understand interface
Customer Reviews
Well-versed payroll software
"Very comprehensive and well-versed Payroll Software. Would definitely recommend others to utilize it."—Theeban Mahendran, Facebook Reviews
"Good HRMS Application"
"I like the fact that the company is still new so they are really willing to hear feedback and to adapt the system to our requirement, and the app reflects this.
The app is quite responsive and fast.
The interface is simple and intuitive and fit small to medium enterprise for payroll purposes."—Julien G, G2 reviews
FAQs about Human Resources Management Software in Malaysia
That wraps up our list of the best HR management software in Malaysia. Use them to make your employee management way easier for a smoother workflow.
Once things are smoother, why not improve your company's visibility? Check out the best website design companies in Malaysia that will help you increase your brand's legitimacy.
---