The Top 7 Interior Designers for Semi D Homes in Malaysia
Nothing can be more exciting than designing your home for the first time or thinking up a fresh new look for your home!
The thrill of finding an interior designer and the execution of the project itself is already exciting in itself but what's even more exciting is sifting through design ideas!
Sometimes it just takes a few interesting concepts to set your home apart from other homes while being exactly what you're looking for. Other times it makes switching up your whole home's look to feel perfectly happy with your semi-detached home!
Through all of this, you're going to want an interior designer who understands the ins and outs of designing a semi d house. Read on and learn all about the top interior designers for semi d homes!
How Much Does Semi D Interior Designing Cost in Malaysia?
When it comes to putting a price on an interior design project, there isn't one price that fits all. This is because so many factors go into providing the final quote and even then there are some changes.
After the initial consultation between you and your chosen interior designer, they give you a quote. A quote is an amount you are expected to pay to make your dream a reality and these are the factors that go into the calculation of the quote:
1. Interior designer rate
This is the rate that the interior designers themselves charge for their services and it depends on their level of expertise as well as the company.
2. Quality of materials
The quality of the materials used greatly affects the project cost. There are standard materials and premium materials.
It's best to get a company that already works with a manufacturer or contractor. instead of those that outsource. This is because those with long-term contracts get their materials at a cheaper rate thus lowering your project cost.
3. Floor size of the room
The floor size of your room, also known as square footage, is the main thing that determines the project costing. This is because, of course, a larger room requires more materials, more manpower, and more time.
The Top Interior Designers for Semi D Homes in Malaysia
When designing your semi d home, it's important to know exactly what it is you want. We put together this list of the top interior designs to help you determine what exactly that is:
1. IQI Concept Sdn Bhd
SERVICES
Custom solutionsDesign and planningBuild and formation
WEBSITE
http://iqiconcept.com
ADDRESS
Block 4, VSQ @ PJ City Centre, 07-1, Jln Utara, 46200 Petaling Jaya, Selangor, Malaysia
CONTACT DETAILS
[email protected]
+60 17 511 2155 (thru whatsapp only)
OPERATING HOURS
Monday – Friday, 9:00 AM – 6 PM
IQI Concept, a Kuala Lumpur-based interior design company, offers comprehensive turnkey design solutions to both residential and commercial clients, and has won multiple awards for their work. With over 600 completed projects to date, they have been recognized with accolades such as the A' Design Award, Interior Design Awards, ATAP Design Award, and Qanvast SuperTrust Award.
Their team consists of in-house interior designers, architect designers, and project managers, who are young, enthusiastic, and passionate about their work. They bring a unique blend of expertise and joy to each project they undertake.
In addition, IQI Concept specializes in wet works and extensions, making them the perfect choice if you're looking to maximize your space with high-quality building and customized design services.They constantly make sure that every part of their work is completed with the utmost professionalism and skill. They work hard to provide their customers with great quality and happiness. Because of this, they accept that every project begins with a collaboration between their customer and their staff.
We are delighted how they are fully capable of providing personalized features, fitting, and finishing to your specifications, allowing their clients to kick back and enjoy the pleasures of a self-contained retreat.
Provides personalized features depending on your specifications
Transparent rates
Experienced team
Great customer support
2. ATAP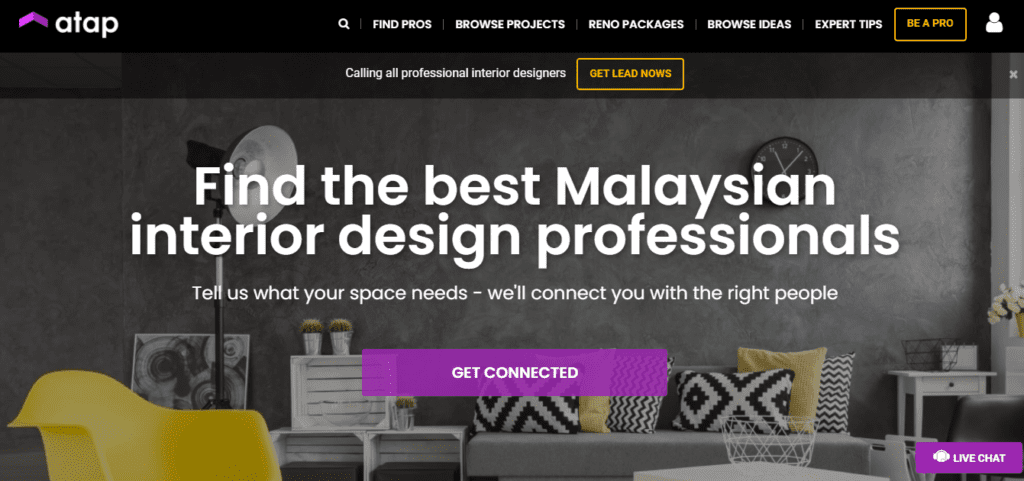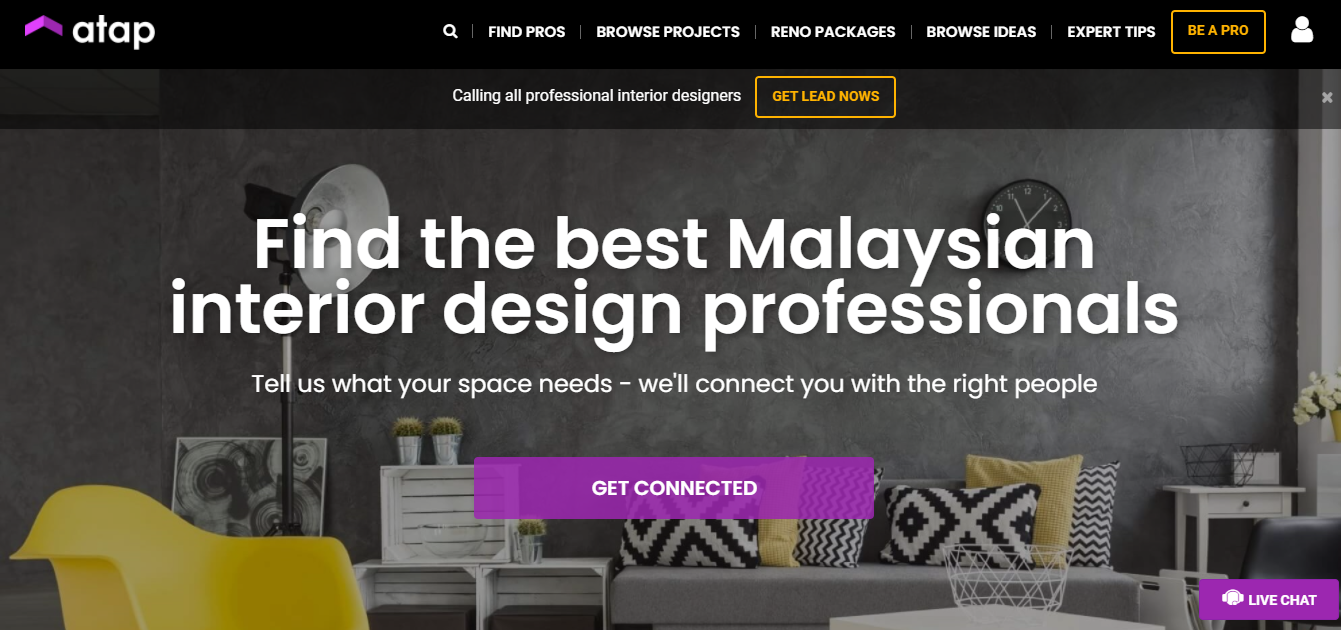 Designing interiors so that they have the Scandinavian style is no easy feat. You have to take into account various things, such as the colors, shape of the tables, structures of the chairs, and more.
This is where ATAP can help you. They are an interior design and renovation consultation service that can help you look for a professional who can decorate your home so that it is characterized by minimalism, simplicity, and functionality– all the factors that are found in Scandinavian interior design.
Unlike other companies, when you work with them, you can expect that they will take into account your various insights when providing you with a list you can choose from. This includes what your property type, size, and location is as well as your budget and preferred interior style.
We definitely recommend them if you want to figure out how to make the best out of your space!
Offers free quotes
Wide range of interior designers to pick from
Prompt services
Contact number is not available
3. Homlux Interior Furnishing Sdn Bhd
| | |
| --- | --- |
| SERVICES | Construction, Interior design, Renovation |
| WEBSITE | https://commercialinteriordesign.com.my/ |
| ADDRESS | 5, Jalan Titiwangsa 3/3, Taman Tampoi Indah, 81200 Johor Bahru, Johor, Malaysia. |
| CONTACT DETAILS | +6072413341 |
| OPERATING HOURS | Mon-Fri 8:45am-6:00pm |
Homlux Interior Furnishing is a Malaysian interior design company that's worked on all sorts of properties, both residential and commercial. Their goal is to provide you with the space you want exactly as you want it while remaining practical and within your price range.
When it comes to designing a semi d home, they take into account every small corner to make sure they maximize the home's potential in terms of space. They give out advice to help you increase the property value of your home just in case you plan on ever selling.
Availing of their services grants you access to consultations, a free estimate, their designs, the supply of materials and the installation. Also, you might like to know that they make a big and bold promise of always completing projects on time.
They have branches all over Malaysia and the world! Their services areas in Malaysia are Johor, Penang, Melaka, Bahru, Kuala Lumpur, Seremban, Selangor, Sabah, Sarawak.
Internationally, they have service areas in Singapore, Indonesia, Turkey, and the Maldives.
Free estimate
Online meeting scheduling
Numerous service areas
4. Touchpoint Interior Design Sdn Bhd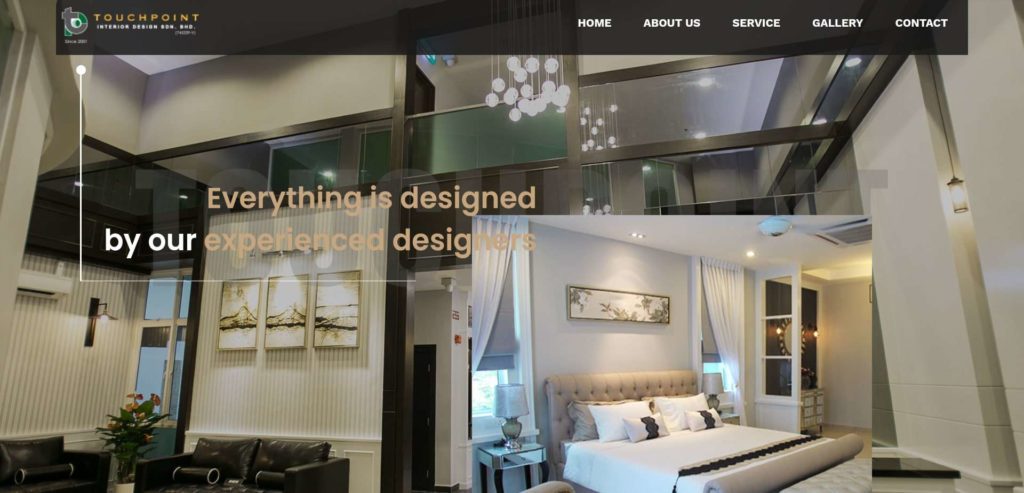 SERVICES
Interior design
WEBSITE
http://www.touchpoint.com.my/
ADDRESS
15 & 15A, Jalan Perajurit, Ipoh Garden East, 31400 Ipoh, Perak, Malaysia.
CONTACT DETAILS
+60 5-546 5602
OPERATING HOURS
Mon-Fri 9:00am-6:00pm
Sat 9:00am-1:00pm
Touchpoint Interior Design is a professional interior design company that specializes in residential spaces but also works on commercial spaces when given the chance.
These include double-storey link houses, apartments, condominiums, detached bungalows, and semi d homes.
Their interior designers are very hands-on during the entire project to ensure that everything is carried out exactly the way the client has requested, from the planning stage to every phase of the installation and construction.
For all projects, they provide their own technical team. This makes effective time management and communication possible because they've all worked together on various projects.
Another reason they prefer to use their own team for construction is that it lowers the cost for clients. Doing the work themselves allows them to use the calculation method called "cross-subsidy" as they also select cost-efficient materials.
Provides their own technical team
Specializes in residential spaces
Customer Reviews
Here's a quick review left by a satisfied client of Touchpoint:
"Compared with professional standards, company reputation, boss good personality." -Choonphooi
5. Deseo Creativo Interior Design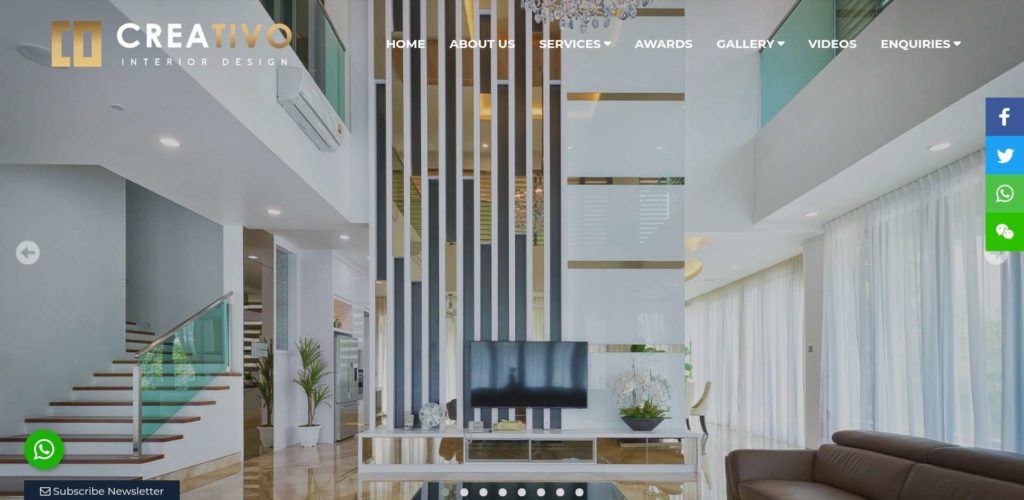 | | |
| --- | --- |
| SERVICES | Interior design, Project management, Construction, Renovation |
| WEBSITE | https://www.creativointerior.com/ |
| ADDRESS | Taman Perindustrian Air Hitam Phase 1 & 2, 123, Jalan Permata 1/ks09, Pusat Perniagaan Bestari, Pusat Perniagaan Bestari, 42000 Klang, Selangor, Malaysia |
| CONTACT DETAILS | +60 12-642 6600 |
| OPERATING HOURS | Mon-Fri 9:00am-6:00pm |
Deseo Creativo Interior Design is an interior design and renovation company that's been in the business since 2007.
Ever since they began, they've worked to specifically study the design and renovation of bungalows and semi-detached homes which are much more difficult than the regular home. This makes these types of projects their bread and butter, so to speak.
Their process begins by getting to know their client and the daily life of those who live in the residential space. This makes the process of designing the semi d more personal.
To be more specific, they get to know the flow of your daily life with an in-depth interview. They then get to know your specific interests and styles for the next step.
That is, they draft up a coloured 3D model to help you see the end of the project and make the necessary changes before the execution of the project.
Specializes in semi-d homes
Very thorough and systemized interview process
6. PMJ Design & Build Sdn Bhd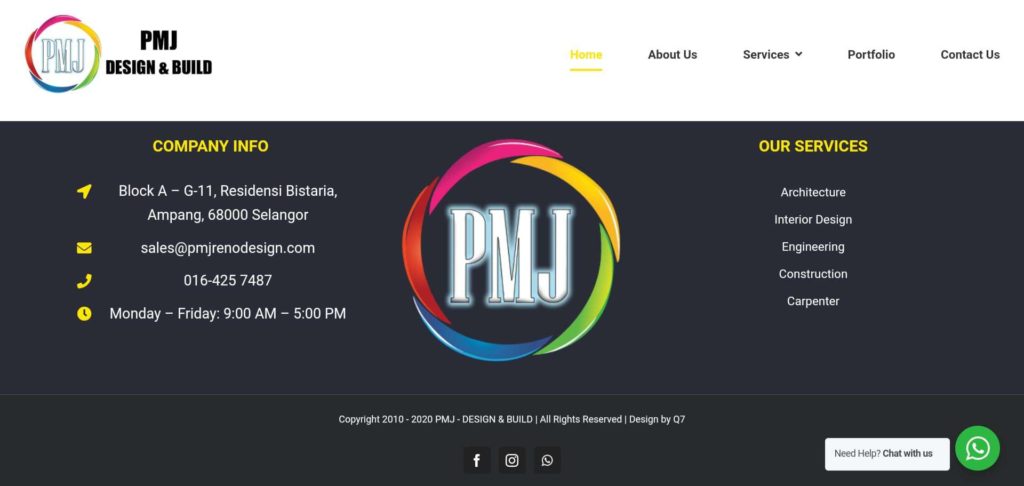 | | |
| --- | --- |
| SERVICES | Architecture, Interior design, Engineering, Construction, Carpentry |
| WEBSITE | https://www.pmjrenodesign.com/ |
| ADDRESS | Block A – G-11, Residensi Bistaria, 68000 Ampang Jaya, Selangor, Malaysia |
| CONTACT DETAILS | +60 16-425 7487 |
| OPERATING HOURS | Mon-Fri 9:00am-5:00pm |
PMJ Design & Build is a construction company in Malaysia that provides various services like renovation, remodelling, and interior design to Kuala Lumpur, Selangor, Negeri Sembilan, and Port Dickson.
They've worked on a wide range of projects from small to large ones all over Malaysia. It doesn't matter whether the project is residential or commercial, they seek to get the job done in a timely manner.
They work closely with each client in every stage of the interior design process. This makes it so that, with every project, they produce either 2D or 3D models to help the client determine if that's what they really want!
The brainstorming phase is where both the interior designer come together and figure out what it is the client wants and a quote is provided. This is followed by prototyping where they both agree on the quote and the design.
The last phase of everything is the completion phase where the final design is revealed!
Provision of 2D/3D models
Flexible on the provided quote
Customer Reviews
Check out this short review left by a satisfied client of PMJ:
"Professional, excellent work ethics, flexible, reasonable and great workmanship." -Mohan
7. Morse Interior Design

SERVICES
Interior design, Exterior Design
WEBSITE
https://www.facebook.com/MorseID/
ADDRESS
73B, Jalan Sutera Tanjung 8/3, Taman Sutera Utama, 81300 Skudai, Johor, Malaysia
CONTACT DETAILS
+60 7-595 3939
OPERATING HOURS
Mon-Fri 9:00am-5:00pm; 6:00pm-7:00pm
Sat 9:00am-5:00pm
Morse Interior Design is an interior design company based in Johor, Malaysia. They began their operations in 2005 and, since then, have made multiple clients satisfied with their innovative approach to design.
Their designs on semi-detached houses in particular have been very diverse! This is in terms of the price range, aesthetics, and building type.
With that being said, they're known to be very experienced in residential houses, commercial retail outlet designs, hotels, and show houses. They know how to create an inspiring environment tailored to perfectly fit the clients' wants and needs.
For them, it's all about working closely with you to create a beautiful and functional space that won't cut off your wings in terms of setting a budget.
They have a Youtube channel you can check out here if you're interested in watching their design process and outcomes!
Flexible with rates
Long business hours
Limited service areas
No free estimate
FAQs about Semi D Interior Design
---
Note that these elements could be furniture, their use of paint, or even their manipulation of things like the light in a room.
Designing your home can be such a fun and exciting experience! All it takes is the right budget, a clear plan, and the best interior designer for you.
We hope that this article helped you get the home of your dreams with the top interior designers for semi-d homes! Please let us know if you have any other interior design companies you'd like us to review.
By the way, if you're looking for something specific like a company that specializes in minimalist designs, check out our article on the best firms for minimalist interior design in Malaysia!