The Top 8 Interior Designers for Semi-D Homes in Malaysia
There's nothing more thrilling than designing your semi-D (or semi-detached) home for the first time after you signed off to purchase or rent it – or even giving it a fresh look when you feel like updating your surroundings (if you're like us)!
You can design your home by yourself but it might be a challenging task for any first-time homeowner. So it's always a great idea to hire an interior designer to make it easier for you.
Before looking for a designer, let's take a look first at some interior design ideas so you could find the best interior designer for the style that you have in mind! Read on to find out some semi-D design ideas which could inspire you in styling your home!
How We Picked the Best Designers in Malaysia for Semi-D Interiors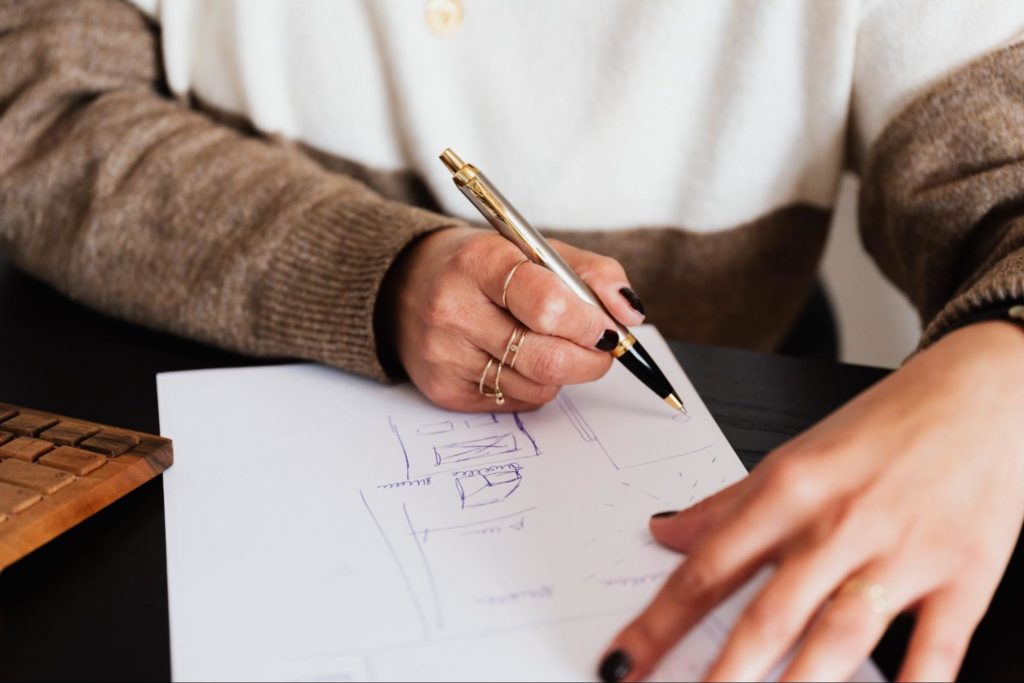 Whether you need a minimalist interior designer or a modern semi-D designer, there's always a thrill in finding an interior designer who could execute your home project.
It's especially exciting when the interior designer you hired understands your vision and not only the ins and outs of styling a semi-D house.
In finalizing our list of the best semi-D interior designers in Malaysia, we ranked them using the following as our standards to make sure you only get the top choices:
1. IQI Concept Sdn Bhd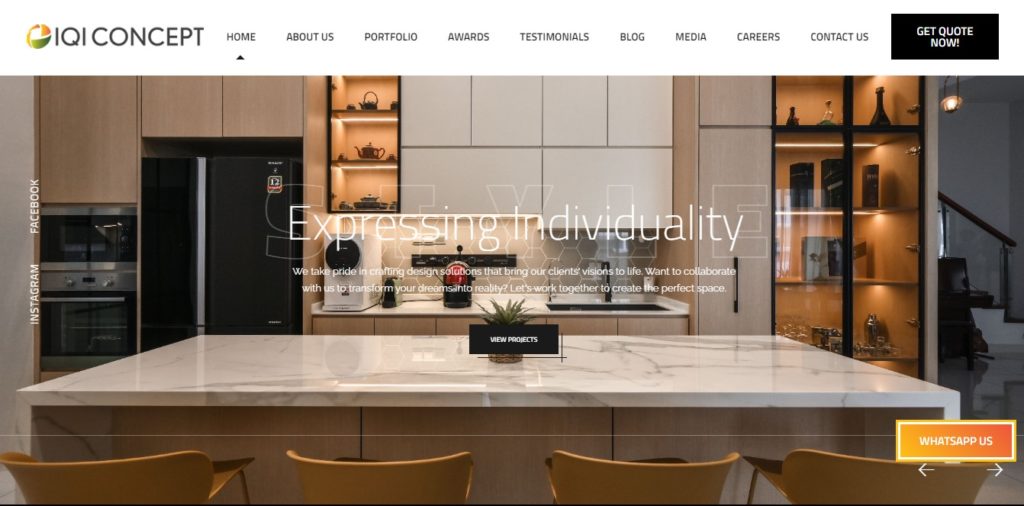 Test
Info
PORTFOLIO
https://iqiconcept.com/
ADDRESS
VSQ @ PJCC, Block 4 - 07 - 01, Jalan Utara, PJS 52, 46200 Petaling Jaya.
CONTACT DETAILS
+60 17 511 2155 |

[email protected]

OPERATING HOURS
Monday to Friday: 9 AM – 6 PM
HOW TO SET AN APPOINTMENT
Fill out this form.
| | |
| --- | --- |
| Criteria | Ratings |
| Portfolio | ★★★★★ (5/5) |
| ⮕Variety of designs | ★★★★★ (5/5) |
| ⮕Types of projects | ★★★★★ (5/5) |
| Services provided | ★★★★☆ (4.5/5) |
| Affordability of services | ★★★★☆ (4.5/5) |
| Client satisfaction | ★★★★★ (5/5) |
IQI Concept, a Kuala Lumpur-based interior design company, offers comprehensive turnkey design solutions to both residential and commercial clients, and has won multiple awards for their work. With over 600 completed projects to date, they have been recognized with accolades such as the A' Design Award, Interior Design Awards, ATAP Design Award, and Qanvast SuperTrust Award.
Their team consists of in-house interior designers, architect designers, and project managers, who are young, enthusiastic, and passionate about their work. They bring a unique blend of expertise and joy to each project they undertake.
In addition, IQI Concept specializes in wet works and extensions, making them the perfect choice if you're looking to maximize your space with high-quality building and customized design services.They constantly make sure that every part of their work is completed with the utmost professionalism and skill.
They work hard to provide their customers with great quality and happiness.
Because of this, they accept that every project begins with a collaboration between their customer and their staff.
We are delighted how they are fully capable of providing personalized features, fitting, and finishing to your specifications, allowing their clients to kick back and enjoy the pleasures of a self-contained retreat.
Given their high-quality services and personalized approach, IQI Concept's pricing may be on the higher end. This may make it difficult for clients with smaller budgets to afford their services.
Offers comprehensive turnkey design solutions
Caters residential and commercial clients
Custom services
2. Blaine Robert Design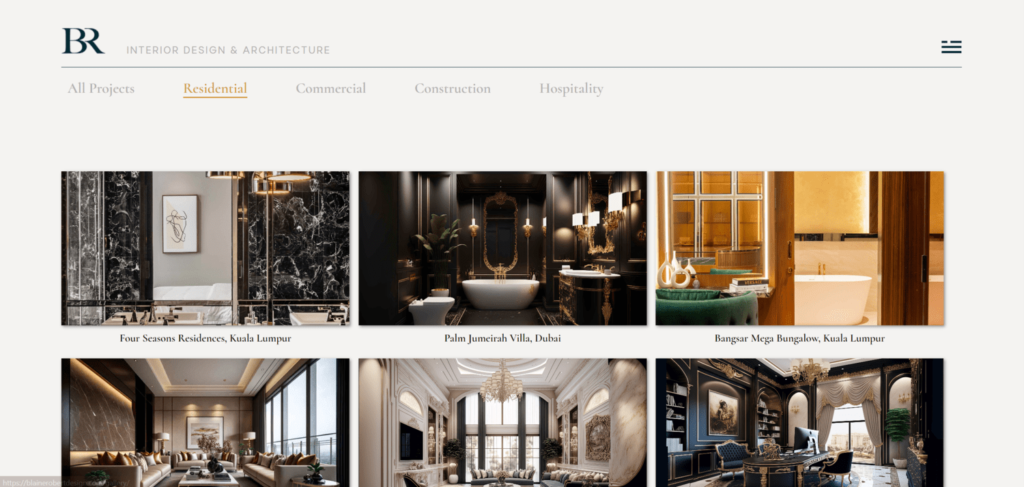 | Test | Info |
| --- | --- |
| PORTFOLIO | https://blainerobertdesign.com |
| ADDRESS | 42-1, Jalan Doraisamy, Chow Kit, 50300 Kuala Lumpur, Wilayah Persekutuan Kuala Lumpur, Malaysia |
| CONTACT DETAILS | +60 12-301 0070 |
| OPERATING HOURS | Monday to Friday: 9 AM – 6 PM |
| HOW TO SET AN APPOINTMENT | Fill out this form. |
| | |
| --- | --- |
| Criteria | Ratings |
| Portfolio | ★★★★★ (5/5) |
| ⮕Variety of designs | ★★★★★ (5/5) |
| ⮕Types of projects | ★★★★★ (5/5) |
| Services provided | ★★★★★ (5/5) |
| Affordability of services | ★★★★☆ (4/5) |
| Client satisfaction | ★★★★★ (5/5) |
Blaine Robert Design is a company that provides its clients with a comprehensive array of interior design and other interrelated architectural services especially geared to accommodate various industrial spaces such as retail, hospitality, and gallery spaces among others.
From residential spaces to commercial buildings, we like that interested clients can readily view their exceptional plethora of past works readily on their online portfolio at their website to ensure that clients can get an accurate glimpse of their particular design approach and design.
Diversely awarded and recognized in the field, they are also highly experienced in handling the various and differing needs clients may have envisioned and may intend for their particular space for a highly functional finish.
Note though that rates of their services and consultation charges aren't readily on their website to which interested clients may need to inquire further for more information on this for an accurate breakdown of this.
Nonetheless, with their exceptional customer service, excellently managed construction projects, and highly versatile approach to their craft, we highly recommend interested clients to check them out.
Highly collaborative and versatile approach to design
Widely recognized and awarded in the field 
Various offices in other countries
Rates and consultation packages aren't readily available online
Professional and approachable
"Since the 1st meeting to discuss our requirement, they understood our vision, prepared the 3D accordingly, submitted the samples, got required approvals from the authorities, started the project and completed well before the committed time schedules. We would definitely recommend them as their professional approach makes them a top notch company. I'd say keep up the good work Team BR, happy to have you all doing my house."
3. Nu Infinity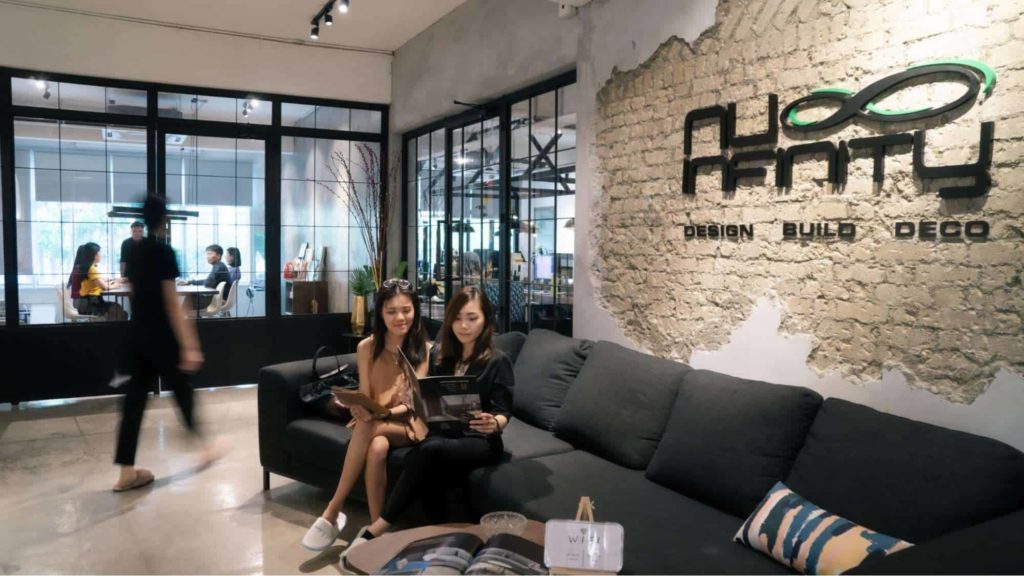 | | |
| --- | --- |
| Criteria | Ratings |
| Portfolio | ★★★★★ (5/5) |
| ⮕Variety of designs | ★★★★★ (5/5) |
| ⮕Types of projects | ★★★★★ (5/5) |
| Services provided | ★★★★★ (5/5) |
| Affordability of services | ★★★★☆ (4/5) |
| Client satisfaction | ★★★★★ (5/5) |
Nu Infinity is one of the best semi-D interior designers in Malaysia in our books!
We think it's impressive that Nu Infinity is an award-winning interior design company. We weren't surprised, though, since we discovered that they're full of talented staff who are committed to making their client's dreams come true.
This is also why Nu Infinity is one of our top choices! We've heard great feedback from their clients, many of whom are very happy with the results of their projects with this firm.
But, another thing that stood out for us is that Nu Infinity's interior designers have worked on residential projects in prominent locations in Malaysia. We were further impressed to find that they have worked on projects in Australia and the USA!
Upon looking through their portfolio, we were fascinated to know that their team can do various styles. We also like their diversity in commercial projects–something worth noting if you're interested in interior design services for your business!
But upon closer inspection, we found that they specialize in contemporary interior design. We're surprised when we noticed that these designs are very warm and welcoming, unlike other styles that might seem cold because of dark colors.
On the downside, we're just concerned that it's pretty hard to reach them. It also takes a bit of time for them to respond if you inquire through email or through the form on their website, so we hope their staff can improve on this aspect.
Provides residential and commercial interior design services
Award-winning interior design firm
Has worked on projects abroad
Has experience working in prominent locations in Malaysia
Hard to contact
Lacks minimalist designs in the portfolio
Serves with integrity
"One of the better design firms that serves with integrity, dedication and highly recognized for their team's passion. Highly recommended!" —Lumiere Solutions, Google Reviews
4. Think Interior Sdn Bhd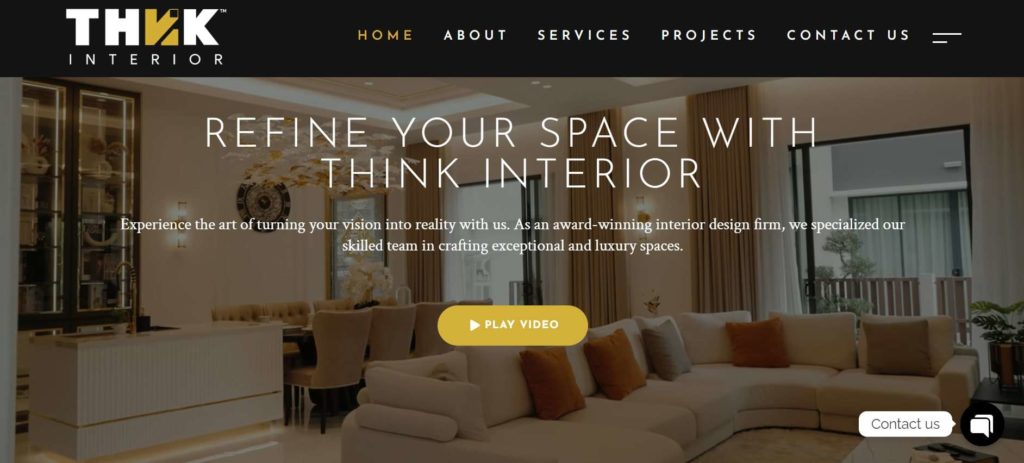 | | |
| --- | --- |
| Criteria | Ratings |
| Portfolio | ★★★★★ (5/5) |
| ⮕Variety of designs | ★★★★★ (5/5) |
| ⮕Types of projects | ★★★★★ (5/5) |
| Services provided | ★★★★★ (5/5) |
| Affordability of services | ★★★★☆ (4/5) |
| Client satisfaction | ★★★★★ (5/5) |
Think Interior is one of our top interior design company choices because of their luxury interior designs. This style is their specialty so we're not surprised that they're an award-winning interior design firm.
We're especially impressed by the elegance of their portfolio since it mostly features contemporary luxury and modern luxury designs.
We were even more fascinated when we saw their finished residential project that has a modern luxury design but in a minimalist way!
What we like the most about Think Interior is that this is a full-service interior design company, which is why we're positive they'll be with you every step of the way.
This includes consultation, project management, and getting approval from local authorities, up until execution and project completion.
It's a major plus for us that they also make custom-made furniture because it means you can have them design your furniture according to your liking.
We also recommend them for those who plan on renovating their semi-D house because this firm is very experienced in providing renovation and extension solutions.
They provide carpentry, wet work, and lighting services, so you wouldn't need to find a separate contractor for these.
Perhaps the only downside we saw if you plan on engaging their services is that they accept meetings strictly through appointments. We're hoping they'll be open for walk-in clients in the future.
But for now, make sure to book a schedule with them before going to their office.
Specializes in luxury designs
Professional team and staff
Meetings by appointment only
Carpentry needs improvement
Understands client's needs
"Kean and his team did an excellent job of helping me with the interior design. I had little idea of what I actually wanted, but after meeting with the team, they had the ability and patience to understand my likes and dislikes and ultimately create a design that I want. I am very happy with the end result and workmanship of the construction. I had nothing but compliments on how lovely my place looks." —Julian, Google Reviews
Efficient interior design firm
"Very efficient and responsible. Definitely a good choice to consider for future renovation work since feedback from others coming to my place has been all thumbs up with all praises." —Boon Qwan Chiok, Google Reviews
5. Edge ID

| | |
| --- | --- |
| Criteria | Ratings |
| Portfolio | ★★★★★ (5/5) |
| ⮕Variety of designs | ★★★★★ (5/5) |
| ⮕Types of projects | ★★★★★ (5/5) |
| Services provided | ★★★★☆ (4/5) |
| Affordability of services | ★★★★★ (5/5) |
| Client satisfaction | ★★★★★ (5/5) |
The top reason we included Edge ID in our list is because we're especially impressed by their portfolio. With just a glance, we immediately noticed that their designs, furniture, and decorations are all aesthetic but they seem practical.
While we were going through their portfolio, it was fascinating to see how artistic their residential and semi-D home projects are. They were able to mix interior design concepts and they don't just stick to one concept.
We noticed that most of their designs are modern and contemporary, but they're not restricted by these designs alone. It's impressive how they also blend these styles with minimalist, luxury, and classical European styles.
They also stay within the budget of their clients without sacrificing satisfaction and without compromising and for us, this is also quite an impressive ability.
What actually caught our attention about Edge ID is they received glowing recommendations and testimonials from their clients.
From what we gathered and heard, their clients were happy to work with them. It's because they have a professional team that provides high-quality designs and outputs.
It's a major plus for us that they offer a free 2-hour consultancy which you can avail if you want to test the water first and have a feel of what it's like to work with them.
However, the only thing that might hold back their future clients from hiring them is because they have limited services.
They only focus on consultation, interior designing, and project management. This means that for other services you might need like renovation or extension, you might need to hire other contractors.
Provides free 2-hour consultancy
Flexible to client's budget
Only offers interior designing services
Focuses on modern and contemporary designs
High-quality designs and service
"Edge ID is a trusted company & very professional in their works. Superb design, good quality and very attentive to our request. Thanks to Brendan & his team for their dedication to meet our short timeline. We are very happy with their services. Highly recommended." —Yap Zee Mun, Google Reviews
Impressive team
"Really Impressed!! Amazing team, design that surpasses expectation and most importantly guiding you through every step of the way. I've had went to other designer before but it was a totally different experience. Brendan and his team was very helpful and professional, worry free throughout the whole renovation. Glad I found them!" —Adrian Goh, Google Reviews
6. Interior Plus Design Sdn Bhd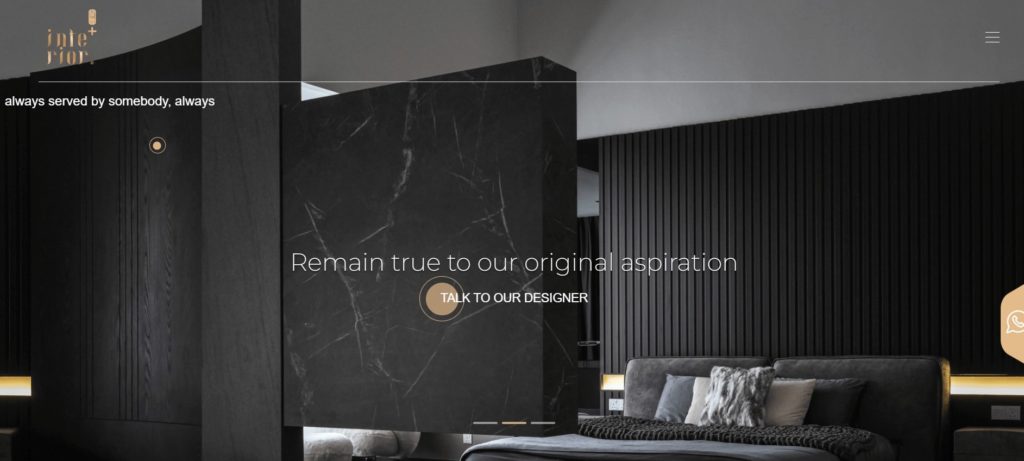 | | |
| --- | --- |
| Criteria | Ratings |
| Portfolio | ★★★★★ (5/5) |
| ⮕Variety of designs | ★★★★★ (5/5) |
| ⮕Types of projects | ★★★★★ (5/5) |
| Services provided | ★★★★☆ (4/5) |
| Affordability of services | ★★★★☆ (4/5) |
| Client satisfaction | ★★★★★ (5/5) |
Interior Plus Design is one of the best interior design firms in Malaysia because this is a one-stop service that can cater to your needs.
Their services include not only consultation and project management but also renovations, home decor, and furniture design. So if you'd need all these things, you won't have to look for other sources.
We especially like how their designs are modern and contemporary yet they're on the high-end side so they all look elegant, almost luxurious. We're not even surprised to know they're an internationally acclaimed interior design firm in Malaysia.
While checking out their portfolio, we saw that they utilize every space in a home. Because of this, we saw how efficient their styles are for living room semi-D home interior design and kitchen semi-D interior design.
However, this also means that their clients will spend a bit higher than what they expect or than the budget they have in mind since they will invest in furniture and home decor.
On the upside, interior Plus Design further impressed us because they can incorporate smart home solutions for a semi-D house to make it safe and convenient.
Their team might be composed of young professionals but they're experienced and creative. We're not too concerned about this and we're sure you're in good and capable hands.
Offers one-stop interior design services
Provides smart home solutions
Services might be pretty expensive
Focuses on contemporary designs
Highly-recommended interior designer
"Extremely satisfied with their ID work. Will recommend their designer Jack if you are looking for interior service. He was so professional and very helpful in providing a lot of great insights for my home interior design. Highly recommend to anyone who is looking for interior design service in KL!" —Johnson, Google Reviews
Satisfying outcome
"The team is very helpful especially in defining our family lifestyle, we have a lot of different ideas in mind and do not know how to start. We keep meeting to discuss and finalise the design, luckily my designer Lemo will always guide us accordingly and he is a very passionate designer. Although we took long time for this house but me and my family was satisfied with the outcome and we really love the house now. It was worth to wait" —Rahimi Roswan, Google Reviews
7. Homlux Interior Furnishing Sdn Bhd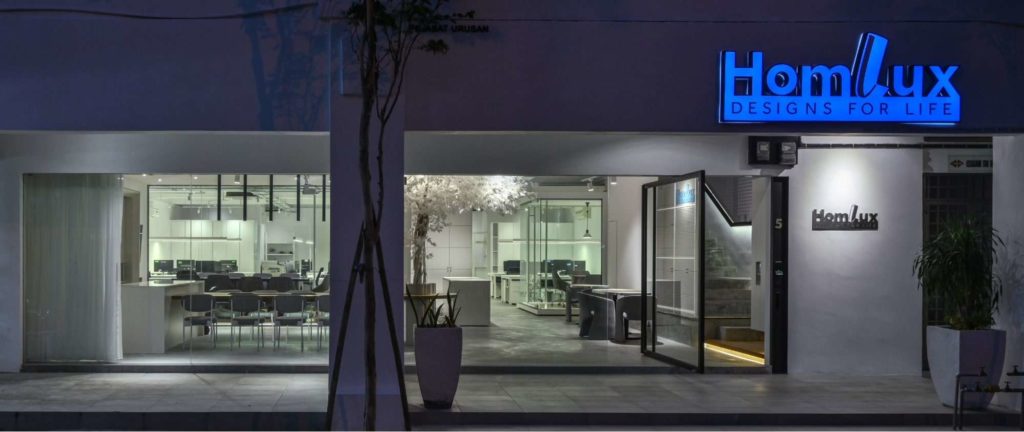 | | |
| --- | --- |
| Criteria | Ratings |
| Portfolio | ★★★★☆ (4/5) |
| ⮕Variety of designs | ★★★★☆ (4/5) |
| ⮕Types of projects | ★★★★★ (5/5) |
| Services provided | ★★★★☆ (4/5) |
| Affordability of services | ★★★★☆ (4/5) |
| Client satisfaction | ★★★★★ (5/5) |
Homlux is another award-winning interior design company in Malaysia in our list.
We recommend them especially because of the length of their experience. They have over 25 years of experience already yet they always keep up with the trends in interior design.
Upon looking at their portfolio, we noticed that they mostly use contemporary designs that are luxurious. But, they're also capable of toning it down to a minimalist interior design.
Also, we noticed that they take into account every corner to maximize the home's potential when they're designing semi-D homes.
Aside from consultations, they also provide their clients with free estimates. But we think their biggest charm is that they offer their clients advice to help them increase their property's value if they have plans on selling.
We also like that they're people-oriented so they can work well with their clients to make their vision a reality.
Plus, it's easy for anyone in Malaysia to access their services because they have several branches across the country. It's also impressive that they branched out to other countries like Singapore, Indonesia, Turkey, and the Maldives!
But based on our observations, their services are pricier than other interior design firms. So, consider getting a quotation or estimate as early as you can before committing to their services.
Free estimate
Numerous service areas
Might be pretty expensive
Focuses on contemporary designs
High-quality service
"Good response, quality with a price" —Sanjeev Kumar, Google Reviews
8. Deseo Creativo Interior Design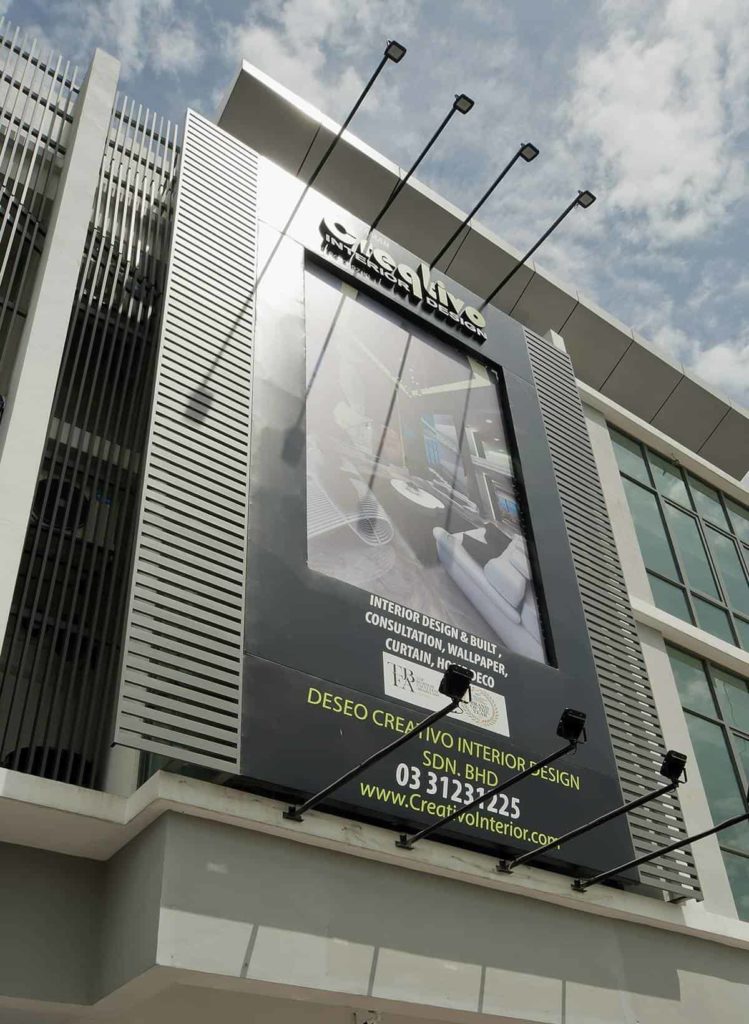 | | |
| --- | --- |
| Criteria | Ratings |
| Portfolio | ★★★★☆ (4/5) |
| ⮕Variety of designs | ★★★★☆ (4/5) |
| ⮕Types of projects | ★★★★★ (5/5) |
| Services provided | ★★★★★ (5/5) |
| Affordability of services | ★★★★☆ (4/5) |
| Client satisfaction | ★★★★★ (5/5) |
Deseo Creativo Interior Design is also one of our recommendations of interior design firms for semi-detached houses because it's an award-winning company.
This is one of our top picks because they specialize in residential projects, particularly semi-detached interior designs.
In fact, they've helped hundreds of homeowners already in making their dream house come true as they've been in the business since 2007.
What we especially like about their portfolio is that it shows how capable they are of designing modern and contemporary interiors.
Based on our examination of their portfolio, we noticed how they mostly play with gray, black, white, and brown colors so it might appear monotonous.
Nevertheless, what draws us to this interior design firm is how they make everything personal for their clients. Part of their design process is knowing their client and their daily life at home because this makes designing the semi-D more personal.
So, if you plan on enlisting their interior design service for semi-detached houses, they'll get to know the flow of your daily life through an in-depth interview. Then, they'll also get to know your specific interests and styles for the next step.
Deseo Creativo also stands out among the semi-D interior design firms in Malaysia because they provide feasibility studies for their clients, not just project management.
The biggest advantage of hiring this firm is availing their one-stop service for renovations, which also means they're an experienced semi-d exterior design firm.
This will help their clients lessen their expenses for renovations but their services might be more expensive than other firms.
Specializes in semi-d homes
Very thorough and systemized interview process
No free estimate
Services are more expensive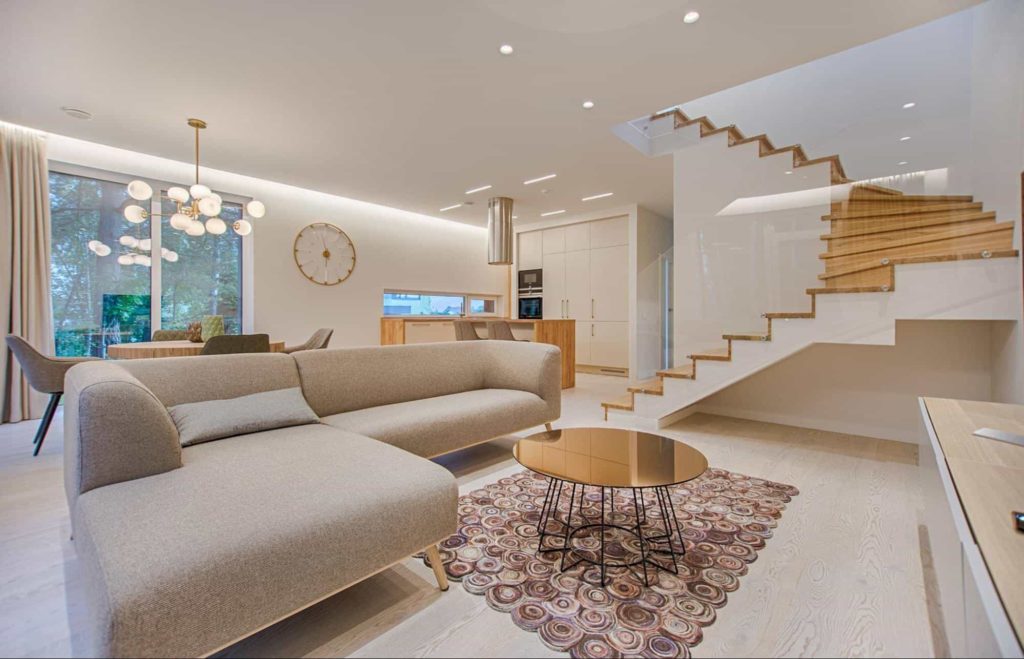 Semi-D Interior Design Ideas
1. Minimalist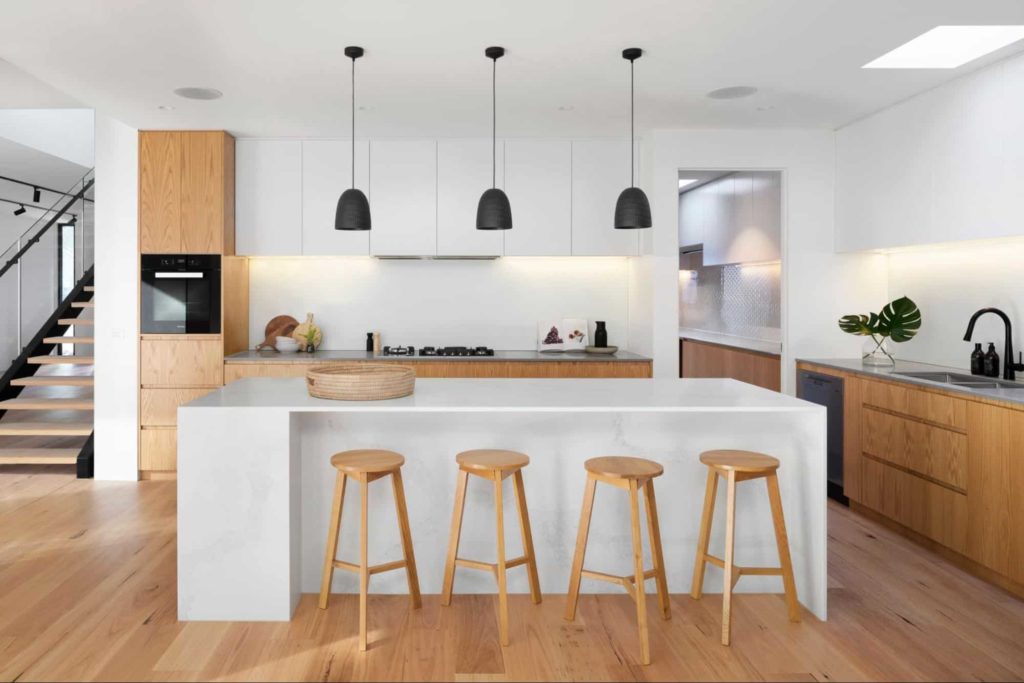 You would never go wrong with having a minimalist interior design. It's simple yet it could look welcoming but sophisticated because of the clean finish this concept offers.
We recommend this design if you're on a budget yet you still want to have a sharp design for your house. This is because this style focuses on accents rather than decorations.
A minimalist design highlights an open floor plan but it uses less furniture and fewer decorations. Because of this, you can stay within a limited budget while making your semi-D house look elegant yet still inviting.
Likewise, you also don't have to be worried about storage even if you need to use less furniture. There's plenty of furniture that's multi-purpose or with hidden storage which is perfect for a minimalist style.
These particular pieces of furniture mean there will be less bulk in your space as they will hide clutter.
Some minimalist interior designers in Malaysia prefer using Scandinavian designs because of the neat and calming look they give. It's because the Scandinavian style blends textures, soft colors, and simple furnishings to make the space cozy and inviting.
2. Modern or Contemporary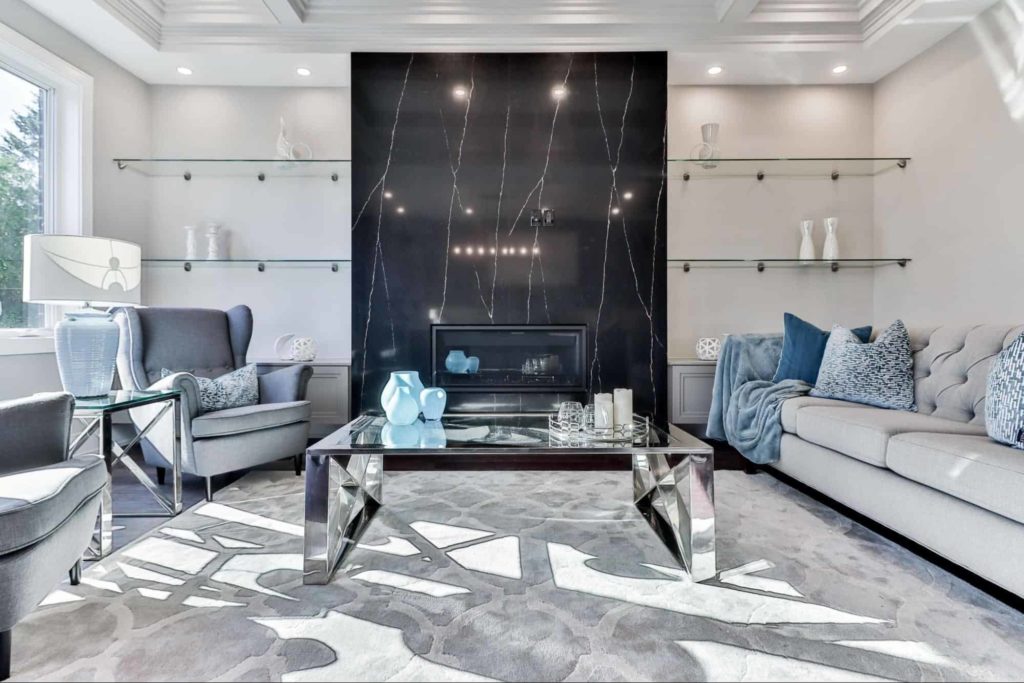 You shouldn't confuse modern design with contemporary interior design—most people often can't distinguish which one is which! No need to worry, though, since we'll discuss it here.
A modern semi-D design is a popular choice because of its clean and simple look. It's usually characterized by wooden and earth elements, so the famous color palette for this style is mostly made of brown, rust, and olive green colors.
We love the subdued aesthetic of modern interior design, and this is often credited to the clean lines, low and long furniture, and neutral tones. Because of these elements, the modern style also gives a more natural look.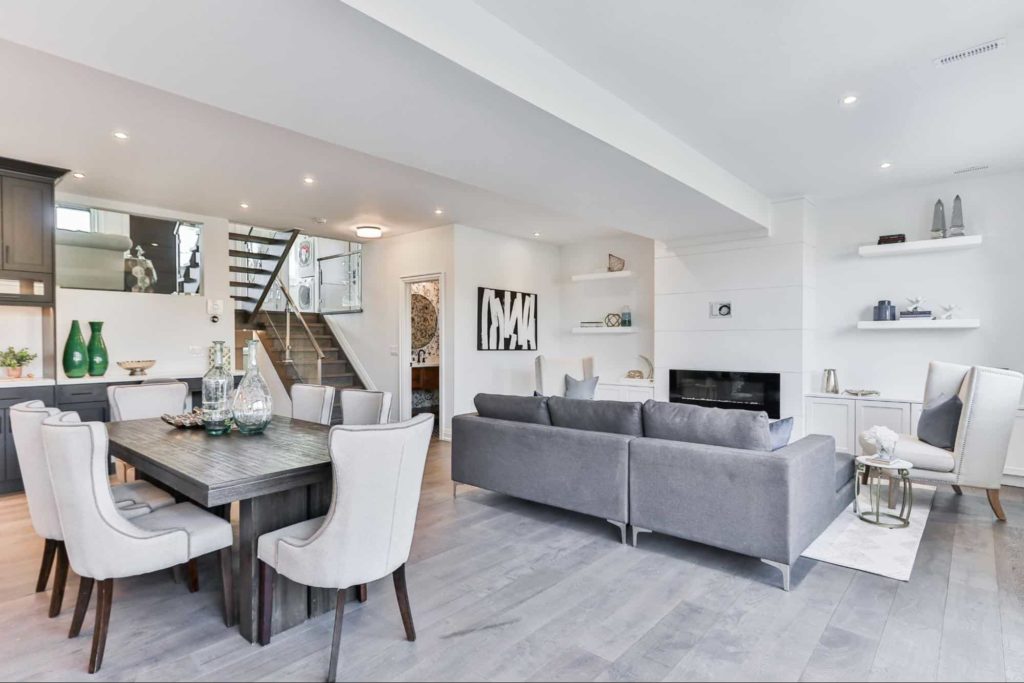 On the other hand, contemporary interior designs are those which are always trendy because these are continuously evolving to reflect recent designs.
But we think what makes this stand out from others is that it's not just focused on a particular style or period. In fact, it's inspired by several styles from around the world like minimalism, Art Deco, and modernism, among others.
Nevertheless, the most common elements of contemporary design are neutral palettes, bright tones, and organic silhouettes. This design also mixes glass, opaque, stone, metals, and new-in materials.
Materials like steel, nickel, and chrome are also sometimes mixed with natural textures like jute or hemp.
| | |
| --- | --- |
| Modern | Contemporary |
| Decorations are functional | Decorations are more ornamental |
| Color palette is neutral | Color palette is neutral but mixed with bright tones or with shades of black, white, and gray |
| Style is strict | Style is more fluid and there are many variations as it's not focused on one design |
| Has a distinguishable style | Adapts to latest trends |
3. Vintage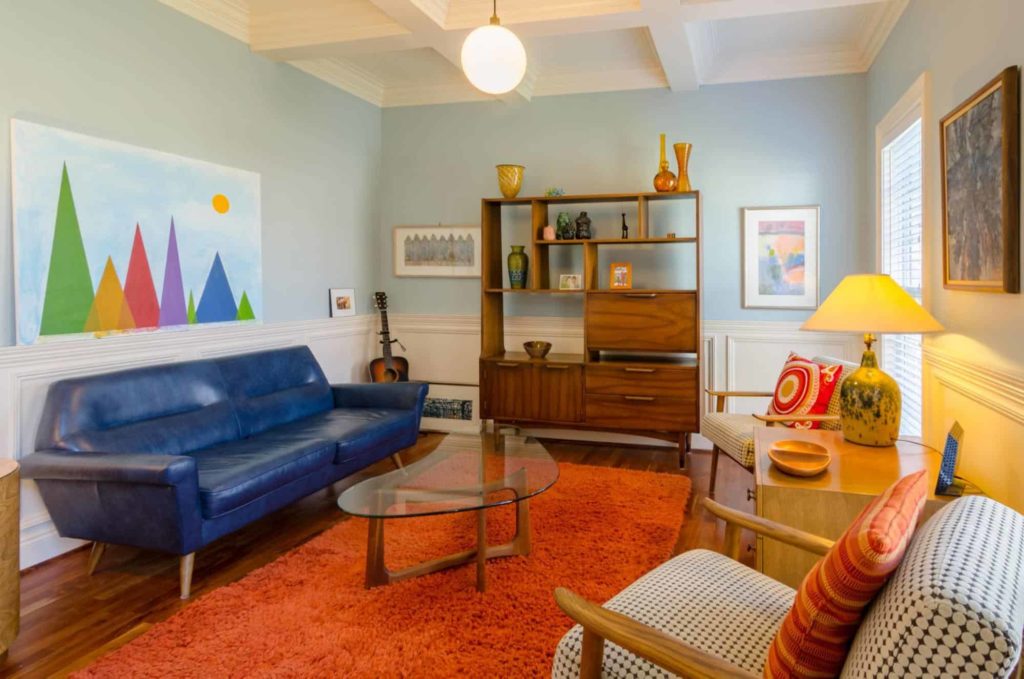 Keeping up with trends in interior design is an endless task, so why not take a step back and draw inspiration from the past? A vintage interior design will bring nostalgia and make your house homely because of the sentimental vibes.
You think it might be old school to have a vintage style for your semi-D house but it's actually quite stylish if you consider it. Vintage furniture is a large part of what makes this rustic design charming.
In addition, the vintage style also usually uses accessories from earlier periods. So, it's possible to thrift around if you want to save up on decorations to accentuate your home.
The vintage design is commonly characterized by color palettes from the 1940s and 1950s. Nevertheless, mosaic tiles with vibrant colors, floral patterns, and wood-looking flooring are also often incorporated into the vintage design.
Furthermore, vintage interior design could even be more modern than you think! You could spice things up by choosing a later period and going for a retro vibe, or you can choose chic and up-to-date vintage trends.
4. Luxury
If you're not on a budget and you have money to spare, then a luxury interior style is a great semi-D house renovation idea for you in Malaysia. It will give your home a comfortable but lavish and elegant finish.
There are plenty of ways to make your semi-D house luxurious. For example, you can start by turning it into a smart home or installing a smart security system as luxury homes are usually crafted with smart features.
Here are two popular luxury semi-D home interior designs you should consider if you want a more opulent feel:
Classical Luxury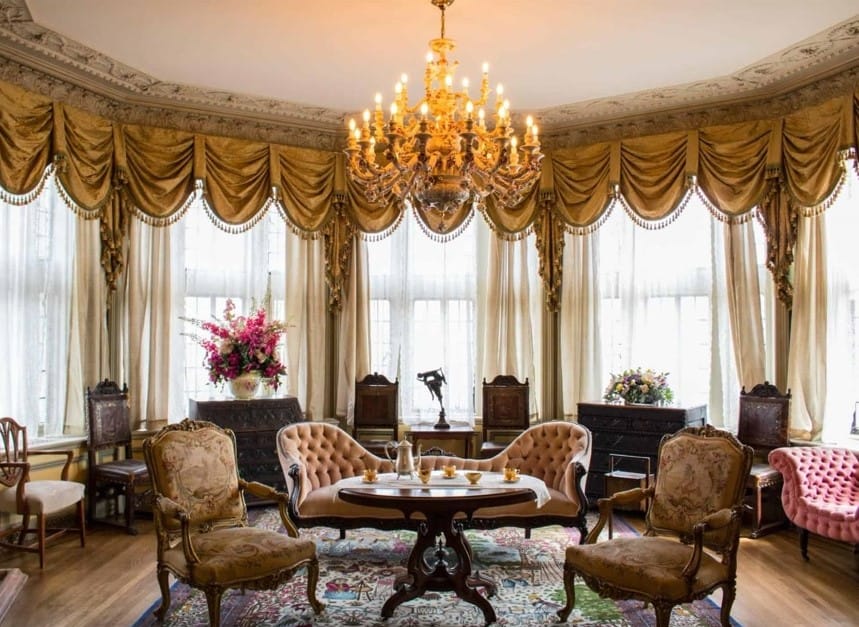 The classical luxury style is perhaps the safest but most sophisticated choice for a luxury semi-D interior design. It's natural but still classy because it uses age-old designs accented by laurels, wreaths, and urns.
For us, this is the perfect choice for those who want to experience a traditional European interior design without leaving their home in an upscale neighborhood in Malaysia. It's because this style is usually inspired by European interiors.
We love how the classical luxury style brings an expensive and glorious effect. Although, the posh design is especially recommended for a living room interior design for a semi-D house.
The colors often incorporated for this particular design are light colors like beige, gold, and light green colors. These tones are used not only for wall and flooring surfaces but also they're evident in furniture and decorations.
Contemporary Luxury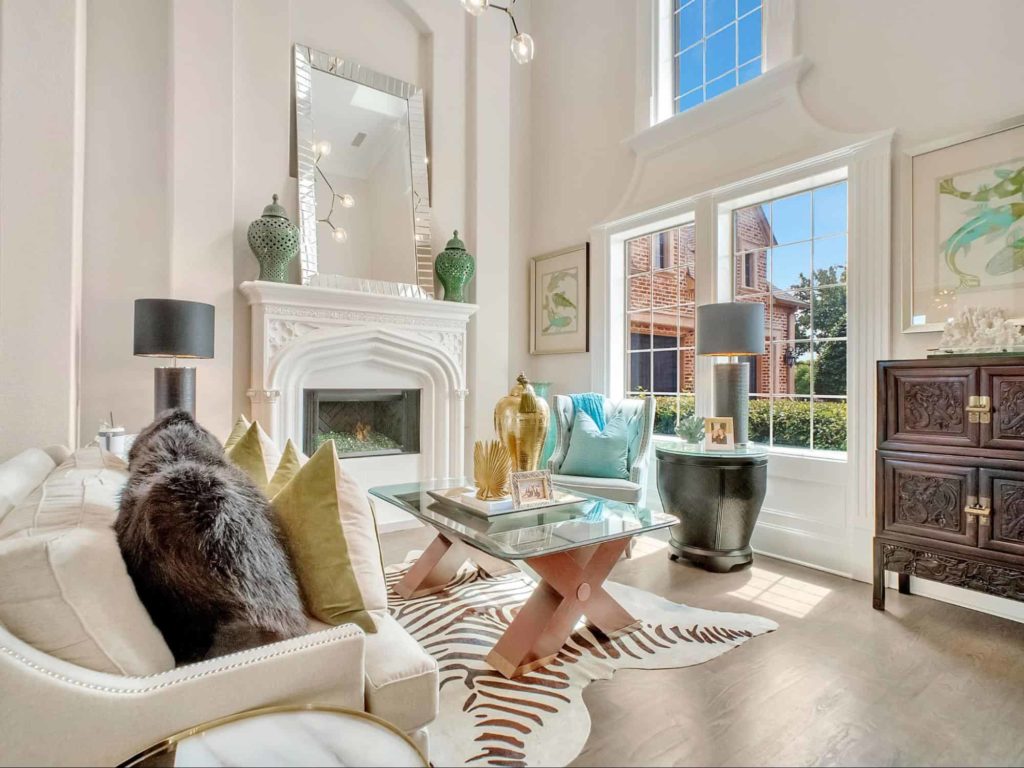 Another great option for a luxury interior design is to mix it with a contemporary design. It's actually one of the favorite designs by Malaysian homeowners because it provides a wide array of styles since it's also an evolving concept.
Nevertheless, the contemporary luxury design often incorporates clean lines to avoid structural hindrances and make the space clutter-free, bright, and airy, so it's also minimalistic in nature.
A common aspect among most contemporary luxury interior designs is that the houses have large windows so natural light could pass through.
This design focuses on a simple atmosphere because it's common to use shades of white and wood along with glass, chrome, and steel accents. Though, it could also have bright and bold color palettes mixed with fashionable furniture for an upscale look.
It's also possible to make your home look luxurious and contemporary by adding some eco-friendly or sustainable features, especially in the lawn or backyard.
5. Industrial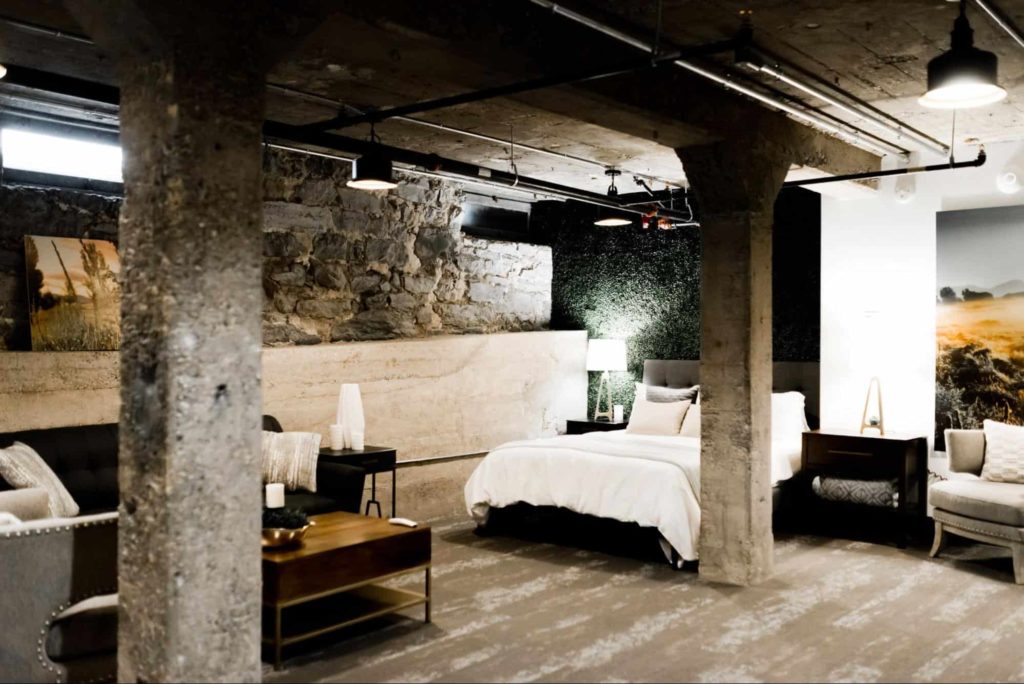 If you're looking for an edgier design, you should go for an industrial style. This will set your home apart because it's a unique interior design, especially if you mix it with Belgian interior design accents.
Industrial interior design is heavily influenced by old warehouses or factory buildings. Therefore, houses employing this design often have an unfinished look, an open floor plan, and unique textures.
The most important elements that make up the industrial design are materials that are incorporated from building materials like iron, red bricks, reclaimed wood, and metal.
We also adore how the industrial style uses bright and bold colors that usually stand out, especially when it comes to decors and accents.
The industrial design also thrives on sharp shapes and silhouettes because decors and furnishings for this style usually have squared lines and blockier shapes.
Furthermore, another common feature of interiors with industrial design is that pipes and ducts are often exposed. In fact, this is perhaps its main appeal, unlike other designs where the interior designer would usually conceal these things.
6. Mediterranean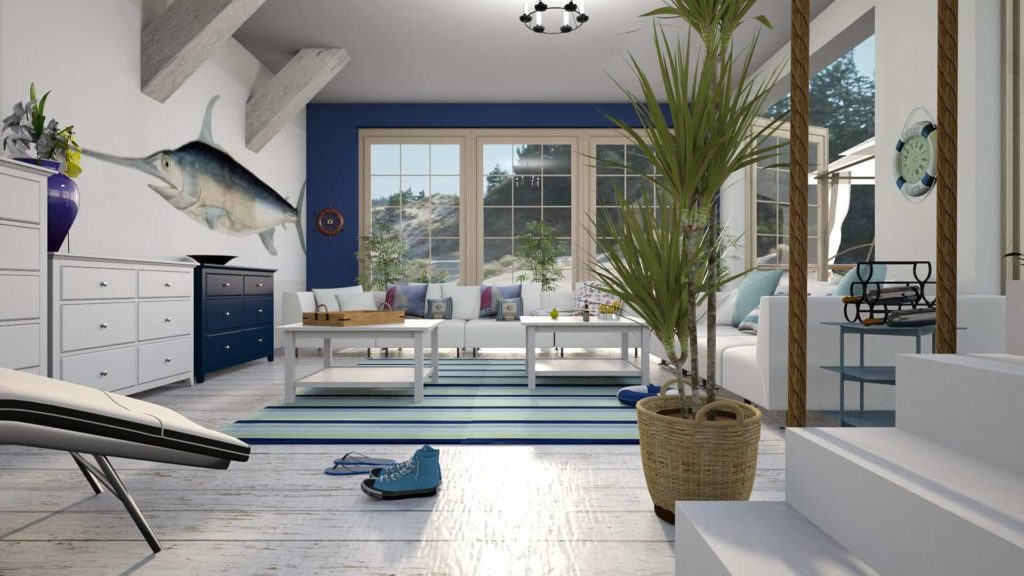 Since Malaysia has many splendid beaches, another great interior design for a semi-detached house in the country is the Mediterranean interior design.
We think this interior design is especially perfect for those who are living near the coastline because it's inspired by coastal life.
As a general rule, the Mediterranean interior design uses aquatic colors like navy blue, white, green, and gold to bring a relaxing ambiance to your home. These colors are followed not only on the wall, floor, and tapestry but also with the furniture and decorations.
As such, the Mediterranean interior design is laid back because of the natural breezy charm of this style.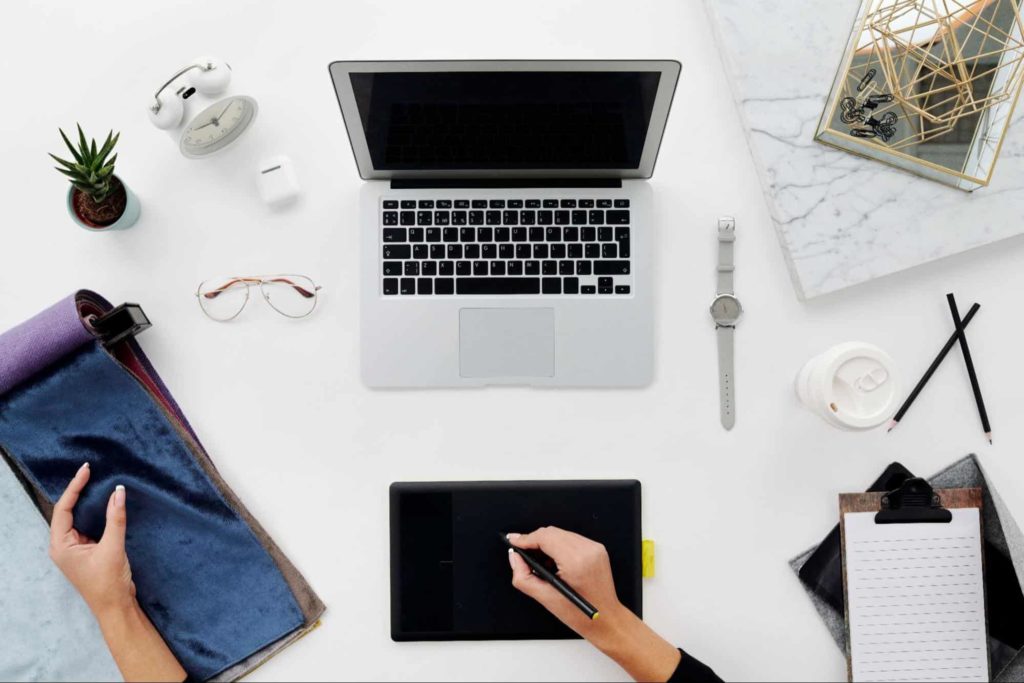 FAQs about Semi-D Interior Design in Malaysia
---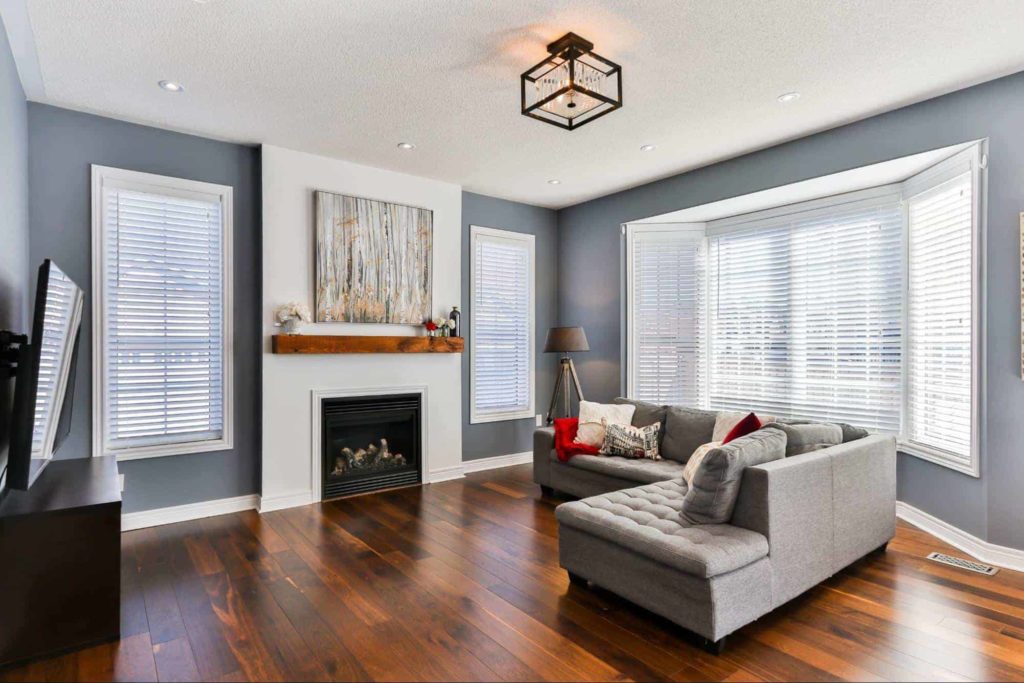 Designing your home can be such a fun and exciting experience! All it takes is the right budget, a clear plan, and the best interior designer for you.
We hope that this article helped you in finding the perfect partner that will help you in making the home of your dreams come true.
If you're looking for inspiration or for an interior designer for kitchen semi-D interior design or for living room semi-D interior design, you can also check out these guides: