5 Best House Painters in Penang for Homes and Offices
Featured Image Source: Daniel Chekalov via Unsplash
Do you want to refurbish your house without spending thousands on major renovations? If so, maybe the best house painters in Penang can solve your problems.
Unlike major renovations, repainting your house is a cheaper way to add more life and character to your cherished home. And to help you get the best results, we've prepared a list of the leading house painters in Penang that can repaint homes, offices, and commercial buildings.
But before we get on with our list, let's first find out how much money you may need to pay for painting services.
How Much Do House Painters in Penang Cost?
Before you go to a painting contract, you should know how much house painters in Penang charge. Luckily, we've prepared a list of the average prices that you can expect for different painting services.
| | |
| --- | --- |
| Interior Wall Painting | RM1.20 – RM2.50 psf |
| Interior Wall and Ceiling Painting | RM1.50 RM2.80 psf |
| Exterior Wall Painting | RM5 – RM6 psf |
| Painting Service Packages | RM1,200 – RM1,500 per 1000sq |
The Best House Painters in Penang
Finding the best house painters in Penang can be hard especially when you have dozens of options to choose from. Luckily, we've picked out the best of the best to help you find the painting services for your specific project.
We made sure to pick the ones with impressive portfolios, comprehensive services, reasonable rates, and positive customer reviews. So without further ado, here are our recommendations for the top house painters in Penang.
1. House Painting Penang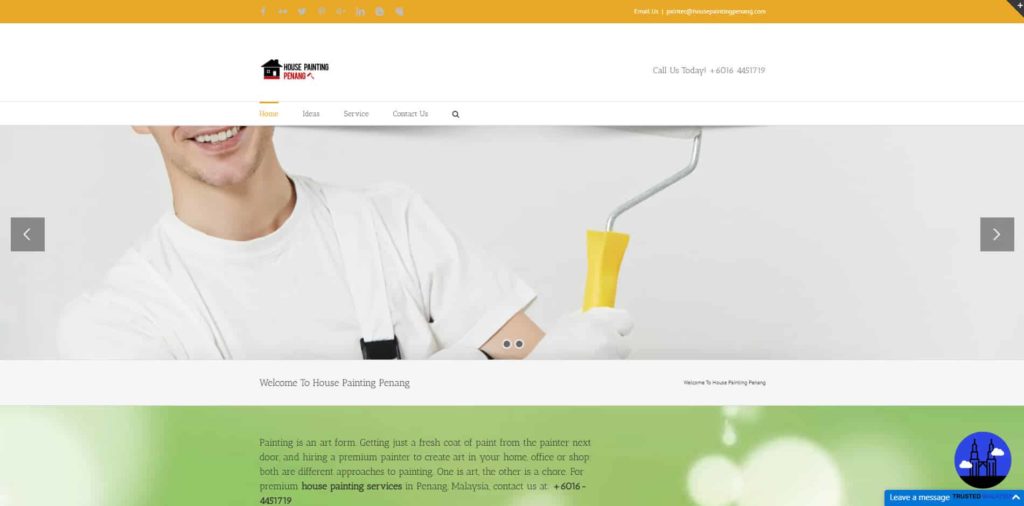 WEBSITE
housepaintingpenang.com, Facebook
SERVICES
Interior and exterior house painting, office space painting
ADDRESS
Blok 11-3-14, tingkat paya terubong 2, 11060 Air Itam,Penang, Malaysia
CONTACT INFORMATION
Email:

[email protected]



Contact Number: +6016-445 1719
Want to make your house look brand new? House Painting Penang offers interior and exterior painting services that can make any house look like it's newly built.
You can reinvent every room in your house by picking out new colors that they can recommend to match your overall theme. Additionally, they only use high-grade eco-friendly paint for your walls so you don't have to worry about bad odor and toxic materials harming your family.
If you're not sure about what colors to use for your bedroom, living room, and other spaces, their consultants will help you every step of the way. They can help you share your ideas, discover cool color schemes, test out sample paints, and provide accurate cost estimates before starting the project.
You don't have to worry about the mess in your place because their crew will make sure to cover every corner of your room with plastic and masking tape. They'll also ask you to review each room and make sure that everything is to your liking before they start the paint job and even clean up the place after painting.
Specializes in house and office painting
Instant messaging available
Has liability insurance
Payments only after the job
Leaves clients with extra paint for touch-ups
Does not cater to industrial or large-scale projects
No online quote
Customer Review
Their customer, Avery Ling, wrote this comment:
"This is the best service and good skill of painting ever!"
Another customer named Corine Khor Zi Ling, had this to say about their services:
"Very good service and the work are good enough, it made my house like brand new!"
2. PAINT MY HOUSE.PG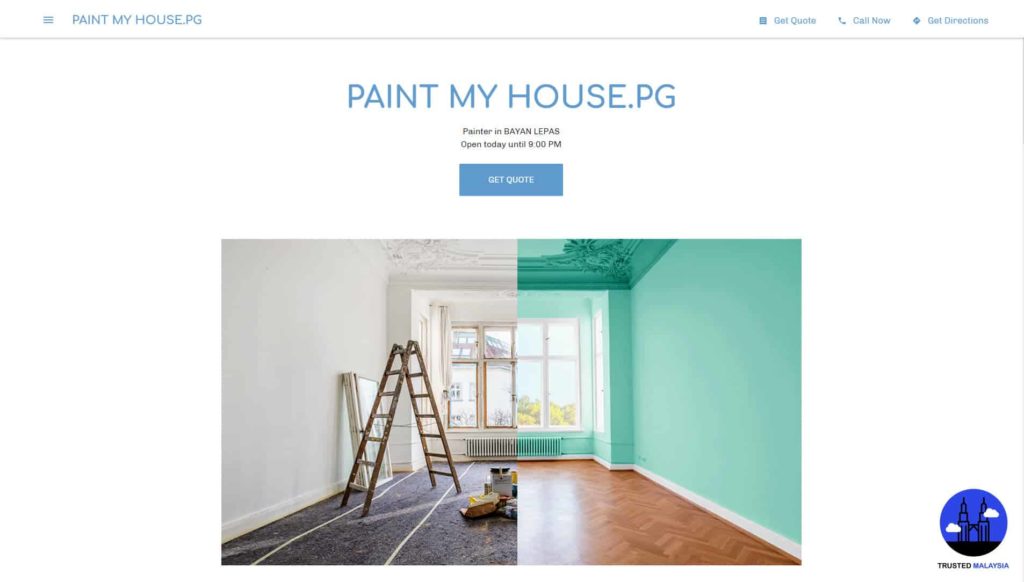 | | |
| --- | --- |
| WEBSITE | paint-my-housepg.business.site |
| SERVICES | Residential and office painting services |
| OFFICE HOURS | Monday – Sunday: 9:00AM – 9:00PM |
| ADDRESS | 2-11-15, IDAMAN MELUR LINTANG SUNGAI ARA 8 BAYAN LEPAS, BAYAN LEPAS, 11900 George Town, Pulau Pinang, Malaysia |
| CONTACT INFORMATION | Contact Number: +6010-985 9147 |
For simple house painting projects and minor touch-ups, Paint My House.PG is our best recommendation. They offer basic paint jobs for houses and are known for their clean and professional finishes.
As you can see on their website, they offer plain painting services which are ideal if you want a quick and fuss-free finish. They are also great if you want to paint over old rooms and offices to make them look newly furbished.
Though most of their works feature plain colour schemes, they work great if you want to make your space look clean, neat, and simple. We also highly recommend them if you only need minor paint jobs like repainting your kitchen walls, bedroom, and what-not.
If you're situated in George Town and are looking for a reliable contractor for minor paint jobs, then this company should be your first pick. With their straightforward work, reliable portfolio, and long office hours, asking for their help should be convenient.
Online quote available
Open daily until 9:00 PM
Does not provide special paint styles
Limited details about their services
3. WL Chong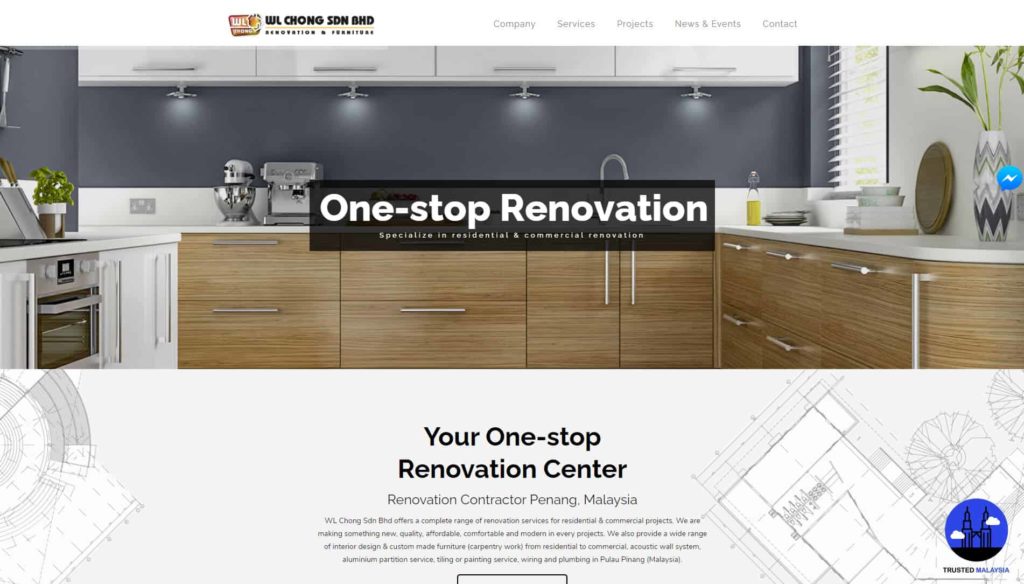 WEBSITE
wlchongrenov.com, Facebook
SERVICES
Painting services, interior design, acoustic wall system, custom furniture, house renovation, plumbing work, electrical work, and more
OFFICE HOURS
Monday – Saturday: 9:00AM – 8:00PM
Sunday: Closed
ADDRESS
No. 107, Jalan Patani, 10150 Penang, Malaysia
CONTACT INFORMATION
Email:

[email protected]



Contact Number: +604-282 9737, +6012-474 9628 (Eric), +6012-501 9628 (Angeline)
If you think that you're going to need a little more than just paint to liven up your place, then you should consider going to WL Chong. They're an award-winning renovation centre that has been providing extensive renovation services since 2009.
It doesn't matter if you want to remake your home, office, or commercial building because they cater to almost anything you can think of. We highly recommend them if you're refurbishing your space since they include tiles installation with their painting services.
We've checked out their recent projects online and were impressed with their interior works on high-end bedrooms, minimalist kitchen, and elegant retail shops. Their paint jobs include matte walls and textured paint that blend well with tiled facades that look good on homes and offices.
Aside from painting services, they also provide renovation services like interior design, decorative works, plumbing, and even custom furniture. All in all, WL Chong is our best pick for homeowners who are planning a lot of renovation work and want a hassle-free experience.
Free consultation and cost estimate
Instant messaging available
Comprehensive renovation services
Ideal for high-end projects
Limited details about their painting services
No information about their painting products
4. Tan Teong Yam ID & Construction
WEBSITE
tty.com.my, Facebook
SERVICES
House construction, renovation, interior design, painting, plumbing, roofing, electrical work, and more
OFFICE HOURS
Monday – Friday: 10:00AM – 7:00PM
Saturday: 10:00AM – 6:00PM
Sunday: Closed
ADDRESS
88-T, Jalan Masjid Negeri, 11600 Penang, Malaysia
CONTACT INFORMATION
Email:

[email protected]



Contact Number: +6012-403 9265, +604-656 2545, +604-656 2545 (fax)
Another great company that made our list is Tan Teong Yam ID & Construction (TTY). They're a Penang-based renovation and construction company that caught our attention with their extensive services.
As a company that's primarily dedicated to renovation work, we encourage you to contact them if you need house construction, kitchen extensions, and major home refurbishment. After all, you'll need tons of professional help if you want your home makeover to look good and function properly.
If you have major renovations in mind, they also cover services for roofing, tiles, plumbing, and wall painting to name a few. Since they can cover everything from the ground up, you don't have to spend extra time and money looking for other contractors and service crews.
The best part about TTY is that they can help you through every step like interior design, colour schemes, project supervision, and more. With its impressive list of clients and projects, TTY is an all-in-one solution if you want to maximize your home.
Award-winning company
Comprehensive renovation services
Ideal for residential and commercial buildings
No online quote
Not ideal for minor repaint jobs
5. Kinwajaya Construction
WEBSITE
kinwajaya.com
SERVICES
Project management, interior renovation, aluminium and glass installation, automatic sliding door, minor structural work
OFFICE HOURS
Monday – Friday: 9:00AM – 5:00PM
Saturday: 9:00AM – 1:00PM
Sunday: Closed
ADDRESS
85-G, Kampung Pisang, 11500 Air Itam, Pulau Pinang, Malaysia
CONTACT INFORMATION
Email:

[email protected]



Contact Number: +6012-622 2105, +604-829 4703, +604-826 1146 (fax)
When your home needs more than just a new paint job, you should consider contacting Kinwajaya Construction. After all, they have over 30 years of experience in providing top-quality renovation services to clients all over Malaysia.
They can help you out whether you're looking to enhance your home or refurbish your office because they cater to residential, commercial, and industrial projects. They're perfect if you don't like to get your hands dirty because they can take care of the whole project for you.
For example, they can handle all the responsibilities in interior design, construction materials, project management, and everything else in between. If you're still checking your options, you can easily chat with them online and ask for all the services they can provide for your project.
Since they offer an all-in-one renovation service, you can hire them as your main contractor so that they can manage all the details of the project on your behalf. You can even hire them to install glass doors and windows that can make your place look more beautiful.
Instant messaging available
Offers aluminium and glass work
All-around renovation services
Caters to projects in Kuala Lumpur and West Malaysia
Not ideal for minor paint jobs
No details about their painting services and products
FAQs About the Best House Painters in Penang
---
With all things considered, Penang has some of the best house painting services that you can find in Malaysia for any type of painting project. The only thing you have to look out for is whether the contractor your contacting offers the right products, services, and packages that suit your needs.
We hope this article helps you find the perfect house painters in Penang for your construction or renovation project. If you have any inquiries or suggestions that you'd like to share, please don't hesitate to send us a message.
Though you can liven up most homes with a fresh paint job, other houses may need a little more work to get back in tip-top condition. If you need major renovations, you should check out the best renovation contractors in Penang for homes and offices.