The 5 Best Water Heaters in Malaysia
Featured Image Source from Houselogic
Can't stand the icy shower in the morning or weak water pressure anymore? If so, you're in luck, as we compiled a list of the best water heaters in Malaysia here!
You can find a myriad of water heaters online with different features and prices. This makes it hard to find the right one according to your budget and needs.
To help you solve this problem, we wrote a buying guide for this article. You can either choose to scroll to the bottom to read it first or dive into our top options below.
Without further ado, let's begin!
How Much Does Water Heaters Cost in Malaysia?
A tankless or instant water heater costs from around RM200 to RM600 in Malaysia. Those that cost higher mostly have DC pumps and more safety features than those that cost less.
Note that when you buy a water heater, you may have to pay extra for its installation or the cost may already be included in the product's price. According to Recommend Malaysia, installation for water heaters can either be free (depending on where you buy it) or cost around RM80 to RM150.
Tankless water heaters are also more expensive as compared to storage tank ones because they are more efficient, have more features, and may include rain shower accessories.
The Best Water Heaters in Malaysia
Scroll down to find out about our best options for water heaters in Malaysia. Let's go over them one by one.
1) Panasonic Instant R Series Water Heater (DH-3RL1MW)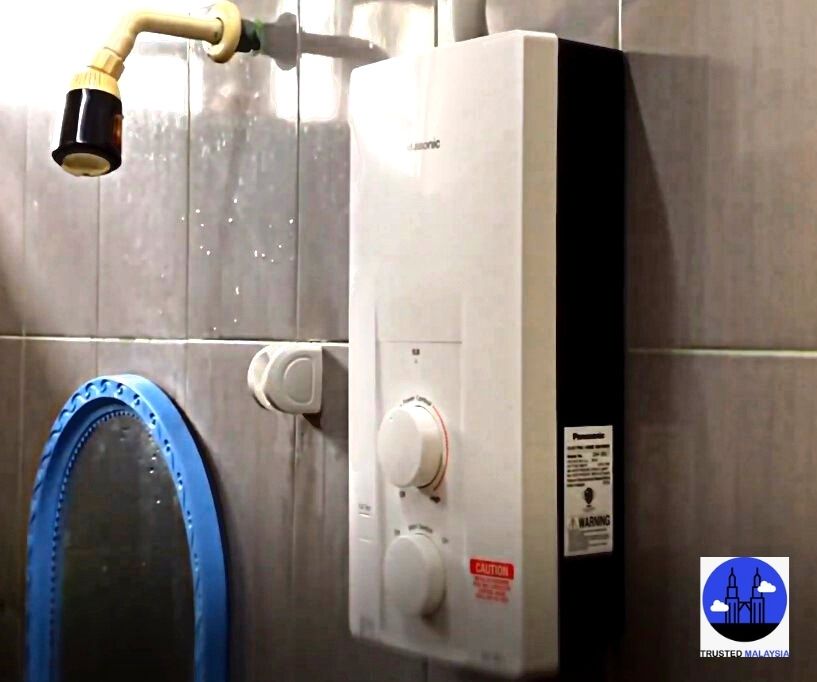 | | |
| --- | --- |
| Type | Electric tankless water heater |
| Dimensions | 190 x 380 x 93 mm (W x H x D) |
| Booster pump | No |
| Power consumption | 3.6 kW |
| Water pressure | 9.8 kPa – 380 kPa |
| Features | Splash-proof case, manual-reset thermostat, safety thermal cut-off, flow sensor, built-in electrical breaker, non-flammable materials, insulated structure, and non-combustible reinforced polyamide heater tank |
| Warranty | 1 year |
| Price | RM219 |
Panasonic is well-known for its reliable products at affordable rates. In its range of electric water heaters, one such example is the Panasonic Instant R Series DH-3RL1MW.
We picked this as one of the best water heaters in Malaysia for several reasons:
Although the Panasonic Instant R Series doesn't come with a pump to boost water flow, it brings enough heat and comfort when you take a shower in the morning or after work when you've rested for a bit.
You get a full safety package with this product—there are eight features for this. This includes an IP25 water-resistant casing, non-flammable materials used to build the unit, an electrical breaker to protect from shocks, an excess temperature cut-off, and more!
Moreover, with its flow sensor, the heater will automatically turn off when it detects low water flow. Not only does this reduce your energy consumption but also your monthly power bills.
Aside from that, the tankless water heater from Panasonic is very easy to install and operate. It has two dials: one for the power and the other one to adjust the heat level of the unit.
Having a white design, it looks very neat and can meld into most bathroom backgrounds.
Plus, you have a chance to test this thing out given its 1-year product warranty. So in case you aren't happy with the product, you can return this product and replace it with something else.
Affordable product
IP25 splash-resistant
Insulated metal parts to prevent shocks
1-year manufacturer's warranty
Weaker water pressure
Doesn't have warranties for other heater parts
Customer Reviews
The product garnered a 4.7/5 score from tons of buyers. They mostly said that the water heater worked well, was affordable, and came with a warranty card.
One user posted this comment on Lazada:
"Order on 6 May and receive on 8 May during mco. No bubble wrap but covered well, please refer to the photos attached. Many review here said no warranty card or heater not working, i suppose i am the lucky one, i got warranty card and water is hot not just warm."
Also, Muhammad said this:
"Good product, but need high water pressure, especially using rain shower head..otherwise to consider heater with pump."
2) Joven Instant Water Heater (SC33P)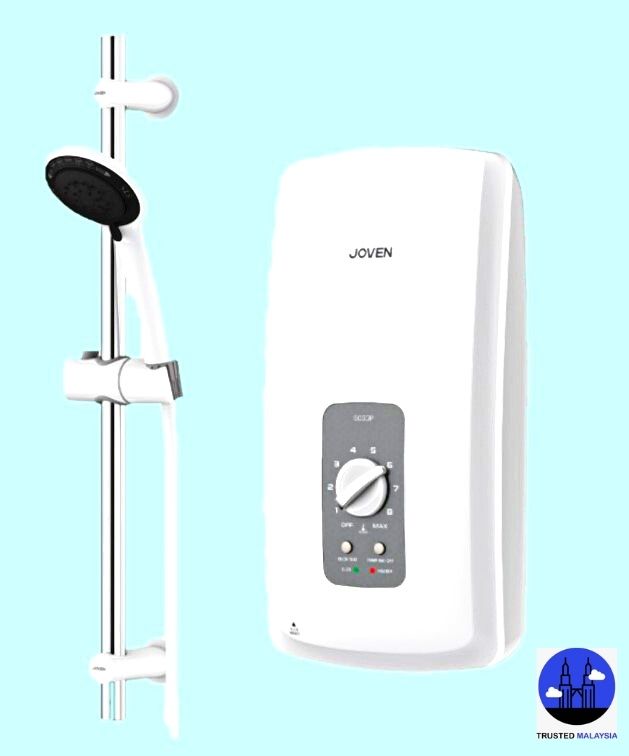 | | |
| --- | --- |
| Type | Electric tankless water heater |
| Dimensions | 214 x 402 x 85 mm (W x H x D) |
| Booster pump | AC booster pump |
| Water pressure | 10 – 380 kPa |
| Features | IP25 splash resistance, ELCB, surge protector, anti-scalding, thermal cut-out, nylon-fibre insulated tank, safety flow sensor, triple-reinforced and insulated hose |
| Warranty | 1-year general warranty and 5-year heating element warranty |
| Price | RM478 |
The Joven Instant Water Heater is a sleek, contemporary heater geared with an AC booster pump that gives a strong spray of water whilst saving energy.
This heater comes in dark silver but also has dark grey and white spray-paint variants. It also has nifty features and accessories that let you adjust the height of the metal tube and shower position, as well as showerhead spray modes.
Like our previous pick, this unit comes with loads of safety features that benefit you and your family.
For instance, it has thermal cut-out technology, anti-scalding, a safety flow sensor, power surge protection, IP25 compliance, and a nylon-fibre insulated tank, among others.
However, you'd have to spend twice as much as regular water heaters for this product.
Also, this heater is backed up by a fair 1-year general warranty and a solid 5-year warranty for the heating element. These prove that the product is quality-made.
So if you want a stylish, safe, and durable water heater, the Joven instant water heater is an excellent choice!
Comes with an AC booster pump
Has 5 spray options
Adjustable showerhead height
Multiple safety features
1-year general warranty
Expensive price
A DC pump would have been better
3) Rubine Flusso Series (RWH-FS390N-BRCB)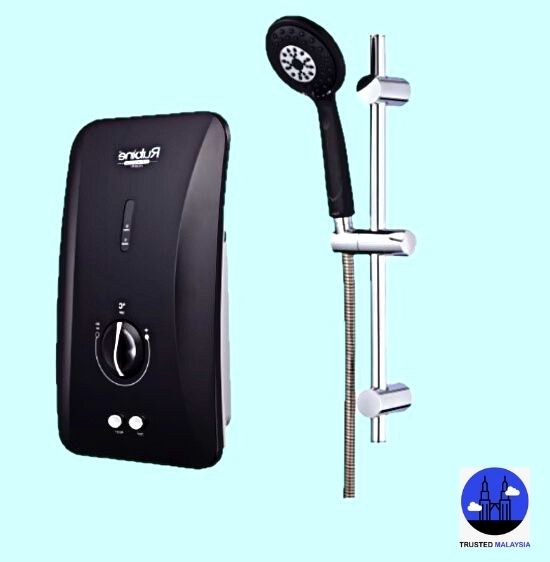 | | |
| --- | --- |
| Type | Electric tankless water heater |
| Dimensions | 227 x 84 x 375 mm (L x W x H) |
| Booster pump | DC booster pump |
| Power consumption | 3.6 kW |
| Water pressure | From 20 kPa |
| Features | Silent mode, DC pump, anti-leak tank, and energy-saving mode |
| Warranty | 1-year parts warranty, 10-year anti-tank leakage warranty, 7-year heating element warranty, and 5-year DC pump warranty |
| Price | RM439 |
Looking for a resilient water heater and shower set? If you are, then the Rubine water heater from the Flusso Series might be for you.
The heater comes with full manufacturer guarantees for internal parts for 1 year, the DC motor pump for 5 years, heating element for 7 years, and tank leakage for 10 years—more than what other brands offer.
Operating at roughly 45 decibels, this heater won't make you hear a thing when you're taking a bath.
It sports a stylish matte black design with white accents. There's only one knob which you can turn to set the heater to your desired temperature and two buttons to switch it on and off.
What's more, it comes in the standard size of 227 x 84 x 375 mm. Not too big and not too small—just right for most bathrooms.
Compared to other heaters, the Rubine water heater sells at a higher price yet still affordable for what it offers. You also get its matching rain shower accessory as well as installation service, if you want.
Definitely, this is one of the best water heaters in Malaysia that gives you the most bang for your buck!
Gives value for money
Silent operation
Equipped with a DC booster pump
Gives solid product warranties
Relatively pricey heater
Available in one colour only
4) Centon EcoSerene Instant Water Heater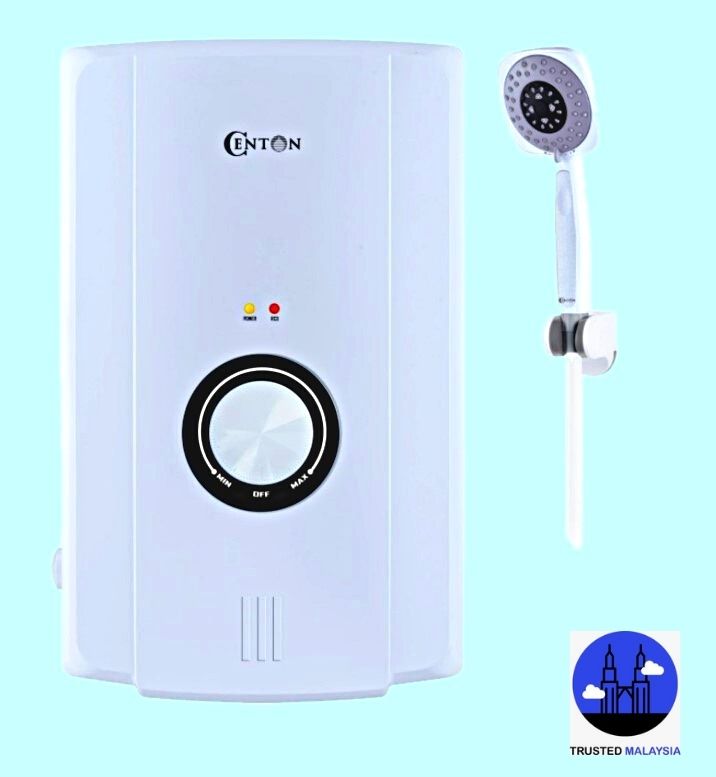 | | |
| --- | --- |
| Type | Electric tankless water heater |
| Dimensions | 246 x 376 x 98 mm (W x H x D) |
| Booster pump | DC booster pump |
| Power consumption | 4.2 kW |
| Water pressure | Up to 379.21 kPa |
| Features | Splash-proof casing, non-conductive and anti-twist hose, water flow sensor, RCD short circuit protection, and double-function thermostat |
| Warranty | 6-year heating element, 6-year DC silent pump, and 2-year other E & E parts warranties |
| Price | RM390 – RM399 |
Another of the best water heaters in Malaysia, Centon's EcoSerene Instant Water Heater is primarily designed with the user's safety and convenience in mind.
It has a DC pump that allows you to have great water flow in your shower with warmth. This also works quietly that won't cause you or your family any irritation.
Though it can't beat other products in terms of the number of safety features, it has all the basics covered.
For example, it has an integrated RCD to protect from short circuits, an insulated hose to prevent fatal shocks, a smart thermostat to prevent burn hazards, and a water flow sensor to keep the system from overheating if there's isn't enough water supply coming through.
You can have someone set the unit up for you. When already installed, the shower bracket can bend to different angles as well as have 5 different spray types that you can use.
For us, it looks simple and ordinary so this might not be for those people who want a classier design. Nevertheless, its reliable function of bringing heat to your shower is more important than that.
Plus, it has a higher power consumption of 4.2 kW so it can heat up your water efficiently. But, then again, this may reflect a higher cost on your monthly utility bill.
Comes with a silent DC pump
Built-in RCD to prevent dangerous shocks
Multi-angle shower bracket
Double thermostat feature
Uses up more power at 4.2 kW
Plain design
Customer Reviews
Thus far, many buyers are satisfied with this product. Many users said that the heater was simple to install, of great quality, and quiet thanks to the DC pump.
One Shopee user wrote this feedback:
"Third unit from Centon. First of all, the customer service is very helpful. Secondly, the item shipped out fast and lastly, superb quality product especially the silent pump. Thank you!"
What's more, Wliang said this:
"Shower is very nice, the heater works perfrctly and the pump also no noise. Happy CNY."
5) Toshiba Digital Water Heater w/ DC Pump and Rain Shower (DSK38ES3MB)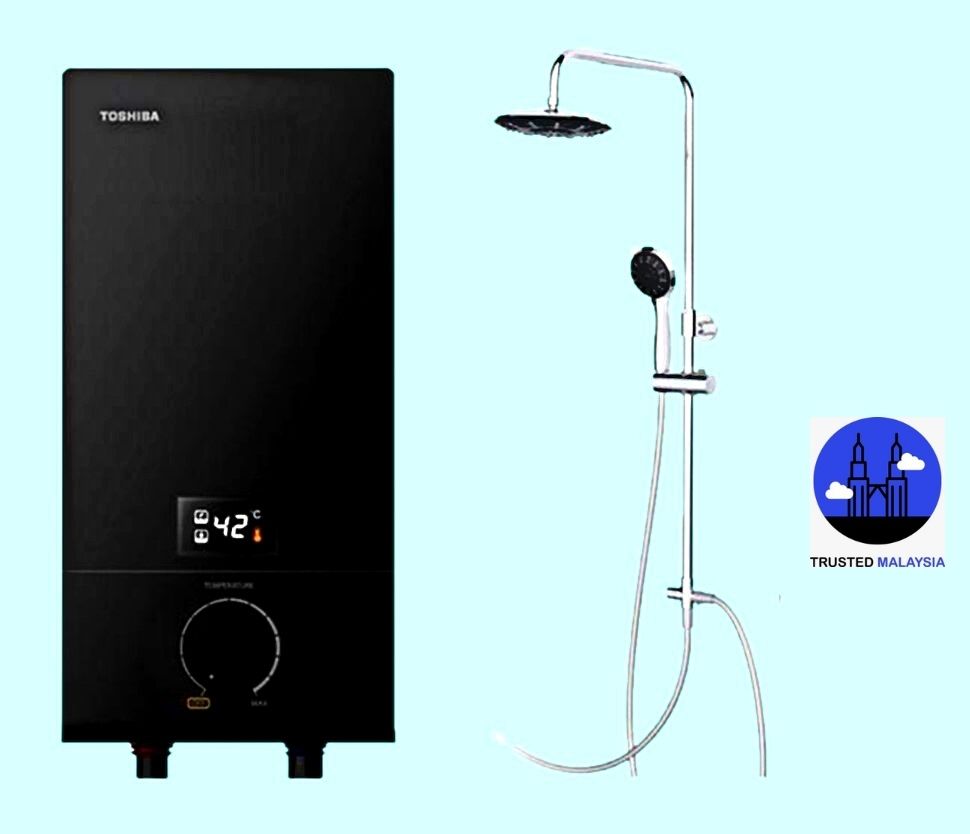 | | |
| --- | --- |
| Type | Electric tankless water heater |
| Dimensions | 200 x 97 x 400 mm (L x W x H) |
| Booster pump | DC pump |
| Power consumption | 3.8 kW |
| Water pressure | 30 – 300 kPa |
| Features | Digital temperature control, 5 spray shower head, energy-saving DC pump |
| Warranty | 1-year general warranty, and 5-year heating element and DC pump warranty |
| Price | RM498 – RM598 |
Welcome to the future! You are now looking at Toshiba's cutting-edge water heater that is fast-heating, energy-efficient, and super-sleek that will make showering something to look forward to every day!
It has a complete range of features that has everything you need for comfortable, steamy showers.
First, it has an LED digital display that shows the temperature of the water. Furthermore, you'll see the setting that you choose for the water heater such as a silent or energy-saving mode.
By the way, this is all thanks to the DC pump built into the unit. The DC pump is responsible for considerably increasing the water pressure so you'll fully enjoy your bath while using up less energy.
Another of the credit goes to the tank's dual heating coils that heat up the water faster. Hence you won't have to wait 20 seconds for the comfortable warmth to come through the shower.
Of course, it comes with a suite of safety features too including safety auto-cut-off, anti-leak, and slash protection. So that silences all your worries and gives you peace of mind every time you use the heater.
As expected of this product, its price is pretty expensive. But come to think of it, you'll get the whole set: the heater, the rain shower, and DC pump.
Has a digital display control
5 shower spray modes
Uses a silent DC pump
Gives solid product guarantees
Expensive product
Only one colour available
What to Consider When Buying a Water Heater
Before you buy a water heater, it's important to consider these factors to find the ideal one for your home.
1) Types of Water Heaters
There are 3 types of water heater that you can buy in Malaysia.
These are solar-powered water heaters, storage tank water heaters, and tankless water heaters. Let's look into their differences below.
Solar-Powered Water Heater
Taking advantage of hot days in Malaysia, solar-powered heaters are used by some homes and businesses.
They're environmentally friendly as they depend on the power of the sun and will earn you great savings in the long run. However, you'd have to spend a fortune when you first get one.
Storage Tank Water Heater
Storage tank water heaters are these large cylinder tanks that heat your water. They are simple to install, durable and can last up to 12 years.
Compared to other types of water heaters, they are the most economical to buy too.
Their drawbacks are that you need sufficient space at your home to house the tank heater, you have to descale them at least twice a year, and you have to refill them and wait longer for the water to heat up.
Tankless water heaters are the most common heaters used in homes today.
As it only heats up water when needed, it helps to conserve your energy use. Best of all, it runs on unlimited hot water making it a great choice for large families.
However, tankless water heaters are more expensive than storage tank water heaters, since you also have to pay the cost for getting someone to install them.
2) Pump Type
When you shop for water heaters, you can find those that are equipped with a pump and those without.
A pump or booster pump basically allows you to have stronger water flow so that the water jets will be enough when you're taking a bath.
As you can observe, water heaters that don't come with a pump have lower water pressure.
Pumps are divided into two kinds: AC and DC pumps.
AC pumps are great to have along with your heater. However, if you want one that is more efficient and better protects against electrical shocks, choose a DC pump.
3) Features
Water heaters have many features but some of the handy ones include:
Scalding prevention – protects your hand or body from burns if you accidentally touch the heater unit.
Electrical breaker – a great safety feature that turns off the heater in case of overload, which helps to prevent shock or fire hazards.
Energy efficiency – allows you to conserve your energy use while lowering your bills. Having this feature is also good for the environment.
Warranty – In case the heater or pump becomes faulty weeks or months after you bought it, a warranty will allow you to replace them for free. Of course, the longer the warranty period is, the better.
4) Wall Space
You should also check the dimensions of the water heater.
Will it fit on your bathroom wall? Will there be enough space for the person to be inside the shower without feeling cramped?
Most of the water heater sizes you'll find online are regular sizes. You can also opt for a bigger heater size if you want.
After you receive your water heater, you can ask an HVAC technician to come and install it for you at a convenient time.
5) Budget
When you've considered the type and features, it's easy to find a water heater. That's because this will help you narrow down your choices.
In terms of price, most water heaters cost between RM220 and RM600. Look for ones that have great quality and sell for a value price!
FAQS about the Best Water Heaters in Malaysia
---
And that completes our top picks for water heaters in Malaysia! All of these give consistent hot water and have great features that keep you safe whenever you take a shower.
Do you have any questions or comments about this list? If so, kindly send us a message and we'll get back to you as soon as we can.
Though hot showers in Malaysia is enjoyed, the weather can often be unbearably hot. So if you need some cool-me-up, you can also check out the best air coolers in Malaysia!