The 5 Best Fat Burner in Malaysia
Working out is a good way to reduce excess body fat but it's understandable that not everyone has the same metabolic rates. Some of us reduce weight and fat faster than others.
If you're someone who needs help losing weight, we listed the best fat burners in Malaysia. Fat burners are dietary supplements that burn excess fats from your body.
We're here to let you know that getting rid of excess body fat can be optimized. With fat burners, you can make the most of every workout session because you lose fat faster, making more space to build and tone muscles.
Now, let's go!
Best Fat Burners in Malaysia
There are a ton of fat burner supplements you can find online but going through all of them can take you a while. To help you save more time for your workouts and other activities, we have done the research for you.
Here are the best fat burners in Malaysia we found for you!
1. N8 Thermo Fat Burner Powder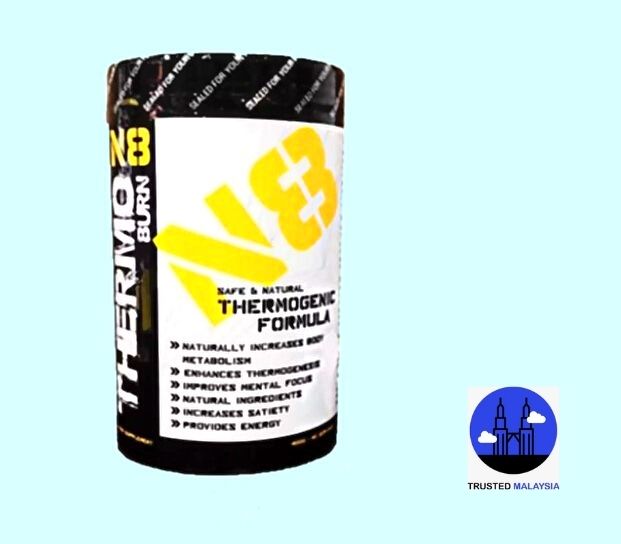 PRICE: RM129.90
| | |
| --- | --- |
| Nutritional Facts Per Serving | Serving Size: 10g per scoop |
| Calories | 30 |
| Protein | 1.0g |
| Carbohydrates | 5.6g |
| Total Fat | 0g |
N8 Thermo Fat Burner Powder is an all-natural fat burner so if you are looking for support to your workout without the harmful effects of chemicals, this might be the best fat burner for you.
This fat burner helps you burn fats through metabolism enhancers, thermogenic boosters, and energy enhancers. Some of the main ingredients are Green Coffee extract, Garcinia Cambogia, L-Carnitine, Green Tea extract, and it also comes in mixed berries flavour.
With those processes, it allows your body to burn fats using its natural mechanism. It's important to note that following through with your workout sessions and physical activities is necessary to boost the effects and shed some results.
They do not contain chemical substances but tolerance assessment is still essential for new users. It's recommended to take 1 scoop once a day 30 minutes before workout on training days, and before breakfast on non-training days.
Made from natural ingredients
Burns fat at a cellular level
Contains allergens such as milk, egg, soy, wheat, peanut & tree nuts
The fat-burning effect might take a while to be felt
Customer Reviews
"Good product quality, good value for money, fast delivery and excellent service by seller…tq for the free gift…" -uzaify
"Loyal customer here. Lost count of how many bottles already 😂 But this purchase is without the Limited stock of additional 10 servings, hence received a product that is not full. But thanks for free gift anyway😊" -Shopee Customer
"tq for gift. received it yesterday ❤️ I've been using ths product since last year. i love your Bcaa taste good and works on me!" -nazirah_zab
2. Scitec Nutrition Restyle Weight Control Formula Fat Burner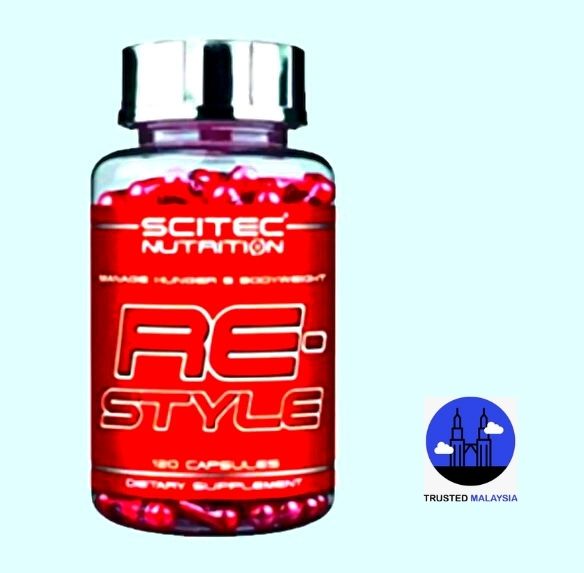 PRICE: RM189.00
| | |
| --- | --- |
| Nutritional Facts Per Serving | Serving Size: 2 capsules |
| Chromium | 6.9mcg |
| L-Tyrosine | 300mg |
| Citrus Aurantium Extract | 250mg |
| Carcinia Cambogia Extract | 214mg |
| L-Carnitine, L-Tartrate | 110mg |
| Green Tea Extract | 100mg |
| Conjugated Linoleic Acid (CLA) | 81mg |
| Guarana Extract | 100mg |
| Caffeine Anhydrous | 79mg |
| Alpha Lipolic Acid (ACA) | 66mg |
| Cayenne Pepper Extract | 6.6mg |
| Caffeine (Total amount) | 113mg |
As you begin to rework yourself to a better shape, it requires quite a tremendous effort—from your food intake to the level of physical activities you aim to complete each day.
Scitec Nutrition Restyle Weight Control Formula Fat Burner is designed to provide support to your body. It contains stimulants such as pure Caffeine and extracts from Guarana that give you that extra push especially when you are under a workout program.
In processes like fat burning and weight loss, our main challenge will probably be the amount of food we take that turns into excess fat. Well, this fat burner on our list has Chromium that maintains a normal blood sugar level.
This helps alleviate senses of hunger without the harmful consequence of malnutrition.
The recommended daily usage is 2 capsules and best on an empty stomach. This product contains stimulants and other chemical formulations so we believe it's best not to exceed the recommended amount.
Proven and authorized by European Food Safety Authority
Powerful stimulant to help you get going
Some ingredients are not made from natural sources
May contain allergens like milk, egg, nuts, and fish
Customer Reviews
So far, here's what a customer from Shopee thinks about Scitec Nutrition Restyle Weight Control Formula Fat Burner:
"Terbaik beli scitec nutrition..tak rugi beli.." -Nazrul1996
3. Muscletech Hydrocut Hardcore Elite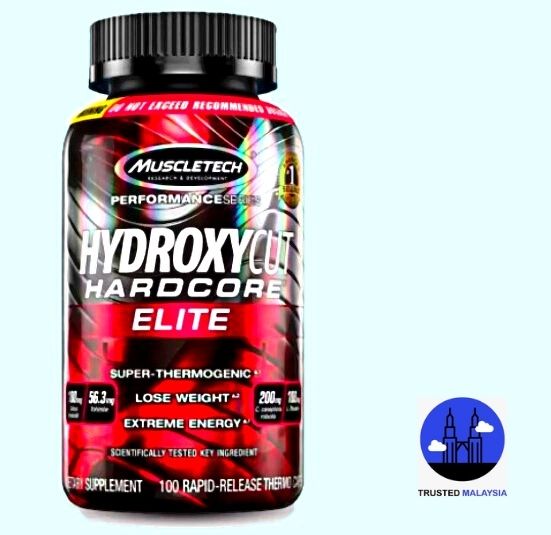 PRICE: RM89.00
| | |
| --- | --- |
| Nutritional Facts Per Serving | Serving Size: 2 capsules |
| Caffeine anhydrous | 270mg |
| Green coffee extract | 200mg |
| Coleus extract | 100mg |
| L-theanine | 100mg |
| Cocoa extract | 100mg |
| Yohimbe extract | 56 mg |
The Hydroxycut Hardcore Elite is packed with stimulating ingredients and perfect for anyone who has an active lifestyle. If you are looking for something to help you get up and make the most out of every workout session, this is what we recommend.
As you can see, its main ingredients include caffeine and yohimbine—all are known as popular thermogenic supplements, exactly what you need to burn excess fats. These excess fats are then turned into energy to help you power through,
To get the best results, Muscletech advises its users to avoid snacking and consume 10 glasses of water each day. Like any other fat burner, this must be combined with a proper diet and consistent training.
For new users, testing your tolerance by taking 1 capsule twice a day for 1-3 days. After you have assessed your tolerance, you can take 2 capsules twice daily for the succeeding days.
Energy-increasing properties
Physical stimulant
High-performance based supplement
Requires hardcore activities to maximize effects
Tolerance levels may vary
Customer Reviews
Here's what a customer says about this fat burner:
"This product is great! Much like Hydroxycut Black/Platinum this is an extremely effective weight loss product. It provides a lot of energy whether you are using it before the gym or just throughout your day. The herbal blend and caffeine content really work for me. Additionally, this is a very good appetite suppressant. I'm hardly hungry when I take this stuff for a good couple of hours. Even with all these positive effects I never felt jittery or unease. Overall great supplement! I highly recommend if you are looking for something to help shed a couple of extra pounds! –MIke
4. Vita Xtrong L-Carnitine X500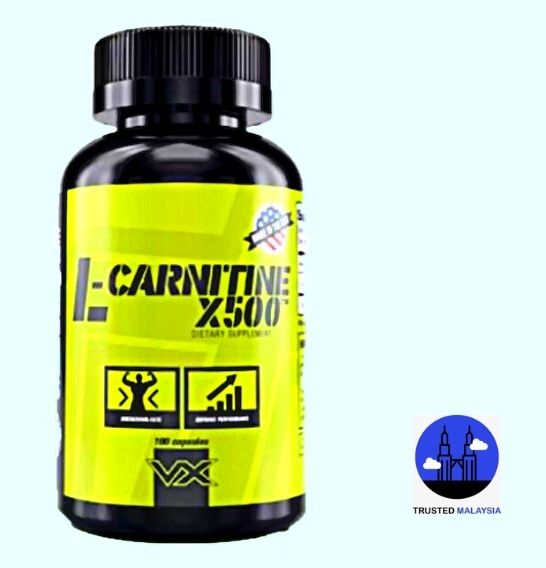 PRICE: RM64.41
| | |
| --- | --- |
| Nutritional Facts Per Serving | Serving Size: 1 capsule |
| L-Carnitine (As L-Carnitine Tartrate) | 500mg |
L-Carnitine is probably the most popular ingredient people look for in a product when it comes to burning excess fats. Well, if you're one of those who are particularly looking for it, we have the Vita Xtrong L-Carnitine X500 on our list!
This fat burner comes in capsules that help you burn fat and turn them into fuel energy to optimize your workouts and diet. Even so, it does not contain stimulants to keep you safe from shakes, jitters, and other negative side effects of taking energy boosters.
By the way, L-Carnitine also improves muscle tone and endurance, plus contributes to better heart health.
Fat burners like this one do not claim to miraculously shed the weights away but increase your physical activity performance. With that, you are able to naturally burn excess fats and help your body's mechanisms adapt to the changes.
Focused on cell-level fat burning
Does not contain stimulant that causes shaking, jitters, or anxiety
No other fat-burning beneficial ingredients
Daily nutrient value is not indicated
Customer Reviews
Still need some insights? Here's what a Shopee customer says about this fat burner:
"Uish thanks seller! Best barang ni boost fat jadi energy.before this skipping bole sampai 500 lompatan je.amal je L Carnitine ni 1200 lompatan terus! Barang memang power..before skipping sempat lagi jogging 2km heheh! Dh habis nnti saya akan beli lagi!" – adrickkunie
5. EVLution Nutrition LEANMODE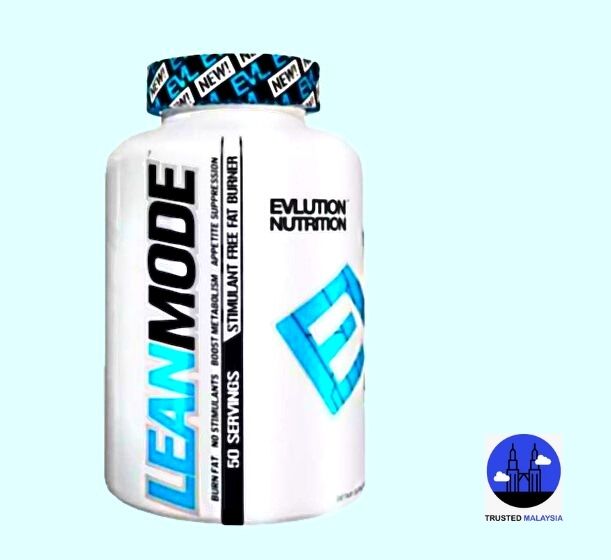 PRICE: RM95.00
| | |
| --- | --- |
| Nutritional Facts Per Serving | Serving Size: 3 Veggie Capsules |
| Green Tea Leaf Extract | 500mg |
| Green Coffee Bean Extract | 500mg |
| CLA (Conjugated Linoleic Acid) | 500mg |
| Acetyl-L-Carnitine | 500mg |
| Garcinia Cambogia Extract | 250mg |
EVL Nutrition LEANMODE is a stimulant-free fat burner, perfect for those who are already consuming coffee or other energy boosters on a daily basis. These capsules contain Acetyl-L-Carnitine that works at a cellular level by targeting fatty acids and converting them into fuel for energy.
Our metabolism allows us to burn fat from our food intake and by improving that, we are able to make the most of the nutrients we consume. This is exactly what the Green Coffee Bean extract in LEANMODE is for, by supporting glucose metabolism through Chlorogenic Acids.
When we are on a strict diet, we find it harder to resist cravings especially when factors like emotions and moods are involved. Hydroxycitric acid (HDA) from Garcinia Cambogia regulates serotonin levels to keep us from overeating, driven by stress and other high emotions.
These ingredients included in LEANMODE also help maintain and protect muscles from damage due to high-intensity workouts. So if you are looking for fat burners that come with multiple health benefits, we definitely recommend this one!
Promotes positive mood
Contains antioxidants
Pills are huge for oral consumption for some customers
Not recommended if you are doing intermittent fasting
Customer Reviews
To help you further, here are some customer reviews we've curated for you:
"Have been taking consistently for over 2 months and assisted in losing over 60lbs. For anybody sensitive to stimulants or looking to add a boost to their fat loss regimen, it's 100% worth it. When you compare the the ingredients profile and dosage to competitors on the market, Lean Mode blows them out of the water value wise!" -Vito
"These pills definitely helped suppress my appetite, made my stomach flatter, and minimized bloating. However, these pills are huge and taste horrible. I also think it gave me stomach problems, as I ended up getting sick with diarrhea twice during the 3 weeks I took the pills. I decided it wasn't worth it and returned the bottle for a refund. If you can "stomach" these pills, then yes it's effective. Otherwise, buyer beware!" -Michelle
Everything You Need to Know About Fat Burners in Malaysia
You've read about our best fat burners in Malaysia, but you may still be asking how to choose the one that will give you the results you desire. Here's some additional information we found to help you:
1. Stimulants in fat burners
Most fat burners contain a handful of stimulants like caffeine because they help the body increase the number of calories and excess fat burned each day. By examining the amount of caffeine per serving (200mg per serving is considered powerful), you will be able to tell if your body can keep up with the stimulation.
However, since not everyone is a fan of strong stimulants, some of our products in this list claim to have lower or no stimulants at all. For these products, they contain guarana as a mild stimulant.
2. Your mood and brain function
Fat burners work best with the reduction of caloric intake but cutting this particular type of nutrient affects our mood and brain function. You might become more forgetful or might feel a little low.
To help alleviate these, we recommended that you go for a fat burner that also promotes serotonin production in the body.
3. Fat burners as fillers
In order to reduce excess fats in the body, you'll have to burn more calories than you consume. Most of the time, this is not the easiest way for everyone as temptations are always present.
Luckily, some of our fat burners have added appetite suppressants to keep you feeling full.
FAQs About Fat Burners in Malaysia
And that's it for our picks for the best fat burners in Malaysia. These supplements will surely be a valuable aid in your weight loss goals—along with proper diet and exercise, of course.
Did we forget to include another fat burner that should be on our list? Send us a message and we'll review it to see if it makes it into our list.
A great way of getting exercise in the comfort of your own home is to get your very own treadmill. If you're looking for one, you may want to check out our list of the best treadmills in Malaysia.