5 Best Hidden Restaurants in Klang Valley
Have you ever wondered where you could dine without stressing about reservations and the availability of tables? Look no further as we bring you the top hidden restaurants in Klang Valley!
You wouldn't quickly spot these places but they're worth a try, especially if you're looking for a secluded place to relax after strolling or if you're on a date.
Read on and find out where you could dine in peace in the Klang Valley region!
Our recommendations of hidden restaurants in Klang Valley are based on the criteria we curated to ensure we give you the best choices:
1. Shhhbuuuleee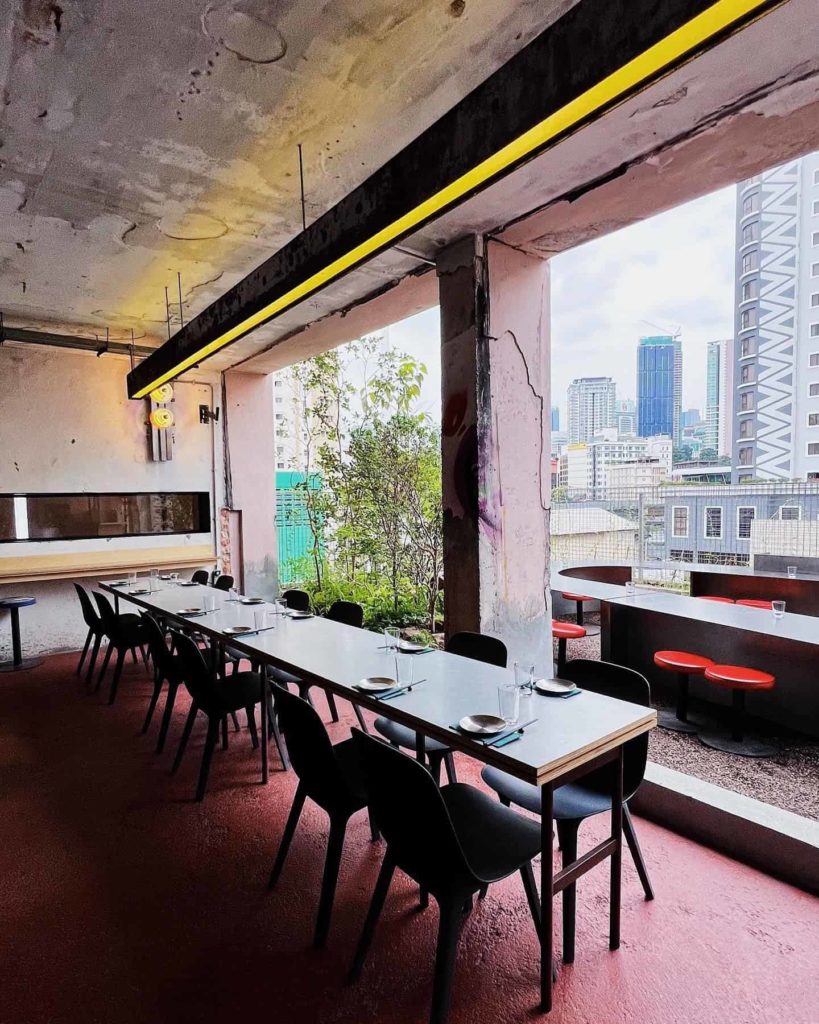 Test
Info
SERVICES

Outdoor seating

Dine-in

ADDRESS
80, Jalan Sultan, City Centre, 50000 Kuala Lumpur, Wilayah Persekutuan Kuala Lumpur, Malaysia
CONTACT DETAILS
+60126120786
OPERATING HOURS

Tuesday to Friday: 5 PM - 12 AM

Saturday and Sunday: 12 PM - 3 PM, 5 PM - 12 AM
| | |
| --- | --- |
| Criteria | Ratings |
| Location | ★★★★☆ (4/5) |
| Curation of the menu | ★★★★☆ (4/5) |
| Affordability of the prices | ★★★☆☆ (3/5) |
| Interior design and floor layout | ★★★☆☆ (3/5) |
| Customer satisfaction | ★★★★☆ (4/5) |
Shhhbuuuleee is a restaurant located at a place you wouldn't expect it to be in: it's tucked at the top of the famous RexKL and it shares a space with BookXcess.
Because of this, we recommend Shhhbuuuleee for bookworms who'd want to scour through towering stacks of books before or after their meal.
People who come here usually just stumble upon it after visiting the bookstore or when they see it in their social media feed. So, it's quite a private place where you'd enjoy eating in peace because of its laid-back and chill vibe.
Given its location and quaint space, there are only limited seats here. Most of the tables are also shared, so we think it's better to come here alone or with a group of friends as it may not be a place suitable for a date.
However, we like that it has a semi-outdoor dining area where people can enjoy the sight of the KL Tower and Jalan Sultan. We were blown away by the sight and ambiance of the place at night, when it's dim and surrounded by lights from outside.
But the thing we love most about Shhhbuuuleee is its unique menu that serves mostly Asian cuisine. We recommend going here if you're always on the look for unusual but scrumptious food!
We're just a bit concerned about the prices because everything is served in small portions but they're pretty pricey. This is why we don't recommend it if you're traveling in Malaysia on a budget (malaysia travel tips on a budget).
Well-hidden and peaceful place
Offers outdoor dining
Located on a rooftop
Limited operating time
Customer Reviews
A hidden gem
"Second visit to this place. Welcoming and attentive team kept me coming back for more. Amazing and unique tapas to go with a good selection of wine. Loving the chill, cozy, underground and exclusive vibe of this hidden gem. Could be humid depending on the weather since it's on a rooftop." —Jayson Chia, Google Reviews
It's a must to dine here
"If you dine anywhere in KL it MUST be here! Up past the cutest library is a rooftop restaurant with incredible staff and life changing food. Meat eaters, the short ribs will make you regret how long you've taken to try them, veggies, the cauliflower is superb. Could not recommend this hidden gem more, I think I'm in love!" —Chelsea Hurley, Google Reviews
2. Sambal Hijau Restaurant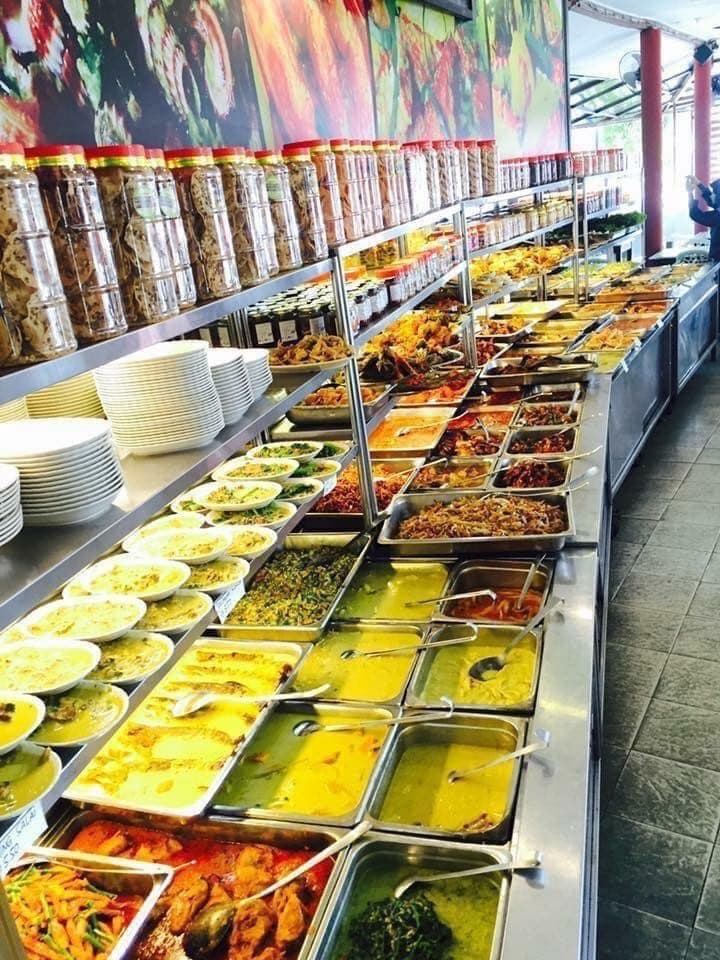 Test
Info
SERVICES

Dine-in

Takeout

Delivery

ADDRESS
2990, Jalan Sungai Penchala, Kampung Sungai Penchala, 60000 Kuala Lumpur, Wilayah Persekutuan Kuala Lumpur, Malaysia
CONTACT DETAILS
+60377312045
OPERATING HOURS

9 AM - 10 PM
| | |
| --- | --- |
| Criteria | Ratings |
| Location | ★★★★★ (5/5) |
| Curation of the menu | ★★★★★ (5/5) |
| Affordability of the prices | ★★★★☆ (4/5) |
| Interior design and floor layout | ★★★★☆ (4/5) |
| Customer satisfaction | ★★★★☆ (4/5) |
Sambal Hijau Restaurant is the place to go if you want to try and chomp on almost every local dish in Malaysia.
What we love most about this restaurant is that you would never run out of options when you dine here because they serve over a hundred dishes to choose from!
So, whether you want to go here for breakfast (what do malaysians eat for breakfast), lunch (what do malaysians eat for lunch), or dinner (what do malaysians eat for dinner), you'd be able to try various dishes for every meal. Plus, the prices are reasonable so you could try multiple dishes per meal, from appetizers, to the main course, and up to the dessert.
It's not quite a hidden spot but you'd chance upon this restaurant when you're strolling around the streets of Kuala Lumpur.
But, take note that it's quite a popular place even for the locals so it gets quite crowded during lunch and on the weekends. We were a bit disappointed that we had to wait in line since we were excited to try out the vast selection of dishes!.
Another concern you'd have to take into account is parking since there's limited space because it shares the lot with the adjacent mosque.
So, if you're planning to come here and you're bringing your own vehicle, it's best to avoid prayer hours, especially on Fridays, because you might not find a parking space.
Muslim-owned and halal
Incredibly wide selection of dishes
No wheelchair-accessible seats and restroom
Crowded on weekends and every lunch
Customer Reviews
Indulge yourself on Malay cuisine
"If you happen to be around the Damansara area and want to indulge yourself with local Malay food. You should try to dine here. The food's so delicious and I might say some of the menu are very similar to padang foods. And I love padang foods. Very packed during office lunch hour but try to slot in for early or late lunch and u will manage to eat in less crowd" —Shida Raihan, Google Reviews
A variety of local dishes
"Well varied Malay dishes at reasonable prices. Parking is available at the back as well. For lunch, I suggest to come early." —Dah Jumpa, Google Reviews
3. Eden Cafe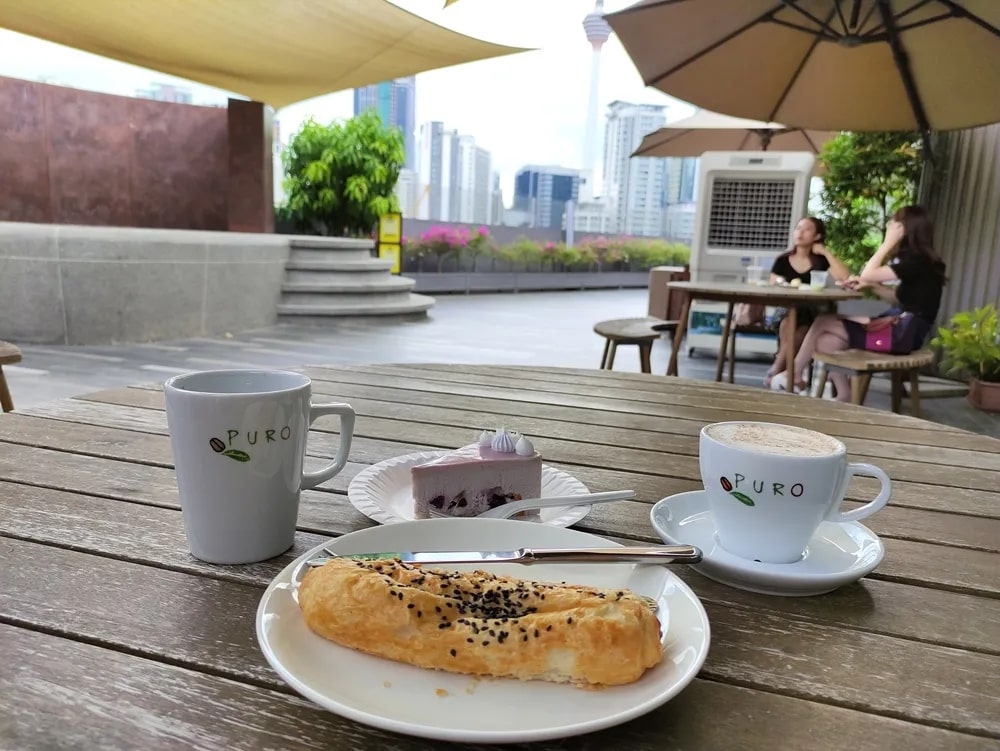 Test
Info
SERVICES

Dine-in

Outdoor seating

Takeout

ADDRESS
Bukit Bintang, 55100 Kuala Lumpur, Federal Territory of Kuala Lumpur, Malaysia
OPERATING HOURS

Monday - Saturday: 9 AM–5:30 PM

Sunday: 8 AM - 4:30 PM
| | |
| --- | --- |
| Criteria | Ratings |
| Location | ★★★★★ (5/5) |
| Curation of the menu | ★★★☆☆ (3/5) |
| Affordability of the prices | ★★★★☆ (4/5) |
| Interior design and floor layout | ★★★★☆ (4/5) |
| Customer satisfaction | ★★★★☆ (4/5) |
If you're looking for a cozy and quiet place to dine in, it's a must for you to go to Eden Cafe! It's especially serene in the mornings so if you want to enjoy your breakfast or a quick morning coffee, you should check it out.
Eden Cafe is a secluded spot at Lot 10 and it's relatively unknown to many. It's literally also hard to find this place because there are no signs leading to its location.
You might even get lost before you reach it, especially if you're not familiar with the place. But, it's quite a gem when you find it.
We're just a bit iffy that the space inside is quite small so there are only a very few seats available. However, there are a few tables set up on the deck from where you'd have a front-row seat to the amazing scenery of the Kuala Lumpur skyline.
We noticed that it has very limited main course options but it has a great selection of drinks and pastries. This is why we recommend dropping by here during breakfast or when you want to have a snack after visiting various attractions in the city.
Likewise, it's a good place to visit if you're on a budget. We liked that their prices are quite cheaper than other cafes but the proportions served are fair-sized.
Wide variety of drinks and pastries
Relaxing and cozy ambiance
Only accepts cash
Very limited seats
Customer Reviews
Quiet place to dine in
"I went on a weekday so it was quiet. At 10am I was the only one there. The views of the KL skyline while drinking tea is great. The cakes looked amazing but I stopped myself 🙂 Getting to the cafe was the biggest challenge – I found no signs at all in the mall. So, go inside Lot 10, take the elevator to the 8th floor, turn right, walk the path round, and you get outside. It is across the garden on the left as you are going straight. It's a nice place to relax and enjoy. Prices are reasonable." —M Jones, Google Reviews
A great alternative
"This is a great alternative to meeting at a mall or coffee chain. Very broad selection of hot and cold drinks. Personable staff. Charming aesthetic and, if you listen closely enough when the street noise goes away, you can hear birdsong. This is cash only, which was a problem because we ran out of cash. Would go again, but only in the morning on a weekday when it's quiet" —Riazat Butt, Google Reviews
4. Tamarind Springs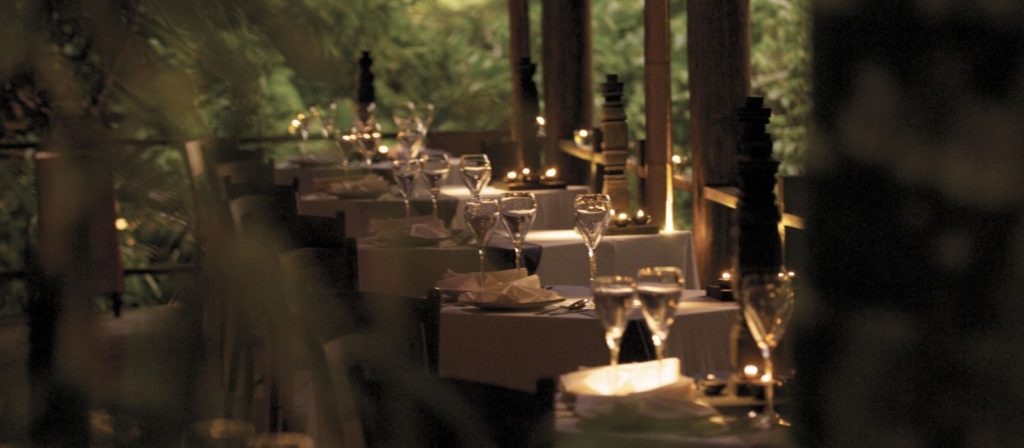 Test
Info
SERVICES

Dine-in

Outdoor seating

Takeout

Delivery

WEBSITE
https://www.tamarindrestaurants.com/tamarind-springs
ADDRESS
Jalan 1, Taman Tun Abdul Razak, 68000 Ampang, Selangor, Malaysia
CONTACT DETAILS
+60327162737
OPERATING HOURS

Tuesday to Friday: 12 PM - 3PM, 6 PM - 11 PM

Saturday to Sunday: 11:30 AM - 3:30 PM, 6PM - 11 PM
| | |
| --- | --- |
| Criteria | Ratings |
| Location | ★★★★★ (5/5) |
| Curation of the menu | ★★★★★ (5/5) |
| Affordability of the prices | ★★★★☆ (4/5) |
| Interior design and floor layout | ★★★★☆ (4/5) |
| Customer satisfaction | ★★★★☆ (4/5) |
People who come to Tamarind Springs often hear about the place from a friend or a relative who has been here. It's a hidden gem in one of the many jungles in Kuala Lumpur.
In our books, Tamarind Springs is a peaceful and extraordinary place to go to if you want to escape the hustle and bustle of the city without having to leave the city.
Although, we think the romantic ambiance of the place becomes more prominent at night. So, try considering this restaurant when planning your date if you want to try something new!
Another thing we liked here is that it has different Asian cuisines like Vietnamese, Thai, and Indochinese. We were happy that all the dishes we ordered tickled our taste buds!
Tamarind Springs is a visual feast because of its beautiful architecture inspired by traditional houses. We love its interior design because of the stone-carved statues and traditional paintings which complement the style of the restaurant.
Nature and park lovers will particularly enjoy this place since it's located in a natural forest reserve. So, they'd be dining on the outskirts of the jungle and surrounded by calming greeneries.
They would also get the chance to dine in nature and they could hear the sounds of crickets or frogs from here. Plus, you might be able to spot a wild animal in the area if you look around.
However, it only opens during lunchtime and we noticed they serve only their brunch menu until the afternoon, before they switch to the dinner menu in the evening.
Because of this, we were a bit disappointed that there's only a limited option for their meals from lunch until the afternoon.
Likewise, you have to take note of their opening hours and make sure to avoid going here when they're closed in the afternoon!
Has very peaceful and calm surroundings
Amazing scenery
Opens during lunchtime
No wheelchair-accessible entrance, seating, and parking
Customer Reviews
Good for Sunday brunch
"Came for Sunday buffet, ordered from the menu, food all came in small portions, so you could try all the dishes on the menu. The drink was lemongrass with tiny bit of sweetness.
They gave us refills automatically when the glass was nearly empty. Nice ambiance. The doors of restrooms are quite interesting. Overall, pretty good deal for Sunday brunch." —Joanne Tu, Google Reviews
Interesting experience in a hidden restaurant
"Secluded restaurant amidst forest, surrounded by nature and accompanied by sounds of crickets and frogs. Would never have discovered this restaurant if my friend did not bring me here! The staff was friendly and the environment would be suitable for date nights. However it was pretty dim for me.
The food was slightly overpriced in my opinion, though the flavour was decent. The portion of vegetables was very little compared to the price. Though the fried fish was amazing. The tom yam mixed seafood was decent as well.
Overall, the food was alright, just the price was slightly overwhelming. It was an interesting experience but I doubt to come back again." —Xiao Xuan, Google Reviews
5. Casa De Madani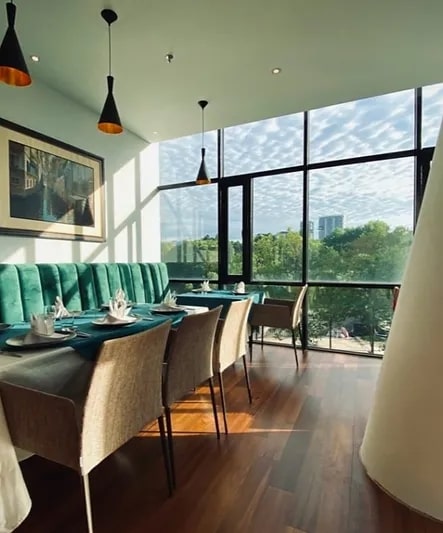 Test
Info
SERVICES

Dine-in

Takeout

WEBSITE
http://casademadani.asia/
ADDRESS
J Pod Malakat Mall, 65 Lingkaran Cyber Timur, 63000, 63000 Cyberjaya, Selangor, Malaysia
CONTACT DETAILS
+60162214961
OPERATING HOURS

12 PM - 10 PM
| | |
| --- | --- |
| Criteria | Ratings |
| Location | ★★★★☆ (4/5) |
| Curation of the menu | ★★★★☆ (4/5) |
| Affordability of the prices | ★★★★☆ (4/5) |
| Interior design and floor layout | ★★★★★ (5/5) |
| Customer satisfaction | ★★★★★ (5/5) |
Casa de Madani is one of the rarest fine dining restaurants that's Halal-friendly, which is why it's a hidden gem in the Klang Valley. Its menu is curated by award-winning Muslim chefs who have brought local twists to European dishes.
However, their menu isn't as diverse as we thought since there are very few options to choose from. But once you taste each dish, you'd feel how meticulously planned their menu is.
One of the things we like about this restaurant is the cozy ambiance that's perfect for a sentimental mood during a date or a relaxing meal.
We recommend going as a couple or in groups when dining at this restaurant because the individual prices of the food here are more expensive than the group meals.
But compared to other fine dining restaurants in Klang Valley, the prices at Casa de Madani are reasonably cheaper—a plus in our books! So, it's also a good option for your first fine dining restaurant if you're looking for an affordable place to try.
We're also happy about the service of the staff. They're friendly and very welcoming of the customers coming into the restaurant.
Furthermore, based on the reviews that we've also seen, the staff here are consistent in delivering excellent and warm service to their patrons. For us, this aspect is truly noteworthy as this aspect can make or break a dining experience.
Wheelchair-accessible entrance and parking
Accepts credit cards, debit cards, and NFC mobile payments
Shorter opening hours
Limited selection in the menu
Customer Reviews
Great customer service
"My husband took us here for birthday and anniversary celebration. He mentioned that the response for booking through Whatsapp was quick. The staff were warm and welcoming.
They were attentive to our needs and described each meal served. They even sang happy birthday. The food was delicious and the plating made them appealing. Special appreciation to Rizal for going out his way to help us take pictures." —Nur Zulaikha Zaki, Google Reviews
Rare fine dining experience
"Had a good time at casa de madani. Was very pleased with the food and service. Quite a rare to get fine dining experience while being halal certified. Everyone is attentive to our needs. Wish you guys well and may come again in future." —Rashid Munir, Google Reviews
---