The Top 7 Magician Services in Malaysia
Got a party coming up and need the best magician around to make it a bit more interesting? Whether it's for a private event or a company party, you've come to the right place!
Here, we put together all the best clown services in Malaysia as well as the other services they offer so you can have a hassle-free time planning your party. Keep scrolling to read all about the services that will guarantee the party you're looking for!
The Top Magicians in Malaysia
Parties are always so much more fun with a little magic so what better way to bring that around than by having an actual magician at your party, right? Below you'll find a list of the top magician services in Malaysia and all the information you need to know about them.
Some of these are companies while some are individuals so you have a variety to choose from! Enjoy scrolling.
1. Aaron Pang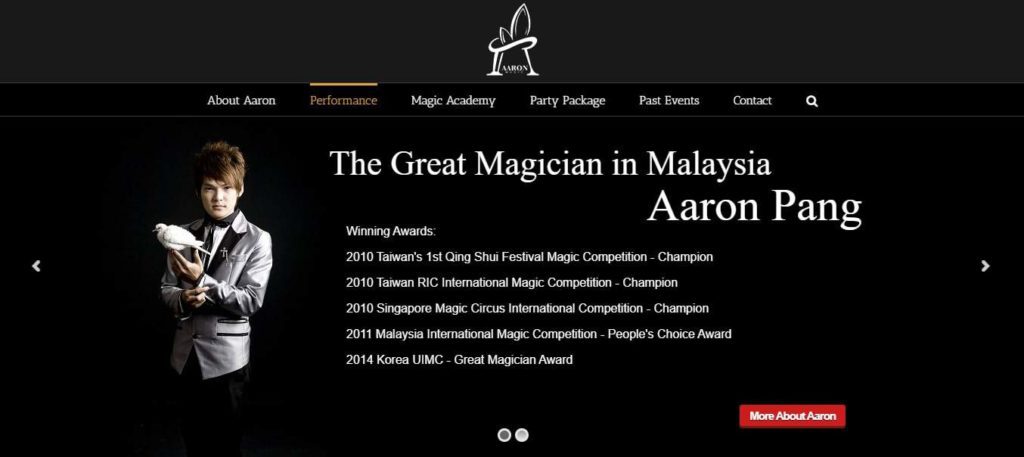 | | |
| --- | --- |
| WEBSITE | http://magician-aaron.com/ |
| ADDRESS | 17-01, jalan pertama 5, danga utama, 81200 johor bahru, malaysia |
| CONTACT DETAILS | 011-56226692 |
Aaron Pang is one of the most well-known magicians in Malaysia. Having learned to do magic at 20 at his university's magic club, he has since enjoyed international acclaim through numerous competitions where he always came out on top.
He's also been trained abroad at magic conventions and has even been asked to perform both nationally and internationally in Korea, Singapore, and Taiwan. You'll also find that he was presented with Malaysia International Magic Contest Best Choice Award in 2011.
Aside from his experience in performing magic, he's also an event organizer with over 100 events under his belt. This makes him great for those who need a little help with the parties they're planning.
The company also offer a customizable dessert bar. Everything from special cookies, cakes, brownies, and other baked goods can be made at your request.
Lastly, they also offer balloon art performances and mascot and clown costume performances, with the most requested being their Iron Man mascot.
Offers customizable dessert bar
Offers mascot appearances
Offers balloon art performances
Rates are pretty high due to expertise and demand
Packages are only for children's parties
2. Magic & Talent Entertainment Sdn Bhd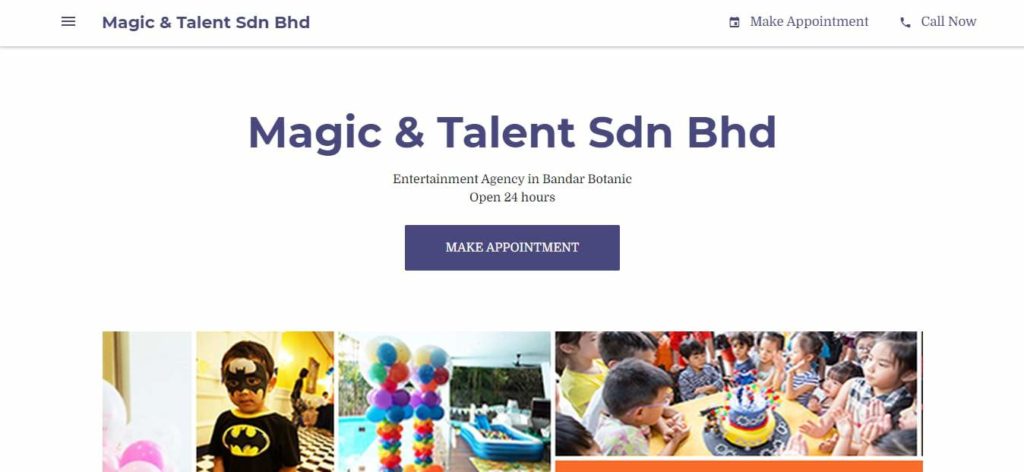 Magic & Talent Entertainment is an entertainment company located in Klang, Malaysia.
They're a popular choice for all sorts of large events like galas, product launches, media events, trade, and roadshows. However, they're still also great for events like weddings dinners, birthday celebrations, corporate events, and private parties.
They're usually hired to do the entire event planning process to make everything much easier for you. Any talents, services, and experiences they provide are made in a way that ensures every client is happy in terms of their needs.
In terms of their entertainment services, they usually provide professional and famous teams in the industry but they also have newly trained performers that they still say are great. These include magicians, balloonists, mascots, dancers, emcees, and clowns.
They also offer carnival booths to make the party even more exciting!
Offers carnival booths
Offers full party-planning services
Suitable for large-scale to small-scale events
Can't specifically select a magician
Some talents are newly trained
3. Jefferado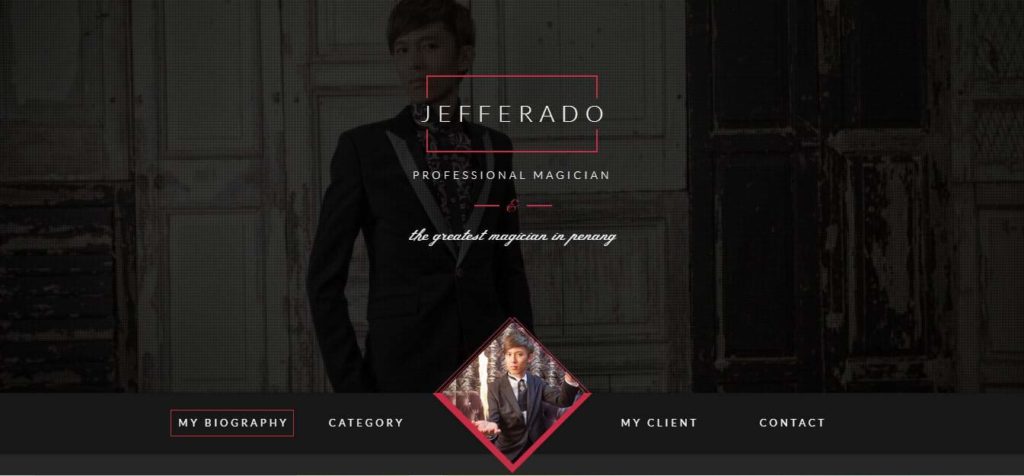 Jeffrey Ch'ng Yih Hwang, otherwise known as Jefferado, is a professional illusionist and magician in Penang, Malaysia. He started out as a magician at just 13 years old, performing at various nursing homes, orphanages, small parties, and charity events.
In 1999, he put up his own magic company called Amazing Magic Studio Sdn Bhd located in Penang. Now, this company travels all around the world bringing its arts and magic to corporate and private events.
Jefferado is said to stand out in the way he does his magic tricks because of this one secret: his audience. Along with his impressive sleight of hand, he makes sure to always engage with his audience up close and personal.
Whether it's by moving closer to the audience or asking volunteers to participate in the show, he always makes sure the audience gets to have an interactive experience. This was definitely one of the reasons why Jefferado won the "The Most Famous Magician" award at the Malaysia Magic Competition.
Specializes in Illusionist magic
Awarded "The Most Famous Magician" at the Malaysia Magic Competition
Guaranteed to provide an interactive show
No party-planning add-ons offered
Rates may be a bit pricey
4. Hafiz Arif (Entertainers Worldwide)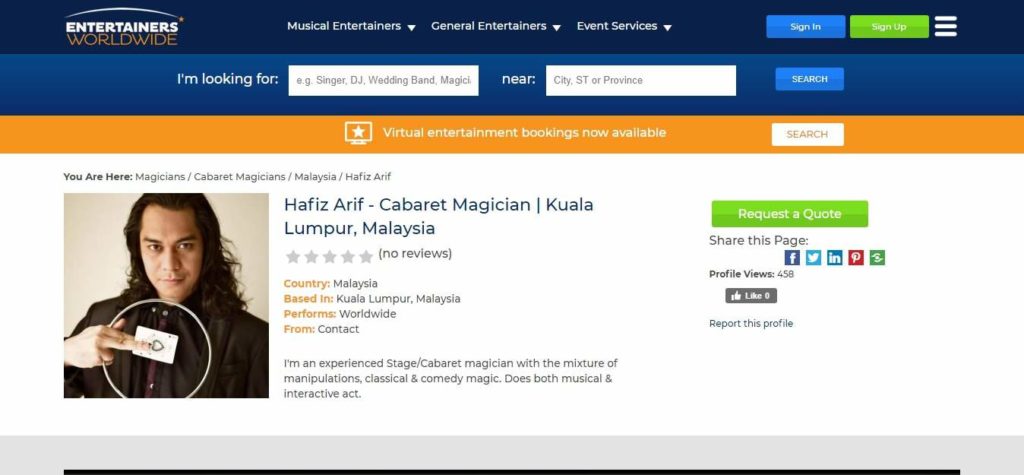 Hafiz Arif is based in Kuala Lumpur and is definitely one of the magicians to look out for nowadays. The only way to contact or book him is through the company's website but don't let that worry you.
The fact that he's under a global and well-respected company is enough for us to know he's good. Also, as a magician under Entertainers Worldwide, he gets the best of both worlds which are being able to do freelancing while still being signed to a magician company.
His experience is in Stage/Cabaret magic which is a type of magic show that involves singing and dancing. He incorporates this with classical, comedy, and illusionist magic for an interesting magical experience.
In 2010, Hafiz represented Malaysia in Malaysia's International Magic Festival. Asides from this, he's also been performing in various events like carnivals, annual dinners, and other kinds of parties.
Works under a global company
Expertise is Cabaret Magic
Represented Malaysia in Malaysia's International Magical Festival
Only one way to contact/book
Not much information on him online
5. I-Event Planner Malaysia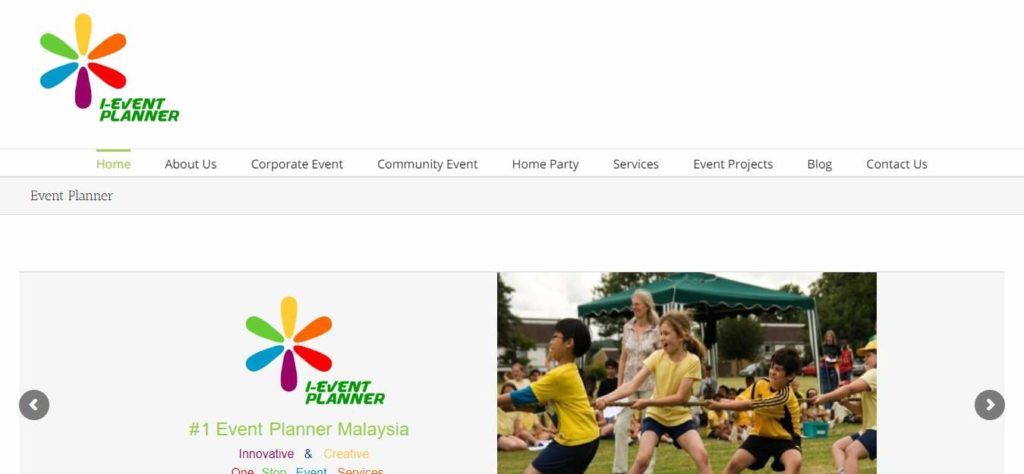 I-Event Planner Malaysia is one of Malaysia's most reputable event planning companies thanks to their professionalism and reliability.
They offer four types of magicians: table magicians, close-up magicians, illusionists, and professional magicians. The type of magician you choose should be mainly based on the number of people at your event.
If you're having trouble deciding which one to get, you can always ask for assistance with I-Event Planning.
Speaking of assistance, I-Event Planning is also the best on this list if you need a full-blown large-scale event planned. They offer planning services that include everything from decorations, entertainment, catering, sound and lighting, emcees, and the like with event coordinators managing everything.
Their contact form on their website makes it really easy to get a quote and book with them which already speaks volumes about how efficient they are. This is definitely something you want from someone managing such important life events.
They cover any sort of event but here are a few examples: weddings, sports events, corporate parties, exhibitions, team buildings, product launches, and so much more.
Free quote
Full-party planning available
Wide range of services offered
No physical address available
Can't specifically select a magician
6. MARK & PINKY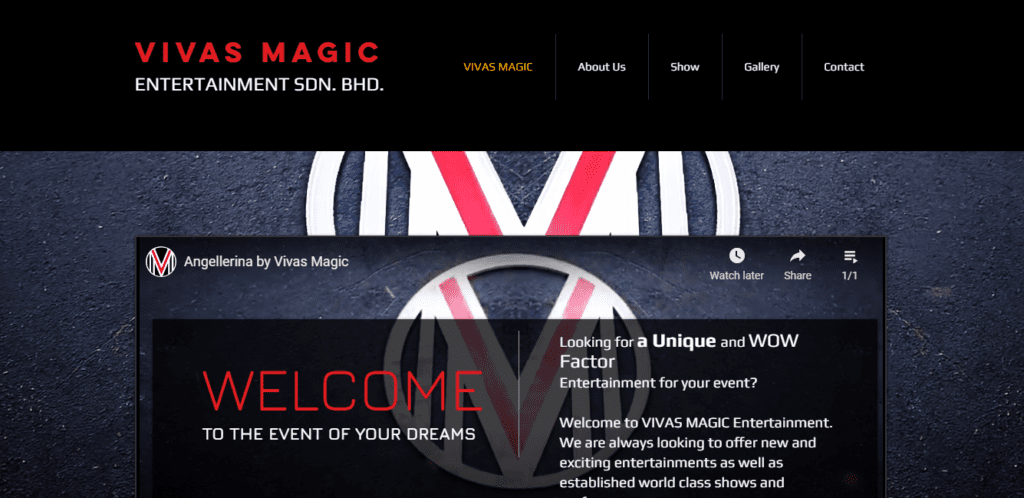 MARK & PINKY is an entertainment company that provides world-class shows and performances in a wide variety of manners such as LED dance performances and magic shows. Founded in 2007, they are established by the two internationally awarded individuals Mark Young and Pinky Loo.
Both founders are renowned in the entertainment industry, they not only offer outstanding performances but also train many talented performers to hone their unique skills as well to be able to polish them at a performance level.
Since their establishment, the said company has been among the most popular entertainment companies in the area, they have received a plethora of awards as proof of their excellence. They have attained The Champion in Malaysia Magic Competition back in 2007 and have even attained The Guinness World Record for "The Most Costume Change in 1 minute, total 16 changes".
We recommend this entertainment company due to their wide and outstanding in the said field, should clients have any performance needs or training then this company offers both in world-class quality.
Highly qualified and renowned performers
Internationally recognized
Offers entertainment training
7.  Chris Cheong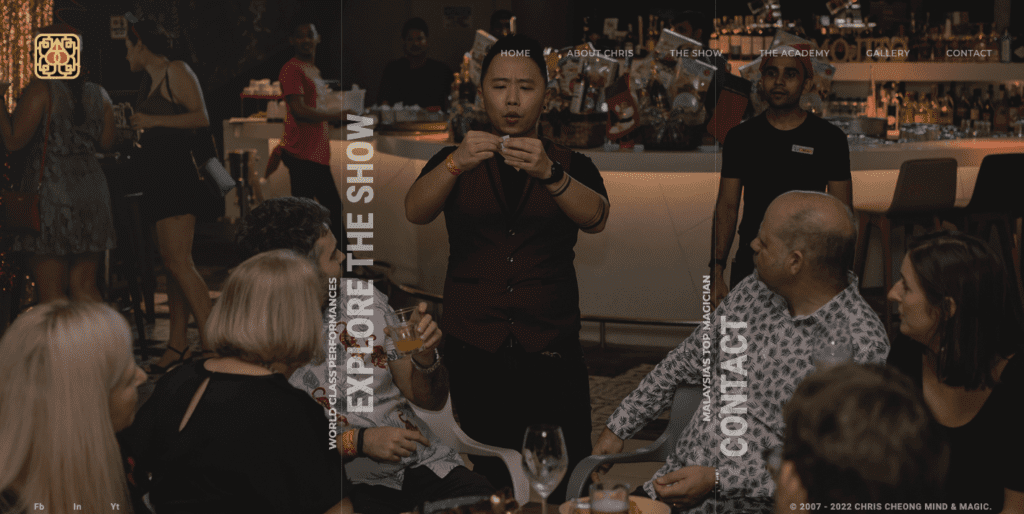 Chris Cheong is Malaysia's top professional performing magician, mentalist, and illusionist, based in Kuala Lumpur. Since 2007, he has been performing professionally for local and international events, as a resident magician in world-renowned hotels and casino resorts, and as a headliner onboard cruise ships.
Chris Cheong has also been named one of Malaysia's top ten magicians.
Over the course of his career, he has performed for over 15 years, traveled to 30 different countries, and has performed in front of over ten million people from all over the world.
Chris specializes in stage mentalism, interactive comedic stage magic, and frontier miracle close-up magic/street magic shows. With his ever-expanding 'Chris Humor' and calm personality, he creates a one-of-a-kind blend of mentalism and magic that leaves a lasting impression in people's lives.
Knowing when to make people laugh, creating the ideal setting for the event, and making it memorable are just a few of the things he does when performing. Magic makes a difference in every soul, and the difference is visible. After all, most things are beyond belief until you have firsthand experience with them.
He has performed in 30 different Asian countries for over TEN MILLION people, including corporate leaders, celebrities, and many international artists and renowned people. Chris has also spoken and made special appearances at numerous concerts and seminars all over the world.
Can do Stage Magic Show, Close Up Magic Show, Virtual Magic Show, Pure Illusion Stage Show and Customized Show/ Gambit

Internationally recognized

Offers magic training on his Academy of Magic
Things to Consider Before Hiring a Magician
Your guests
Before hiring your magician, think of your guests and the kind of magic they'd be more amazed by. Adults tend to prefer illusionists and cabarets whilst children tend to prefer animal or comedy magicians.
However, that's just a generalization. So take a good look at your guest list and figure it out!
Performance type
Another thing to consider is how they perform. Some magicians interact with the crowd by joining them or asking for volunteers while some are much more formal and stay on the stage for the entire performance.
Ask yourself which you prefer and which is better suited for the type of party you're hosting.
Magician's expertise
Take a look at your potential magician's expertise in terms of years in the industry, awards won (if any), or reviews from past clients. It's best to know all these things and be assured that they're a good magician so you don't end up disappointing yourself and your guests.
FAQs about Magicians in Malaysia
---
That concludes our list of the top magicians in Malaysia! It was definitely difficult choosing from all the great magicians Malaysia has to offer but we think you'll be pleased with these options.
If you ever find yourself booking with them thanks to this article, please don't hesitate to let us know! We'd love to hear all about your magical night.
Now, you might also find yourself needing a good caterer for this event you're planning. It won't hurt to check out our article on the best catering in Penang and, of course, let us know all about it!