5 Budget-Friendly Bars in Bangsar
Malaysia has an active nightlife but it's quite expensive because of the high taxes imposed on alcoholic beverages. This issue is particularly true in Bangsar since it's known for being an upscale community.
However, that doesn't mean that you wouldn't enjoy a fun night out with friends in this area! We've listed cheap bars here so you'll know where you could go even if you're on a budget and still enjoy a night out drinking with friends!
How We Chose the Top Cheap Bars in Bangsar
Here are the criteria we used in determining our recommendation of cheap bars in Bangsar to make sure you have the best choices:
1. Coley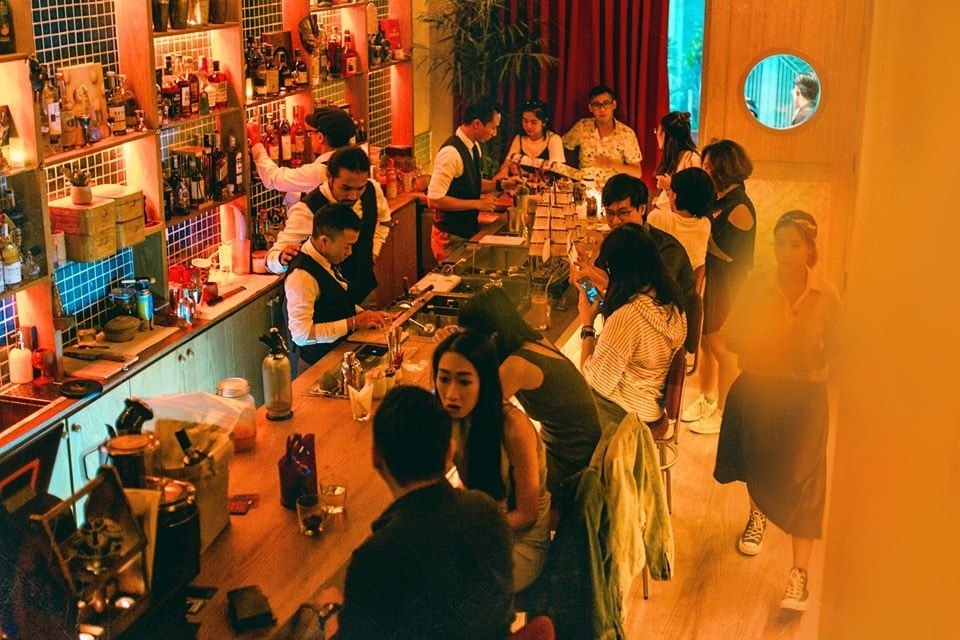 Test
Info
SERVICES

Dine-in

Outdoor Seating

Delivery

ADDRESS
6-G, Jalan Abdullah, Bangsar, 59000 Kuala Lumpur, Wilayah Persekutuan Kuala Lumpur, Malaysia
CONTACT DETAILS
+60192709179
OPERATING HOURS
Monday - Saturday: 5 PM - 1 AM
| | |
| --- | --- |
| Criteria | Ratings |
| Variety of drinks | ★★★★★ (5/5) |
| Affordability of the prices | ★★★★☆ (4/5) |
| Space and design | ★★★★☆ (4/5) |
| Customer satisfaction | ★★★★★ (5/5) |
One of the most famous spots in Bangsar, Coley is a casual yet cozy bar where you can get top-notch and unique cocktails.
However, although we noticed that the prices here are a bit higher in general, it still has some of the most affordable drinks you could find in Bangsar.
Notably, Coley was founded by Ada Coleman, who's the brain behind the famed Hanky Panky which is now the bar's signature drink. Because she has more than two decades of experience, we're impressed by how the menu at Coley is curated.
We definitely love that they put contemporary twists to traditional drinks and a sip would feel like a whole new experience!
The bartenders here are experienced and well-trained in mixing drinks so we're sure your drinks will be in good hands. CK Kho, the main bartender here, is also an award-winning bartender in Malaysia–a plus in our books!
Everyone working here is also very meticulous with their work and pays attention even to the smallest details of every drink. We particularly like that they use local ingredients, make their own ice, and dehydrate by themselves the fruits used as a garnish.
It's also no wonder why it was part of Asia's Top 50 Best Bars in 2018 and 2019. Plus, their team was awarded during The Bar Awards Kuala Lumpur 2017 for being the best hospitality team and the best cocktail bar.
We also think it's worth mentioning that its current location in Jalan Abdullah is more spacious than its previous location. Overall, we recommend Coley whether you want to have a drink while relaxing on the sofa or a fun night out!
Spacious location
Diverse selection
Friendly staff
Has short opening hours
Not accessibility friendly
Customer Reviews
Amazing cocktails and pleasant food
"The local cocktails are amazing, my favourite so far is the jambu one but the absinthe melon cocktail is also great.
Pleasantly surprised to find that the food is really good too. Got the crab burger since I was thinking of getting a bite and wasn't disappointed.
Music is just right and place has some great decor going on. Watch your head on the lamp on the way out though.
Oh also they do cocktail delivery too, definitely considering it." —Eshaan Menon, Google Reviews
Reasonable prices
"Hands down, best entry price level drinks amongst all other bars in KL. Their RM25 cocktail range is unbelievably good.
Even though it is usually difficult to get a seat during weekend nights here, their friendly staff will leave you feeling welcomed nonetheless." —Sue T, Google Reviews
2. Haba Bar & Restaurant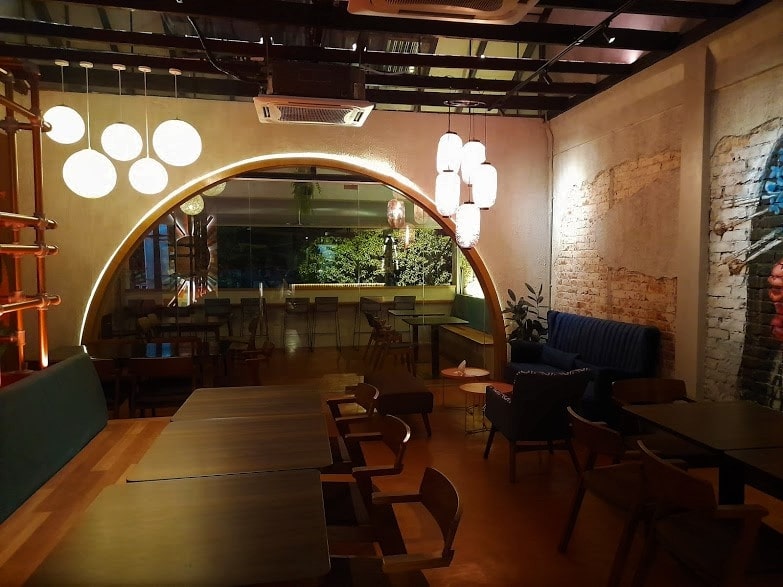 Test
Info
SERVICES

Dine-in

Takeout

Delivery

No-contact delivery

WEBSITE
http://habakl.com.my/
ADDRESS
42A, Jalan Kemuja, Bangsar, 59000 Kuala Lumpur, Wilayah Persekutuan Kuala Lumpur, Malaysia
CONTACT DETAILS
+601111608842
OPERATING HOURS
Tuesday to Sunday: 12 PM - 3 PM, 5 PM - 12 AM
| | |
| --- | --- |
| Criteria | Ratings |
| Variety of drinks | ★★★★★ (5/5) |
| Affordability of the prices | ★★★★☆ (4/5) |
| Space and design | ★★★★☆ (4/5) |
| Customer satisfaction | ★★★★★ (5/5) |
What we like the most about Haba Bar & Restaurant is its menu since you won't run out of options, whether you're here for the bar or for the restaurant. It's a place that wouldn't just quench your thirst for a strong drink, but it will also fill your empty stomach.
The prices of the drinks here, including cocktails, highballs, wines, and champagnes, are almost the same as the prices from Coley. They also offer mocktails at an affordable price.
Aside from its carefully curated drink options, its food is also something to talk about. Whether you're having a full meal or just small plates, you shouldn't miss out on the delicious food that they're offering!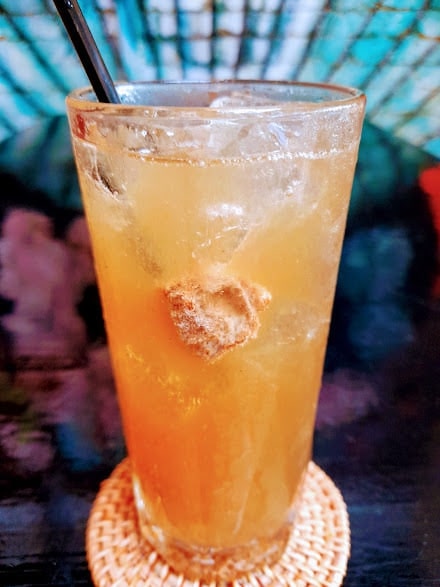 We also love its decor and style since it's very cozy inside because of the palette of the furniture that sets the mood. You'd also find a unique curation of art which you should definitely check out if you're an art enthusiast.
It's a good place to go with your gal friends because of the Ladies Night Thursdays they hold, in addition to their Happy Hour! We're sure that you'd have fun catching up with your friends in this bar.
Likewise, we noticed that the customers here enjoy the attentive and friendly service of the staff. And this is a major plus for us!
Longer opening time than other bars
Great selection on the menu
Closes earlier than other options
Might need reservations for a guaranteed seat
Customer Reviews
A place for the art lovers
"Very close to Bangsar Lrt yet we took grab to the restaurant. You will enjoy the ambience if you are an art lover because they wall art paintings. The food taste good however if you are not a spicy lover then make sure to request it not to put a surprise spicy tangy feeling before you finish the bowl.
Would be nice if the grill gizzard is soft coz it feels like we are fighting when biting it. The liver could been better if toasted or fried. White wine giving a vibe of a classy dinner. Overall not bad to try." —Krissy Arellano, Google Reviews
A must-try
"Love it. The owner runs a couple of bars and this is another hit. It's great, deco is amazing too. They specialise on highballs and Japanese infused vibes. I had the saketini which was good too! Its at bangsar near the other bars like coley and etc. Try it out next!" —Ling Hui, Google Reviews
3. W1 Dining & Cocktails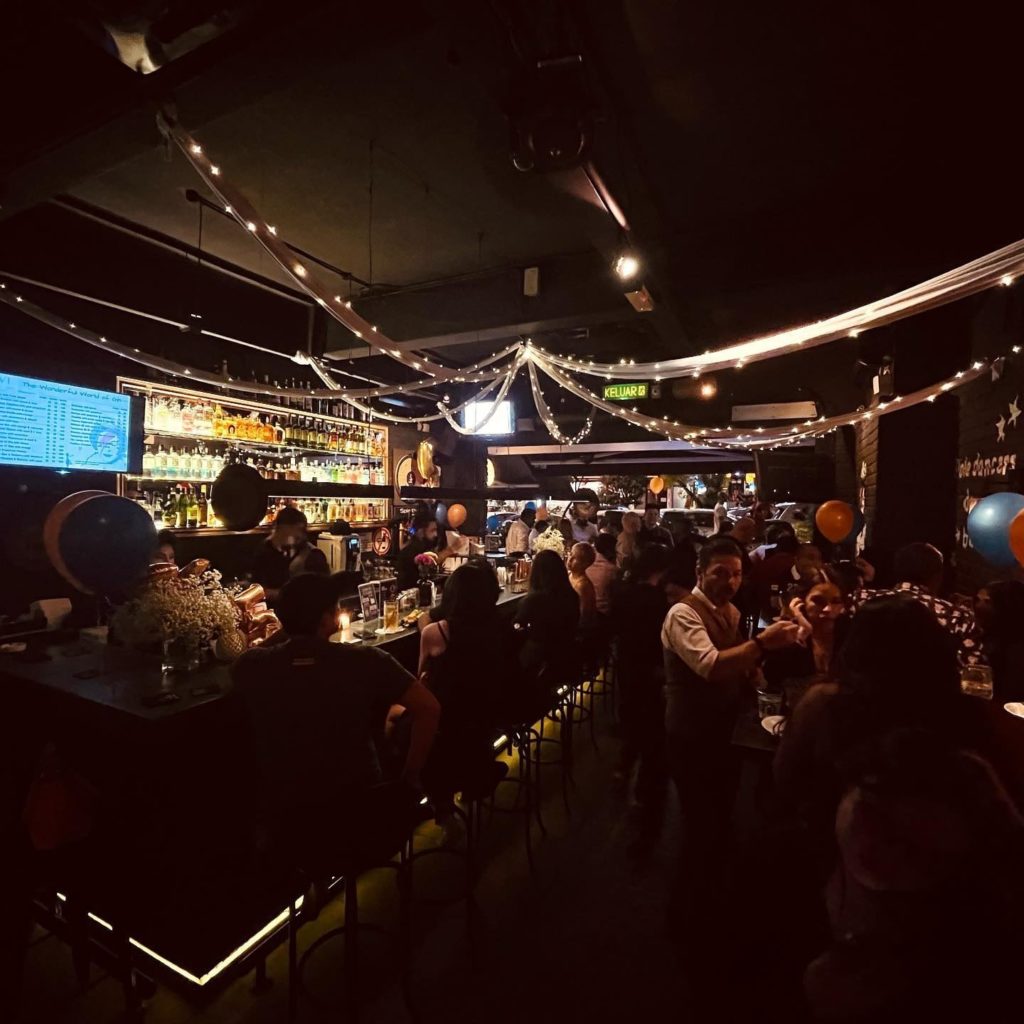 Test
Info
SERVICES

Dine-in

Outdoor seating

Takeout

Delivery

ADDRESS
22, Jalan Telawi 2, Bangsar, 59100 Kuala Lumpur, Wilayah Persekutuan Kuala Lumpur, Malaysia
CONTACT DETAILS
+60322015045
OPERATING HOURS
Tuesday - Saturday: Tuesday, 4 PM - 12 AM Sunday: 12 PM - 9 PM
| | |
| --- | --- |
| Criteria | Ratings |
| Variety of drinks | ★★★★☆ (4/5) |
| Affordability of the prices | ★★★☆☆ (3/5) |
| Space and design | ★★★★☆ (4/5) |
| Customer satisfaction | ★★★★★ (5/5) |
The first thing we liked about drinking and dining at W1 is that it provides a unique experience for anyone in Malaysia. When we went there, we felt like we're in a London pub!
That's right! W1 brought the modern London dining experience to Bangsar, from its design to its ambiance. Although when we were presented with its menu, we were pleasantly surprised at the Asian twist they put on classic English dishes.
Another thing we liked is that W1 is a good meet-up place with friends. Here, they hold Ladies Nights and even Lad Nights on Wednesdays and Thursdays, respectively.
However, be warned that the prices of the drinks here are a bit higher than the other bars in the area. Nonetheless, the entire cost at W1 for an evening of casual drinking remains well within the affordable price range overall.
Plus, W1 offers discounts occasionally! So, we recommend waiting for them if you plan to go here for a drink so you can avail of its lower prices.
We also found out that they offer special menus during holidays like Halloween, Christmas, and Chinese New Year. We recommend going here during special occasions so you'd feel the holiday spirit more because of their themed drinks and meals!
Finally, we're just a bit iffy that their food is quite pricey but lacking in taste, so we think W1 could still improve on this aspect. However, we're happy that the drinks remain decent.
Extensive drink options
Great location
Special menus
More costly than other cheap bars
Dishes could be improved
Customer Reviews
Comes with reasonable prices
"W1 Dining & Cocktail is cool!! With the British style I really like the concept. Food are tasty and also the cocktails with reasonable price. And staffs are friendly and the service is so good. I had really great times here!!" —Kosita Butrattana, Google Reviews
Interesting options
"Friendly staff and fun atmosphere – recommend sitting outside instead of inside. Friends who were with us liked the scotch egg a lot! Shots were interesting but not great, 100% avoid the Guinness as it tasted quite stale and not fresh." —Shar C, Google Reviews
4. Knowhere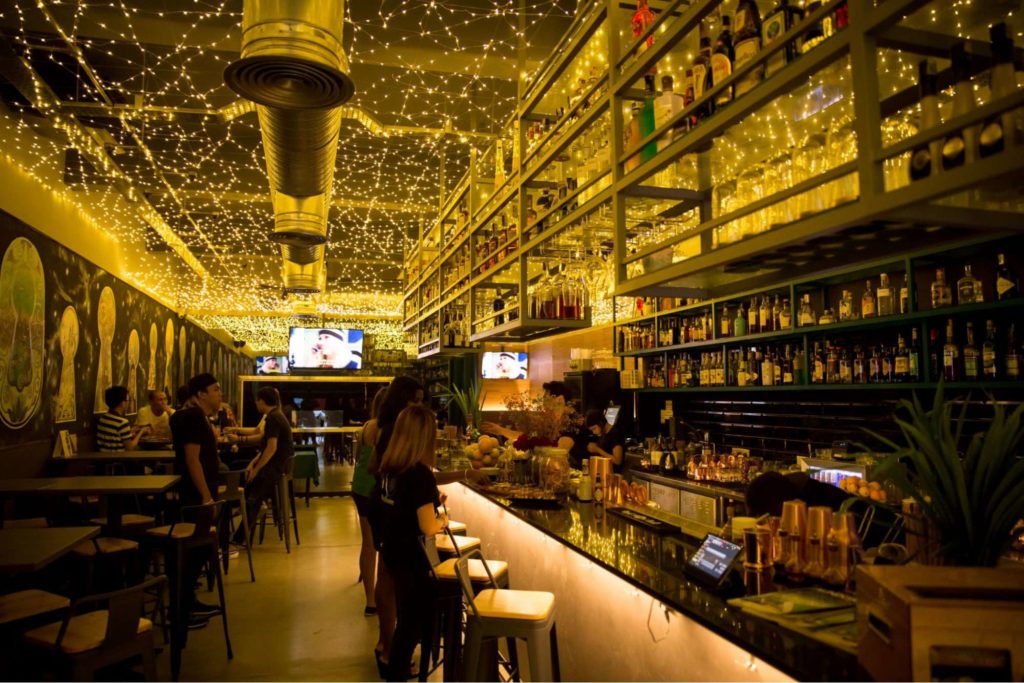 Test
Info
SERVICES

Dine-in

Outdoor seating

Takeout

Curbside pickup

Delivery

No-contact delivery

WEBSITE
https://www.knowheretoeat.com/en_MY
ADDRESS
50, Jalan Maarof, Bangsar, 59100 Wilayah Perseketuan, Wilayah Persekutuan Kuala Lumpur, Malaysia
CONTACT DETAILS
+60102202358
OPERATING HOURS
11:30 AM - 1 AM
| | |
| --- | --- |
| Criteria | Ratings |
| Variety of drinks | ★★★★★ (5/5) |
| Affordability of the prices | ★★★☆☆ (3/5) |
| Space and design | ★★★★★ (5/5) |
| Customer satisfaction | ★★★★★ (5/5) |
Malaysians and foreign tourists alike rave about Knowhere, and it's easy to see why! Upon stepping into this popular Bangsar bar, we fell in love with the classy atmosphere, making casual dining feel like fine dining!
We see it as a good place to do business because of its interiors. However, it has a cozy feel that makes it a great place for families too—you can even celebrate birthdays here!
Another noteworthy aspect about Knowhere is its drinks are to die for, especially the cocktails.
We also love the wide range of selections in both its signature and classic cocktails. You wouldn't run out of options during a fun night out and you're into booze!
The bespoke cocktail in this bar is the usual talk of the town. Our absolute favorite is Nova, one of Knowhere's signature cocktails, which you also shouldn't miss out on!
We're also very impressed with Knowhere's menu. We especially like how they fused different Asian cuisines with Western cuisines in the food that they serve—a whole new experience for anyone who tries them.
It's also a plus for us that their menu has vegetarian options, not to mention Halal-friendly.
Finally, we recommend deals they post on their Facebook page to get better prices for the drinks and food that you want to try!
Provides deals and discounts
Great variety of cocktails
Slightly higher prices
Severs smaller portions than expected
Customer Reviews
Amazing food and famous cocktails
"I rarely think a place deserves 5 stars but this one really does. We were seeking some different kind of food than typical Malaysian after being almost a week in Kuala Lumpur.
We're glad we came here because the food was so amazing and we saw why the cocktails are kinda well known. The bartender (or even owner?) did an awesome job!" —Nadja Pichl, Google Reviews
Vast selection of drinks
"Its my second time here, never fail to disappoint. Foods were bussin! I had the chicken biryani, while my friends had the prawn aglio olio, squid with sambal, chicken wrap. Vast selection of beverages, special shout-out to the bartender for making these yummy cocktail off the menu.
As usual Muskan is accommodating as always. Super chill place to hangout with friends & family. Will definitely return to try out their other dishes. Overall a delightful experience. Highly recommended !" —Meershanthini Revi, Google Reviews
5. Mantra Bar KL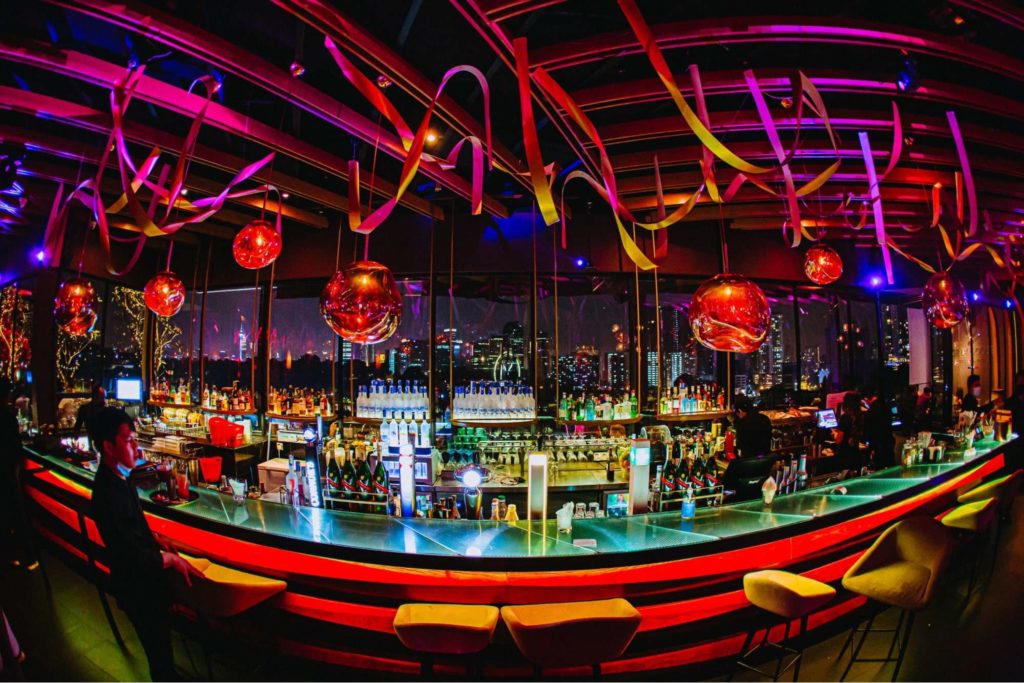 Test
Info
SERVICES

Dine-in

Outdoor seating

WEBSITE
http://www.mantrabarkl.com/
ADDRESS
Bangsar Village II, Jalan Telawi 1, 59100 Kuala Lumpur, Malaysia
CONTACT DETAILS
+60173448299
OPERATING HOURS
Sunday to Tuesday: 4:30 PM - 1 AM

Wednesday to Saturday: 4:30 PM - 2 AM
| | |
| --- | --- |
| Criteria | Ratings |
| Variety of drinks | ★★★★★ (5/5) |
| Affordability of the prices | ★★★★☆ (4/5) |
| Space and design | ★★★★★ (5/5) |
| Customer satisfaction | ★★★★☆ (4/5) |
If you want to have drinks at a high-end bar without spending too much, Mantra Bar KL should be your new go-to bar.
After experiencing a night here, we're no longer surprised it's always crowded during peak hours. The place itself is just simply beautiful, especially at night because it overlooks the Kuala Lumpur skyline.
This sundown spot mostly has a sleek and modern vibe but the lounge is comfortable and cozy. Overall, it's a relaxing place where you could spend some "me-time" after a long day at work or meet with your friends just to hang out.
We love how innovative they were in making their cocktails and these mostly have local and modern twists on the flavor, even on the bespoke drinks.
Their cocktails are also famous for being unique because of the textures and unusual tastes from locally-sourced fruits and spices.
Plus, we were instant fans of Mantra Bar because prices of the drinks here are quite reasonable. In particular, during their Happy Hour promo, we only spent RM 20 on cocktails—cheap, right?
Furthermore, Mantra Bar gets a huge plus in our books since it's the most accessibility-friendly place we could find among the cheap bars in Bangsar.
It's also a great place for a dinner date because of the wide array of food that they serve and it's pretty romantic at night.
But all good things must come to an end, as usual. Aside from always being crowded at certain hours, Mantra Bar imposes a dress code on Fridays and Saturdays—not very fun for laidback drinkers who want a cozy night.
Amazing views of the city
Wheelchair-accessible entrance and restroom
Could get crowded during peak hours
Dress code on Fridays and Saturdays
Customer Reviews
Provides decent prices
"Came on a Sunday evening for drinks followed by dinner. To be honest I was pleasantly surprised. I've been here previously and didn't like the place as it was too crowded and full of beautiful people taking instagram shots (which made me feel fat and unattractive).
But this time around a friend invited me over and it was great. Not too many people, alcohol during happy hour was cheap, food was great and decently priced, the team there were friendly and the view as usual is beautiful. Music wasn't loud either which was great. A good place to go if you are looking for a place to end your Sunday." —Jeffrey Tanggau, Google Reviews
Unique experience in a beautiful place
"Beautiful place, nice chill out music and a decent view of Jalan Maarof from the outdoors seating. Drinks were quite nice – tried their signature cocktails, one served in teapot was refreshing." —Mei Yi Yeap, Google Reviews
FAQs about Cheap Bars in Bangsar
---