Top 5 Places for Chinese Food in Setapak
Craving Chinese in Setapak? We put together a list of places to find the best Chinese food in Setapak just for you.
The Price Range for Chinese food in Setapak
Thanks to the long-standing Chinese community in Malaysia, we've been graced with several authentic dishes and even a fusion of Chinese-Malay cuisine over the years. To give you an idea of how much to carry for one person, you can refer to the table below for estimates of the most popular Chinese dishes available in Setapak.
| Dish | Estimated Costs |
| --- | --- |
| Beef Noodles | RM18 to RM20 |
| Char siu | RM5 to RM10 |
| Curry Mee | RM8 to RM15 |
| Siu Yuk (Roasted Pork) | RM10 to RM20 |
| Bak Kut Teh | RM15 to RM25 |
The Top Chinese restaurants in Setapak
We went through the following criteria to determine what we think are the best places for Chinese food in Setapak:
1. Soong Kee Setapak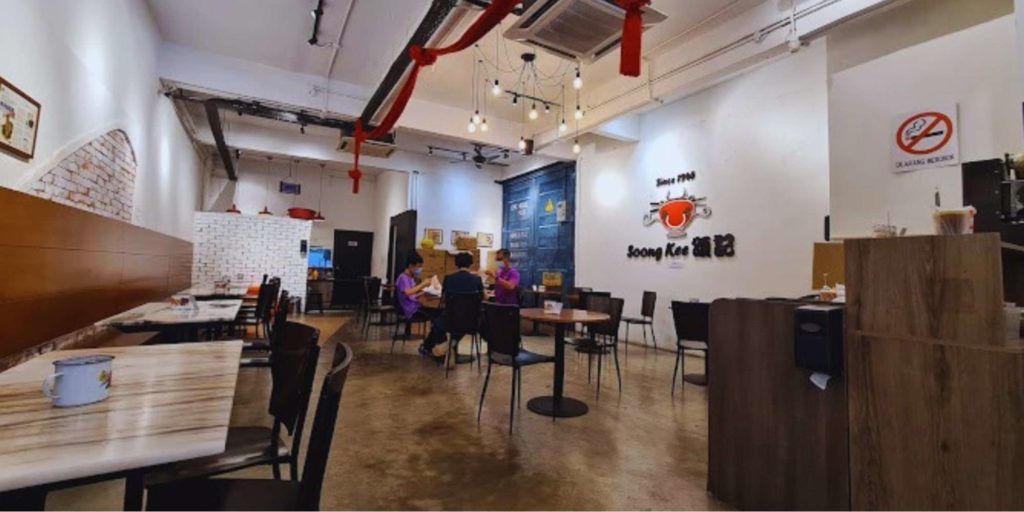 | Test | Info |
| --- | --- |
| WEBSITE | https://soongkee.oddle.me/en_MY/ |
| ADDRESS | 22A Jalan Danau Niaga 1, Setapak |
| CONTACT DETAILS | +60 3-4141 8124 |
| OPERATING HOURS | Open every day: 10:30 AM - 8:30 PM |
| HALAL | No |
| Criteria | Ratings |
| --- | --- |
| Food Quality | ★★★★☆ (4/5) |
| Customer Service | ★★★★☆ (4/5) |
| Ambience | ★★★★★ (5/5) |
| Accessibility | ★★★☆☆ (3/5) |
Whether it's for lunch or a quick meal, Soong Kee is a chill place to enjoy classic Chinese Beef Noodles. We think they brought justice to their signature dish, with great ambience to boot. 
Seeing as it's a decade-old restaurant chain in its third generation of management, we really noticed how it has kept up with the times. Their free WiFi was a blessing as much as their prices–solo meals for RM20 and below!
Soong Kee Beef Noodles are a household name, and it's well deserved! With their generous portions, you're sure to leave with a full belly.
We enjoyed the cool air-conditioning since it balanced out the hot noodles pretty well. The clean and comfy atmosphere was also great for mealtime chatter and some pretty pictures for social media.
One downside we noticed was that it was tough to park in front of the store–especially at lunchtime. Thankfully, the nearby Plaza Crystalville's basement parking solved that problem for us.
Their takeaway service can be a bit slow as we noticed they prioritise dine-in orders. This may be a bit annoying, but luckily, their website and in-house delivery offer bargain bundle promos on food!
All in all, Soong Kee Setapak offers good food and a chill dining experience
with a comfortable atmosphere fit for a nice day out with friends and family or even a quick meal alone. 
Established beef noodle restaurant chain
Clean and air-conditioned 
Free Wifi 
Friendly staff and quick service
Limited parking spaces
Takeaway service is a bit dodgy
Customer Reviews
The beef tendon was simply heaven
"I have eaten from this restaurant a number of times, and the star dish for me is the beef tendon. The chewiness and tenderness of the beef tendon was simply heaven, and the sauce went very well with the beef tendon. Another highlight of this restaurant is their soup; despite its simplicity at first glance, the soup was very well seasoned and full bodied. My girls love their noodle soup, and I for one enjoyed their dumpling soup. My husband, on the other hand, enjoys their curry noodles, although he did say it is not the best around town. All in all, their beef tendon is what kept me coming back, and if you enjoy beef and its associated "parts", Soong Kee is highly recommended." – Amelia Lew
Spacious and has free Wifi
"The food was good and the price was reasonable for me. The ambiance is okay, it's spacious and they have free Wifi too. It's clean and they also have high chairs for kids. They also accept grab pay and touch n go for payments." – Yani Ablan
2. Lamb Shepherd Restaurant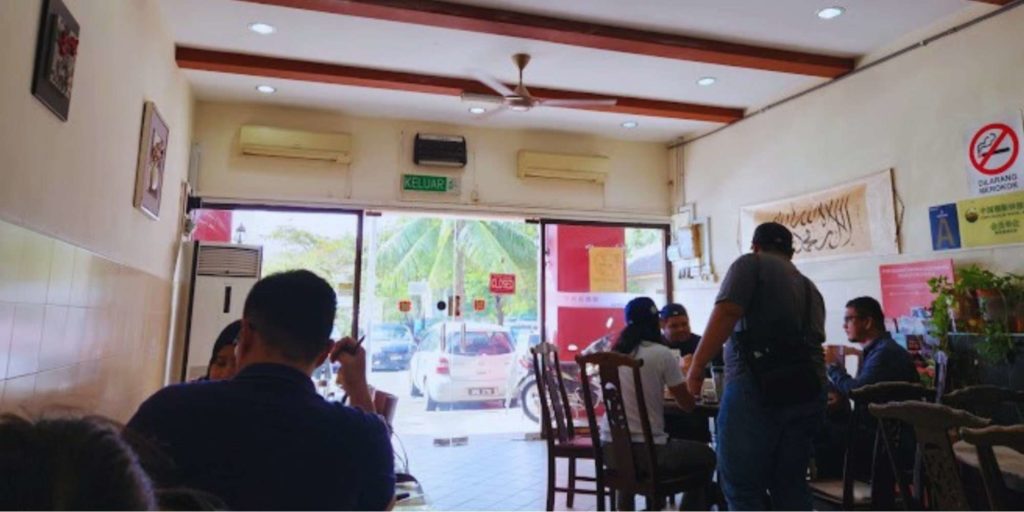 | Criteria | Ratings |
| --- | --- |
| Food Quality | ★★★★★ (5/5) |
| Customer Service | ★★★★☆ (4/5) |
| Ambience | ★★★☆☆ (3/5) |
| Accessibility | ★★★★☆ (4/5) |
Halal options for Chinese restos aren't so easy to come by, and that's one of the things that make Lamb Shepherd Restaurant shine in our eyes. The spicier tastes of Northern Chinese cuisine left us sweating–in a good way.
Seeing as it's a popular resto, we opted for reserving a spot and ordering in advance via WhatsApp. This option is a big help for those who are planning for larger groups and cut our waiting time in half.
The sizable portions at this restaurant are ideal for sharing with friends and family.Their large tables and bargain prices for large servings at RM23 and up are sure to impress your aunties and uncles!
Beware though, we're talking authentic Northern Chinese cuisine so their chilli oil can hit nuclear levels on their dishes. Order some tea or something with dairy for the extra spicy dishes.
Speaking of the heat, we're a bit disappointed that the place doesn't offer much escape from hot temperatures during the day. There is a fully-functional air conditioner in the venue, it doesn't do much due to the limited ventilation and frequent crowds.
We're glad they are available for takeaway, but expect a longer wait. Their in-house capacity of staff matched with a busy crowd can cause delays for your food.
Overall, Lamb Shepherd Restaurant offers a unique and local flavour to Chinese cuisine in Setapak. Muslim Chinese cuisine is definitely a must-try!
Chinese-owned and has Northern Chinese authentic cuisine
Can order in advance via WhatsApp or phone reservation
Generous portions 
Serves a variety of healthy teas and juice beverages
Slower dine-in service since they prioritise takeaway orders
Venue can get hot, even with the air-conditioning turned on 
Customer Reviews
Amazing food and service
"Amazing food, amazing service, most qq noodles ever had. Price is very very good. We spent 50 per pax because we over ordered and had to bring food home, but more reasonable people would probably come in around 20-ish. I spilled my tea at one point and they graciously replaced it gratis, felt real bad about it." – TC Wu
Service with a ready smile
"I love Muslim Chinese restaurants and this is no exception. The dumpling soup is fantastic, and the meat with noodles is fantastic. The egg curry was excellent and so was the yams with mushroom. Wash that down with hot flavored green tea. The ambience is fantastic and it is a quaint little place with excellent food and service. A Must visit. The owners are very kind and provide service with a ready smile" – Parvez Sayyad
3. Nan Yang Chicken Rice (高佬华南洋鸡饭)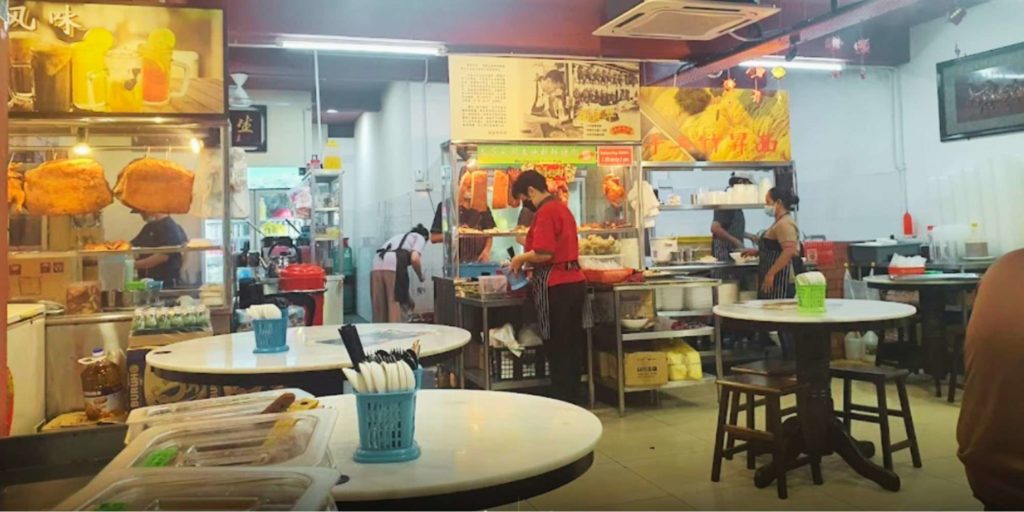 | Criteria | Ratings |
| --- | --- |
| Food Quality | ★★★★☆ (4/5) |
| Customer Service | ★★★★☆ (4/5) |
| Ambience | ★★★★☆ (4/5) |
| Accessibility | ★★★☆☆ (3/5) |
Morning people can get their fix of Chinese at the classic restaurant, Nan Yang Chicken Rice. Their early opening time makes it a perfect place for breakfast or brunch. 
We don't have to tell you what they're known for at this restaurant, given their name. But, what's better is that the meals here come at an affordable price, and RM20 is enough to enjoy a meal for two with drinks–our favourite is the Ice Kopi!
The presence of a working air conditioner cannot be stressed enough in this list. It would've been tough to enjoy their famous Char Siu soup in the heat.
Given their earlier opening hours, we found it difficult to order many chicken rice favourites by lunchtime as they sell out quickly. If you're visiting for their signature dishes we recommend dropping by for breakfast.

Something we didn't like was that the food's freshness sometimes depended on the dish. We assumed it was because some dishes were cooked earlier and in bulk to keep up with the crowds.
Finally, Nan Yang Chicken Rice is the ideal resto for some good and authentic Chinese chicken rice at friendly prices. Don't let their famed dish stop you from ordering other delicious dishes to pair with it!
Earlier opening hours 
Comfortable temperature with air conditioning
Affordable pricing
Friendly staff
Food freshness can be inconsistent at times 
Many dishes sold out by lunchtime
Customer Reviews
Reasonable prices and comfortable dining
"I came at around 11.30am, thinking of trying the steamed white chicken but was told fully sold out. So I tried the roasted chicken drumstick with char siew. Overall, the taste is quite good. You can get unlimited char siew sauce from the sauces and chilli corner. Ice kopi is good too! I also tried the soup wan tan mee, the noodle is good and succulent, and the wan tan is very delicious with fresh prawn! Prices are reasonable, and it is very comfortable dining here! It is definitely a good place for lunch!" – Khor Yong Kean
Wonderful chicken rice
Excellent food. The roasted chicken was awesome. I have never tested such a wonderful chicken rice before. The wanton was big and filling. A big prawn is an added bonus. Hope they will maintain the same. – Karthikeyan Nair
4. Sunny Garden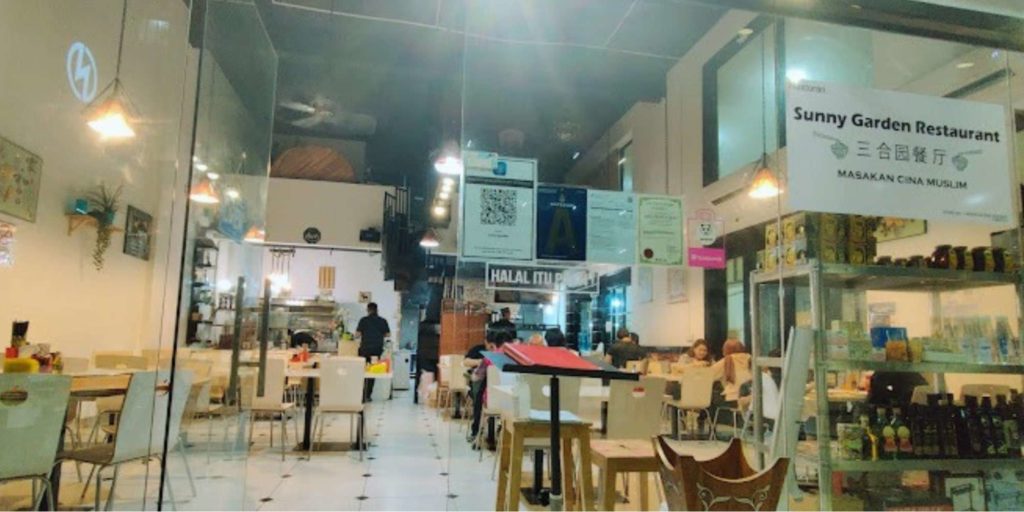 | Criteria | Ratings |
| --- | --- |
| Food Quality | ★★★★★ (5/5) |
| Customer Service | ★★★★☆ (4/5) |
| Ambience | ★★★☆☆ (3/5) |
| Accessibility | ★★★★★ (5/5) |
It's not every day that you hear about halal dumplings. Thankfully, Sunny Garden has got our backs with fine fresh fusion Muslim Chinese cuisine. 
Their signature dishes are anything with dumplings in them, from Dumpling Goreng to fried mutton dumplings. A whole plate of dumplings can go for about RM1 per piece– such a steal in our books!
The dumplings and noodles at Sunny Garden are made fresh every day, and it was quite telling in the richness of their food. Their unique recipes and combinations of Malay and Chinese dishes were a definite plus.
We enjoyed the dine-in service and their staff were friendly and accommodating. The chef himself is Muslim Chinese, so authentic flavours can be expected.
Parking is usually tough at lunchtime, but the pay parking at the nearby PV 128 saved us time. We'd still recommend coming a bit earlier than lunchtime for good measure.
They generally serve generous portions, but we've seen some inconsistency between dishes. Another thing we had to nitpick was the limited ventilation and ineffective air-conditioning in the venue.
Definitely another great halal Chinese pick, we love how Sunny Garden puts food quality over all else. The buzz of a lunchtime crowd in Setapak brings its own charm and comfort for happy regulars and newcomers alike.
Freshly-made dumplings and noodles
Quick service and friendly staff
Wallet-friendly pricing
Nearby parking available
Low power air conditioning and limited ventilation
Portions for food can be inconsistent
Customer Reviews
Noodle broth was the best
"I rarely leave reviews but the noodle broth was the best I've had, rich and delicious. In fact I ignored the noodles, which were ok, and just started eating the broth on its own haha. (I got mutton mien? Can't remember the full name) The apple juice was also so fresh and satisfying. 5 stars for the affordable yet delectable food. For store environment I'd give a 3. It's not a fancy place, food is the main attraction. It has a cool spiral staircase though." – Qing
Authentic Chinese Muslim food
"I have nothing to complaint for the food. The food is the best! It's very authentic, rich with flavours and it just gonna meet your expectations. It just the service I think they might need to improve it. As the food are well enough to make the restaurant as one of the best recommended places to dine in and to get the authentic Chinese Muslim food, but the service and the floor arrangement in serving and taking an order need to be really improved. Some of the customers are required to place the order over the counter some of the customers are able to place an order on the table but need to take quite some times. They may consider hire more floor staff to improve the service and ordering system. The food? You should go to this place and get the most authentic Chinese Muslim food!" – Scha Kim
5. Restoran Chuan Kee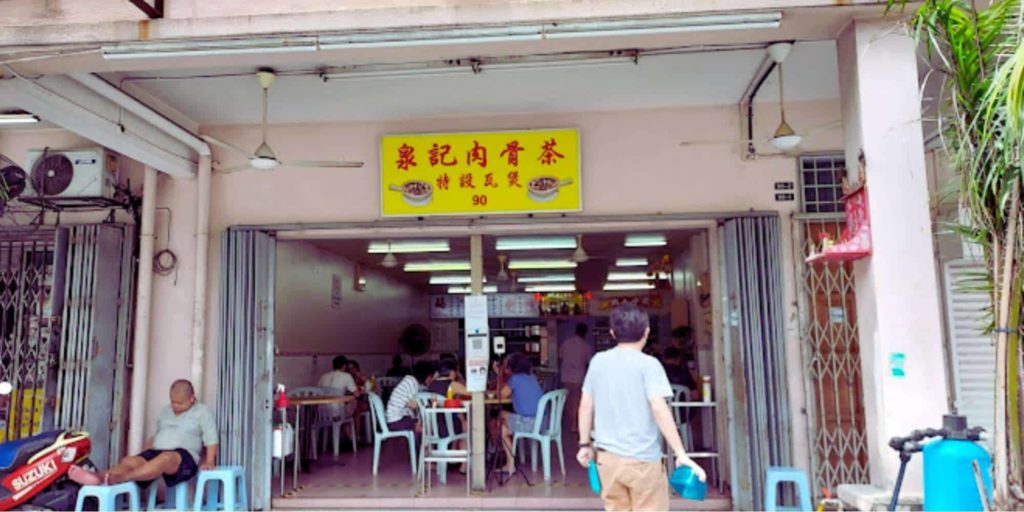 Test
Info
ADDRESS
90, Jalan 2/23a, Taman Danau Kota, Setapak
CONTACT DETAILS
+60 16-376 3537 
OPERATING HOURS
Tuesday to Sunday:

10:00 AM to 2:30 PM, 5:00 PM to 8:30 PM

HALAL
No
| Criteria | Ratings |
| --- | --- |
| Food Quality | ★★★★☆ (4/5) |
| Customer Service | ★★★☆☆ (3/5) |
| Ambience | ★★★★☆(4/5) |
| Accessibility | ★★★★☆ (4/5) |
Restoran Chuan Kee is well-loved for its signature dish, Bak Kut Teh! So much so that it's also widely known as Chuan Kee Bak Kut Teh. 
Fans of the dish flock here to try their unique twist on the popular soupy meal. We noticed more herbal flavours in their soup, which complimented the pork so well we had to catch a break.
Some might find their soup on the salty side, or different from the usual Bak Kut Teh which has stronger flavours, but we think this aspect adds to the experience. Bring some friends though, the servings are huge!
Although they don't have much of an online presence, we liked that reserving in advance was still possible via their phone number. Crowds can get crazy at lunch and dinner times, so it's best to call before heading over.
Other than Bak Kut Teh, we appreciated that they offer a number of other rare eats including braised pork, ginger wine, and liver soup. Have no fear of ordering extra since their quick service is superb–just watch out for some snooty staff.
Sweepingly, Restoran Chuan Kee knows its flagship dish and stays true to it. The restaurant is perfect for old and new fans of Bak Kut Teh, but don't let that stop you from trying the rest of their delicious menu.
Wider variety of options versus usual Bak Kut Teh restos
Generous soup portions
Affordable pricing 
Quick service
Some reports of rude staff
Soup is on the saltier side
Customer Reviews
Special sides for Bak Kut Teh
"Whats special about this bak kut teh shop is that you can get awesome braised pork legs, ginger wine liver soup and etc which arent common in your usual bak kut teh shop.
Comparing their braised meat against their bak kut teh, u might feel that the bak kut teh is bit mild and on the softer side but most dishes are good. Definitely a place u could consider if u are ady near the area" – Pui Cheng Lum
Best clear-soup Bak Kut Teh in Setapak
"One of the best clear soup Bak kut teh in the Setapak area.Also available is their stewed version which was equally delicious. Restaurant is small but clean and service is fast and efficient. Prices are mid ranged but parking is an absolute nightmare. Recommended to give this a try if you are into the milder version clear soup bak kut teh." – Pat Loh
FAQs about Chinese Food in Setapak
---
Most Chinese restaurants in Setapak and other areas offer a variety of other local dishes on their menu. If you're curious about other lunchtime favourites in Malaysia or want to try some new dishes, check out our article on the most popular lunch dishes in the country.