The 7 Best Invisible Braces in Malaysia
If you think it's time for you to get those teeth aligned but aren't willing to get those metallic brackets on your teeth, you're definitely looking for invisible braces!
You've come across the perfect article if you're looking for the best invisible braces in Malaysia. Here, we'll take you through everything you need to know from how much they cost, to the best providers out there, and even answer a couple of questions you need to know so read on!
How Much Do Invisible Braces Cost in Malaysia?
The cost of invisible braces varies greatly and the most common factor is the brand. Since this article is all about the best invisible braces in Malaysia, we thought it best to give you an idea of how much braces with these brands cost so here you go:
| | |
| --- | --- |
| Provider | Average Cost |
| Zenyum | RM5,599 – RM 9,999 |
| Sebaris | Starts at RM 5,900 |
| ClearSmile | Depends on complexity of case |
| Invisalign | Depends on complexity of case |
| become | Starts at RM 5,497 |
The Best Invisible Braces in Malaysia
Now, let's move onto the best invisible braces providers in Malaysia now!
1. Dr. Clear Aligners
| | |
| --- | --- |
| SERVICES | Dental check-ups, scaling & polishing, teeth whitening, orthodontics treatment, smile makeover, dental filling, fluoride & fissure treatment, dental crown & dental bridges, root canal treatment, tooth extractions, dental dentures, mouth guard for bruxism. |
| WEBSITE | https://www.drclearaligners.my/en/ |
| ADDRESS | 142, Jln Damai Raya 2, Alam Damai, 56000 Kuala Lumpur, Wilayah Persekutuan Kuala Lumpur |
| CONTACT DETAILS | [email protected]+60173311392 |
| OPERATING HOURS | Monday – Sunday, 10:00 AM – 7 PM |
First impressions are important, and one of the leading factors that determine someone's first impression is your smile. Dr. Clear Aligners offers professional dental and invisible braces treatments to straighten and perfect your teeth.
With the belief that everyone should be able to achieve straight and healthy teeth, they aim to provide top-quality service and teeth alignment experience at affordable prices. In response to the feedback of many consumers, they have frequently done research on scientific studies technology from Germany to operate high-quality invisible braces.
They also offer dental care and teeth whitening products that are surprisingly affordable. Furthermore, they have partnered up with a non-profit organization One Tree Planted to plant a tree with every purchase of a clear aligner to restore and return to our mother nature.
Offering their services throughout Kuala Lumpur, Selangor, Johor Bahru, Perak, Malacca, Penang, Pahang, Kelantan, Seremban, Negeri Sembilan, Sabah, and Sarawak. Surely take a visit and check out their outstanding services and expert team.
Client-focused service
Affordable rates
High-quality products
Website is lacking information about their dentists
Customer Reviews
Everything was very efficient and in clear order
"Everything was very efficient and in clear order with Dr Clear Aligners. The consultant provides clear information and responses to doubts and questions in very concise manner. At the moment, I'm still in the early parts of my treatment but so far, the price is comparable to metal braces, and Dr Clear Aligners has been quite transparent with the extra costs. I will amend my review if anything changes, but so far, in my humble opinion, this is definitely the best alternative to teeth straightening. Thanks to them, I can look forward to a beautiful smile that I craved for." – Miyeko Lotus
Friendly and Highly Professional
"I Really enjoyed the entire process of my Aligners as it is so easy to clean and wear while also adjusting my teeth. It's important to have your chewy to help the treatment process to be smoother. While it can be slow, and speaking can be a little weird, it is still a better option if you want to look good on the camera. My job requires me to always look good, so having aligner is a better option for me than putting on the traditional braces. Totally experience = great !!" – Hanli Bubu
2. Alignerco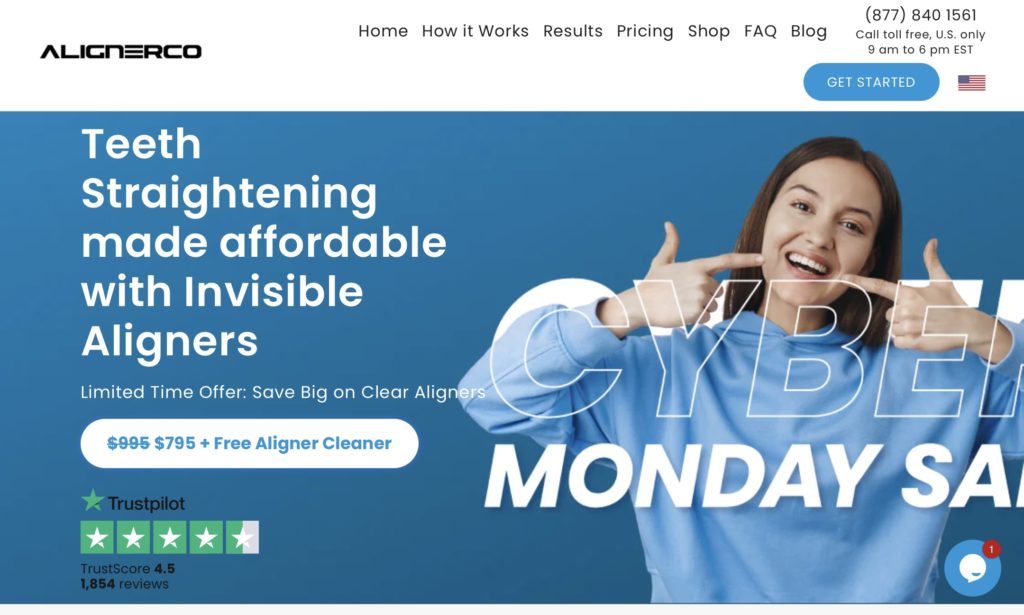 We recently tried Alignerco for invisible braces, and our experience was quite satisfactory. Their online platform made the process easy, allowing us to complete the initial assessment at our convenience.
The efficiency of Alignerco stood out as they promptly shipped our impression kit. The instructions were clear, and the whole process took only a few minutes. We appreciated the simplicity, especially for someone who's not familiar with dental procedures.
Upon receiving our aligners, we were impressed with the quality. They fit comfortably, and the transparent material was hardly noticeable. The smooth edges prevented any irritation, and we could easily remove them for meals and oral hygiene.
Alignerco's customer service was commendable. They promptly addressed our queries and provided support throughout the treatment. Our assigned dentist regularly checked our progress, offering a sense of assurance and personalized care.
In terms of cost, Alignerco offers an affordable option compared to traditional braces. The transparent pricing on their website helped us plan our budget effectively. There were no hidden fees, and the installment plan made it accessible for us without a significant financial burden.
No dental visits
Fast treatment
Affordable pricing
Video assistance
Customer Reviews
"I had braces in my teens and some of my teeth moved out of alignment. It was noticeable and it bothered me so I wanted something easy and economical that would fix it. Also, I wanted a better whitening experience. The prior unevenness made it hard to use whitening strips effectually. I chose AlignerCo for their price, and with my military discount, I paid half of what other companies were charging. Everything was fairly easy; I made my molds with help of a teacher on Zoom and sent them in. Got the smile projection which looked good with only one tooth out of alignment. My package with the aligners ended up taking an extra-long time. They said they were extra busy. I used them as directed and my teeth came out fairly straight, but not quite as straight as the projection. My first retainer broke after a short time, and I hadn't been mishandled it. I received an email offering a deal where if I reviewed the company, they would send a replacement. Hopefully this one doesn't break, although I don't think it is designed for long term use, getting brittle over time. I did make a huge mistake in not heeding the warning not to eat or drink while wearing the aligners, getting a cavity in my front tooth. Overall, I received an acceptable result with AlignerCo and would recommend them to someone in a similar situation." — Sean Steadman
"I was 100% satisfied with my alignerco retainers. The process was easy and efficient. I saved thousands of $$$ by using this on line option. I had braces when I was younger but my teeth had shifted. After using the retainers, my teeth are completely straight again. I highly recommend this product." — Lisa Shaughness
3. Zenyum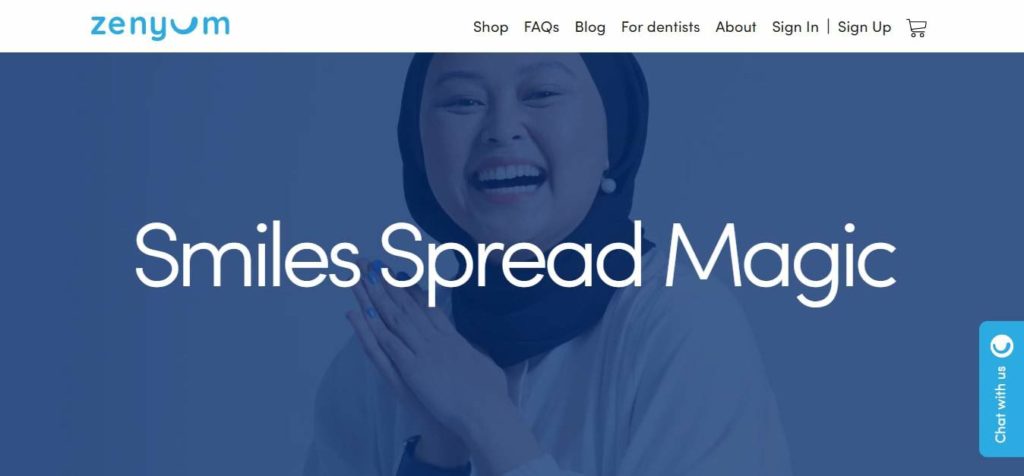 The best thing about using Zenyum invisible braces is that you don't need to visit a clinic very often. This is expected since it's invisible braces, right?
However, with Zenyum, it's even less often than with other invisible braces because you can get your check-ins with your dentist every 10 days through their application.
Now, you should know Zenyum offers two types of invisible braces: Zenyum Clear and Zenyum Clear Plus.
Zenyum Clear is for mild to moderate cases that only involve eight top and bottom teeth so they require minimal to no attachment. This treatment is done for those who also don't require any extractions and lasts from around 3-9 months.
Zenyum Clear Plus, on the other hand, can last up to 8-15 months and is for those whose cases are moderate to complex involving the movement of all teeth. Extractions are done if necessary and there are attachments required on multiple teeth for best results.
What Zenyum does is require you to send in a photo of your teeth and, if they think you're suitable for their braces, they refer you to one of their partner clinics. This initial assessment is free, by the way.
After this, you get the usual assessments and X-Rays done and paid for by you at the clinic. The clinic sends these to Zenyum who then creates a simulation of your new smile for you to see and, four weeks later, they'll be sending over your custom-made invisible braces.
Affordable
Free initial assessment
Refers you to partner clinics
Offers interest-free installments
Most check-ups are done through the Zenyum app
X-rays and other images needed are not included in Zenyum payment
Turnaround times for invisible braces set is quite lengthy
Customer Reviews
If you're wondering whether Zenyum's invisible braces are worth it, check out these reviews left by users of Zenyum and decide for yourself:
"Currently on my last set of Zenyum and been in this journey for almost 4 months. The team at Zenyum, especially Fizah has been making the process so smooth and convenient. For someone who was on braces before, Zenyum aligners are more affordable than other brands. This has been one of my best experiences as a customer ever!" –Ying
"Zenyum was introduced by my friend. I decided to jump right in thanks to the relatively affordable pricing. The whole process has been smooth and the customer service rendered by Kristofer has been awesome. He is friendly and responds immediately to all queries. Thank you!" –Mimi
4. Sebaris: Best Invisible Braces & Clear Aligners Malaysia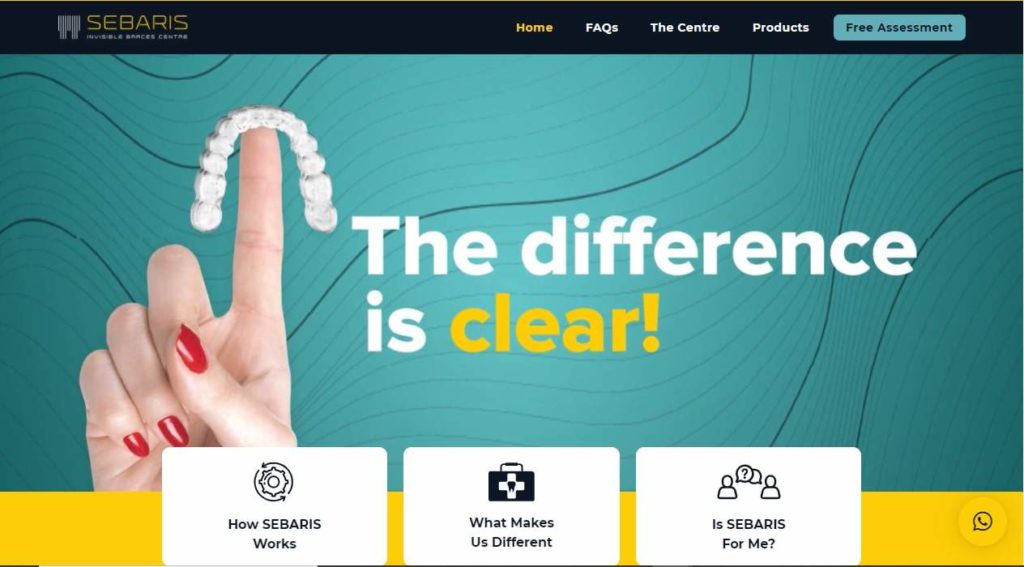 | | |
| --- | --- |
| PRODUCTS | Invisible braces |
| WEBSITE | https://sebaris.co/ |
| ADDRESS | G-01 & M-01, West Wing, The Icon, No. 1, Jalan 1/68F, OFF Jalan Tun Razak, 55000 WP, Kuala Lumpur |
| CONTACT DETAILS | +60 16-610 0834 |
| OPERATING HOURS | Mon-Sat 10:00 am – 7:00 pm |
Sebaris is an invisible braces centre located in Kuala Lumpur that is run by dentists.
When you decide to go to Sebaris, your initial consultation is free. Just be sure to drop your information here first and wait for them to get back to you.
This consultation is performed by their in-house dentists and includes an assessment of whether you're fit for invisible braces, a 3D scan, and X-Ray & oral condition images.
After this, you'll be recommended the best treatment plan for you and shown a dashboard of your treatment. They then use their in-house technology to create your customized invisible braces which jumpstart the treatment as you begin to use your full set of aligners.
The dentists at Sebaris also incorporate the use of machine intelligence monitoring called a Dental Monitoring ScanBox for a hassle-free and convenient experience for you as your treatment goes along.
There are two payment schemes for Sebaris aligners: single payment or monthly payment. The single payment will be a one-time payment RM 5,900 while the latter will be RM 249 a month.
Clear mention of rates
Free initial consultation
Quick turnaround time of invisible braces set
Free 3D scan and X-Ray & oral condition images
No remote check-ups
Only one branch in Kuala Lumpur
Customer Reviews
Check out some of Sebaris' customer reviews:
"I've never felt so calm in a dentists chair before! Not sure if it's Dr Bala's professionalism or the amount of comfort given by the rest of his team or all of the above, but it was such a comfortable experience! Dr Bala goes out of his way to make sure that I not only get the best treatment but also tells me all my options so I can make a calculated decision on what I should do. He pays a lot of attention to detail finds out what I want before making his professional decisions on what would be best for me as well. 100% would recommend!" -Dasha
"Going to Sebaris felt like you were treated with such care and passion. I have always wanted to get braces but the idea of having conventional metal braces concerns me regarding it's maintenance and it's discomfort. However, with Invisible Brace from Sebaris, it eliminates my concerns. Especially how Dr. Bala ensuring me with multiple consultations and his expertise. Now, I'm getting the results that I want without the hassle of metal braces. Plus, what makes Sebaris stands out from other invisible braces solutions is the face-to-face consultation with a dentist and they perform proper scanning and consultation which made all the process a breeze." -Adhwa
5. Invisible Aligners Sdn. Bhd.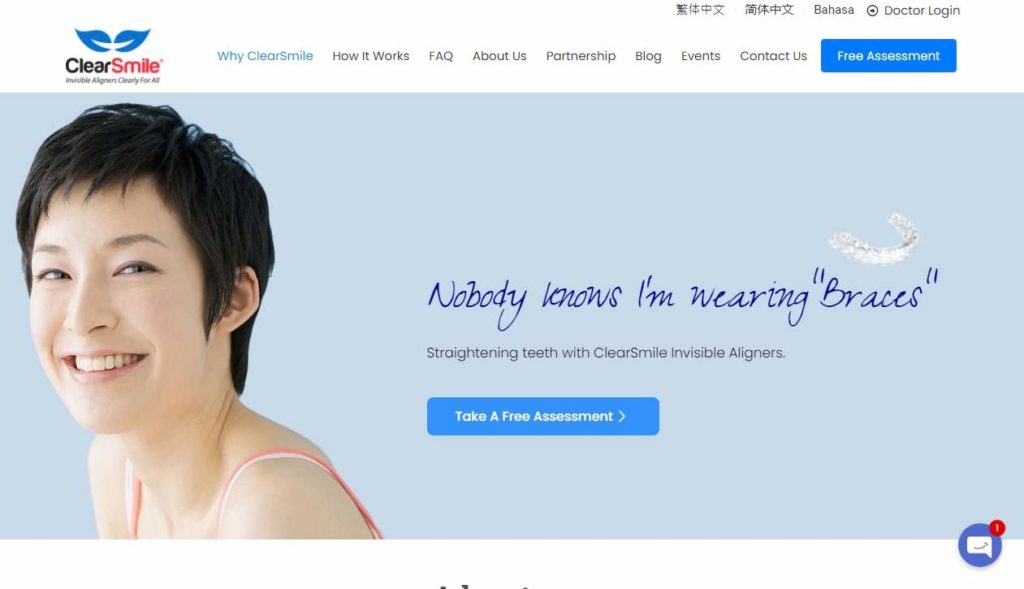 | | |
| --- | --- |
| PRODUCTS | ClearSmile invisible aligners |
| WEBSITE | https://www.clearsmile.asia/ |
| ADDRESS | Unit No. 713, Block A, Kelana Centre Point, No. 3, Jalan SS7/19, Kelana Jaya, 47301 Petaling Jaya, Selangor, Malaysia |
| CONTACT DETAILS | +6017 982 5713 |
| OPERATING HOURS | Mon-Fri 9:00 am- 6:00 pm |
For affordable and completely clear aligners, ClearSmile is one of the invisible braces brands to look at.
The first thing we suggest you do is to ask your current dentist if they are a partner clinic of ClearSmile. If they aren't, you can easily get into contact with ClearSmile through the number in the table above and they'll help you find the nearest dental clinic to you that is.
Once referred to the nearest clinic, you'll be assessed on whether or not you can use these aligners and, if you are, an intraoral scan will be conducted. This will then be sent to ClearSmile headquarters where your set of invisible braces will be made.
They offer 3 different types of thickness for your aligners: soft, medium, and hard. This is so that your teeth and gums get more and more used to the pressure they're experiencing from the aligners for a more comfortable experience.
From start to end, your dentist will be treating and monitoring the results of your braces in person to make sure it's all going perfectly. They also ensure this by using the Dentists' Treatment Monitoring System (DTMS) for remote monitoring.
Free initial assessment
3 different types of thickness for aligners
Allows remote monitoring through the DTMS
No mention of turnaround time or rates
Invisible braces aren't made in-clinic
Physical check-ups every 3 weeks are highly recommended
6. Invisalign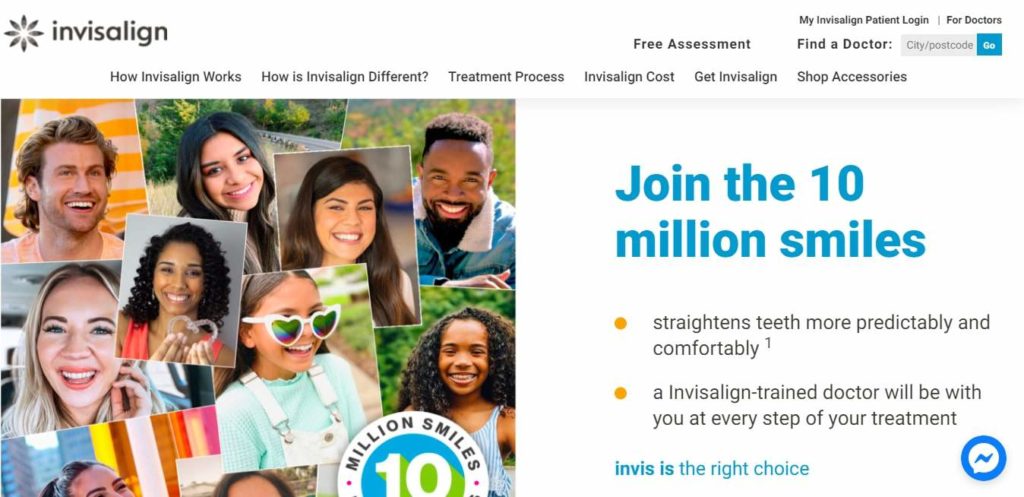 Invisalign is one of the most well-known providers of invisible braces all over the world with over 10 million smiles perfected thanks to them.
If you're having trouble finding an Invisalign provider in your area, you can always request help from Invisalign by filling out this form.
Invisalign uses SmartTrack material in their aligners which is why removing and returning your aligners is much easier compared to other aligners that merely use plastic. They also have different ways of approaching the aligners they make based on your age.
If you're a teenager or you have a teenager who wants clear aligners, we suggest Invisalign. This is because most clear aligner providers don't really cater to those under the age of 18.
Now, unlike the other clear aligners on this list, the cost of Invisalign varies on the patient's condition. The cost depends on the Invisalign provider you choose, the complexity of the case, and how long you're in treatment.
Invisalign discourages remote check-ins for your treatment progress. However, you only need to go to your dentist once every 6-8 weeks which is still better than the monthly check-ups of conventional braces.
Caters to all ages
Offers free assessment
Uses SmartTrack material
No flat-cost of product
No remote check-ins
Customer Reviews
Check out Salima's feedback below:
"Did my research and asked friends before deciding to choose Dr Raymond Chai. After many visits over past 3 months to custom-make my new reconstructed teeth, I can confidently smile and chew my meals. All this took some months because of the time taken by the clinic to ensure my adaptation and comfort before each subsequent step. Can't be more pleased with what I have, and relieved I had chosen the right dr" -Salima
7. become Invisible Braces (Malaysia)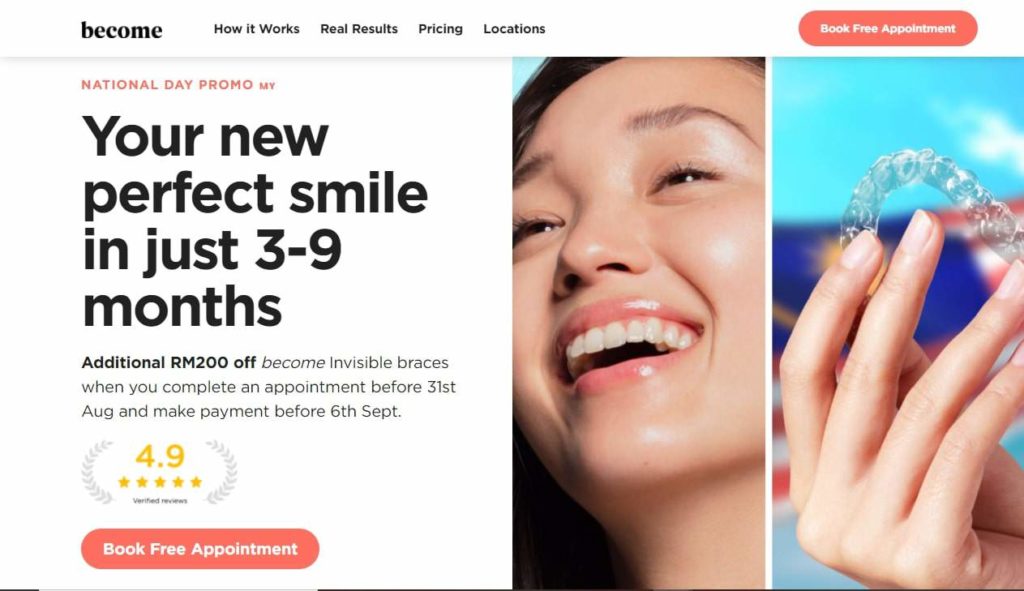 | | |
| --- | --- |
| PRODUCTS | Invisible braces, Retainers |
| WEBSITE | https://become.my/ |
| ADDRESS | No.3, Jalan Bangsar, Kampung Haji Abdullah Hukum, 59200 Kuala Lumpur, Wilayah Persekutuan Kuala Lumpur, Malaysia |
| CONTACT DETAILS | +60 3-3099 3375 |
| OPERATING HOURS | Mon-Fri 10:00 am – 7:00 pm |
become Invisible braces is known as one of the most affordable brands of clear aligners in Malaysia. With over 6 branches across the country, it's also the most accessible especially for initial consults.
We recommend you take advantage of their free initial appointment by booking one here. This appointment comes with a free dental check-up and consultation, 3D dental scan, and simulation of your new smile along with the proposed treatment which you'll receive after 7 days.
If you decide to push on with getting your become Invisible Braces, you'll be receiving your entire set at once delivered straight to your home. To ensure the treatment is right on track, you'll be having remote check-ins with a registered dentist every 2 weeks.
They offer 2 payment plans: SinglePay which is a one-time payment of RM 5,497 and Monthly plans which can range from 3-15 months of payment. The monthly plans start at RM 266 for 15 months with a RM 1,968 downpayment.
Clear mention of rates
Flexible payment plans
Remote check-ins every 2 weeks
Doesn't use AI-machines
No mention of turnaround time
Customer Reviews
Read more to learn about Analaine and Rebecca's experience with become's products and services:
"The best team to go to for Invisible aligners! Cool scan location, very professional team! Don't get left out with your hidden smiles. Go to Become and they will surely bring your confidence back! thank you for taking care of me during my visit!" -Analaine
"Was a bit skeptical at first as the scan was free but felt really at ease after meeting their Smile Companion Ryan! He made me feel really comfortable and gives a good scan experience. Thanks become team!" -Rebecca
Things to Consider Before Getting Invisible Braces in Malaysia
1. Types of Braces
There are a lot of types of braces including metal or traditional, ceramic, invisible braces, and lingual braces. Upon your consultation, you can ask your dentist if you're suitable for invisible braces but there are instances wherein you aren't so you'll be suggested these other types of braces.
2. Treatment Period
Not all treatment periods are the same because it will depend on your case and also the type of braces used. Some take at least a year and the others up to 3 years of wearing braces and huge adjustments (not just on their teeth) have to be done.
During your treatment period, there are certain dos and don'ts you need to follow to ensure effectiveness and avoid complications.
3. Budget
The cost of invisible braces treatments in Malaysia varies based on the brand you're using but also the clinic you go to or are referred to. Private clinics, for instance, have relatively higher rates compared to government, university, and military ones.
This is true especially when you factor in, not just the braces, but also the check-ups and the other necessary procedures.
FAQs about Invisible Braces in Malaysia
---
That's all we have for you now on the best invisible braces in Malaysia! No matter how misaligned your teeth are or no matter what bite issues you're facing, rest assured that these invisible braces in this list can help you out.
If you think we missed out on adding an invisible braces provider that you think does an amazing job, please let us know! We'd love to hear all about it and add it to our list.
If you don't have your own dentist yet and go on and check out our list of the clinics for the best orthodontics in Malaysia now!