Food Delivery via Freepik
By Yusuf bin Rahman
In this day and age when everything is just a click or swipe away, having food delivered is now an option. In fact, having food delivered is now easier all thanks to the best food delivery services in Malaysia.
With so many food delivery services and platforms to choose from, we want service that's reliable, convenient, and fast. After all, our tummies can't really wait that long, or we'll become "hangry".
So, let's take a look at some of the best food delivery services we can turn to in Malaysia when that sudden urge to eat pops up.
1.  Dahmakan
| | |
| --- | --- |
| BEST FOR  | Malaysian favorites, Chinese, Western, Tealive Combos, and Starbucks Combos |
| WEBSITE | https://dahmakan.com/kuala-lumpur/menu |
| DELIVERY AREA | Click here for the delivery area. |
| CONTACT DETAILS | ***Create an account. |
Dahmakan goes the extra mile by offering online services with a plethora of Halal dishes and beverages.
We particularly like how Dahmakan has revolutionised the farm to the table experience. It gets fresh ingredients from local suppliers, then its talented team of chefs cooks them to create great meals.
All you need to do is go online or use the app and choose which meals on the menu you'd like to have, add them to the cart, then wait. A simple and seamless transaction for a delightful meal delivered right to your doorstep.
Customer Reviews
Many customers talk about how easy it is to use the Dahmakan app, and also praise the delicious meals and service they can always look forward to. Here's why they're all so happy about Dahmakan:
"Foods all nice and healthy. So far the drivers are friendly with a bright smile. The website and phone apps easy to use. Overall, 5 stars for you guys. Good job, and hope you can maintain this 5 stars service."
"The menu was so easy to use and easy to handle. A friendly user interface and a very good set of menu, That caters to people who can't eat certain kinds of meat. Thank you for the wonderful service"
"Had a seamless experience placing my order on DahMakan's website. Looking forward to lunch, every single time I order with you guys. 🙂 Keep up the great work!"
2.  Mammam Deliveries
BEST FOR 
Ready-to-eat frozen meal production, ready-to-eat chilled meal production, and industrial catering
FACEBOOK OFFICIAL PAGE
https://www.facebook.com/mammamdeliveries/
ADDRESS
32-G Jalan PJS 5/28, Pusat Perdagangan Petaling Jaya

Petaling Jaya, Malaysia 46150

CONTACT DETAILS
+60 3-7772-7781
DELIVERY AREA
Klang Valley
OPERATING HOURS
9:00 AM – 7:00 PM
We really can't resist good old home-cooked meals. Mammam is another popular food delivery service in Malaysia we can use for a fulfilling and complete Halal meal that reminds us of the way our mum, grandmother, or anyone at home cooks it.
Take your pick from the all-time favorite Malaysian dishes like curry, char koay teow, and nasi lemak. It also offers a variety of Chinese, Indian, and western dishes to satisfy any craving and hungry tummy.
Moreover, it does catering services for gatherings. In short, eating great meals without having to work in the kitchen has just been made easier — thanks to Mamman!
3.  The Naked Lunchbox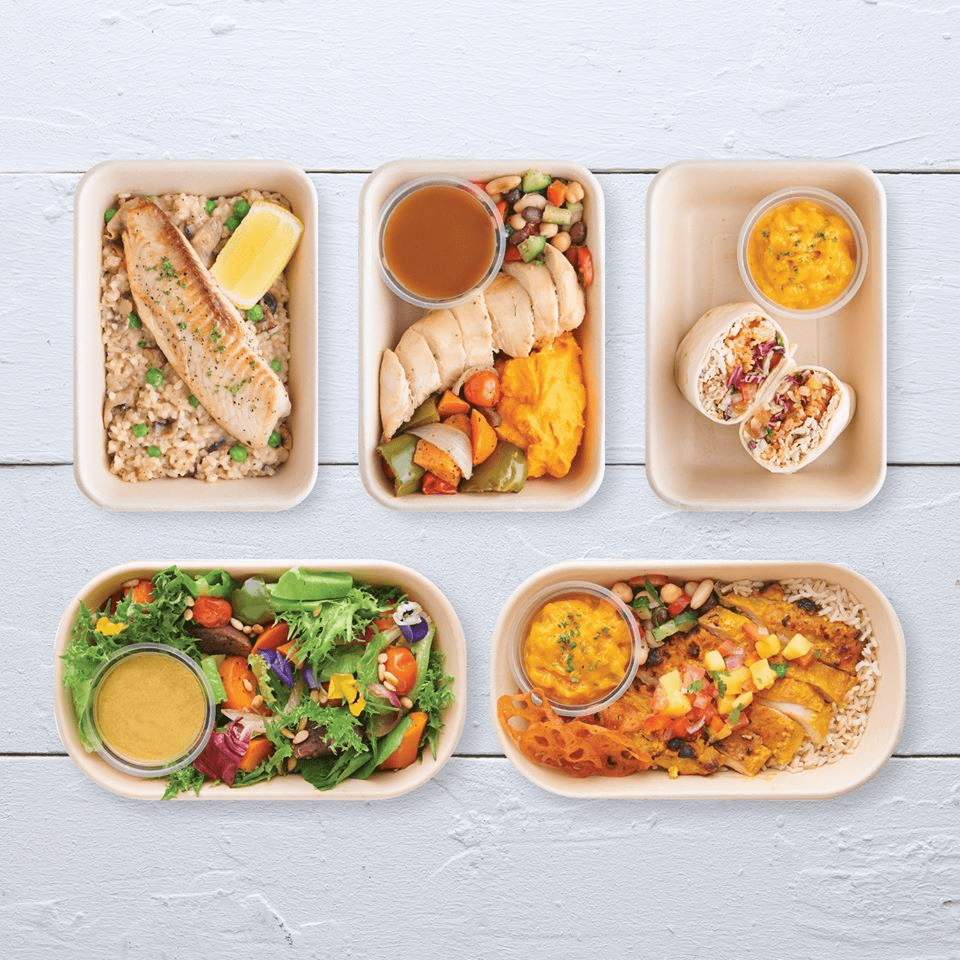 BEST FOR 
Healthy meals
WEBSITE
http://www.thenakedlunchbox.co/
ADDRESS
11A-15, Jalan PJU 1A/12, Taman Perindustrian Jaya, 46050, Petaling Jaya, Selangor, Malaysia
CONTACT DETAILS
+6012-3900664 |

[email protected]

OPERATING HOURS
Monday – Friday, 10am to 6pm

*Closed on public holidays and days as announced
Even if we're not on a diet, all of us deserve not only delicious but healthy meals every day. This is the promise of The Naked Lunchbox.
Owned by a couple who want to share a healthy meal with everyone, The Naked Lunchbox offers full meals "naked" of artificial additives, flavourings, MSG, and refined sugar. All you get is honest-to-goodness great meals.
Dairy or gluten-intolerant, vegetarian, vegan? The Naked Lunchbox can curate special meals for you.
What's even better is that The Naked Lunchbox creates near zero food waste, along with recyclable and biodegradable packaging. This means that we help lessen our environmental footprint when ordering from it.
Each meal, some inspired by the owners' travel experiences, has been carefully planned by its talented chefs. We get full flavours without the guilt.
4.  Delivereat
BEST FOR 
Sushi King, Chili's, Sakae Sushi, Morganfield's, Nandos, Kenny Rogers and Roasters, Subway, Tealive, Yoshinoya and Hanamaru
WEBSITE
https://jom.delivereat.my/
ADDRESS
29-03-35, The Golden Triangle, Jalan Paya Terubong, 11900 Bayan Lepas Penang, Malaysia
CONTACT DETAILS
+603 2780-3883 |

[email protected]

OPERATING HOURS
Daily 10:00 AM – 11:00 PM
Despite not having been declared yet as the official food capital of Malaysia, Penang is food haven for all of us Malaysians. Every nook and corner in it is teeming with nothing but great eats.
So it comes as no surprise that an awesome food delivery service like Delivereat brings to our doorstep all the gustatory delights available in Penang. With a whopping list of more than 1500 restaurants to choose from, we can have all kinds of food to our heart's content.
Certified foodies can have any dish or meal from popular resto giants like Sushi King, Morganfield's, Kenny Rogers Roaster, Tealive, and the like.
Aside from those, Delivereat also has a wide array of choices for Korean, Thai, Mediterranean, Indian, and even some fave local dishes like Mamak.
Vegetarian or on a diet? Guess what — Delivereat has you covered too.
Its health-based and vegetarian cuisine outlets meet all kinds of preferences. This also includes desserts and pastries of all kinds for those with a sweet tooth.
And the more you order—whether online or via the Delivereat app—the more points you get from Delivereat's loyalty program. As with every loyalty program, that can eventually lead to rewards.
Even if only for that alone, we'd use this delivery service again and again! It doesn't hurt either that they offer delivery from so many different establishments.
5.  Epic Fit Meals Co.
| | |
| --- | --- |
| BEST FOR  | Epic Fit Meals |
| WEBSITE | https://www.epics.com.my/ |
| CONTACT DETAILS | +60 3 7772-7781 |
| DELIVERY AREA | Click here for the delivery areas. |
| OPERATING HOURS | Daily 11:00 AM – 11:00 PM |
We want our meals fast and this is the perfect service for that!
Epic Fit Meals Co., promises your order will arrive at your place in as short as 45 minutes. If not, you get a free pizza.
Tracing its roots all the way from Melbourne, Epic Fit Meals Co. delivers some of the famous faves from Melbourne like epic meals, burgers, pizzas, and burritos.
If you do order from Epic Fit Meals Co., try its healthier alternative to deep fried and mouth-watering fried chicken — its BFC a.k.a. Baked Fried Chicken, a best-seller of the house that comes in a spicy variant.
Every meal we get from this food delivery service is not only made from scratch but also Halal certified and cooked only at the time of the order. This makes every meal truly epic and bursting with freshness.
6.  The Rebellious Chickpea
We agree with The Rebellious Chickpea that healthy eating does not have to be bland and boring. The Rebellious Chickpea brings to our table all the delish goodness of healthy food sourced fresh from local markets.
In fact, don't expect a standard meal or static menu from The Rebellious Chickpea. The menu changes on a weekly basis.
It can range from Manhattan Clam Chowder to Sambal Feta Salad, steamed fish and noodles. What you get is a delightful marriage of freshly-sourced ingredients cooked from scratch — except the pasta.
In case you want to have a healthy meal for a week or even for a day, place your order before 6:00 PM a day before a delivery schedule via call or SMS.
Customer Reviews
Any meal cooked with love always casts a magic spell on it and makes the eating experience more delightful. These clients praised not only the great meals The Rebellious Chickpea provided but also for the wonderful service it rendered them.
"Excellent  wholesome and delicious food.  We recently catered food from The Rebellious Chickpea for our Wellness Retreat in KL and the food and service was absolutely amazing.  The Truffle Scrambled Kampung Eggs and the Quinoa Nasi Lemak was outstanding!!
A special shout out to Edea for your excellent service and we looking forward to working with you again next year :)"
"Every time I'm in KL I like to check out what The Rebellious Chickpea has been up to, and it never fails to delight.  Allison is an amazing chef, and whether that extra 5% is magic or love or something altogether undefinable, she definitely casts a spell with her cooking.  To have food that is this delicious, this healthy, this reasonably priced, and prepared by such nice people is a kind of miracle.  This is one business we should all support!"
7.  QuickSent
| | |
| --- | --- |
| BEST FOR  | Halal food |
| WEBSITE | https://food.quicksent.asia/ |
| CONTACT DETAILS | +60 17-546-4002 | +604 611-9132 |
| OPERATING HOURS | 10:00 AM – 12:00 AM |
Wouldn't it be great if you could always get amazing meals to eat anytime you want? QuickSent gives you that and so much more.
With more than a thousand menus online, you will never run short of great eats to choose from. There are various Halal restos, cafes, western food, and noodle joints to pick, so you can eat anything to your heart's content with food delivered in just an hour's time.
All you need to do is search for restos available in your area, choose a resto and order, pay via Quinpay, then wait. It's that easy and convenient.
Customer Reviews
Those who've tried QuickSent are happy for having found such a convenient platform for food delivery in Malaysia. Orders not only arrive hot, but they are also more affordable compared to other food delivery services.
"Just found this amazing food delivery platform.
The food selection is a lot and i can find many cheap and nice food here.
The attitude from delivery man is nice as well"
"The price of food is cheaper thn other platforms, and the delivery man is super friendly and everytime when i received the food it is still hot!"
Highly recommend??
"Quicksent work superb in Seremban, Negeri Sembilan. Great app and easy to use compared to other similar app (e.g. foodpanda, hungry, etc). Highly recommended ⭐⭐⭐⭐⭐"
8.  FoodTime
FoodTime caps off our list of the best food delivery services in Malaysia. This food service app connects you to various restaurants to give you the best access to whatever meal you fancy.
Using the app saves you additional charges and time because you pay only for the meal you ordered as priced by the restaurant of your choice. You can even discover new restos you might want to try out.
Lastly, FoodTime app gives users special discount vouchers from its partner establishments to make eating all the more delightful and affordable.
And that's a wrap! Whether you want to have a healthy meal or have a sudden craving, you know which of the best food delivery services in Malaysia you can turn to. Happy eating!
For all the foodie lovers out there, you might want to check out also our lineup of the best breakfast options in Penang. That can help you start your day off right!