The 8 Absolute Best Dehumidifiers in Malaysia
We know how sticky it can get during the humid season in Malaysia. To lessen the sweltering humidity, take out certain allergens, prevent growth of mould, and even dry clothes indoors, you need the best dehumidifiers in Malaysia.
Nobody wants to enter a room and be enveloped by the musty smell of mould and soiled shoes and socks. This makes a dehumidifier a must-have item for your home in Malaysia.
But what if you don't know how to pick one? Well, that's still okay, because we'll take you through the process of identifying the best dehumidifier for your needs first.
After that, we'll go on and take a look at the best dehumidifiers in Malaysia.
How to Identify the Best Dehumidifier
There are a lot of dehumidifier brands and models that promise the best air quality and ventilation for your place. They're not made equal, though.
Regardless of the brand, these are the features that you need to look for when you go shopping for the best dehumidifier in Malaysia:
Check the Pint Capacity
Pint capacity refers to the amount of moisture a dehumidifier can eliminate from a room within 24 hours.
Typically, a dehumidifier with a 70-pint capacity is already decent enough for home use. Those with a higher pint capacity are more suitable for commercial use.
Look for an Air Filter
If your dehumidifier comes with an air filter, consider yourself lucky for getting two for the price of one. Air filters can also help improve the quality of the air you breathe as moisture is taken out.
Inspect the Draining Mechanism
Ideally, you want a dehumidifier to which you can attach a hose for easy drainage of collected water. However, there are some models that require you to drain the water manually.
The Best Dehumidifiers in Malaysia
Now we've gone over some of the basic specifications to look for in a dehumidifier. Let's take a look at some of the models and brands we deem the best dehumidifiers in Malaysia.
1. De'Longhi Dehumidifier DNC 65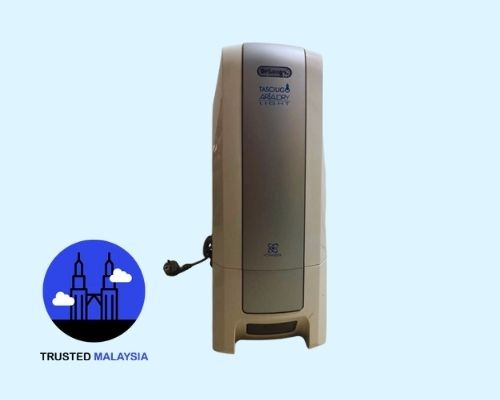 Price: RM2,998.00
The DNC 65 operates quietly, so you don't get that annoying noise common dehumidifiers usually make. On top of that, it also has a dust filter to clean out air from pollutants and bacteria while removing excess moisture.
We like that it also has a laundry function to help indoor drying. But the feature we love most in the De'Longhi Dehumidifier DNC 65 is its ioniser.
With an ioniser, your air is filled with healthy negative ions to help you breathe better with good air quality.
The promise of clean air with less humidity deserves a spot in your home in Malaysia.
Highlights
Extra-quiet operation
Ioniser and purifier
Compact and extra-light
2.   Philips Series 5000 2-in 1 Air Dehumidifier DE5205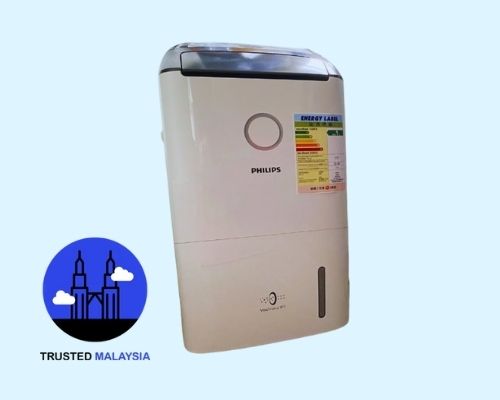 Price: RM2,259.00
Philips is a brand that sits well with us because it's known for producing the best home appliances all over the world. We think that the Philips Series 5000 2-in 1 Air Dehumidifier DE5205 deserves a spot on this list.
That's because it gives more value for your money than the average dehumidifier. It's both a dehumidifier and purifier.
Aside from dehumidifying up to 25L a day, it also comes with a purifier mode for the dry season so that you can filter out all harmful ultra-fine particles and bacteria.
We also like that it has a dry laundry mode that helps you dry out clothes indoors even during humid weather.
The only downside we see in this product is that it does not automatically flush out water collected. It does give a warning, though, when the tank is full.
Dual function for the price of one is already a great deal.
Highlights
5 fan speed settings
Dehumidify up to 25L/Day
Purify-only mode
Particles CADR* 270m³/h
Numerical display
2-year international manufacturer's warranty
Customer Reviews
The product does deliver on its promise of eliminating mould due to humidity, drying clothes quickly, and filtering out air particles, according to one of the users of the Philips Series 5000 2-in 1 Air Dehumidifier DE5205:
"Bought this because mold was rapidly spreading throughout our house in humid weather. We cleaned everything out and started putting the dehumidifier in every room. Mold problem was gone, and we love how easy it was to sleep in a room which was much less humid and had cleaner air. The laundry mode was very handy for drying clothes quickly as well. Overall the dehumidifier is well designed and very easy to use, no problems at all if you take the time to read through the manual before using. Every time we replace the HEPA filter, we are shocked by how dirty it is. Love this product and will definitely recommend to anyone who's looking for a dehumidifier!"
3.   DeWoods Dehumidifier MDH-30A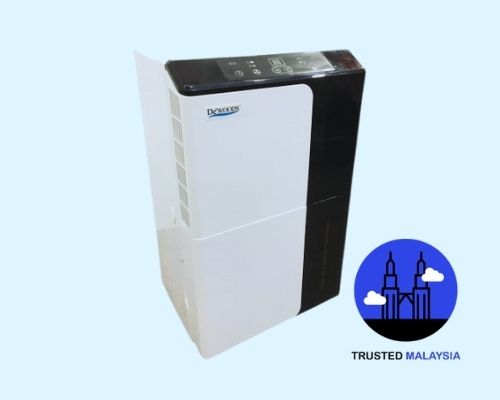 Price: RM2,190.00
Any dehumidifier brand that promises less energy consumption, along with amazing features, is an easy winner for us. That's why the DeWoods Dehumidifier MDH-30A is on this list.
With a 30L air moisture removal capacity, this ensures your whole place can have great ventilation and prevent the growth of nasty mould and bacteria.
Unlike other dehumidifiers on this list, the DeWoods Dehumidifier MDH-30A allows you to automatically drain collected water by attaching a hose to the unit. It also protects the unit from overflow.
We love how DeWoods Dehumidifier MDH-30A makes air a little lighter and fresher here in Malaysia while also being convenient to operate and empty.
Highlights
High moisture removal capacity up to 30L/day
Automatic overflow protection
1-way air outlet (Dry) and keeps your room fresh and dry
LED display with push button
Free Krystal Air Car Plug-In Ionizer
2-year local supplier warranty
4.   Cuckoo Dehumidifier CDH-AD1245FW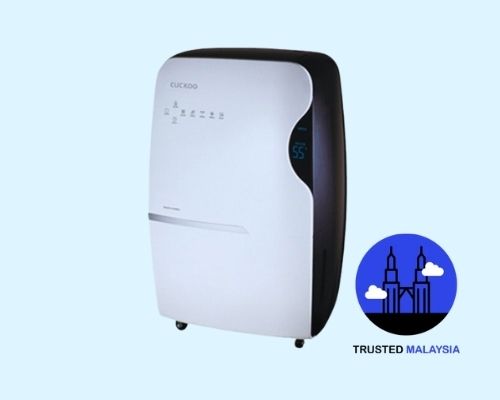 Price: RM2,041.00
When you see the seal of the HD Certificate Mark from Korean Air Cleaning Association, you know that the dehumidifier is a good one. That's why the Cuckoo Dehumidifier CDH-AD1245FW is a real winner in dehumidifying technology.
One of the unique features that we like with this dehumidifier is that it comes with a reverse auto swing. This means that dry air is released from the machine to meet cold air to prevent dry skin or any irritation.
The Cuckoo Dehumidifier CDH-AD1245FW can dehumidify air in as short as 20 minutes too. You get nothing but cool and clean air as it also comes with a HEPA filter that takes away pollen, microorganisms, and even animal fur.
And don't sweat about taking out the water collected in its tank. All you need to do is attach a water hose at the back of the product to automatically drain all water.
Cuckoo Dehumidifier CDH-AD1245FW gets almost all the small details most ordinary dehumidifiers miss. That's why it's on our list!
Highlights
Laundry drying function
Turbo dehumidification
Double air purifying
Reverse auto swing
Low noise structure
Warranty not available
5.   Stadler Form Albert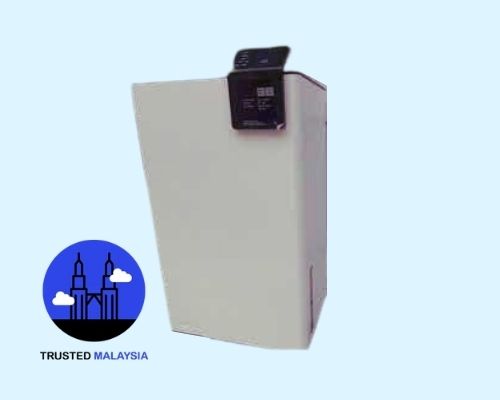 Price: RM1,910.00
The Stadler Form Albert can take only up to 20L of moisture on a daily basis, but there's still a lot of reasons to recommend it. We like its swing function that ensures even air distribution, for example, which is efficient enough to dehumidify even a large room.
With its 24-hour timer, you get to set how long you want the machine to dehumidify, thereby saving electricity. You can also attach a hose for constant drainage.
We think that the Stadler Form Albert may be the right answer if you want a dehumidifier that does the job but doesn't hurt the pocket.
Highlights
Up to 20L per day of dehumidification
24-hour timer
Digital hygrostat integrated
Swing mode
Automatic shut off
Hose for constant drainage
Defrost sensor function
1-year local supplier warranty
6.   Morphy Richards DE35E 4L Dehumidifier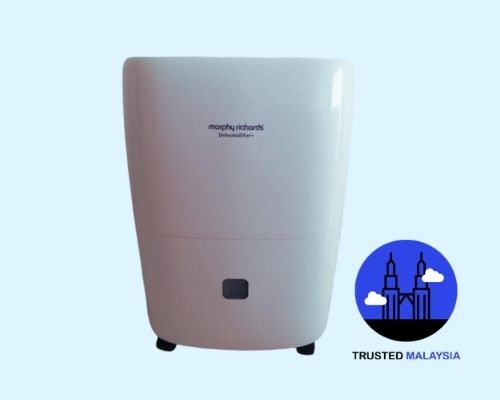 Price: RM1,395.00
Morphy Richards is another name that we like in appliances. Its DE35E dehumidifier certainly gives us reason to continue liking it.
Compared to other regular dehumidifiers and even the ones on this list, this model has a 4L water tank capacity and can remove a whopping 35L of moisture each day.
You can also set for how long you want to use the machine, so you save electricity. Plus, it has a continuous drain option to easily take out all the collected moisture at your convenience.
Affordable price plus decent functions make this Morphy Richards a great appliance to have against moisture.
Highlights
35L moisture removal per day
Automatic defrost function
4L tank capacity
Tank full indicator
Continuous drain option
Freestanding
24-hour timer setting
2-year local manufacturer's warranty
7.   Delonghi DEX16F Dehumidifier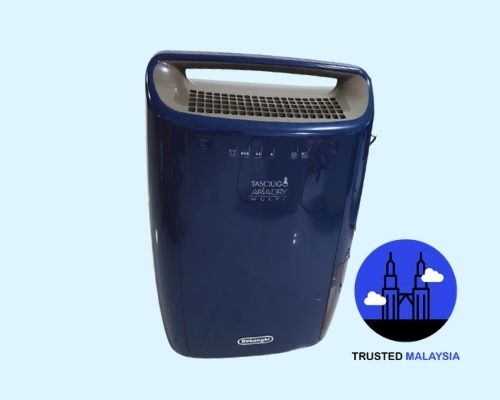 Price: RM1,299.00
De'Longhi does it again with its De'Longhi DEX16F Dehumidifier, which is definitely one of the best dehumidifiers in Malaysia.
Unlike the first De'Longhi dehumidifier on this list, we specifically like this model because it comes with a biosilver filter. When combined with an anti-allergen filter, that can eliminate all allergens that cause sniffles and itchiness.
And because it works so quietly, this dehumidifier is perfect for bedroom use. It can also be placed even in the bathroom if you want to dry your clothes there.
A great brand and competitive pricing make the De'Longhi DEX16F Dehumidifier one of the best dehumidifiers in Malaysia.
Highlights
Biosilver filtering system
Minimal noise emissions
Dry clothes function
Tank capacity: 2.1L
2-year local manufacturer's warranty
8.  Xiaomi Mijia AC – M6 – SC Air Purifier 3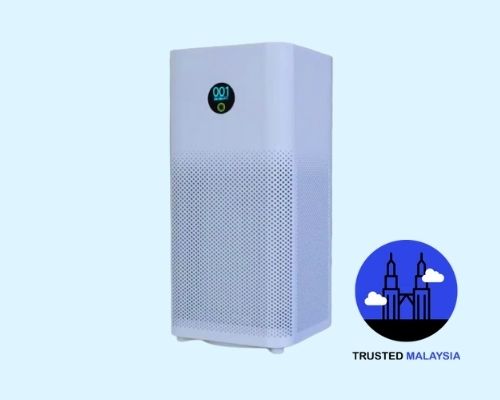 Price: RM827.50
We found the perfect dehumidifier in case you live in a compact space in Malaysia. The Xiaomi Mijia AC – M6 – SC Air Purifier 3 may be small, but it has almost all the functions that bigger models on this list have.
We like that this dehumidifier comes with three layers of barrel filter purification. This means that you get rid of harmful particles and substances — even formaldehyde.
You get enough ventilation with its high air volume output despite its compact size. Plus, it comes with intelligent voice control.
Overall, the Xiaomi Mijia AC – M6 – SC Air Purifier 3 makes a perfect dehumidifier even on your table top.
Highlights
OLED touch display
High-precision laser particle sensor
APP and AI voice intelligent control, support remote control
3 layers of barrel filter purification
We can easily combat the sweltering heat and sticky weather as long we have one of the best dehumidifiers in Malaysia.
Do you own any of the dehumidifiers on this list? If so, please share with us your experience of using it and let us know if you think it lives up to expectations!
_________________________________________________________________________
*All images were taken from the companies' official websites and Lazada Malaysia.