The 7 Best Gaming Laptops in Malaysia
Razer Blade Review…  via Flickr
Whether you're a professional gamer or a nOOb, you know that having the right rig raises your leverage in the playing field. So, let's give your game that boost with the best gaming laptops in Malaysia!
We've tried to provide for different needs, though, so some of our picks are best for casual gamers while others are for the serious ones. What they all have in common is that they offer great value for your money.
Anyway, you'll see that for yourself as we go through the list. Together, let's get that game face on with the best gaming laptops in Malaysia.
1.  MSI GS65 Stealth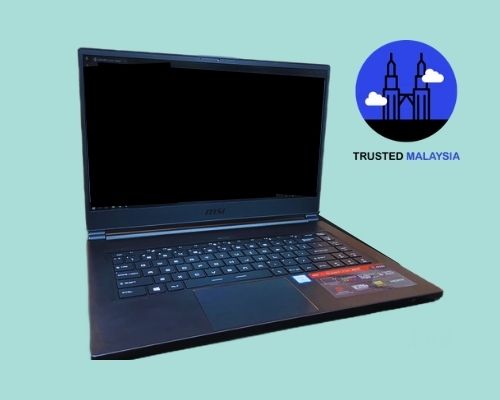 Price: RM7,199.00
Tired of the overdone styling and bulky chassis you usually find in gaming laptops? Well then, you may want to look at the MSI GS65 Stealth.
This sleek gaming laptop boasts a subtle design and a weight of 4.39 lbs. It's handy to carry around even when mobile.
The MSI GS65 Stealth Gaming Laptop can also give you the most vibrant images thanks to its 144Hz IPS gaming display. Pair that with its ESS Sabre Hi-Fi DAC function, and you'll feel as though you're really in your game.
Plus, thanks to it sporting Nvidia's RTX cards, you get that cinematic quality in your games with the ray tracing feature, especially when the game you're in gets really intense.
The keyboard is also decent. The buttons have just the right distance from each other and are individually backlit — you can change the patterns and colours.
Connections aren't bad either. We love how easy it is to plug just about everything into its many ports.
As for cooling, MSI has equipped this with its cooler boost trinity technology. That makes sure that the laptop stays cool even under extreme loads.
With such excellent features, the MSI GS65 Stealth is definitely one of the best gaming laptops in Malaysia at the moment.
Highlights
| | |
| --- | --- |
| PLATFORM | Windows 10 Home / Windows 10 Pro |
| PROCESSOR NAME | 8th Gen Intel 6-Core Processors |
| GRAPHICS CARD | Up to Nvidia GeForce RTX 2080 6GB GDDR6 |
| RAM | 16 GB (expandable) |
| SCREEN SIZE | 15.6" |
| RESOLUTION | 1920 X 1080 |
| WARRANTY | 2-year local manufacturer warranty |
Pros
Thin, lightweight, portable
High FPS
Subtler, more elegant style than most other gaming laptops
Cons
No G-Sync
Not everyone may be a fan of the SteelSeries keyboard
2.  HP Omen X 2S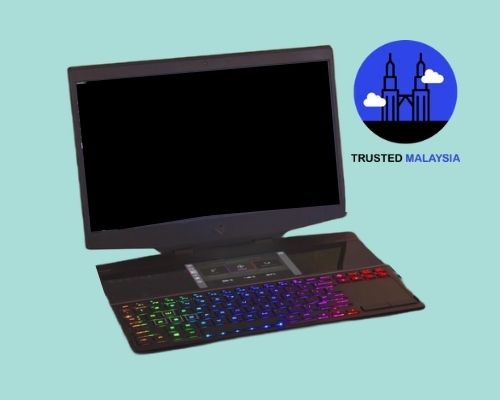 Price: RM6,699.00
The HP Omen X 2S is a dual-screen laptop with a unique form that many will find interesting. It may be the laptop for you if you regularly find yourself interacting with other applications while gaming.
Ultra-sleek and almost aggressively modern in style, it's a handy laptop to take wherever you go. It's a strong performer too, thanks to its Nvidia RTX cards.
The micro-edge bezel allows you to get a large display even with its compact body. As for the second screen on the deck, it's responsive and clear, with a nice 1920×1080 resolution.
It's a pity HP didn't go with a matte option for this one, though. Because it lies flat, the glossy surface can actually make it difficult to see what's on the touchscreen unless you lean forward.
Still, we think most people will appreciate having it there so they don't have to switch from their games to their desktops just to do things like change the songs they're playing.
And on that note, an awesome audio boost by Bang Olufsen and cooling technology provides this rig with clear audio performance.
Overall, the HP Omen X 2S is a must-have laptop for those who want a dual screen, great audio, graphics, and connectivity.
Highlights
| | |
| --- | --- |
| PLATFORM | Windows 10 |
| PROCESSOR NAME | Intel Core i7 – 9750H (up to the i9s) |
| GRAPHICS CARD | Up to NVIDIA GeForce RTX 2080 graphics with Max-Q design3 |
| RAM | 16 GB (expandable) |
| SCREEN SIZE | 15.6" |
| RESOLUTION | 1920 X 1080 |
| WARRANTY | 6-month local supplier warranty |
Pros
Dual screen
Quiet fans
Display setup supports NVIDIA G-Sync
Cons
Short battery life
No flash-card reader
Main screen could be brighter
3.  Razer 15.6 Blade 15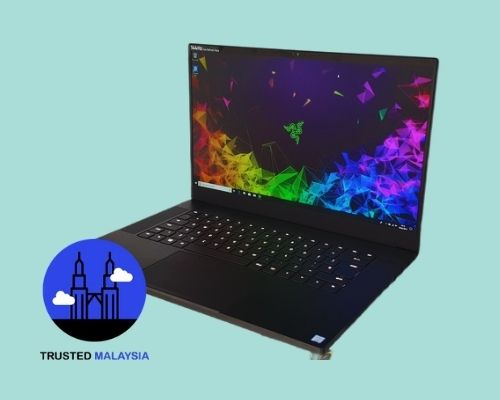 Price: RM5,499.00
We like laptops that are handy and compact but packed with all the good stuff a gaming laptop should have. The Razer 15.6 Blade 15 gives us plenty of reasons it should be part of our lineup.
This gaming laptop is best for hardcore gamers out there. With the Razer 15.6 Blade 15 you not only get to play, but also stream the latest games easily… and with Nvidia's RTX cards, you're certain your streamed graphics are drool-worthy.
Like most of the other best gaming laptops in Malaysia, this laptop's storage and RAM can be upgraded. For our money, the higher-RAM, SSD-equipped version is obviously the best configuration.
As you might expect from something produced by Razer, you get a whopping 16.8 million colours to choose from for its single-zone RGB lighting keyboard. It also has a Thunderbolt feature as it allows you to connect your rig to 3 external displays.
Moreover, it sports a clickable glass touchpad for more precise control than is available from most other laptop trackpads.
Oh, and with lots of ports available, plugging in any device to maximize your gaming experience is easy as pie!
Highlights
| | |
| --- | --- |
| PLATFORM | Windows 10 |
| PROCESSOR NAME | 9th Gen Intel Core processors |
| GRAPHICS CARD | NVIDIA GeForce GTX 1060 (6GB GDDR5) up to the RTX cards |
| RAM | 16 GB (expandable) |
| SCREEN SIZE | 15.6" |
| RESOLUTION | 1920 X 1080 |
| WARRANTY | 6-month local supplier warranty |
 Pros
Portable
High framerates
Per-key-lighting for the RGB keyboard
Good battery life
Cons
Runs very hot while gaming
Extra cost for white "Mercury Edition"
4.  Acer Predator Helios 300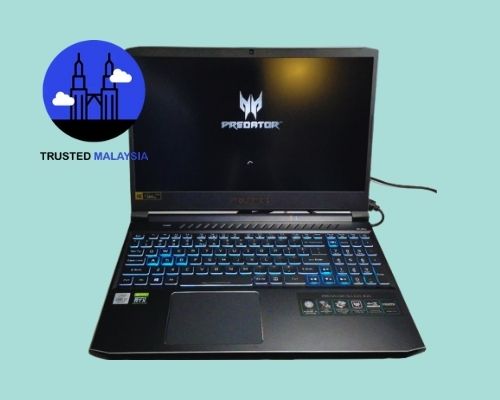 Price: RM4,599.00
For those of us who treat each game like a real battle for the ages, we have the Acer Predator Helios 300 to turn to. This laptop gives the statement, "Bring it on. I'm ready to fight."
This laptop offers relatively high-end performance at a price that is still relatively kind to the pockets. If the styling is for you, then it's a pretty choice for a gaming laptop.
Admittedly, the material is still a far cry from what you'll see from other premium laptop brands. That said, its sturdy metal case tells us that it's tough enough to handle any game.
Its weight is also good… although it's not as portable as some other gaming laptops on this list. In fact, it's even chunky compared to the sleeker models.
Even so, it has its merits, like an HD screen with a 144Hz refresh rate. The touchpad feels good too, with that slight bounce that makes typing so much easier.
Its extra ports allow you to attach different extensions to make your gaming experience more enjoyable. Thanks to its RTX cards, you can enjoy cinematic visuals when gaming too.
Highlights
| | |
| --- | --- |
| PLATFORM | Windows 10 Home |
| PROCESSOR NAME | 9th Gen Intel Core i7 9750H |
| GRAPHICS CARD | NVIDIA GeForce RTX cards |
| RAM | 8 GB (expandable) |
| SCREEN SIZE | 15.6" |
| RESOLUTION | 1920 X 1080 |
| WARRANTY | 2-year local warranty |
Pros
Good battery life
Comfortable keyboard
High system performance
Cons
Only one free 2.5 inch slot available if you want to expand storage
Not everyone will like the "loaded" design
No USB-C Gen 2 or Thunderbolt support
5.  Lenovo Legion Y530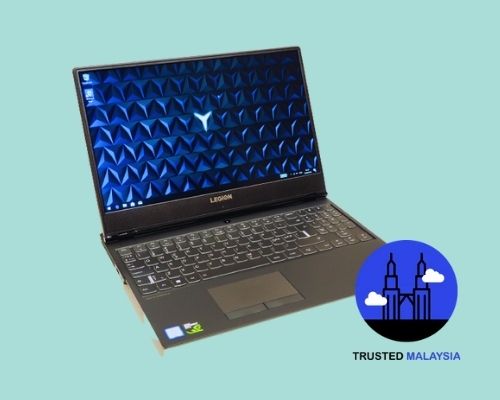 Price: RM3,477
This is one of our picks for casual gamers or gamers on a strict budget. If you don't need to play the latest titles on the highest graphic settings, the Legion Y530 is a decent choice.
One of the first things we can say about this model is that it doesn't look like a foldable robot toy. We're actually fans of the stylish and sleek look that the Lenovo Legion Y530 has.
At 2.3kg, this also has to be one of the lightest among all gaming laptops. Although it's lightweight, it still packs a punch — the configuration with an i7 and GTX 1060 will romp through most of the titles casual gamers tend to play.
Thanks to its anti-glare screen, your eyes won't get that fatigued when using it either. Plus, with its 70 individual fan blades, this gaming laptop can keep its cool even when you're all fired up in any game.
The keypad is ergonomically designed with 1.77mm of key travel — not great, but decent for a laptop of this form factor. It also comes with Dolby Audio Premium for lifelike audio.
Overall, it's a great choice for the less hardcore gamers out there. We still advise getting the better configurations, of course, for more juice.
Highlights
PLATFORM
Windows 10 Home
PROCESSOR NAME
8th Generation Intel Core™ i7-8750H

8th Generation Intel® Core™ i5-8300H

GRAPHICS CARD
NVIDIA GeForce GTX 1050

NVIDIA GeForce GTX 1050 Ti

NVIDIA GeForce GTX 1060

RAM
8 GB (up to 32 GB)
SCREEN SIZE
15.6"
RESOLUTION
1920 X 1080
WARRANTY
2-year local manufacturer warranty
Pros
Stylish and easy to carry around
Thin bezels
Solid port selection
Cons
Average graphics
Slightly dull display
6.  Alienware M17 Gaming Laptop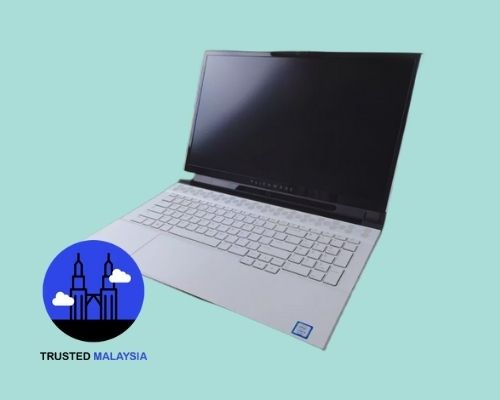 Price: RM10,499.00
The Alienware M17 Gaming Laptop may be lean and light, but it gives you uninterrupted gaming with its 9ms response time. It's another of our picks for the serious gamers.
It also boasts the brand's Eyesafe Display Technology. That means the Alienware M17 reduces the blue light rays that are harmful to the eyes without sacrificing the colour and resolution of images.
The comfortable keyboard has keys that are just 1.77mm apart. Plus, it sports a precision-point glass trackpad.
We particularly like that its battery life is longer compared to other regular gaming laptops. That makes it a good option for those who often have to go without charging.
Highlights
| | |
| --- | --- |
| PLATFORM | Windows 10 Home |
| PROCESSOR NAME | 9th Generation Intel Core i9-9980HK |
| GRAPHICS CARD | Up to NVIDIA GeForce RTX 2080 8GB GDDR6 with Max-Q Design |
| RAM | 16 GB (expandable) |
| SCREEN SIZE | 17.3" |
| RESOLUTION | 1920 X 1080 |
| WARRANTY | 1-year local manufacturer's warranty |
Customer Reviews
These users of the Alienware M17 are all raving about how great the specs are, gaming speed, ergonomic features, and cooling ability. Here's what they have to say:
"With top internal specs (i9, RTX 2080, up to 4TB storage) it's got more than enough power to match the new duds, with dynamic overclocking & voltage regulation to let it run even harder – and better cooling to help it cope."
"Armed with an overclockable Core i9 processor and RTX GPU its perfect for fragging your enemies in virtual reality or watching movies with friends."
"Fantastic gaming speed; Market-leading physical design; Good speakers and ergonomics."
Pros
Slim and lightweight
Fast and responsive
RGB lighting
Great audio
Cons
No NVIDIA G-Sync
Standard 60 Hz refresh rate
In its most powerful configuration, more expensive than comparable models from other brands
7.  Acer Nitro 5 AN515-54-526L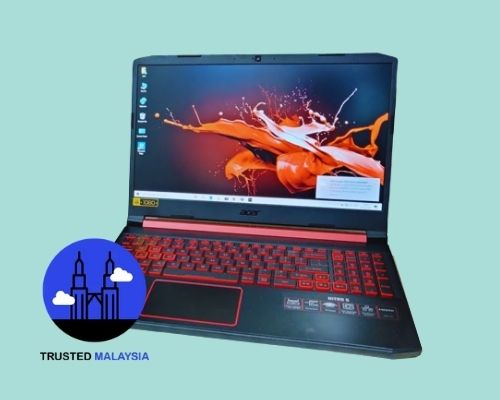 Price: RM2,645.00
We're ending this list with another pick for the casual and budget gamers. You're probably staring at the price we've listed for this one right now.
Well, we promise you that even at this price, you'll still get a pretty exciting gaming experience with the Acer Nitro 5 AN515-54-526L. This budget rig still offers some nice features, despite its low cost.
You can say goodbye to blurry images with its screen's lifelike colours and a 144Hz refresh rate and 3ms response time. Because the laptop comes with a large battery, you can play games for longer hours too.
And with better fan speed, you can rest easy knowing that your gaming laptop won't overheat even if you play your favorite games for hours. They do get a little noisy sometimes, but at least we know they're working!
It comes with a red backlit keyboard.
Great features at a price that's affordables makes the Acer Nitro 5 AN515-54-526L an awesome game changer to have.
Highlights
| | |
| --- | --- |
| PLATFORM | Windows 10 Home |
| PROCESSOR NAME | Intel® Core™ i5-8300H |
| GRAPHICS CARD | NVIDIA GeForce GTX1050 |
| RAM | 4 GB |
| SCREEN SIZE | 15.6" |
| RESOLUTION | 1920 X 1080 |
| WARRANTY | 2-year local manufacturer warranty |
Pros
Great keyboard and trackpad
Matte screen finish
Very affordable
Good cooling
Cons
Noisy fans
Speakers are a bit weak
Chunky
Plastic chassis
And with that, you have our picks for the best gaming laptops in Malaysia right now! If you have suggestions for models you think we missed, let us know and we'll add them to the list!
Are you already using any of the best gaming laptops on this list? Please share with other readers your gaming experience so that they know whether or not that model would suit their needs.
If you have decided to go for the more basic laptops for your other uses, but aren't sure yet and wants to look for more options, here are the best laptops in Malaysia to help you out!
*Images are taken from each company's official websites and Lazada Malaysia.