The 5 Best Roller Blinds in Malaysia
Natural light in a room is a blessing for many of us but there are times when the sunlight is just not personally welcome to stay. To take a break from the rays, you're going to need one of the best roller blinds in Malaysia!
Compared to curtains, roller blinds look minimal and are easier to clean. You also don't have to worry about having an extra pile of laundry because roller blinds are designed to look and make your daily life simpler.
The Best Roller Blinds in Malaysia
The best roller blinds in Malaysia all come in different colours and sizes but we trust that you can spot the one that fits the ambience of your room. Let's get rolling now!
1. BlindsHub Blackwell Classic Blackout Roller Blinds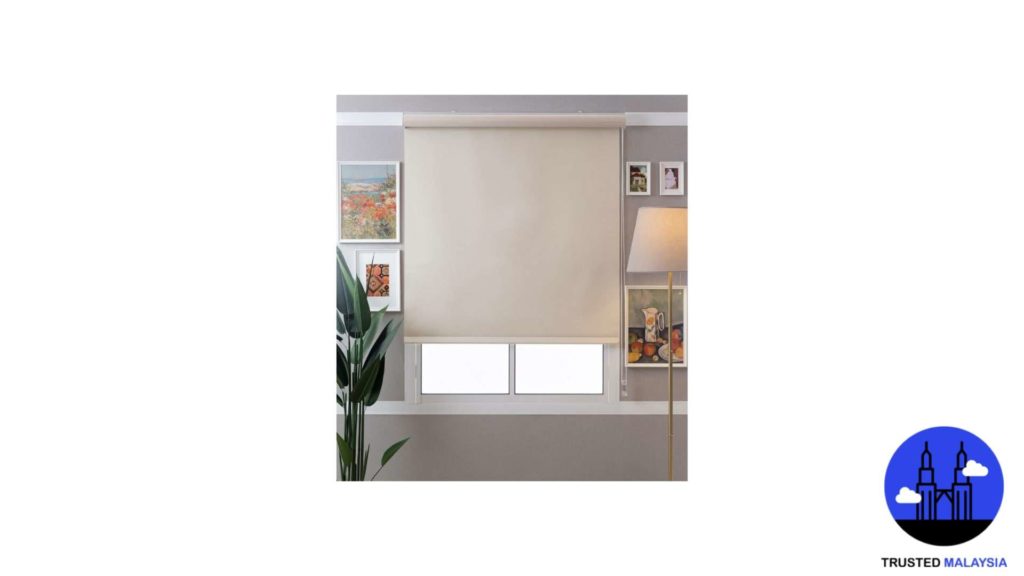 Price: RM106.00
| | |
| --- | --- |
| BEST FOR | Bedroom, Living room, Kitchen, Dining room, Nursery, Bathroom, Office |
| MATERIAL | 100% Polyester, Waterproof PVC fabric |
| AVAILABLE COLORS | White, Beige, Blue, Cement, Grey, Black, Cream, Elephant, Sand, Latte, Brown |
| SIZES | Customizable (made to order) |
These customizable roller blinds from Blindshub are one of the most simple ones on the market. All orders take around 4 days to make in Malaysia.
These blinds are flame retardant and easy to clean because it's made of 100% polyester, waterproof PVC, making it a great choice for durability and safety in your home. It's also double laminated which ensures 99% blockage of natural light when it's rolled down.
There are three ways to roll up these blinds. You can either avail of the continuous cord loop (which is free), get it motorized so you can control it with a remote, or get the ultimate upgrade and allow Smart Wifi Hub integration so you can use Amazon Alexa, Echo, or Google Home through voice command.
You can also customize the headrails and bottom so you can decide whether it's facing inwards or outwards. It's also important to note that there are three warranty options: a 3 year limited (free), a 5 year limited (+RM4.20), and a 5 year unlimited (+RM 8.40) one.
Blackout blinds
Customizable size
Lots of color choices
Easy to clean material
Lots of upgrade choices
5-year warranty cost extra
Made to order so takes a while to arrive
Customer Reviews
If you're wondering whether or not you should get these Blindshub blinds, check out these reviews left by Prashanthini, Teoh, and Fish:
"Quality of roller blinds from Blindshub are superb and the installation was easy! The blinds block sun heat and glare, these features help our students focus on study. Moreover, these blinds were so easy to maintain and clean. We're very happy with the blinds." -Prashanthini
"The roller blinds arrived without dented and installed very easily, Blinds blocks out most of the sunlight and heat. Will definitely order from Blindshub again." –Teoh
"I ordered this blind for my bathroom, they arrived in time and the installation was very easy. The blind is waterproof for the bathroom, and we are pleased with the quality.
I will definitely order from Blindshub again." -Fish
2. INSOUND Universal Roller Blinds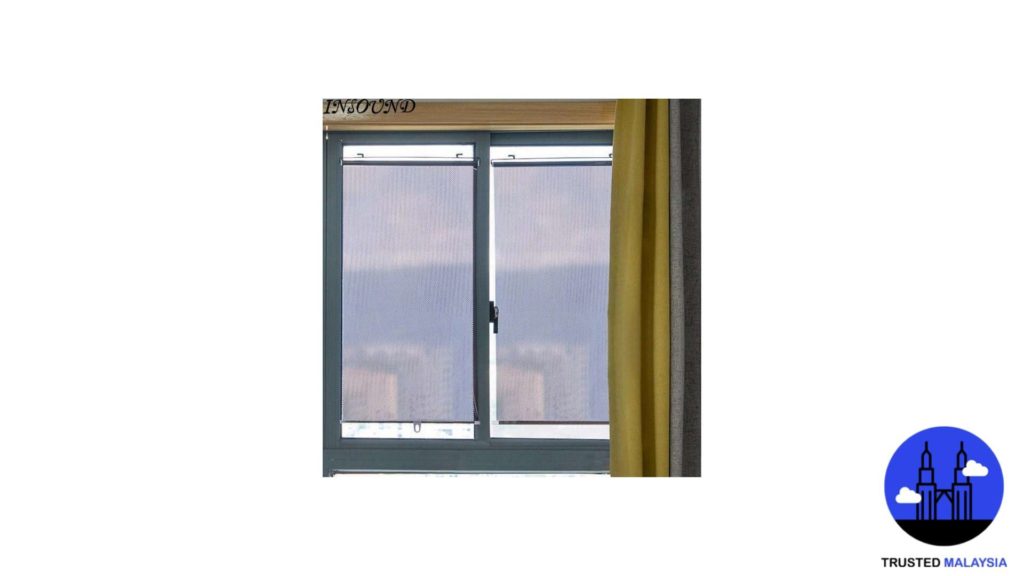 Price: RM8.90 – RM11.90
| | |
| --- | --- |
| BEST FOR | Car, Office, Bathroom, Kitchen, Bedroom |
| MATERIAL | Sunscreen PVC + metal pole |
| AVAILABLE COLORS | Silver, Black |
| SIZES | 40cmx60cm, 45cmx125cm, 50cmx125cm, 58cmx125cm, 68cmx125cm |
INSOUND's Universal Roller Blinds is a very good option for those looking for roller blinds while on a practical budget.
These blinds are made of sun-proof PVC mesh which blocks 97% of the sun and 85% of the sun's heat. This makes it perfect for those with babies and children who want to keep their kids out of the sun's glaring rays.
Despite being really affordable, they still do the job of providing you with shade, privacy, and maintaining the room temperature due to the PVC material bouncing off the sun's heat.
One thing we really like about it is how easy it is to install and remove. All you have to do is suction on it your preferred surface whether it's a car window, home window, or glass door, and you're good to go.
They're also really easy to clean, you can just toss them in the washing machine and tumble dry them afterwards. Make sure you don't use any bleach though as this could damage the material.
Affordable
Easy to clean
Easy to install
Wide range of sizes
Perfect for universal use
Design isn't very aesthetically pleasing
Suction used to keep them in place are visible
Customer Reviews
Here are a couple reviews left by users of INSOUND's Universal Roller Blinds:
"Can use as sun shade protect from harmful sunlight, also can treat it as privacy protection in order to avoid opposite unit look through. Material not bad, easy to install, overall worth the price." -L
"decent quality product. value for money." -YS
3. WEFILM Portable Sunshade Pleated Blinds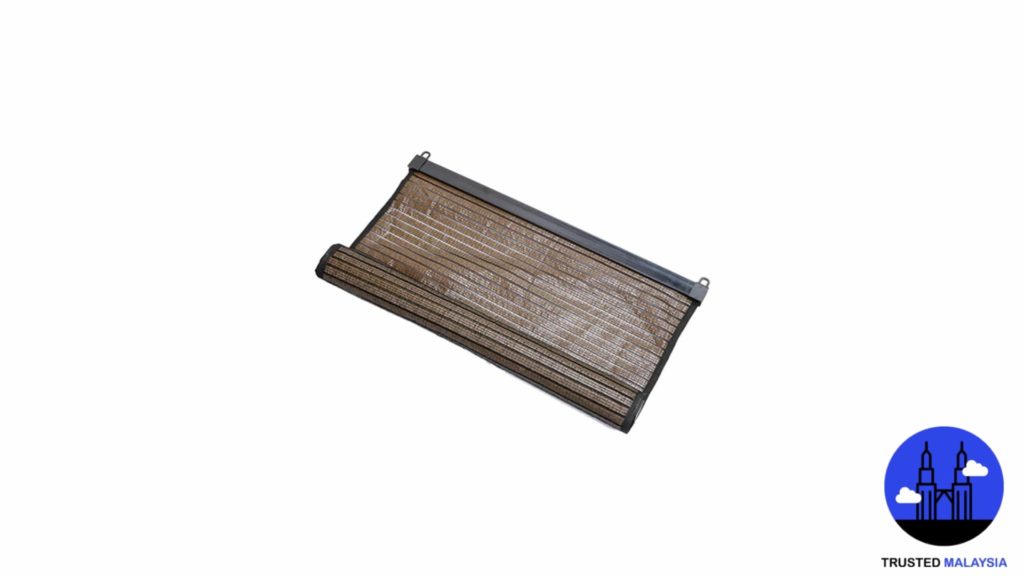 Price: RM29.00
| | |
| --- | --- |
| BEST FOR | Office, Bedroom, Living room |
| MATERIAL | PE + PVC + ABS + Polyester |
| AVAILABLE COLORS | Black, Brown |
| SIZE | 60cmx135cm, 90x135cm |
The Portable Sunshade Pleated Blinds by WEFILM earns a spot on our list for a variety of reasons.
These blinds can block natural sunlight or any other outdoor light but not fully so, if you're someone who isn't a fan of the whole blackout thing, you'll find this more to your liking. It's a good choice for those who just want the light outside to be a bit more saturated.
One thing we like about these blinds is that the material makes them breathable. It doesn't block out or cut off any air circulation into and around the room so you can still get a bit of those cool breezes even when it's rolled down.
The hooks needed to install these blinds already come in the package so all you need to do is install the hooks and attach the blinds. You can easily remove the blinds anytime you feel like it.
Note that, unlike other blinds with more options, there are only two sizes and two colors to choose from.
Affordable
Removable
Easy to install
Only two sizes
Only two colors
Doesn't block sunlight that much
4. GREENWindows Roller Blinds System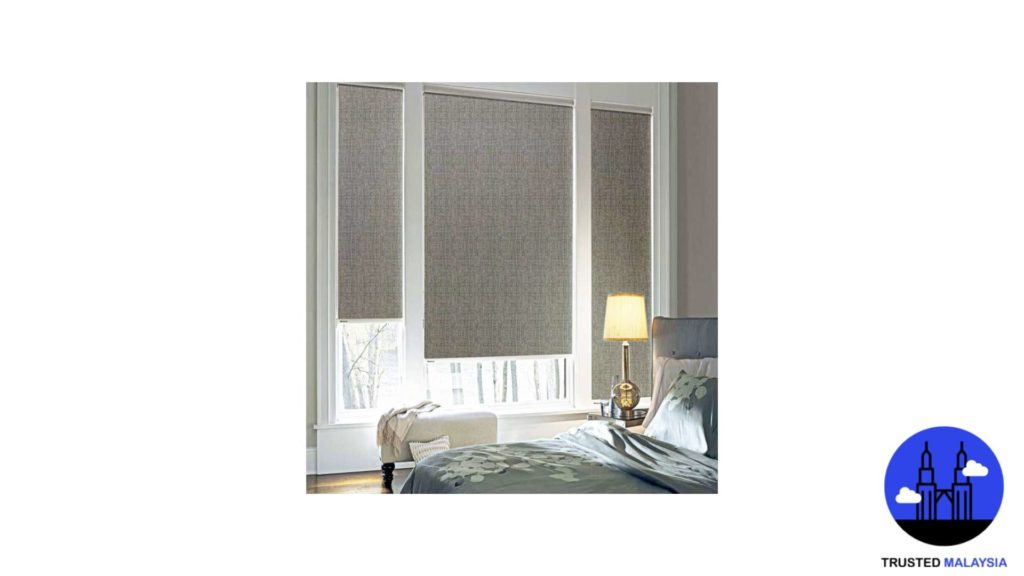 Price: For quotations
| | |
| --- | --- |
| BEST FOR | Living room, Dining room, Bedroom, Kitchen, Workplace, Office Building, Hotel, Outdoor |
| MATERIAL | 100% Polyester |
| AVAILABLE COLORS | White, Black, Grey, Beiger, Printed |
| SIZES | Customizable (made to order) |
Now, this one we have here is a line of roller blinds by GREENWindows. It's called their Roller Blinds System.
There are a total of 6 blinds in the line. We have the RB38Q, RB38C, RB38Y, RB38E, RB38J, RB38K.
The things you can customize are their size to fit your windows and the material based on what you need. You can tell them whether you want your blinds to be blackout, sun-filtering, sunscreen, or see-through and they'll pick the materials based on that.
One thing to expect is that part of the set is a pelmet which is a narrow border or wood or cloth used to conceal the head railings.
All of the blinds in this line also come with a bottom bar that has rubber to reduce the noise. This is so you won't have to worry about waking people up when you open or close the blinds.
They offer two ways to close the blinds. You can either use the motorized system or the manual operating bead chain.
To know how much they cost, you can request a quote from them. This is also the best way to go since these are all customizable and you can make it so it fits perfectly in your space.
Customizable
Wide range of choices
Comes with pelmet to conceal head railings
Bottom bar comes with rubber to reduce noise
No mention of rates
Quotes aren't free
5. Spotlight Caprice Platinum Urban Roller Blind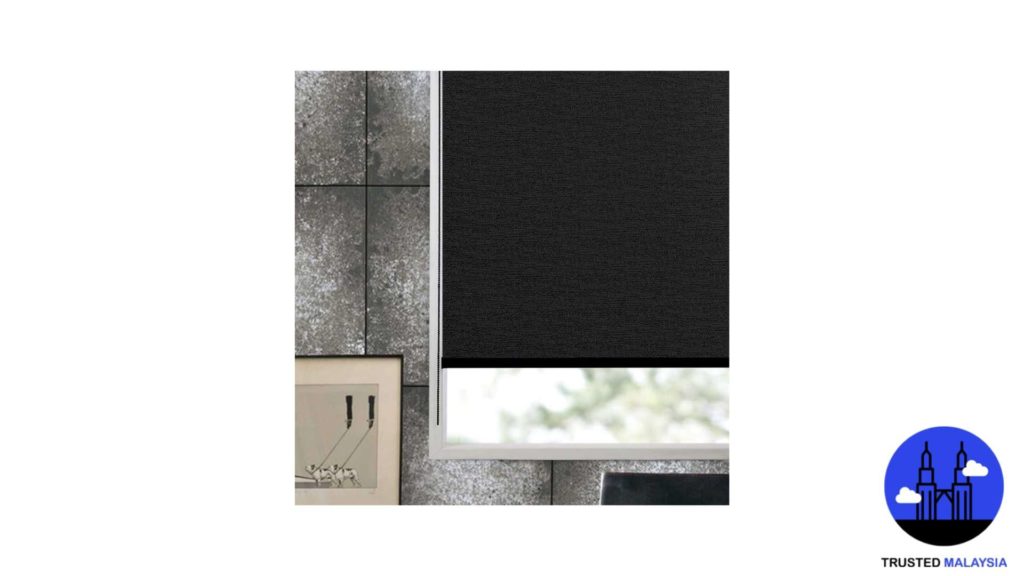 Price: RM225 – RM540
| | |
| --- | --- |
| BEST FOR | Kitchen, Bedroom, Office, Living room |
| MATERIAL | Polyester |
| AVAILABLE COLORS | White, Grey, Black |
| SIZES | 90cmx240cm, 120cmx240 cm, 150cmx240 cm, 180cmx240cm, 210cmx24 cm, 240cmx240cm |
The Spotlight Caprice Platinum Urban Roller Blinds are a pretty chic option for blinds that would look great in your home or office. It was designed with the latest trends in mind and comes in grey, white, and black.
For those with modern homes, you'll be glad to know that the brackets, chain, and bottom rail of these blinds are all black to make sure they go well in your home.
Due to the polyester fabric that makes up these blinds, you get a full blackout experience to protect you and your home from UV damage. It also helps keep your home warmer in the cold months and cooler in the summer.
The content of this package consists of your roller blinds, 1 set of fittings, and a child safety device. It doesn't matter how you attach the blinds to the brackets because they can be attached to either side to allow reverse rolling.
You can pay with your VISA card, MasterCard, or Paypal account.
Modern-style
Easy to install
Wide range of size options
Comes with a child safety device
Expensive
No option to make it motorized
Only neutral color options available
Things to Consider Before Getting Roller Blinds in Malaysia
1. Your Window Type
Before making any roller blind purchase, it's important that you know your window's type. This includes the mechanics, structure, and size to see whether roller blinds are really the right type of cover for your windows.
You can also consider if you want to put the blinds inside or outside based on your window sill displays if you have any.
2. The Right Color
The best color for your roller blind is the one that complements your current interiors well. Note that they are just auxiliaries so unless you want to highlight your roller blinds, find a color that blends well with the ambiance of the room.
Most of the roller blinds are designed to have neutral colors so it's going to be a matter of your preference.
3. Privacy and Light Control
It's important to note that roller blinds are effectively in completely blocking out the outside light at any time of the day. This is why they are great for bedrooms to give you extra privacy and a pure night's rest.
4. Your Household Setting
Blinds with cords and chains are not advisable for households with children or pets because they may be a safety hazard. Good thing that motorized roller blinds are now becoming more popular because you can control them remotely or with just a button.
FAQs About Roller Blinds in Malaysia
---
While curtains are always a beautiful option for your home, sometimes all you really need is a good set of roller blinds. They're simple, minimalistic, and much easier to maintain.
You can never go wrong with the perfect roller blinds for your home or office, don't you think?
We hope you agree and that you loved our top picks of the best roller blinds in Malaysia as much as we did! If you decide to purchase any of these at our suggestion, please let us know and tell us all about it.
If you think it's also time to spruce things up a bit more at home, check out our article on the best house painters in Penang. There's nothing like a fresh coat of paint that says how much you love your home.