The 4 Best DSLR Cameras in Malaysia for 2020
"Pix or it didn't happen!" is the millennial way of saying "prove it" because our generation loves taking photographs so much. If you don't have your own camera for proving things yet, you're in luck — we're discussing the best DSLR cameras in Malaysia.
Imagine being able to capture a moment in time and controlling how everyone else sees it. A DSLR camera lets you do that.
Your basic DSLR is still better than most other cameras. A DSLR camera gives you flexibility and range to enable you to manipulate the frame in your own style.
We'll go over the best DSLRs in Malaysia today. Before we do that, though, we'll go over the steps to choosing one, based on your needs.
How to Pick a Digital Single Lens Reflex (DSLR) for Yourself
What makes the DSLR so special is its ability to roll with your punches.
If you want light in, there's a setting for that. If you want the photo blurry to show action, adjust shutter speed. If you want it some other way, you can do literally whatever you want.
The options are infinite, and that is what makes the photo yours.
But what do you really want in a DSLR?
Are you an aficionado who likes photography as a hobby? Are you a pro who wants a camera that meets all your needs? Or Are you someone who just loves taking photos?
If you're a beginner, you'd want to enter the field with a shooter that's inexpensive and easy to understand.
If you're a hobbyist or enthusiast, you would definitely go with the camera with the most bang for your buck.
Pros will go for robust, reliable cameras with image quality and features worthy of their names.
No matter who you are, if you're searching the market for a DSLR, this guide will be the only one you'll need!
For the Amateur
Have you ever taken a photo at night and had it come back pitch black in preview? Did you decide at that point that you deserve so much better?
Because you do!
DSLR cameras for amateurs aren't as versatile as the ones for pros, but they'd definitely be able to give you that night scene you wanna post as an Instagram story!
If you haven't owned a DSLR camera before, go for ones that are user-friendly and low-cost.
Since entry-level DSLRs are more affordable, they have fewer features than advanced models. This makes them easier to learn on, perfect for the novice photographer.
Good-quality camera kits (one camera body and one or more lenses) made for beginners go for around RM 2,000 to RM 3,500. You'll see the best beginner DSLR cameras in Malaysia in our list later, don't worry.
For the Enthusiast
If you've already learned the ropes and mastered the basics of a DSLR camera but aren't sure yet if you can handle the big leagues, then "semi-professional" cameras are for you.
It's between amateur and pro in the sense that it has more versatility than entry-level cams, with better durability (maybe even weather sealing) and it sometimes already has features passed down by pro cams.
These cameras are heavier and are usually compatible with older lenses. They cost around RM 4,000 to RM 7,500 for the camera body, without the lens.
For the Pro
Can you mix and match your camera's features for amazing photographs without having to rely on the auto setting? If so, then you're ready to go pro!
These cameras offer the most features and are versatile, fast, and durable. They have great features like sensors, focus, weather sealing, and countless others you don't see every day.
The only downside is, since these are for professional photographers, they're more expensive… at RM 12,000 to RM 40,000 for a body without the lens.
The Best DSLR Cameras in Malaysia
Now you already know which type of camera will be best for you based on your level, it's time to introduce you to the models that were specifically made for each.
Whether you're figuring out the basics or looking for an upgrade, we're here to narrow down options and help find the one for you.
1.   Nikon D3500
Perfect for the Willing to Learn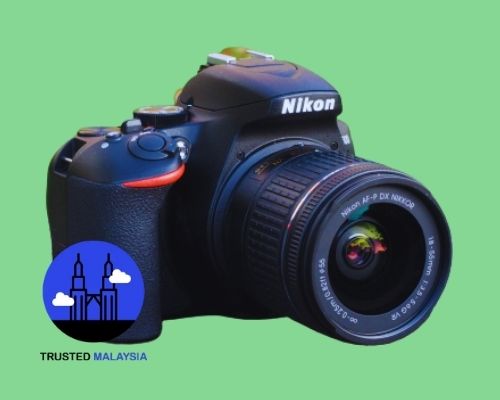 User level: Amateur
Price: 2,499RM
Being the latest in Nikon's D3000 series, the Nikon D3500 is the best choice for entry-level users. Its claim to fame is the awesome "Guide" shooting mode—an interactive photography tutorial right on its own LCD screen.
It's great for beginners because it doesn't just come with a manual to teach you how to use your tech. It also provides features that can greatly help in improving how you shoot!
The fixed rear screen with Full HD video combined with a 24-Megapixel sensor delivers the sharpest imagery you can get your hands on at this price range. It also comes with a retracting 18-55mm kit lens that is superior compared to other brands.
It's portable, inexpensive, lightweight, and user-friendly. It's worthy of being your first love.
Highlights
SnapBridge App compatibility (shoot and send photos straight from and to your phone!)
Interactive "Guide" shooting mode
Customer Reviews
The Nikon D3500 is sold all over the world. Here are a few reviews from Amazon.com for your reference:
"I'm getting back into photography now that I have more time. I don't have a ton of money to spend so I have to cut some corners. Unless you already own all the lenses you need, spend less on the camera body and get the second lens with this set. It is your skill and the lens that is responsible for the photo and not the camera body…."
Here's a second review:
"Allows amateurs (like me) to take gorgeous PROFESSIONAL pictures! I had no idea I could shoot so well! Very very easy to figure out. You can see that special effort was put into simplifying the device without sacrificing quality. Well deserved five stars!"
2.   Pentax K-1 Mark II
The Hipster's Weapon of Choice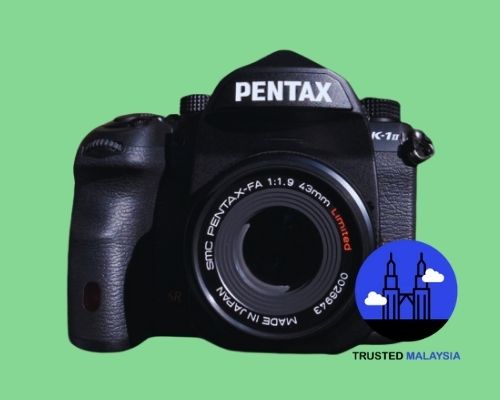 User level: Enthusiast
Price: 8,500RM
The Pentax K-1 Mark II is a durable and reliable weather-sealed DSLR. Although most of us go for Nikon or Canon when it comes to DSLRs, we can't discount that Pentax makes amazing cameras as well.
Besides the 36MP sensor of this camera, Pentax also installed a Shake Reduction system (SR II), which is amazing at controlling shake, whichever lens you're using.
At a max rate of 819,000 ISO sensitivity, the K-1 Mark II is also one of the most notable cameras on the market today in that area. Overall, it's easy to see why it's one of the best DSLR cameras in Malaysia.
Highlights
High-resolution sensor
Strong construction
Customer Reviews
There's no doubt that Pentax is also a frontrunner in the DSLR market. For your reference, here are reviews from Amazon.com from full-fledged Pentax users.
"I have had the opportunity to use the K-1mkII at NHRA events and off highway events and I objectively cannot find a gap in this camera. I wish the horizon correction option could be turned on and off from the main info menu like the KP but that is a nit. That is something you want to do for night long exposure work, I update images taken with both Pentax and Tamron glass. The night NHRA was shot at ISO 6400 and I have not seen better image quality by any other camera OEM at that ISO. Phenomenal."
And another owner wrote this:
"I decided to go for the K1-II as there is finally a full frame camera with the Pentax ergonomics, weather sealing like the K3, and improved pixel shift.
I will simply say that the quality is outstanding. Comparing night time 6-man football photographs (I swear the lighting is a couple of 100 watt bulbs at either end of the field) between the K1-II and K3 you can see the lower noise and higher quality of the K1-II. Putting the K1-II in APS-C mode means you give up full frame, but the improved sensor still gives higher quality than the K3. Another plus for action is your 300mm lens becomes 450mm using APS-C mode, and at the same time the sensor gives better results. It's a win all the way around.
As for battery life, I used my 2 year old batteries from the K3 in the K1-II just to test. A full night of shooting, over 300 photos, and the battery still had not gone down 1 notch. I call that impressive.
The K1-II can hold its own against any camera."
3.   Nikon D7500
Not Pro but Almost, Almost There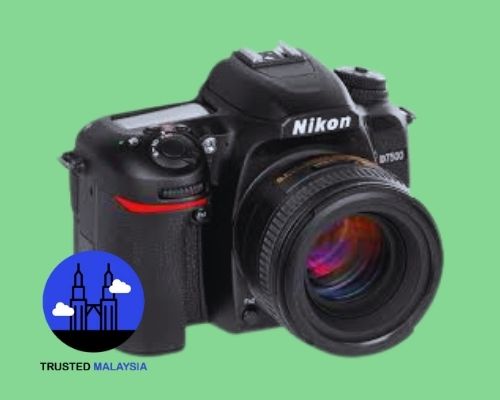 User level: Enthusiast
Price: 3,500RM
The Nikon D7500 shows up with almost-pro cam features but without the heavy price tag, it's even weather-sealed!
Compared to the pro level D500, the D7500 has the same 20.9MP sensor as well as its 4K video feature. Surprisingly, the D7500 is also equipped with the same 180k-pixel sensor and back-tilting screen with the same size!
It might not be quite as detailed, but because of the price gap, it's totally understandable. And worth it!
Highlights
51 point autofocus system
9MP sensor
Customer Reviews
It looks like a lot of the people who own the Nikon D7500 think it's worth their time and money. Here are a few reviews from Amazon.com from several who think it's one of the best DSLR cameras in Malaysia:
"I absolutely love this camera. I upgraded from a Nikon D5xxx and did not need the full blown capabilities of the D500. The D7500 was the perfect upgrade. I use a 128GB stick in it and I have set it up to my taste and I'm taking pictures. I love the speed of the 7500 in continuous mode and the fact I can take a LOT of pictures of fast moving scenes without filling the buffer in a few seconds.
The touchscreen is great, works really well and is very intuitive. I love that it also pulls out and you can use it for low shots or high (above the crowd) shots. The D500 sensor with its integrated AE is superb and provides all the power of the more expensive model in a sensibly priced model. I have no need for a second SD slot, and the camera fist my hands so well, a battery grip would just make it heavier and bulkier."
Here's what another owner said:
" I have been using the D7500 for about six months. So far it has been a huge upgrade over my D5500. The low light capabilities is much improved. The focusing system is very good. I have used it with my two Sigma lens (18-35 F1.8, 50-100 F1.8) with no complaints. The extra dials and buttons are a huge help when changing settings. I have read several people complaining about the lack of a second card slot as well not having the ability to install a battery grip. Those issues do not impact me. I have been 100% happy with this purchase.
4.   Nikon D850
The Photographer's Game Changer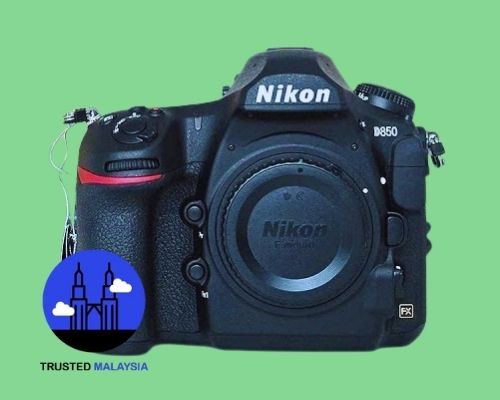 User level: Professional
Price: 11,200RM
The Nikon D850 is still the most powerful DSLR camera on the market right now. Despite the insane price gap between it and its competitors, the D850 thrives and has laid its foundation as the top choice for pro photographers.
First off, its image quality and substantial features combined with a weather-resistant magnesium alloy body makes other DSLR cameras look like child's play.
The 4K video, amazing autofocus, 45MP sensor and 7fps burst that come with it are unmatched by the competition too.
On the whole, if you're a professional photographer, there's no better choice than the D850. Given that, it just had to be in our list of the best DSLR cameras in Malaysia.
Highlights
Powerful, yet compact
Awesome overall performance
Customer Reviews
The D850 is famous for being all-around with all the features you want for a DSLR camera! Here are a few reviews from Amazon.com buyers!
"After a few months of almost daily use, I can confidently rate this camera as the best camera I have ever owned. I have used it in the rain, in the salt spray from ocean waves and the mist from waterfalls, it has held up well and it's weather sealing is excellent. The color and dynamic range are amazing. The native low ISO of 64 adds so much to my landscape photography, such clean images. At high ISO settings for night sky and nighttime architecture, the images are still c lean and have far less noise than other cameras I have used. The built in intervelometer is versatile and can be set to a wide variety of shooting situations. The built in time lapse feature is great for a hassle free time lapse, it is easy to program and does a good job. The in camera multiple shot mode is very useful for stacking exposures that can produce a "long exposure" effect without using an ND filter.
As the D850 was announced and getting ready to come on the market I had been looking to upgrade my camera body. It was a difficult decision and I did a lot of research. I finally settled on the Nikon D850 and I am extremely satisfied with the decision to buy this camera. Honestly it has exceeded my expectations."
And here's another owner:
"I do freelance sports photography for the local newspaper, and I was using a Nikon D750, and it worked pretty well. It worked well in low light, it shot 6.5 fps and it is a 24 megapixel camera. But, I knew that I could do better. For sports I needed a lot of fps and the shots focus had to be crisp. I use the Nikon 300mm f/2.8 super prime most of the time for outdoor events. The picture of the goalkeeper diving for the ball was taken from the other end of the field. I'll tell you, at 9 fps (I have a grip on it with the bigger battery) and 46 megapixels, my shots have gotten so much better. I shoot softball and baseball through cyclone fencing, and you can't even tell. I think that I don't have to push the ISO up as far on those evening soccer games. I have done a little bit of portrait work and some landscape shots with this camera and it can put your talents to the test. I would recommend using a tripod when you can. With that many megapixels, you have to be careful if you are shooting at lower speeds…all of your little movement mistakes show up. Just be sure to have a big enough XQD card in this camera, because you are going to be taking a lot of pictures (7 fps out of the box). Also, you have a lot more keepers with this camera because the focussing system is pretty darn good (same as the D5). Oh, and the silent shooting, is really silent….like no sound silent.
So, whatever your style of photography is, sports, landscapes, portrait, product, wildlife, etc., you will probably really enjoy this camera. Good luck."
That's our list of the best DSLR cameras in Malaysia this year. Any one of those should help you take your photography to the next level.
Oh, and when you finally decide on the camera that you think is best for you, put it to good use by seeing more of the world! DSLRs are amazing for travel photography, as many pros will attest.
No travel plans yet? Well then, check out our list of the best travel agencies in Malaysia and book your next getaway! Don't forget to bring your DSLR!
*Images taken from each company's official website and Lazada Malaysia