The 10 Best Wireless Earphones in Malaysia
Airpods Pro on Pink Background via Unsplash
For some of us, music is a source of inspiration for whatever it is we're doing — be it reading, studying, running, exercising, etc. If you need a better way to indulge in your source of inspiration, you're in luck, as we're here to list the best wireless earphones in Malaysia.
Gone are the days when earphones and headphones had the conventional wire to connect them to the audio source. Thanks to advancements in technology, we've gotten rid of those troublesome cords.
With so many wireless earphones to choose from, though, it's kind of difficult to pick one. So we've done the research for you to give your ears the euphoric experience you deserve.
1.  Master & Dynamic MW07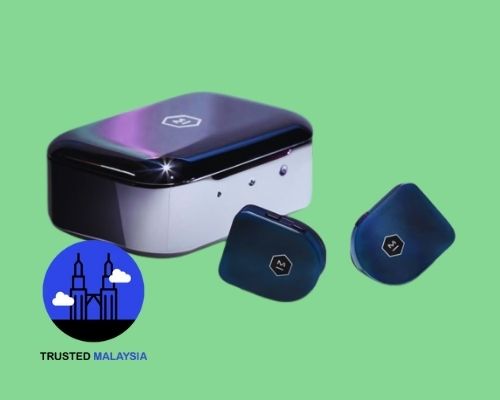 Price: RM1,899.00
Great sound comes at a price and cannot be short-changed with average specs. Let's take a look at some of the reasons the Master & Dynamic MW07 is in our list of the best wireless earphones in Malaysia despite its expensive price.
For those of us who pump metal, climb, do sprints and pull-ups, and the like, these are the best wireless earphones to plug into our ears for that added motivation. These wireless earphones boast a great combination of aesthetics and functionality.
For one, the Master & Dynamic MW07 proudly bears the Reddot award seal. You know you're getting the real deal, along with its beautiful handcrafted physical design.
Next, with its "Fit Wings", Beryllium Drivers, and antenna technology, you get second-to-none secure fit, expansive sound, and great connectivity for an awesome listening experience as you lift those weights or push yourself to the limits.
Plus, with an IPX6 rating, sweat beads ruining the device is a thing of the past!
We know that you will love the Master & Dynamic MW07 as much as we do once you've experienced its great audio clarity to inspire your every workout sesh.
Highlights
10mm Beryllium drivers
Fit Wings
14 hours of listening time
Warranty not available
Pros
Sweat proof
Good battery life
Handcrafted design
Cons
Expensive
No warranty available
2.  Bang & Olufsen Beoplay E8 2.0
Price: RM1,198.00
The acoustic engineers at Bang & Olufsen give our ears plenty of reasons to fall in love with the Beoplay E8 2.0. These awesome wireless earphones deliver the best and most natural sound.
We especially love that they can last for hours of usage. They come with a charging case (leather-covered!) that can hold three full charges too, you can listen to your Spotify playlists for up to 16 hours.
Moreover, the engineers at Beoplay understand that ears come in different shapes and sizes. So you get to choose from five different ear tips included in the box for a more comfortable fit.
And don't bother reaching for your phone if you want to start, stop, change, skip songs, answer calls, or activate any voice command. You simply need to tap on the earpiece to do any of those.
Overall, we like how the Beoplay E8 2.0 fits our ears perfectly to deliver that awesome sound trip we all so love. We're also big fans of the overall practicality of their design, from the charging case to the earpiece tap function.
Highlights
In-ear only
Charger case
Silicon tips – 4 pairs of different sizes
Compatible with Bang & Olufsen app
Remote touch interface
No warranty available
Customer Reviews
These users love not only the aesthetic features but also the sound quality, convenience, and flexibility that the Beoplay E8 2.0 gives:
"The big news here, apart from the use of skin, is that Beoplay E8 2.0 are not just true wireless headphones but true wirelessly-charging true wireless headphones. They keep the total convenience and great sound of the original but allow you to charge on any wireless (Qi) charging pad. Although there isn't a wireless charging pad provided with the E8 2.0, you can use any one you have lying around already, or you can buy Bang & Olufsen's official pad."
"The Bang & Olufsen Beoplay E8 2.0 truly wireless earphones are a beautiful pair of earphones. Improving upon its predecessor, they look as great as they sound. With responsive touch controls and easy setup, they almost feel worth the premium price tag."
Pros
Wireless charging
Remote touch interface
Long battery life
Has an app
Water-resistant
Cons
No warranty available
Cannot cancel noise in very noisy environments
3.  RHA TrueConnect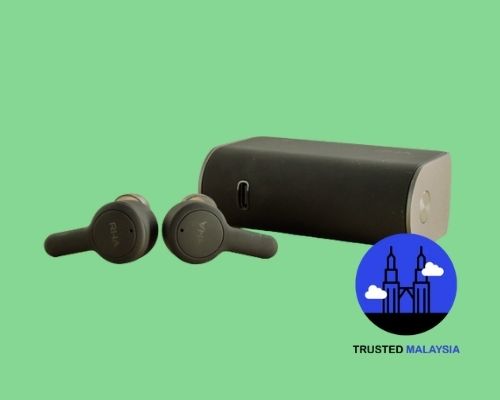 Price: RM999.00
In case you're looking for the best wireless earphones to accompany you in your workout regimen but don't want to splurge that much, then the RHA TrueConnect might just be the best wireless earbuds for you.
While the RHA TrueConnect shares many of the features of the other wireless earphones on this list, what really caught our attention is its ability to charge its drained battery to up to 50% capacity within just 15 minutes. Seldom will you find a device that can charge that fast!
We also like its IPX5 rating. That means you can confidently sweat out all you want while lifting all those weights or even while running under the rain.
Plus, we love the three-year warranty that goes with the purchase. This means that you get great after-sales service in case anything goes wrong with the device.
On the whole, the RHA TrueConnect offers almost the same features we can find in more high-end wireless earphones for working out… but at a more affordable price. Who doesn't love that?
Highlights
5 + 20-hour battery, with fast charging
IPX5 sweat, splash and weather resistance
Noise-isolating, low-profile design
Durable flip charging case carries 4 charges
Supplied with Comply™ and RHA TrueConnect tips
3-year local supplier warranty
Pros
Fast charging
Long warranty period
Sweat and waterproof
Cons
Buttons can be improved
Cannot customise sound
4.  Plantronics BACKBEAT PRO 5100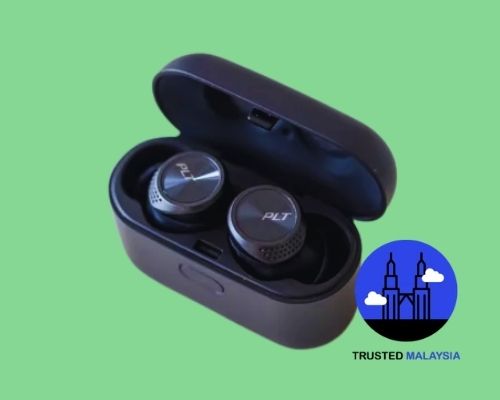 Price: RM899.00
If you're the type of person who's always on the go, then the Plantronics BACKBEAT PRO 5100 might just be your perfect match.
Like the other noise cancellation wireless earphones on this list, the Plantronics BACKBEAT PRO 5100 can block out external noise (even via the microphone when you're on a call). That's going to be a plus for a lot of people.
The same is true for how lightweight these wireless earphones feel. Each ear bud weighs only 5.8g and you also get to choose from its three different ear tip sizes for more comfortable wear.
If you're listening to music and a call comes in, its smart sensors will automatically pause your sounds for you to answer the call. And thanks to a long battery life of up to 19 hours, you won't ever have to worry about long phone calls.
Highlights
Noise-cancelling mics and WindSmart
Sweat- and water-resistant
Single- or dual-use
2-year local supplier warranty
Pros
Great for wireless calls
Long battery life
Cons
Bass sound
Difficult controls
5.  Sony WF-1000XM3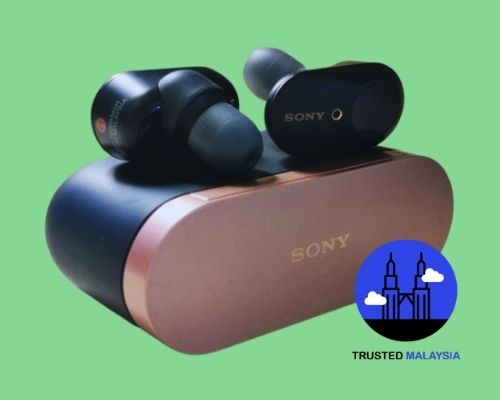 Price: RM899.00
Imagine a world where it's just you and your music. That's possible now with the help of the Sony WF-1000XM3 wireless noise-cancelling headphones.
The Sony WF-1000XM3 caught our attention because of its whole-day battery life. Pair that with the HD Noise Cancelling Processor QN1e, and you can now put the world on hold and immerse yourself in the different moods of your playlist.
That means you get nothing but pure, clear, and rich sound. You can also enjoy watching videos on your smartphone and tablets with the Sony WF-1000XM3 and experience a better synchronisation of what you see on-screen and what you hear in your ears.
With the optimised antenna design of the Sony WF-1000XM3, you also get an uninterrupted signal. That's good news when you're streaming an awesome playlist from the Web.
Whilst the other wireless earphones on this list can also cancel noise, we discovered that it's only the Sony WF-1000XM3 that allows us to cancel music-interrupting noise while permitting a modicum of ambient sound to get through.
That's actually good for a lot of users, as it lets them hear important sound — say, their colleague trying to ask them something from the next cubicle.
Highlights
Digital Noise Cancelling with HD Noise-Canceling Processor QN1e and Dual Noise Sensor Technology
Bluetooth
Up to 24hours of battery life
Quick Attention function lets you chat easily without removing your headphones
1-year local manufacturer's warranty
Customer Reviews
These users are totally happy with the great sound quality the Sony WF-1000XM3 because of its noise cancelling feature, along with ease of use and portability:
"Bought online following What Hifi review. Serves my purpose of great sound and ease of use in connecting via bluetooth. Nice charging case and solid and robust ear buds. I am very pleased with this Sony product. Quality music played through these wireless noise cancelling headphones."
"I bought these to replace a set of Bose in ear noise cancelling headphones. I wanted something more portable and easier to recharge. I've been really pleased thus far. The headphones are really comfy to wear and the sound quality is as good as the Bose, maybe even better…
There are plenty of nice features in the app and Sony has added more since release.
Overall, very pleased!"
Pros
Long battery life
Good noise cancelling
Great sound
Cons
Average touch controls
Call quality
6.  Jaybird Vista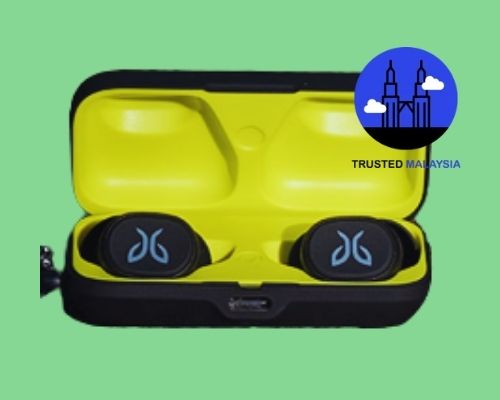 Price: RM848.00
The Jaybird Vista is every marathoner's best bud because of its long battery life. No matter what you're doing, having the Jaybird Vista plugged in your ears will surely give you that drive you need to finish any physical activity.
We like how the Jaybird Vista earbuds make it easy for us to forget we're even wearing them. They're so compact and lightweight that it'll be easy for you to stash them in the pocket of your workout clothes.
Thanks to the IPX7 rating, you won't have to worry about your sweat getting in the earbuds either because they're both waterproof and sweatproof. They also feel comfortable to the ears as the silicon ear gels have a snug fit and comes in three different sizes.
And with the Jaybird Vista's JBS1 wireless technology, you get nothing but clear sound for your music, videos, and calls. No connection stutters to worry about here.
In sum, the Jaybird Vista has most of the features we want in wireless earphones for an active lifestyle. As such, we'd recommend it for the active, outdoorsy people out there.
Highlights
16-hour battery life with charging case
32 hours of uninterrupted independent bud use
IPX7 waterproof and sweatproof
Premium sound with custom EQ
Music and calls
1-year local manufacturer's warranty
Pros
Long battery life
Compact and lightweight
Great fit in the ears
Water- and sweat-proof
Cons
No noise cancelling feature
Other details can be improved
7.  Cambridge Audio Melomania 1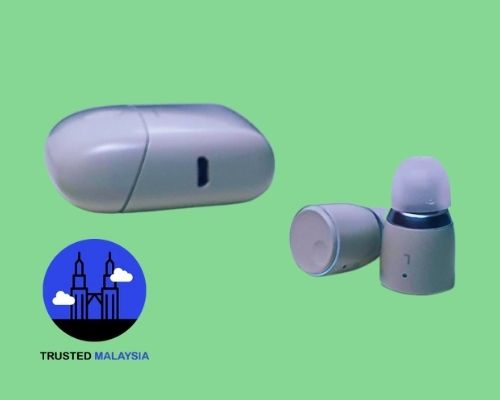 Price: RM699.00
The Cambridge Audio Melomania 1 delivers outstanding audio quality in a wonderfully small package. In fact, the Cambridge Audio Melomania 1 wireless earphones feel as light as a feather.
Your ears won't feel like something's plugged into them because each bud, made of silicon and memory foam, weighs only 4.6g — still lighter than the Plantronics BACKBEAT PRO 5100 on this list.
With these, you also get 9 hours of playback time from a single charge so that you can listen to your fave tunes. It also sports graphene-enhanced 5.8mm drivers that let you hear everything, from the deepest bass to the highest treble.
We like how the Cambridge Audio Melomania 1 lets us enjoy our daily rhythm without putting strain on our ears, and most importantly, our pockets.
Highlights
Bluetooth 5.0, Class 2
Supported profiles: A2DP, AVRCP, HSP, HFP
Battery playtime: 9 hours
Battery playtime charging case: 36 hours
Microphone: MEMS with cVc™ Noise Cancellation
1-year local supplier warranty
Pros
Great audio quality
Comfortable and light earbuds
Relatively affordable
Sweatproof
Cons
Somewhat difficult-to-use controls
Microphone quality
8.  Jabra Elite 65t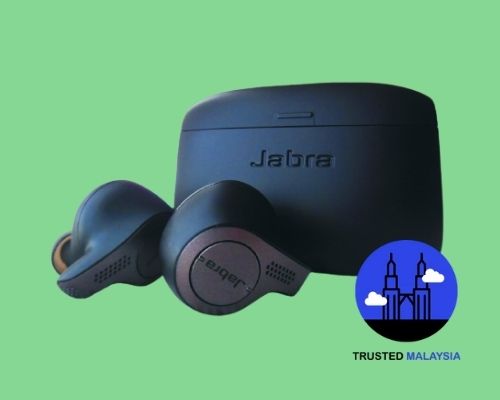 Price: RM689.00
The Jabra Elite Active 65t is another of the great wireless earphones for active users. We'd recommend it for those who like a good soundtrack while getting toned or reaching for the finish line.
That's because it meets just about all of the expectations active users would have for wireless earphones. They stay plugged in during rough activity, help monitor performance, and are sweat-proof.
Like most other buds, these come in gel-like material and have three different sizes. Plus, don't worry about getting all sweaty and dirty because these wireless earphones feature an IP56 rating with a two-year warranty against sweat and dust.
The accompanying app also means a more personalised sound with Alexa, Siri, and Google Assistant. You can customise sounds the way you want to hear them with the help of its advance equaliser.
This also goes for how much of your own voice you want to hear when on-call, including noise from the outside world.
Lastly, you get 15 hours of battery life after a single charge from its charger case. You won't have to reach for your phone either as you can easily tap the buds with your fingertips or give voice commands via the app.
The Jabra Elite Active 65t might just actually be the best wireless earbuds when working out. We'd use them for our own workouts!
Highlights
Ear gels
HearThrough
Fingertip controls
IP56-rated design
2-year local manufacturer's warranty
Customer Reviews
These users of the Jabra Elite Active 65t are all praise for its great sound quality, water-resistant feature, great battery life, and awesome after-sales service:
"I liked it because of the low profile that would allow me to use it within a motorcycle hemet.
I used it on a transatlantic flight and I was able to watch movies with it . Loved it. I got the waterproof version for outdoor walks and not worry about possible rain showers."
"Jabra brand of earpiece have always been great earpieces.
Great sound and battery life. I wish it could hold more then two devices to receive calls."
"Hands down, the very, very best ear buds I have ever had……..and I've had at least three other brands. Don't waste your money on anything else but a pair of Jabras."
"Excellent sound, awesome design. Hear through function is great. The battery life is good too. Got a bad experience with not working charging case. It didn't charge the left earbud. Jabra Support team advised me to return the set to the store and get an exchange( I returned it 2 days after I bought the headphones). Really happy with the second set I got. Works perfectly. I love it"
Pros
Long battery life
Fit nicely on ears
Sweatproof and dustproof
Relatively affordable
Cons
Difficult-to-open charging case
Does not have the best control scheme
9.  Lypertek Tevi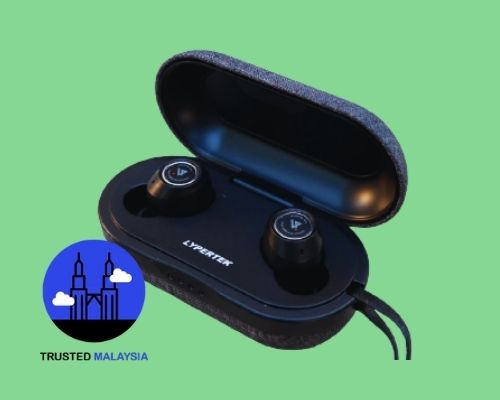 Price: RM425.00
Let's count the ways, shall we, that we like the Lypertek Tevi?
We couldn't agree more with how light and small these wireless earphones are. It's kind of hard to imagine that they even have batteries inside them because you don't even feel them in your ears.
Next, at such an affordable price, you get decent sound and tune from your playlist, including a long battery life that will have you playing music for hours. And you can wear them through a lot of things, thanks to the IPX7 waterproof rating.
On the whole, at the price you pay for this pair of wireless earphones, you know you'll get a relatively good sound ambience and battery life.
Highlights
TEVI uses a driver using graphene material
Supports the aptX and AAC codec
Powered by Qualcomm's high-end Bluetooth audio Soc
Long playback time
USB type-C standard terminal
IPX7 waterproof
Qualcomm's cVc 8.0 microphone is noise-cancelling
1-year local supplier's warranty
Pros
Long battery life
Affordable
Great sound
Light and comfortable
Cons
Can improve on aesthetic design
Weak Bluetooth connection
10. EarFun Free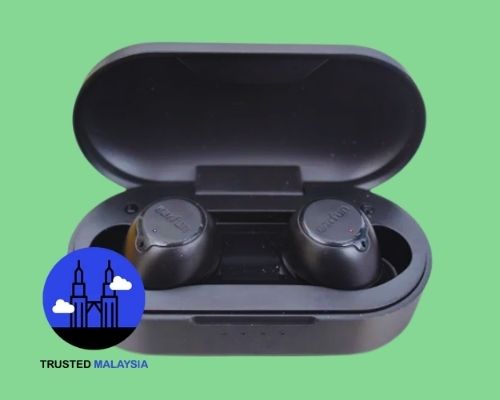 Price: RM376.41
We handpicked for you this pair of all-around wireless earphones that comes at a friendly price. The EarFun Free delivers an awesome sound experience that doesn't hurt the pockets.
Whilst it's true that they come at a price that's really affordable, they don't fall short on features. Let's take a look at some of them.
First off, the EarFun Free has the instant pairing function. This means that after you have configured them, they will automatically turn on and pair with any smart device device you have within a range of 15m.
Apart from delivering great sound from a playlist, we also love how the EarFun Free has a built-in MEMs microphone with noise cancellation. This allows you to hear crystal clear sounds and make hands-free calls even in noisy environments.
Lastly, we like the convenience and flexibility that the EarFun Free gives. Consider the fact that its USB-C technology allows compatibility with almost any device, for instance, as well as the quality of both its mic and earphones.
All in all, the EarFun free is a great all-rounder. Whether for exercise, casual listening, or hands-free calling, it performs superbly.
Highlights
Graphene speakers
Bluetooth 5.0
USB-C
Snug-fit ergonomic design
Pros
Ergonomic design
Affordable
Cons
Which of the wireless earphones on this list are you using already? Do they deliver the perfect sound bass, pitch, treble, noise cancellation feature, and the like that you expected?
Please share your experience with us and the other readers! We'd love to hear from you.