The 5 Best Dog Grooming Centres in Malaysia
Dogs, like humans, need grooming too to be good-looking and neat. However, not everyone knows the proper and safe way to do it for their canine companion.
No matter, you can easily solve that problem by taking them to one of the top dog grooming centres in Malaysia frequently.
The frequency mainly depends on your dog's hair length. Short-furred pets should be groomed every 8 to 12 weeks and long-haired pets every 4 to 6 weeks according to Madison Animal Care.
How much does dog grooming cost in Malaysia?
In general, dog grooming services cost between RM30 and RM200 in Malaysia. Prices widely differ among shops depending on the dog's breed, size, and extent of the tick or matting problem.
You may also choose to avail boarding or a particular spa service. In which case, you'll have to pay an extra RM15 to RM40+.
Some groomers also offer a reliable dog pick-up service, and this can go from free to RM20. Most people, though, prefer to drop and pick up their pets themselves.
The Best Dog Grooming Centres in Malaysia
Below are the criteria we used to pick the service providers for this list:
With this in mind, let's now proceed to our list of the best dog grooming centres in the country!
1) Pets Grooming Hotel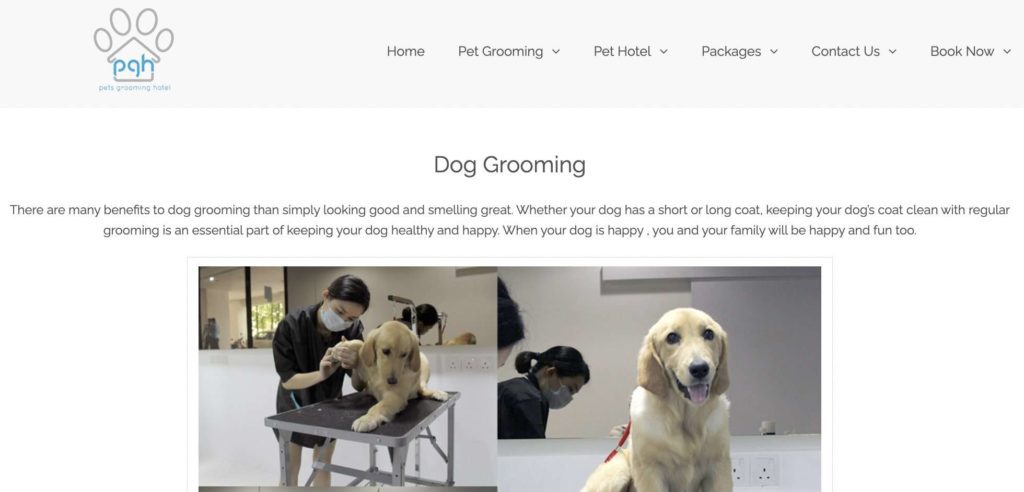 Test
Info
SERVICES

Dog Grooming




Nail cutting

Nail filing

Shaving under the ear flap

Ear clearing

Shaving under anal area

Shaving between legs and paw pads

Clearing of the anal glands

Bathing

Drying and brushing

Trimming fur off the nose bridge and around the paw

Dental cleaning

RATES

Basic Rates




Small breed: from RM40+

Medium breed: from RM65+

Large breed: from RM90+




Add-ons




Dematting: from RM15+

Medicated shampoo: from RM15+

Tick/flea treatment: from RM35+

Magic coat treatment: from RM30+

Conditioner: from RM20+

Intensive coat treatment: from RM40+

Bath fizzies: from RM40+

WEBSITE
https://www.pgh.my/dog-grooming/
ADDRESS
GF-22A, Ground Floor, The Main Place 47640 Subang Jaya, Selangor, Malaysia
CONTACT DETAILS
+6010 203 6088
OPERATING HOURS
Monday: closed

Tuesday - Sunday: 10:00 AM - 8:00 PM
| | |
| --- | --- |
| Expertise | ★★★★☆ (4/5) |
| Service variety | ★★★★★ (5/5) |
| Ease of booking | ★★★★★ (5/5) |
| Value for money | ★★★★★ (5/5) |
Pets Grooming Hotel or simply PGH is a pet grooming and boarding service based in Subang Jaya, Selangor, Malaysia.
Their extensive range of pet grooming works includes nail cutting, nail filing, bathing, drying, brushing, ear cleaning, and shaving of hair on different body areas.
According to most customers, they provide a friendly and caring dog grooming service. The staff strives to listen to the specific requests and needs of each pet owner.
If your dog has particular preferences or a preferred shampoo, by all means, let the team know. Otherwise, they may use normal shampoo on the pup, which can trigger an allergic reaction if they're sensitive.
Furthermore, you can let go of your worries for your dog because the grooming centre is regularly cleaned and disinfected. Thus, there won't be cross-contamination for each dog they care for.
Another advantage they have is their affordable rates which we've indicated in the table above. They also have great packages that can help you get more value out of the service, and you can readily see this online.
Also, booking with them is very easy that can be done through WhatsApp. You can also chat with them if you have any enquiries or issues about their service.
Competitive rates
Friendly and accommodating service
Extensive range of services
Easy to book with through WhatsApp
Offers discounts
Complaints about service and price
Closed on Mondays
Customer Reviews
Very friendly and accommodating
"Nice cosy place to board your pets on short term. Pricing higher than other locations and would expect higher service, but so far not exceptional. Owners are very accommodating and friendly. You would feel safer to board your lovely pets here." -Astley Pung
Took good care of my baby
"Sent my baby for grooming and boarding for 4 nights. PGH took good care of my baby and my baby looked happy when I picked her up.
My baby has hypoallergenic skin, so she has specific food and shampoo to use. If you forget to bring your own shampoo for your pooch, must let the staff know!!! If not they'll bathe your pooch in normal shampoo which wouldn't be great for your pup." – Alia
2) Boo Pet Groomers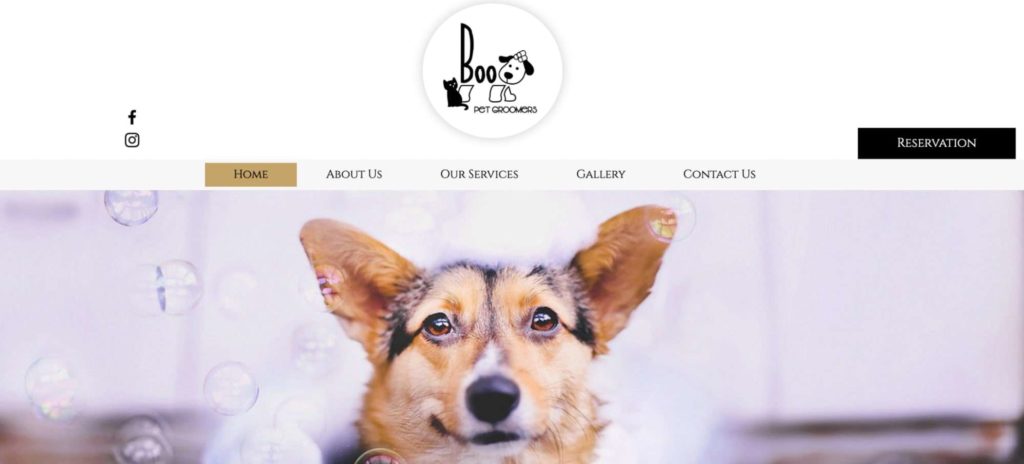 Test
Info
SERVICES

Dog Grooming




Shower

Basic grooming

Puppy cut

Summer cut

Botak baddie

Teddy cut

Beard style

Lion cut

De-shedding

De-matting

RATES

Shower: from RM30 - RM65

Basic grooming: from RM50 - RM130

Puppy cut: from RM110 - RM250

Summer cut: from RM90 - RM180

Botak baddie: from RM90 - RM180

Teddy cut: RM110 - RM250

Beard style: RM110 - RM250

Lion cut: from RM90 - RM180

De-shedding: from RM20 - RM35

De-matting: (depends on the dog breed, size, and severity of matting or tick problem)

WEBSITE
https://www.boopetgroomers.com/
ADDRESS
No 91-G & 91, 1, Jalan 11/62a, Bandar Menjalara, 52200 Kepong, Wilayah Persekutuan Kuala Lumpur, Malaysia
CONTACT DETAILS
+60 12-225 5526
OPERATING HOURS
Monday: closed

Tuesday - Sunday: 10:30 AM - 7:30 PM
| | |
| --- | --- |
| Expertise | ★★★★★ (5/5) |
| Service variety | ★★★★★ (5/5) |
| Ease of booking | ★★★★☆ (4/5) |
| Value for money | ★★★☆☆ (3/5) |
If you'd like your dog to look trim and trendy, then you can take them to Boo Pet Groomers. They are accessibly located in Kuala Lumpur so they can be there for your pet even if you're busy.
Here, they have a complete range of dog grooming services. Among them are showering, de-matting, de-shedding, shaving, trimming, and cutting to achieve a teddy, lion, or your desired look!
You may also want to give your dog a spa experience so they will be pampered like royalty. And if you're going abroad for a day or two or on a business trip, they have pet hotel services as well.
Their shop is cool, stylish, and more importantly, hygienic as you can see in their gallery and as customers can attest.
They have a warm reception with a lot of pet products you can get including natural shampoo. Also, they have a dog playroom where they can meet other dogs, play, and have fun.
You don't have to make the effort of calling the team by phone. Just head over to their website and book your appointment there, which is a lot easier, especially for those people who are often online.
While the prices are a bit higher here, many dog owners are very happy with the provided service. Their dogs are taken care of as if they were a part of the family, and the place has a wonderful ambience and welcoming staff.
All of these reasons validate that they're one of the best dog grooming centres in Malaysia. The shop is open from Tuesday to Sunday from 10:30 AM to 7:30 PM.
Highly trained dog groomers
Has organic shampoos
Complete range of services
Online booking available
Relaxing place for pets
Relatively high rates
Discounts not indicated on the website
Closed on Mondays
Customer Reviews
Authentic and meticulous pet groomer
"The most authentic and meticulous pet groomer in town – Veronica (Ping Ping) the chief groomer is truly indeed a dog and cat whisperer. She calms them down. Over the years, she has rescued and adopted so many dogs & cats. Just ask her to tell you one of her many remarkable experiences. A groomer who is a pet lover at heart and stays true to herself. What more can you ask for?" – Leon Leeàu
Top-notch and friendly service
"Highly recommended. We recently got a Shihpoo pup, Chewbacca and was browsing around for a groomer. We were lucky to have come across Boo Pet Groomers. Making appointments were a breeze and the level of friendliness and service is tip top!
P/s: The coffee place upstairs is nice too "-Geraldine Choong
3) Diva Pets Grooming Salon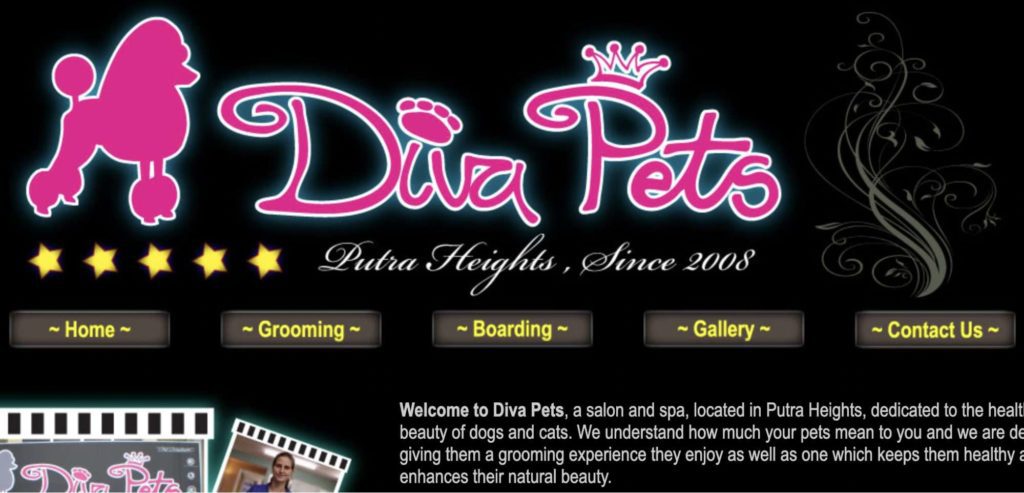 Test
Info
SERVICES
Grooming

Boarding

RATES
Kindly enquire with them for this
WEBSITE
http://www.divagrooming.com/
ADDRESS
25 Jalan Putra Mahkota 7/7B, Section 7, Putra Heights 47650, Selangor, Malaysia
CONTACT DETAILS
+6 03 5191 1908
OPERATING HOURS
Open every day from 11:00 AM - 7:00 PM except on Tuesday
| | |
| --- | --- |
| Expertise | ★★★☆☆ (3/5) |
| Service variety | ★★★☆☆ (3/5) |
| Ease of booking | ★★★★☆ (4/5) |
| Value for money | N/A |
Diva Pets is owned by Jo Makin. She graduated from Manchester University in the UK with a degree in Management, Leadership, and Leisure and is an outspoken animal advocate.
She uses these skills and her firm animal beliefs in operating the business. Those can be good if you want your pet treated and groomed well.
In addition, her aim in setting up Diva Pets in 2008 is to give dogs and cats an enjoyable grooming experience in a way that will make them beautiful and healthy.
As noble as these aims and perceptions sound, some clients weren't satisfied when their requests weren't followed closely. For example, one client asked the staff to de-mat the pet, but after the service, some portions of their coat still had some fur clumps.
Despite that, most claimed that the service was very good and friendly, the scenery was nice, and the groomer was pleasant and knowledgeable. That's why we think they deserve a spot on this list.
They have different food and accessories for you to pick from for your dog. They aren't limited to only one regular product, which might not be good for your pooch at all.
The size of your pet doesn't matter at this place. Whether it's cute and short or tall and meaty, their certified groomers can groom and take care of them for you, so you can just drop them if you're free.
The dog grooming store is situated at Putra Heights in Selangor and is open daily from 11:00 AM to 7:00 PM except on Tuesdays.
Professionally trained and certified pet groomers
Wide variety of products and accessories
Led by an animal advocate owner
Easy to park outside
Complaints about their service
Rates not listed
Closed on Tuesdays
Customer Reviews
Genuinely cares for the pets he is assigned to
"I cannot recommend this company enough. They took such good care of our three pets before they flew to us in the UK. Caleb genuinely cares for all the animals that enter his door. They are kind, professional and dedicated to the welfare and wellbeing of the animals. Thanks you so much Diva Pets. We will never forget you." -Laura Chermside
Very knowledgeable and pleasant to talk with
"A pleasant doorway entrance with touch of greenery. Daisy is very knowledgeable and pleasant person to talk with." -Selva Kumaran
4) Paws in Love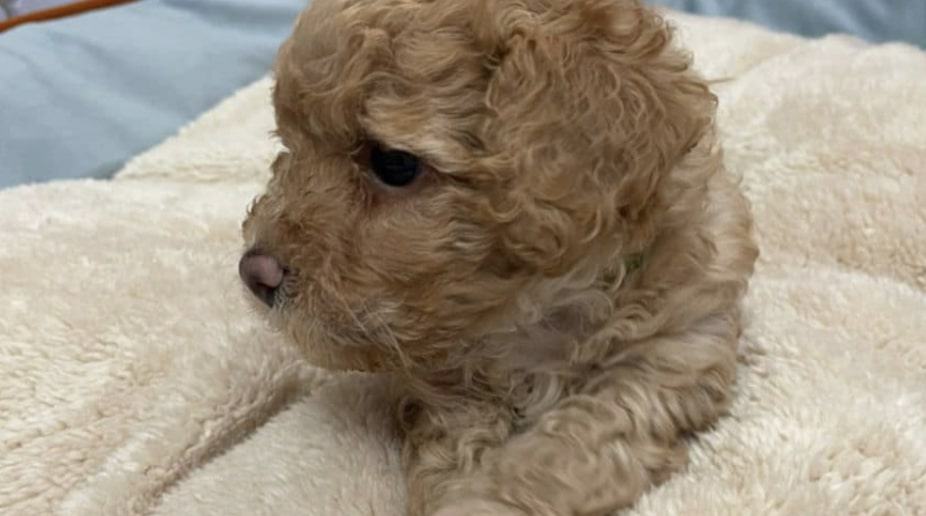 | | |
| --- | --- |
| Expertise | ★★★★★ (5/5) |
| Service variety | ★★★★☆ (4/5) |
| Ease of booking | ★★★★★ (5/5) |
| Value for money | ★★★★★ (5/5) |
Paws in Love is a home-based pet hotel service in Kuala Lumpur, Malaysia. It's a small business run by a couple that has earned rave reviews on Google.
With it, your dog gets personal attention and care from the owner who is a pet lover. The company basically offers grooming and boarding services including mouth and teeth cleaning.
Unique with them is their pick-up service, which can be worrying for some pet owners. But don't worry, she has done this lots of times for clients and is described as being professional and gentle.
In fact, she is registered with the Malaysia Groomers Association and has six years of experience in the business. Thus, you can entrust your beloved dog to her—or you can watch and wait while the service is being done if you're worried.
They have basic and full dog grooming services here, which are comprised of paw pad shaving, belly hair shaving, inner ear hair plucking, nail trimming and filing, showering and drying, and more.
Their rates are fair and affordable, as many clients have pointed out. So if you want value for your money—yet want your dog to be cared for well—then you should use this service.
On top of that, this dog grooming centre is open every day from as early as 9:00 AM. For promoting your dog's health and grooming, you don't have to wait for a day or two.
Certified and experienced groomers
Convenient pickup service
Affordable rates
Accepts major credit cards and PayPal
Open daily
No official website yet
No discounts mentioned online
Customer Reviews
Calm and professional pet groomer
"I found her shop on Google maps and was very surprised when I arrived at a house. I was a little nervous to leave my boys at a strangers house but she was really calm and professional.
My pom is a neurotic little monster that tries to bite if you touch too close to his kuku but she was able to handle him and groomed him so well.
They were terrified at first when I left them there but came back relaxed and happy. All the cleaning was done beautifully no scratches on their skin, nails are just short enough.
Price is also really reasonable for kl and so fast. I called 3 shops today and they were all full and would have taken much longer to do both my dogs. It took 1 and a half hours here. Super satisfied 100% recommend. I rather support her than those big pet shops. Definitely will return." -Kay Ong
Very happy with her grooming service
"Very pleasant, professional and knowledgeable. Very happy with her grooming service. Even she will give good advise and suggestions on your pet. Will definitely visit again. Highly recommended 😊👍🏻👍🏻👍🏻" – Gabriel Paul
5) Furry Pet Grooming Centre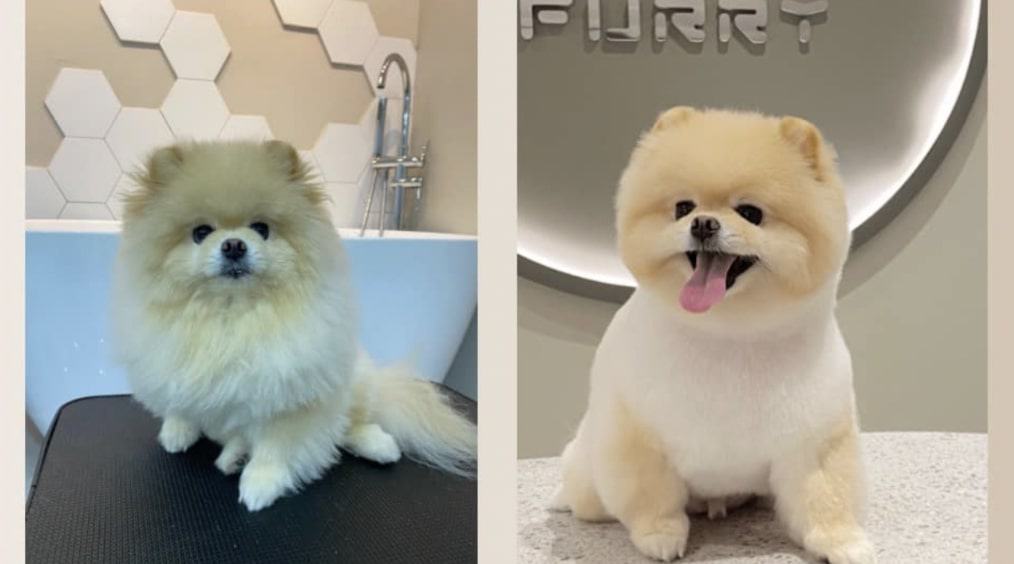 | | |
| --- | --- |
| Expertise | ★★★★☆ (4/5) |
| Service variety | ★★★☆☆ (3/5) |
| Ease of booking | ★★★★☆ (4/5) |
| Value for money | ★★★★☆ (4/5) |
Looking for a meticulous and hygienic dog grooming centre in Ipoh? Try Furry Pet Grooming Centre!
Their exceptional staff can make your dog look groovy both on Instagram and personally.
Would you like a roundish haircut for your pomeranian or a cute braid and ribbon for your Yorkshire Terrier? Their team can give advice or suggestions for the best cut for your lovely pet.
They can also provide a relaxing spa experience for less than the price of other dog grooming places. When you come to pick them up, your dog can feel relaxed and happy in the care of the groomers.
That said, you'd have to call them to know how much the company charges for their pet grooming and/or spa services. Besides that, we didn't find any discounts or promos on their FB page.
They even have stem cell therapy too which can be good for older dogs. This treatment repairs muscles, bones, and ligaments, healing injuries and conditions including painful arthritis and dry eye.
Since they don't have a website yet, you can just visit their Facebook page (given above) to see if you'd like your dog to be groomed by them. And you can set up an appointment by chatting or calling them.
Well-trained dog groomers
Clean and hygienic salon
Competitive prices
Offers pet stem cell therapy
No official website yet
No discounts mentioned online
Rates aren't listed
Closed on Monday
Customer Reviews
Friendly and professional groomers
"Best pet salon in town. First experienced of STEMCELL THERAPY. We are so satisfied with the outcome. Surprisingly my furkid loves the place and groomers (he used to be stressed at others places)
Groomers are friendly and professional, they would giving advise on hairstyle & skin condition. THUMBS UP FROM US !" -YK Yeong
Cheap price compared to other grooming centres
"Highly recommended and very professional yet excellent grooming service provided by their lovely staffs. Also the price was super cheaper compared to the other centres Thank you ladies! Keep up ya good service." -Muneesh Venkiteraman
FAQs about the Top Dog Grooming Centres in Malaysia
---
And that concludes our list of the best dog grooming shops in Malaysia. Based on the reviews, there's a better chance that your dog will be groomed and treated well in these shops.
Have any questions or comments about this article? Feel free to let us know by sending us a message and we'll get right back to you!
Also, if you'd want to make sure your dog stays healthy and can be looked after during an emergency, you may want to look up the best pet insurance companies in Malaysia!