5 Clinics for the Best Ipoh Eye Specialist
Featured Image Source: Freepik
Do you notice signs of vision problems like floaters, sudden eye pain, blurred vision, flashes of light, or dark curtains impairing your eyesight? If so, you should have your eyes checked by an ophthalmologist as soon as possible.
Ophthalmologists are eye specialists who diagnose vision problems, treat eye disease, conduct eye surgeries, and prescribe glasses or contact lenses to correct your vision. To help you find the best Ipoh eye specialist, we tracked down the leading medical facilities in the city that have ophthalmologists and services for your needs.
How Much Does an Ipoh Eye Specialist Charge?
Specialists in Ipoh will generally have different prices but knowing the average costs will help you pick the best one for your budget. To help you, we've listed down the general prices that you can expect Ipoh eye specialists to charge for common treatments.
| | |
| --- | --- |
| LASIK SURGERY | RM4,000 – RM10,000 per eye |
| CATARACT SURGERY | RM2,500 – RM3,500 per eye |
| GLAUCOMA SURGERY | RM4,000 – RM8,000 |
| EYE LIFT | RM12,000 |
| DOUBLE EYELID SURGERY | RM12,000 |
| CONSULTATIONS | RM60 – RM100 |
Clinics for the Best Ipoh Eye Specialist
To make sure that you get the best recommendations, we made sure to go through the credentials of the doctors, check the reputation of their facilities, and write down insights from their former patients. We've also listed down important details like their services and contact details so you can easily contact the best Ipoh eye specialist for your needs.
From large hospitals to private clinics, we made sure to review all the doctors we could find in the city. So without further ado, here are our top recommendations for the best eye specialist in Ipoh who have the expertise to fix your vision.
1. Ipoh Eye Specialist Centre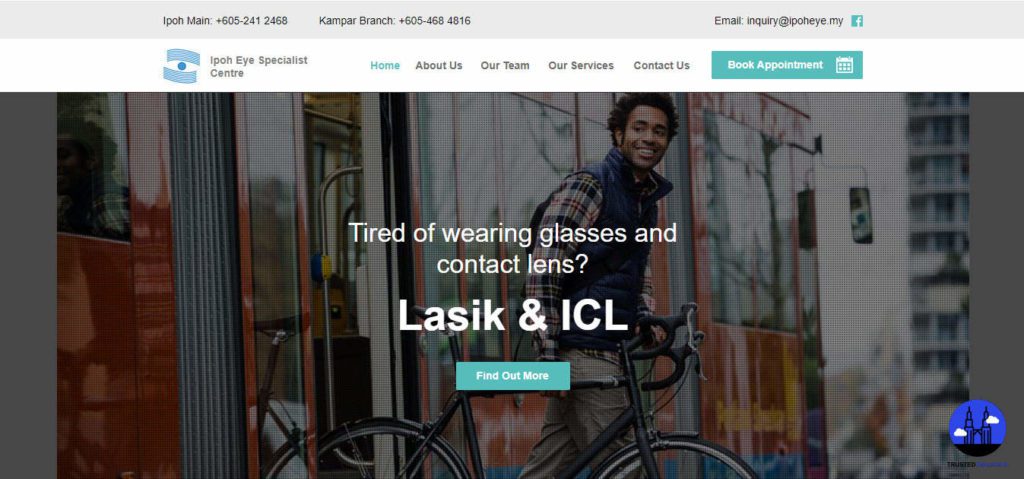 WEBSITE
Ipoheye.my, Facebook
SERVICES
Eye test, refractive services, oculoplastics, cataracts services, glaucoma services, diabetic eye disease treatment, orthoptics, and optometry.
OFFICE HOURS
Monday – Friday: 8:30 AM – 5:00 PM
Saturday: 8:30 AM – 4:00 PM
Sunday: Closed
ADDRESS
9-11-13, 7A-7B, Jalan Raja Permaisuri Bainun (Jalan Kampar), 30250 Ipoh, Perak, Malaysia
CONTACT INFORMATION
Email:

[email protected]


Contact Number: +605-241 2468, +605-242 2468, +605-243 2468
If you want the convenience of having all your check-ups and procedures done in one place, you might want to book an appointment at Ipoh Eye Specialist Centre. Founded by a group of highly experienced ophthalmologists, the clinic offers extensive services like eye examinations, consultations, and surgeries for your convenience.
The clinic was established in 2010 and has provided over 20,000 eye surgeries for patients all over Malaysia. They currently have 5 ophthalmologists and a couple of optometrists and you can review their credentials on their website.
They have an impressive facility that is very well furnished and is equipped with modern equipment which you can easily see when you visit for a check-up. Additionally, you can find affordable rates if you check out the promotional packages that they regularly post on their website and Facebook account.
They also invest in the latest medical technologies so you can be sure to receive the best care possible. Their clinic is located at the heart of Ipoh city which makes it very accessible for everyone as long as you avoid rush hours.
Multiple eye specialists
Modern and well-furnished facility
Has a branch in Kampar district
Free LASIK screening
Online booking only through Facebook
Packages may not include consultation and pre-operation fees
Customer Review
One of their customer, Xiao Qin, left this review:
"Good eye specialist centre to go for eye check up in Ipoh. Very polite nurse and the best eye doctor we have ever meet. Dr. Chan Suet Mei was so nice to talk too. Very professional doctor and did all the needed check up for my grandma and recommended only the needed solution. Price is reasonable with all the consolation and check up. Recommended to get your eyes checked up."
2. OPTIMAX Eye Specialist Centre – Ipoh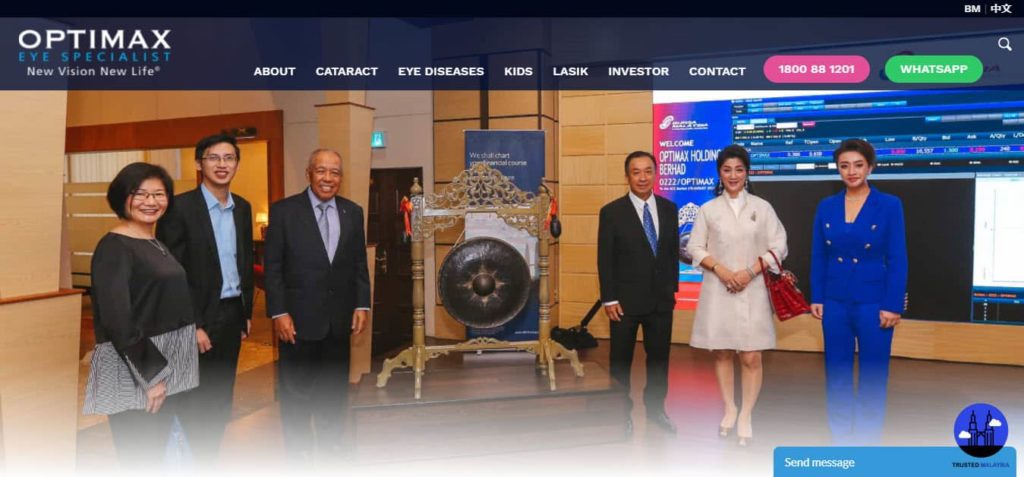 WEBSITE
optimax2u.com, Facebook
SERVICES
Cataract surgery, Eye disease treatment, kids services, LASIK, and more
OFFICE HOURS
Tuesday – Sunday: 9:00 AM – 6:00 PM
Monday: Closed
ADDRESS
No.1 Jalan Dato Khong Kam Tak, Off Jalan Tambun, 31400 Ipoh Perak, Malaysia
CONTACT INFORMATION
Email:

[email protected]


Contact Number: +605-210 7136, +6019-719 7101 (WhatsApp)
Do you want to get the best LASIK surgery in the city? If so, OPTIMAX has a branch in Ipoh city that offers diverse LASIK procedures, cataracts surgery, eye disease treatment, and more.
Known as one of the leading eye care providers in Southeast Asia, OPTIMAX has different branches throughout Malaysia. Another perk to their clinic is that you can get follow up surgeries in different branches if you're travelling.
A lot of their customers in Ipoh praise them for their well-priced LASIK treatments that are effective and convenient. They also provide other refractive error services like ReLEx SMILE for astigmatism, customized Femto-LASIK, implantable contact lens, and other laser treatments.
Their facility is well-maintained and has everything you need for a comfortable experience like a well-furnished waiting area, pleasant staff, and air conditioning. They also have a free parking area which you'll find very convenient especially if you have multiple appointments.
Open on weekends
Free car parking
Comprehensive services
Well-known brand
Closed on Mondays
Ipoh branch has fewer eye specialists
Customer Review
One of their patients, Siti Nabibi, wrote this comment:
"Bring my mother come over to see doctor for Selaput , good services and helpful. I was expect them charged higher consultation price compare with other eye clinic because they are chain eye clinic. in fact the price is reasonable for me."
Another patient, Bhavna Chill, left this review:
"Glab to meet with Dr Suresh. He is glaucoma specialist in ipoh. During the consultation, he even gave me advice about other health condition too. The team is professional, easy access parking and great setup."
3. Chew Eye Specialist & Surgery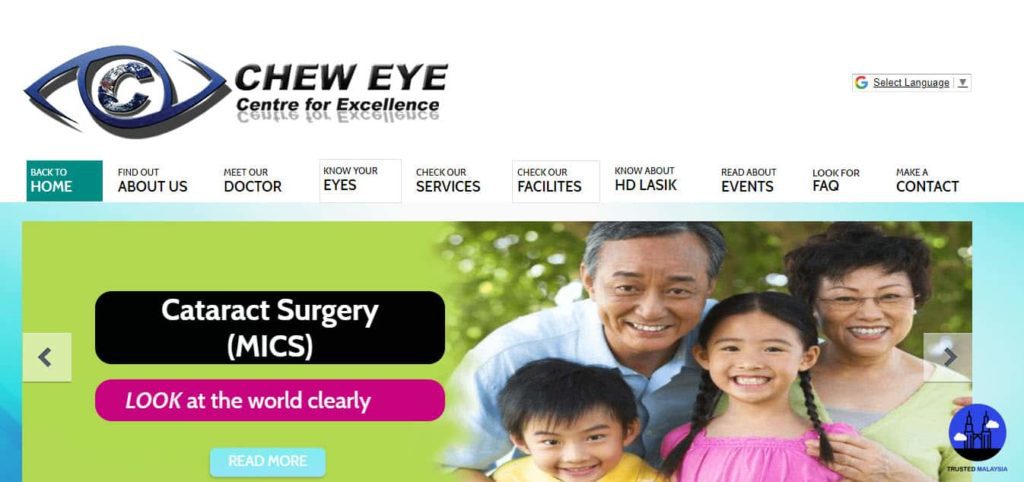 WEBSITE
hdlasikbycheweye.com, Facebook
SERVICES
Cataract and intraocular lens implants, LASIK, glaucoma treatment, AMD, diabetic retinopathy, pediatric eye care, general eye disease treatment
OFFICE HOURS
Monday, Tuesday, and Friday: 2:00 PM – 5:00 PM
Wednesday and Thursday: 9:00 AM – 1:00 PM
Saturday: 9:00 AM – 12:00 PM
Sunday: Closed
ADDRESS
23-27 Jalan Kamaruddin Isa (Jalan Fair Park), 31400 Ipoh Perak, Malaysia
CONTACT INFORMATION
Email:

[email protected]


Contact Number: +605 – 547 0008, +605 – 547 2808 (Fax)
If you're looking for affordable treatments for your eye problems, Chew Eye specialist clinic has the facility and services you're looking for. Their facility in Ipoh was established in 1990 which means they have more than 30 years of experience in providing treatments for cataracts, glaucoma, macular degeneration, and other vision problems.
The founder, Dr Chew Kong Peng, is one of the best Ipoh eye specialists and was the first doctor to perform a 100% bladeless LASIK surgery in Penak.
Their facility is fully equipped with operating theatres, laser suites, diagnostic equipment, glaucoma analysis, refractive surgery diagnostics tools, and more.
They have fully air-conditioned facilities, a wide waiting lounge, lots of seating, and television so you can stay entertained before your appointment.
If you want to find more detailed information, their website is filled with well-organized content about the conditions that they treat, their services, facilities, and everything else you need to know before booking a consultation.
Despite their long track record, they still manage to keep up with modern equipment and their facilities are still well-maintained. Although their interior design does not have a modern style, their building has a classic appeal that is clean, professional, and practical for patients.
Provides accommodation options for outpatients
Affordable services
Well-equipped facility
No online appointment booking
Limited doctors
Customer Review
Their patient, Nur Amni, wrote this review:
"Affordable for students. The treatment was great. The doctor was calm and kind and their staff are friendly and ready to answer your enquiries."
4. Dr Andrew Ho Eye Specialist Clinic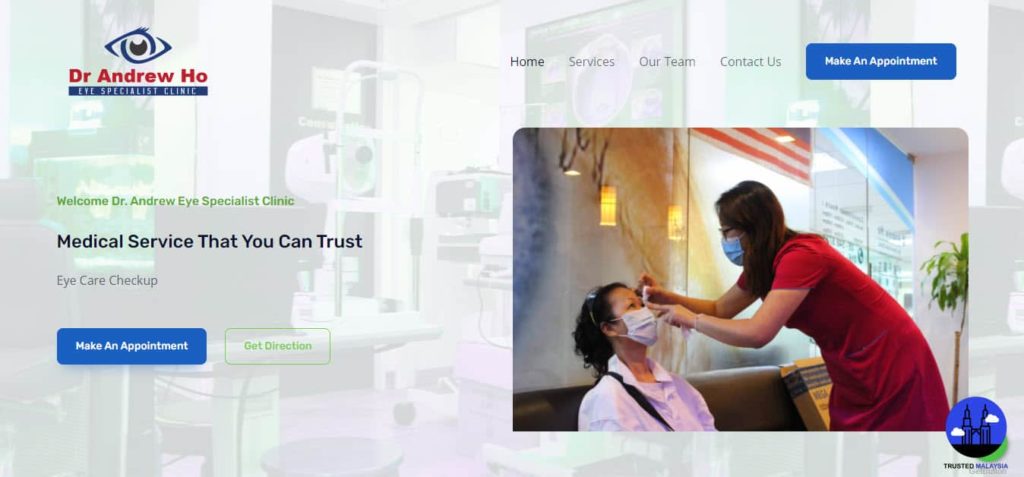 WEBSITE
eyespecialistipoh.com
SERVICES
Cataract treatments, eye disease treatment, and LASIK surgery
OFFICE HOURS
Monday – Friday: 8:30 AM – 5:00 PM
Saturday: 8:30 AM – 1:00 PM
Sunday: Closed
ADDRESS
1 Lebuh Chew Peng Loon Off Jalan Dato' Lau Pak Khuan Ipoh Garden, Taman Ipoh, 31400 Ipoh, Perak, Malaysia
CONTACT INFORMATION
Email:

[email protected]


Contact Number: +605 – 548 8733, +60 16-412 0733 (WhatsApp)
If you suffer from cataracts, Dr Andrew Ho Kin Peng is one of the best Ipoh eye specialists that we can recommend. He specializes in treating cataracts, pterygium, glaucoma, diabetic eye problems, and macular degeneration for patients of all ages.
As a skilled ophthalmologist, Dr Andrew Ho is skilled at performing various eye surgeries, LASIK, and eye disease treatments. If you want to preserve your eyesight, he also focuses on educating patients on how to effectively maintain their eyesight.
You can find his clinic at the Hotel Fatimah and you can easily book an appointment online or through WhatsApp. Even though they have a fairly small clinic, it has a wide couch and enough space for you to stay comfortable while you wait for your appointments.
He has a qualified staff who are friendly and attentive to your needs. Though he provides laser treatments like LASIK, we highly recommend Dr Andrew Ho for his cataract treatment and preventive ophthalmic care.
Online appointment booking
Budget-friendly packages
Specialises in cataract treatment
Limited doctors
Limited details about their laser treatments
No details about their eye test services
Small clinic space
Customer Review
One of Dr Ho's clients, Sharu S., had this to say about his service:
"Not just an experienced Doctor, but also an excellent one too. I would recommend anyone who have eye issues. Thank you Dr. Andrew."
5. Dr Ho Shu Fen Eye & Oculoplastic Surgeries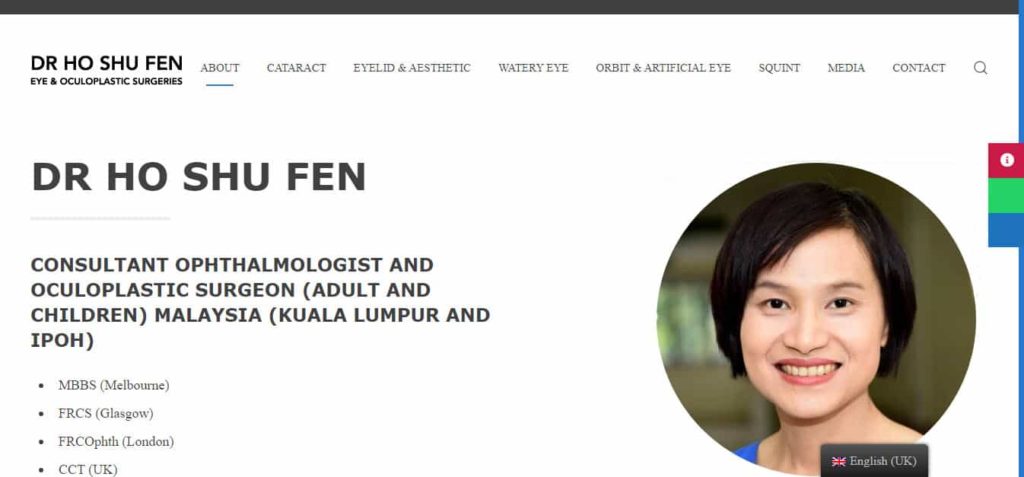 WEBSITE
drhoeyeandplasticsurgery.com, Facebook
SERVICES
Cataracts surgery, eye plastic surgery, paediatric ophthalmology, glaucoma, diabetes, retinal disorders, tear duct surgery, and more
OFFICE HOURS
Monday – Thursday: 9:00 AM – 5:00 PM
Sunday: 9:00 AM – 1:00 PM
ADDRESS
KMC MEDICAL CENTRE, 20a, Jalan Chung Thye Phin 30250 Ipoh, Perak, Malaysia
CONTACT INFORMATION
Email:

[email protected]


Contact Number: +60 17-798 8541
Is the doctor's credentials your top priority? Don't worry because Dr Ho Shu Fen has the credentials, certificates, and professional experience that make her one of the best Ipoh specialists for you.
For starters, she's the secretary of the oculoplastic interest group (OIG), a member of the Malaysian Society of Ophthalmology (MSO), registered with the Malaysian Medical Council (MMC), and more. You can easily review all her credentials on her website so you can personally decide if she's the eye specialist that you need.
Aside from her speciality with cataract surgery, she is also notable for performing cosmetic eye plastic surgery for droopy eyelids, facial nerve palsy, eye injury, blepharoplasty, double eyelid surgery, and even botox.
You can find her at the KMC Medical Centre from Sunday's to Thursday's and you can easily book an appointment through her website. We highly recommend Dr Ho Shun if you need an experienced doctor to provide cosmetic eye surgeries and cataracts treatment.
Provides aesthetic eye plastic surgery
Online consultation booking
Provides paediatric services
Not available in Ipoh City on Fridays and Saturdays
No details about LASIK treatments
FAQs About the Best Ipoh Eye Specialist
---
As long as you know where to find the best Ipoh eye specialist, you don't have to worry about spending thousands on unreliable eye treatments. With this in mind, we highly suggest that you list down our recommendations and weigh out your options before committing to a treatment.
If you found this article helpful, we'd love to hear your thoughts by sending us a message. We enjoy reading about your experiences and recommendations so we can further enhance the quality of our content.
Eye surgeries can help us solve vision problems but they can also be used to make us look more beautiful. If you're looking for clinics that offer safe cosmetic treatments, we've listed down the best aesthetic clinics in Kuala Lumpur that can make your look amazing.