6 Dessert Spots to Try in Perak
Looking to satisfy your sweet tooth with some of Malaysia's best desserts? You've come to the right place!
One of the best places to visit in the country for the most amazing local desserts is Perak. In this review, we're going to take a closer look at the restaurants and cafes that we found and think are worthy of your attention.
We've listed them down below and highlighted their highs and lows. If you're ready to dig in, let's get started!
How We Picked the Best Perak Dessert Spots
To end up with a list that truly consists of only the best dessert spots in the state, we've chosen each place based on the following criteria:
1. Girlie's Cafe

Test
Info
PRODUCTS

Cakes, Pastries

Coffee, Artisanal drinks

WEBSITE
https://www.facebook.com/GirliesCafe/
ADDRESS
No 26, Jalan Market, 30000 Ipoh, Negeri Perak
CONTACT DETAILS
+60 16-550 4451
OPERATING HOURS
Tues-Thurs: 10:00 AM - 5:00 PM

Fri-Sun: 10:00 AM - 6:00 PM

Mon: Closed
| | |
| --- | --- |
| Criteria | Ratings |
| Dessert Menu | ★★★★☆ (4/5) |
| Variety of Desserts | ★★★★☆ (4/5) |
| Taste | ★★★★☆ (4/5) |
| Affordability | ★★★★☆ (4/5) |
| Customer service | ★★★★★ (5/5) |
| Ambience | ★★★★★ (5/5) |
| Cleanliness | ★★★★★ (5/5) |
| Interior Decor | ★★★★★ (5/5) |
A hip cafe that's been gaining traction as of late for its wide selection of pastries and artisan drinks is Girlie's cafe. That's why it was a no-brainer for us to see what all the fuss was about, and it's a good thing we did because we thoroughly enjoyed our time in this little chill spot.
For starters, we were big fans of the Girlie's simplistic and clean design, which mostly consisted of white walls and wooden finishes. This made for a cosy ambience, especially with its big window that allows natural sunlight to come in.
As for Girlie's menu, we were surprised by how many offerings it had, from cheesecakes to rolls, coffee and more. Eventually, we ended up getting their strawberry daifuku croissant and blueberry danish, both of which were fresh out of the oven.
For our drinks, we opted for a classic creamy latte which tasted great too. We appreciated how much effort was put into our order when we saw their crew working at the back close to our seats.
The only downside that we had with the cafe was that some of their items were on the steeper side. However, based on what we ordered alone, we could say that it's worth spending on.
Furthermore, we thought that their vegan options were limited but it was nice that they had that section on their menu.
Wide variety of drinks and pastries
Cosy ambience
Great customer service
Steep prices
Limited vegan options
Customer Reviews
Dine in | Breakfast | RM 1–20
"The name may be misleading but not too girlie once you have a bite of its freshly baked butter croissant. A welcoming space and quiet, not too far from the busy street of Concubine Lane.
All bakes are guaranteed above-average taste, with an in-house baker on the clock running just behind. Drinks are of a nice blend as well.
Cozy and ideally for quiet dates or having your work mode on." —Jude Benjamin Lisa, Google Reviews
Dreamy baked goods
"Fantastic food, great coffee and truly exceptional baked goods. The Something Smashed breakfast came with delicious, crunchy onions and perfectly ripe avocado.
The pain au chocolat was flaky and buttery, with a delicate crunch. Finally, the cherry chocolate mousse was light and airy, with the best presentation I've ever seen, perhaps in any bakery."—CharlotteG229, Tripadvisor
2. MyKori Dessert Cafe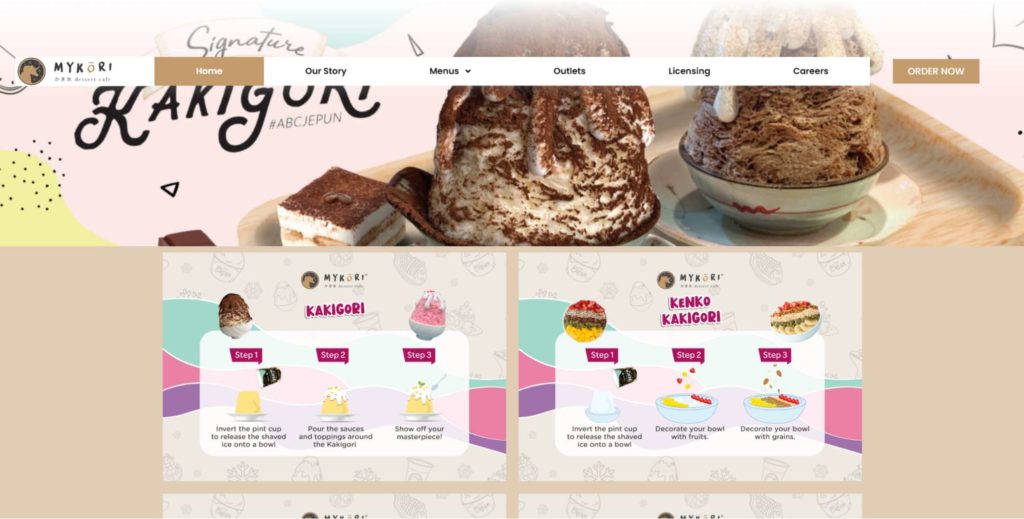 Test
Info
PRODUCTS

Kakigori, Toast

Waffle, Kenko Kakigori

Ice Cream, Frappe

WEBSITE
https://mykori.my/#
ADDRESS
B-G-1, Soho Ipoh, Jalan Sultan Iskandar Shah., Ipoh, Malaysia
CONTACT DETAILS
+60 13-539 8898
OPERATING HOURS
Mon-Thurs: 2:30 to 11:30 PM

Fri-Sun: 1:30 PM to 12:00 AM
| | |
| --- | --- |
| Criteria | Ratings |
| Dessert Menu | ★★★★☆ (4/5) |
| Variety of Desserts | ★★★★☆ (4/5) |
| Taste | ★★★★☆ (4/5) |
| Affordability | ★★★★☆ (4/5) |
| Customer service | ★★★★☆ (4/5) |
| Ambience | ★★★★★ (5/5) |
| Cleanliness | ★★★★★ (5/5) |
| Interior Decor | ★★★★★ (5/5) |
Some dessert spots in Perak offer dishes from other countries, and a perfect example of this is MyKori Dessert Cafe. This cute cafe offers tasty treats from Japan and Korea and we had the pleasure of trying them in their outlet in Ipoh.
We love that MyKori Dessert Cafe offers several kinds of desserts but we opted for one of their best sellers, the kakigori which is a Japanese dessert. This dish consisted of shaved ice flavoured with different kinds of syrup—perfect for summer!
Their selection of flavours was wild and we eventually ended up with something called Popcorn Kakigori. This variation consisted of milk ice, q-jelly and, you guessed it, popcorn, more specifically, salted caramel-flavoured ones.
We found this dish interesting, to say the least. For starters, it had this weird but addicting texture that was a combination of the soft shaved ice and the mildly crunchy popcorn.
Speaking of the shaved ice, it was bursting with caramel flavours, which we extremely loved, especially when it would melt easily in our mouths.
This experience led us to order another variation, but this time, we played it safe with a classic chocolate flavour. The experience was mostly the same but we think this was a better choice compared to the popcorn variation.
Ambience-wise, it wasn't anything unique for us. It wasn't bad but it wasn't anything special either.
We think this is because it's a chain, which means that its interior design would pretty much be the same as other branches.
Wide variety of desserts
Delicious shaved ice
Reasonable prices
Customer Reviews
Great options
"[ok la]
1) overall – dessert shop selling shaved ice and ice cream, chill environment, plenty of shaved ice choices and flavours from MyKori Dessert Cafe Ipoh Soho
2) Mango shaved ice – the best out of all we tried, fresh and sweet mango, not too sweet, tasted good
3) honeydew and wild berry – tasted alright" —simone food.channel, Google Reviews
Great ambience and tasty food
"Good food and tasty. Have a wide variety of kakigori to choose from. The staffs are nice and provide good customer services.
The downside was the bowl is a bit small and so when the shaved ice was piled up high, once we scooped the shaved ice, the bits got scattered everywhere outside the bowl. Memang bersepah la makan senang kata.
Great ambience but sadly the staffs were a bit noisy at the back area of the shop. It would be great if they refrain from shouting here and there.
Overall, it was a nice food trip.
Parking: Parking is a bit hard to find considering that the area is a foodie area. We were lucky to find a spot directly in front of the shop. "—Hawanie, Google Reviews
3. Cheeky Summer

Test
Info
PRODUCTS

Smoothies, Fruit Cups

Freshly-squeezed Fruit Juices

WEBSITE
https://www.facebook.com/Cheekysummer92
ADDRESS
92, Jalan Barrack, Taiping 34000 Malaysia
CONTACT DETAILS
+60 5-810 2028
OPERATING HOURS
Opens every day except on Mondays from 10:00 AM to 10:30 PM
| | |
| --- | --- |
| Criteria | Ratings |
| Dessert Menu | ★★★★★ (5/5) |
| Variety of Desserts | ★★★★★ (5/5) |
| Taste | ★★★★☆ (4/5) |
| Affordability | ★★★★☆ (4/5) |
| Customer service | ★★★★★ (5/5) |
| Ambience | ★★★★☆ (4/5) |
| Cleanliness | ★★★★★ (5/5) |
| Interior Decor | ★★★★★ (5/5) |
Cheeky Summer is a well-known juice bar in Taiping, Perak and we gave it a try since we're suckers for freshly-squeezed juices. Plus, we heard that they also offered a selection of desserts which piqued our attention.
To start, we ordered different flavoured smoothies which kind of were desserts already, but we also got their coconut fruit jelly and strawberry croissant.
The coconut fruit jelly is worth mentioning as it was the first time we ever saw this kind of dessert but the strawberry croissant wasn't too shabby either. We enjoyed breaking down the jelly that enclosed blueberries and a large strawberry and they were as refreshing as they come.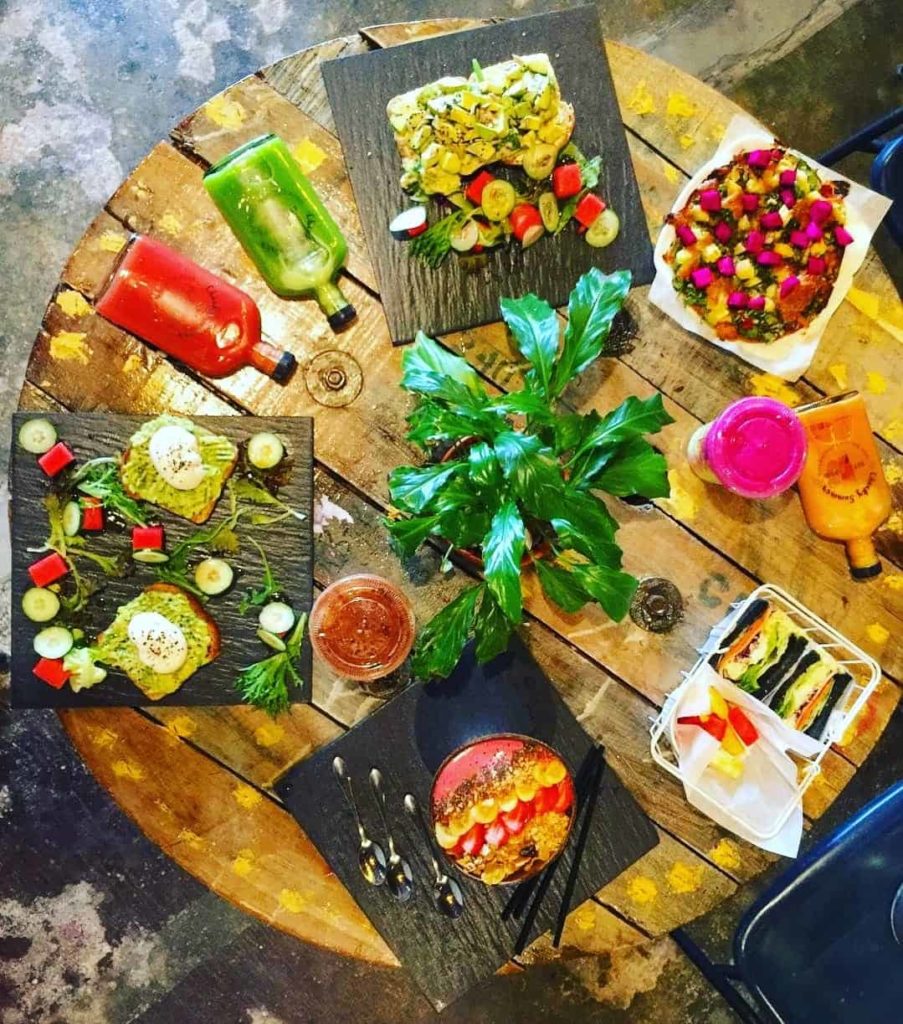 Aside from what we got, their menu was surprisingly diverse as well since we thought that they only offered fruit-based dishes. However, we were pleased to see that they also served snacks such as nachos, pizza and more.
We also liked the overall vibe of the place, especially with its natural lighting thanks to its big windows. It looks like one of those hip places where the seats aren't matching and different lamps are dispersed throughout to provide a cosy atmosphere.
Finally, where we thought Cheeky Summer failed was its price range. Sometimes, it would feel like what they're charging for their dishes isn't proportionate to the serving size, especially with their lunch meals.
Widely varied menu
Fresh fruits
Delicious desserts
Prices for lunch meals aren't reasonable
Customer Reviews
Fresh fruits
"The fruits used for the smoothie bowl are fresh and there's no artificial sugar added to the juices. The staff are friendly and love the ambience of the restaurant." —Jane S, Google Reviews
Don't miss!
"This place should be on the "must visit" list for any vegan visiting Taiping. Loving the ambience, and great good, super-friendly service.
Shakes, smoothie bowls, avocado toasts…all food was so delicious! The lovely owner even made her special salad for us and it was above all expectations.
Highly recommend!"—EarlyRetirementAbroa, Tripadvisor
4. Funny Mountain Soya Bean

Test
Info
PRODUCTS

Tau Fu Fah (soya beancurd)

Ais Kacang, Ais Lengkong

WEBSITE
https://www.facebook.com/FunnyMountainSoyaBean
ADDRESS
49 Jalan Theatre, Ipoh 30300 Malaysia
CONTACT DETAILS
+60 12-516 1607
OPERATING HOURS
Opens every day except on Tuesdays from 10:30 AM to 4:00 PM
| | |
| --- | --- |
| Criteria | Ratings |
| Dessert Menu | ★★★★★ (5/5) |
| Variety of Desserts | ★★★★☆ (4/5) |
| Taste | ★★★★★ (5/5) |
| Affordability | ★★★★★ (5/5) |
| Customer service | ★★★★☆ (4/5) |
| Ambience | ★★★★☆ (4/5) |
| Cleanliness | ★★★★★ (5/5) |
| Interior Decor | ★★★★☆ (4/5) |
Funny Mountain Soya Bean is hailed as one of the most legendary establishments in Ipoh. Just to give a quick background, this store is well-known for serving the most delicious tau fu fah or soy bean curd for six decades.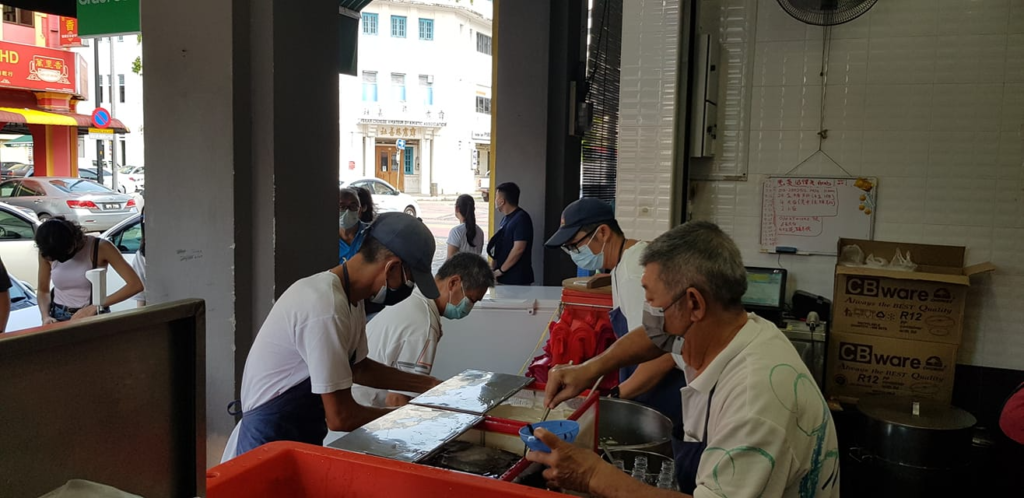 We tried it and we weren't disappointed. For starters, the curd was silky smooth and it seamlessly glided into the spoon with little to no pressure at all.
As for the dark sugar syrup, it wasn't overly sweet and it had subtle hints of ginger which created this unique flavour that we instantly loved.
Aside from their soya bean curd, they also offer other iconic Malaysian desserts, namely ais kacang and ais lengkong.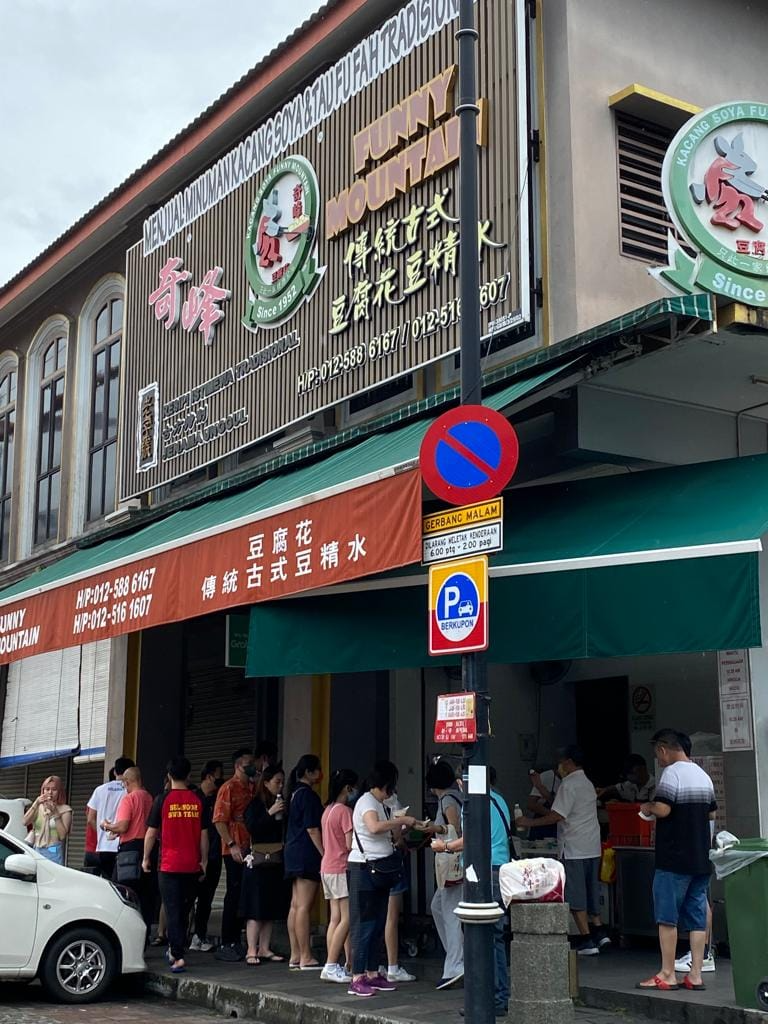 They don't have much variety to offer but it doesn't matter, as they're mostly visited for their soya bean curd alone. You can, however, choose the size of their iconic dish (bowl, small bottle and big bottle).
That being said, we recommend getting here early if you want to get your hands on their delicious soya bean curd. This is because the moment they run out of everything, they'll close their doors and trust us, customers will immediately line up when their stall opens.
Luckily we arrived early enough, more specifically around 11:00 AM. But even then, we saw how fast they were selling this dessert.
As for the ambience, there isn't much since it's just a stall but for us, this was its charm. It has no frills whatsoever and it's an authentic way to eat this iconic dessert.
Authentic experience
Delicious soy beancurd
Cheap price
Limited choices
Extremely limited seating
Customer Reviews
Great pit stop place
"Love it. The best time to stop there was between 2.30 pm-3 pm. After that, it's a long Q hour. So my family was lucky to find a seat at 2:50 pm. Soft and sweet the Fu Fa and the soya bean are sweet and foamy. The price is also reasonable. Definitely come back again next time."—szeweieng, Tripadvisor
Not to be missed
"The toh Fu fah is excellent, incomparable. We also bought to takeaway bottles of soya milk + cincau. We joined the q but the serving was fast and in 10 minutes, we had our orders."—GanL, Tripadvisor
5. Chakori

Test
Info
PRODUCTS

Gelato, Waffles

Sorbets, Cakes

WEBSITE
https://www.facebook.com/chakori2/
ADDRESS
35 Jalan Market, Ipoh 30000 Malaysia
CONTACT DETAILS
+60 16-902 5191
OPERATING HOURS
Fri-Sun: 10:00 AM to 1:00 AM

Mon-Wed: 10:00 AM 12:00 AM
| | |
| --- | --- |
| Criteria | Ratings |
| Dessert Menu | ★★★★★ (5/5) |
| Variety of Desserts | ★★★★★ (5/5) |
| Taste | ★★★★☆ (4/5) |
| Affordability | ★★★★☆ (4/5) |
| Customer service | ★★★★★ (5/5) |
| Ambience | ★★★★★ (5/5) |
| Cleanliness | ★★★★★ (5/5) |
| Interior Decor | ★★★★★ (5/5) |
Another hipster spot located in Ipoh is a place called Chakori. We entered their premises and immediately felt the warm vibes it was going for, with its white wall tiles, neon lights and big windows.
Afterwards, something caught our eyes and it was none other than their colourful offerings. This consisted of their different-flavoured cakes, gelatos, sorbets and more.
One of their dishes that we immediately noticed was their waffles with ice cream. On paper, this doesn't seem like an attention-grabbing dish but what we loved about it was the selection of ice cream flavours that we got to choose from.
The waffles themselves aren't shaped like your usual round or square ones as well. Instead, the ones we got came in this flower-like shape which was interesting, to say the least.
We also ordered coffee to pair with our waffles but ended up being disappointed. Although it wasn't that bad, it's nothing special compared to what we got with our waffles.
The more glaring problem that we encountered while dining here was that there was a cost for refilling water (RM 1). While it's cheap, you'd think that this type of amenity would be provided for free.
Aside from these two minor issues, however, we were pleased with our experience at Chakori. We enjoyed the dishes we ordered and the vibes were immaculate, which means that we may come back here from time to time.
Reasonable prices
Wide variety of desserts
Creative presentation
Hip ambience
Subpar coffee
RM 1 for a water refill
Customer Reviews
Great ice-cream
"Great ice-cream in a cool comfortable location. Staff are friendly and it's a great place to catch your breath after exploring Ipoh."—efay, Tripadvisor
Nice dessert
"Nice charcoal waffles and gelato ice cream, worthy for the price. Comfortable and instagrammable place. Nice place to relax and chill. You can also look at their dessert-making process through the big glass window from the outside. Had a good time here."—YAPJIAMUN, Tripadvisor
6. Yinn's Patisserie

Test
Info
PRODUCTS

Cakes, Pastries, Coffee

WEBSITE
https://www.facebook.com/yinnspatisserie/
ADDRESS
57, Jalan Barrack, 34000 Taiping, Perak, Malaysia
CONTACT DETAILS
+60 5-801 0906
OPERATING HOURS
Fri-Sat: 12:00 PM to 11:00 PM

Sun, Tues-Thurs:: 12:00 PM 10:30 PM
| | |
| --- | --- |
| Criteria | Ratings |
| Dessert Menu | ★★★★★ (5/5) |
| Variety of Desserts | ★★★★★ (5/5) |
| Taste | ★★★★★ (5/5) |
| Affordability | ★★★★☆ (4/5) |
| Customer service | ★★★★★ (5/5) |
| Ambience | ★★★★★ (5/5) |
| Cleanliness | ★★★★★ (5/5) |
| Interior Decor | ★★★★★ (5/5) |
If you're like us, a slice of cake beats other desserts out there. That's why when we heard that there's a spot in Taiping that offers tiny, colourful, and delicious mooncakes, we immediately rushed to it.
The place is called Yinn's Patisserie and it's this charming little spot that offers cakes, pastries, coffee and more.
From the get-go, we immediately loved its interior decor which was sort of a fusion of old and new with its brick walls and contemporary appliances. This made for a gorgeous treat for the eyes while we were dining there.
We came here for cakes so we ordered a bunch of different slices. One of the flavours that stood out for us was their D'Taro cake.
We're suckers for taro-flavoured beverages and we never thought we needed a cake version but it's a much-welcome dessert. What we specifically loved about this sweet treat was the thick icing that separated each layer of this spongy buttercream cake.
All in all, we had a great time here at Yinn's Patisserie while we admired its interesting decor. If we were to nitpick something bad, it would have to be their slightly slow service.
However, we think that it could've been because of the time of our visit as the place was packed when we got there.
Cool interior decor
Delicious selection of pastries
Reasonable prices
Customer Reviews
Good food with reasonable price
"I like their coffee and dessert, besides that they also offered a lunch set recently with cheaper price and the set includes one meal and one drink (lemon tea if I'm not mistaken). Have a try on their chocolate lava cake, superbly delicious!"—tancheeyin, Tripadvisor
Nice cafe in Taiping
"Very cosy place. Nice setting. The price is slightly on the higher side, but if you have the set lunch, worth it.
The food portion is quite big. If you love having creamy spaghetti, this is the place to go.
Have a variety of cakes, the burnt cheesecake is good."—JoyceLYP, Tripadvisor
FAQs about Desserts in Perak
---