Top 5 Karaoke Spots in Putrajaya
If you've always wanted to be the star of your own concert, now you can! Well, kind of. Putrajaya is home to tons of karaoke spots that will let you and your friends sing your hearts out to your favourite tunes.
However, as self-esteemed singers such as ourselves, we don't just want a place where we're given a mic and a screen. We want the whole package!
That's why we've scoured this area along with its neighbouring vicinities to find the best places where you can jam while enjoying a set of quality amenities. We've ended up with 5 and we're going to tackle all of them here.
How We Picked Best Karaoke Spots in Putrajaya
To find the best karaoke spots Putrajaya has to offer, we've graded each of our picks based on the following criteria:
1. Superstar Karaoke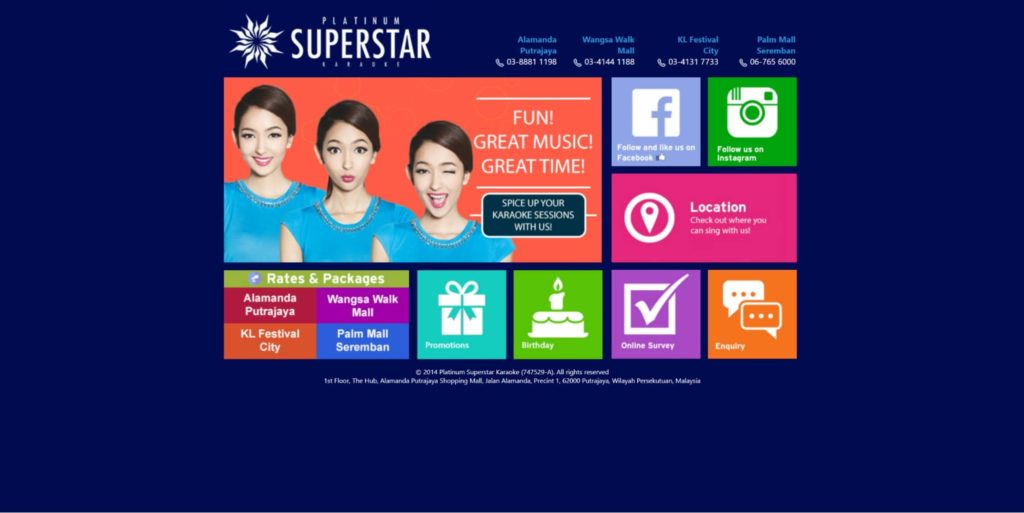 Test
Info
HIGHLIGHTS

Expansive songbooks, A La Carte Menu

Classy interior, Promotions

3 types of karaoke rooms

WEBSITE
https://www.superstar.com.my
ADDRESS
Alamanda Shopping Centre, No. CB-1-03/04/05, Jalan AlamandaPrecint 1, Wilayah Persekutuan, 62000 Putrajaya, Malaysia
CONTACT DETAILS
03-8881 1198
OPERATING HOURS

Sun-Thurs: 12:00 PM to 1:00 AM

Fri-Sat: 12:00 PM to 2:00 AM
| | |
| --- | --- |
| Criteria | Ratings |
| Affordability | ★★★★★ (5/5) |
| Establishment | ★★★★☆ (4/5) |
| Amenities | ★★★★☆ (4/5) |
| Room Quality | ★★★★☆ (4/5) |
| Cleanliness | ★★★★★ (5/5) |
| Accessibility | ★★★★★ (5/5) |
| Operating Hours | ★★★★☆ (4/5) |
| Location | ★★★★★ (5/5) |
| Customer Service | ★★★★☆ (4/5) |
Located in the Alamanda Shopping Centre in Putrajaya is a well-known family entertainment spot called Superstar Karaoke. We decided to give it a try and it's a good thing we did as we had a blast singing our favourite songs in one of their karaoke rooms.
We picked their superior room which was perfect for our group of 10. It wasn't too expensive and it was a package that included drinks and different meals.
Overall, we loved the room as it was clean and simple thanks to its bright lights, pretty paintings and minimalist wallpaper.
It was also comfortable as well thanks to its soft leather seats which made for a great spot to take a break after we finished dancing.
This particular room was supposed to be the biggest but we found it a bit small to accommodate our group compared to other establishments. Since it has a relatively limited space, our dancing was restricted as well which was kind of a bummer.
We do commend the establishment's staff as they were always eager to help us with whatever we needed. They're also fast when it comes to bringing our orders from their a la carte menu.
If we were to nitpick its other flaws, however, it would have to be their soundproofing as the room wasn't entirely noise-proof. However, it's not to the point where it's disturbing but we can see how this can bother other customers.
Another thing we noticed was that their room types aren't as many as other establishments but it did offer ample choices for us.
Affordable packages
Wide variety of songs
Delicious drinks and dishes
Limited room types
Rooms aren't completely soundproof
Superior room isn't that spacious for dancing
Customer Reviews
Good for the family
"Good and clean for the family with kids. The choices of songs were also not bad. They got packages with food and snack which is not bad too! We took the 3 hrs package and we got 6 snacks with it. If u are still hungry other than snacks they got main meals like nasi goreng and pasta as well." —puteri Latiff, Google Reviews
Decent audio system and updated songs
"Nice cozy place to hang out with friends and family. The audio system is decent and the karaoke song list is quite up to date" —Izham Ajmaan, Google Reviews
2. Red Box Karaoke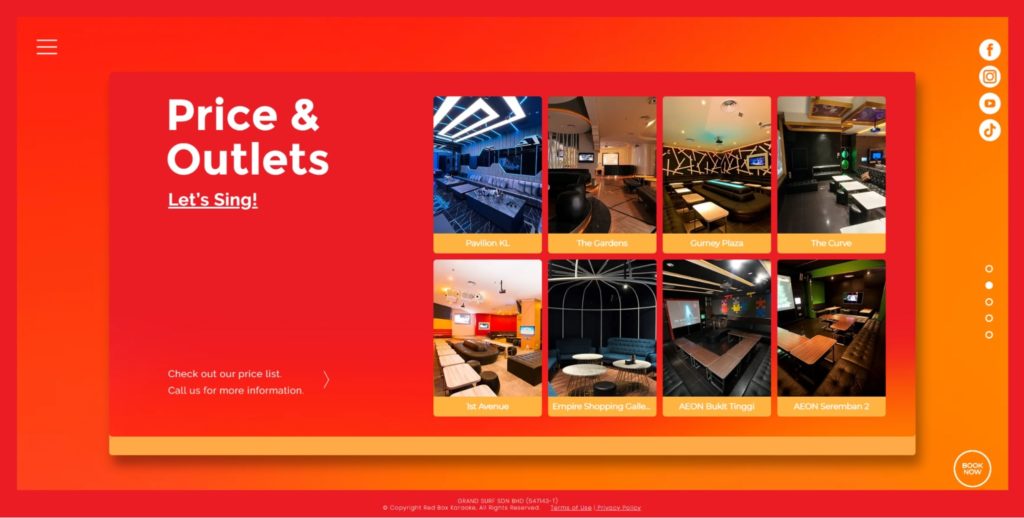 Test
Info
HIGHLIGHTS

Beer, Wine

Moderate excess noise

Classy ambience, Spacious Rooms

WEBSITE
https://www.redbox.com.my
ADDRESS
Lingkaran Syed Putra Mid Valley City 58000 Kuala Lumpur
CONTACT DETAILS
03-2287 2211
OPERATING HOURS
Opens every day from 11:00 AM to 2:00 AM
| | |
| --- | --- |
| Criteria | Ratings |
| Affordability | ★★★☆☆ (3/5) |
| Establishment | ★★★★★ (5/5) |
| Amenities | ★★★★★ (5/5) |
| Room Quality | ★★★★★ (5/5) |
| Cleanliness | ★★★★★ (5/5) |
| Accessibility | ★★★★★ (5/5) |
| Operating Hours | ★★★★★ (5/5) |
| Location | ★★★★★ (5/5) |
| Customer Service | ★★★★☆ (4/5) |
Right off the bat, this Red Box's location is an A+ in our books as it's extremely accessible. It being inside a shopping centre like The Gardens Mall means that you can do other activities right before or after your karaoke session.
We opted for their VIP-Type 1 room since our group consisted of 12 people. The room was decorated well with a classy interior design and was comfortable thanks to its plush seats and air conditioning.
The quality of the karaoke machine was subpar and we ended up asking for new microphones since ours were defective. Good thing they had a plethora of songbooks ranging from local Malaysian songs to famous international tunes that we jammed out to.
We chose the three-hour rate (RM 190) since it was a better deal than the hourly rate (RM 70), and we knew that we would take more than an hour.
Overall, we enjoyed our time in Red Box but we didn't like how pricey it was. For our room, we were required to spend a minimum of RM 500 on their amenities.
Fortunately, they had an expansive menu consisting of meals, bar chows and drinks to make our stay worthwhile. Plus, our orders were delivered quickly so kudos to their customer service as well.
Comfortable and spacious rooms
Expansive menu
Great sounding system and microphones
Huge song catalogue
Numerous promotions
Pricey, especially after 6 PM and during the weekend
Subpar karaoke machine and some microphones are defective
Customer Reviews
Perfect karaoke
"Perfect karaoke!!!! With nice sound equipment and a cool room. From Chinese music to Malay music, you can find all you want to sing!!! Before 6 pm there is only RM15 per hour. BTW, For students, there is a 10% discount.
I want to express my greatest gratitude to the staff. I found my bank card lost and went back to the karaoke asking for their help. All the staff did the favour for me immediately. Luckily I found my card actually at the bottom of my bag… anyway thanks for your kind & selfless help. Wish you all the best. Terima kasih banyak!" —HUANG YUXIAO (Seroja), Google Reviews
No more buffet
"Nowadays they charge per room instead of per pax. Still worth it. No more buffet lunch/dinner. Maybe due to SOP and COVID. Hope they will bring it back next time." —CharChar J, Google Reviews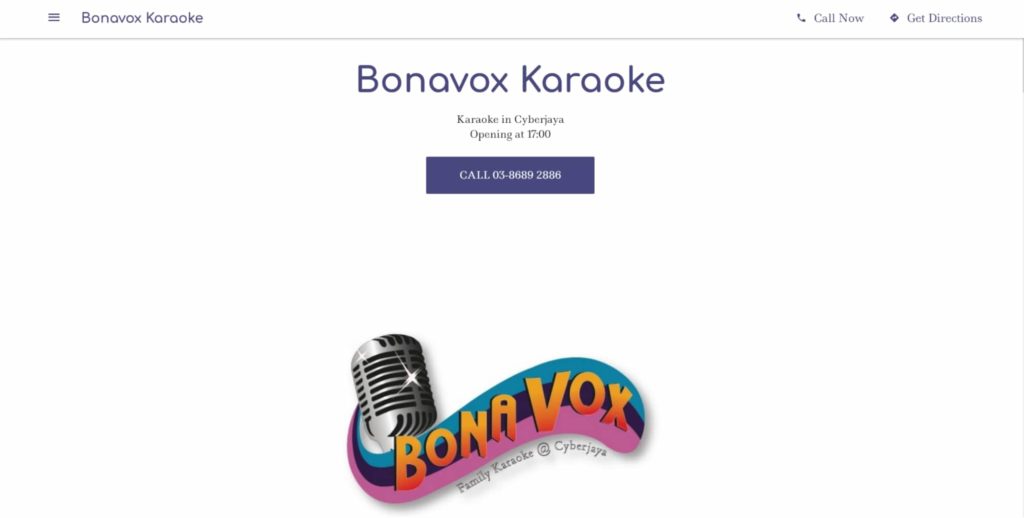 Test
Info
HIGHLIGHTS

Free-flowing Drinks

Spacious and Comfy Rooms

Snacks

WEBSITE
https://bonavox-karaoke.business.site
ADDRESS
P3-01, Shaftsbury Square, Persiaran Multimedia, Cyber 6, 63000 Cyberjaya, Selangor, Malaysia
CONTACT DETAILS
+60 3-8689 2886
OPERATING HOURS
Tues-Sun: 5:00 PM - 1:30 AM

Mon: 5:00 PM - 12:00 AM
| | |
| --- | --- |
| Criteria | Ratings |
| Affordability | ★★★★★ (5/5) |
| Establishment | ★★★★☆ (4/5) |
| Amenities | ★★★★☆ (4/5) |
| Room Quality | ★★★★★ (5/5) |
| Cleanliness | ★★★★☆ (4/5) |
| Accessibility | ★★★★★ (5/5) |
| Operating Hours | ★★★★★ (5/5) |
| Location | ★★★★★ (5/5) |
| Customer Service | ★★★★☆ (4/5) |
Located in the heart of Cyberjaya is a nice spot called Bonavox Karaoke where we sang and danced the night out. We immediately loved how easy it was to get to this place which gave us a good first impression.
They offer reasonable prices for their rooms and the great thing about them is they come in packages. The specific one we got came with free-flow drinks which we loved considering how expansive their selection of beverages was.
We also treated ourselves to their snacks and hot meals which were affordable as well. The room also had a call button which made ordering extremely easy.
The customer service is commendable as well as we got our order in just a couple of minutes and their staff were always ready to assist us.
As for the room itself, it was spacious enough for our group with some extra to spare which we used as our personal dance floor.
We loved how big the room was as it allowed us to dance without having to worry about hitting each other or knocking something over. It wasn't like other establishments' "big rooms" which aren't exactly true to what they're called.
However, we were quite disappointed with the sound system as it wasn't that impressive. The bass wasn't that good and the echos can sometimes be overpowering.
Furthermore, some of their microphones were defective when we got inside. Fortunately, their staff graciously replaced them for us.
Spacious and comfy rooms
Reasonable prices
Free-flow drinks
Customer Reviews
Free flow drinks
"It's come with free flow drink no matter which rate you take. It also has the package with food but they do have a time frame for the package. Ordered some snacks. They do have a calling button in each room so that we don't need to go out and find the staff. Price reasonable. Sound system not bad too." —Jimmy Foong, Google Reviews
5 stars
"Definitely worth 5 stars!! Not a big fan of karaoke but the food there was just too good to be true. I have to say they tasted better than proper restaurants. We had nasi lemak where the fried chicken was superb & the sambal just perfect. The grilled chicken rice also was excellent & so too were the chicken rolls & chicken pops. Overall, the facility was in good condition & clean. Loved it!! Highly recommended for family & friends outings." —Zammy Azman, Google Reviews
4. Myway Family Karaoke – Kajang

Test
Info
HIGHLIGHTS

Spacious and Comfy Rooms

Good Sound System

Connecting Comfort Room

WEBSITE
https://www.facebook.com/MyPopFamilyKaraoke
ADDRESS
No 2-1, 2-2 & 2-3, Jalan Reko Sentral 8, Reko Sentral, 43000 Kajang, Selangor, Malaysia
CONTACT DETAILS
+60 3-8740 2929
OPERATING HOURS
Opens every day from 12:00 PM to 1:00 AM
| | |
| --- | --- |
| Criteria | Ratings |
| Affordability | ★★★★★ (5/5) |
| Establishment | ★★★★☆ (4/5) |
| Amenities | ★★★★☆ (4/5) |
| Room Quality | ★★★★☆ (4/5) |
| Cleanliness | ★★★★☆ (4/5) |
| Accessibility | ★★★★☆ (4/5) |
| Operating Hours | ★★★★☆ (4/5) |
| Location | ★★★★☆ (4/5) |
| Customer Service | ★★★★☆ (4/5) |
Next on our list is one of the most affordable karaoke spots in Putrajaya: Myway Family Karaoke.
Aside from it being a budget-friendly establishment, we think Myway Family Karaoke stands out among other karaoke spots in Putrajaya due to its spacious and cosy rooms. These rooms are perfect for families and big groups!
Although, since Myway Family Karaoke is much more cheap compared to the other karaoke spots, its rooms aren't as decorated and classy.
However, we still enjoyed our experience as the space of our room was more than enough to house our big group. We were able to let loose and have fun!
Also, what they lacked in the aesthetic department is made up for by their excellent customer service. During our time here, we felt that we were well taken care of as all our needs and requests have been met.
We also appreciate that they also offer a selection of drinks and bar chows. These come with renting one of their rooms, but we must mention that these aren't that extravagant.

After all, since we knew what to expect given the affordable prices, we weren't that disappointed with the humble finger food and drinks.
But, one area that we were disappointed with was their catalogue. Some English classics, as well as some new songs, were seemingly absent from their songbooks.

Overall, if you just want to have some karaoke fun with a big group, Myway Family Karaoke is a comfortable option.
Affordable packages
Spacious rooms that are great for dancing
Great customer service
Songbook needs updating
Rooms aren't as premium as other establishments
Customer Reviews
Recommended
"Good place to experience karaoke with your family. Clean, well maintained and good services provided from the staff. Lot of songs to choose from. Recommended." —Idil Ikram, Google Reviews
Reasonably priced
"Very spacious room. There was a clean connecting toilet as well in our room. Reasonably priced. Good sound system. But the tablet for choosing the songs could use some upgrade."—Megat Jiwari, Google Reviews
5. DIVA KARAOKE

Test
Info
HIGHLIGHTS

Wide Catalogue of International Songs

Posh Interior Designs

Reasonably-priced Packages

WEBSITE
https://www.facebook.com/divasuria/
ADDRESS
L3A-020 & 021,TKT 3A,100,JLN 4/91,1 SHAMELIN MALL,TMN SHAMELIN PERKASA, K.L, 56100 Cheras, Federal Territory of Kuala Lumpur, Malaysia
CONTACT DETAILS
+60 3-9282 7299
OPERATING HOURS
Opens every day from 12:00 PM to 3:00 AM
| | |
| --- | --- |
| Criteria | Ratings |
| Affordability | ★★★★☆ (4/5) |
| Establishment | ★★★★☆ (4/5) |
| Amenities | ★★★★★ (5/5) |
| Room Quality | ★★★★☆ (4/5) |
| Cleanliness | ★★★☆☆ (3/5) |
| Accessibility | ★★★★☆ (4/5) |
| Operating Hours | ★★★★★ (5/5) |
| Location | ★★★★★ (5/5) |
| Customer Service | ★★★★☆ (4/5) |
A great karaoke spot that offers reasonably-priced packages that we found during our search was DIVA KARAOKE.
This spot wasn't hard to find as it was located inside a shopping centre in the area called 1 Shamelin Mall. The mall isn't as famous as the others in the area, however, so we found that parking was really easy.
From the get-go, one of the commendable things we noticed was how great the interior designs for their rooms were. The specific one we got had this posh vibe going on with its nice lighting and plush leather seats.
The look and the vibe of the room were great but we think that it wasn't entirely soundproof. Although we encountered some slight noise, we didn't hate the room as it was still spacious and comfortable, especially considering its affordability.
What we didn't like, however, was that they only provided us with 2 microphones even though our room accommodates 6 people. They do provide additional microphones but only for those that rented their VIP room.
Another thing we didn't like was that the premises reeked of cigarette smoke. This can be a dealbreaker for some customers, especially non-smokers.
Overall, we still enjoyed our time inside DIVA KARAOKE for their great-sounding karaoke machine and spacious rooms. We also got to order drinks and snacks which, just like their rooms, were affordable.
Affordable rooms, snacks and drinks
Spacious, comfortable and nicely-decorated rooms
Great-sounding karaoke system
Limited number of microphones per room
Rooms aren't that soundproof
Smell of cigarette smoke throughout the premises
Customer Reviews
Affordable karaoke
"One of the cheapest Karaoke in KL City with ambience and unique interior. Nice places for any event. The sound system is good & loud, unfortunately, the soundproofing wall doesn't look so much functioning. Not so many people come to this mall, so you may have easy parking to reach here. They serve shisha and food as well. If you anti-smoker don't come to this karaoke, the smell of cigarette is everywhere." —Senior Izz, Google Reviews
Great place
"Best Place & Nice Sound System, Price Affordable Complete With Drinks & Tip Bit. Enjoy your day with family & Friends. Should try." —Raja Aidinal Raja Abd Aziz, Google Reviews
FAQs about Karaoke in Putrajaya
That concludes our list of the best karaoke spots here at Putrajaya. Karaoke is one of the most fun things you can do in Malaysia so don't miss the opportunity to try it when you visit the country!
---