The 6 Best Credit Cards in Malaysia
Photo credit: Shutterstock
The convenience and security of having a cashless payment method that comes with rewards is just one of the many things you can get from having your own credit card. If you're interested in that, you're in luck — today, we're listing the best credit cards in Malaysia available for you to choose from!
With having a credit card, you get to earn rewards and other perks in different forms like points, miles, and cashbacks. You want a card with a fair number of these, as well as good rates.
Anyway, we'll spare you the trouble of searching for them by giving you the top ones below. Before we do that, though, we'll show you how to pick one from among these best credit cards in Malaysia.
Things to Consider When Choosing a Credit Card
Before diving right into picking the best credit card, you first need to make a list of things you want to prioritise. A credit card entails a big responsibility.
First, you need to determine the factors that will come into play, like how much you can and are willing to spend, what rewards programs will really benefit you, and whether paying off a monthly or annual fee is better for you in the long run.
Let's go over those things right now, starting with — what else? — the interest rate.
1.   Interest Rate
A lot of companies will trick you into choosing them for their 0% introductory interest rate, also known as annual percentage rate or APR.
It does sound like a good deal at first, as long as you pay your balance on time. If you don't, expect the interest rate to go up — usually about 15-20% higher.
When choosing the best credit card for you, make sure to check if the APR is a fixed rate (the interest doesn't change throughout the year) or a variable rate (the interest changes accordingly).
2.   Credit Limit
One of the most important rules about owning a credit card is this — don't go over your credit limit, or the amount you're only allowed to spend for the month.
Maxing out your credit limit not only affects your credit score, but you will also end up having to pay a corresponding penalty.
To choose the best credit card, pick one that's flexible and good enough to sustain you and that won't tempt you to go overboard.
3.   Annual Fee
Some companies will ask you to pay a certain amount every year on top of your bill as well as the interest fee.
In exchange for the annual fee, companies offer cashbacks or rewards. However, other companies provide rewards without charging an annual fee.
So when you try to choose the best credit card in Malaysia, look at your options and weigh in the benefits you're getting from each company, including the presence of an annual fee.
4.   Rewards
These are the perks that come from paying your full balance at the end of each month. Companies call them rewards, and they can be earned and turned into points.
The points you earn can be turned into credit for either travel, shopping, cashback, and more. Gas stations and online stores are also included, so you really have a lot of options.
But before picking the best credit card, choose one that's applicable to the stores you usually spend time at, so you can actually benefit from the rewards programs offered to you.
5.   Penalties
With bonuses come the penalties. These are the corresponding fees for things like overdue payments and exceeding your credit card limit.
Other penalties include ones for transactions, balance transfers, cash advances, and even asking to increase your credit limit.
When choosing the best credit card, consider companies offering no additional fee for making transactions, at the very least.
The 5 Best Credit Cards in Malaysia
Now that you know the important points of choosing a credit card, it's time to pick the one that's perfect for you. It's time to find out about the best credit cards in Malaysia.
1.   Maybank 2 Gold Cards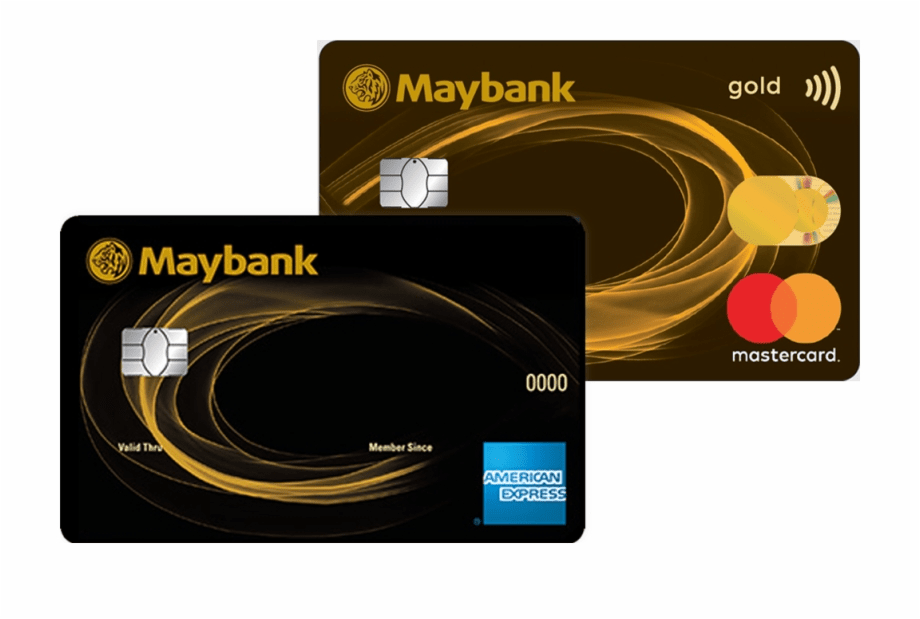 Price: RM2,500 minimum monthly income
Apply Now On Maybank
The Maybank 2 Gold Cards allow you to own 2 credit cards: Maybank 2 American Express and Maybank 2 Visa/Mastercard, while signing up for just one.
You also have the power to create one joint account where you can access both credit cards together.
The Maybank 2 Gold Cards duo is one of the best credit cards in Malaysia because not only is the annual fee waived off, but you also get to rack up the benefits of 2 credit cards in one. What's more, the cashbacks on weekends are pretty nice.
Highlights
5x TreatsPoints for spending on weekdays with Maybank 2 American Express
1x TreatsPoint for spending on Maybank 2 Mastercard/Visa
5% cashback on weekends with Maybank 2 American Express
Customer Reviews
The Maybank 2 Gold Cards duo is recommended by customers for having great benefits and for being a powerful credit card.
A satisfied customer wrote a review:
"I've got rid of my other credit cards and only keep these 2 cards. I like the Maybank Amex card where you can get 5x rewards points when utilize during the weekends. The gifts redemption required points is one of the most reasonable as compared to other brands of credit cards."
2.   Citi PremierMiles Mastercard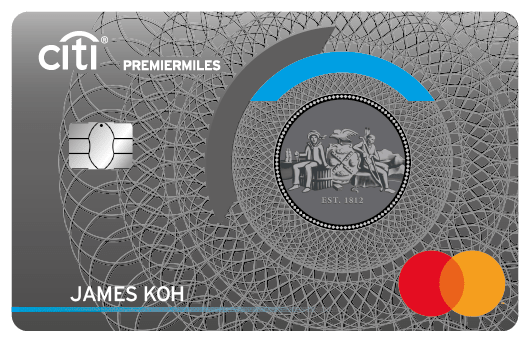 Price: RM8,333 minimum monthly income
Apply Now On Citibank
Citi PremierMiles Mastercard is one of the best credit cards in Malaysia because you can make the most of your travels with this credit card.
Not only do they have the most airline partners, giving you unlimited destinations to choose from, but they also allow you to convert your miles to pay for your other spending.
With Citi PremiereMiles Mastercard, you can also use your PremierMiles to gain access to complimentary stays in over 8,000 hotels around the globe.
Highlights
Earn 1 PremierMile for every RM3 spent locally and 2 PremierMiles for every RM3 equivalent spent in foreign currencies and selected online travel merchants
8x complimentary access to 39 Plaza Premium Lounge across 19 airports in 9 countries
Receive a complimentary ride home from KLIA1 when you spend on your PremierMiles card overseas
Customer Reviews
Citi PremiereMiles Mastercard is recommended by customers because they say it's one of the credit cards that frequent travellers need. One customer wrote a review:
"I have been using this card since a year now. Pros: Good redemption rate (0.45) on all my travel bookings, Citi has a tie up with Makemytrip & gets you extra cashbacks & points. Cons: High joining fees"
3.   Standard Chartered JustOne Platinum Mastercard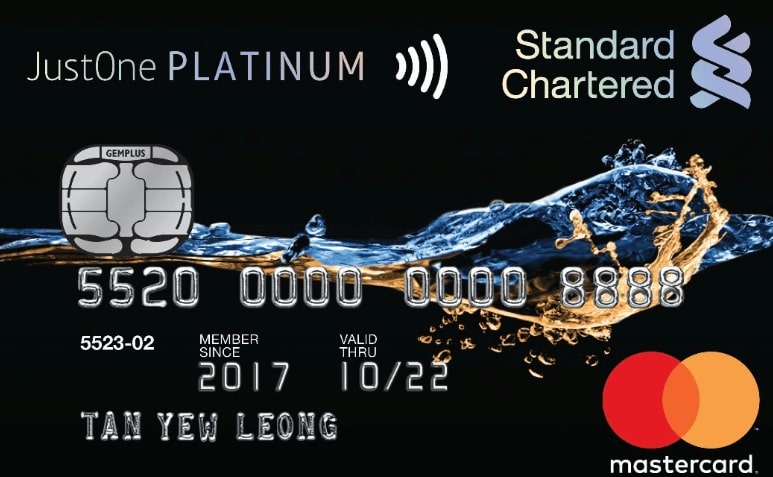 Price: RM3,000 minimum monthly income
Apply Now On Standard Chartered
The Standard Chartered JustOne Platinum Mastercard allows you to earn up to 15% on cashback monthly on gas, online spending, and auto bill payments.
You will also be granted cinema privileges, giving you access to any movies shown at the Golden Screen Cinemas through their website or mobile app.
As one of the best credit cards in Malaysia, Standard Chartered JustOne Platinum Mastercard also offers features like a 1-year waiver fee and e-commerce purchase protection.
Highlights
Automatic balance conversion
Mobile wallet
Emergency overseas card replacement
Customer Reviews
Standard Chartered JustOne Platinum Mastercard is recommended by their clients for their exclusive offers and discounts globally.
A customer wrote a review:
"for the breadwinners – and by extension the person who pays for the bills every month – this is a credit card that yields one of the highest cashback amounts in the market. The caveat is simple: your monthly expenditure on petrol, insurance premiums, and utilities must hit RM2,500 to hit that highest tier and make this card worth having."
4.   Maybank FCB Visa Signature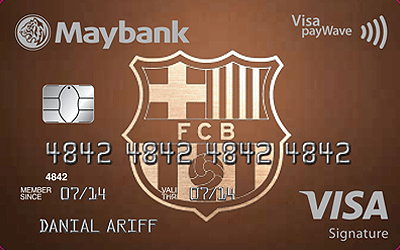 Price: RM4,000 minimum monthly income
Apply Now On Maybank
The Maybank FCB Visa Signature is the perfect credit card for fans of the FC Barcelona football team. With this, you get discounts for both FCBotiga's official store and their online shop.
Not only that, you also get to enjoy the perks of a Visa Airport Speed Pass, which you can use in over 280 eligible international airports, as well as a Signature Concierge Service.
Add this to the fact that you also get travel insurance with it that can cover up to RM500,000! The Maybank FCB Visa Signature is one of the best credit cards in Malaysia for travellers, as such.
Highlights
2% cashback for all purchases all year long (except May and August)
10% cashback for all purchases made during the beginning and end of football season
E-statement auto enrollment
Customer Reviews
The Maybank FCB Visa Signature is recommended regardless if you're a football fan or not because of their discounts and generous cashback opportunities. One customer wrote a review:
"If you're a high spender, typical cashback cards may be holding you back with monthly limits or earning caps. Maybank FC Barcelona Visa Signature Card not only offers unlimited earning potential, it also offers a higher local cashback rate than any of its competitors. If you have a substantial budget and spend most of it locally, Maybank FC Barcelona Card is likely the best option for you."
5.   Public Bank Quantum Card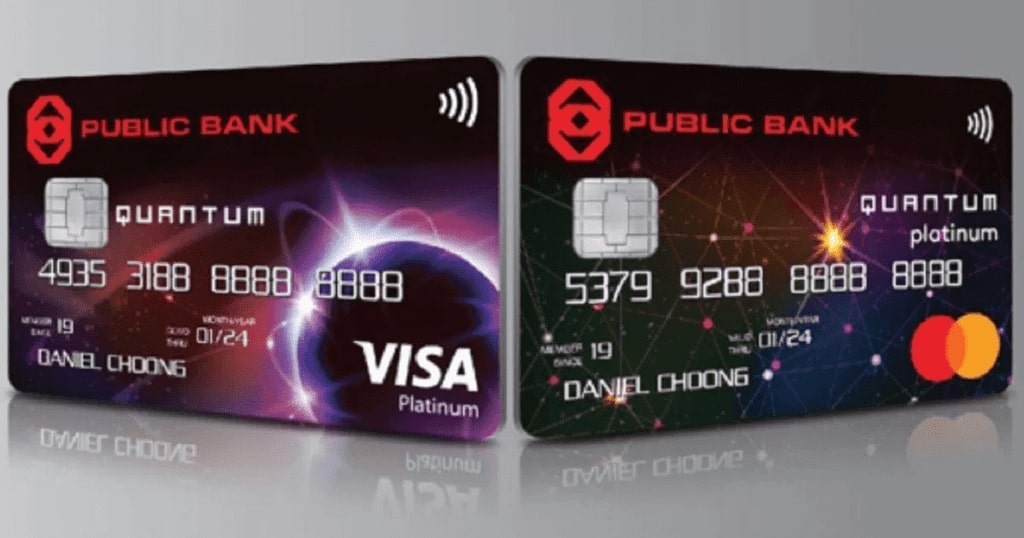 Price: RM3,000 minimum monthly income
Apply Now On Public Bank
The Public Bank Quantum Card is considered one of the best credit cards in Malaysia because they offer combo credit cards, a Visa and a MasterCard.
With the power of 2 credit cards, you can benefit greatly from their 5% cashback on online spending and dining, which is what most people use their credit cards on.
The Public Bank Quantum Card can also be used to pay your bills online, which is another useful benefit to avoid the hassle and effort of lining up for bill payments.
Highlights
Exclusive flexi-payment plan
Contactless payment
Platinum help desk
Customer Reviews
The Public Bank Quantum Card is recommended for having good benefits like zero annual fees, zero minimum spend requirement for cashback, and easy earning of cashbacks.
One customer wrote a review:
"Public Bank isn't popular for its credit cards, and even less so among youths. But with the Quantum Visa and Mastercard, Public Bank specifically designed its benefits to cater to the "Gen Y" of Malaysia, which it believes will be the main economy driver for the country."
6.  Loanstreet

Price: Contact for more information
Apply Now On Loanstreet

Loanstreet has been in business since the year 2012. They strive to provide their clients with the best service that can help them make better financial decisions.
What people like about them is that they do not only offer credit cards but also loans and insurances.
Another factor why people prefer Loanstreet is because their platform lets their clients compare and apply financial products like credit cards and loans easily without needing to go to the bank.
Some of the credit cards they offer are Citi Cash Back Card, HSBC Amanah MPower Platinum Credit Card-i, Citi Clear Card, AmBank Visa Infinite, and so much more! In case the card you want is not on their list, you may contact them and they will happily assist you.
Highlights
Offers a lot of credit cards
Resourceful tips and guides from their own library of financial articles
Some of their credit cards have a free annual fee
So whether you're using a credit card mainly for traveling, online shopping, or for simply reaping the rewards that come with having a good card, there's always a credit card built exactly for your needs. You just have to figure out what you really want and decide from there.
Were you able to pick a credit card? Leave your comments down below and let us know how it went. We'd love to hear from you!
By the way, having a credit limit is tough since you can only spend so much. If you've got a bigger goal like buying a house or starting a new business, why don't you check out our list of the banks for the best personal loans in Malaysia? Maybe that can help you more than a credit card.