7 Best Construction Companies in Malaysia
Source: Tolu Olubode via Unsplash
There are many construction companies in Malaysia, but not all of them can do an excellent job while offering a full range of services. However, the best construction companies in Malaysia can help you build your ideal infrastructure without hassle.
Whatever kind of building you're looking to build, one of these construction providers below will surely be able to help you.
1. FRANKY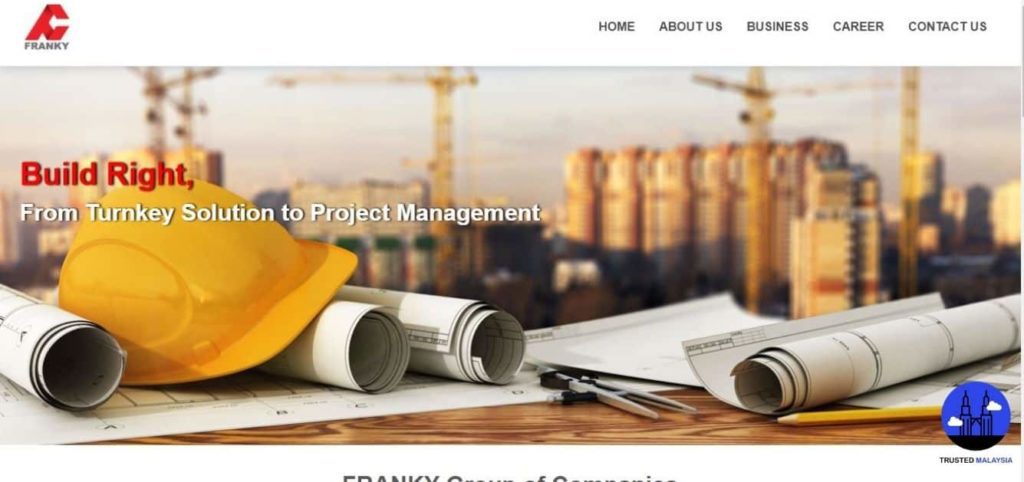 FRANKY is a diverse company that handles projects in mining, quarrying, hospitality, property development, and construction.
While they take part in different businesses, they offer comprehensive construction services from planning to design and building. They even provide turnkey solutions for a faster turnover and immediate use of the building.
Since 1978, this one of our picks for the best construction company in Malaysia has gained an excellent reputation i internationally. They do this through augmented engineering solutions and close client relationships.
With FRANKY, you can have upgraded designs at a cost-effective price with guaranteed timely completion of your building project.
Highlights
Comprehensive construction services
Projects in Malaysia and internationally
Optimised engineering solutions
Close client relationships
Upgraded designs at a cost-effective price
Timely completion
2. AME Construction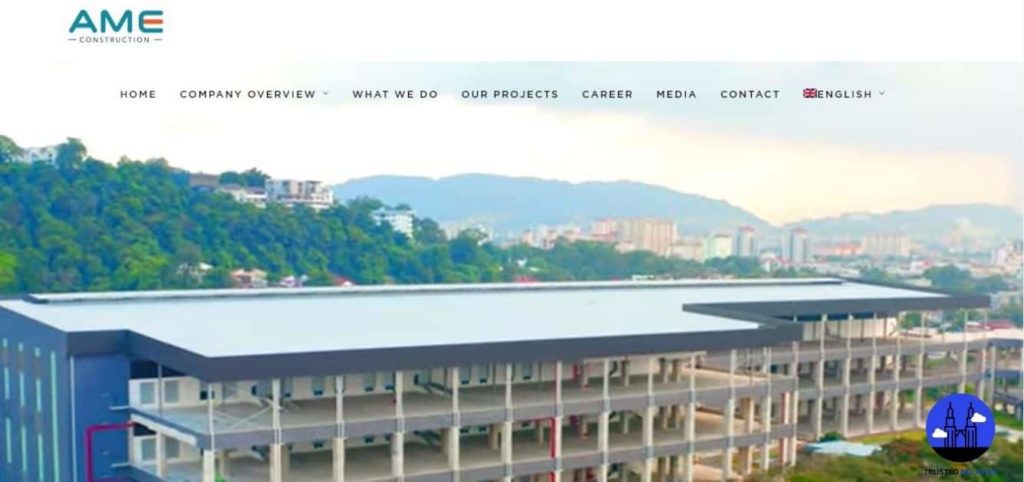 | | |
| --- | --- |
| BEST FOR: | Factories and warehouses |
| PRODUCTS: | https://ameconstruction.com.my/what-we-do-2/ |
| WEBSITE: | https://ameconstruction.com.my/ |
| ADDRESS: | Johor: No. 5, Jalan I-Park SAC 2, Taman Perindustrian I-Park SAC, 81400, 81400 Senai, Johor, Malaysia Selangor: Wisma Academy, Suite 6-03, 4A, Jalan 19/1, 46300 Petaling Jaya, Selangor, Malaysia |
| CONTACT DETAILS: | Find their contact details at https://ameconstruction.com.my/contact-us/ |
One of the best construction companies in Malaysia, AME Construction, specialises in large-scale construction projects. Specifically, they build factories and warehouse buildings.
They provide one-stop construction solutions from consultancy to construction. Your project can go on smoothly with this provider doing the planning, construction management, and design.
What's more, they also offer post-construction management for optimum client satisfaction. They put an emphasis on understanding their clients' objectives to best supply their needs.
Highlights
Large-scale construction projects
Factories and warehouse buildings
One-stop construction solutions
Post-construction management
3. KYP Builders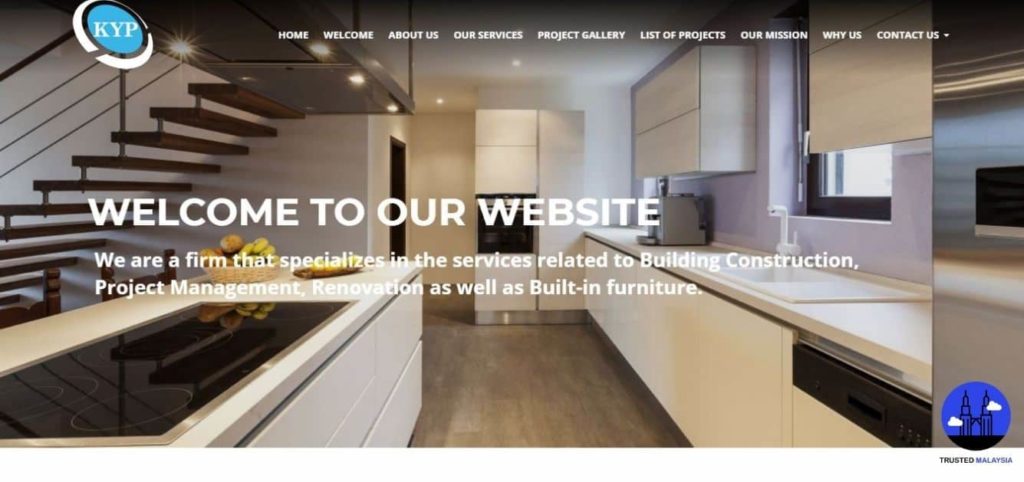 With more than 10 years of experience, KYP Builders is one of the most recognized renovation firms in Malaysia. They also offer construction services, handling both big and small projects.
They take on construction of houses, shoplots, factories and more. Plus, they can adapt their offerings based on the client's requirement.
KYP Builders' priority is customer satisfaction so they make sure to implement effective project management. This also guarantees that they finish projects within the specified timeline.
With this best construction company in Malaysia, you can also expect high-quality, long-lasting infrastructure.
Highlights
Big and small projects
Houses, shoplots, factories, and more
Effective project management
Project finished according to the timeline
High-quality, long-lasting infrastructure
4. SGS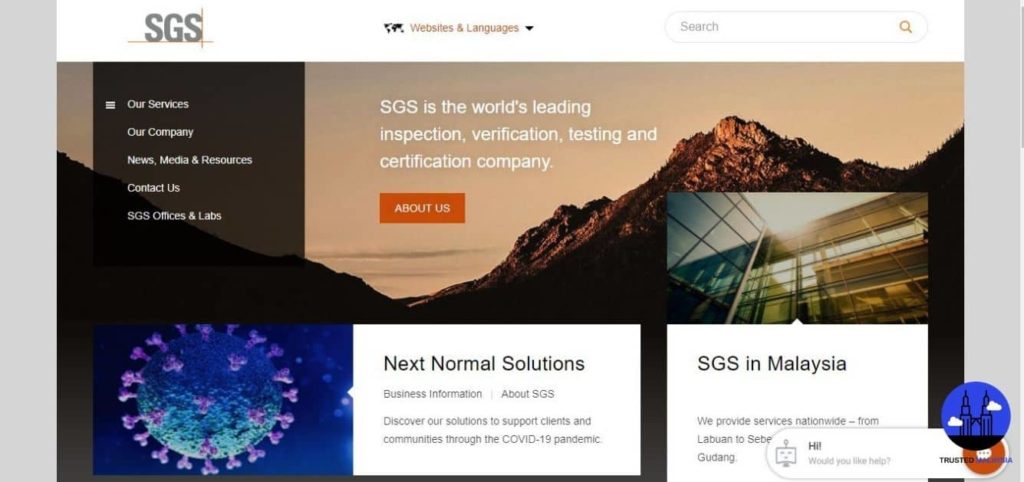 | | |
| --- | --- |
| BEST FOR: | Full project life cycle support. |
| PRODUCTS: | https://www.sgs.my/en/construction |
| WEBSITE: | https://www.sgs.my |
| ADDRESS: | Unit 10-1, 10th Floor Bangunan Malaysian RE No 17 Lorong Dungun Damansara Heights Kuala Lumpur, 50490 Malaysia |
| CONTACT DETAILS: | +60(3) 2783 8588 |
SGS is a global network that offers inspection, verification, testing and certification services. They also take on construction projects in many countries.
In Malaysia, SGS offers a full range of construction services. Specifically, they provide planning, risk assessment, design, and construction services.
Not only that, they also take care of the supply chain, finding reliable suppliers for the best materials for your infrastructure.
What makes SGS one of the best construction companies in Malaysia, however, is their full-project-life-cycle support. They take care of everything down to waste management and inspection once your building is complete.
With all these services, it is undeniably cost-efficient and hassle-free to let them handle your building project.
Highlights
Full range of services
Supply chain management
Full project life cycle support
Waste management and inspection services
Cost-efficient and hassle-free
5. Sunway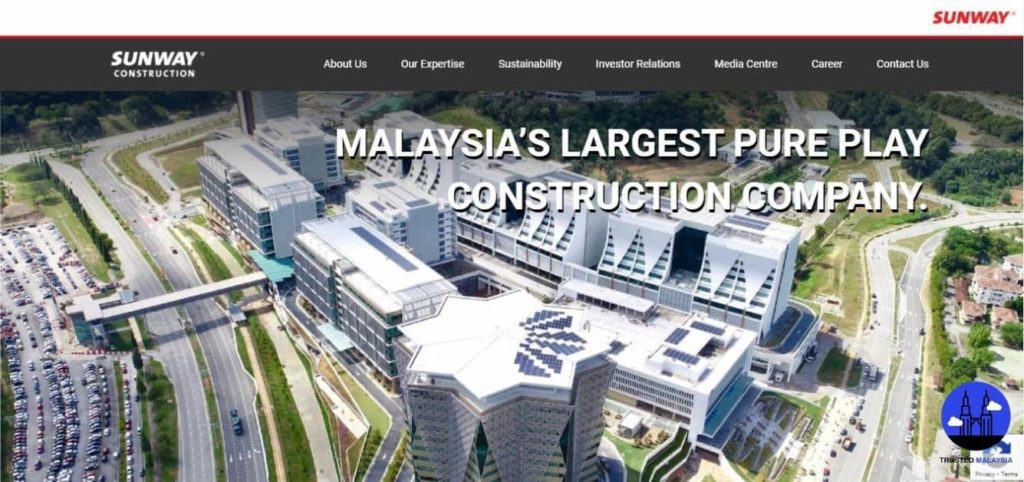 Sunway provides end-to-end construction solutions in Malaysia. They cover building, infrastructure, foundation and geotechnical engineering to mechanical, electrical and plumbing services and more.
However, what really makes them one of the best construction companies in Malaysia is their dedication to provide innovative solutions to their clients.
They focus on minimising construction waste as well as creating sustainable designs that are sure to last lifetimes.
Moreover, they always ensure their clients' satisfaction by reducing risks, maintaining a stable supply chain, and finishing projects on time.
Attesting to this best construction company in Malaysia's excellence, their notable projects include Legoland Malaysia and the Kuala Lumpur Convention Centre (KLCC).
Highlights
End-to-end construction services
Innovative solutions
Sustainable construction and designs
Ensures client satisfaction by reducing risks, maintaining a stable supply chain, and finishing projects on time
6. Jetson Construction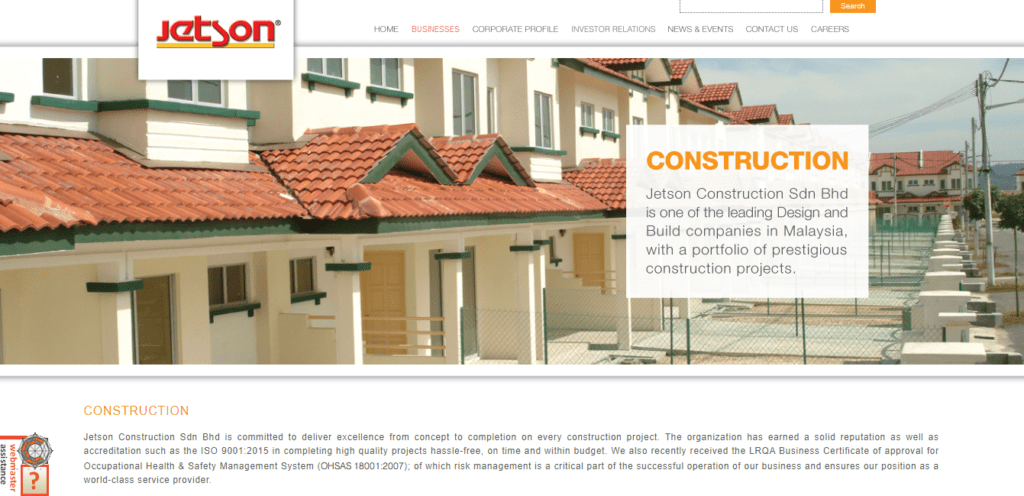 BEST FOR:
Corporate Construction Projects
PRODUCTS:
Construction
Property Development
Anti-Vibration Products
Chemical and Industrial Products
WEBSITE:
https://www.jetson.com.my/construction.php
ADDRESS:
11th Floor, Menara Tokio Marine Life No. 189, Jalan Tun Razak 50400 Kuala Lumpur, Malaysia
CONTACT DETAILS:
Tel: +603-2162 2282
Fax: +603-2162 1282
Email: [email protected]
Jetsons Construction is a provider of exceptional construction service ever since 1977 in which they have a comprehensive network of connections with architects and engineers to get the job done. They have since then earned a solid reputation and ISO accreditation which comes to show off their quality services.
Their website is simple and features some projects they have done in the past which are geared more toward building corporate and commercial spaces. The services that they offer are more for commercial clients and not residential in nature as seen on their portfolio readily presented on their website.
They also offer products to complement their buildings such as Anti-Vibration systems, chemical products, and plastics as well. Price ranges and packages are not readily available, and no mentions of quotation procedures are in place.
However, the company provides a short and simple description for the products that they offer which can inform clients of the accreditation of the said product that they offer.
Highlights
Wide selection of innovative technologies
ISO Certified
Highly experienced professionals
Specializes in commercial projects
7.  HIN Group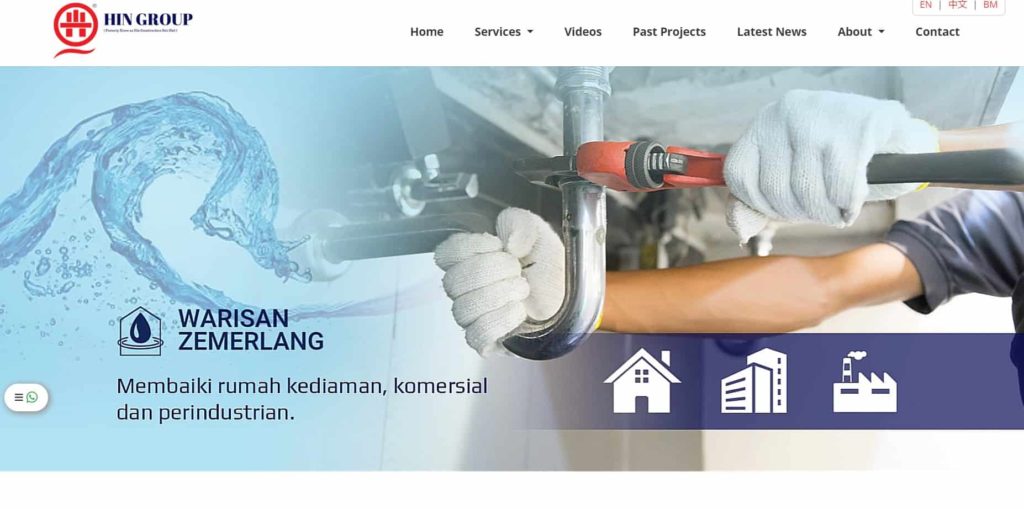 BEST FOR:
Home Renovation Services
PRODUCTS:
Home & Factory Renovation Specialist Now!
Home & Building Maintenance Specialist
Stop Leak Waterproofing Specialist
Local Plumber:- Commercials & Residentials
Electric :-Residentials & Commercials
Construction Metal Work Specialist
Affordable Concrete Coring Contractors: KL & Selangor's Best Now
Book Now: COVID-19 Sanitation & Disinfection Service
Wall Decoration With Cotton Wall
WEBSITE:
https://www.hinconstruction.com.my
ADDRESS:
33, Jalan 1/5, Seksyen 1, Bandar Teknologi Kajang, 43500 Semenyih, Selangor, Malaysia
CONTACT DETAILS:
+60 16-219 3181
HIN Group, formerly known as HIN Construction Sdn Bhd, is a prominent construction company in Malaysia. With a history dating back to 1968, they have evolved from a one-man handyman team into a multifaceted organization comprising four subsidiaries. HIN Group offers comprehensive construction services for residential, commercial, and industrial buildings, making them a significant player in the construction industry.
With a history spanning over five decades, HIN Group has built a strong reputation for delivering quality construction services. Their longevity in the industry is a testament to their reliability and trustworthiness.
HIN Group's involvement in building materials marketing, such as cotton wall coating, provides clients with access to innovative materials and finishes for their construction projects.
Due to their reputation and the demand for their services, HIN Group may have a busy schedule, potentially resulting in limited availability or lead times. This could pose challenges for clients with tight project deadlines.
HIN Group is a well-established and reputable construction company in Malaysia, offering a diverse array of construction services. Their decades-long presence in the industry, along with their commitment to service maintenance and building materials marketing, makes them a compelling choice for a wide range of construction projects.
Highlights
Diverse Expertise in the Field
Service Maintenance Expertise
Highly Established Reputation
Comprehensive Building Materials Marketing
With any of these best construction companies in Malaysia, you will be able to realise any structure you wish to build.
It's never too early to plan for your space's interior. Design an interior as impressive as your building with one of the best interior designers in Malaysia.