5 Spaces for the Best Co-Living in Malaysia
Featured Image Source: CoWomen via Unsplash
Moving out and starting a new life in the city could be exhilarating but also difficult. Luckily for the new generation of young, working Malays, firms have been competing to give city dwellers the best co-living in Malaysia.
This arrangement takes away the hassle of filling an apartment with new furniture. Plus, with people always coming in and out the common areas, living in the big city wouldn't be lonely.
Whatever your priorities for a co-living space are, you'll surely be able to find a place that fits you in this list of spaces for the best co-living in Malaysia.
1.  Utopia

Those looking for the best-value co-living space in Malaysia should check out Utopia. Here, you can enjoy plenty of perks for free.
Among their generous services are free cleaning, laundry, and repair services. You get more time for yourself without paying extra cost, basically.
There is also no need to worry about Internet access as they've got you covered with high-speed wifi up to 500mbps.
You also don't have to worry about paying a lot for electricity. They implement an individual billing system so you only pay what you consumed.
To top it all off, you can move into this space for the best co-living in Malaysia without making a deposit.
They also ensure your security with anti-burglar locks, CCTV cameras, and fire safety precautions in place.
Highlights
Free cleaning, laundry, and repairs
Free high-speed Internet
Individual billing system
Zero-deposit move-in
Highly secure
Customer Reviews
Sue Anne, a Utopian since 2019, spoke highly of the co-living space:
"Before Utopia, I've stayed at 3 different room rentals, one being with the Landlords herself. Simply put, it was a nightmare! Thank god I found Utopia through my friend (who is also another Utopians).
No more splitting the bills on air-conditional usage. Also, not to mention Utopia's Zero Deposit program. It really lifted me off my worries on not getting back my deposit from crazy Landlords."
2.  The Hatchery Place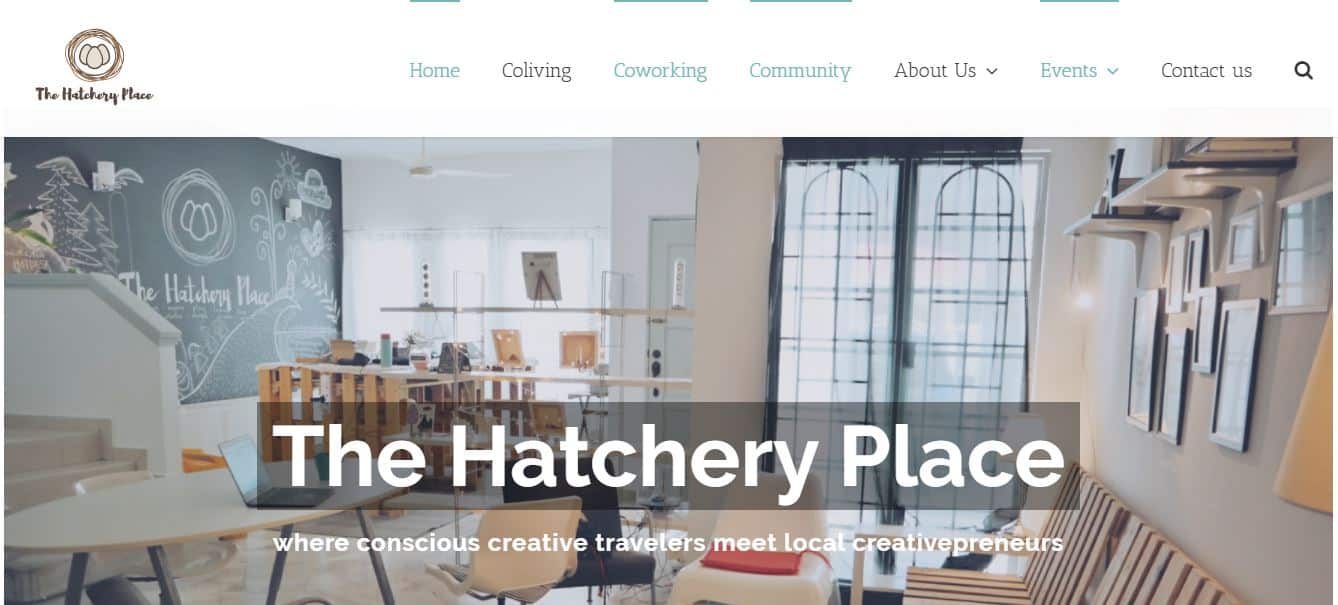 Beyond just offering the best co-living in Malaysia, The Hatchery Place is also an ideal coworking space and community.
The Hatchery Place is ideal for remote work. With an abundance of work spaces, you can work on your own or choose to have meaningful exchanges with other creatives and entrepreneurs.
Working comfortably is also given with free WiFi, coffee, tea, and pantry supplies.
Building a healthy micro-community within the co-living space, they hold events that encourage the creation of connections, like meetups, poetry nights, game nights, and more
Highlights
Co-living, co-working community
Ideal for remote work
Free wifi, coffee, tea, pantry supplies
Healthy micro-community
Frequent events
3.  Co-Living @ Damai Residence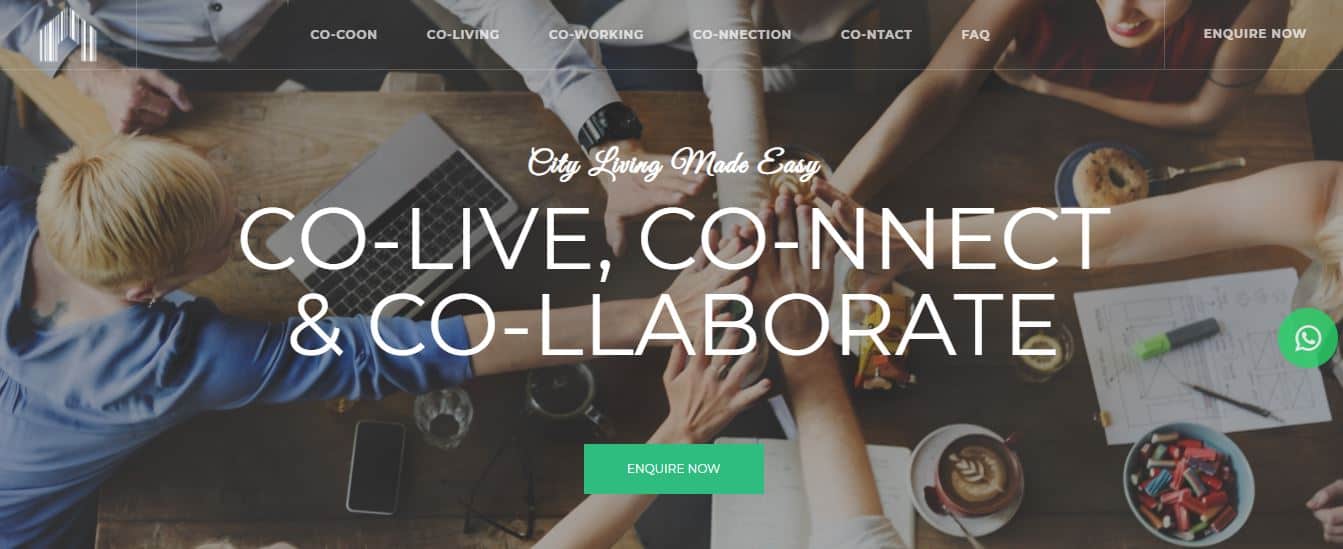 Co-Living @ Damai residences is the option for the best co-living in Malaysia for those who want to have convenience and a sense of community in the city.
Built for your comfort, their spaces are designed to be conducive to resting, relaxing, and working. They take care of you holistically, are equipped with an indoor and outdoor gym, a garden, an entertainment zone, a barbecue pit, a meditation deck, and more.
Located at the Kuala Lumpur City Centre, it is also conveniently located in close proximity to all you can possibly need.
Here, you also get to mingle with people of different cultures. This best space for co-living in Malaysia holds weekly events to engage their micro-community.
Your safety isn't taken for granted in exchange for these awesome perks either. Smart locks and CCTVs are installed in the building and there is security onsite 24/7.
Highlights
Comfortable spaces
Top-notch amenities
Convenient location
Weekly events
Reliable security systems
4.  JL Co-Living Space
BEST FOR:
Hassle-free environment
PRODUCTS:
http://jlcoliving.com/
WEBSITE:
http://jlcoliving.com/
ADDRESS:
(USJ21) No. 12A & 16, Jalan USJ21/7, 47630 Subang Jaya, Selangor Darul Ehsan;

(The Mines) Mines 2, South KL, Pusat Perdagangan Mines, Jalan Mines 2, Mines Wellness City, 43300 Seri Kembangan, Selangor

CONTACT DETAILS:
+6016-335 0116;

[email protected]
JL Co-Living Space's approach to being a space for the best co-living in Malaysia is to allow their members to rediscover the "joy of living" in the city.
The first ever co-living space in the country, and an innovative one at that, they encourage not only the sharing of space but also experiences and ideas on the daily.
They aim for a hassle-free environment for their members so they can focus on things that matter more. To achieve this, they provide comfortable rooms, housekeeping, and laundry and ironing services, as well as coworking stations, meeting rooms, WiFi, and printing services.
Highlights
Sharing spaces and ideas
Hassle-free living
Housekeeping, laundry and ironing services
Coworking stations, meeting rooms
Wifi and printing services
5.  Komune Living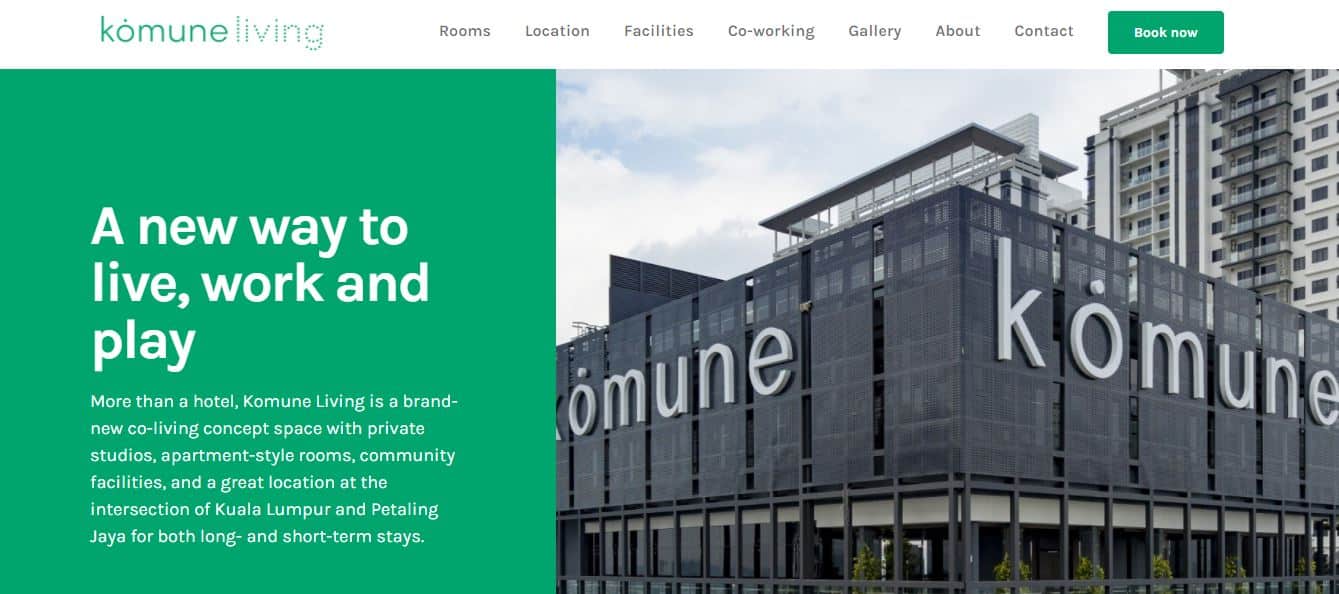 Komune Living presents different living arrangements from others. They offer a co-living concept while giving their members the option to choose their resting quarters according to their preferences.
Members can choose to live in private studios or apartment-style rooms. They can still enjoy shared spaces such as the community kitchen, outdoor barbecue area, game base, infinity pool, gym, and cafe.
You'll never run out of things to do at this place for the best co-living in Malaysia as they have community activities daily, local escapades weekly, and special events monthly.
Whether you're just looking for a place to stay for a few nights or a few months, Komune Living will welcome you with open arms.
Highlights
Private studio or apartment-style room
Shared top-notch facilities
Community events
Short- or long-term stay
Are you now ready to move to one of these places and experience the best co-living in Malaysia? Let us know in the comments.
If you're only looking for a hostel for a hostel for your short-term stay, check out our list of the best hostels in Kuala Lumpur instead, though!