7 Best Chinese Restaurants in Kajang
China is among the countries that had the biggest influence on the Malaysian cuisine and culture that people know and love today. That said, Malaysia is home to many Chinese restaurants.
If you want to treat yourselves to some of the best Chinese delicacies in Malaysia, one of the best places to go to is Kajang.
This humble town in Selangor is the perfect foodie destination for its local restaurants and eateries. Keep on reading below to discover some of the best Chinese restaurants here!
How We Chose the Best Chinese Restaurants in Kajang
We've scoured the town of Kajang to find the best Chinese restaurants it has to offer. To determine which ones are worth highlighting, we've used these criteria:
1. Kajang Fei Chui Restaurant

| Test | Info |
| --- | --- |
| PRODUCTS | Seafood, Soup, Rice meals |
| WEBSITE | https://www.facebook.com/kajangfeichui/ |
| ADDRESS | 1942-a Jalan Wan Siew, Kajang 43000 Malaysia |
| CONTACT DETAILS | +60 3-8733 1415 |
| OPERATING HOURS | Every day: 11:30 AM - 2:30 PM and re-opens at 5:30 PM - 10:30 PM |
| | |
| --- | --- |
| Criteria | Ratings |
| Affordability | ★★★★☆ (4/5) |
| Customer Service | ★★★★☆ (4/5) |
| Menu Variety | ★★★☆☆ (3/5) |
| Taste | ★★★★☆ (4/5) |
| Ambience | ★★★★☆ (4/5) |
For us, Kajang Fei Chui Restaurant is the textbook definition of a Chinese restaurant. From its interior design to the variety of traditional Chinese dishes and reasonable prices, we appreciate its dedication to provide an authentic dining experience.
One of the dishes we ordered was the pai kut, which was essentially a plate of tender pork ribs. While chowing down on these delicious pieces of meat, we noticed how well they were seasoned to the bone.
We found that the seasoning can sometimes be too strong so we decided to pair it with some of their fried rice and it was the right move.
The wine steam prawn also piqued our attention so we decided to give it a try. Overall, the dish was great as the shrimp was tender and the wine didn't overpower the taste.
Our initial thought when we saw the menu was that their dishes were a bit pricey. However, we think the costs were justified when our orders arrived on our table, as the servings were great for sharing.
A glaring problem that we had with this restaurant is its limited parking space. This can be frustrating, especially during peak times like dinner and lunchtime, so we recommend choosing another time to dine here if you're bringing a car.
Wide selection of authentic Chinese food
Big servings make up for slightly pricey dishes
Fast service.
Limited parking space
Slow service during peak times
Non-halal
Customer Reviews
Nice food and service
"Had my company dinner here during the Chinese New Year period. The speed of the dishes being served is quite fast and no need to wait for too long. Overall the food was very delicious. Will visit again next time."—SiewMayE, Tripadvisor.com
Good for large family meetings and gatherings
"Service is good price is okay not very noisy and food is nice if you know what to order and what to order to suit you and your family. Good for wedding dinners and it's not very pricey if you want a simple wedding only for a handful of friends and family as they can change the room into half the size."—hong l, Tripadvisor.com
2. Restoran Siaw Kah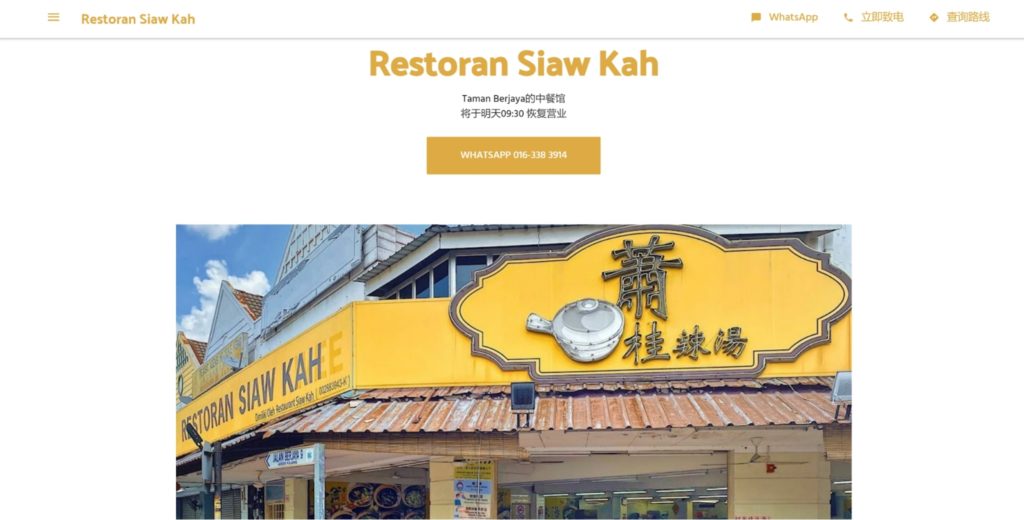 Test
Info
PRODUCTS

Pork belly, Dried shrimp

Hot soup, Spicy meat

WEBSITE
https://restoran-siaw-kah.business.site
ADDRESS
274 Jalan Berjaya 9 43000 Kajang, Selangor Malaysia
CONTACT DETAILS
+60 16-338 3914
OPERATING HOURS
Every day except for Thursdays: 9:30 AM - 9:30 PM
| | |
| --- | --- |
| Criteria | Ratings |
| Affordability | ★★★★★ (5/5) |
| Customer Service | ★★★★☆ (4/5) |
| Menu Variety | ★★★☆☆ (3/5) |
| Taste | ★★★★☆ (4/5) |
| Ambience | ★★★★★ (5/5) |
Tucked in Kajang is a humble little eatery called Restoran Siaw Kah. We were curious about the hype around their famous lat tong (aka hot soup), so our team decided to give it a try.
After waiting for what felt like only a couple of minutes, our order arrived. We were glad that it was piping hot as it was served straight out of the pot.
Honestly, this combination of chicken, pork meat, and innards didn't look appetising on paper. However, once we took a spoonful of its broth, with a couple of meat chunks, all doubts were thrown out the window.
We're delighted that Siaw Kah's lat tong has a meaty flavour. Overall, the innards contributed to the interesting texture that comes with every spoonful of this soup.
Unfortunately, their other dishes are subpar and fail in comparison with their famous hot soup and spicy meat.
As for the ambience here, we like its no-frills approach, as it makes the dining experience feel more authentic.
Siaw Kah doesn't feature any fancy decor or luxurious interior design, so it falls behind on this aspect. Instead, it's equipped with plastic stools, simple round tables and ceiling fans—the staples of a humble hole-in-the-wall eatery.
No-frills dining experience
Airy environment
Great customer service
Limited menu
Dishes aside from their most famous offerings are subpar
Customer Reviews
Pepper soup
"The pepper soup was nice. Value for money! The serving speed was fast no need to wait for a long time after placing an order. I enjoy the food."—Irene P., Yelp.com.
Finally came here to eat this for the very first time!
"Finally came here to eat this for the very first time! Thanks for the intro of this sinful yet addictive dinner! #lattong #fobaoyuk #foodporn #jeng #dou #flipshair #instacollage"—Jet Anderson, Burpple.
3. Fortuna Palace Seafood Restaurant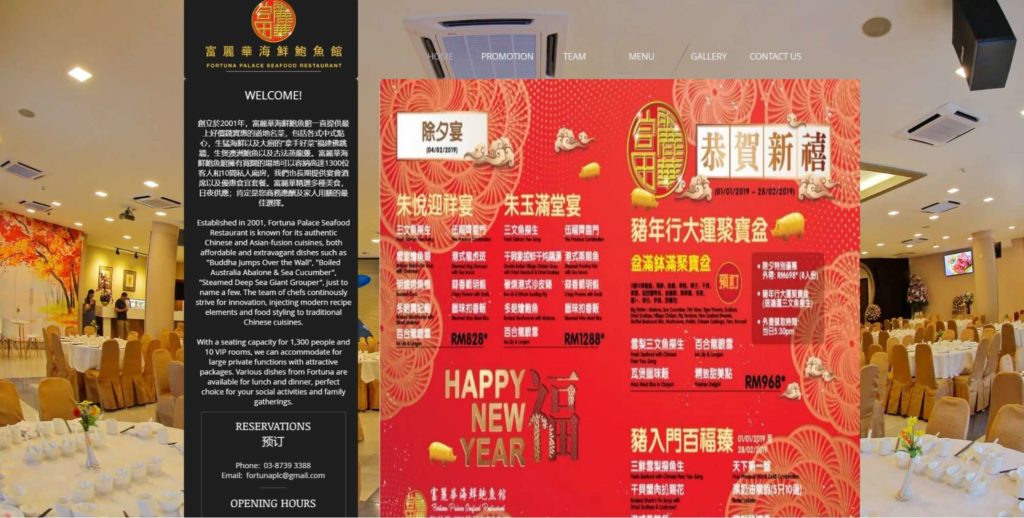 Test
Info
PRODUCTS

Sweet and sour pork

Crab meat with tofu

Stir-fried vegetables

WEBSITE
https://www.fortunapalace.com.my
ADDRESS
17, Jalan 20/13, Taman Paramount, 46300 Petaling Jaya, Selangor, Malaysia
CONTACT DETAILS
+60 3-7733 1277
OPERATING HOURS
Every day from 8:00 AM to 10:00 PM
| | |
| --- | --- |
| Criteria | Ratings |
| Affordability | ★★★☆☆ (3/5) |
| Customer Service | ★★★★★ (5/5) |
| Menu Variety | ★★★☆☆ (3/5) |
| Taste | ★★★★☆ (4/5) |
| Ambience | ★★★★☆ (4/5) |
If you want to indulge in delicious Chinese seafood-based, look no further than the Fortuna Palace Seafood Restaurant in Taman Kajang Prima. Ever since it was founded in 2001, it's been a staple for seafood lovers in the country.
One of the dishes that piqued our attention was the homemade tofu with crab meat, which was exactly the dish's contents. We loved how the tofu has a crispy shell and a creamy inner texture while the tender crab meat is shredded into tiny pieces.
Another item we ordered was the massive prawns splashed in what they call 'special sauce,' which was pretty mysterious. We don't know its ingredients, but it gave off a buttery taste that perfectly went well with the fresh prawns.
We were also surprised to see that they serve more than seafood. To see if they weren't a one-trick pony, we decided to give their non-seafood dishes a try, more specifically, the braised pork belly.
On the downside, one thing we didn't like about our experience here was the high prices. However, one could argue that it's worth paying for because of the quality of the dishes you'll get to eat.
Wide variety of seafood dishes
Spacious 3-storey building
Friendly staff
Customer Reviews
Dinner group
"Overall dishes are pretty good and tasty but pricing is on the high side and that is a drawback indeed"—tche t, Tripadvisor.
One of the best Chinese places I've ever been to
"Dishes came out in quick succession, and there was no marked drop in quality despite the place being a bit crowded that night. Moreover, the ambience and feel of the place have seen a big step up ever since a recent renovation last year. Would definitely recommend it."—Low L, Tripadvisor.
4. Fook Loy Restaurant

| Test | Info |
| --- | --- |
| PRODUCTS | Chinese, Seafood |
| WEBSITE | https://www.facebook.com/fookloyseafoodrestaurant/ |
| ADDRESS | 61 Jalan Lima Sungai Chua, Kajang 43000 Malaysia |
| CONTACT DETAILS | +60 3-8733 3985 |
| OPERATING HOURS | Every day at 11:00 AM - 3:00 PM and re-opens at 6:00 PM - 11:00 PM |
| | |
| --- | --- |
| Criteria | Ratings |
| Affordability | ★★★★★ (5/5) |
| Customer Service | ★★★★☆ (4/5) |
| Menu Variety | ★★★★☆ (4/5) |
| Taste | ★★★★★ (5/5) |
| Ambience | ★★★☆☆ (3/5) |
One place that gave us amazing value for our money is Fook Loy Restaurant. This place offers relatively affordable dishes that mostly consist of seafood—or at least that's what we mostly ordered.
For starters, we had the sweet and sour crab which lives up to its name. The tender crab meat went well with this special in-house sauce that was tangy but sweet at the same time.
We also had steamed fish, a staple dish in most Chinese eateries. We're glad that this dish didn't fall short of our expectations!
However, the main highlight for us on their menu was the tom yum, a sour soup originating from Thailand. Fortunately, it had the right amount of sourness and it didn't overpower the overall flavour of the dish.
Furthermore, we liked how Fook Loy puts its spin on the dish by cooking it in a coconut husk. This provided another layer of flavour as well as flair!
We were just a bit disappointed to find that the parking here could be an issue for some people. In our experience, we got there early so we didn't have that much trouble finding an open spot.
However, once the place starts getting busy, we could see how heavy the traffic was outside.
On a final note, find a good time when you visit Fook Loy. This way, you can enjoy its great food that gives an awesome value for money and great dining experience!
Cheap prices
Authentic seafood dishes
Varied dishes.
Limited parking spot
Average service
Customer Reviews
Weekend dinner!
"The specialty here is the fried tung fun (fried glass noodles), sweet and sour crab with fried mantou (drool), and lots more like steamed fish and tom yum cooked in a coconut husk. Service here is average but the food comes out pretty quickly even though it is crowded."—Wei-Yann C, Tripadvisor.
Good Food
This restaurant serves lunch and dinner in a family setting. I have patronised this place for five years, though not regularly. The quality of food has been maintained since.
The foods are delicious, with seafood as the main attraction. However, if you are a vegetarian, they can also customise the dishes for you.
—Swee Hiang P, Tripadvisor.
5. Kedai Makanan Wan Fatt Kajang

| | |
| --- | --- |
| Criteria | Ratings |
| Affordability | ★★★☆☆ (3/5) |
| Customer Service | ★★★★☆ (4/5) |
| Menu Variety | ★★★★☆ (4/5) |
| Taste | ★★★★★ (5/5) |
| Ambience | ★★★★☆ (4/5) |
One of the local favourites in Kajang that we kept hearing about was Kedai Makanan Wan Fatt Kajang. Because of its popularity with the locals, we decided to visit it.
Upon seeing Kedai Makanan Wan Fatt Kajang's location, it instantly reminded us of Restoran Siaw Kah, with its open-air setup. It also consisted of red plastic chairs and ceiling fans, which further led us to believe that the prices here would be cheap.
However, we were surprised to see that the prices were above average. This sort of contrasted the overall no-frills ambience.
Nonetheless, if you'd compare it to restaurants in big cities like Kuala Lumpur, the prices here are still relatively more affordable.
Fortunately, upon trying its dishes, we were glad to find out that they're worth the slightly higher prices!
To start, we decided to play it safe and ordered their sweet and sour pork which we liked because of its tender texture and flavourful sauce.
Another dish that caught our attention was the pork ribs in golden pumpkin, so we knew we had to try it for ourselves.
What we didn't expect was that we were getting pork ribs that were submerged in an actual pumpkin, but we didn't complain! The tender pork ribs went perfectly well with the sweet and creamy sauce of the golden pumpkin.
On the downside, the service here tends to be slow once the place gets packed, which is a common problem for similar restaurants we visited. Nonetheless, we appreciate that its staff are very friendly and accommodating—a plus in our books!
Airy setup
Unique and tasty dishes
Friendly staff
Pricey food
Slow service during peak hours
Customer Reviews
Well done stir-fried paku pakis
"Took the MRT and alighted at Stadium Kajang stop. Could easily find the
restaurant as it is located at the back of the Chinese temple. Eating the well-done stir-fried paku pakis brought back memories of this evergreen jungle produce. The pork dish and fried jianbing were also excellent. As for the drink, we ordered a pot of Chinese pu'er tea."—GanL, Tripadvisor.
Good food with a riverfront view…
"This shop used to be where the Stadium Kajang MRT station is now. They have moved to the current location some 4 years now.
A friend recommended to try their fried hokkien mee, however, today was a public holiday and the lady owner said we are not doing that dish. We were disappointed somewhat. Well, we ask the very friendly lady owner, to recommend some of the dishes, even though they have printed and pictured menus.
Overall the food we ordered was really nice, except for the pumpkin pork ribs, where the taste is not really balanced. Heavy on the pumpkin in terms of taste.
Gave feedback to the lady owner and she is very receptive.
Getting here is very easy as it is walking distance from the Stadium Kajang MRT station
."—Long M, Tripadvisor.
6. Four Seasons Seafood Restaurant

| Test | Info |
| --- | --- |
| PRODUCTS | Seafood |
| WEBSITE | https://www.facebook.com/fourseasonsseafood/ |
| ADDRESS | No. 46 Jalan Temenggung 15/9, Cheras 43200 Malaysia |
| CONTACT DETAILS | +60 3-9011 8484 |
| OPERATING HOURS | Every day at 11:00 AM - 2:30 PM and re-opens at 5:30 PM - 10:30 PM |
| | |
| --- | --- |
| Criteria | Ratings |
| Affordability | ★★★★☆ (4/5) |
| Customer Service | ★★★★☆ (4/5) |
| Menu Variety | ★★★☆☆ (3/5) |
| Taste | ★★★★☆ (4/5) |
| Ambience | ★★★★☆ (4/5) |
Sticking with local restaurants that offer amazing seafood, the next restaurant on our list is Four Seasons Seafood Restaurant.
This place is a staple for people looking to indulge in various seafood dishes, and that's exactly what our team did here.
One of the items we ordered was the grilled fresh prawn, which we loved because of the added smokey flavour. It was also brushed with some type of marinate which we also enjoyed as it added a slight sweetness to the overall taste of the dish.
For our main event, we decided to go for their famous seafood pot. This dish was essentially a red curry with tons of seafood submerged in it such as crabs, prawns and squids.
What we loved about this particular dish was that the seafood had fully absorbed the delicious red curry by the time they were served at our table. This made their sweet meat extra flavourful and slightly spicy.
They also offer non-seafood dishes but they aren't anything extraordinary. We tried the claypot kangkung and although it wasn't bad, it fails in comparison to the restaurant's more popular dishes.
Overall, we think the Four Seasons Seafood Restaurant is an excellent option when you're looking for a Chinese restaurant in Kajang. Just check ahead on what you want to order, to be on the safe side.
Wide variety of seafood dishes
Plentiful servings
Good service
Slightly pricey
Some dishes are subpar compared to their seafood offerings
Customer Review
Good Food with Good Service
"One of my favourite restaurants I would say. Especially, when they have a good promo deal for crabs. Definitely, worth the money. The seafood are fresh & taste was really good. Highly recommended for family treats."—Melystays, Tripadvisor.
Good food
"We usually come here for lunch as our workplace is nearby. Good Chinese food and lots of variety served in a nice ambience. I like their steamed fish, it is fresh and very tasty."—ymt888, Tripadvisor
7. Mohammad Chan Restaurant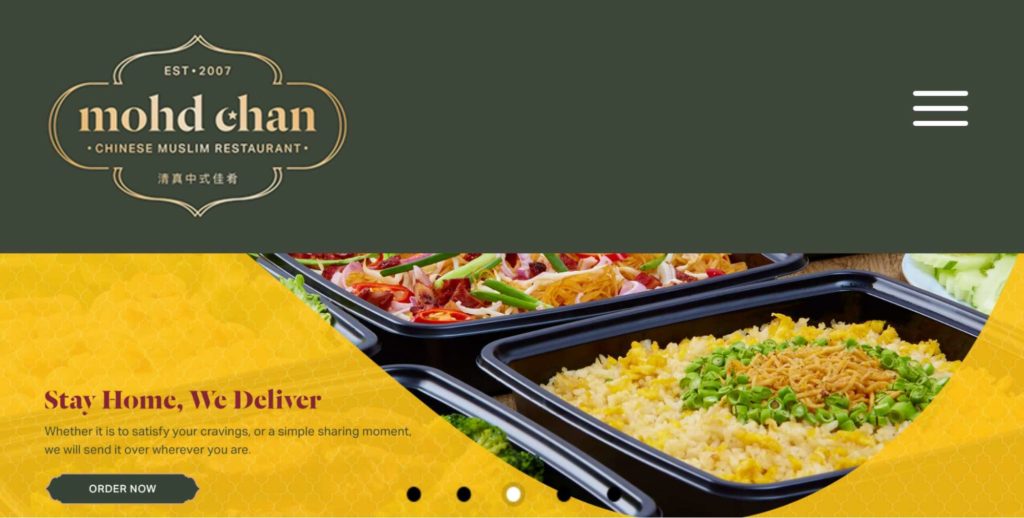 | Test | Info |
| --- | --- |
| PRODUCTS | Authentic local Malaysian dishes |
| WEBSITE | https://www.mohdchan.com.my |
| ADDRESS | No 30 Jalan Medan Pusat 2C Pusat Bandar Baru Bangi, Bandar Baru Bangi 43650 Malaysia |
| CONTACT DETAILS | +60 3-8922 1001 |
| OPERATING HOURS | Every day from 11:00 AM - 11:00 PM |
| | |
| --- | --- |
| Criteria | Ratings |
| Affordability | ★★★★★ (5/5) |
| Customer Service | ★★★☆☆ (3/5) |
| Menu Variety | ★★★★★ (5/5) |
| Taste | ★★★★☆ (4/5) |
| Ambience | ★★★★★ (5/5) |
Mohammad Chan Restaurant or Mohd Chan is a famous chain in Malaysia known for serving delicious halal Chinese Malaysian dishes.
Their menu was overwhelming but we eventually landed with the "Richman Fried Rice". This dish consisted of fried rice, complete with green peas, corn and carrots, served alongside seafood delicacies, namely prawns, mussels and squid.
Overall, it was great to chow down on this plate as it offered several flavours and textures thanks to the fresh veggies and seafood.
We also ordered their char kway teow, which we enjoyed for its perfectly stir-fried glass noodles. It was also bursting with flavours thanks to its use of various vegetables and of course, oyster sauce.
On the downside, we were quite disappointed that the service here wasn't that fast. We ended up waiting for a long time, and although we can say that it was worth the wait, this may throw you off during your visit.
Maybe the date and time had something to do with it too. We visited the restaurant on a Saturday during lunchtime which saw several customers entering the premises one after the other.
Ultimately, we think Mohammad Chan Restaurant is a fantastic option for those looking for a Chinese restaurant that has vegetarian and halal options. In our books, this variety in its menu makes it a great place for big groups with varying food preferences.
Vegetarian and halal options
Pleasant interior
Wide variety of dishes
Long waiting time
Average customer service
Customer Reviews
Yummy Halal Chinese Cuisine
"First time here, we went to Mohd Chan and were pleasantly surprised by the quality and taste of the food. While it was on the higher end of the price spectrum, it was worth the price tag."—yuann00, Tripadvisor
Ayam Goreng
"No trip to KL is completed without a stop at Village Park Restaurant. Well known for their nasi lemak, the place is so popular that the seats covered the walkway outside too.
And it's easy to spot a plate of Ayam Goreng on every table. Made of fragrant coconuty steamed rice accompanied with fresh hot crispy fried chicken and sambal. The chicken is well season and so crispy delicious that you can't get enough of it.
P.S: it's very packed before 1pm and you might have difficulties finding a seat, so best to drop by early morning or late afternoon."—Cassie Ong, Burpple.
FAQs about the Best Chinese Restaurants in Kajang
That's about it for our list of best Chinese restaurants here in Malaysia. These establishments have their respective strengths and weaknesses but they're all successful in providing you with authentic Chinese dishes.
Chinese dishes are staples of Malaysian breakfasts, lunches and dinners. Feel like a true local by trying these restaurants out for yourself today!
---