The 5 Must-Try Food Courts in Selangor
Looking for a place to eat? We've put together a list of the best food courts in the Sengalor for you–and any food buddies you bring along!
The Price Range for Food Courts in Selangor
Since food courts are a collection of many different stalls, prices are harder to gauge but RM5 is generally enough if you're looking for quick bites or street food. Meals at food courts in Selangor range from RM10 upwards, hitting up to RM50 if you're at a particularly fancy one–or you splurge on those snacks! You can refer to the table below for the estimates for popular Malay eats.
| Dish | Estimated Costs |
| --- | --- |
| Nasi Lemak | RM10 to RM20 |
| Char Koay Teow | RM8 to RM15 |
| Pan Mee | RM10 to RM15 |
| Satay (by piece) | RM1 to RM5 |
| Bak Kut Teh | RM15 to RM 25 |
The Top Food Courts in Selangor
We went through the following criteria to determine our favourite food courts in Selangor:
1. Dagang Avenue Food Court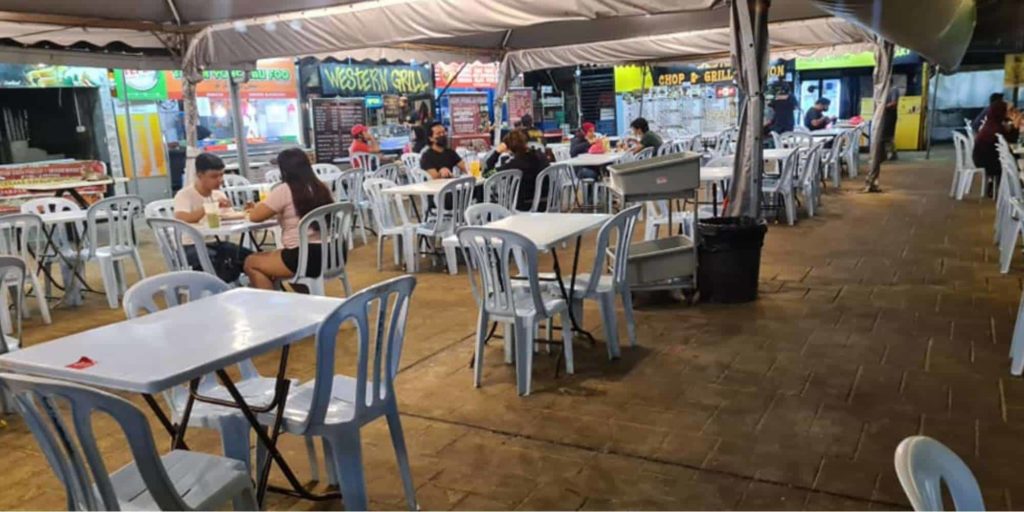 Test
Info
WEBSITE
https://www.facebook.com/dagangavenuefoodcourt
ADDRESS
Dagang Avenue, Jalan Dagang B/3A, Taman Dagang, Ampang, Selangor
CONTACT DETAILS
+60 17-679 4779

+60 34-270 1203

OPERATING HOURS
Open every day: 12:30 PM - 12:00 AM
| Criteria | Ratings |
| --- | --- |
| Food Quality | ★★★★★ (5/5) |
| Customer Service | ★★★★☆ (4/5) |
| Ambience | ★★★★☆ (4/5) |
| Accessibility | ★★★☆☆ (3/5) |
A classic among Ampang locals, the Dagang Avenue Food Court is a must for Selangor food hoppers looking to satisfy a craving, or have a chill night with drinks and live music.
Vibe check? Passed. Dagang Avenue Food Court is an establishment that maintains a designated busking area for local musicians. We think that discovering new artists while you dine and hang out with friends is definitely a plus!
Another aspect we appreciate about Dagang Avenue Food Court is it also caters to a variety of cuisine from local to Western. So, you don't need to worry about bringing your indecisive friends and family over.
Notably, the viral Kaw Kaw Burger is among the fan favourites from regulars. Though the online hype may make customers wary, we think it deserves the spot in this cool and hip food court.
It's also worth mentioning that the portions of food in some stalls were quite impressive for their price and quality. A sizeable order of lamb chops for only RM19 and takoyaki for RM18 sang sweet songs straight to our guts.
But what we particularly like about this place is they have an organized system of ordering at stalls. You only need to indicate your table number and wait for our food at the table once you've made your rounds in the food court.
Moreover, since it is a hot spot for locals and tourists alike, expect large crowds and lines for food stalls, especially on the weekends. If you plan on taking a car, parking can be hard to come by, so we recommend taking a cab or reserving a spot in advance.
Ultimately, if you're looking for a cool place to hang out and don't mind loud music, the Dagang Avenue Food Court is a great place to lepak with friends and family.
A variety of cuisines are available (Western, Asian, and local)
Big portions available for affordable prices
Has a designated busking area that offers live music for customers
Organized food service
Limited parking spaces
Slow beverage service
The live music can get very loud into the night
Customer Reviews
A happening place
"Fun. Happening. Affordable price. A lot of choices. Would like to repeat in the future. Reservation is recommended if you come with more than 10pax. My clique plan for a gathering here with sop. Love the food. It's even raining when we got here. Parking would be quite challenging depends on your arrival time and your luck." – Arfakhshadz Omar
Crowd control and good food
"A lot of people here but SOP adhered very well. Lively environment but it can get a bit too loud due to busking but the buskers are great. Food here a bit price for a food court but certainly the portion is a lot. Chicken chop in pic costed RM11 and very worthy, good quality chicken and breading 👍🏼" – Fyf
2. Neighbourhood Foodcourt (好街坊)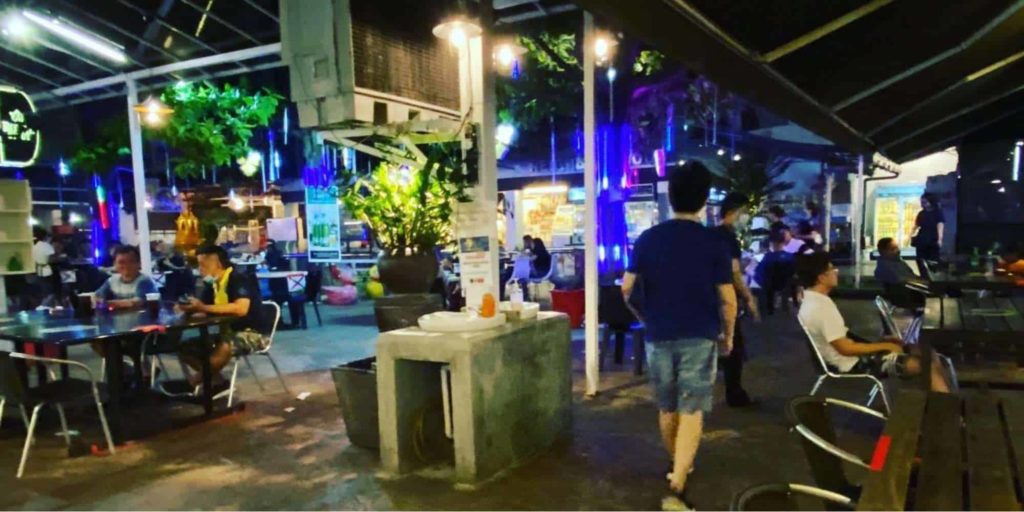 | Criteria | Ratings |
| --- | --- |
| Food Quality | ★★★★☆ (4/5) |
| Customer Service | ★★★☆☆ (3/5) |
| Ambience | ★★★★☆ (4/5) |
| Accessibility | ★★★★★ (5/5) |
If it's Chinese food you're craving, Neighbourhood Foodcourt has got you covered. Get yourself a rice meal (or some noodles) and enjoy the quiet buzz of the crowd while you eat.
Authenticity is difficult to fake when there are regulars from that home country. Seeing Chinese cooks make Chinese food was just that much more comforting for us. Their stalls also have a wide variety of other Asian cuisines including Thai and local dishes.
We were impressed with the wide-screen TV that broadcasts football games live–just watch out for rowdy fans. They also offer an escape from the heat with an air-conditioned area although space is limited.
Parking in front of the food court may be tricky, but a multi-level parking building at walking distance solves the problem. It's hard to miss, and you can find it behind the food court area.
We consider their FoodPanda delivery both a blessing and a curse. Ordering in their Thai Fried Chicken Rice and Penang Prawn Mee is great when you're at home, but a large number of FoodPanda orders can hinder their service speed for indoor dining.
Some of the staff can be snooty too, but the owners are quite responsive to complaints online.
As is in their name, Neighbourhood Food Court creates a cozy atmosphere of community in Selangor. Not quite the place to have a few drinks, but more of a fun lunch-out with family and friends.
Stalls serve authentic Chinese food and offers other Asian delicacies (Local, Thai, Japanese)
Has an air-conditioned area aside from al fresco seating
Available for FoodPanda delivery
Multi-level parking available nearby
Some reports of rude staff
Slower service when stalls focus on FoodPanda orders
Customer Reviews
Best chicken rice
"Best chicken rice stall in terms of the food quality, taste, price and service. I got nothing to complain at all. I love the roast chicken and roast pork the most. Their duck sauce is very special too.
There was once I went there in the evening, the owner heated the roast pork again, where not much chicken rice stall will do this. And he will remove the excess fats from the roast pork when I said I prefer lean meat.
Portion for two, it's only Rm12. The amount given is quite generous." – Natalie Sem
Good service and authentic Chinese food
"It's a nice lively place to chill out with some cold beer and local food. I tried a few times, like dumplings, prawn noodle soup, satay etc
People can watch some sports on a big screen in the food court while munching. Definitely worth checking the some real Chinese food, cook by a Chinese lady from shandong province, their homemade dumplings are quite amazing with vinegar and shredded gingers." – Pam Ko
3. Selera Jaya 223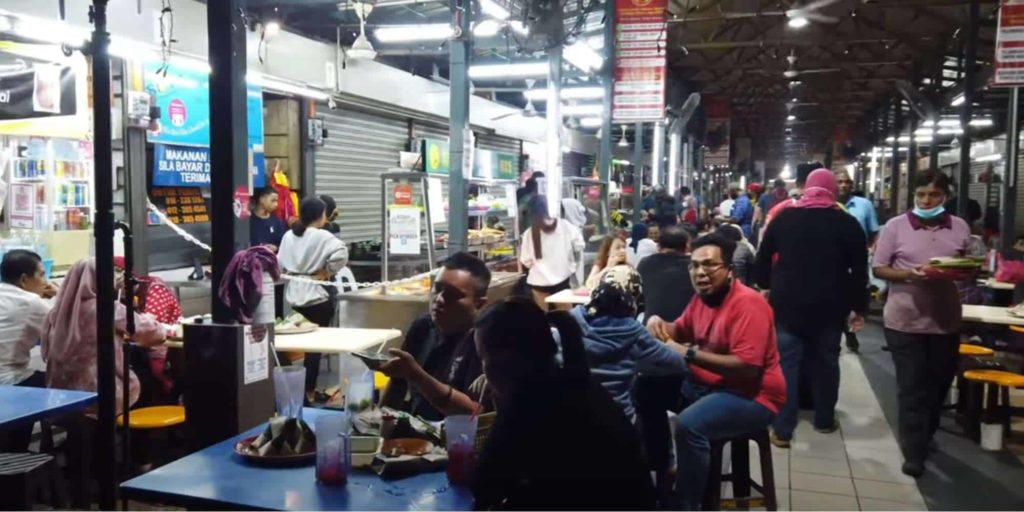 | Criteria | Ratings |
| --- | --- |
| Food Quality | ★★★★☆ (4/5) |
| Customer Service | ★★★★☆ (4/5) |
| Ambience | ★★★☆☆ (3/5) |
| Accessibility | ★★★★★ (5/5) |
Local cuisine is king at Selera Jaya 223. This is your stop if you're feeling some classic Malaysian favourites. Behind one of the large trees along Jala 51A is a long-time collection of stalls that serve the best for less.
This food court is known for having prices easier on the wallet, with no sacrifice to quality.
For reference, we found Oysters for as low as RM5 to RM6 per piece. A bargain, if we ever did see it! Their Nasi Lemak and Otak-otak are other well-known favourites at Selera Jaya 223–fellow steals at RM 10 and up.
It's also worth mentioning that this is another food court with delivery services via Grab and FoodPanda.
However, despite how busy the food court can get with the crowd and pick-ups, cleanliness is well maintained and we heard the venue was recently renovated.
We like how the proper tiling and table space also made the establishment wheelchair accessible, which is often difficult for smaller-scale food courts.
On the other hand, a gripe we had was the limited ventilation.
Although there were big ceiling fans in the area, the heat can get sweltering in the mostly closed space. This may make the wait for some stalls known for opening at different times a bit more annoying.
So, for a survivable eating experience, you may also want to steer clear of seats nearer the public toilets (don't say we didn't warn you!).
Finally, Selera Jaya 223 is another relic of Petaling Jaya that offers Malay favourites at the lowest prices without compromising quality. This decade-old favourite has definitely not lost its glitz for local regulars.
Affordable prices for food quality
Good upkeep and recently renovated
Available for Grab and FoodPanda delivery
Wheelchair accessible
Limited ventilation so a sunny day may be uncomfortable
Stalls open at inconsistent times
Spots near the public toilets have stench
Customer Reviews
A thumbs up for Malay cuisine
"Came here to buy 'small packets' of nasi lemak but the usual stalls were not opened yet. But there were other stalls selling Malay dishes with rice and other options. This stall was run by three aunties and a young man and their food looked yummy 😋. Decided to 'ta pau' their 'sup ayam' and their cooked dishes with rice. The soup and cooked dishes didn't disappoint, delicious rendang ayam, sambal ikan bilis and small salted fish. The soup was so flavourful too! Definitely a 'thumbs up' for lunch if you are into Malay cuisine. [ Wheelchair ♿️ accessible ]" – C PH (Pink Gardenia)
Nasi Lemak fusion
"Been here for more than 20 years.. Nasi Lemak Suri (blue stamp) & Nasi Lemak Yati (red stamp) and i luv both of them. Try to mix both of nasi lemak together for ultimate taste. Teh O Halia Ais in plastic bag with bowl + Tahu Bakar, Otak2 and Sup Lidah Kambing from Mamu Shop at the middle row.. fuhhh.. HEAVEN!!!" – Allan Zulkarnain
4. PJ Old Town Food Court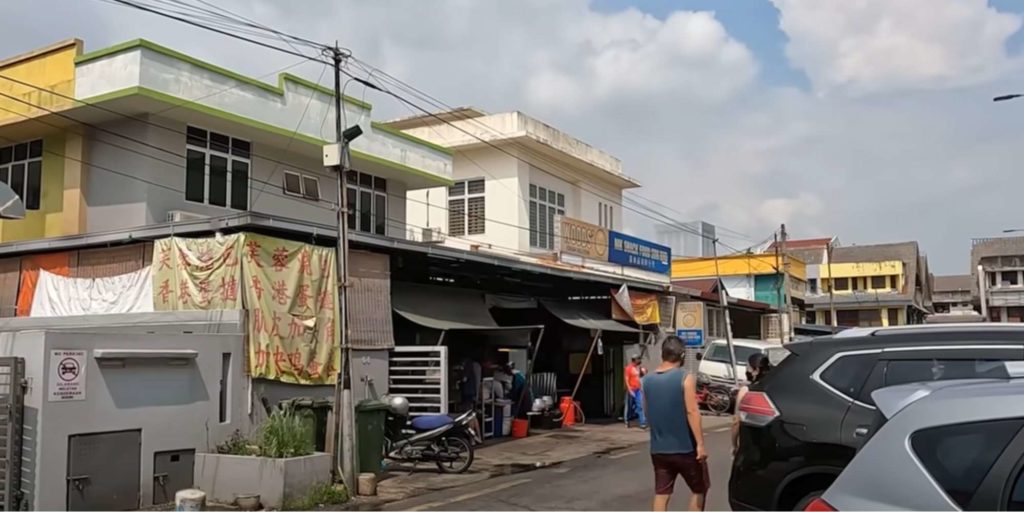 | Test | Info |
| --- | --- |
| ADDRESS | Pj Old Town, 46050 Petaling Jaya, Selangor |
| CONTACT DETAILS | +60 12-352 6649 |
| OPERATING HOURS | Open every day: 8:00 AM to 6:00 PM |
| Criteria | Ratings |
| --- | --- |
| Food Quality | ★★★★★ (5/5) |
| Customer Service | ★★★★☆ (4/5) |
| Ambience | ★★★★☆ (4/5) |
| Accessibility | ★★★☆☆ (3/5) |
A gem hidden in Petaling Jaya, PJ Old Town Food Court is frozen in time with both ambience and quality local and foreign cuisine and if you're struggling with finding a food court that serves Halal food, old is in.
We like that a variety of Halal options are available at stalls in PJ Old Town Food Court. Many of these also have long-time employees, that love to share chit-chat from time to time to share their experiences.
Athough some would call the structure outdated, we like that it's well-maintained. But we recommend bringing your own wet wipes or tissues to clean up after yourself would also be a good help.
We also noticed many customers follow CLAYGO, and it's heartwarming to see.
Guess what: they aren't just vintage for show! The food court has little online presence aside from a well-updated Google Maps review community.
And although you can't reserve a table in advance, we think this place is well worth the gamble. While cash is still mostly used here, we did enjoy a bit of tech using e-payment options available at some stalls.

Time definitely did not wear down the crowds that PJ Old Town Food Court attracts, and peak hours can make for a table waiting and limited parking. Fortunately, other than a covered parking lot, you may also park along the street.
Discovering the old-time gems of PJ Old Town Food Court is well worth the journey for us.
Rather than being worn down by long years of experience, we admire how it preserves a piece of history in Petaling Jaya. Here, you can find great food and enjoy it amidst the friendly atmosphere.
Halal options
Clean area
Long-time friendly stall owners
Accepts e-payments 
No contact details or official online page
Limited parking
Inconsistent stall openings
Customer Reviews
Nostalgic
"Absolute nostalgic spot for those grewing up in old town, especially since the 70s (as with my parents).
Food is still excellent. It's usually crowded during weekends' lunch time. Also, the seating area can get very stuffy but giving the quality served, worth it!" – Qing
Post-pandemic comeback
"The crowd is finding its way back here after covid lockdowns – as did i. Easy parking on an parallel street off the main road behind the market. Wash basin around the venue and plenty of variety. Many stalls operators have been around for 40-50 years and still going strong. Some to mention include the yong tau fu, chinese satay, bak kut teh, pork curry mee, chicken rice, ice kacang, char kuey tiao sotong kangkung and prawn noodle – practically all of them. Can't go 'wrong' here. All good. There's also indian rice and malay stalls.
Kid-friendliness: The elderly stall operators are very courteous and friendly to children. Motherly some might say." – Colin Thong
5. Foodies' Nest Food Court at The Starling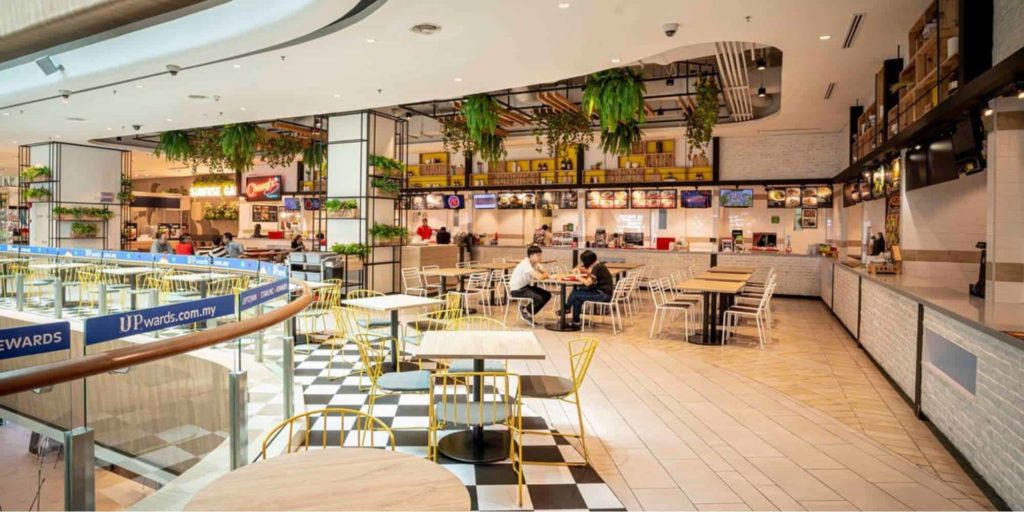 | Test | Info |
| --- | --- |
| WEBSITE | https://www.thestarling.com.my/ |
| ADDRESS | Level 3, The, Starling Mall, Jalan SS 21/37, Damansara Utama, 47400 Petaling Jaya, Selangor |
| CONTACT DETAILS | +60 12-385 4541 |
| OPERATING HOURS | Open every day: 10:00 AM to 10:00 PM |
| Criteria | Ratings |
| --- | --- |
| Food Quality | ★★★★☆ (4/5) |
| Customer Service | ★★★☆☆ (3/5) |
| Ambience | ★★★★★ (5/5) |
| Accessibility | ★★★★☆ (4/5) |
If you were looking for a place to catch a meal on errand day, we've got a convenient and classy place for you. At the edge of The Starling mall, there's the Foodies' Nest Food Court.
You're not about to make your next foodie discovery at The Starling mall, but if you want to dine in a bit more glamour and comfort then you would want to pay a visit.
Their online food stall directory gives you a hint of what you might be hungry for. Furthermore, the venue itself is clean and not too noisy.
Parking spaces are in abundance – like, thousands – if you're heading here, thanks to The Starling's building and the surrounding areas with their own parking spaces.
Space is also not an issue in this massive food court, with seats that have a great view of the city skyline.
On the downside, we're quite iffy that the food service was on the slow side. Some staff were also pretty rude when pestered with follow-ups, but we found that the waiting is quite bearable in the comfortable environment.
As for the food, we noted that it can be a hit or miss here at the Foodies Nest. But, the general baseline is good and tasty meals.
Perfect for peaceful lunches and even business meetings, Foodies' Nest Food Court is one for those who want to eat in peace but still enjoy the murmur and buzz of urban life.
Offers a directory of food stalls online if you want to plan ahead
Clean and spacious
Mall parking
Nice view of the city streets
Some reports of slow service
Some rude staff
Customer Reviews
Suitable for business meetings
I am a regular customer at Foodie Nest, Starling. This was one of the best place to chill and not crowded at all.
Will recommend Nasi Kerabu from Sambal Inc only. 😬 But overally the place is comfortable, spacious. Suitable for business meeting and catch up with friends. Affordable car park rate from Starling as well (first hour free, 2md hours onwards RM1 each hour if not mistaken)." – Yong Mun Yee
Spacious, bright, and comfortable
"For food court standard this is pleasantly surprising. Spacious, bright and comfortable. But prices feels quite steep though.
Only tried the claypot chicken rice and rice roll with fried chicken in curry. Both are very good. The claypot chicken rice took some time to prepare but wow the rice and chicken is flavorful and delicious." – Julie Pan
FAQs about Food Courts in Selangor
---
That's our take on our best food court recommendations in Selangor – we hope that made you hungry! If you don't feel like exploring Selangor cuisine today, order in! Check out our list of the 9 best delivery services in Malaysia and get eating.