5 Best Catering in Penang for Any Occasion
Featured Image Source: Asiya Kiev via Unsplash
Planning large events can be challenging especially if you have to find the best catering services available. After all, you need to make sure that the style of the dishes and the service quality fit your budget.
Luckily, there are several catering services in Penang that offer different menus and services to choose from. To help you out, we've picked out the best catering in Penang that you can book for your next big event.
Best Catering in Penang
Whether you're planning a family gathering or a corporate event, the top catering in Penang has everything you need. You can even pick dishes from different cultural cuisines that suit your palate.
All you have to do is learn about the different catering services in Penang and weigh out your options. With this in mind, it's time for you to discover the best catering in Penang that you can book for your next event.
1. Catering Penang DotCom
WEBSITES
cateringpenang.com, Facebook
OFFICE HOURS
Monday – Friday: 9:00AM – 5:00PM
Saturday: 9:00AM – 1:00PM Sunday: Closed
ADDRESS
1E, Lebuh King, George Town, 10200 George Town, Pulau Penang, Malaysia
CONTACT INFORMATION
Email:

[email protected]


Telephone: +6019-420 8275 (Dev Kris), +604-262 8275 (Lovinia Mak)
If you're looking for delicious catering services within George Town, you need to check out Catering Penang DotCom. They provide top-quality menus for buffets and an easy booking process.
Their buffet covers the essentials such as hot soups, fresh salads, main dishes, and desserts. They also have vegetarian and halal menus so you can accommodate the different dietary preferences of all your guests.
If you love desserts, you can enjoy delectable treats like chocolate cakes, creamy muffins, and Nyonya kuih. If you're on a budget, they provide flexible menus and personal recommendations to fit your needs.
They even provide food services for meetings and seminars which include breakfast snacks, a buffet lunch, and a tea break. They also have a network of event management professionals that can help you plan out your entire event.
With all things considered, Catering Penang DotCom is a good pick if you want flexibility, convenience, and a delicious buffet menu.
Easy quotation via website
Vegetarian and halal buffets available
Provides event-management services
Small serving sizes for certain dishes
Customer Review
One of their clients, Akina Samat, left this review:
"We ordered for raya open house to accomodate around 80px. The food and service was good. We also liked the food presentation and the whole setup. The ice kacang stall was definitely the most wanted, they were generous with the ingredients in it. On top of that, their staff who were assisting during the event was very helpful! Will definitely recommend it to others."
Here's another review from a customer named Sabrina Sunderraj:
"Food was served on time for a children's party, the children loved the food, fried rice, satay and the shrimps were a big hit. Will definitely recommend to others and will use your services again. Thank you."
2. Sivam Catering
Are you looking for Indian food in Penang? If so, Sivam Catering offers some of the finest Indian buffets that you'll find.
Located in Ayer Itam, Sivam Catering has grown to be one of the best Indian catering services in Penang. They even cater to clients as far as Perlis, Kedah, and Perak so location is the last thing you should be worried about.
Aside from their traditional south-Indian cuisine, they also specialize in Chinese, Western, and Malay dishes. They also provide different food services such as dome style, banana leaf plating, Chettinad style, course meals, stalls, and packed foods for different occasions.
From customizable menus to delicious multi-racial delicacies, Sivam Catering is one of the top catering in Penang that you should try.
Free quote available
Offer wedding planning services
Specializes in Indian dishes
Customer Review
One of their customers, Suresh Kumar, left this comment:
"Received foods as ordered, really awesome, taste really good, the best thing delivery time punctual as promised, will order big quantity soon maybe after MCO lifted… Recommended…"
3. Farquhar Exclusive Catering
If you're planning a high-profile event, you might want to hire Farquhar Exclusive Catering (FEC). Formerly known as Chef In The Truck, FEC is well-known for its professional catering quality that's perfect for special events like award functions, product launches, annual dinners, and conferences.
They have a customizable menu that you can tailor-fit to suit your preference. You can even choose different servings styles to fit the occasion, such as a royal buffet, a VIP buffet, and a mingle-style setup to name a few.
Their dedication to detail ensures that the food, beverage, decor, and ambiance all complement the theme of your event. This means that you have the freedom to be as grand and classy as you possibly want.
In line with their top-quality service, they also offer other services like photographers, videographers, performers, and bands for entertainment. So If you want a classy and hassle-free affair, you should contact FEC for reservations now.
Provide outsourced entertainment services
Customizable menu and services
No online quotation option on website
Customer Review
One of their customer, Doreen Ng, left this detailed review:
"We engaged CITT (now known as Farquhar Exclusice Catering) for a nyonya themed buffet dinner for 100 pax for our ROM at the Skye, M Summit Hotel. Our guest were blown away by the quality of the food. They have exceeded our expectations as the food was truly delicious and the presentation was superb as well. Portion sizes were generous and definitely sufficient. They were patient in listening to what we wanted and personalized the menu to suit our needs. We had guest arriving from different parts of the world to Penang and we wanted them to have a taste of local delights and… mission accomplished. Special thanks to Celeste whom was very nice, friendly and patient in dealing with changes and requests from our side. She is also very caring as she reserved individual portions for the bride and groom to make sure they had a chance to grab a bite as well. Truly top notch service. Hats off to Celeste and her team. We highly recommend Farquhar Exclusive Catering for your catering needs."
4. Bamboo Catering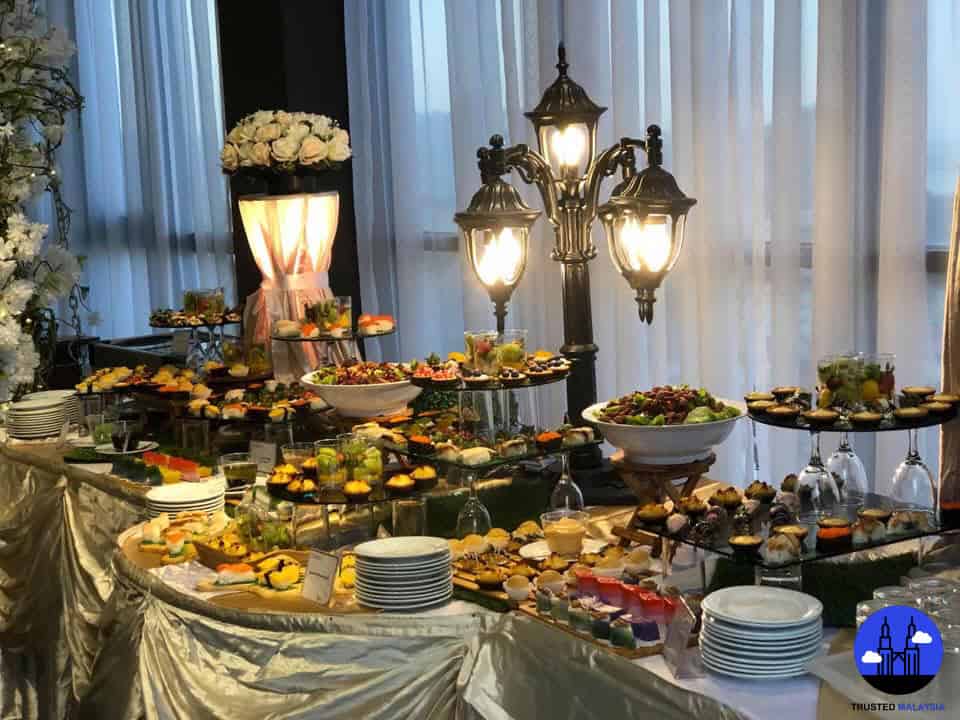 | | |
| --- | --- |
| WEBSITES | bamboobuffet.com, Facebook |
| OFFICE HOURS | Monday – Friday: 9:00AM – 6:00PM Saturday: 9:00AM – 1:00PM Sunday: Closed |
| ADDRESS | 808-M, Jalan Kampong Relau, 11900 Bayan Baru, Penang, Malaysia |
| CONTACT INFORMATION | Telephone: +604-646 9999, +604-646 6699 (Fax) |
Established in 1988, Bamboo Catering is now one of the finest catering services that provide appetizing dishes for all occasions. They provide a variety of cuisines including Asian flavors, Western dishes, and halal recipes that fit the Malaysian taste.
You can easily select different package options from their website for housewarmings, cocktail receptions, fine dining, and more. If you need extra event equipment, they also have rentable equipment like tables, stools, and canopies.
They primarily provide catering for large events with a standard package for a minimum of 60 people. Additionally, you can also get special arrangements for their unique Steamboat and Bento packages.
As a company that caters for grand events, Bamboo Buffet is a great option if you want high-quality dishes for a large number of guests.
Buffet service includes cutleries and servers
Halal-certified menu
Minimum pax of 60 persons
Additional overtime charges for long functions
Extra transportation charges for clients outside Penang
5. Umai Kitchen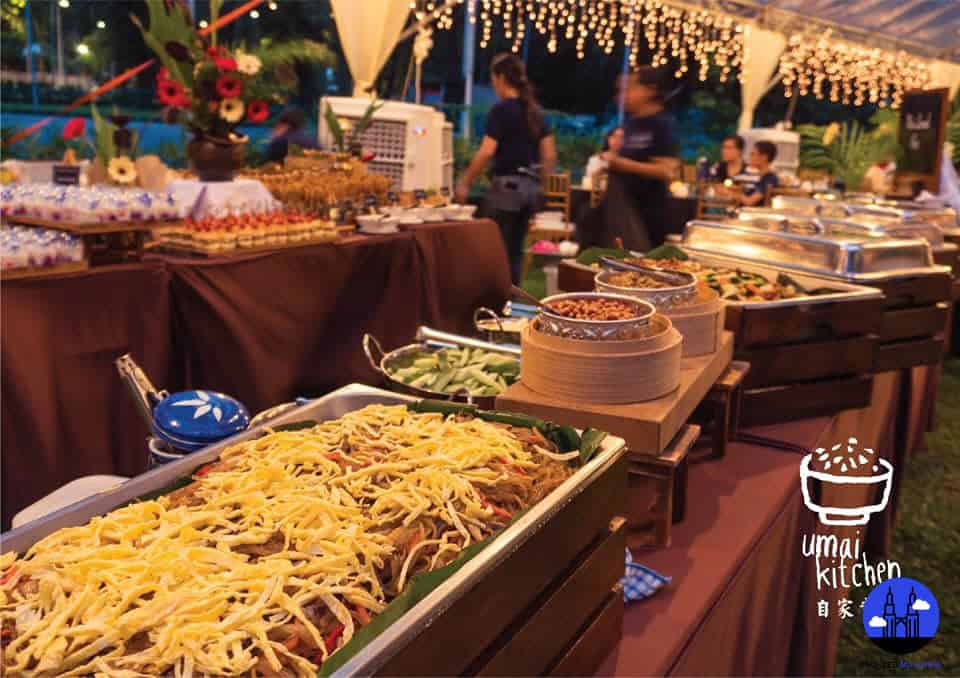 WEBSITES
Facebook
OFFICE HOURS
Tuesday – Saturday: 11:00AM – 6:00PM
Sunday – Monday: Closed
ADDRESS
11, Jalan Phuah Hin Leong, George Town, 10050 George Town, Pulau Pinang, Malaysia
CONTACT INFORMATION
Email:

[email protected]


Telephone: +6011-3546 8262
Do you enjoy finger foods and savory treats? Umai Kitchen offers a selection of mouth-watering recipes that are fit for all kinds of occasions.
Some of their most notable dishes are the mini pork burgers, chicken and thyme sausage rolls, and smoked salmon with creme fraiche. Their food choices are perfect for casual birthday parties, fancy cocktail receptions, professional corporate functions, and more.
If you love hearty home-made dishes at budget-friendly prices, you'll love what Umai Kitchen has to offer. They can also accommodate personalized menus and services so you can have the perfect catering style that you want.
Customizable menu and services
Specializes in Asian fusion cuisine
Closed on Mondays and Sundays
No official website and online menu
Customer Review
One of their customer, Yin Ming Chuah, wrote this review:
"Thanks for the wonderful food served & amazing service provided. Guests were very happy with the food. Generous portion were given and food presentation were excellent. You will always be our first choice in the future."
Another satisfied customer, Ivan Low, said:
"Umai kitchen catered for our wedding lunch, and our guest gave nothing but the highest compliments. Mag was a lovely and a friendly person to work with, and she accommodated all our needs, to cater food that old and young would like. We didn't need to pay any attention to the logistics on the day knowing it was all taken care of. Thank you Umai kitchen for impressing our guest with your magic!"
FAQs About the Best Catering in Penang
---
Whether you need a budget-friendly buffet or a grand setup, the top catering in Penang has it all. You just have to pick which catering company on our list that suits your palate and budget.
Were you able to find the best catering in Penang for your event? If you have a catering service that you want to recommend, you can share your thoughts by sending us a message.
Are you looking for alternative ways to plan your upcoming event? Maybe you should check out some of the best Japanese buffets in Malaysia for your next celebration?