7 Best Cake Delivery in Malaysia for Any Occasion
Featured Image Source: Phinehas Adams via Unsplash
Cakes have a way of making special moments more memorable for everyone. And if you have an upcoming party, knowing the top cake delivery in Malaysia may come in handy.
To help you with your search, we've prepared a list of the best cake delivery in Malaysia. We've highlighted their delivery locations, price ranges, specialties, and other details for your convenience.
Best Cake Delivery in Malaysia
With the rise of online delivery services, ordering a cake has never been easier. But if you want a smooth experience, you need to pick a shop that has the best cakes and services available.
Luckily, we've compiled everything you need to know to find the perfect cake delivery service in Malaysia. From customizable cake designs to convenient delivery options, these shops have the best cake delivery in Malaysia today.
1. Junandus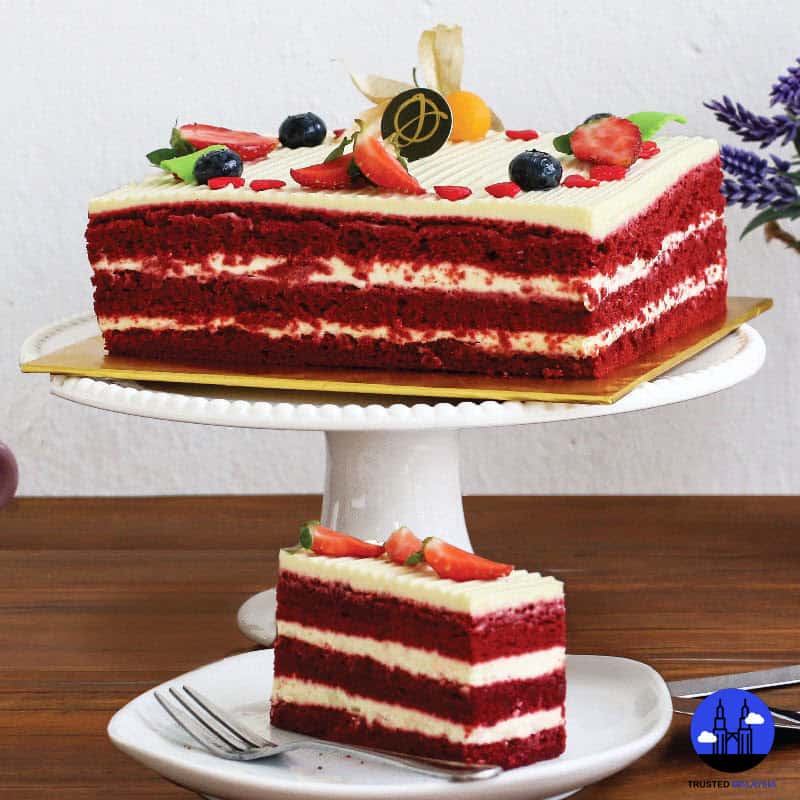 WEBSITES
Junandus, Facebook
DELIVERY LOCATIONS
Kuala Lumpur, Selangor
PRICE RANGE
RM13.00 – RM600.00
DELIVERY OPTIONS
Same-day delivery, deliver on a specified date
DELIVERY HOURS
Monday – Friday: 10:00AM – 6:00PM
Weekends: 10:00AM – 2:00PM
PAYMENT METHODS
Credit/debit card, Bank Transfer, WEB CASH, MEPS CASH, Celcom AirCash, Boost, and vcash
CONTACT INFORMATION
+6019-510 3768
Do you enjoy eating cakes with rich flavors? Junandus is a shop that delivers freshly-baked cakes that are with top-quality ingredients.
Whether it's vanilla beans from Madagascar or chocolates from Europe, their imported ingredients add an authentic taste to their cakes. If you don't like chocolate, you can try their vibrantly colored Red Velvet Cake that's layered with rich cream cheese.
They also provide large cake sizes that are perfect for family gatherings and large occasions. With their affordable prices and a wide selection of cakes, you should try Junandos for your next big get-together.
Free shipping for orders above RM149.00
Serves 3kg cakes good for 40 – 50 persons
Supports charity campaigns
Does not indicate allergen ingredients
Customer Review
Here's what one of their regular customers have to say about their service:
"As usual,cake from Junandus much better than other branded cakes outside there. Taste very nice and not sweet. This is my second purchase and definitely will buy cake from Junandus again and again. Good job Junandus teams"
2. Cake Together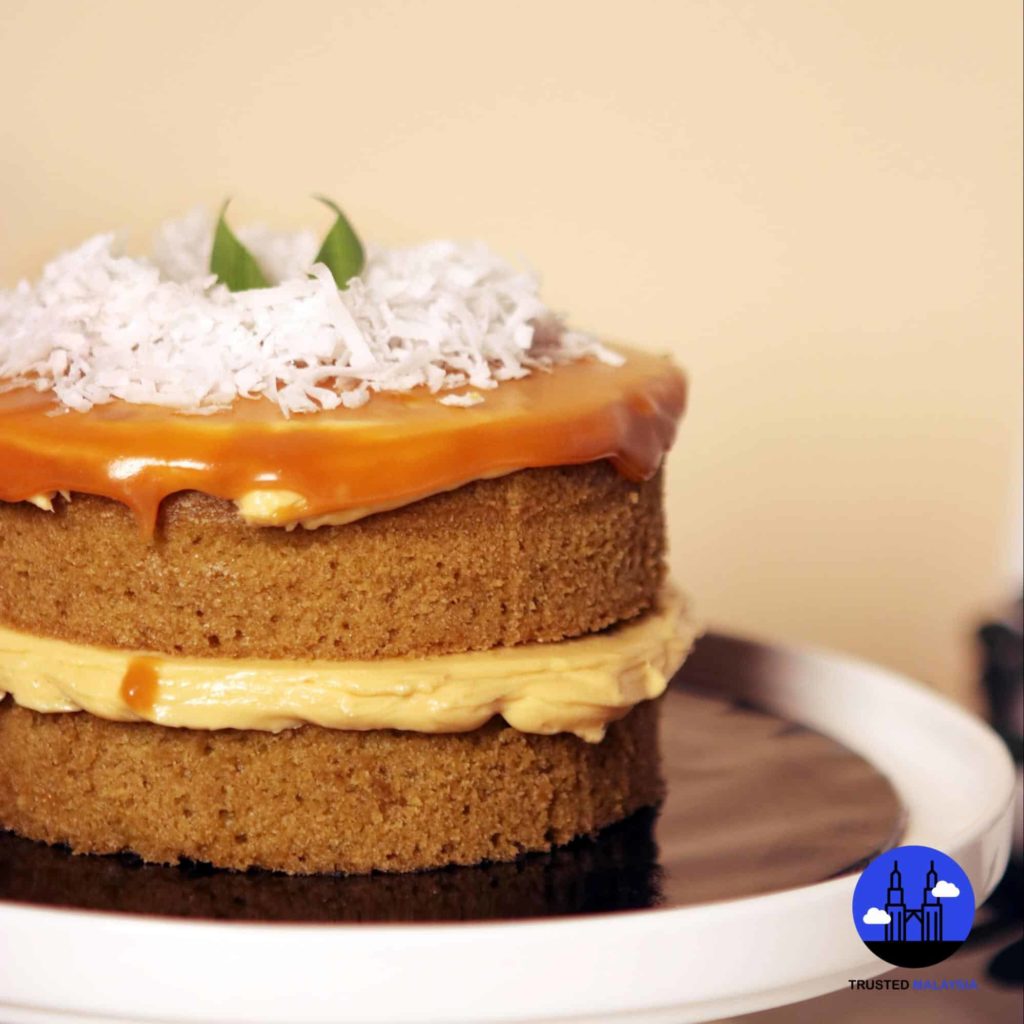 | | |
| --- | --- |
| WEBSITES | Cake Together, Facebook |
| DELIVERY LOCATIONS | Selangor / KL, Johor Bahru, Penang |
| PRICE RANGE | RM99.00 – RM200.00 |
| DELIVERY OPTIONS | Same-day delivery, 1 – 3 days delivery, and weekend deliveries |
| PAYMENT METHODS | Credit/Debit Card, Paypal, Boost, GrabPay, Online Bank Transfer |
| CONTACT INFORMATION | +603-3310 0011, +6012-675 7358 (WhatsApp) |
Cake Together is a company that's built around the love for desserts and family occasions. They've partnered with over 130 local bakers to deliver hundreds of delicious cakes for you to enjoy.
Some of their scrumptious best sellers are the decadent Nutella Crunch, sweet Pandan Gula Melaka, and flavorful Salted Caramel Waffle Cone. If you're ordering for a special occasion, add-ons like balloons and bouquets are also available for your convenience.
With their flexible delivery options and a wide selection of delectable cakes, Cake Together is an easy pick for our list of top cake delivery in Malaysia.
Halal certified cakes available
Promotional freebies and discounts
4-hour delivery service
Some cakes are only available in specific locations
Limited customizations for some cakes
Customer Review
One satisfied customer, Anton Mo, writes:
"Made order from Singapore at 3plus in the afternoon and they delivered it on tome for a birthday."
3. M Cake Boutique
| | |
| --- | --- |
| WEBSITES | M Cake Boutique, Facebook |
| DELIVERY LOCATIONS | Kuala Lumpur, Petaling Jaya, Klang Valley, and Selangor |
| PRICE RANGE | RM80.00 – RM180.00 |
| DELIVERY OPTIONS | 1 – 3 days delivery, pick up |
| PAYMENT METHODS | ipay88 – credit/debit card, bank deposit, Boost (e-wallet) |
| CONTACT INFORMATION | +6012-312 3119, +6012-312 3119 (WhatsApp) |
M Cake Boutique has some of the most unique and eye-catching cakes that'll make your moments more memorable. They combine ideas from French and Japanese pastries to create cakes that look like works of art.
If you want something cute, we recommend you get the Chamomile Honey Sponge Cake. It has a honey-cone wall and a bunch of adorable bees on top that makes the cake look delightfully delicious.
They also have interesting options like the pink Sakura Cherry Yoghurt Cake and creamy Blue Fairy Cheesecake. And if you enjoy a variety of flavors, you can get the Taster Box that has 4 of their most delectable cakes.
Unique cake designs
Discount codes available
Include freebies on orders
No same-day delivery
No third-party delivery service
Customer Review
Here's one review that was posted by their customer, Smay Lee:
"superbly delicious & beautiful. I ordered this taster box one day before , was very impressed with its fast respond & they even sending a self collection reminder on bringing an ice box /ice pack to keep the cake chilled as its mousse cake . I personally love their macha raspberry & Sakura , not too sweet base on my liking . will definitely order again :)"
4. Cake Tella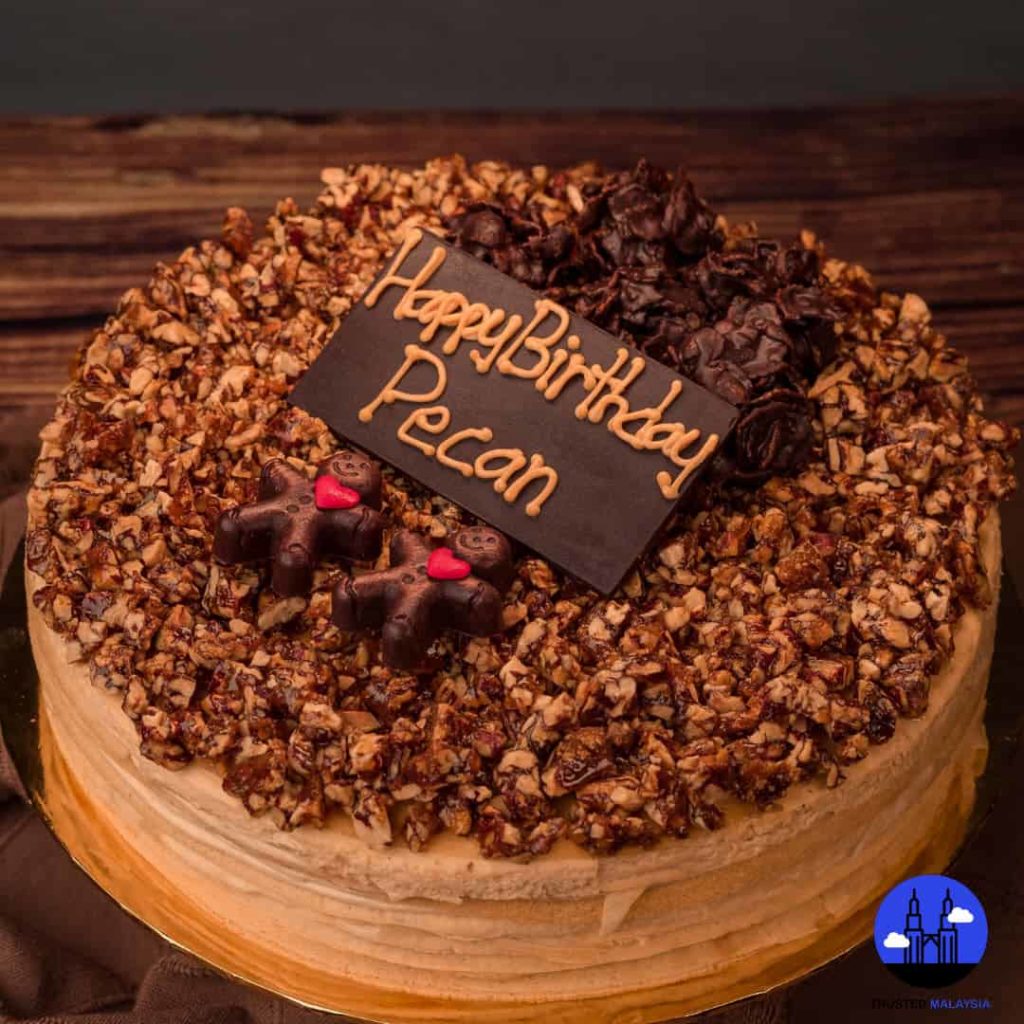 WEBSITES
Cake Tella, Facebook
DELIVERY LOCATIONS
Selangor / Petaling Jaya
PRICE RANGE
RM40.00 – RM145.00
DELIVERY OPTIONS
Next-day delivery, 2-day pre-order, pick up
DELIVERY HOURS
Monday – Thursday (10am-4pm)
Friday – Saturday (10am-5pm)
PAYMENT METHODS
iPay88 – credit/debit card, online bank transaction, Touch N' Go, Boost, GrabPay
CONTACT INFORMATION
+6016-245 6580
For urgent concerns: https://wa.me/60162456580 (WhatsApp)
With so many cake delivery shops in Malaysia, it can be hard to stand out from the competition—not with this shop. Cake Tella stands out by specializing in baking appetizing cakes that are made with alcohol.
They have rich chocolate rum cakes and unique whisky ice cream cakes that can make your birthdays extra special. If you enjoy add-ons, you'll love their whisky-infused chocolate balls that are coated with a layer of delicious matcha powder.
For their best-selling cakes, you have the option between the Signature Baileys Choc Mousse or the Tiramisu Kahlua. With all things considered, Cake Tella is a must-try for people who love a decadent alcohol-infused pastry.
Grant reward points for discounts
Specialize in alcoholic cakes
Minimum of 1-day preorder
Non-customizable ingredients
Customer Review
Here's what one of their customers, Valerie Tan, had to say:
"Quality ingredients, attention to detail & efficient service experience. Craftsmanship evident in balancing alcohol, texture & sweetness, neither too overpowering nor cloying in its richness. Absolutely a treat!"
5. Little Collins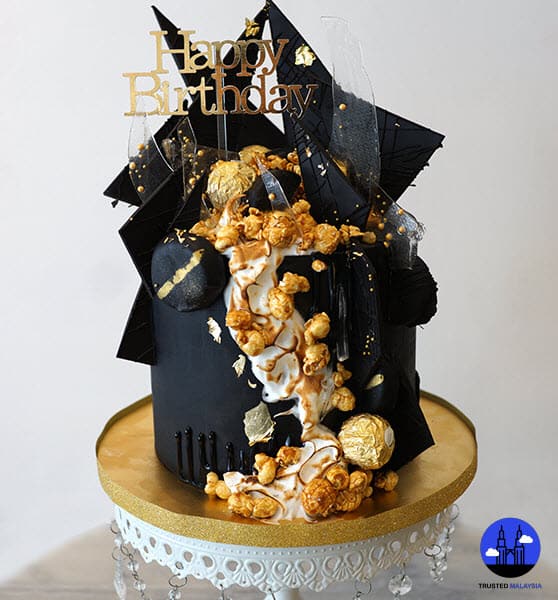 | | |
| --- | --- |
| WEBSITES | Little Collins, Facebook |
| DELIVERY LOCATIONS | Selangor / Kuala Lumpur |
| PRICE RANGE | RM55.00 – RM700.00 |
| DELIVERY OPTIONS | Same-day delivery, pick up |
| PAYMENT METHODS | iPay88 – credit/debit card |
| CONTACT INFORMATION | +6012-272 8005 (WhatsApp) |
Do you want to have a gorgeous customized cake for your special event? If so, Little Collins cakery and cafe could be the top cake delivery in Malaysia for you.
They specialize in creating custom cakes that are as beautiful as they are delectable. They also have ready-made designer cakes that flaunt colors and frostings that will blow your mind.
If you're looking for something extravagant, their top-selling Black & Gold cake looks good enough to be the centerpiece for your party. With their elegant cake designs, Little Collins is an excellent choice for special events like weddings and anniversaries.
Specializes in custom cakes
Offers cake workshops
Pricey designer cakes
Limited payment options
Some cakes require a 3-day pre-order
6. Elevete Patisserie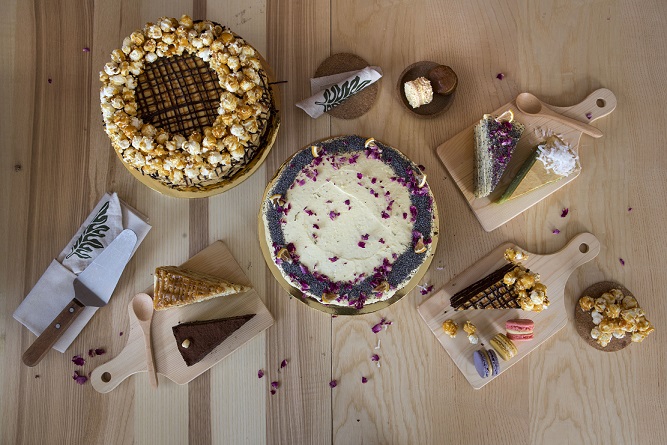 | | |
| --- | --- |
| WEBSITES | Elevete Patisserie |
| DELIVERY LOCATIONS | Kuala Lumpur |
| PRICE RANGE | RM110 – RM155 |
| DELIVERY OPTIONS | Same-day delivery, Next-day delivery, Pick up |
| DELIVERY HOURS | Monday – Sunday |
| PAYMENT METHODS | Contact for more details |
| CONTACT INFORMATION | +6 018 370 3770 | [email protected] |
One of the main reasons when considering the best dessert of your choice is the taste! At Elevete, their team aims to deliver the most delectable desserts the culinary world has to offer.
They ensure that each and every order that leaves our kitchen, is guaranteed to both visually entice and excite any flavour palate. We like them because their cakes stand out from the rest thanks to their fusion of local and foreign elements that create perfect harmony, such as The Locale Cake(Pandan Gula Melaka Cake) and Lemon Poppyseed Cake.
But that's not all! You've only tasted decadence once you've tried some of their standout macarons, which is offered in various flavors, such as: Salted Caramel, Rose & Lychee and Honeycomb.
All of their treats will not only surprise your senses, but will also take you on a journey of foreplay flavours.
Range of desserts to choose from
All cakes are affordable
Orders can be ready within 4 hours if requested
Customer Review
Here's what some people have to say about Elevete Patisserie:
"Thank you for your good services. We are very satisfied on the service and products received. Mr. Edwin was very patient in attending to our various requests. Neat and beautiful packaging. Macaroon has never look this delicious! We will definitely become your regular customer!
"What I can share is the cake and macaroon is great not too sweet but it's just nice even elderly people can get to enjoy it too. The service is great and a fast response. Plus point is the staff are friendly. Definitely worth going back for more cake/macaroons 🤤🤤 and in the same time worth recommend my friends to try this masterpiece 🍰🍰"
7. Tedboy

WEBSITES
https://www.tedboy.com/
DELIVERY LOCATIONS
Contact for details
PRICE RANGE
RM12.00 – 150.00
DELIVERY OPTIONS
Depends on the chosen product
DELIVERY HOURS
Contact for details
PAYMENT METHODS
VISA, Mastercard, ipay88, FPX, GrabPay
CONTACT INFORMATION
1 300 80 1008
60183929932 (Whatsapp)


[email protected]




[email protected]
Next on our list is Tedboy. They have been operating since 2012 and we think they provide the best products for people in Malaysia because of the wide range of consumables they have.
In talking about cakes, they are the only shop that offers the cheapest yet soft and airy cake that you could ever imagine. We love them because they have a number of whole cakes with exquisite designs and unique flavors.
If you want to make your event extra memorable for the guests, choose only a cake from the most amazing shop! From fruit cakes to chocolate cakes, they have it.
They offer delivery within Klang Valley for cakes and perishable baked goods). Additionally, they just updated heir services and they now offer nationwide delivery of their dry goods (cookies, merchandise, anything that can be courier-able).
Once you add items to the cart, you'll be able to see if the item is delivery only within Klang Valley or nationwide. However, it is important to note that the customization of cakes is at a case-by-case basis.
Made to order
Affordable rates
Does not only offer desserts
Offers custom cakes. However, it is a case-by-case basis.
Customer Review
Here's what some people have to say about Tedboy's cakes:
"Sedap! This cake i sgt suka because it's very moist and plus ada biscoff my favourite! memang sedap and kena with my taste!"
"Delicious! Best cheese cake so far! The texture and taste wow really love it. I can say that they are using really good quality cheese so I don't mind paying extra for this type of cake. Thumbs up!!"
FAQs About the Best Cake Delivery in Malaysia
---
Whether you're looking for custom cakes or premade cakes, everything you need is available in these shops. All you have to do is choose the best cake, pick your addons, and wait for your order to be delivered.
Did this article help you find the best cake delivery in Malaysia? If so, send us a message and tell us which one caught your attention.
If you've had your fair share of cakes for today, why not order a savory meal instead? Our list of the best food delivery services in Malaysia will help you satisfy your cravings in no time.