The 5 Hospitals with the Best Doctors in Malaysia
Sometimes, just bed rest isn't enough when we're sick. More often than not, we need to rely on the help of doctors and medical professionals to address whatever's ailing us.
Among many other services, health care has to be the most vital and crucial. And to help you in your time of need, we came up with a list of hospitals where you can find the best doctors in Malaysia!
But before we proceed to our list, let's first talk about how much a doctor's visit may cost you.
How Much Do Doctors' Services in Malaysia Cost?
Emergencies, appointment consultations, and other major procedures have different rates in each hospital. Your healthcare insurance coverage also changes your final bill at the end of your stay in a hospital.
To give you an insight, here's the average cost of the most common services we avail in hospitals. Keep in mind that this is just based on our web research, direct inquiry to the hospitals is still highly recommended!
| | |
| --- | --- |
| Service | Average Cost |
| General Consultation Fee | RM30 – RM250 |
| Specialist Consultation Fee | RM80 – RM235 |
| Admission Fee | RM500 – RM2000 |
| Room Charges (per day) | RM80 – RM300 |
| Mobility Equipment (wheelchair, crutches, folding walker) | Free |
| Blood Test | RM50++ |
| X-Ray | RM80++ |
| CT Scan | RM900++ |
| MRI Scan | RM1,200++ |
| Ambulance | RM200++ |
The Hospitals with the Best Doctors in Malaysia
Here's our list of hospitals to find the best doctors in Malaysia to help you choose the right healthcare provider for you.
1. Park City Medical Centre

WEBSITE
https://www.parkcitymedicalcentre.com/
ADDRESS
No. 2 Jalan Inti Sari Perdana, Desa ParkCity 52200 Kuala Lumpur, Malaysia
CONTACT DETAILS
24HR Careline: +603 5639 1212
Whatsapp: +6019 2776316
Customer Service: +603 6279 3035
Health Screening Centre: +603 6279 3188/3124
OPERATING HOURS
Emergency: 24/7
Appointment: Daily, 8AM – 5:00PM
Park City Medical Center is one of Ramsay Sime Darby Health Care hospital units with 3 centres of excellence: children's health, elderly health, and women's health. As of today, they have a total of 79 doctors and specialists whose profiles and qualifications can be checked from their website.
They can accommodate up to 300 patients in need of confinement including those in ICU, CCU, NICU, and HDU. They are also partnered with more than 30 healthcare insurance providers across Malaysia to ensure that most, if not all, of their patients are eased with the burden of expensive hospital bills.
With their Telehealth Plus Video Consultation, patients can do their follow up visits from their home or anywhere else. This is mostly recommended during follow-up consultations with their cardiologists, psychiatrists, and general surgeons when lab tests are no longer required.
Park City Medical Centre accommodates both local and international patients so aside from their medical arrangements, they have also extended to concierge services. They provide translation arrangements, hotel arrangements, as well as visa applications.
These available services make them an ideal destination for medical tourists who seek quality healthcare from doctors in Malaysia.
Translation services for international clients
Provides virtual consultations
Awards for both healthcare and customer service excellence
The insurance claiming processes and referrals can be inefficient
Complaints about physical appointment time not being implemented
Unpleasant emergency service experience for some clients
Customer Reviews
Here's are some reviews written by their previous patients from Park City:
"The doctors are very good at this hospital and I'm not easy to please, haha. I also really like how quiet and calm it is and so clean and new. However, the admin situation is a bit chaotic with handling insurance claims and referrals, etc. Nevertheless it is my preferred hospital, no question." -Clare Holden
"Low density hospital. Efficient customer service in making appointments, front desk will call a few days in advance before appointment for reminder and confirmation. They have GL counter for insurance, so you don't have to request for your GL before coming here. Recommended to come here if you have insurance and needs to be treated and warded." -Nabilah Annas
2. KPJ Sabah Specialist Hospital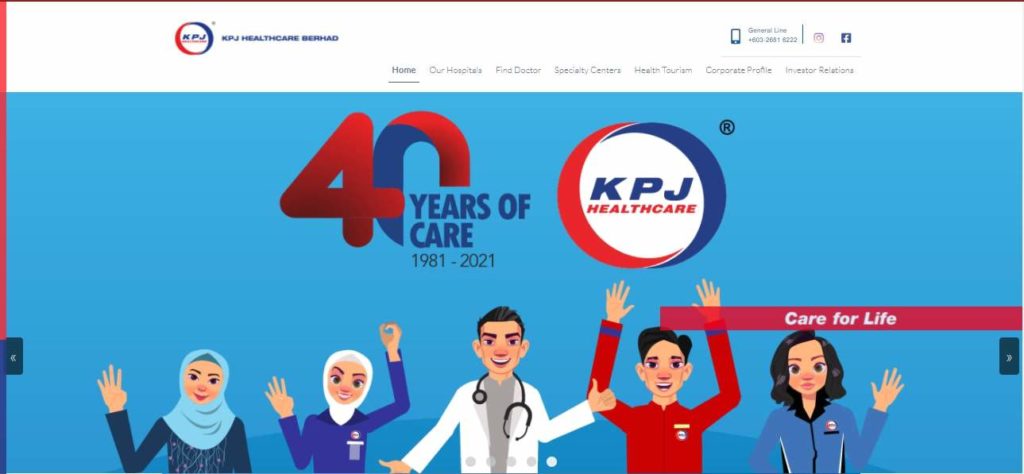 WEBSITE
https://kpjhealth.com.my/home/
ADDRESS
Lot No. 2, Off, Jalan Damai, Luyang Commercial Centre, 88300 Kota Kinabalu, Sabah, Malaysia
CONTACT DETAILS
Emergency Line: +6088-322 199
General Line: +6088-322 000
Email:

[email protected]

OPERATING HOURS
Appointment:
Monday – Saturday, 9AM – 5:00PM
Visiting hours:
11:30AM – 2:00PM, 5:00PM – 9:00PM
KPJ Sabah Specialist Hospital is part of KPJ Healthcare Berhad's network of private hospitals in Malaysia. Their other hospitals are in Johor, Selangor, Kuala Lumpur, Damansara, and 20 more other locations you can visit if you are not from Sabah.
They currently have 80 specialists and 500 staff members who can assist you and hundreds of patients every day. They present themselves as pioneers in Radiotherapy and Oncology Services, Coronary Intervention, 3D Laparoscopic, and Stretta for gastroesophageal reflux disease (GERD).
As you visit their website, you can find a comprehensive guide for both outpatients and admitted individuals and this is not something other hospital pages provide. You can also find a list of their health screening and packages to help you assess your budget before a visit.
For better accommodations, KPJ Sabah also has amenities you can get your essentials from like retail pharmacy, taxi e-hailing services, ample car park, and even a cafe and gift shop. Their international patients are also provided with lounging, concierge, visa, and money changer services.
Has a detailed guide on admission and outpatient consultation process
A large team of available doctors and staff
Large facilities and amenities for miscellaneous activities
Offers teleconsultations
Insurance partnerships are not mentioned
The parking system needs improvement
Customer Reviews
Check out this customer's review for KPJ Sabah Specialist Hospital:
"I recently had a medical emergency that had to be fixed immediately. And it was by Dr. Somasundaram Singaram. As miserable as I felt before the procedure is as good as I felt afterwards. There is no need to "read" Dr. Soma's mind. He will tell you immediately what he thinks. And the cost estimates at KPJ Sabah Specialist Hospital were provided upfront and were inline with the final costs, which were about 4-5X less expensive than in the U.S. I hope I don't need to be hospitalized again. But if I do, I will return to Dr. Soma and KPJ. And besides Dr. Soma, I wish to thank the anesthesiologist Dr. Lee and the wonderful and attentive nurses." -Douglas Furtek
3. Beacon Hospital Malaysia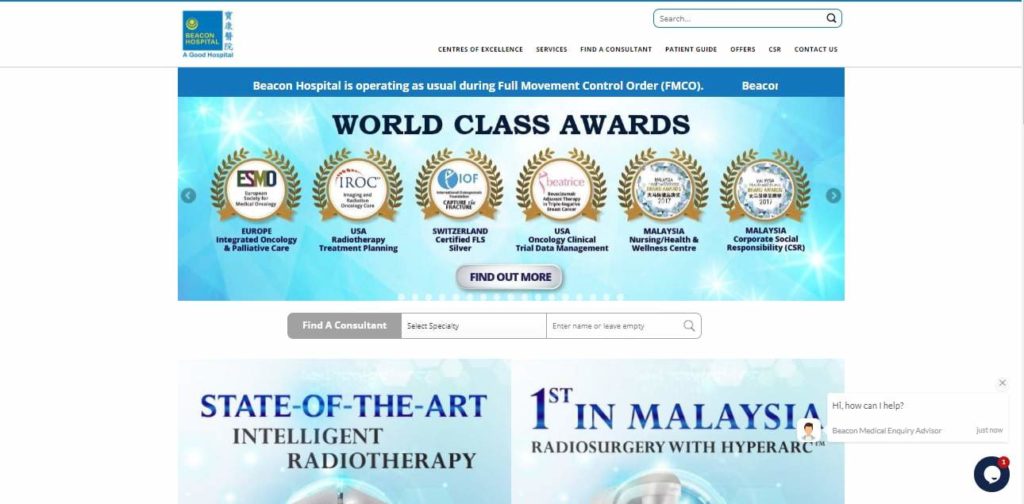 WEBSITE
https://www.beaconhospital.com.my/
ADDRESS
No. 1, Jalan 215, Off, Jalan Templer, Section 51, 46050 Petaling Jaya, Selangor, Malaysia
CONTACT DETAILS
General Line: +603 7620 7979 / +603 7787 2992
Appointment Line: +6012 283 6913 / +603 7118 7878
OPERATING HOURS
Appointment:
Monday – Friday8:00AM – 5:00PM
Visiting hours:
7:00AM – 9:00PM
Beacon Hospital Malaysia prides itself for having the biggest team of cancer specialists in private hospital settings. They are providers excellent treatment for bone & joint, brain & spine, cancer, eye, men and women's health, wellness, and research
They offer cancer rehabilitation treatment through surgery, chemotherapy, radiotherapy, radionuclide therapy, immunotherapy, and targeted therapy. Beacon Hospital also uses the latest imaging technology such as PET/CT Scan, Cyclotron, MRI, and more.
This hospital is the first to use Varian Halcyon 2.0 Radiotherapy in Southeast Asia, one of the latest medical machines today. This is used to treat cancer patients through targeted lasers without the pain and foreseeable errors of having traditional surgery.
On their website, you can find a comprehensive guide for admission or appointments to help you prepare. Their teams of doctors and specialists are racially diverse that can cater to international patients because they communicate in languages like English, Bahasa Melayu, Tamil, Cantonese, Bahasa Indonesia, and Hokkien.
Multi-lingual specialists
High-end medical technologies
Satisfactory health screening services
Queues are not well-organized
Services are a bit pricey
Complaints about bill and pharmacy computations
Customer Reviews
Check out this review written by their two-time patient:
"This is my second time for health screening and my experience is still wonderful. Everyone was nice and accommodating – from the staff, nurses and doctors. The people are very friendly and will truly take care of you if you have questions. The area is clean and has a good ambiance for a hospital. It is highly recommended. I will definitely come back again for my annual health screening. The doctor also explained to me what I needed to do and advised what vaccines to take and how much it costs." -Nina
4. Prince Court Medical Center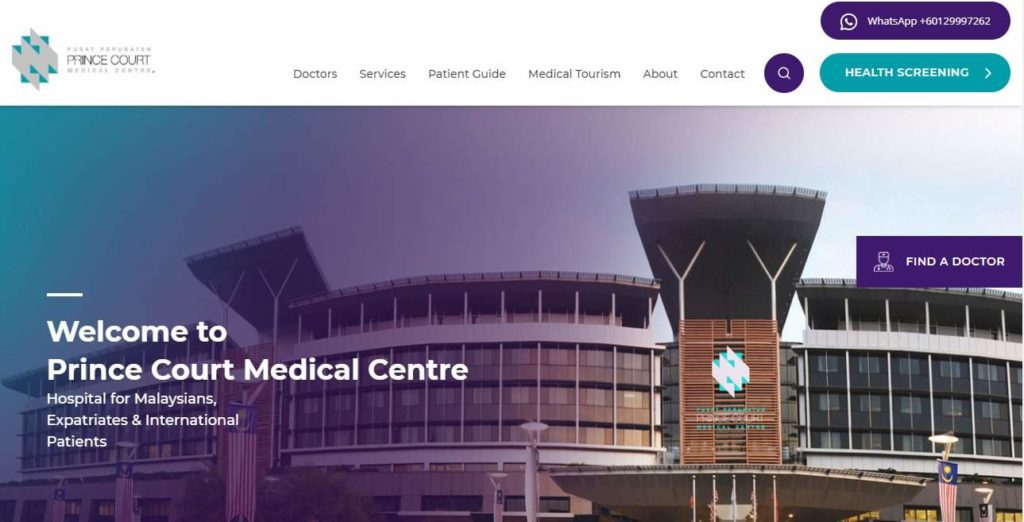 WEBSITE
https://princecourt.com/
ADDRESS
39, Jalan Kia Peng, Kuala Lumpur, Persekutuan Kuala Lumpur
CONTACT DETAILS
24-Hour Hotline: +603 2160 000
Emergency Number: +603 2160 0999
Toll Free: 1-800-88-7262
Email:

[email protected]


Whatsapp: +60 12-999 7262
OPERATING HOURS
Appointment:
Monday – Friday 9:00AM – 5:00PM, Saturday 9:00AM – 1:00PM
Prince Court Medical Centre is a multi-speciality private hospital in Kuala Lumpur that can accommodate up to 270 inpatients at once. Their specialities include anesthesiology, cancer surgery, cardiology, ENT, and even pediatric surgery.
We all want our loved ones to always be in the best of health but sadly, sometimes even our babies are not spared from having to undergo sensitive medical procedures. Fortunately, they have pediatric surgeons who can treat and perform surgeries even to complex "birth defects".
Prince Court Medical Centre markets itself to help their patients and families feel better rather than hopeless of their medical conditions. Their procedure details are made accessible on their page, which we find considerate and efficient.
Their doctors are qualified both here and abroad that international patients even visit for their specialities. To accommodate them, Prince Court offers concierge services, cafes, food & beverage outlets and has sophisticated rooms for confinements.
Offers specialized pediatric care
Extensive treatment guides published
Spacious facilities and common areas
COVID-19 management needs to improve
Complaints on cancelled appointments
Customer Reviews
Here's are some reviews left by their patients:
"A top medical centre with clean and great environment. Doctors and nurses was professional and caring. Staff was friendly and helpful. I Have been here as inpatient, outpatient for many years and been to emergency too. My kids was born here too. My first choice for treatment, annual check up, consultation etc for my self and my family" -Kong 1188
"I have been attending different units at Prince Court during the last 18 months. The courtesy and professionalism of all personnel has been exceptional in all aspects whether with the initial registration staff, auxiliary staff, nursing staff, secretaries or cashiers. Their friendliness and professionalism is much appreciated. Furthermore, the professionalism and care from the doctors and medical technicians is most appreciated and has been very reassuring" -David Froom
5. Assunta Hospital PJ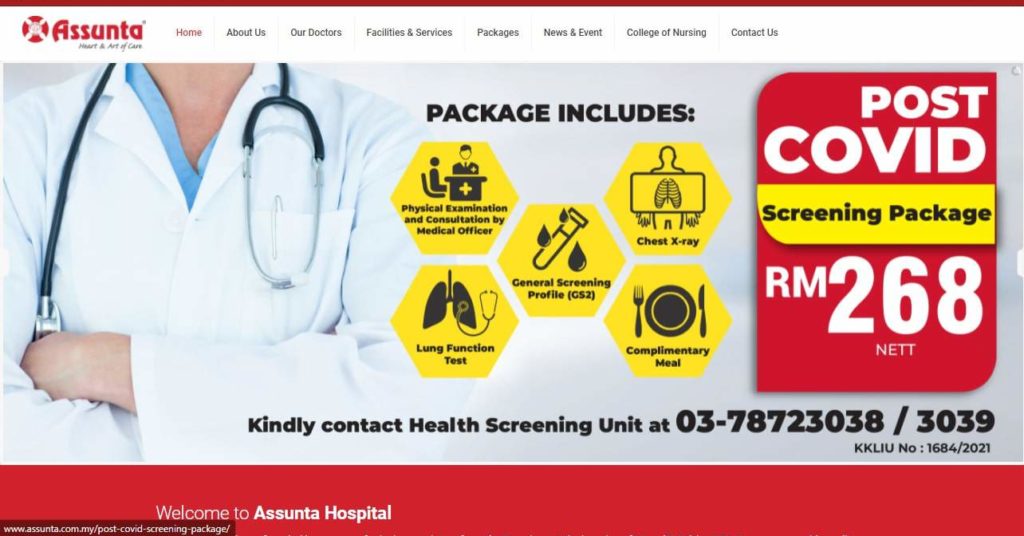 WEBSITE
https://www.assunta.com.my/
ADDRESS
Jalan Templer, Pjs 4, 46050 Petaling Jaya, Selangor, Malaysia
CONTACT DETAILS
Emergency: +603-7872 3199
Appointment: +603-7872 3000
Email:

[email protected]

OPERATING HOURS
Appointment:
Monday – Friday 8:30AM – 4:30PM, Saturday 8:30AM – 12:30PM
Visiting Hours:
11:30AM – 3:00PM / 5:00PM – 9:30PM
Founded in 1954, Assunta Hospital is a not-for-profit institution that ensures high-quality but affordable healthcare for patients and their families. With almost a hundred specialists, they provide treatments in cardiology, open heart surgery, orthopedics, internal medicines, oncology, and pediatrics.
Their insurance and third-party administrator partners include Prudential, Great Easterns, Asia Assistance, and more. On top of that, Assunta Hospital also extends its services for those who can't afford basic healthcare through its Assunta Integrated Social Service (ASSISS).
Despite the technological advancements, this has to be the most affordable but high-quality hospital on our list in helping you find the best doctors in Malaysia. Their qualified physicians practiced their specialties not just locally but abroad.
We also find it helpful that their admission and discharge procedures are clearly stated, easing their clients the burden of worrying about what to do next. They have ample bed capacity for almost 245 inpatients at once.
Affordable but high-quality healthcare
Conducts outreach healthcare programs
Has a day surgery unit
Numerous doctors and specialists with international qualifications
Complaints about emergency services
Need more staff in some departments
Customer Reviews
Check out these reviews left by previous Assunta Hospital clients:
"Was treated by Dr Lam Kai Huat and the cardiology unit staff really nicely and professionally. The staff nurses were really nice and warm as well. Would highly recommend giving them a visit if you have any cardiac-related concerns" -Shashmita Jan Sarkunan
"I have just spent 4 days in ICU and I cannot speak highly enough of the staff who took.care of me. They were exceptional!! They are extremely professional and hard-working, but for me, it was their smiles and sense of humour that helped me so much. I am truly grateful to all of them." -Margaret Kaloo
FAQs About Hospitals with the Best Doctors in Malaysia
---
Whether it's for an emergency or you've been planning to visit a doctor for quite a while now, it's vital to have a directory of hospitals you can go to. That's why we came up with this list to help you find the best doctors in Malaysia!
Did we miss any other hospital that give excellent health care service? Let us know your comments and suggestions and we'll make sure to go through them one by one.
If you ever find yourself needing some relaxation, check out our article on the places with the best massages in Kuala Lumpur, Malaysia!